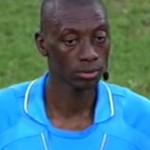 Man, I thought that Germany game had some shit officiating, but this is ridiculous. Referee Alberto Undiano Mallenco made some horrible calls and passed out 9 yellow cards in the early match, but the guy didn't take away any goals. Kouman Coulibaly did. Oh yes, the ref from Mali screwed over the Americans big time.
After the U.S. squad made an insane comeback to tie Slovenia 2-2, Coulibaly had the audacity to disallow U.S. goal number three. Was it an offsides call? Was it a foul? I don't think anyone knows for sure.
See for yourself:
Minutes after the match, bitter fans tore into Koman Coulibaly's Wikipedia page. Alexi Lalas called the man "a disgrace." That's saying something. When you get called a disgrace by Alexi Lalas, you've really hit rock bottom. Your sack-of-shit status is confirmed for life at that point.
But a disgrace it was. Almost as disgraceful as the play of the U.S. squad in the first half or the total collapse by Slovenia in the second half. After England lost to Algeria in a 0-0 tie in today, Group C just got a whole lot more interesting. Here are the current standings: