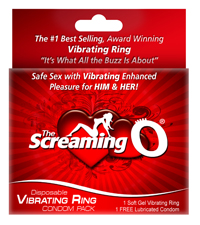 ASFX, the Association for Safe Fun Sex, wants you to have sex. Lots of sex. As long as you use a condom. ASFX has launched a national campaign to increase safe sex awareness in order to decrease STDs and unplanned pregnancies.
"Condoms have a bad wrap and we want to change that."
Condoms are the most common form of protection for couples, but they're usually perceived as an inconvenience and a nuisance. Condoms that are ultra thin, ribbed, flavored, glow in the dark, you name it, have been trying to make it cool to use protection.
So what's ASFX's revolutionary take? Keep the condom and add an o-ring. They're hitting up colleges, Spring Break parties, and your backyard barbecue to give away their Screaming O Condom Pack which consists of one condom and a vibrating condom ring. It's a disposable, one-time use product, so grab more than one if you're planning on hitting it twice in one night.
ASFX kicked off their tour with a sexy bash at the flagship Hustler Hollywood boutique in LA and they'll be hitting up Hustler stores across the country. This ain't no 5th grade sex ed class with outdated videos and Ben Stein-like teachers . They go all out with their hot Scream Team, DJs, prizes and games like the Screaming O Competition where girls fake orgasms by screaming their asses off in front of a crowd. So there you go. If you're gonna get down, might as well use a condom with an added o-ring.
NOTE: ASFX will not be at your backyard barbecue. However if your BBQ is so crazy that ASFX has to pass out condoms at your home, INVITE ME TO YOUR BBQ.