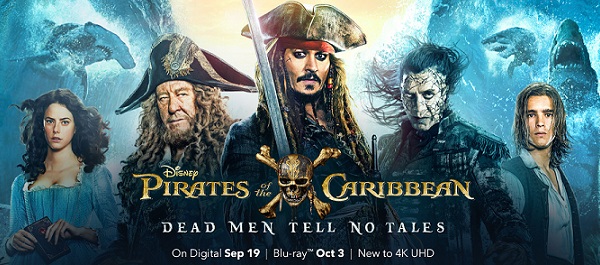 Now the above the sentence is true, but you might see a few dead man talk in the latest film from the Pirates of the Caribbean movie from Disney. The Blu-ray and DVD sets comes out on October 3rd, but you can now download the movie on Digital in HD and 4K Ultra HD.
Pirates of the Caribbean: Dead Men Tell No Tales is a rollicking new tale of the high seas, infused with all the elements of fantasy, humor and action that have resulted in an international phenomenon for the past 13 years. Johnny Depp returns to his Academy Award®-nominated role as the outrageous, swashbuckling scoundrel Captain Jack Sparrow, and is joined by Oscar® winners Javier Bardem (Best Supporting Actor, "No Country for Old Men") and Geoffrey Rush (Best Actor, "Shine").
Fans who bring home "Pirates of the Caribbean: Dead Men Tell No Tales" will experience the nonstop action in stunning 4K Ultra HD format, the ultimate home entertainment experience with next-generation high dynamic range (HDR) visuals and Dolby Atmos® immersive audio.
Bonus material includes a collection of behind-the-scenes, making-of stories, including a conversation with directors Joachim Rønning and Espen Sandberg; a sit-down with the two young newcomers who play Henry and Carina; the secrets behind the menacing new villain, Salazar, and his ferocious ghost sharks; an on-set visit with Jack's first mate from all five films; a chat with Sir Paul McCartney who appears as Uncle Jack; and a discussion about the franchise's legacy; along with hilarious bloopers, deleted scenes and memories from producer Jerry Bruckheimer's photo diary.
The rip-roaring adventure—packed with humor, suspense and jaw-dropping special effects—finds down-on-his-luck Captain Jack feeling the winds of ill fortune blowing strongly his way when deadly ghost sailors, led by the terrifying Captain Salazar (Bardem), escape from the Devil's Triangle bent on killing every pirate at sea—notably Jack.
Check out some of the bonus features below and pick up the film on Digital in HD and 4K Ultra HD now or on Blu-ray and DVD on October 3rd.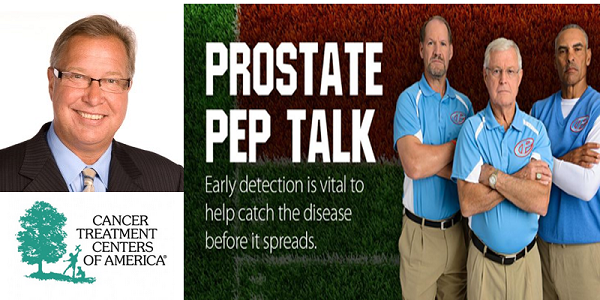 Cancer Treatment Centers of America and the National Football League Alumni Association have built a new partnership to raise awareness among NFL Alumni, and fans around the country about screening, diagnosis and treatment for prostate cancer. This year, the American Cancer Society estimates 161,360 new cases of prostate cancer will be diagnosed and 26,730 men will die from the disease. Today, a variety of treatment options are available to men diagnosed with prostate cancer, including radiation and active surveillance. However, the critical first step is to get screened.
Now through Oct. 15, 2,000 men, ages 40 and older, who meet eligibility requirements, may sign up to receive a free Prostate Specific Antigen (PSA) screening by LabCorp at any of its 1,750 locations throughout the U. S. After the first 2,000 free PSA screening spots are filled, eligible men may still schedule a screening at the discounted price of $25 throughout the sign-up period. Screenings must be performed within six months of the sign-up date.
"Routine screening has significantly improved the outlook for men with prostate cancer, which is very treatable when diagnosed early. And innovative technology has helped minimize the side effects of treatment," says Maurie Markman, MD, President of Medicine and Science at CTCA. "We at CTCA are looking forward to working with the NFLA to bring a broader awareness of the latest clinical advances in prostate cancer treatment and deliver those to their membership."
As part of the Prostate Pep Talk campaign, public service announcements featuring legendary former NFL head coaches Herm Edwards, Dick Vermeil, and Bill Cowher will raise awareness of prostate cancer risks and encourage men to get screened for the disease. The public service announcements will air nationally throughout September, which is Prostate Cancer Awareness Month.
I talk with former NFL QB and now analyst, Ron Jaworski about the work he is doing with the NFL Alumni and the Cancer Treatment Centers of America as well some football.
For more information visit Prostate Pep Talk.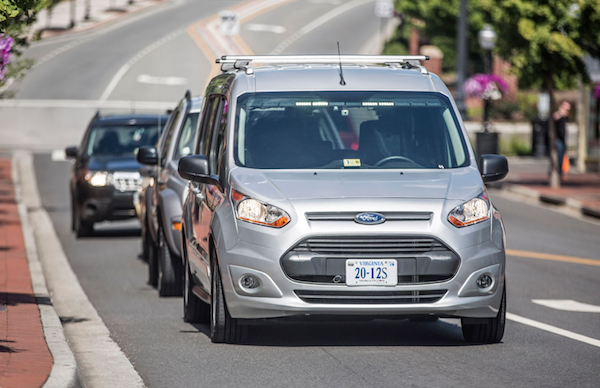 Throughout August, Ford and the Virginia Tech Transportation Institute (VTTI) partnered to conduct autonomous vehicle research on the road to address an important issue: how self-driving vehicles will communicate with pedestrians, cyclists, and other (human) drivers.
Researchers simulated an autonomous vehicle with a "seat suit" concealing the driver in order to evaluate real-world encounters and behaviors between the van and other road users. Cars were further outfitted with a light bar on the top of the front windshield – where a pedestrian might look to a driver to determine if it's okay to cross the street – to study how light signals can communicate if the vehicle is yielding. During the entire research process, more than 150 hours of data over 1,800 miles of driving was collected in an urban environment.
Through this partnership, Ford is also working on establishing an industry standard for light signals on autonomous vehicles to create a standard visual language everyone can easily process and understand.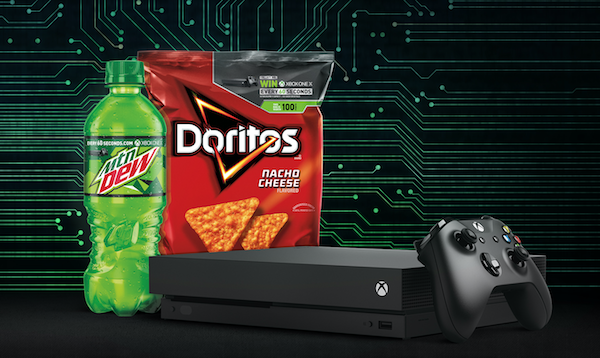 Are you excited for the Xbox One X? Lot of people can't wait to get one! MTN Dew and Doritos are launching a new campaign called "Every 60 Seconds." It is an online auction program, a collaborative campaign from Mtn Dew, Doritos and Microsoft where fans will have the chance to win the new Xbox One X every minute in an online auction. DEW and Doritos have continued to bring gaming to the next level, including the 2013 online fan auction for the Xbox One that generated over 8 million bids from fans across the country.
Here's how this year's program works:
·         Collect: This fall, fans can collect specially-marked packages of Mtn Dew and Doritos – including the new Mtn Dew Game Fuel™ Arctic Burst and Tropical Smash – to collect codes for the online auction.
·         Bank Codes: Starting Sept. 25, fans can use codes to bank points on Every60Seconds.com, and gain one entry into the daily Xbox One X sweepstakes.
·         Bid to Win: From Nov. 8 to Dec. 15, participants can use their points to participate in daily auctions starting at 9 a.m. ET, with a chance to win an Xbox One X console every minute from 9 p.m.–11:30 p.m. ET when the auctions close.
With thousands of consoles being given away before the holidays, the "Every 60 Seconds" program will be one of the first opportunities for gamers to experience the Xbox One X. DEW and Doritos will also have more chances for fans to win an Xbox One X – with announcements in the coming weeks.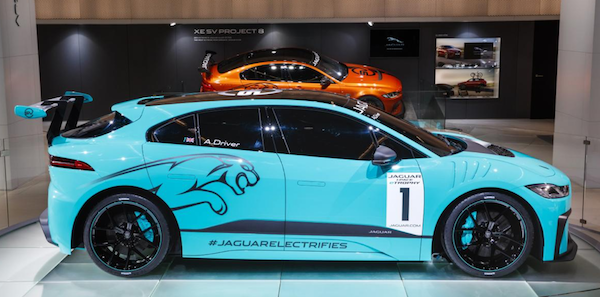 There is some really cool news from Jaguar. They have created the world's first production battery electric vehicle race series.The Jaguar I-PACE eTROPHY will be the support series for the FIA Formula E championship, taking place on the same weekends at the same city circuits, starting in late 2018.
Exclusively featuring Jaguar I-PACE eTROPHY racecars, the new all-electric series gives racers of the future a chance to showcase their talent, competing on the world stage in zero-emissions motorsport.The groundbreaking championship will support the launch of the Jaguar I-PACE – Jaguar's highly innovative five-seat battery electric sports car which hits the road in the same year.
Up to 20 electric I-PACE racecars will be on the grid in the centre of 10 races in global cities such as Hong Kong, Paris, Sao Paolo and New York, giving future Formula E stars the chance to race in the world-first series.
The announcement follows news that the British government is to ban the sale of petrol and diesel cars from 2040 and reinforces Jaguar Land Rover's commitment to electrification – from 2020 all new model lines will be electrified, with either hybrid or battery technology. clomid acquisto on line prezzo senza ricetta www.biblioteca.pz.cnr.it/ clomid a buon mercato senza prescrizione farmacia online
Jaguar Land Rover Special Vehicle Operations (SVO) in Warwickshire, UK, will build the racecars. They will be based on Jaguar's first battery electric vehicle, the I-PACE performance SUV, which will hit the streets in late 2018.
http://www.youtube.com/watch?v=pvaqkZMkb5w&t=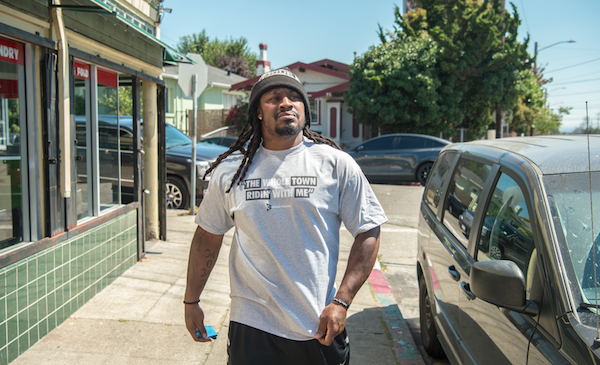 Who is excited that Marshawn Lynch is back in the NFL? Lot of Raiders fans and fantasy football owners for sure. Well to keep up with the Beast Mode momentum DraftKings just announced the launch of the DK Shop, its new online store with custom gear, branded apparel and curated collections from top athletes. The first collaboration is with Marshawn Lynch's Beast Mode line and available only at the DK Shop, featuring eight, limited-edition pieces with the "Ride with Me" slogan made popular by Lynch upon announcing his return to the NFL for the '17-'18 NFL season.
The new collection celebrates Lynch's return to Oakland and his incredible story, showcasing how powerful community is for him and for football fans around the world.
"Oakland helped define who I am overall as a person," said Marshawn Lynch, Running Back for the Oakland Raiders. "My collaboration with DraftKings has been a dope experience and it helped me show them my love for Oakland."
The partnership with Marshawn Lynch is the first play for the DK Shop which will be one of many exclusive partnerships with athletes across major sports. At launch, the DK Shop will feature fantasy and football-focused apparel with plans to include other sports down the line to coincide with active seasons across the 10 sports that DraftKings offers. The online store will also offer custom trophies, belts, draft boards and more for DraftKings player's fantasy leagues.
"Marshawn Lynch has established himself as one of the most accomplished players in the NFL and we're honored to collaborate with him on our first collection," said Michael Meltzer, Director of Strategic Ventures at DraftKings.  "Customers are at the core of everything DraftKings represents and we believe the DK Shop will offer these passionate sports fans an exclusive way to bring them one step closer to the athletes they love."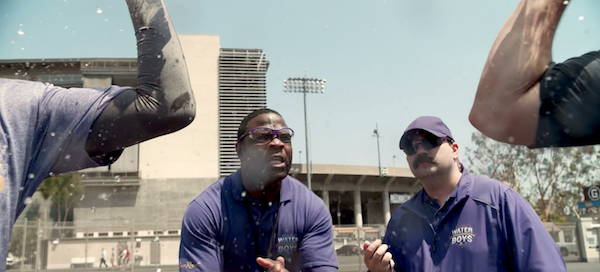 Last night, Crown Royal launched the "Hydrate Generously" campaign, the brand's newest initiative that is focused on responsible game day consumption and reminds football fans to always drink in moderation and hydrate between drinks. Crown Royal debuted the campaign through a nationally-televised 30-second spot during the first game of the season last night, with repeat airings throughout the year.
Crown Royal will further elevate "Hydrate Generously" through a partnership with Waterboys.org, a charitable organization within the Chris Long Foundation. To date, the organization has funded 24 life-sustaining water wells for East African communities. Crown Royal will help fund the organization's 25th and 26th wells by donating $45,000 to kick off the season, and by rallying fans to help raise another $45,000 by donating one dollar for every use of #HydrateGenerously on social and for every bottle of water distributed by Crown Royal throughout the season.
In collaboration with several of the brand's dozen-plus pro football team partners, Crown Royal will also deliver thousands of water bottles to fans along with a pep talk to enjoy the game sensibly.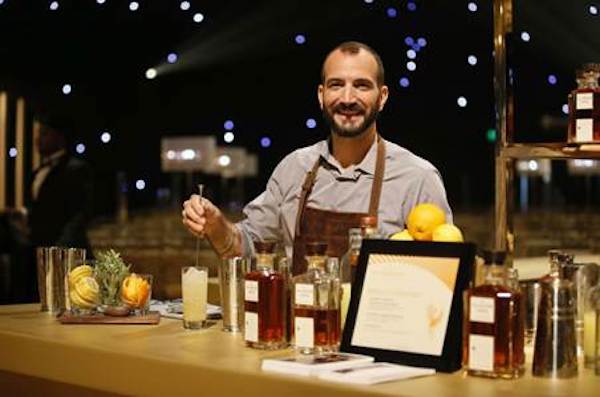 You might already know that Hilhaven Lodge Blended Straight American Whiskey is a great tasting whiskey and so do the people who host the Emmy Awards. Hilhaven is the spirit of choice for the 69th Emmys on Sept. 17.
World-renowned bartender Charles Joly created The Hilhaven Lodge Fireside, the official cocktail of Emmys Governors Ball, the official after-party. The Hilhaven Lodge Whiskey captures the essence of Hollywood. Hilhaven Lodge is an icon and the inspired whiskey, The Hilhaven Lodge, commemorates some of Tinseltown's most star-studded celebrations.
The Hilhaven Lodge Fireside is a refreshing cocktail, revealing subtle complexity as you peel back the layers. Hints of cooked fruits, baking spices and bright citrus will pair wonderfully as their guests make their way through the meal and into the night."
The Hilhaven Lodge Fireside
·         1 1/2 oz. The Hilhaven Lodge Blended Straight American Whiskey
·         1/3 oz. Spiced Pear Liqueur
·         1/8 oz. absinthe
·         3/4 oz. fresh lemon juice
·         1/2 oz. simple syrup
·         Splash of ginger beer
Preparation
Shake, pour into Collins glass over Kold Draft type ice. Top with a splash of ginger beer. Garnish with fresh sage leaf and lemon wheel.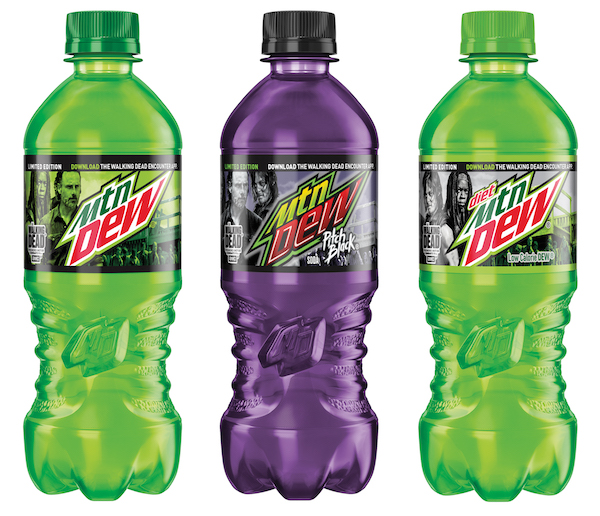 Who is excited for the 100th episode of AMC's hit show The Walking Dead coming up this October? AMC and Mountain Dew are psyched! They are partnering to give fans the chance to experience some of the show's most iconic zombie walkers in their own real-world environments. This is a one of the first-of-its-kind "The Walking Dead Encounter" augmented-reality app, along with limited-edition Mtn Dew products featuring images of iconic The Walking Dead characters.
Through "The Walking Dead Encounter" AR app, available today on the App Store and Google Play, fans can capture photos and videos with zombie walkers in the real world and share them on social media. Using the app, fans will be able to unlock walkers by watching the show and by scanning codes on specially-marked Mtn Dew products. The limited-time only packaging featuring The Walking Dead characters will include 20 ounce bottles and 12-packs of 12 oz. cans of original Mtn Dew, Diet Mtn Dew and Mtn Dew Pitch Black.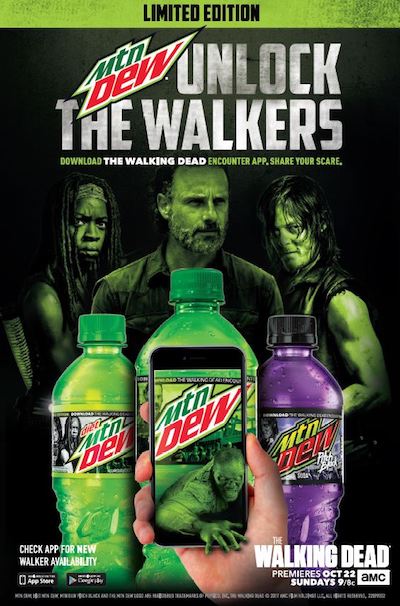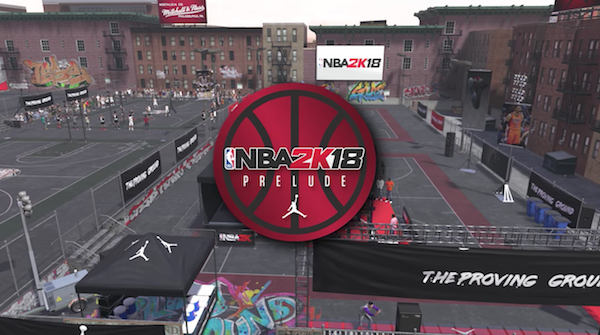 Want to play a free demo of NBA 2K18's, The Prelude? This part of the game will be available to fans this Friday, September 8 at 12am ET on Xbox One and PlayStation 4. Fans can get an early taste of NBA 2K18 with this free, downloadable experience that begins their journey into The Neighborhood, the groundbreaking new way to play NBA 2K. The Neighborhood brings together the most loved elements of NBA 2K together into a shared world for players to truly experience the life of an NBA athlete, both on the court and off.
Players can kick-off their NBA 2K18 experience with The Prelude prior to the game's launch and continue where they left off when the game officially releases starting September 15, 2017.
To download The Prelude on Friday morning, simply visit Xbox Live or the PS Store direct on your console and search for NBA 2K18.