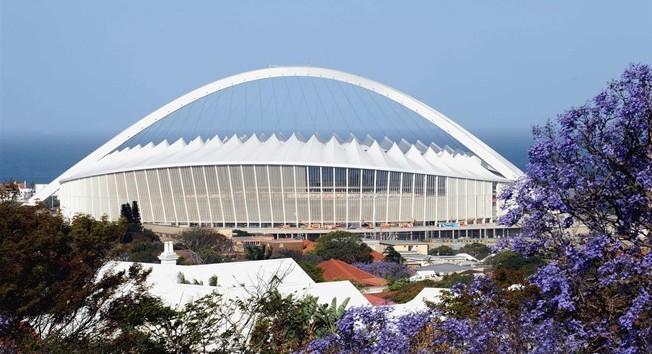 With the onset of World Cup 2010 in South Africa, soccer, or football (as it's referred to internationally), has once again captured the global imagination. Tens of thousands of fans from around the world will flood into the republic of South Africa to see the games, as hundreds of thousands of fans around the globe will tune in to the broadcasts on their televisions. Another exciting opportunity, while the world's attention is focused, to slip in some handy information on how we all might be a little bit more green, reducing our collective carbon footprint. So what about sustainable architecture, the challenge of hosting a multi-nation global sporting event, eco-friendly architecture when it comes to these soccer (football) stadiums, and more environmental concerns? Here's a site where you can find out more on green soccer stadiums in this year's World Cup 2010 in South Africa, and discuss some other eco-oriented thoughts too.
So a couple weeks ago the MANjr team attended the taping of the 2010 Spike TV Guys Choice awards. By far the most entertaining moment of the show was when Triumph the Insult Comic Dog went through a list of the Triumph Douchebags of the Year. Here's the video:

With most teams content to sit back and play it safe during their opening match, early goal keeping play has been the deciding factor in many matches. Here are the top five stories to date:
5. General Miscues
Blame it on the wet and cold conditions (it is winter in South Africa) or the new "Jubalani" ball, but most keepers haven't looked very sure handed. As the case with every new ball, they are designed to travel faster and provide more offense. See the Jubalani in action:
4. Buffon Done?
Widely considered the top goalie in the world, Gianluigi Buffon may miss the remainder of the cup with what is being called a serious back injury. He said after the match that his sciatic nerve flared up and expects to return. Without him, Italy will be crippled in the back, literally. See his best work here (be warned it's set to Evanescence, so we suggest having someone blow a vuvuzela in your ear, or simply muting it):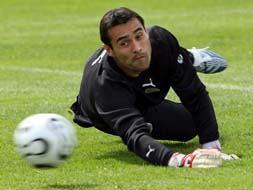 3. Paraguay's Justo Villar's Whiff
In the 63rd minute and up 1-0 on the favored Italians, Villar makes an inexcusable whiff on the ball, allowing Daniele Di Rossi to equalize. Being the top two teams in the group, Paraguay should not have allowed this win to get away: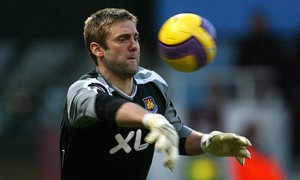 2. Green's Blunder
It's not on the same level as Bill Buckner, but its pretty damn close. However, it would make a great Southwest Airlines commercial: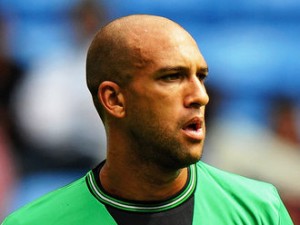 1. Tim Howard's Dominance
The man of the match vs. England had five saves and took Emile Heskey's boots to his ribs midway through the opening half. Following a painkiller injection at halftime, he stifled the British attack again and again allowing the Americans to secure a much needed point. If the Yanks expect to make it out of group play, they will need him to look good every match. Check out the video of his post-match interview.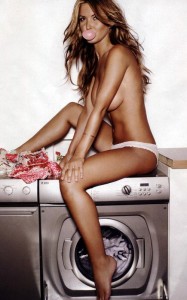 Good gravy, Audrina Patridge is scrumptious! (Heavy)
Get some vuvuzela horn action on your iPhone (CNET)
Yes, there was a Mel Kiper Sr. – 11 Dads of famous juniors (MentalFloss)
This shirt covers every geeky thing from A to Z (SlashFilm)
The top 9 chokes in US Open History (BroBible)
Find out the dirty secrets behind radio's slow and painful death (TheBachelorGuy)
8 crazy athletic feats that changes sports forever (EgoTV)
Top 20 must see guy movies (MankindUnplugged)
Jessica Biel accepts the Holy Grail of Hotness Award from her A-Team cast mates at the 2010 Spike TV Guys Choice Awards. Well deserved, Miss Biel, well deserved….
Diego Maradona has never met a vuvuzela that he didn't like…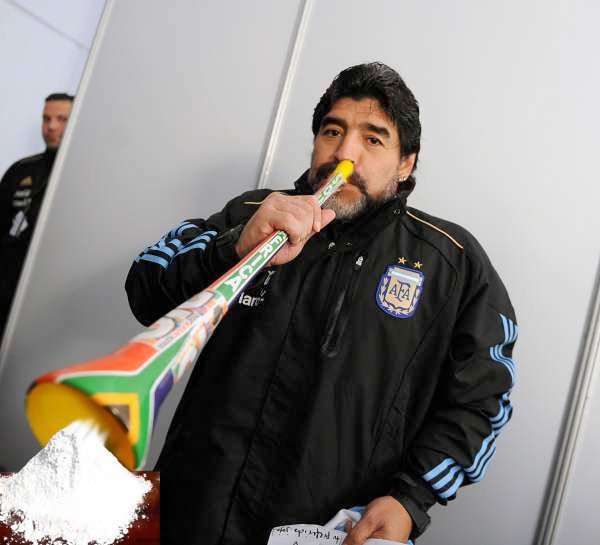 Thanks @EgoTV!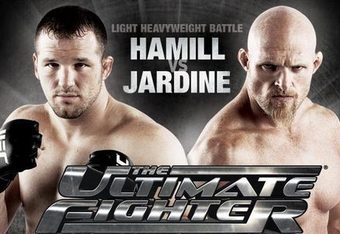 It's going down June 19th at the Palms Casino in Vegas. Here's a breakdown of the fights.
Always a crowd favorite, "The Hammer" is coming off his "victory" over Jon Jones at the last TUF finale.  His always-improving stand up game is backed up by his solid wrestling background.  Look for him to box initially to set up takedowns for his ground and pound.  Jardine "The Dean of Mean" is coming off three straight losses to some of the LH division elites (Rampage Jackson, Thiago Silva, and Ryan Bader).  His unorthodox style of striking can present issues for his opponents and his keys to victory are avoiding takedowns while utilizing effective leg kicks as he did versus Chuck Liddell.
McGee, the now clean former heroin addict, used his grinding never-say-die attitude to surprisingly earn a spot in the final.  As an underdog during most of his fights on the show, he earned a clear win over the talented Brad Tavares in the semi-finals and also owns a win over former TUF 9 member DaMarques Johnson.  He proved that he can stand and bang or take the fight to the mat.  McCray's season looked to be over after losing to Josh Bryant early, but an injury gave him a second chance at Bryant in the other semi-final.  Following new coach Rich Franklin's advice for preserving energy, the seemingly always gassed McCray got his revenge and narrowly edged Bryant.  But can he do more than his standard thai clinch knee and lazy uppercuts?  Lets hope so, but look for McGee to emerge victorious.
Other Fights
The A-Train looks to continue his undefeated ways.  The former Arizona State All-American wrestler in 1996 & 1998 got a late start in the UFC, but is making up for lost time.  Leben, a former TUF cast member, is polarizing as they come.  He is most famous for urinating on people's beds, getting busted for steroids, being on the receiving end of Anderson Silva's fists and knees, and pretty much the most awesome tattoo in the world (a samurai holding a bloody katana and a decapitated head).
"The King" appears to be regulated to a lightweight division gatekeeper, while the Russian-German Siver is worth watching for his famous spinning back kicks/punches.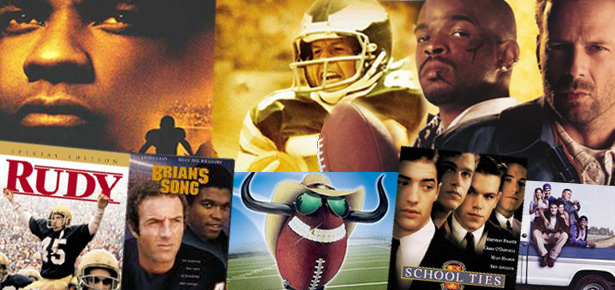 Who doesn't love football movies? They're packed with real action and genuine inspiration. They're filled with raw emotions and extended montages. Football movies can change your life. They can teach you about love, teach you about success and they can even teach you a thing or two about yourself. Here are the top 25 football movies of all time, in order of awesomeness:
25. The Blind Side
To be honest, this movie sucked. Yea, I said it. The film portrayed Michael Oher as a jumbo moron whose super-sweet, inner-city innocence was matched only by his inability to comprehend the purpose of blocking. The whole thing just felt so exploitative on too many levels. But hey, Sandra Bullock won an Academy Award for that accent, and that should count for something.
24. Heaven Can Wait
It's hard for this generation to remember what a badass Warren Beatty used to be (it's also hard to remember that the Rams once hailed from Los Angeles). This movie has to be one of Kurt Warner's favorites – it's got the Rams, the romance, an injured QB, a dude who uses his millions to do the right things and lots of angels and heaven and other Christian stuff.
23. Radio
Yea, Radio made the list. But why not, right? Ed Harris is a coach who really cares about football and making a difference. Cuba Gooding Jr. is a special person who loves listening to his radio and overcoming adversity. Spoiler alert: Ed Harris retires from coaching in the end, thus showing he cares more about making a difference than he does about football.
22. Lucas
Lucas is Corey Haim's hit flick about geekiness, romance and how it all ties together with football. Haim is the weakling who can't defend himself. Charlie Sheen is the standup captain of the football team who protects Haim. Everything changes when new girl Kerri Green arrives at school and the nerd and the jock battle for her affections.
21. Jerry Maguire
This movie seems kinda dated now. Although it's starting to be okay to like Tom Cruise movies again, it's hard to think back to a time when Renee Zellweger was attractive and Drew Beldose was the biggest thing in the NFL. Gushy love story and annoying spiky-haired kid aside, this film is still a worthy addition to the list.
20. The Waterboy
May not have much rewatchability, but this movie served its purpose. It was the gridiron Happy Gilmore, and it accomplished what it set out to do. Before The Blind Side melted people's hearts, this film was the highest grossing sports movie of all time. Seriously.

GIF of the week: Van Damme's Kickboxer dance immortalized. Fucking awesome. (Unreality)
Gallery of classic movie posters (EgoTV)
Kylie is red hot in black book (FHM)
Hot World Cup Soccer fan of the day, Paraguay edition (BroBible)
10 new places to have sex (MensHealth)
Celebrities that became overweight (Izismile)
16 funny anti vuvuzela pics (DJMick)
Women dressed up as video game characters (Asylum)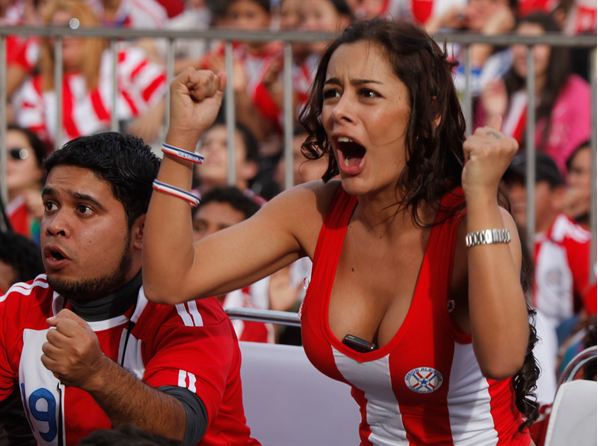 (Photo via: BroBible) Cheers to you guys for unearthing these beauties.
After UFC 115, Dana White made it clear that the Iceman is done. In this solid interview from Fanhouse's Ariel Helwani, Dana talks about Chuck being finished for a second time, Pat Barry's man crush on Mirko Crocop, his frustrations on having no control over terrible officiating, Strikeforce still being minor league, and James Toney/Jake Shields contract updates: