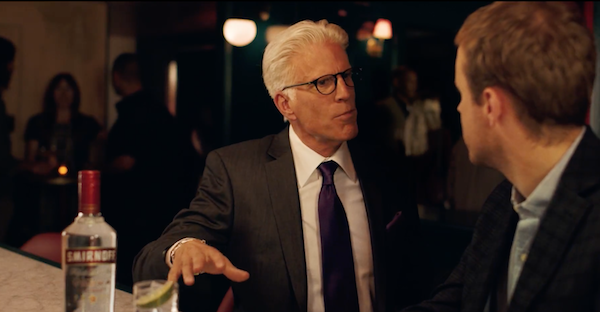 Looks like Ted Danson is coming back to the bar. Well not a remake of Cheers or a Cheers reunion, but his work with SMIRNOFF. The makers of SMIRNOFF vodka announce a new partnership with American actor, author and environmentalist, Ted Danson, as an extension of the SMIRNOFF No. 21 vodka campaign "Only the Best For Everyone." As part of the partnership, SMIRNOFF worked with Danson to co-curate a comical series of short videos, which are now available to view on YouTube as of today, communicating in a cheeky way how SMIRNOFF vodka is made in America.  The SMIRNOFF No. 21 campaign is confidently candid about the brand's great quality at an affordable price and reinforces SMIRNOFF as "the people's vodka" to show that all people of legal drinking age, from your average Joe to swanky Hollywood stars like Danson himself, should be enjoying SMIRNOFF.
"Ted is a Hollywood legend and a natural partner to help bring the spirit of SMIRNOFF to life," said Jay Sethi, Vice President, SMIRNOFF, Diageo North America.  "His light-hearted, fun and care-free personality is like a real life embodiment of our brand.  Ted is great at communicating our quality message in a down-to-earth and relatable way."
SMIRNOFF's campaign with Ted includes a handful of videos. While the series depicts different scenarios in which Danson tries to debunk the notion that he is inherently elitist and only likes expensive vodka because of his fame, they all share a candid, honest attitude and give a nod to Ted and SMIRNOFF's down-to-earth, no frills qualities. As Ted himself comically states in one of the videos, "I have a lot in common with this brand. We're award winning, we've got great taste, been around since 1864 and we're both surprisingly cheap – wait what?!" All of the videos are now live online and some are slated to run on national television later this year.
"I'm delighted to be associated with Smirnoff Vodka and its century old tradition of award-winning quality, globally appreciated smoothness and affordability," said Danson when discussing the partnership.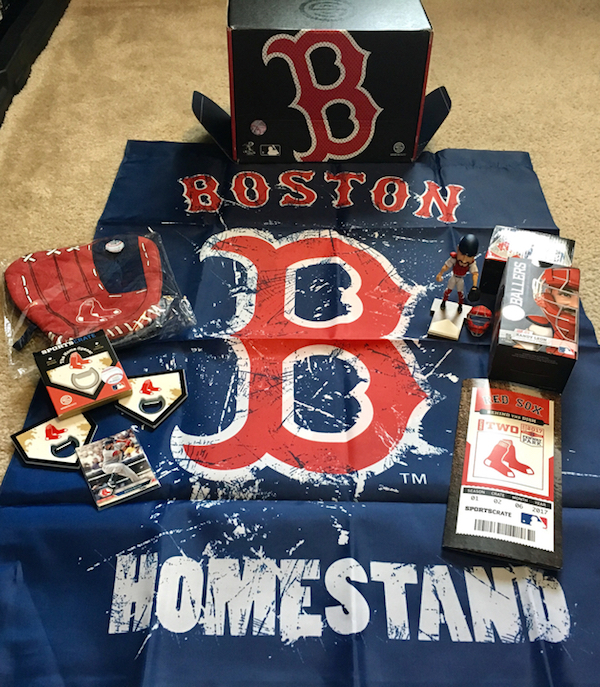 This month I received my second Boston Red Sox Sports Crate. Just like the first one, this crate did not disappoint. This one featured Sandy Leon, who is a catcher for the Red Sox. Not only did this month's crate have a mini figure of Leon, but it came with a baseball card of him too. The catcher is there to protect the plate and I was loving the fact that I got two home plate bottle openers with the Sox logo on them!
When a pitcher throws the heat you know the catcher can take it so it was only natural for Sports Crate to add a baseball glove oven mitt into the mix for this month. The shot glasses are great will go next to my Red Sox collection in my office. The Boston Homestand flag is pretty big and will be great to display inside or outside your home.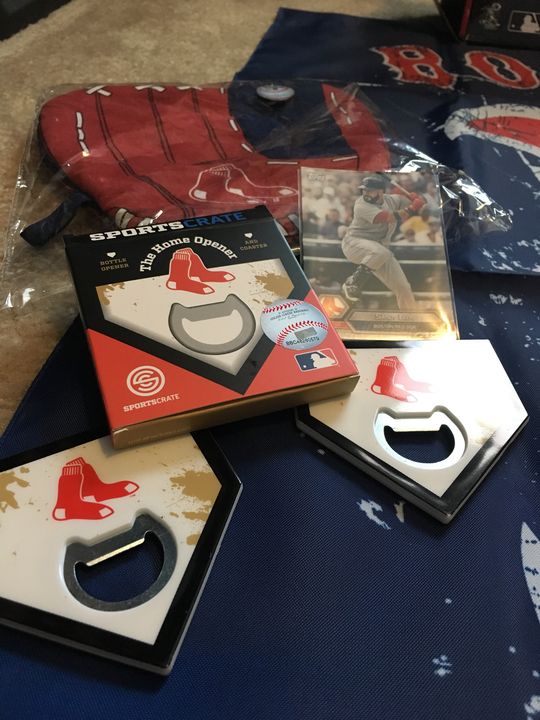 With licenses from Major League Baseball and the Major League Baseball Players Association, Sports Crate is now the Exclusive Licensed Subscription Box of MLB. The new division of Loot Crate, Sports Crate will launch with 10 teams initially, providing fans of the Boston Red Sox, Chicago Cubs, Detroit Tigers, Kansas City Royals, Los Angeles Dodgers, New York Mets, New York Yankees, San Francisco Giants, St. Louis Cardinals and Texas Rangers with exclusive apparel, collectibles, experiences and more every month. Sports Crate will roll out additional teams later this year.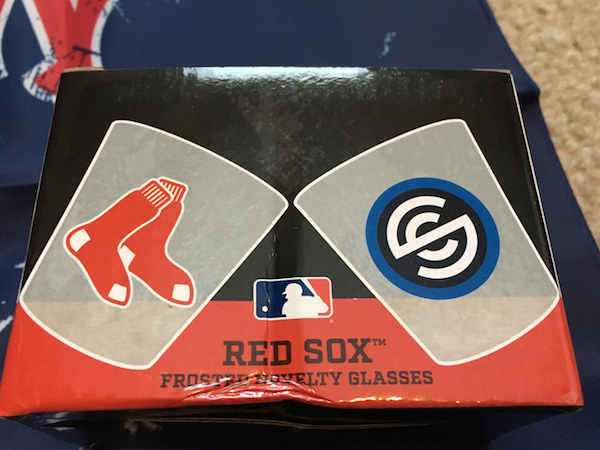 The monthly subscription service will feature exclusive team-focused products and VIP one-of-a-kind experiences. The first Sports Crate will feature a "Bringing the Heat" theme, stocked accordingly with a highly collectible, exclusive action figure of the respective team's starting pitcher, along with everything a fan needs to "bring it" on Opening Day.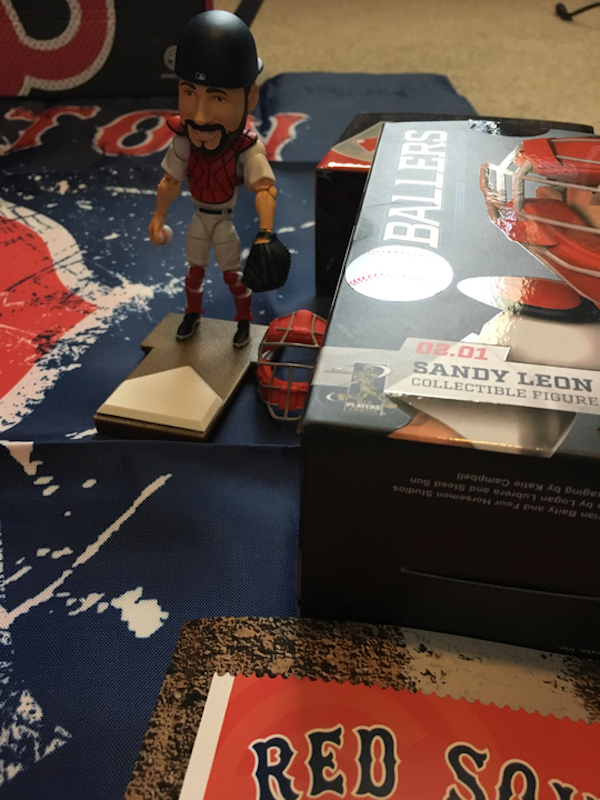 Sports Crates are currently available on a first-come, first-serve basis and will be limited to ensure their collectability. For more information, please visit www.sportscrate.com or MLB.com. Fans can also visit the website to submit the team they'd like to see made available in the coming weeks and months.


If you are tired of the same old soap you have been using we have some good news. There is a new company out there with some fantastic products. BILT, a new line of men's bar soaps and body washes that offers a unique blend of STYLE and SUBSTANCE at accessible price points, are now available at 1,500 Walmart stores across the country. The new Minneapolis-based start-up is poised to meet men's grooming needs as they continue to seek better skin care options by offering six unique scents inspired by exotic locations from around the world.
To help launch the brand, BILT has earned the endorsement of Steve Harvey, one of the hardest working men in business and entertainment, and whose personal values of style and substance forge a powerful connection with the brand.
"I've long believed that confidence is the foundation of a man's success, but it's hard to be confident when you're not looking or smelling great. That's why I love using BILT," says unabashed gentleman and entertainer, Steve Harvey. "Their products are made with premium ingredients and they smell amazing. So good in fact, my wife won't let me us anything else."
BILT STYLE starts with the unique masculine scents inspired by aspirational global locations. "Havana Bay" blends the subtle essences of citrus and cigar that is evocative of exotic Cuban nightlife. "Prohibition" was inspired by the speakeasies of the roaring '20s, blending leather and oak barrel fragrances for a mature scent that is unlike anything found among mainstream brands. The unique scents, combined with bold, colorful packaging, helps BILT stand apart in a sea of boring products that over promise and under deliver.
"BILT believes STYLE without SUBSTANCE is hollow, so BILT products are made with premium ingredients that men need for clean, healthy skin," said Ryan O'Connell, President, BILT Brand.  "The hefty 8 oz. bar soaps and generous 16 oz. body washes are formulated with natural vegetable bases, shea butter for moisture, and Vitamin E for antioxidant protection. BILT is also defined by what it doesn't offer: all BILT products are free of parabens, sulfates, and gluten, and products are never tested on animals."
For more about BILT products visit www.Biltbrand.com or head to www.facebook.com/biltbrand.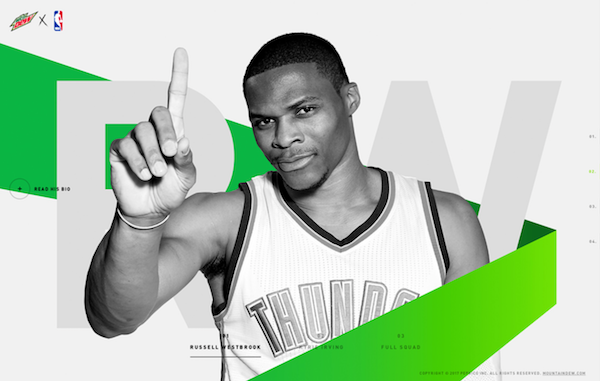 Did you see Russell Westbrook at the ESPY's? Well if not you missed him winning the award for Best Male Athlete at the 2017 ESPY Awards. So now Mountain Dew is continuing to celebrate his historic season by unveiling the one-of-a-kind "Assists from Russ" Messenger Bot, which will give consumers and NBA fans alike a unique inside look at the reigning NBA MVP.
The bot that was created by Mtn Dew, "Assists by Russ" lets NBA fans get inside of the mind of Russell Westbrook via scripted AI conversations.  The Russ Bot will have over 200 unique responses that answer questions across the style, fashion and art spaces – he'll even "assist" fans on their fashion choices. The bot will also have a section that showcases his 2016/2017 season statistics so that fans can relive his record 42 triple-double performances and more.
Sounds cool? You can check it out the bot here!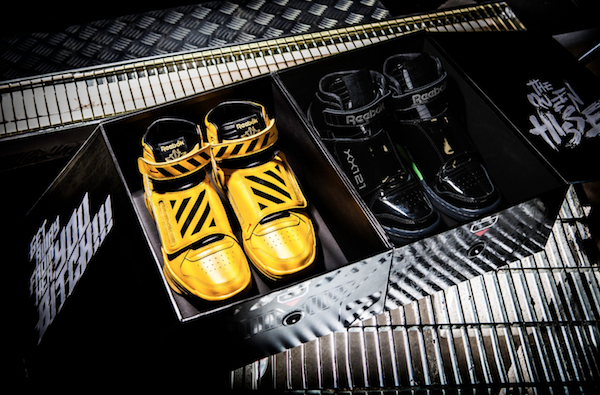 I am a big fan of the Alien films. For those who remember 1986 was a momentous year in cinema history. Not only did kick-ass heroine Ellen Ripley return to the silver screen in James Cameron's Aliens, it also marked the debut of Ripley's signature footwear: the iconic 'Alien Stomper' boots made especially for her by Reebok.
Answering the dreams of die-hard film fans and sneakerheads alike, Reebok will commemorate the moment by releasing a pair of highly collectible Alien Stompers this year. Drawing rich design details from the climactic duel between Ripley and the Xenomorph Queen, the 'Final Battle' pack is a nostalgic celebration of one of the most intense blockbuster finales in cinematic history.
The 'Queen' Alien Stomper was inspired by the gloss finish of the Xenomorph exoskeleton. A tribute to the deadly matriarchal villain, the shoes are assembled using high-sheen black patent leather and a toxic green glow that pulses beneath the translucent midsole as a nod to the Queen's corrosive blood. To complete the ensemble, the Stomper's signature forefoot strap is embroidered with 'XX121', the code designation given to the extraterrestrial species.
The 'Powerloader' Alien Stomper, inspired by Ripley's battle-ready cargo suit, is an impressive work of art. Icy orange outsoles complement the striking 'safety yellow' leather upper, while red arrows reference the suit's hydraulic movement. Debossed 'PWL' heel graphics and call-outs clarify the model's identity, including the P-5000 serial number. As a nod to the canopy that protects Ripley during the final showdown, mesh panels overlay the Reebok logo, while quilting on the tongue and insoles evokes the industrial mechanoid's upholstery.
The unisex sized shoes will be packaged inside an ornate box that is also dripping with symbolism. Reebok designers immersed themselves in the film's folklore, combing the Internet for obscure visual references and freeze-framing repeatedly to unlock minute details hidden in the loading dock where the final battle takes place.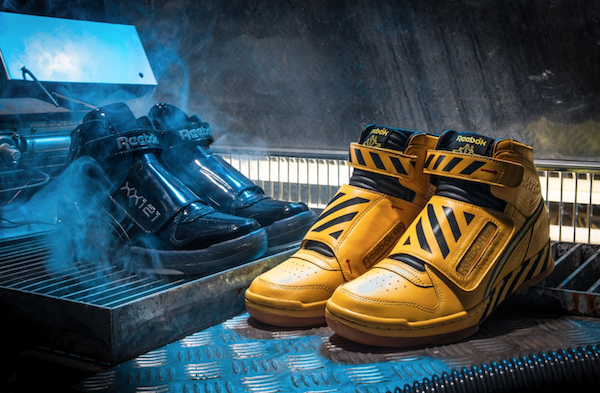 The Queen's chamber (inner box) is decorated with an alien hive pattern, while the Powerloader bay (outer box) is modeled after the chamber that houses the suit. For the outer box, there is a green splatter that references the alien's acid blood burning through the container as well as key design cues that take direct references to the outer lock door, and various hidden details that reference "Aliens" as well as Reebok mythography.  The inner box, inspired by the Alien Hive, has a distinctive pattern that hides Xenomorphs, face huggers, and eggs, and also incorporates design details from the body of the ship, including the iconic floor grates, air outtakes, and hazard stripes from the Powerloader.
The lavish cube is made by hand, using high-gauge cardboard which has been printed using multiple techniques and then debossed to add depth and texture. Tucked away safely inside, each shoe is stored in a separate drawer.
If you are in New York City, on Monday, July 17, 2017, the Reebok FitHub will give early access to purchase one of 50 Alien Stomper packs, ranging in unisex sizing from 4 to 13.  Consumers will receive custom Alien-inspired pins as a gift with purchase. Consumers will also have the opportunity to purchase limited edition, numbered unisex T-shirts (7 designs total) inspired by the Alien Stomper.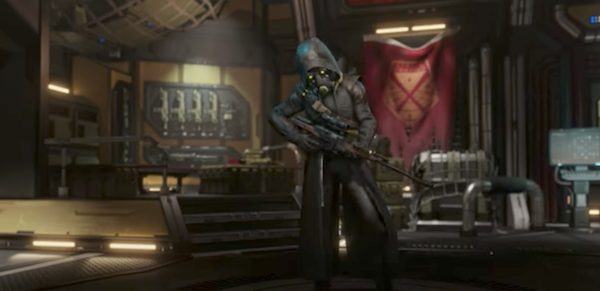 There is some cool news from 2K and Firaxis Games. Earlier today they released the "Lost and Abandoned Gameplay Walkthrough" for XCOM 2: War of the Chosen.
In this gameplay video players will get a closer look at two of the new factions in XCOM 2: War of the Chosen, the Reapers and the Skirmishers, as XCOM get them to put aside their differences and join forces while facing hordes of the Lost and one of the titular Chosen.
XCOM 2: War of the Chosen is the expansion pack to the 2016 strategy game of the year award-winning XCOM 2, and will be available for Windows PC, PlayStation 4 and Xbox One on August 29, 2017.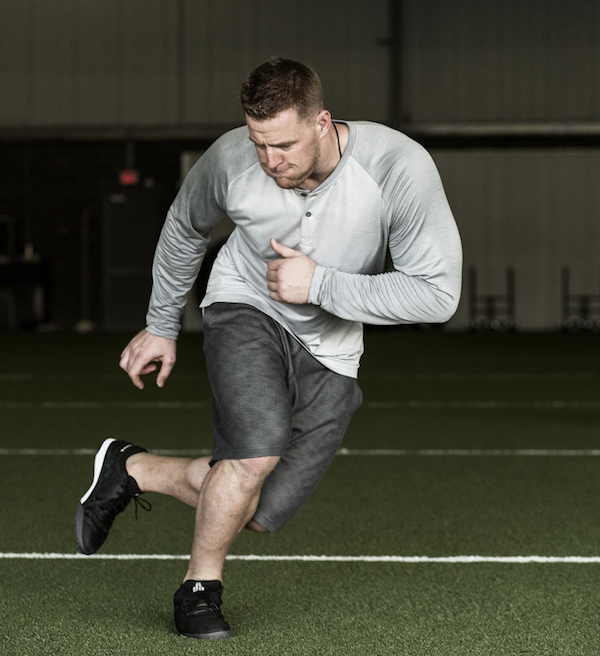 Football season will be here before you know it. So it is no surprise that J.J. Watt is getting ready for the new season. Reebok and J.J. Watt announced the release of the JJ II, the latest training shoe forged between the global fitness leader and superstar athlete. The JJ II follows the success of their first collaboration in 2016 and is specifically engineered to meet the intense training needs of the hardest working athlete in the game.
The JJ II was built from the ground up to provide the versatility to attack any training session with the same maximal intensity as Watt himself. The JJ II also pushes the boundaries of technical innovation to withstand Watt's intense workout regimen, with features of this cutting-edge training shoe including:
Unmatched Traction - Graded lug pattern for a strong, responsive grip
Ultimate Security - Webbed lacing system provides surefooted support.
Uncommon Cushion - Liquidfoam technology provides security and comfort.
Relentless Ventilation - Lenoweave upper provides ultimate breathability.
"What I love about the JJ II is that it's so versatile in the weight room," said J.J. Watt. "You can do any type of workout with it, but then you can also right after the gym, go out and wear it on the streets. It's the best performance shoe I've ever worn."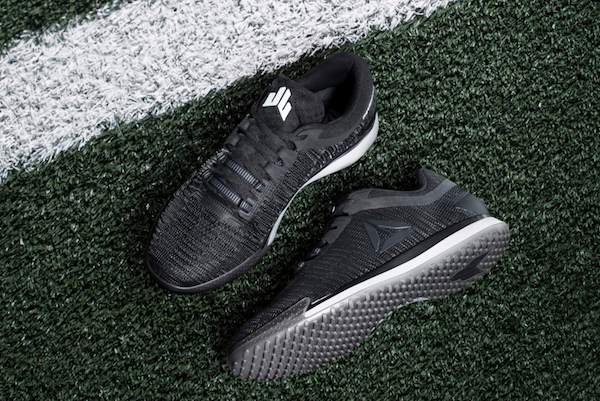 The first colorway of the JJ II, the Focus Pack, is inspired by Watt's unbreakable focus on the field and in the gym. The black and white color variants are representative of Watt's no-nonsense attitude: he focuses on workouts that are simple and effective, not necessarily flashy and elaborate.
A Reebok athlete since 2015, J.J. Watt has continued to grow and develop into one of the most dominant defensive forces in the game, relaying that energy into a partnership that inspires fans everywhere with dedication and work ethic on and off the field.
The shoe will be available from the 14th July on Reebok.com, Reebok FitHubs and other retailers nationwide for $99. In addition to the JJ II, Reebok has also released a new apparel line specifically designed by Watt. For more information visit Reebok.com/us/jj_watt.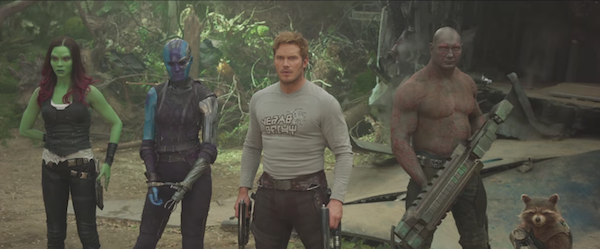 One of the best movies so far this year has been Guardians of the Galaxy Vol. 2. Marvel's Guardians of the Galaxy Vol. 2 marks the Studios first in-home title to release in stunning 4K Ultra HD format, providing consumers with the ultimate home entertainment experience with next-generation high dynamic range visuals and Dolby Atmos immersive audio. Set to the all-new sonic backdrop of Awesome Mixtape #2, the film's storyline continues the team's adventures as they traverse the outer reaches of the cosmos. The Guardians (Chris Pratt as Peter Quill/Star-Lord, Zoe Saldana as Gamora, Dave Bautista as Drax, Vin Diesel as the voice of Groot, and Bradley Cooper as Rocket) must fight to keep their newfound family together as they unravel the mystery of Peter Quill's true parentage.  This blockbuster sequel featuring the world's favorite band of intergalactic misfits, blasts into homes Digitally in HD and 4K Ultra HD™ on Aug. 8 and 4K Ultra HD™ and Blu-ray on Aug. 22.
BONUS MATERIAL (may vary by retailer):
Blu-ray:
• The Making of "Guardians of the Galaxy Vol. 2" – A four-part, behind-the-scenes look at the making of the film, done in the style of classic-rock album liner notes.
• Visionary Intro – Director James Gunn provides context on how he continues and expands the storylines of these beloved characters in "Guardians of the Galaxy Vol. 2."
• Guardians Inferno Music Video – Join David Hasselhoff and special guests for a galactic retro dance party.
• Gag Reel – Laugh out loud at all the hilarious off-script shenanigans and bloopers that took place on the set of "Guardians of the Galaxy Vol. 2," featuring all your favorite Guardians.
• Four Deleted Scenes – Check out four specific scenes that had to be cut from the film, including two extended scenes and two deleted scenes.
• Audio Commentary – Check out a special narration of the film by director James Gunn, who guides fans through an inside look at the making of the movie.
Digital:
All the features listed above plus four extra exclusives:
• Three Scene Breakdowns (Digital Exclusives) – We'll reveal the anatomy of a few key scenes from the film. Discover the process in bringing these scenes to life. It starts with a doodle and the rest is film history. Audiences will be given the option to view 5-6 layers of specific scenes in the film. Scenes include "Eclector Escape," "Gamora and Nebula," and "Rocket and Ravagers."
• Guardians of the Galaxy – Mission: Breakout! (Digital Exclusive) – Get an exclusive sneak peek inside the most anticipated ride at Disneyland, Guardians of the Galaxy – Mission: Breakout!. We'll dig into the concepts and inspiration, and talk about what it took to bring the most epic ride at Disneyland to life.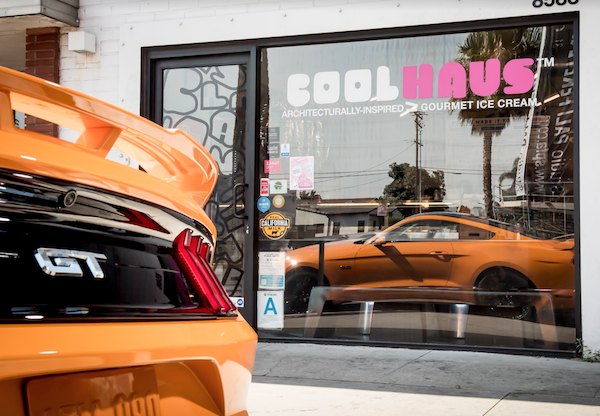 We all scream for ice cream and now our screams will get louder in excitment. Just in time for National Ice Cream Day (July 16), Ford and ice cream startup Coolhaus are partnering to create a new ice cream flavor inspired by the 2018 Ford Mustang. From Friday, July 14-Sunday, July 16 a Coolhaus ice cream truck and 2018 Ford Mustang will stop at various locations throughout New York to hand out free ice cream, featuring the new Mustang-inspired flavor, Orange Fury.
Ford and Coolhaus have been working hand in hand through the entire research and development process to engineer a flavor that is just as enjoyable to eat as the Mustang is to drive. Just as Coolhaus is known for its unique, custom ice cream sandwiches, the new 2018 Mustang is all about customization, from its twelve different wheel designs, to its customizable dash board gauges.
The ice cream sandwich is a fresh baked orange cookie with white racing stripes. In between the cookies is a limited edition Orange Fury flavor that embodies the spirit of the Mustang and the Orange Fury color of the vehicle.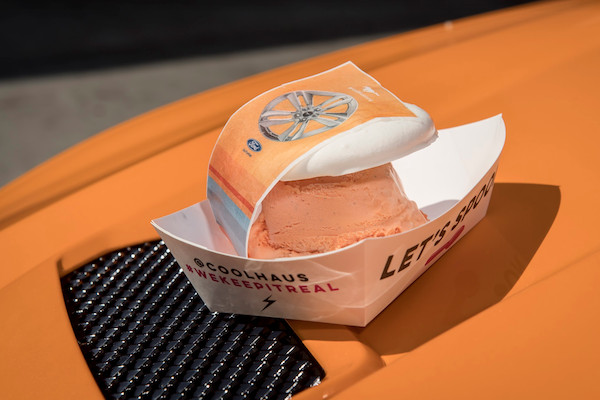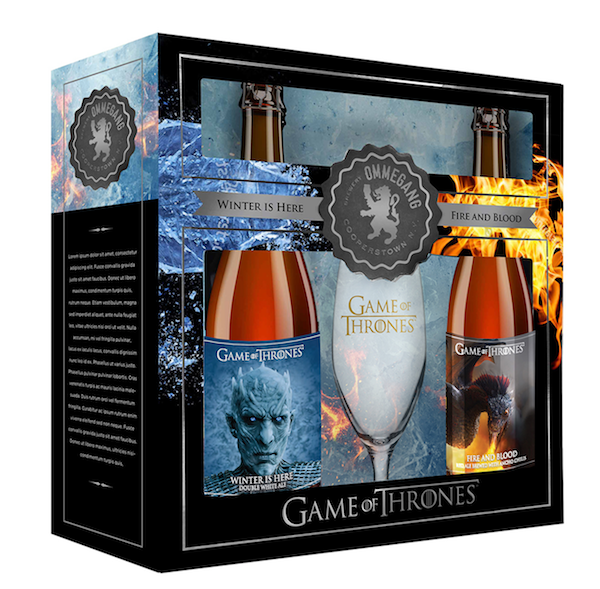 Next weekend it is about to get real. For Game of Thrones fans you know exactly what I am talking about. It may be the start of summer, but Game of Thrones fans from throughout the realm are preparing for winter when the hit HBO series returns July 16. And while those fans will still be sipping Bend the Knee Golden Ale throughout Season 7, Brewery Ommegang and HBO Global Licensing are proud to announce that a brand new beer in their successful partnership, available this fall, will confirm once and for all that, finally, Winter is Here! An 8.3% AVB Belgian-style double white ale with the fearsome Night King emblazoned on the label, Winter is Here will be available in 750ml single bottles, on draft, and also paired alongside previously released Fire and Blood Red Ale in a collectible gift pack complete with a commemorative glass. Suggested retail price is $11.99 for the individual bottles and $23.99 for the gift pack, both of which will be on shelves in late October.
"For six seasons, Game of Thrones fans like ourselves have watched as the great houses of Westeros battled amongst themselves, all the while knowing that the only battle that really mattered – the great war – was yet to come," says Doug Campbell, Brewery Ommegang's President. "In this next season, we celebrate the long-awaited arrival of winter with a beer fit for consumption north of The Wall. Winter is Here is a fortifying and delicious double white, brewed with sea salt and white pepper, sure to keep you warm in winter, no matter how long it lasts."
"Game of Thrones fans have been waiting for winter since the very first episode of the series debuted," says Josh Goodstadt, Vice President of Global Licensing at HBO. "Now, thanks to this latest Game of Thronesbeer, they'll have the perfect brew to sip throughout the cold months that lie ahead. We can't wait for fans to get their first taste of Winter is Here!"
Winter is Here is brewed with pilsner malt, white wheat malt, and soft red wheat flakes, hopped with Saaz hops, and spiced with white pepper, sea salt, coriander and sweet orange peel. Brewery Ommegang's house yeast is used in primary and secondary fermentation. This double white ale pours a hazy pale straw color with a stark white head. Aromas of banana, clove, and pronounced peppery phenols lead, and the flavor is slightly sweet malt, subtly balanced by hints of sea salt. Despite a full mouthfeel and healthy ABV, it still manages to drink quite lightly. The finish gradually builds in a warming crescendo of peppery spice.
Fire and Blood was the third beer in the collaborative series, originally released in spring of 2014. It's brewed with pilsner, spelt, rye, and other specialty malts, hopped with Styrian Golding and German Tettnang hops, and spiced with ancho chilies for additional complexity. The hue is deep, dark red with a persistent, creamy, off-white head. The aromas of ripe fruit, raisins, slight spice and malt mix nicely with a slight floral, spicy hop character. The flavor of sweet malt gives way to faint dryness and is balanced by spicy rye and hop flavors with underlying raisin and prune notes. The finish offers balanced malt and spicy characteristics from hops and rye. Fire and Blood is 6.8% ABV, and the label art features one of the original three labels, a fiery image of Daenerys Targaryen's dragon, Drogon.