Lifestyle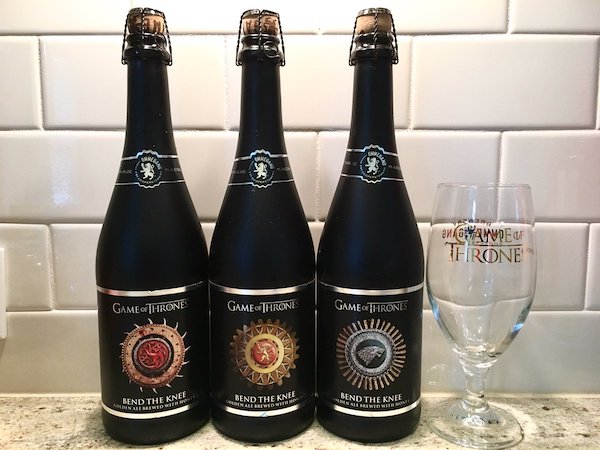 I am guessing that you have a better relationship with your dad than pretty much any character on Game of Thrones. So to show your dad that you are thankful for him and that he hasn't tried to kill you or set you on fire like some of the fathers on Game of Thrones why not pick him up some beer inspired by HBO's hit series?
To commemorate the coming mêlée in the Emmy® Award-winning show's epic seventh season, Brewery Ommegang and HBO Global Licensing are excited to announce a new beer in their collaborative series: Bend the Knee Golden Ale. You can grab some bottles for him and yourself and prepare to watch Season 7 together with a nice brew!
Paying homage to the struggle for control of the Seven Kingdoms, Bend the Knee will be available on draft and in a series of three collectible 750ml bottles, all finished in matte black and adorned with one of the three Great House sigils: Stark, Targaryen, or Lannister. The beer clocks in at 9.0% ABV and bears a suggested retail price of $10.99 per bottle. And while the show's return date has yet to be announced, fans can mark their calendars for the official nationwide release of the beer, which is now available.
Bend the Knee is brewed with pils malt and flaked oats and hopped with Saaz, Bravo, and Styrian Golding hops. It pours a golden hue with a large, frothy head. Both the aroma and flavor mix maltiness and citrus from the hops, while Ommegang's signature house yeast produces prominent fruitiness. Wildflower honey added during fermentation provides light sweetness to the beer, which finishes dry and with firm hop bitterness.
Fit for any feast table, Bend the Knee's clean and balanced flavor and effervescent carbonation make it a fine pairing for a variety of foods including seafood and shellfish, roasted or grilled chicken, grilled steaks, and aged Swiss-style cheeses.
You can use the Ommegang Brewery finder HERE to see where you can pick up Bend the Knee Golden Ale.