Lifestyle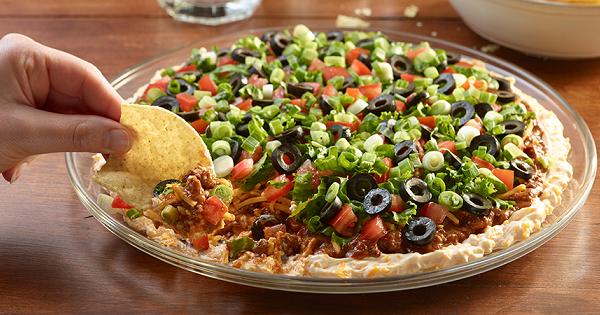 No matter what time of the year it is there is always a great recipe for chili. We have four new takes on chili that you will love trying out for dinner, lunch or even breakfast. That is right I said breakfast. Which one will you try first?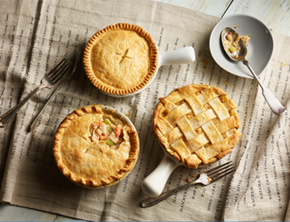 Chicken Chili Pot Pie
Makes 4 servings
1 tablespoon olive oil
½ cup chopped carrots
½ cup chopped onion
½ cup chopped fresh cilantro leaves
2 (15-ounce) cans HORMEL® chicken chili with beans
1 (14-ounce) package refrigerated pie crusts
1 large egg, lightly beaten
1 tablespoon water
Directions: Heat oven to 375°F. In medium skillet, heat oil over medium heat. Sauté onion and carrot 10 minutes. Stir in chili and cilantro; cook until heated. Transfer mixture to baking dish or to individual baking dishes. Either cut circles to fit with slits to vent or cut strips to make a lattice pattern over chili mixture. In small bowl, whisk together egg and water. Brush pie crust with egg mixture. Bake 25 to 30 minutes or until crust is golden and filling is bubbly.
Vegetable Chili With Kale And Quinoa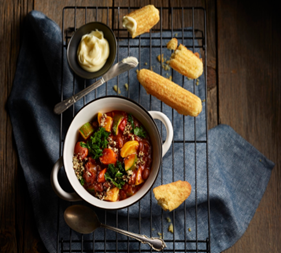 Makes 8 to 10 servings
2 tablespoons olive oil
½ medium onion, chopped
1 carrot, peeled and chopped
2 celery ribs, chopped
1 medium zucchini, chopped
1 small yellow squash, chopped
1 red bell pepper, chopped
4 ounces sliced mushrooms
3 (15-ounce) cans HORMEL® chili
½ cup quinoa
2 cups chopped fresh kale
Directions: In large Dutch oven, heat oil over medium-low heat. Sauté onion, carrot and celery 10 minutes. Stir in zucchini and next 3 ingredients and sauté 8 minutes. Stir in chili, quinoa and kale and simmer 15 minutes.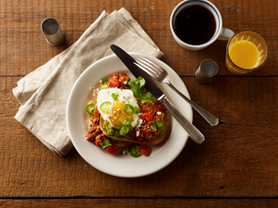 Chili Avocado Breakfast Toast
Makes 1 serving
2 slices whole grain bread, toasted
2 (1-ounce) packages WHOLLY GUACAMOLE® minis
1 cup HORMEL® chili, heated
1 large egg, fried
Garnish: Spread avocado on each toasted bread slice. Spoon chili over avocado and top with fried egg. Garnish with jalepeno slices, tomatoes, cilantro leaves and cheese, if desired.
Walking Taco
Makes 2 servings
1 (9 1/4-ounce) bag corn chips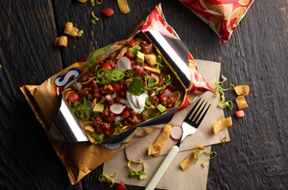 1 cup HORMEL® chili, heated
Toppings: shredded lettuce, chopped tomatoes, chopped  avocado or quacamole, sour cream, shredded cheddar cheese, sliced green onions, sliced fresh jalapeños or pickled jalapeño slices, sliced ripened olives, pico de gallo, sliced radishes, and chopped fresh cilantro
Directions: Cut slit in front side of bag or cut top of bag off. Spoon chili over chips. Top with desired toppings.