Lifestyle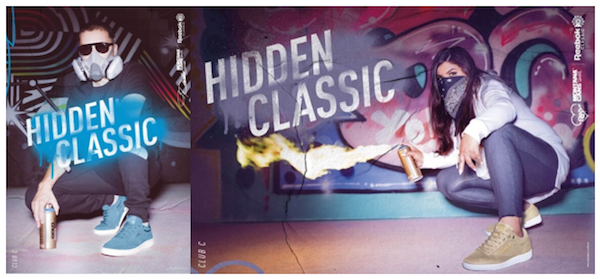 This month Reebok Classic launches the next iteration of its Always Classic Spring/Summer 2018 campaign by inviting renowned graffiti creatives Sany and Felipe Pantone to showcase what it means to be a classic with the Montana Cans Club C, Classic Leather and Workout sneakers.
A brand that fiercely believes in those who challenge expectations and push their creative boundaries, Reebok's new Always Classic campaign brings together the most disruptive and authentic style pioneers of this generation and unites them with Reebok Classic's iconic Franchise Four collective; the Freestyle Hi, Classic Leather, Club C and Workout Plus. Celebrating this season's Club C silhouette is Sany, the striking female leader in the male-dominated graffiti scene and Felipe Pantone, known for his contemporary kinetic and graffiti art.
Born in '85, the Club C was made to perform on the court but changed the game to serve up style for the streets. This iconic silhouette has transcended cultural and style boundaries to become an essential streetwear staple and its striking look and attitude has always been its most true when it's worn by people whose personal style makes a true mark on the world. Refusing to let go of the spray can and determined to bring girl power to the predominantly male graffiti scene, Sany has boldly tagged her place in the street art subculture and much like the Club C, she continues to serve up an expected statement on the streets. Felipe Pantone, with his boldly-colored geometric art installations, holds court at the intersection of street art and modern art and is a true representation of the Club C's bold aesthetic.

Reebok worked with Montana Cans, the renowned German manufacturer of one of the world's best spray paints, to bring a fresh look to the Club C as well as the Classic Leather and Workout Plus.  These classic silhouettes serve as the perfect canvases to the anonymity-prizing culture of graffiti art.  Each colorway is inspired by Montana Cans colors, with intricate details such as the color number that is featured on each can replicated on the insole of each shoe.
Cop the Reebok Classic Montana Cans collection from http://www.reebok.com/us/montana_cans where the Club C will retail for $80, the Workout will retail for $85, and the Classic Leather will retail at $85