Lifestyle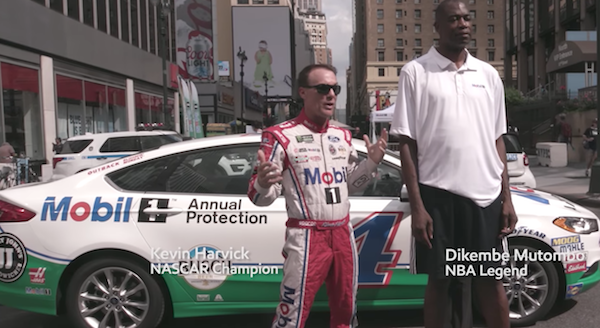 Last week in NYC there was a cool event that brought the world of NASCAR face to face with an NBA legend. There was a fan-friendly event called "Mobil 1 Annual Protection: The Drive" to support the company's latest synthetic motor oil offering.
Mobil 1 Annual Protection is a groundbreaking synthetic motor oil from ExxonMobil that was launched in March 2017 and offers consumers the convenience of driving one full year – or up to 20,000 miles, whichever comes first – between oil changes.
Basketball and motorsports fans joined Stewart-Haas Racing's Kevin Harvick and Basketball Hall of Famer Dikembe Mutombo at a pop-up basketball court where they were given the opportunity to put their shooting skills to the test in a series of challenges to win Mobil 1 Annual Protection prizes and rewards.
One lucky fan was given the once-in-a-lifetime opportunity to ride with 2014 Monster Energy NASCAR Cup Series champion Harvick in a Mobil 1 Annual Protection car, with Mutombo joining as a fellow passenger.
"Now that I've driven Dikembe around the streets of New York, I think it's only fair that he gives me some one-on-one lessons on the court," said Harvick. "'The Drive' showed off Mobil 1 Annual Protection motor oil, a great new product from ExxonMobil that allows drivers to go one full year without changing their motor oil."
"The Drive" is not the first time Mutombo and Harvick have teamed up this year, with both appearing in the Mobil 1 Annual Protection motor oil nationwide advertising campaign as miniature-sized roommates living in an engine. Mutombo also got his first taste of NASCAR at the Kobalt 500 NASCAR Cup Series race at Las Vegas Motor Speedway in March, where he joined Harvick and the No. 4 Stewart-Haas Racing team on pit road.
"It's been great to be back in New York City, hanging out with fans on the basketball court, then driving around Manhattan with Kevin and our lucky fan," said Mutombo. "I hope that all those who came to 'The Drive' had fun and, most importantly, remember, 'One year, one oil change!'"
"There was no better way to continue celebrating the launch of Mobil 1 Annual Protection motor oil than teaming up with two of our greatest partners: NASCAR and the NBA," said Kai Decker, global sponsorship manager at ExxonMobil. "'The Drive' was a great way for us to engage fans and deliver the benefits of Mobil 1 Annual Protection motor oil in a fun and unique way."