2014 Toyota Corolla Review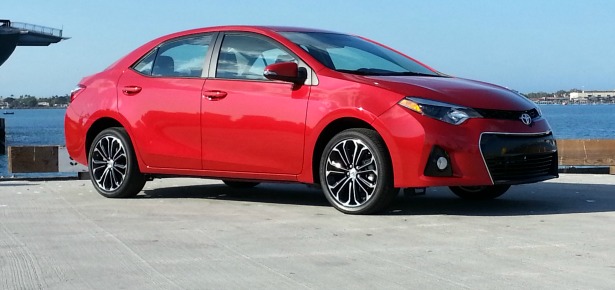 If you can afford to buy the newest, most luxurious, most expensive car on the road, that's great. You've done well for yourself. Good on you. This review is not for you.
This review is for the young professional who doesn't want to buy a used car anymore. It's for the driver who wants to make the leap from hand-me-down family car to "I deserve a brand new car, damnit." The driver who wants something stylish and reliable, affordable but not cheapo.
This is the 2014 Toyota Corolla. It won't ever be confused for a super car you'd see on Top Gear, but it's not your mom's old Corolla, either. And for the price you pay, it's actually pretty sweet.
You already know what a Toyota Corolla is. At some point you've been in one. They've been making them for 47 years now. Over 40 million Corollas have been sold worldwide. Corollas are popular sellers because they're safe, dependable cars. And you can drive these forever.
But it was time for an upgrade. The 2014 Corolla was designed for global consumption. The Euros demanded performance. Americans needed a touch of sportiness, serious roominess and ease of use. And everyone – the Asian market, Europe, the States – needed fuel economy, safety and value. The 2014 is the 11th generation and first totally new Corolla since 2008. It's a got an athletic attitude and an overall sporty look and feel to it. It's just a different Toyota than you're used to.
Elevated Experience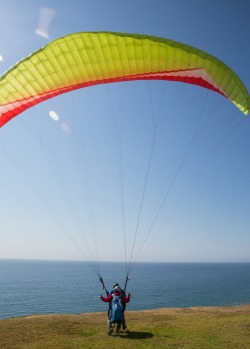 So I got an invite to test out the new Corolla in San Diego as part of a larger "Elevated Experience" press event. It was fun trip that included craft beer sampling, a super-scenic, hour-long helicopter ride around San Diego and paragliding off a cliff onto a nude beach with a small Asian man strapped to my back.
That last bit was a particularly interesting experience. I never thought I'd see myself in some Luke Skywalker-with-Yoda-in-the-backpack situation that involved a leap of faith, a peaceful glide, a long hike back and a less-than-graceful landing that involved quite a bit of bronzed-old-man taint.
The elevated experiences aside, I was there to drive the 2014 Corolla around San Diego. And my god, San Diego truly is a beautiful city. I'm from Southern California so it's not like some exotic foreign land, but every time I visit, I can't help but notice just how handsome a place San Diego really is.
Teaming Up with Tam
When it came time to pair up lifestyle bloggers for the test drives, I was teamed up with my girl Tam Walker from MankindUnplugged.com. Total bonus. Good company with quality music taste secured. I knew I could bump funky disco tunes all day long. And obviously that's what happened.
I paired my phone with all the tunes to no less than four different Corollas that day. The synching process was a bit different for each trim level, but pretty simple nonetheless. It's crazy how quickly we've gone from cassette decks to cassette-to-CD Player converters to CDs to MP3s to AUX options and now just lemme push that button that makes my external device work on any system. Technology, man.
That's one pretty cool thing about the 2014 Toyota Corolla: the tech you get for the price you pay. Smart keys and Bluetooth audio connections are standard. The Entune head units got a full overhaul. Toyota listened to customer feedback and they no longer require an additional subscription just to use the Entune multimedia features. I think that's smart. Today's young drivers want the technology, but they don't want to keep paying an additional subscription fee to use what's already in their car.
Toyota is really hitting the young, tech-savvy driver hard with the release of the 2014 Corolla. iPad users can download a standalone MY14 Corolla App where users can check out every design detail. There's even a collaboration with Google in the works where users can build their own Corolla online. Be on the lookout for a huge social push too, as Toyota tried to reach new audiences through digital channels like Instagram, YouTube and Vine.
Grades, Price Points and Standard Features
So I was able to test out a few different 2014 models. The sporty one was definitely the best, but there are four distinct grades available: L, LE, S, and the new LE Eco grade.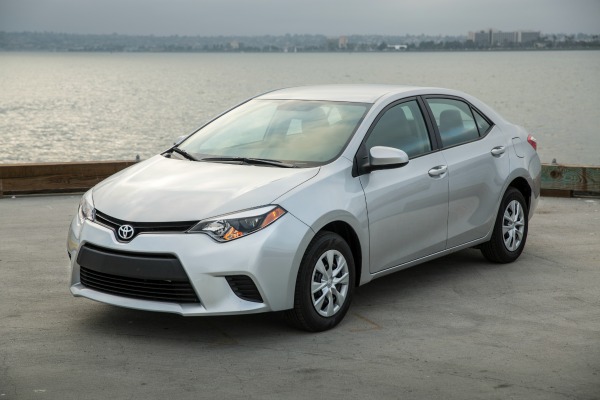 The L grade is the entry level. It comes with a new 6-speed manual transmission with an MSRP of $16,800. Corolla L with 4-speed automatic comes in at $17,400. Standard features include:
LED lowbeam headlamps with LED daytime running lights
Standard Bluetooth connectivityota
Driver and front passenger Whiplash-Injury-Lessening (WIL) seats
Eight airbags, including a new drivers knee airbag and passenger seat cushion airbag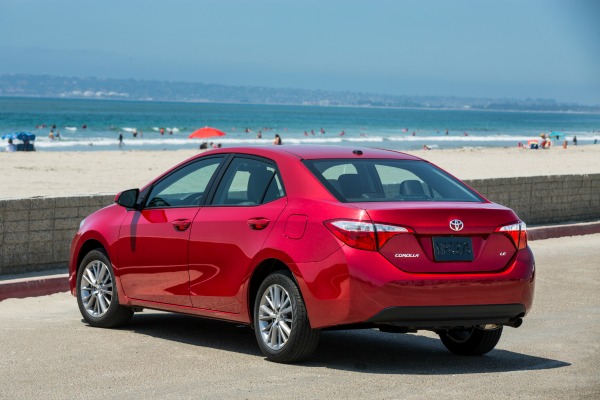 The Corolla LE starts at $18,300 and includes standard features like:
Backup monitor
Climate control
Cruise control
Keyless entry
Entune Audio (including 6.1" touchscreen)
Improved fuel economy afforded by the new CVTi-S transmission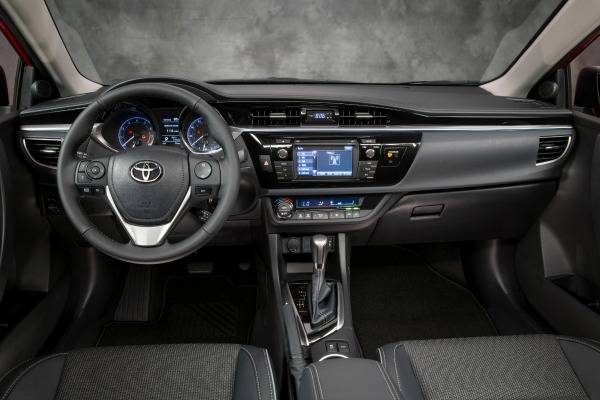 My personal favorite was the sporty-themed Corolla S which starts at $19,000. It definitely drove with more umph than the others. The S comes standard with:
An aggressive lower front grille with a piano black finish and chrome surround
Unique suspension tuning for available 17-inch wheel package
Available paddle shifters (with CVTi-S) to actuate sequential 7-speeds
Sport cluster gauge with TFT meter
Ornate piano black instrument panel
Supportive sport seats
Leather steering wheel cover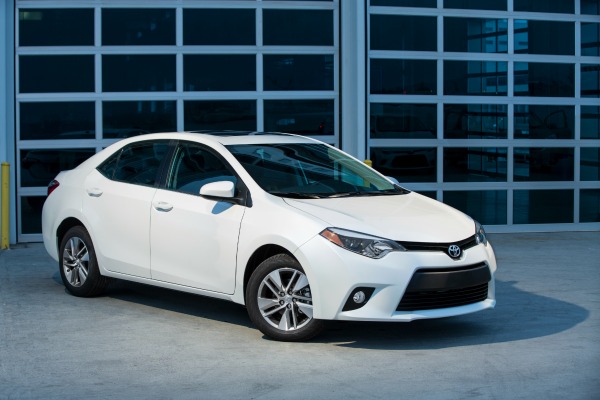 The LE Eco trim is all new and features enhanced fuel economy due to a 140-hp Valvematic-equipped engine, improved aerodynamics, and unique CVTi-S tuning. It starts at $18,700 and features an EPA rating of 42 mpg on the highway (which is as good as it gets for any automatic transmission car that's not an electric, hybrid or diesel).
Plus and premium models are available for the LE, S, and LE Eco grades. You know, in case you want to get all snazzy with alloy wheels, fog lights, Softex seats, moon roofs, premium audio, touch screen navigation and so forth.
So yea. Legroom for days. Quality and reliability that's been long established. Standard Bluetooth and upgraded tech consoles. A sporty makeover with the end-all-be-all-perk of an ultra-friendly price point. That's the 2014 Toyota Corolla.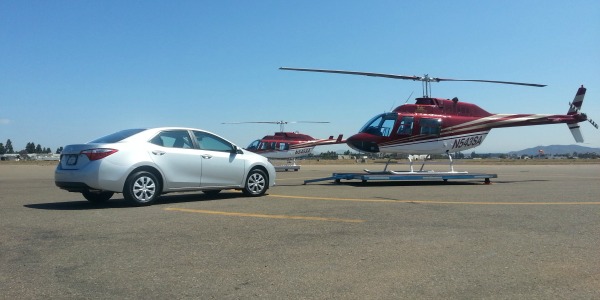 Related Posts
| | | |
| --- | --- | --- |
| | Print article | This entry was posted by Chris Stout on September 6, 2013 at 10:49 am, and is filed under Lifestyle. Follow any responses to this post through RSS 2.0. Both comments and pings are currently closed. |
Comments are closed.