2015 Toyota Camry Review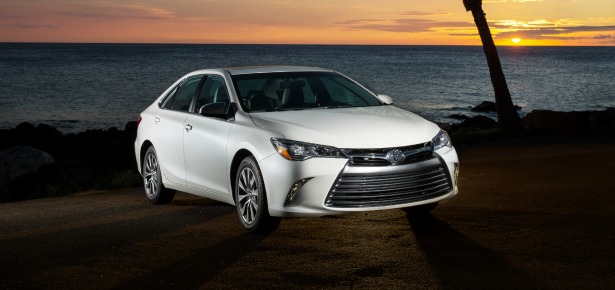 I've never been to Hawaii before, but I always wanted to go. I was actually in the middle of planning a trip out there when our good friends at Toyota hit me up with an invite I couldn't refuse. I've had my share of fun on Toyota trips in the past, mind you. I went on a Toyota Corolla San Diego mission last year that included nude beach paragliding, a helicopter tour and other shenanigans, so I figured, how bad could a week long trip to Hawaii really be?
Well everything you've heard about Hawaii is true. I made the trip to the Big Island and enjoyed things like daily snorkel missions with sea turtles, a night dive with manta rays, a scenic helicopter tour, sunset cruise, volcano visit, kayaking, Mai Tai's on Mai Tai's, you get the idea. Not a bad place to host a press event for test driving the 2015 Toyota Camry, Sienna and Yaris. I mean look at this place: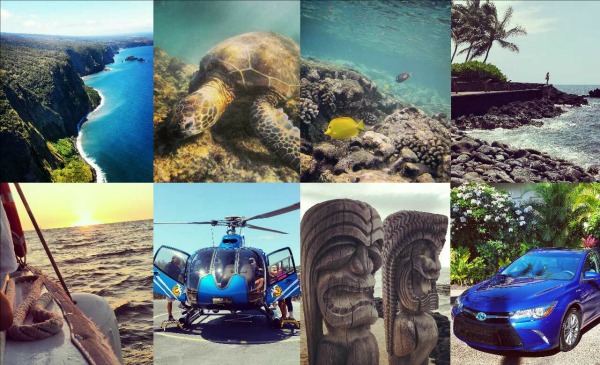 We'll be posting our impressions on the Sienna and Yaris later this week, but first up is the 2015 Toyota Camry.
You probably already know this, but hey, it's worth repeating. The Toyota Camry is an insanely popular car. Like 10.2 million sold since 1983 popular. 6.6 million Camrys still on the road kinda popular. People really enjoy this car and Toyota is happy to cater to this love by producing a brand new Camry every 54 seconds.
They sold over a million of these things in 2011, which was the highest year-over-year volume increase in the ultra-competitive mid-size sedan segment. It's the best-selling car on the road for the past 12 years running,
So yea, people like it. But Toyota changed a lot of stuff with this new Camry. The 2015 has more than 2,000 new parts to it. It's got a new grill, a new hood, a new bumper cover, a bunch of surface interior changes and so forth. Only the roof remained unchanged on the outside.
What makes the 2015 so different? I can talk about the 22 new reinforced spot welds or the percentage of lateral vibration improvement or things like this, but I'm a simple man. I need things explained to me from authoritative sources. So naturally, I went to the Chief Engineer of the Toyota Camry, Monte Kaehr.
Talk to Me, Chief
I first ran into Monte while photographing a gorgeous sunset during a cruise along the Kohala Coast off the Big Island of Hawaii. He seemed like a chill enough guy, so after my first 2015 Camry test drive, I sought him out for some insider info.
Kaehr told me about the premium athletic styling that's become a major theme for the car – a theme that will remain a focus for the foreseeable future. But what I wanted to know was what fired Kaehr up the most about the 2015 Camry.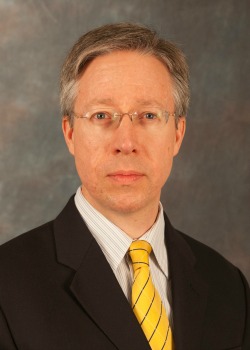 Kaeher explained to me that before ramping up the updates for the 2015 Camry, Toyota hosted driving clinics in three different spots: Long Beach, California; Denver, Colorado; and White Plains, New York. The clinics featured standard midsize segment cars and owners. Drivers were up front doing their thing as a series of preset questions were issued from the back seat, with auto super-geeks like Kaeher sitting in on the sessions to absorb some unfiltered customer feedback.
Kaeher told me about one woman who drove over a bump in Long Beach and commented that the bump felt "harsh." The input forces weren't that big, he said, but it was the sound itself that generated the harsh vibe.
"Taking the edge off the sound," Kaeher said, became a major focus. Toyota used sound absorption materials throughout the cabin to suppress sounds near the frequencies of human speech. Custom-formed foam inserts seal service holes in the doors. They provided 30 percent more insulation while moving the side mirrors out to further reduce noise. They even put in acoustic windshields for the V6 and Hybrid models.
It's that reduction of road noise that really gives the car "a more premium feel," according to Kaeher. Previous Camrys didn't have this. It's really noticeable, too.
In another one of these clinical tests, some dude expressed concern that there wasn't enough reserve braking power. When telling this story, Kaehr had to explain force curves to me, because, as I said earlier, I'm a simple man. Toyota wanted to make the force curve more linear in the Camry by increasing the spring rate to provide stronger feedback.
"Making it linear means you can predict it better and control it better," he said. Linear feedback makes things "more precise, confident and natural," Kaehr explained. The 2015 Camry is the first Toyota to roll this out. You heard it here first.
The model's chief engineer also explained what didn't change in the 2015 Camry.
"We looked at changing the engines and we decided not to," Kaehr said.
Well wait a minute, chief engineer guy. I thought turbos were all the rage, right?
Well you see, the man drives a V6 SE and absolutely loves the engine. This seemed like a point he was more than ready to defend. Switching to Turbo may sound flashy, but Kaehr was eager to produce a Car and Driver article that showed the fuel economy benefits Camry had over similar midsize sedans that featured standard turbo engines.
"It may not sound sexy, but it's the right engine to have," Kaehr said. The man obviously knows his stuff and he had supporting documentation on competitive fuel economy benefits in his back pocket. He passionately made a good case, and I believe him. He wants the Camry to be seen as a balanced machine. One that provides performance pleasure and everyday enjoyment.
"Even if people buy it for its practical characteristics," Kaehr said, "we still want people to love it."
Driving Impressions
I tested a few different Camry models during my time in Hawaii. I tried the sporty XSE so I could test out the paddle shifters. That thing sure took on winding highways with ease (I'm looking at you, Mamalahoa Hwy). I took the Hybrid SE out for an impromptu 200-mile night drive to go see a guy about a volcano. (Side note: if you're ever on the Big Island, do yourself a favor and go check out Kilauea at night. The misty glow from the crater is sight to see and the view of the stars from the top of that volcano are decidedly world class). It was a calm, quiet ride where the gas gauge remained friendly (EPA estimated 43 MPG in the city, baby) and the LED fog lights cut through a pillow of vog (volcanic fog) like nobody's business.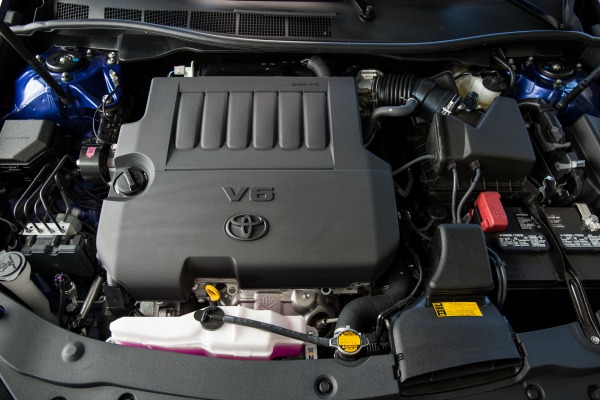 I gotta say that the V6 engines didn't leave me feeling underserved. There were plenty of times when I needed to gun past some lazy island drivers on a two-lane highway situation, and every time I punched it, the V6 Camrys would respond with an appropriate level of thrust.
If you want a detailed breakdown on camshafts, dual-independent variable valve timing with intelligence or K platforms, you can find that stuff from other, more reputable outlets. At MANjr, we take a more simple approach.
Was it comfy? It sure was. The seats can fit a big man and this whole Toyota push for soft-touch interior material throughout was a spot on.
Is it pretty? I mean yea, it's not a bad looking sedan. You got the French stitching and metallic chrome accents on the inside and athletic lines with the piano black honeycomb grill on the outside.
Did it have cool tech? The 4.2" TFT Mutli-Information Display unit with the Entune app suite and a sound system designed by JBL were all pretty solid. Wireless phone charging is a pretty sweet (albeit non-standard) addition. According to Entune Subject Matter Expert Andy Lam, all you need is a $20 Qi wireless charging case from Amazon and you're in business. LED headlamps, lane departure alerts, a pre-collision system, yea, this things got some nice gadgetry to it.
Bottom line, it's an affordable option for drivers looking for reliability with a touch of sport and luxury. People love this car for a reason, and with a near complete overhaul midway through a typical model lifecycle, Toyota's putting in some serious effort to stay ahead of the mid-sized pack. It's worth checking out for yourself.
The 2015 Camry at a Glance
LE base price: $22,970
SE base price: $23,840
XLE base price: $26,150
XSE base price: $26,150
XLE V6 base: $31,370
XSE V6 base: $31,370
Hybrid LE base: $26,790
Hybrid SE: $27,995
Hybrid XLE: $29,980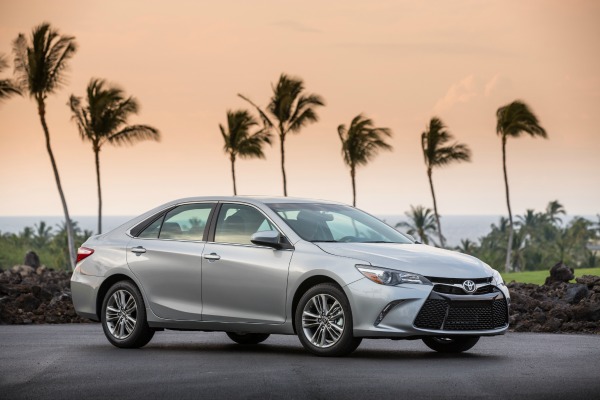 Related Posts
| | | |
| --- | --- | --- |
| | Print article | This entry was posted by Chris Stout on September 29, 2014 at 9:12 pm, and is filed under Cars. Follow any responses to this post through RSS 2.0. Both comments and pings are currently closed. |
Comments are closed.