Chris Stout
Posts by Chris Stout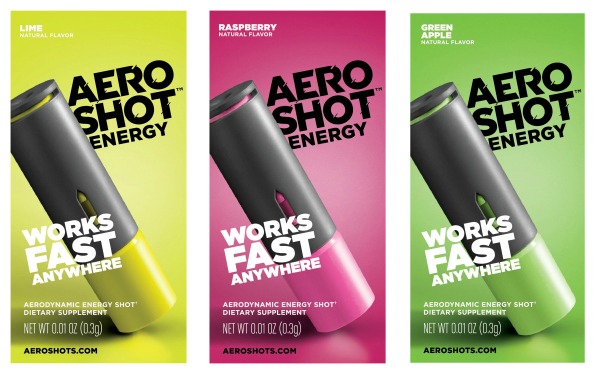 People love energy products. Coffee, teas, sodas, energy drinks, shots of mystery energy liquid – you name it. If it puts pep in your step, people are going to try it. In the hustle and bustle of everyday life, uncontrollable yawning isn't an option. Whether it's work, play, family, friends, sports, day life, nightlife, whatever you do to occupy your time, you usually want to be alert when you're doing it. That's why people look for assistance in the energy department. It's easy to understand. We've all been there.
Well now there's a new product on the market that delivers energy in a new and innovative way. AeroShot Energy is forging a whole new category in energy consumption. AeroShot launched this year and is currently expanding its reach in the Northeast. The product will be available nationwide by 2013.
So what is an AeroShot? It's a lipstick-sized device that delivers an air-based boost of energy – 100mg of caffeine plus B vitamins. The dry-powder particles that the AeroShot delivers are small enough to travel through the air but not large enough to get into the lungs. It's a zero calorie, liquid-free delivery system that dissolves on your tongue and starts working right away.
It's basically high-tech, weaponized caffeine. The delivery technology was devised by Dr. David Edwards, a biomedical engineer and Harvard professor. Dr. Edwards wanted to productize this new technology, which can have far reaching applications in the consumption of food, nutrients and medication.
100mg of caffeine is the equivalent of one large cup of coffee, but the delivery system means that the caffeine can be absorbed in your tongue faster than any liquid. Pure caffeine tastes bitter. Red Bull smells toxic. 5-Hour Energy shots taste like medicine. AeroShot uses natural ingredients to produce three distinct flavors: Raspberry (which is sweet), Lime (which is tart) and Green Apple (which is sweet-tart). Each AeroShot contains caffeine, B vitamins, these natural flavors, and that's it. No hidden ingredients, questionable stuff or nasty masking agents. Just insta-energy that can be absorbed immediately.
We're partnering up with AeroShot to giveaway a gift pack to one lucky reader. To enter, just send us an email below telling us why you need more energy. We'll pick a winner at random next Monday.
Good luck!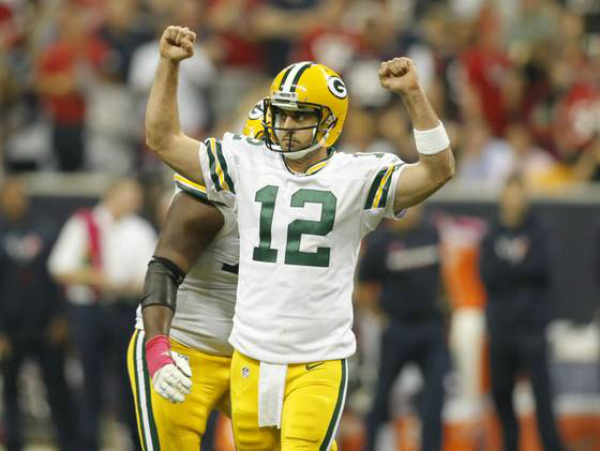 Thursday's pick was the right call thanks to some Vegas-busting decision making by John Harbaugh. 1-0 so far in Week 7 with twelve more games to go…
At Buffalo -3.5 Tennessee
Chris Johnson's working on a mini-resurgence here. He put up 141 rushing yards against Houston and 91 yards on Pittsburgh. Now he gets to face a defense that gives up a league-worst 5.8 yards per carry. The Bills didn't look all that shoddy on defense last week though, when they ended Arizona's eight game home winning streak. For all the drama on defense this season, the Bills are still in the hunt in the all-tied-up AFC East. They can build on last week's win. The Titans haven't won on the road yet.
Pick: Bills -3.5
At Minnesota -6.5 Arizona
Two 4-2 teams both coming off losses. The Vikings haven't lost at home yet, and I'm tempted to think that streak will continue.
Pick: Vikings -6.5
At Indianapolis -2.5 Cleveland
Richardson is optimistic he'll be back this week which is good news for the Browns, as the Colts are allowing 159 yards a game and 5 yards per carry. Andrew Luck plays well at home, but there's just something about this Brown's team that gives them the edge. Maybe it's their trio of rookie playmakers (Weeden, Richardson and Gordon). Maybe it's the fact that Joe Haden's back. I dunno what it is, but I like this team. Playing in Indy will be a true test, because that home crowd is all high on Chuck Strong vibes. If the Browns can get the win this weekend, they're no longer going to be an easy out for anyone.
Pick: Browns +2.5
At Houston -6.5 Baltimore
The Ravens just own people at home, but the team is much less dominant on the road. The Texans have to be bitter about their big loss to the Packers. I think they'll run the ball right down Baltimore's throat. Suggs may be back soon, but this defense isn't as fearful as it used to be.
Pick: Texans -6.5
Green Bay -5.5 At St. Louis
The Rams haven't lost yet at home, but that ends this week. The Packers needed a big win to get things rolling again. They'll keep throttle going and pick up where they left off last week. Lock of the week material, this.
Pick: Packers -5.5
Dallas -2 At Carolina
In the battle of the leagues two most inconsistent teams, it's hard to be confident about either side. When the Panthers are running the ball well, they can do some damage. When the Cowboys are moving the chains through the air, they look like they can hang with anyone. Too often it's stalled drives, self-inflicted wounds and untimely turnovers that derail both of these teams. I'm thinking Dallas can put together a solid game to remind people that they still have the talent to find a sweet spot from time to time.
Pick: Cowboys -2
At NY Giants -6 Washington
The Skins beat the Giants twice last year, and that was without RG3. New York's only two losses have come within the division. If the G-Men want to maintain their lead status in the NFC East, they need to take care of business at home. Look for Coughlin's squad to come out prepared for the importance of this game.
Pick: Giants -6
New Orleans -2.5 At Tampa Bay
The Saints really have some issues on defense, and activating Vilma's not going to change all that. The Bucs are going to run all over the Saints, but I just can't close the books on Brees and company bouncing back after a dreadful start to the season.
Pick: Saints -2.5
At New England -10.5 NY Jets
The Pats will remind everyone that the AFC East isn't as wide open as it seems.
Pick: Pats -10.5
At Oakland -4 Jacksonville
This is going to be the type of game that makes you wonder whether the Raiders can be a really great team. They're not obviously, but they'll sure look like a great team this Sunday. Bank on big plays in the passing game from Palmer and big takeaways from Oakland's D.
Pick: Raiders -4
Pittsburgh -1 At Cincinnati
Man, the Steelers looked like shit last Thursday. RBs and O-lineman we're dropping like flies. Ike Taylor was getting worked over and the Man of Troy was sorely missed. The Steelers have had time to rest up, but Big Ben tweaked an ankle during practice on Thursday. I'm sure it won't be a big factor, but still, this team is missing key players, sitting at 2-3 and Polomalu-less heading into this weekend. Cincy's going to make some big plays against this suspect secondary. With makeshift lineman in there, it's going to be hard for spot starter RB Jonathan Dwyer to make some plays, but I think Ben's gonna fling it around to his playmakers and get enough points on the board to get the Steelers back to .500.
Pick: Steelers -1
At Chicago -6 Detroit
The Lions have a banged up secondary and Jay Cutler is coming off back-to-back good games. Factor in some extra rest for Matt Forte (who typically performs well against Detroit) and the Bears should be able to take this one at home.
Pick: Bears -6
Last Week: 4-10
Season 42-48-1
Last Season: 140-120-12
Wow, last week was brutal. Just so many wrong calls. I was clear on the Browns and Broncos, but that was pretty much it. Tough week for pick'ems and ATS picks all around. Let's get back to it this week…
At San Francisco- 8 Seattle
The spread's too big, Seattle won't get blown out.
Pick: Seahawks +8
Last Week: 4-10
Season 42-48-1
Last Season: 140-120-12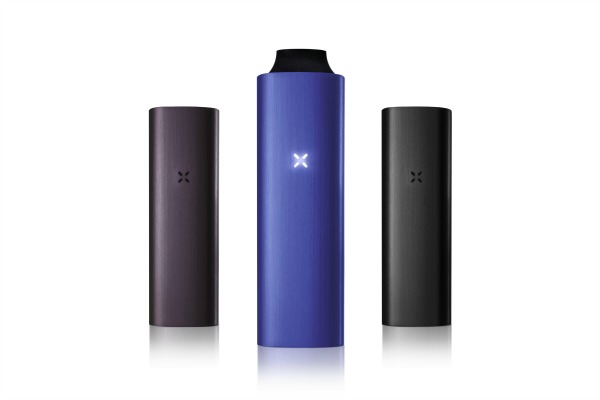 I like to smoke. I really do. When people ask why I haven't quit, I usually tell them it's because I like it, the actual act of smoking. That's why I've never been a big fan of vaporizers. A lot of vaporizers make big claims about providing a cleaner, more enjoyable, more refined smoking experience. But what they usually provide is some level of smoke-free smoking experience. Where's the joy in that?
So the first time I was introduced to Pax by Ploom, I wasn't overwhelmed with anticipation to try the thing. But I read up on it and I got a little curious. So when Ploom offered to send me a unit to review awhile back, I accepted.
The unit came with a bag of pipe tobacco. I read up on how to use the device. It was all pretty simple, really. It's a handheld device that comes with its own charger (it holds a charge for 2 hours with continual use or about a week under typical use). To load it up, you open a flip lid at the bottom, stuff in some tobacco, use the lid to pack it in tight and then close it up. The mouthpiece is located at the top of the unit. To activate the internal furnace burning chamber, you click down on the mouthpiece and it pops up. An indicator light at the center of the device tells you when it's ready to go. It only takes 45 seconds for the Ploom device to fire up. If you leave it idle, it shuts down by itself.
So what about the actual smoking experience? It's pretty sweet, man. You do get a cleaner, more concentrated, more flavor-rich smoking routine out of it. It's more efficient/effective than a traditional pipe and less environmentally intrusive as a cigar or cigarette. The smoke you exhale dissipates quickly, but it's still actual smoke (well, they say it's vapor, but it feels like smoke to me). It's not like an electronic cigarette that tastes like a smoke machine at a concert. It feels like real, actual tobacco smoke that's just delivered in a unique way. You get the full effect with some added delivery convenience and less unfavorable byproduct after effects. The smoke seems to dissipate a bit more quickly than you would expect as well.
The Pax by Ploom device was designed by a couple of smart dudes from Stanford. COO and Co-Founder Adam Bowen has an MS in Product Design from Stanford and a BA in Physics from Pomona. CEO and Co-Founder James Monsees has an MFA in Product Design and a BA in Physics and Studio Art from Kenyon College. These two guys got together and made a great product. It's definitely not cheap (retails for about $250), but it's sophisticated, state-of-the-art way to get your smoke on in a clean, less-intrusive fashion. If you're a smoking connoisseur, I recommend checking it out.
Water conservation doesn't have to be difficult. It can be quite fun, actually. Find out how with this instructional video from AXE: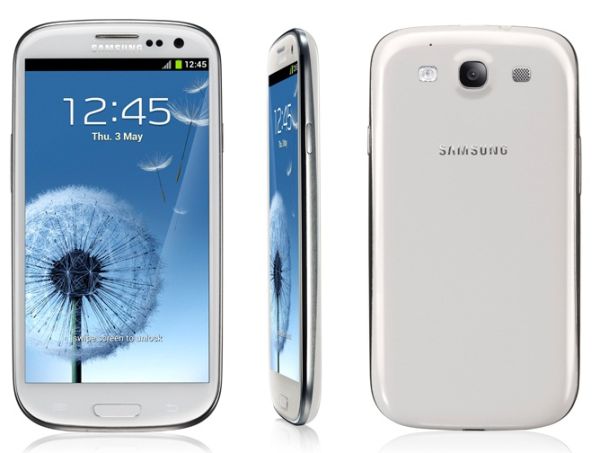 A few weeks ago, I received a Samsung Galaxy SIII phone for a review post on this site. I've never used an Android phone before. I was Blackberry guy who adopted the iPhone 3 and then graduated to a 4S. I'm not a big phone nerd, but like most people, I do a lot of different things with my smartphone, and there's certain features and functionality that we've all come to expect from these things at this point.
But I'm not the type of guy who waits in a line to get the latest and greatest version of something. I bought a Dreamcast at thrift store. I collect vinyl records from flea markets and Ebay. When it comes to new technology, I can usually wait. I don't need to be first.
The iPhone 5 release was pretty intense, like all iPhone releases. People who upgraded just a short time ago were chomping at the bit to have the latest version. I don't really get that. My iPhone 4S is still doing pretty well. I don't see the need to chase the new version when the old one is holding up just fine.
So when I got the Samsung Galaxy III phone to review, I went in with the bias of an iPhone user, but not with the bias of an iPhone elitist. My first impression of the Samsung Galaxy III was that it was a super legit smartphone with interesting, useful features that I wasn't used to having on an iPhone. But the main issue with the Samsung Galaxy III is that it would be such a better phone to have if more people had it. In a world loaded with iPhones, it's hard to get excited about some of the device-to-device sharing options when the person you want to share with isn't rocking the same equipment.
Sexy Screen
But with that said, there are still so many things to love about this phone. The screen is what grabs you first. It's massive and vibrant. The surface area makes it feel more like a mini-tablet than a phone. The display is crisp. It's a 4.8-inch HD Super AMOLED display with a 1,280×720-pixel resolution. Some people may not like the massive screen experience, but I think it's a huge bonus. Especially if you consume any media on your phone (which most everyone does at this point).
Browsing the Web
The web browsing experience is also high quality. Browsing on a sexy display with 4G in play is the way to go, man. It felt like nothing less than the full internet, not some stripped-down, slow-loading, mobile- friendly equivalent.
The Camera Can Hang
The camera is on par with the iPhone 5, too (8 MP, 3264×2448 pixels, autofocus, LED flash). The video quality is the same as well (1080p@30fps). While it would be nice to have built-in panorama and HDR features like the iPhone 5, the Samsung Galaxy SIII makes up for it with a better secondary camera.
No iTunes
One of the things I like most about the Samsung Galaxy SIII is the fact that you never have to use iTunes, ever. I've had such a passionate distaste for iTunes for so long. If I have a digital device, and I want to drop some media on it, I should be able to that by simply dropping whatever files I want into the thing, without the need for synching, primary computer usage and all that other nonsense. So that's a huge plus. Google Play is pretty sweet, too.
Sharing Options
But it's the smart features and sharing options that really make the Samsung Galaxy SIII unique. The AllShare feature allows you to share photos and movies on Samsung Smart TVs, Windows PCs and DLNA-capable TVs and Blu-Ray players. Group Cast lets you participate in shared presentations (Power Points, PDFs, photos, etc. Share Shot lets you share photos with other Galaxy SIII automatically, over a Wi-Fi connection. The S Beam allows you to share stuff between two S Beam-enabled phones, just touching the backs of each phone to each other. This is just awesome. Sharing music, videos and web pages has never been easier. It's really a revolutionary addition.
There's so many reasons why this phone could in fact be a true "iPhone killer"- the superior battery life, the better display, Android OS 4.0.4 Ice Cream Sandwich (with Android OS 4.1 right around the corner), micro USB phone charging and so on. But I don't think I'm ready to give up my iPhone just yet. If more people had the Samsung Galaxy SIII, it would be awesome to leverage all these sharing features. But as it stands now, we still live in an iPhone world. This is the only phone to ever come close to dethroning the iPhone, but as the release of the iPhone 5 has shown, people are still enamored with the original smartphone king.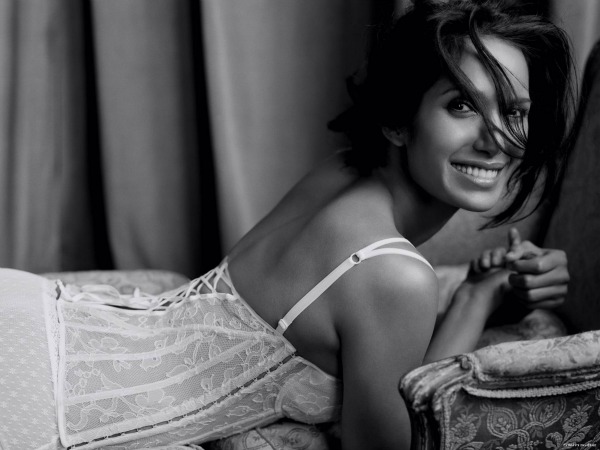 Padma Lakshmi is a total dreamboat. The 42-year old Emmy-winning host of Top Chef is five feet nine inches of flavor-savvy Indian-American hotness. Padma started modeling when she was 18 and she reached the top of the high fashion world. Padma has appeared on numerous magazine covers, and she followed that up with successful stints as a TV host, actress and author. And oh yea, she can cook like there's no tomorrow.
Padma speaks five languages, so you know she has a super stash of hidden recipe gems that she can pull from cookbooks you can't even read. When an attractive woman can cook, that's pretty damn sexy, but when you combine peak levels of gorgeous with an ultra-gourmet set of skills, the result is something way past sexy. It's almost criminal, really.
Padma is working with Nespresso to promote a new single-serve espresso machine. She gave us a demonstration and shared a new recipe with us, the Padma Lakshmi Cardamom Cappuccino. We also chatted about top chef, meat preparation tips and guilty food pleasures. Here's the interview:
And if you want to try out the recipe, here's are the details:
Padma Lakshmi Cardamom Cappuccino
Ingredients
1 capsule of Indriya of India
½ cup milk of your choice
½ tsp of brown sugar in the raw
¼ tsp of powdered green cardamom
Pinch of crushed raw unsalted almonds
Grind of nutmeg
Recipe Steps
Pour the Indriya of India Grand Cru into a cappuccino cup
Mix the milk of your choice with the brown sugar in the raw and powdered green cardamom and froth the milk using the Aeroccino milk frother
Fill the cappuccino cup with the prepared frothed milk over the Espresso
Top with the crushed raw unsalted almonds, a grind of nutmeg and a pinch of cardamom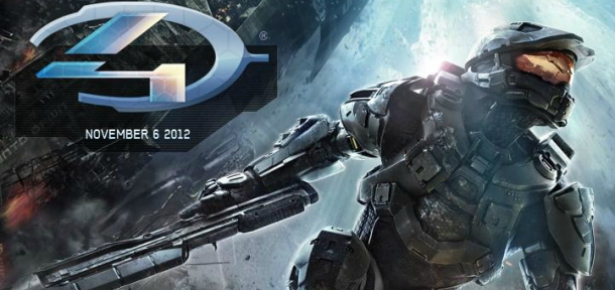 Halo 4 hits stores on November 6 and the most anticipated video game release in a long time is getting a push from a ton of different channels, from Mountain Dew to Doritos and more. GameStop is getting in on the fun, too.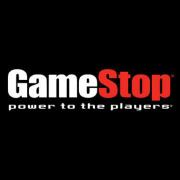 From now until November 6, gamers can visit Halo4Vote.com, pre-order Halo 4 and vote each for one of three bonus exclusives, every day until the release. The first bonus exclusive has already been decided by voters. It's the Artic Battle Rifle Weapon Skin. Voting for the second bonus is going on right now. From now until October 22, you can vote for War Games haven Premium Theme or the Yellow Warrior Avatar Armor. The options for the third bonus will be announced on October 22.
Halo 4 is set in the aftermath of Halo 3, where we follow Master Chief as he "returns to confront his own destiny and face an ancient evil that threatens the fate of the entire universe." Sounds pretty heavy, huh?
Halo 4 is the first Halo release to not be developed by Bungie Studios. For the fourth installment, Microsoft-owned 343 industries has taken the charge. With such a strong base of loyal Halo fans, the pressure is on to deliver a product that's true to the original trilogy, but can stand alone in its own right. The anticipation is mounting.
To promote the release of the game and the bonus exclusives available at Halo4Vote.com, we are partnering up with GameStop to giveaway a prize package that includes a copy of Halo 4 and a 250GB Xbox 360 console. To enter this giveaway, follow MANjr on Twitter and send us an email below telling us which exclusive you will be voting for. We're running this giveaway for two weeks, so you got time to check out the exclusives and enter to win this sweet Halo package. We'll pick a winner at random on Monday, October 29.
Good luck!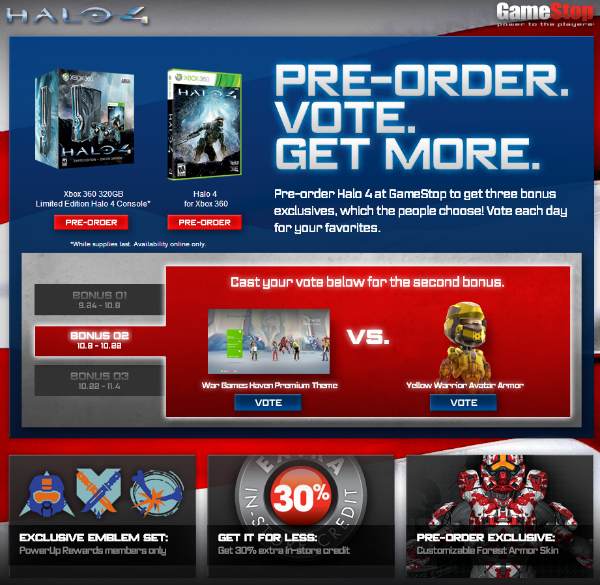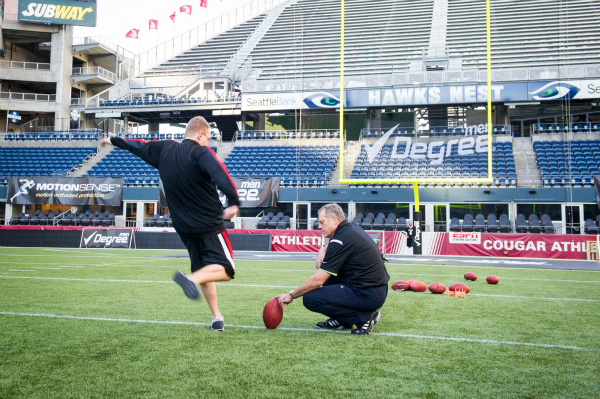 During this awesome Degree Men-sponsored trip, Norm Johnson gave us a tutorial on how to kick a field goal at Century Link Stadium in Seattle. It's a lot harder than it looks, too. People love making fun of idiot kickers, but when you're out on a field with no one around you and you start maxing out at extra point distance, you really get a new found respect for these guys.
Norm Johnson kicked in the NFL for 18 seasons. He played for the Seahawks (82-90), Falcons (91-94), Steelers (95-98) and the Eagles (99). I asked him what it was like to be a Seahawks guy who spent time in Pittsburgh. He said he enjoyed playing for Bill Cowher and that Cowher was a fair coach. He'd get in your face when you messed up and be the first to pat you on the back when you did well. Norm's impression of the old Steelers coach was spot on, too. He said he remembers missing a crucial kick and having Cowher come up to him, get right in his face, curl his lips in that classic-Cowher scowl and scream "You owe me!" before walking away. The description really doesn't do the performance justice.
When asked who the funniest player was that he ever played with, Norm talked about his first season with the Falcons, when the team had two good ole boy QBs, Brett Favre and Sean Salisbury. He said those two guys in tandem were just totally ridiculous. Just ripping off the best/worst hick humor he'd ever heard. They fed off each other and just made for good times. You could totally see that.
Anyway, back to the tutorial. Here's the video of Norm Johnson teaching the fundamentals of field goal kicking:
Well that caps off all the recaps from a great trip. Thanks again to the guys at Degree Men for putting together such a fun series of events. From the mud-splatter to the race track to the football field, I got to experience some fun stuff while staying protected from odor and wetness with the motion-activated Degree Men Adrenaline series deodorant.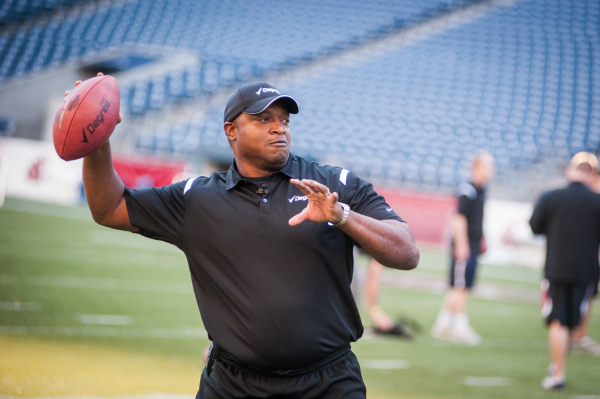 We met up with former Seattle Seahawks fullback Mack Strong during the Ultimate Seattle Seahawks experience that was sponsored by Degree Men. It was part of an adrenaline-filled weekend that included time at the Tough Mudder course, an interview with Bear Grylls, go cart racing and a tour of the Seattle Seahawks stadium, Century Link Field.
Mack was super chill. While hanging out on the field, Mack shared stories about his playing days, including a reference to his "welcome to the NFL moment" when Bill Romanowski dug an elbow into the back of Mack's neck and pushed his face into the ground during his first NFL preseason game. Even though he was a fullback, Mack could still put some zip on the ball. He gave us a quick tutorial on how to throw an NFL football:
Even with the extra training, I still got worked in the passing drill. Thanks to the Degree Men Adrenaline Series, at least I smelled awesome while stinking up the joint with my errant passes. Fun times though!