Samsung Galaxy SIII Review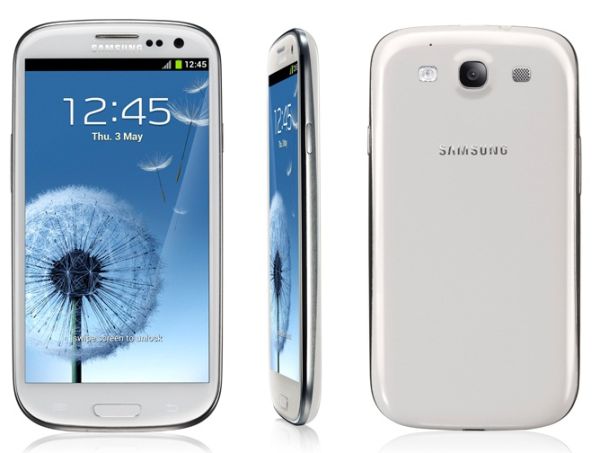 A few weeks ago, I received a Samsung Galaxy SIII phone for a review post on this site. I've never used an Android phone before. I was Blackberry guy who adopted the iPhone 3 and then graduated to a 4S. I'm not a big phone nerd, but like most people, I do a lot of different things with my smartphone, and there's certain features and functionality that we've all come to expect from these things at this point.
But I'm not the type of guy who waits in a line to get the latest and greatest version of something. I bought a Dreamcast at thrift store. I collect vinyl records from flea markets and Ebay. When it comes to new technology, I can usually wait. I don't need to be first.
The iPhone 5 release was pretty intense, like all iPhone releases. People who upgraded just a short time ago were chomping at the bit to have the latest version. I don't really get that. My iPhone 4S is still doing pretty well. I don't see the need to chase the new version when the old one is holding up just fine.
So when I got the Samsung Galaxy III phone to review, I went in with the bias of an iPhone user, but not with the bias of an iPhone elitist. My first impression of the Samsung Galaxy III was that it was a super legit smartphone with interesting, useful features that I wasn't used to having on an iPhone. But the main issue with the Samsung Galaxy III is that it would be such a better phone to have if more people had it. In a world loaded with iPhones, it's hard to get excited about some of the device-to-device sharing options when the person you want to share with isn't rocking the same equipment.
Sexy Screen
But with that said, there are still so many things to love about this phone. The screen is what grabs you first. It's massive and vibrant. The surface area makes it feel more like a mini-tablet than a phone. The display is crisp. It's a 4.8-inch HD Super AMOLED display with a 1,280×720-pixel resolution. Some people may not like the massive screen experience, but I think it's a huge bonus. Especially if you consume any media on your phone (which most everyone does at this point).
Browsing the Web
The web browsing experience is also high quality. Browsing on a sexy display with 4G in play is the way to go, man. It felt like nothing less than the full internet, not some stripped-down, slow-loading, mobile- friendly equivalent.
The Camera Can Hang
The camera is on par with the iPhone 5, too (8 MP, 3264×2448 pixels, autofocus, LED flash). The video quality is the same as well (1080p@30fps). While it would be nice to have built-in panorama and HDR features like the iPhone 5, the Samsung Galaxy SIII makes up for it with a better secondary camera.
No iTunes
One of the things I like most about the Samsung Galaxy SIII is the fact that you never have to use iTunes, ever. I've had such a passionate distaste for iTunes for so long. If I have a digital device, and I want to drop some media on it, I should be able to that by simply dropping whatever files I want into the thing, without the need for synching, primary computer usage and all that other nonsense. So that's a huge plus. Google Play is pretty sweet, too.
Sharing Options
But it's the smart features and sharing options that really make the Samsung Galaxy SIII unique. The AllShare feature allows you to share photos and movies on Samsung Smart TVs, Windows PCs and DLNA-capable TVs and Blu-Ray players. Group Cast lets you participate in shared presentations (Power Points, PDFs, photos, etc. Share Shot lets you share photos with other Galaxy SIII automatically, over a Wi-Fi connection. The S Beam allows you to share stuff between two S Beam-enabled phones, just touching the backs of each phone to each other. This is just awesome. Sharing music, videos and web pages has never been easier. It's really a revolutionary addition.
There's so many reasons why this phone could in fact be a true "iPhone killer"- the superior battery life, the better display, Android OS 4.0.4 Ice Cream Sandwich (with Android OS 4.1 right around the corner), micro USB phone charging and so on. But I don't think I'm ready to give up my iPhone just yet. If more people had the Samsung Galaxy SIII, it would be awesome to leverage all these sharing features. But as it stands now, we still live in an iPhone world. This is the only phone to ever come close to dethroning the iPhone, but as the release of the iPhone 5 has shown, people are still enamored with the original smartphone king.
Related Posts
| | | |
| --- | --- | --- |
| | Print article | This entry was posted by Chris Stout on October 17, 2012 at 2:03 pm, and is filed under Lifestyle. Follow any responses to this post through RSS 2.0. Both comments and pings are currently closed. |
Comments are closed.