Chris Stout
Posts by Chris Stout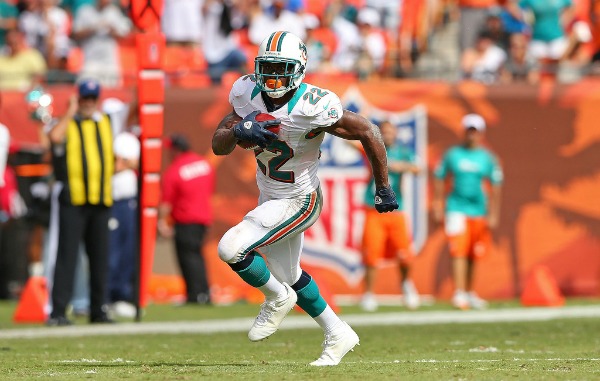 Pittsburgh -6.5 At Tennessee
The Steelers don't play well without Troy Polamalu, but the Titans don't play well period. Sure Woodley is out too, and the Steelers haven't exactly been lights out against the run, but don't be fooled. The Titans are a bad team and the Steelers have the weapons to get the W on the road.
Pick: Steelers -6.5
Cincinnati -1.5 At Cleveland
I think the Browns will show up ready to take the second round of the Battle of Ohio. They lost first matchup by a touchdown in Week 2. Now they get to play at home. The Browns aren't as crappy as their 0-5 record, and the Bengals are a vulnerable 3-2.
Pick: Browns +1.5
At NY Jets -3.5 Indianapolis
This game feels like a textbook letdown game for the emotionally charged Colts, but I think they can sustain their emotion and build on it.
Pick: Colts +3.5

At Tampa Bay -4.5 Kansas City
Brady Quinn finally gets his shot. I think he'll blow it.
Pick: Bucs -4.5

At Atlanta -9 Oakland
The Raiders will try to pound the rock and keep Atlanta's offensive stars on the sidelines. It won't work.
Pick: Falcons -9

At Baltimore -3.5 Dallas
The Ravens always have these weird road games where they take weaker opponents too lightly. That's what happened in KC. Back at home, the Ravens will be a different team.
Pick: Ravens -3.5

At Philadelphia -4 Detroit
Both these teams feel like they've underachieved, but the Eagles are 3-2 and the Lions are stuck at 1-3. The Eagles are averaging only 16 points per game. That's for 31st in the league. Yikes. But the Lions can't stop anything. Remember, Detroit gave up 44 points to the Titans, a team that hasn't put up more than 14 points in any other contest. As much as ball security is an issue for the Eagles, they should be able to get going at home against the Lions.
Pick: Detroit +4

At Miami -4 St. Louis
Reggie Bush has got some knee issues, but dude loves putting up big yardage at home. This gritty Dolphins team has got something good going and they'll be honoring former greats Jason Taylor and Zach Thomas. S-Jax won't run big and the Amendola-less passing game will falter.
Pick: Dolphins -4

New England -3.5 At Seattle
How legit is Seattle? Well I picked them to win last week, but against the Pats, I'm not so sure. Yea that defense is great, but the Pats are back in a big way. Wes is in play. Hernandez could return. They're not going to drop 52 points, but the Pats will earn the W.
Pick: Pats -3.5

At Arizona -4.5 Buffalo
The Bills have allowed a ridiculous 97 points over the last two games. Buffalo's not exactly facing an offensive juggernaut in Arizona, but this Bills team has just been demoralized and demolished the past two weeks.
Pick: Cardinals -4.5

At Washington -2 Minnesota
I just like the Vikings. I like AP to run angry and show the Skins that they can tear his knee, but they'll never break his all-dayness.
Pick: Vikings +2

At San Francisco -6.5 NY Giants
Both of these teams want to pretend that they're disrespected underdogs, but it's just not true. They're both solid, but the Niners have been too dominant lately to not be favored by a TD at home.
Pick: Niners -6.5

At Houston -3.5 Green Bay
What's up the Packers? They start slow on offense and blow leads on defense. There just seems to be a strange malaise about this team. Now they have to go on the road and play the undefeated Texans. In Houston. In primetime. The loss of Brian Cushing is pretty sever for this hot Texans team, but I think they can edge out the Packers in a high scoring affair.
Pick: Texans -3.5

At San Diego -1.5 Denver
Don't hand the division crown to the Chargers just yet. Broncos will roll into San Diego and make some serious noise. Gates and Mathews go off, but Peyton turns in a gem.
Pick: Broncos +1.5
Last Week: 7-7
Season 38-38-1
Last Season: 140-120-12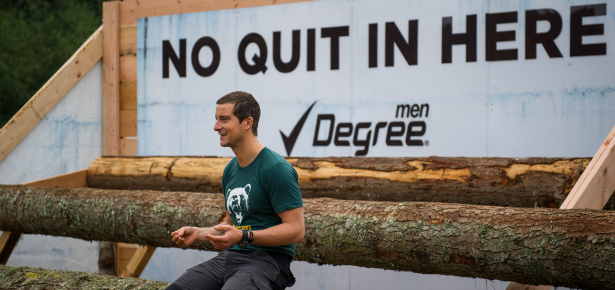 Bear Grylls is one baddass Brit. He's a survivalist who spent time with the British Special Forces. He's a skydiver who has a black belt in karate. He climbed Mount Everest when he was 23 and at age 34, he was the youngest person to be named Britain's Chief Scout. In Man vs. Wild, he showed audiences around the world how to survive in the toughest of situations. He's an affable guy whose on-air presence matches his off-screen personality.
When I toured the Tough Mudder course in Seattle as part of an adrenaline-fueled weekend sponsored by the Degree Men Adrenaline Series, I got to meet Bear see his Tough Mudder creation called the Timber Tantrum. The obstacle featured three logs that you have to climb before scaling a wall and dropping down safely on the muddy other side. When the Tough Mudders got to the obstacle, Bear was cheering people on to conquer his creation.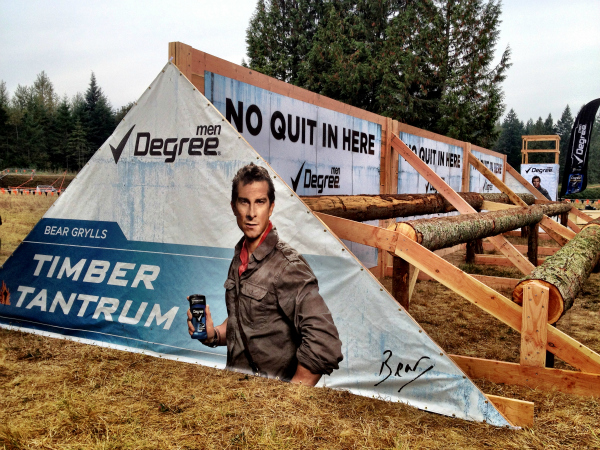 I got to interview Bear the day before the Tough Mudder event. We talked about his love for Tough Mudder, his favorite insect meal, his Bear-whispering skills, upcoming projects, his favorite spot on planet Earth and what it's like to be known around the interwebs as the guy that drinks his own piss. He actually shared a funny story about how his son leveraged this rep and played a prank on his unsuspecting dad. Here's the interview: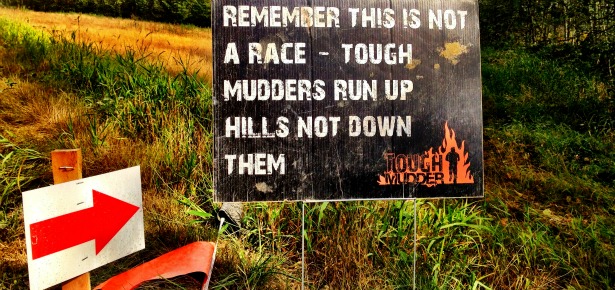 This past weekend I dominated the Gladiator Run at the Rose Bowl in Pasadena. Okay, maybe dominate is a strong word. "Completed" is probably a more fitting description. With the help of my teammates, I finished all the obstacles and made it through the course. It's a 5K run with 15 obstacles created by Dan Clark, aka Nitro, from the original American Gladiators. The course kicked my ass a bit and I was proud that I got through it. But I knew, deep down that my victory was a mild one. The Gladiator Run doesn't come close to what goes down at Tough Mudder.
The weekend before I did the Gladiator Run, I got to tour the Tough Mudder course in Seattle as part of an adrenaline-packed trip that was sponsored by Degree Men. I knew there was no way I could hang with running that Seattle course, and the challenge of my recent mini-5K just confirmed that. After my little mud run, I got nothing but the deepest respect for the true mudders out there.
I got some cool cuts of the Tough Mudder Seattle event, and after grinding away at the Gladiator Run, I wanted to share some highlights from the big boy course: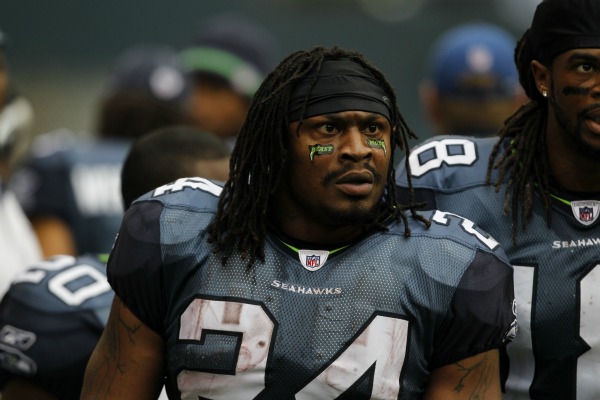 Arizona -1.5 At St. Louis
Cards. Believe.
Pick: Cardinals -1.5
Atlanta -3 At Washington
Matt Ryan leads the league in passer rating (112.1). He's thrown for 1,162 yards for 11 TDs and just 2 picks. He's got weapons everywhere, a serviceable rushing game and a defense that's holding opponents to 19 points a game. The Skins have a quality offense, but their passing defense ranks last in the league. Whether it's Tony G, Julio or Roddy making the plays, enough plays will be made for Atlanta to win by three. Especially against the league's second-worst pass defense.
Pick: Falcons -3
At Pittsburgh -3.5 Philadelphia
The Steelers are whole again. They get their primary RB and two huge defensive playmakers (Harrison and Polamalu) back on the field just in time. Tomlin's teams are 4-2 ATS after bye weeks. It's time for the Steelers to step up and grab a big win at home.
Pick: Steelers -3.5
Green Bay -7 At Indianapolis
Greg Jennings is out, but even without their best receiver, the Packers are more than a touchdown better than the Colts. The Colts had an extra week to prepare for the matchup, but they also lost their head coach for the foreseeable future. Even if the team comes out inspired, it likely won't be enough.
Pick: Packers -7
At NY Giants -9 Cleveland
The Browns kept it close with the Ravens last week, which was a bit surprising. There are things to like about this 0-4 squad, but the matchup is too difficult. The Giants are averaging 29.8 points per game. Cleveland's averaging 18.2. The spread's about right.
Pick: Giants -9
At Minnesota -5.5 Tennessee
Hasslebeck gets the nod in the dome and suddenly Chris Johnson can run forward. Time for a Tennessee turnaround? I think not. The Vikings are the surprise leaders of their division, winners of two straight and the safer bet at home.
Pick: Vikings -5.5
At Cincinnati -3.5 Miami
What the what? The Fins have the best run D in football, you say? They're only allowing how many rushing yards a game? 56.8? Bananas, I tell you. But what about their pass D? Oh, they're allowing almost three bills a game. 30t hin the league. Damn. Good news for AJ Green (who would be leading the NFL in receiving yards if it wasn't for that pesky 253-yard Hartline stat line last week). The Fins can move the ball too though. They got a promising QB and Reggie Bush is averaging 5.5 yards a carry. Both teams  are hurtin' at the corner spots, too. This game feels like it could hit the over by halftime. Bengals win the shootout.
Pick: Bengals -3.5
Baltimore -6 At Kansas City
When did the Ravens become an offensive powerhouse? They're putting up 424 yards and 30 points per game. And they're well-rested heading into Arrowhead. The Chiefs are going to pound the rock and hope that Matt Cassel can stop throwing picks. Ravens avoid the trap.
Pick: Ravens -6
At Carolina -3 Seattle
Seattle's letdown loss last week was easy to anticipate, but I like them in this matchup. It's really a strength-against-strength thing. Carolina gets the checkmark on O and Seattle's got the D. It'll be interesting to see how the battle plays out between a strong pass rush and a QB who can gash you with big runs. I think the Seahawks can rattle Cam into a pouty, towel-over-the-head style finish. And then there's this fun fact: The Panthers have allowed over 300 rushing yards the past two games and they'll be going up against the NFL's leading rusher in Marshawn Lynch (473 yards).
Pick: Seattle +3
Chicago -6 At Jacksonville
Cutler looked sharp last week. He was decisive and he kept throwing TDs even after the game was long decided. Jacksonville isn't going to be able to feed MJD all day and expect huge chunks of yards. The Jags need to make plays with the passing game. Good luck doing that against a defense that leads the league in INTs.
Pick: Bears -6
At New England -6.5 Denver
The Pats made a statement last week, dropping 52 points on the Bills. They seem to have a tough time beating Denver though. I get the feeling this game is going to come down to the wire. Probably a field goal. Pats will likely win and not quite cover.
Pick: Broncos +6.5
At San Francisco -10 Buffalo
If the Bills pair of starting RBs can't get going against the Niners, then no one can. I know the 49ers are supposed to be super good at defense and covering spreads at home and all that, but I'm not sold on this spread. Seems a bit steep. The Bills can move the ball better than the Jets, but they're still likely to lose convincingly.
Pick: Niners -10
At New Orleans -3.5 San Diego
The only winless teams in the league are the Saints and the Browns. After Sunday night, the Browns will be in sole possession of that dubious distinction. Brees blows up at home in the dome, and if he's going to unleash some 0-4 frustration, might as well do it against the team that let him get away.
Pick: Saints -3.5
Houston -8 At NY Jets
The Jets are a mess and the Texans are firing on all cylinders. Sanchez needs a big game to quiet the calls for Tebow. If the Jets somehow show up at home it could do wonders to stop the downward spiral of their season. I think a convincing win by the Texans is more likely. Houston may clinch their division by midseason.
Pick: Texans -8
Last Week: 9-6
Season 31-31-1
Last Season: 140-120-12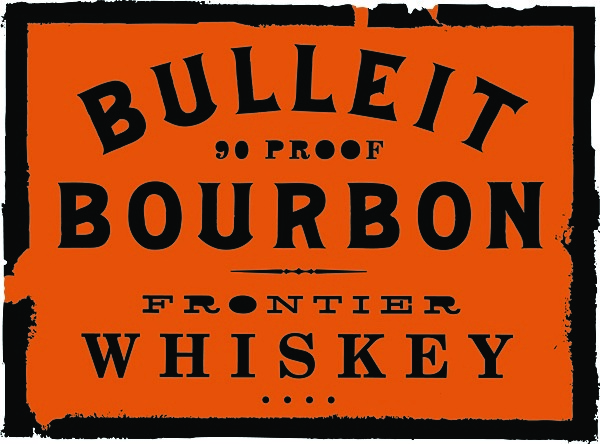 I've always been more of a Scotch guy, but I know a good whiskey when I see one. Lower-end whiskey choices tend to be too sweet and too syrupy. When you want a stiff drink, you want that drink to have some flavor. You want it to have a bold and memorable taste, something with some depth and complexity. You don't want that drink to taste like an alcoholic Slurpee.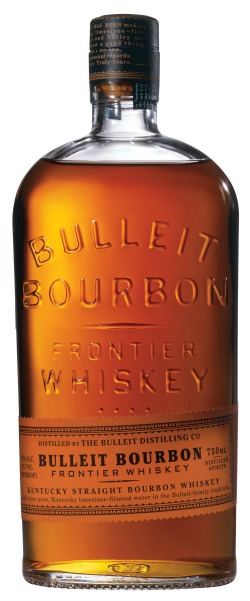 So when I tried Bulleit Bourbon for the first time, the first thing that stood out to me is the nuance, the I-don't-have-to-be-too-sugary-to-succeed taste. What I like about good Scotch is the subtleties that are at play in the drink. You get a certain scent, a certain immediate, on-the-tongue flavor and some sort of afterthought finish. It's a process, and not every drink can deliver each step of the way. Bulleit Bourbon can.
Tom Bulleit revamped the Bulleit Distilling Co. with the goal of using his great-great-grandfather's 175-year-old recipe to make fantastic, authentic bourbon. Bulleit Bourbon is aged al east six years in American White Oak barrels that are housed in single-story warehouses. This allows for more control over the maturation process. The consistency is further enhanced by the mingling process, where two to three distillates will be mingled together to achieve a consistent nose and finish. Bulleit Bourbon uses large amounts of rye grain and proprietary yeast that is cultured on-site at the distillery.
The nose is spicy, but the taste and finish are so smooth. The finish lasts for some time too, which is a good thing. Bulleit Bourbon is great to us in cocktails, because it can stand alone of give itself a proper place to stand out when mixed with other elements. I think it's a pretty good base for old fashioneds. I tend to like my old fashioneds a little less sweet (with a small spoonful of simple syrup of the crushed sugar cube), but I really like how Bulleit plays with the bitters. Add some citrus-type garnish and you're good to go.
And if you're a purist, you don't need any mixers. Just sip on this quality Bourbon and enjoy the long, smooth finish without any interference.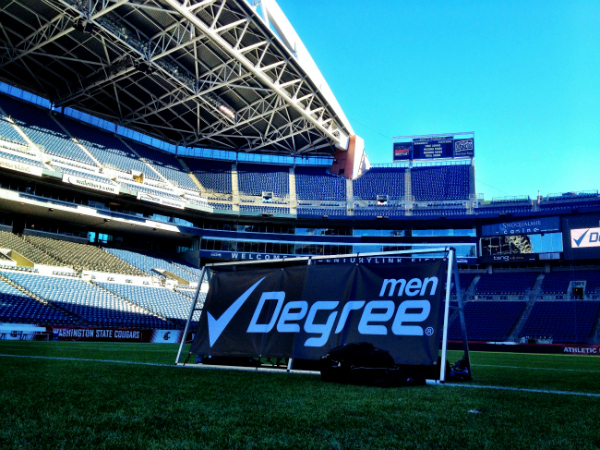 This past weekend Degree Men flew me out to Seattle for a sweet set of events that showcased the motion-activated power of the Degree Men Adrenaline Series. Most deodorant sticks respond to a person's wetness, but the Degree Men Adrenaline Series is some DEFCON-level deodorant that uses MOTIONsense™ technology to respond to actual activity and body movement. This patented piece of odor-fighting tech starts working more the more you move around. It's a clinical-grade antiperspirant designed to last for long stretches at a time (up to 48 hours). Even the most extreme adrenaline junkies can't outstink these sticks.
The Adrenaline Series features a full line of products that cater to specific conditions and preferred man-smells: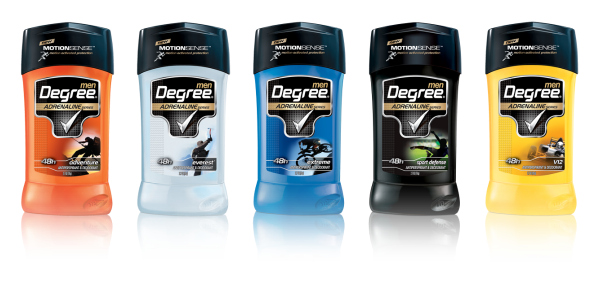 Adventure – A citrusy blast of forest fueled goodness. Musky without going overboard.
Everest – A cool sensation of wintery clean. Almost mentholated in its briskness.
Extreme – A minty-citrus combo with an outdoorsy undertone. Fresh side of the great outdoors.
Sport Defense – Rustic black pepper meets odor-busting chillness. Just the right amount of spicy.
V12 – Calming herbal blend that mixes subtle scents with a crisp finish. Simple and meditative.
With the full product line at our disposal, the Degree Men's crew treated us to some awesome displays of man-tensity:
Interview with Bear Grylls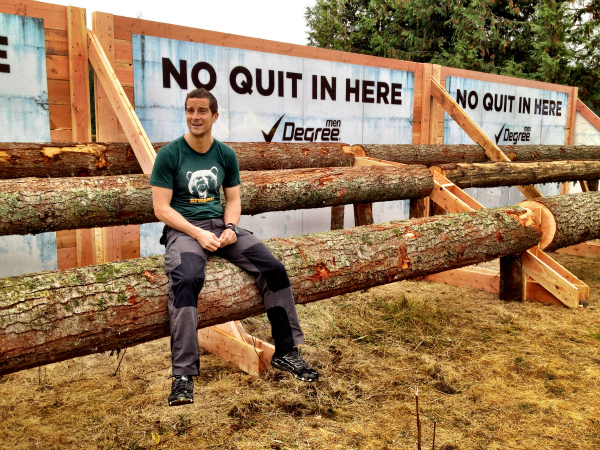 Bear Grylls is the ultimate symbol of staying cool in extreme situations. I sat down with him to chat about the spirit of Tough Mudder, the obstacle that he designed for the course, his favorite spot on planet Earth and you know, that whole what's-it-like-to-be-known-as-the-guy-who-drinks-his-own-piss thing.
Tough Mudder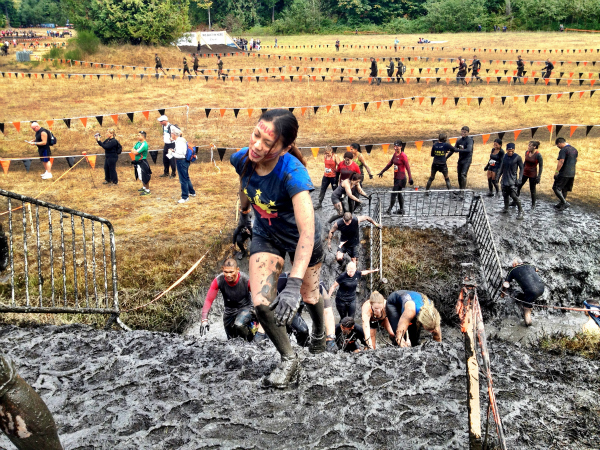 We toured the Tough Mudder course in Seattle the day before the race and I got to see the clean version of the course – a 12-mile track with 22 savage obstacles – before it was muddied and bloodied by over 8,000 participants. The following day I watch as these muddied masses pushed themselves through all the brutality, with a lot of teamwork, camaraderie and respect on display.
High Speed Go-Cart Racing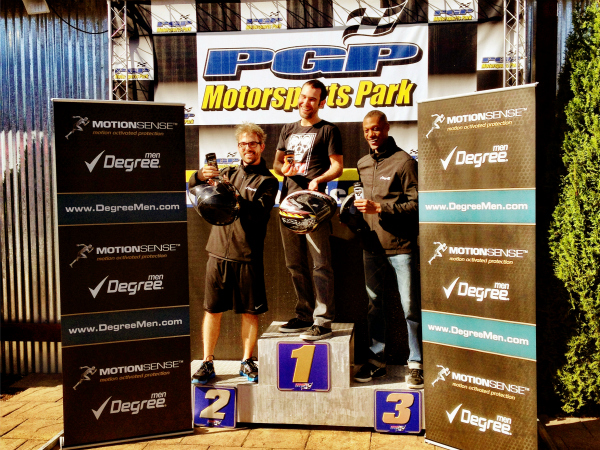 Multiple rounds of intense, spinout-fueled competition on go carts that reach speeds of 50 MPH. The Crave Online guys dominated the final race at PGP Motorsports Park.
Ultimate Seahawks Experience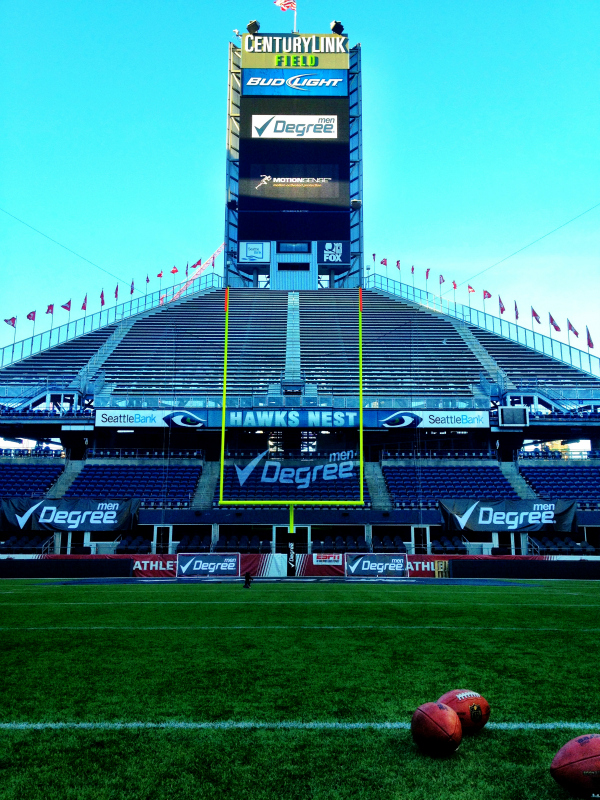 I got to tour the stadium with a fun-loving historian. Saw the scene of the Golden Tate crime, scoped out the visitor locker room and got some practice time on the field. Former Seahawks kicker Norm Johnson and former Seahawks fullback Mack Strong gave us some tips on how to kick field goals and throw spirals.
So yea, good times this weekend. With good people, too; from Crave, AskMen.com and the Yahoo Mansome crew. Stay tuned for more posts from this weekend's awesome events!
Check out NASCAR Sprint Cup and Nationwide Series drivers Ricky Stenhouse, Jr. and Trevor Bayne as they take the Valvoline NextGen Undercover Salesman Challenge to see who can get customers to try out NextGen recycled motor oil.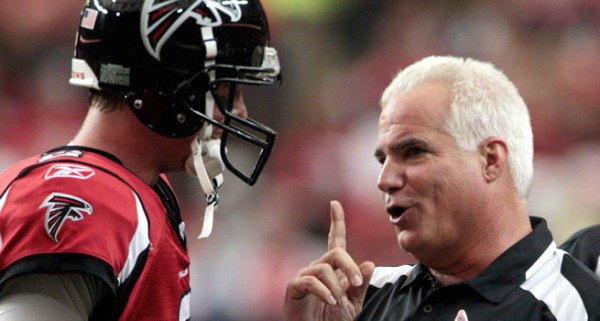 At Baltimore -12 Cleveland
That's a whole lot of points there, but even with the recent busy playing schedule of the Ravens, it's hard to not like them to win big here.
Pick: Ravens -12
New England -4 At Buffalo
I hope Fred Jackson gets back this week, but it's not looking great. Look for the Pats to right the ship either way.
Pick: Patriots -4
At Detroit -5 Minnesota
We all know the Lions can move the ball. They're first in the league in passing yards and second in the league in total yards. Now they even have a running back who can give them a workhorse-type effort. The defense is a different story, though. I think the Vikings will keep this close and take advantage of a quality running game (AP), a receiver who catches almost everything (Percy) and a guy who's going to provide a shot in the arm against a weak secondary (Jerome Simpson).
Pick: Vikings +5
At Atlanta -7 Carolina
The Falcons are for real. Home, away, it doesn't matter. Cam's gonna be sour-faced after this one, for sure.
Pick: Falcons -7
San Francisco -4 At NY Jets
No Revis – no problem. They got running back Joe McKnight out there! What could go wrong? I hope the legit refs start flagging Santonio for his constant begging for penalty calls. It's gotten so bad. Niners bounce back.
Pick: 49ers -4
At Kansas City -1 San Diego
Both these teams have had up and down weeks. The Chiefs were goats for two games and heroes in Week 3, when they overcame an 18-point deficit to beat the Saints in New Orleans. The Chargers looked great in Week 2 and extra-flat against the Falcons. This is really a toss up. The Chargers have won seven of their last nine games against the Chiefs, and the Chiefs have won the last two contests. Toss-up city.
Pick: Chargers +1
At Houston -12 Tennessee
Big spread for a reason. Still like the Texans to cover.
Pick: Texans -12
Seattle -2.5 At St. Louis
The euphoria of the fake win has faded. Time for a letdown game in St. Louis.
Pick: Rams +2.5
At Arizona -6.5 Miami
Go cards go! This defense is allowing the second fewest points per game (13.3). Time to believe!
Pick: Cardinals -6.5
At Denver -6.5 Oakland
So Oakland got a win against a good Pittsburgh team, and Denver got outplayed by a better Texans team. I think Peyton can take advantage of this defense and right the ship at home.
Pick: Broncos -6.5
Cincinnati -2.5 At Jacksonville
The Bengals got a big win last week against the Skins. I like them on the road.
Pick: Bengals -2.5
At Green Bay -7.5 New Orleans
It's hard to see the Saints going 0-4, but it's even more difficult to not see Green Bay going off after getting jobbed in Seattle. This game should have plenty of points.
Pick: Packers -7.5
At Tampa Bay -3 Washington
Tampa plays tough at home, but I don't think the
Pick: Redskins +3
At Philadelphia -1.5 NY Giants
I just don't like this Eagles team. The Giants just have more pop.
Pick: Giants +1.5
At Dallas -3.5 Chicago
Cutler gets flustered and the Cowboys win a tough, physical game at home.
Pick: Cowboys -3.5
Last Week: 6-10
Season 22-25-1
Last Season: 140-120-12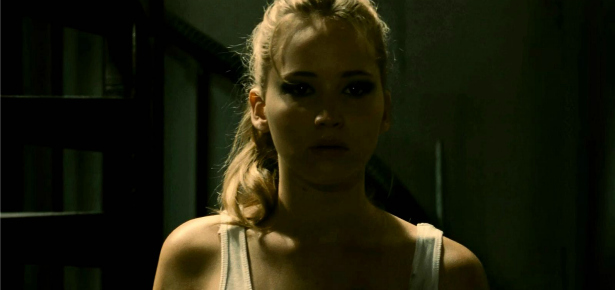 House at the End of the Street, a new horror film starring Jennifer Lawrence, Elisabeth Shue, Max Thieriot and Gil Bellows, hits theaters today. It looks like one of those perfect date night movies where attractive people find themselves in freaky situations. Jennifer Lawrence has made some pretty enjoyable films (Winter's Bone, X-Men: First Class, The Hunger Games), so I think her role is going to go beyond the traditional hot girl in distress that you find in most horror movies.
So Elisabeth Shue and her daughter (Jennifer Lawrence) move in next door to a house where a young girl killed both her parents and left behind a troubled brother who Lawrence takes an interest in. Things get freakier from there. Here's the trailer:
To get the word out on the release of House at the End of the Street, we're giving away a free HULU Plus subscription to one lucky reader. That's a $96 value, folks. To enter, just send us an email below. We'll pick a winner next Friday, 9/28.
Good Luck!
To learn more about the film, follow the hashtag #HATES or check out the official YouTube channel for more clips.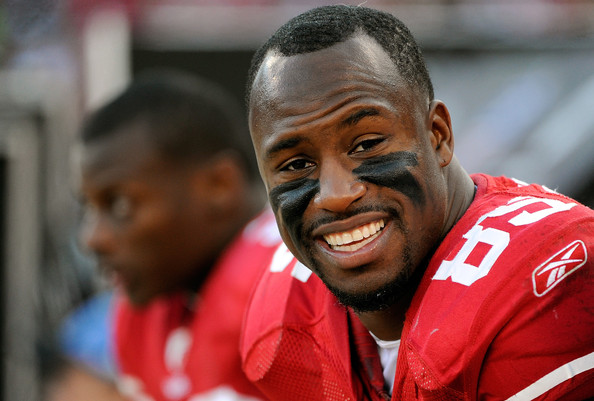 At Carolina -2.5 NY Giants
The Panthers got back to running the ball last week and they did it well with a two headed attack. Jonathan Stewart will be a game time decision. If he doesn't play, I think that hurts the Panthers big time. DeAngelo Williams bounced back from a poor Week 1 showing, but there's no replacing the one-two punch they got going. Ahmad Bradshaw has been ruled out for the Giants and Andre Brown is expected to see the bulk of the backfield carries for New York. Hakeem Nicks has been ruled out. Victor Cruz is going to need to have a big game with Domenik Hixon and Nicks both out. I see this being a high scoring affair, and if the Giants are close at the end, it's hard to not like Eli and the G-Men. Manning can spread the love and make guys like Ramses Barden and Rueben Randle look like studs for a week.
Pick: Giants +2.5
At Chicago -7.5 St. Louis
Will Jay Cutler bounce back after a super ugly game? I think he'll find a groove, but the Rams secondary isn't going to get lit up, that's for sure. I think Chicago will probably win, but I'll take the points under the assumption that the Rams will keep this close.
Pick: Rams +7.5
At Dallas -8 Tampa Bay
The mental toughness of this Dallas team was questioned once again after they laid an egg in Seattle last week. It's hard to know what to make of this team, but I see them rebounding at home against the Bucs.
Pick: Cowboys -8
San Francisco -6.5 At Minnesota
The 49ers are clicking on all cylinders. The run game is working. Crabtree and VD are looking dominant. The defense is rock solid and field goals that hit the crossbar bounce right in. If the Niners can shut down offenses like Green Bay and Detroit, they can handle the Vikings in the dome. I feel like San Francisco will dial up at least one redzone play to try and get Randy Moss a touchdown in his old stomping grounds. It's the right play to keep the part-time player happy.
Pick: 49ers -6.5
Detroit -3.5 At Tennessee
The Titans haven't scored a first half touchdown yet this season. Chris Johnson has 21 yards on 19 attempts. Yikes. The Lions just move the ball better. Sure they didn't run all over the 49ers, but who does? I think the Lions shaky secondary is going to give up a couple of big, confidence-boosting plays to Jake Locker and the Titans wide receivers, but the Lions can keep pace, counter with more offensive production and get a win on the road.
Pick: Lions -3.5
At Washington -3 Cincinnati
I hope Garcon plays. He was limited in practice, but I just like watching that Griffin to Garcon connection. The Bengals offense woke up last week. That'll happen when you play the Browns. Washington lost two key defensive players for the year, Brian Orakpo and Adam Carriker. Those guys won't be easy to replace. It's only been two games, but the Skins have averaged 34 through two weeks, which tops the league. After blowing a great chance to force overtime last week, I like Washington to come out hungry and ready to roll.
Pick: Redskins -3
NY Jets -2.5 At Miami
Darelle Revis is back, which sucks for Miami. The Dolphins are coming off a huge offensive explosion against the Raiders. Reggie Bush was a monster and Ryan Tannehill looked much improved in his second NFL start. I picked Miami as dogs last week, and I'm tempted to do it again. But with Revis back in the fold and Miami's secondary lacking any sort of talent, I think I have to go with the Jets here.
Pick: Jets -2.5
At New Orleans -9 Kansas City
I keep picking the Saints and they keep not winning. It's frustrating. This team is better than that. Okay, maybe the defense isn't, but I'm tired of seeing this offense camped out in three-and-out land. Get it together, guys. You're up against the Chiefs. A team that's been outscored 75-41 in the first two games of the year. If the Saints can't cover here, they might as well pack it in.
Pick: Saints -9
Buffalo -3 At Cleveland
This game has missed tackles written all over it. These two teams could combine for over 500 rushing yards. Edge goes to the Bills.
Pick: Browns +3
At Indianapolis -3 Jacksonville
I like this Luck guy. If he gets Austin Collie back, he should be able to put together another strong performance at home.
Pick: Colts -3
Philadelphia -3.5 At Arizona
I want to see if this Cardinals defense can keep it going against a team that averaged a league-best 471 yards of offense in the first two games of the season. I think it's worth noting that the Cardinals have only allowed two touchdowns in two games. If the Cards can stonewall the Eagles and build on last week's upset, they'll have to be taken seriously.
Pick: Cardinals +3.5
At San Diego -3 Atlanta
Can we get a Ryan Mathews sighting already? It's Week 3 gaddamnit, it's time for that guy to get on the field. Teams can run on the Falcons, and if Mathews sees the field, he should be a big upgrade over the RB committee that the Chargers have been working with. I think the Falcons have enough firepower to outscore the Chargers, though. Tony G's been making plays. Roddy White's still a beast. Even with a quiet day from Julio Jones, the Falcons can put up points. I like them on the road.
Pick: Falcons +3
Houston -2 At Denver
Manning is mortal after all. The Texans running game isn't. Denver seems to hate covering tight ends as well. Good news for Owen Daniels owners.
Pick: Texans -2
Pittsburgh -4 At Oakland
No Polamalu or James Harrison for the Steelers. Both standout defenders were out against the Jets and the defense still looked great. The Steelers running game has completely disappeared. The Redman-Dwyer project has run its course. Mendenhall is practicing, but will he play before Week 5? With key starters missing, the Steelers still have a strong enough defense and passing game to win on the road in Oakland. The Raiders always seem to win games like this, but I'm sticking with Pittsburgh.
Pick: Steelers -4
At Baltimore -3 New England
The Pats bounce back in a tough road game.
Pick: Pats +3
Green Bay -3 At Seattle
Seattle crushed the Cowboys, but getting past the Packers won't be as easy.
Pick: Packers -3
Last Week: 10-5-1
Season 16-15-1
Last Season: 140-120-12