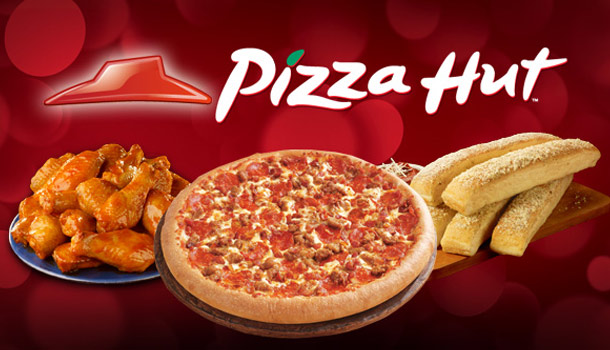 Having a birthday on February 29th has some upsides and some downsides. For the nearly 200,000 Americans born on Leap Day, the true joy of celebrating their birthday only comes once every four years. But this Leap Day Pizza Hut will help those "Leaplings" make up for the birthdays they've lost.
Nationwide, anyone who visits a participating Pizza Hut restaurant on Feb. 29 and shows a government-issued photo ID to prove they were born on Leap Day will receive a free, one-topping Personal Pan Pizza for carryout.
Pizza Hut will also make the annual birthday party parade in Anthony, Texas – known as the "Leap Year Capital of the World" – better than ever with the choice of a free cheese or pepperoni Personal Pan Pizza for those in attendance, thanks to the pizza restaurant's mobile kitchen.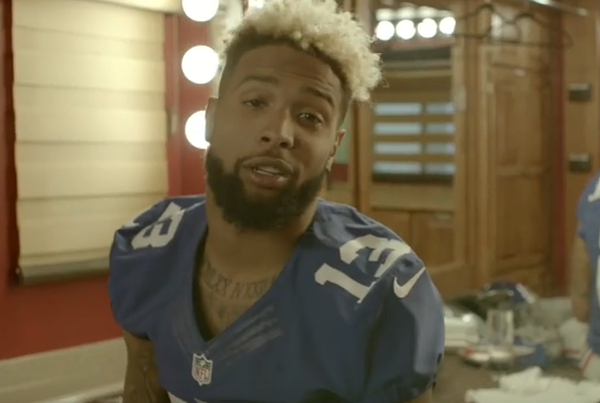 Technology has gotten so good to the point where we might not know what is real and what is not. Verizon and Giants star Odell Beckham Jr. look to have some fun with some fans. Odell Beckham Jr. puts the "reality" back in virtual reality, as he catches passes from real, unsuspecting Verizon customers. After having some fun with each of these lucky fans — and of course making his signature one-handed catch — Odell brings them all back to reality, leading to some very memorable reactions. Because the only thing better than virtual reality is #BetterReality, from the #BetterNetwork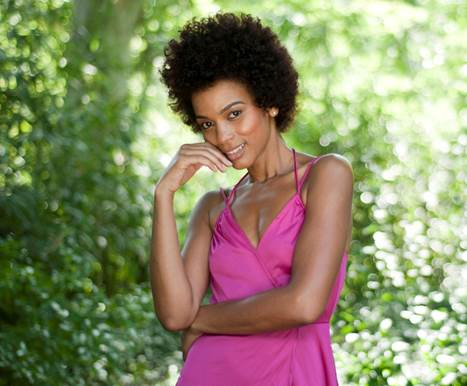 I had the great opportunity to chat with Nicole Roderick about her role on the the hit show, "The Good Wife," her upcoming role on "Vinyl," and what her dream role would be.
Currently Nicole recurs with the role of Nora on CBS's top show, "The Good Wife" alongside Julianna Margulies. Prior to that, she appeared on ABC's hit comedy "Ugly Betty" and has also completed filming an episode of HBO's newest show "Vinyl".
Aside from her TV/film success, she has modeled for multiple high profile brands including Bevel eyewear, Uniqlo, Speck, Colgate, TJ Maxx, Kate Spade and Hallmark, to name a few. Before she was even 17 years old her modeling took her around the world, including Japan and Australia.
Being a New Yorker has given Nicole the opportunity to study at The School for Film & TV, The William Esper Studio and The Susan Batson Studio.  She continues honing her craft by attending various workshops and working with private coaches.
Listen to the interview here.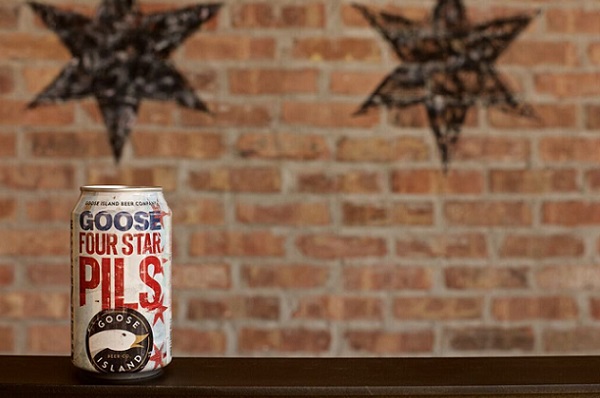 Goose Island always seems to stay true to its roots. They are continuing with that tradition with the Four Star Pils. In 2015, the brewery released a draft-only, and Chicago-only, beer by the name of "Blue Line." It was a chance to share the brewery's take on the traditional pilsner. A pilsner made with a little more hops and a lot more flavor. Turns out, Chicagoans were just as ready for a hoppy pilsner as the brewers were. So when the once small batch pilsner began to run dry, Goose decided it was time to share their take on the classic German-styled lager with beer fans everywhere.
Reborn as Goose Four Star Pils the newly re-packaged brew is making its national debut on February 29 on shelves and will be available in bottles, cans and on draft. The name and design for Goose Four Star Pils pays homage to its hometown of Chicago by donning the four stars on the Chicago flag emblematic of The Great Chicago Fire, The World's Columbian Exposition of 1893, The Century of Progress Exposition of 1933 (Chicago World's Fair) and Fort Dearborn.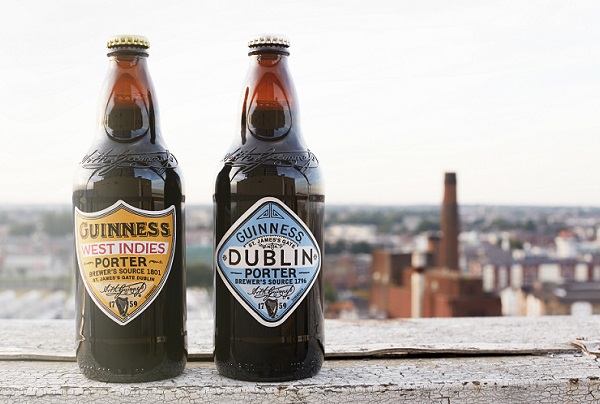 Just when you thought you couldn't love the folks at Guinness anymore they bring two new more beers into the mix. Two beers from The Brewers Project are making their official debut in America for a limited time – the West Indies Porter and Dublin Porter.
Rooted in the history and showcasing the brand's innovative spirit of creating great beer beyond the iconic stout, the West Indies Porter and Dublin Porter have been reinvented from old recipes found in the Guinness Brewers' diaries.
With origins in a 1796 entry in the Guinness brewers' diaries, the Dublin Porter was inspired by the golden age of porter in the 1800s. This was a time when porter was the working man's beer and after a long day's work in Dublin or London, Guinness would have been a respected choice. The West Indies porter is based on an 1801 diary entry for the first Guinness purposely brewed to maintain its freshness, on long sea voyages to the Caribbean and beyond. To guarantee the best quality upon arrival, Guinness brewers made a porter with more hops and a higher gravity.
They're available now, along with Guinness Extra Stout, at participating Costco, Sam's, BJ's, and Total Wine & More locations nationally as part of The Brewers Project Pack for manufacturer's suggested retail price of $21.99. Whether enjoying a beer from The Brewers Project Pack or any Guinness beer, please drink responsibly.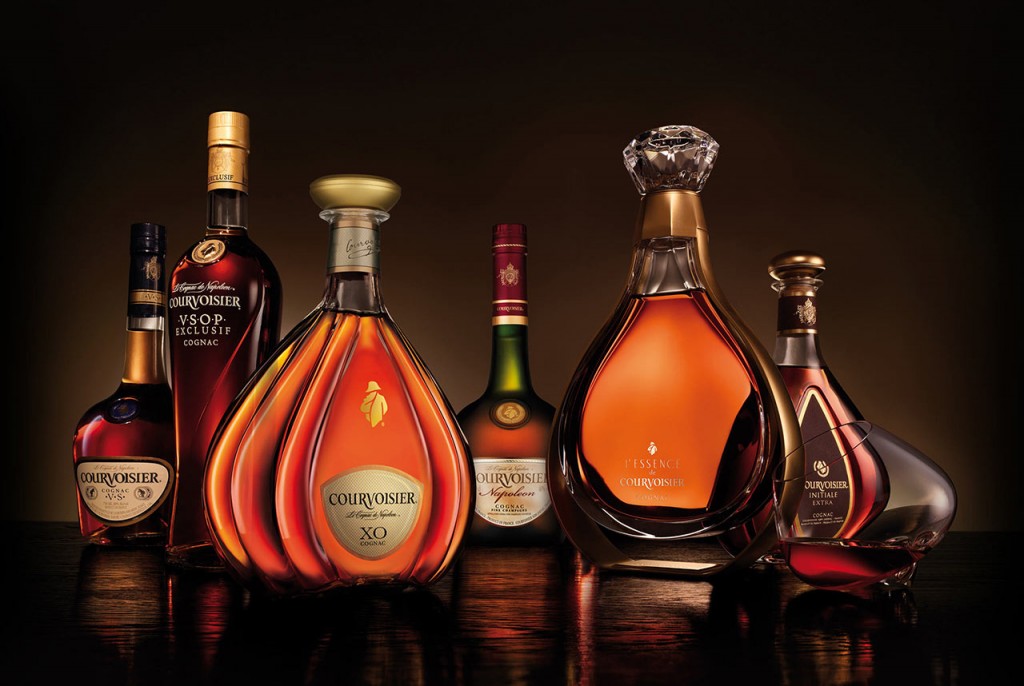 This weekend coming up we get see which films will be bringing home the golden statues. Which film are you pulling for? I hope "Star Wars: The Force Awakens" wins a few awards.
No matter if you are going to a party or staying at home for the big event Courvoisier Cognac created some themed cocktails that you will enjoy during that night. The cocktails are evocative of the exceptional journeys and triumphs experienced by some of this year's most talked about nominees such as Michael Fassbender's portrayal in Steve Jobs, Matt Damon's performance in The Martian, and Sylvester Stallone in Creed.
As always please enjoy responsibly.

Apple of My Eye
1 part Courvoisier VSOP Cognac
1 part Fresh Lemon Sour
½ part DeKuyper Apricot Brandy
4 parts Apple Cider
Shake all ingredients with ice and strain into a cocktail glass.
Garnish with a lemon spiral twist and a dash of fresh ground cinnamon.
Courvoisier One-Two Punch
2 parts Courvoisier VS Cognac
1 part Fresh Squeezed Grapefruit Juice

½ part Fresh Squeezed Lemon Juice
½ part Honey Syrup
Mix all ingredients in punch bowl with sliced grapefruit & lemon wheels. Serve over fresh ice.
Zero Gravity
½ part Courvoisier VSOP Cognac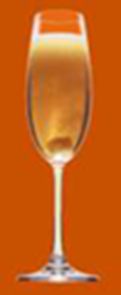 Fill Glass with Champagne
1 Sugar Cube (optional)
Serve in a champagne flute.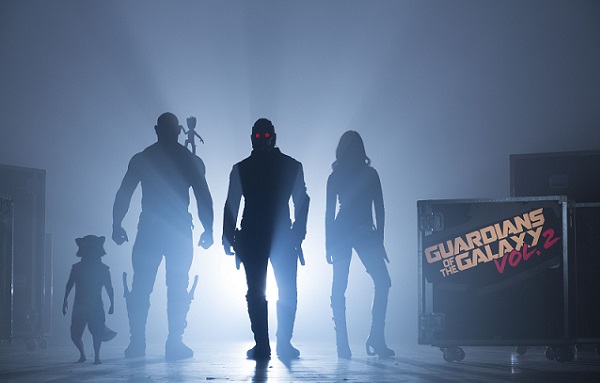 Marvel Studios has begun principal photography at Pinewood Studios in Atlanta, Georgia, on Marvel's "Guardians of the Galaxy Vol. 2," which is slated to hit U.S. theaters on May 5, 2017. The production will shoot at Atlanta's Pinewood Studios.
"Guardians of the Galaxy Vol. 2" is written and directed by James Gunn ("Guardians of the Galaxy," "Slither"). The film marks the return of the original Guardians, including Chris Pratt ("Jurassic World," "Guardians of the Galaxy") as Peter Quill/Star-Lord;  Zoe Saldana ("Guardians of the Galaxy," "Star Trek Into Darkness") as Gamora; Dave Bautista ("Spectre," "Guardians of the Galaxy") as Drax; Vin Diesel ("Guardians of the Galaxy," "Furious 7") as the voice of Groot; Bradley Cooper ("Joy," "American Sniper") as the voice of Rocket;  Michael Rooker ("Guardians of the Galaxy," "Jumper") as Yondu; Karen Gillan ("Guardians of the Galaxy," "The Big Short") as Nebula; and Sean Gunn ("Guardians of the Galaxy," "Gilmore Girls") as Kraglin. New cast members include Pom Klementieff ("Oldboy"), Elizabeth Debicki ("The Great Gatsby," "Everest"), Chris Sullivan ("The Knick," "The Drop") and Kurt Russell ("The Hateful Eight," "Furious 7").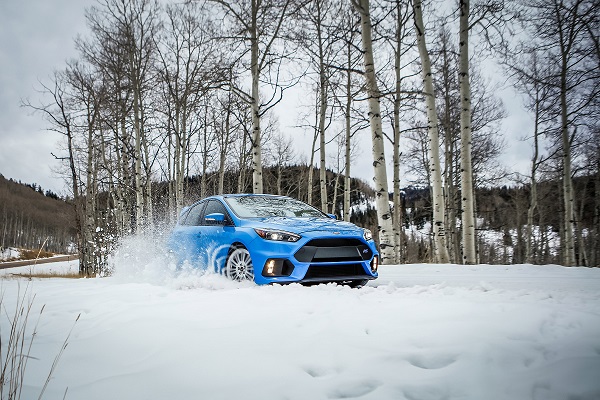 For those who live in the cold climate areas and have to deal with winter I have a ray of sunshine for you. Ford looks to change the driving game in winter. Customers of Ford's all-new all-wheel-drive 350-horsepower Focus RS will now be able to order a fully certified winter tire kit for great driving enjoyment in the snow.
The Focus RS Winter Wheel & Tire Package offers customers a unique set of wheels and tires – the first time an original equipment manufacturer is making a check-the-box winter tire option available in North America.
"We started this project knowing what our RS customers really want out of their cars," says Adam Wirth, chassis supervisor, Ford Performance. "This tire package allows RS owners to continue spirited driving even in the snow."
Ford Performance developed this package so the most demanding Focus customers can be outfitted with optimum equipment for winter conditions. The challenge was that normal vehicle testing procedures require certification with production wheels and tires; winter-only standards had never been authored. To bring this package to owners, the first step Ford Performance had to undertake was creating a new set of standards specifically suited for brutal winter conditions.
These new standards were put to the test in extreme cold and snow in Northern Michigan and Sweden, to guarantee the quality and performance Ford customers expect. Engineers and technicians tested a wide variety of high-performance winter tire and wheel setups to determine the optimum combination for ride, handling and performance in various wintry conditions.
The winning setup is a 225/40R18 Michelin Pilot Alpin PA4 tire mounted to a new 18×7.5-inch wheel, which looks very similar to the base Focus RS option, but is finished in sparkle silver to hide salt spray. The set is complete with tire pressure monitoring sensors and center caps fully mounted and balanced and ready for installation at the dealer.
The wheel and tire are narrower, to provide improved snow traction, while the overall diameter is smaller, so owners can fit chains if necessary.
Focus RS Winter Wheel & Tire Package is available only in North America – a $1,995 option. For customers in Canada, the package comes standard on Focus RS.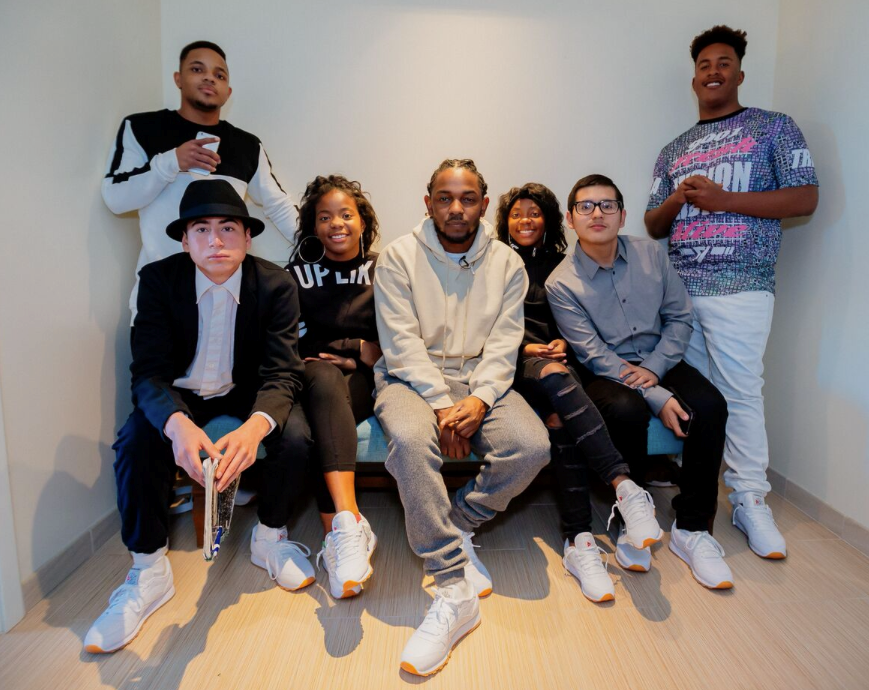 Even though Kendrick Lamar has made a name for himself he doesn't forget the road he traveled to get where he is today. Believe it or not it is just 11 miles from Compton, California to the red carpet of the Staples Center in Los Angeles. Earlier this week Lamar made the journey along with a few important guests.
With help from Reebok Classics, the multi-award-winning musician hosted six students from Centennial High School in his hometown, and source of inspiration, Compton. Lamar was the most nominated hip-hop artist at the night's ceremony, but it was his moments with the students beforehand that really set him apart.
"Seeing them out here reminds me of where you come from," Lamar says. "They're full of energy. The same as I was."
As one of Compton's most celebrated sons, Lamar often draws creativity from his hometown and doesn't shy away from using the city as the muse for his lyrics. But it was Lamar's once-in-a-generation work To Pimp a Butterfly that inspired Compton instead earlier that tonight.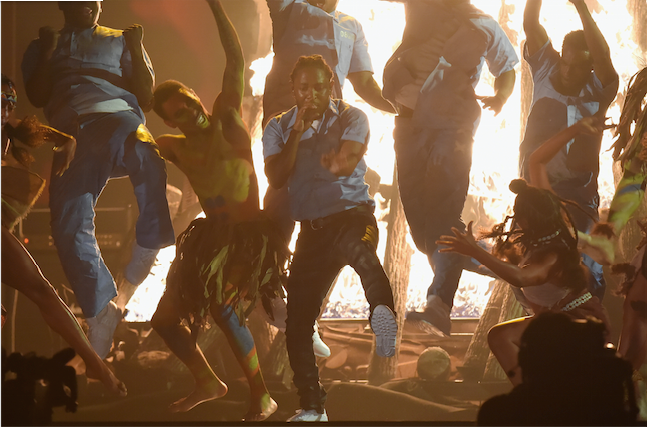 The students' symbolic journey from Compton to Los Angeles was capped off with several epic surprises. In addition to meeting the iconic rapper, the students were able to express their own creativity for Lamar.
With nothing more than a pair of Lamar's favorite Classic Leather shoes and a black marker, the students created works of art on the pristine leather and gave the decorated shoes, along with their own words of congratulations, to the rapper before the ceremony.
The simple gesture spoke volumes in light of the glitz and glamour of pop music royalty that gathered in Los Angeles last night. While many were focused on award counts and performance details, Lamar practiced a raw exchange of respect and reverence with the students he inspired.
"Hopefully in the next 10 years, they'll be even further from where I'm at," Lamar explains.
Unpretentious and unapologetic, the Classic Leather shoe symbolizes the blank canvas offered to all of us in life. The style, the swagger and the story are what we make of it.


Okay, so I know some of you haven't seen Star Wars Episode VII: The Force Awakens yet. You still have time, but for those like me who are excited for Episode VIII this is for you. Star Wars: Episode VIII, which is written and directed by Rian Johnson and continues the storylines introduced in Star Wars: The Force Awakens, welcomes back cast members Mark Hamill, Carrie Fisher, Adam Driver, Daisy Ridley, John Boyega, Oscar Isaac, Lupita Nyong'o, Domhnall Gleeson, Anthony Daniels, Gwendoline Christie, and Andy Serkis.  New cast members will include Academy Award winner Benicio Del Toro, Academy Award nominee Laura Dern, and talented newcomer Kelly Marie Tran.