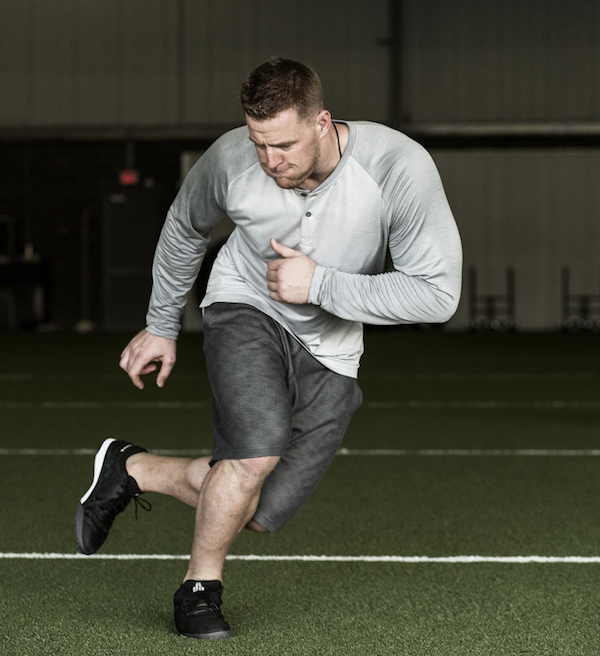 Football season will be here before you know it. So it is no surprise that J.J. Watt is getting ready for the new season. Reebok and J.J. Watt announced the release of the JJ II, the latest training shoe forged between the global fitness leader and superstar athlete. The JJ II follows the success of their first collaboration in 2016 and is specifically engineered to meet the intense training needs of the hardest working athlete in the game.
The JJ II was built from the ground up to provide the versatility to attack any training session with the same maximal intensity as Watt himself. The JJ II also pushes the boundaries of technical innovation to withstand Watt's intense workout regimen, with features of this cutting-edge training shoe including:
Unmatched Traction - Graded lug pattern for a strong, responsive grip
Ultimate Security - Webbed lacing system provides surefooted support.
Uncommon Cushion - Liquidfoam technology provides security and comfort.
Relentless Ventilation - Lenoweave upper provides ultimate breathability.
"What I love about the JJ II is that it's so versatile in the weight room," said J.J. Watt. "You can do any type of workout with it, but then you can also right after the gym, go out and wear it on the streets. It's the best performance shoe I've ever worn."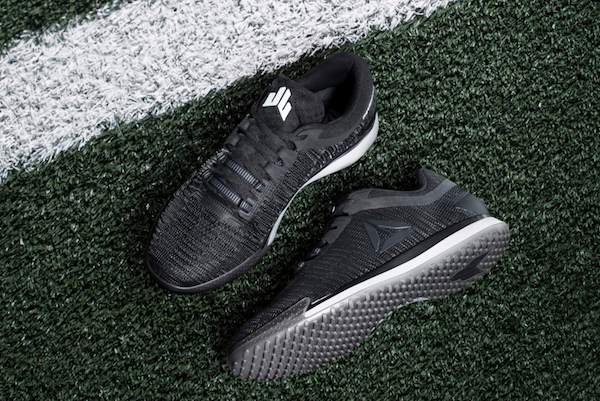 The first colorway of the JJ II, the Focus Pack, is inspired by Watt's unbreakable focus on the field and in the gym. The black and white color variants are representative of Watt's no-nonsense attitude: he focuses on workouts that are simple and effective, not necessarily flashy and elaborate.
A Reebok athlete since 2015, J.J. Watt has continued to grow and develop into one of the most dominant defensive forces in the game, relaying that energy into a partnership that inspires fans everywhere with dedication and work ethic on and off the field.
The shoe will be available from the 14th July on Reebok.com, Reebok FitHubs and other retailers nationwide for $99. In addition to the JJ II, Reebok has also released a new apparel line specifically designed by Watt. For more information visit Reebok.com/us/jj_watt.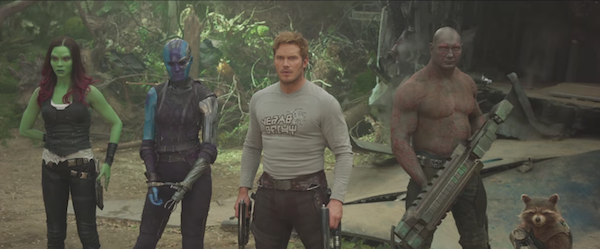 One of the best movies so far this year has been Guardians of the Galaxy Vol. 2. Marvel's Guardians of the Galaxy Vol. 2 marks the Studios first in-home title to release in stunning 4K Ultra HD format, providing consumers with the ultimate home entertainment experience with next-generation high dynamic range visuals and Dolby Atmos immersive audio. Set to the all-new sonic backdrop of Awesome Mixtape #2, the film's storyline continues the team's adventures as they traverse the outer reaches of the cosmos. The Guardians (Chris Pratt as Peter Quill/Star-Lord, Zoe Saldana as Gamora, Dave Bautista as Drax, Vin Diesel as the voice of Groot, and Bradley Cooper as Rocket) must fight to keep their newfound family together as they unravel the mystery of Peter Quill's true parentage.  This blockbuster sequel featuring the world's favorite band of intergalactic misfits, blasts into homes Digitally in HD and 4K Ultra HD™ on Aug. 8 and 4K Ultra HD™ and Blu-ray on Aug. 22.
BONUS MATERIAL (may vary by retailer):
Blu-ray:
• The Making of "Guardians of the Galaxy Vol. 2" – A four-part, behind-the-scenes look at the making of the film, done in the style of classic-rock album liner notes.
• Visionary Intro – Director James Gunn provides context on how he continues and expands the storylines of these beloved characters in "Guardians of the Galaxy Vol. 2."
• Guardians Inferno Music Video – Join David Hasselhoff and special guests for a galactic retro dance party.
• Gag Reel – Laugh out loud at all the hilarious off-script shenanigans and bloopers that took place on the set of "Guardians of the Galaxy Vol. 2," featuring all your favorite Guardians.
• Four Deleted Scenes – Check out four specific scenes that had to be cut from the film, including two extended scenes and two deleted scenes.
• Audio Commentary – Check out a special narration of the film by director James Gunn, who guides fans through an inside look at the making of the movie.
Digital:
All the features listed above plus four extra exclusives:
• Three Scene Breakdowns (Digital Exclusives) – We'll reveal the anatomy of a few key scenes from the film. Discover the process in bringing these scenes to life. It starts with a doodle and the rest is film history. Audiences will be given the option to view 5-6 layers of specific scenes in the film. Scenes include "Eclector Escape," "Gamora and Nebula," and "Rocket and Ravagers."
• Guardians of the Galaxy – Mission: Breakout! (Digital Exclusive) – Get an exclusive sneak peek inside the most anticipated ride at Disneyland, Guardians of the Galaxy – Mission: Breakout!. We'll dig into the concepts and inspiration, and talk about what it took to bring the most epic ride at Disneyland to life.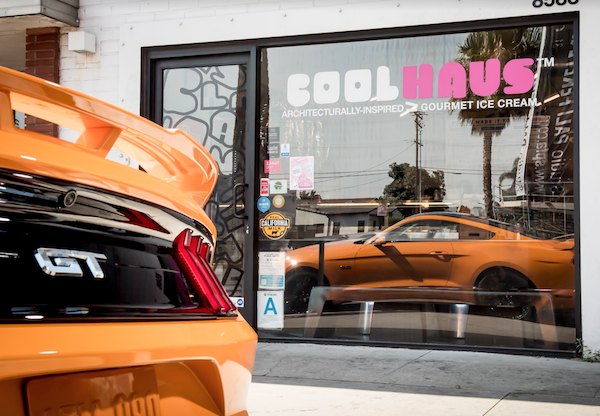 We all scream for ice cream and now our screams will get louder in excitment. Just in time for National Ice Cream Day (July 16), Ford and ice cream startup Coolhaus are partnering to create a new ice cream flavor inspired by the 2018 Ford Mustang. From Friday, July 14-Sunday, July 16 a Coolhaus ice cream truck and 2018 Ford Mustang will stop at various locations throughout New York to hand out free ice cream, featuring the new Mustang-inspired flavor, Orange Fury.
Ford and Coolhaus have been working hand in hand through the entire research and development process to engineer a flavor that is just as enjoyable to eat as the Mustang is to drive. Just as Coolhaus is known for its unique, custom ice cream sandwiches, the new 2018 Mustang is all about customization, from its twelve different wheel designs, to its customizable dash board gauges.
The ice cream sandwich is a fresh baked orange cookie with white racing stripes. In between the cookies is a limited edition Orange Fury flavor that embodies the spirit of the Mustang and the Orange Fury color of the vehicle.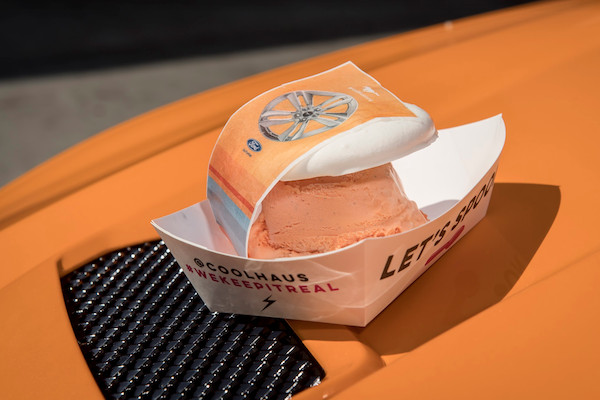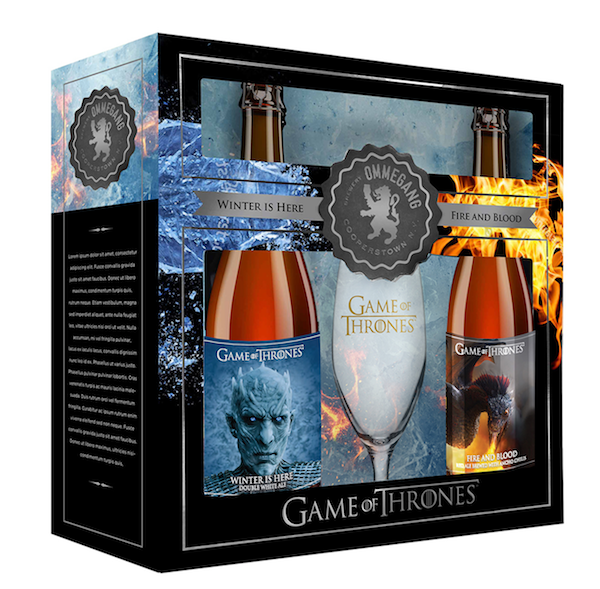 Next weekend it is about to get real. For Game of Thrones fans you know exactly what I am talking about. It may be the start of summer, but Game of Thrones fans from throughout the realm are preparing for winter when the hit HBO series returns July 16. And while those fans will still be sipping Bend the Knee Golden Ale throughout Season 7, Brewery Ommegang and HBO Global Licensing are proud to announce that a brand new beer in their successful partnership, available this fall, will confirm once and for all that, finally, Winter is Here! An 8.3% AVB Belgian-style double white ale with the fearsome Night King emblazoned on the label, Winter is Here will be available in 750ml single bottles, on draft, and also paired alongside previously released Fire and Blood Red Ale in a collectible gift pack complete with a commemorative glass. Suggested retail price is $11.99 for the individual bottles and $23.99 for the gift pack, both of which will be on shelves in late October.
"For six seasons, Game of Thrones fans like ourselves have watched as the great houses of Westeros battled amongst themselves, all the while knowing that the only battle that really mattered – the great war – was yet to come," says Doug Campbell, Brewery Ommegang's President. "In this next season, we celebrate the long-awaited arrival of winter with a beer fit for consumption north of The Wall. Winter is Here is a fortifying and delicious double white, brewed with sea salt and white pepper, sure to keep you warm in winter, no matter how long it lasts."
"Game of Thrones fans have been waiting for winter since the very first episode of the series debuted," says Josh Goodstadt, Vice President of Global Licensing at HBO. "Now, thanks to this latest Game of Thronesbeer, they'll have the perfect brew to sip throughout the cold months that lie ahead. We can't wait for fans to get their first taste of Winter is Here!"
Winter is Here is brewed with pilsner malt, white wheat malt, and soft red wheat flakes, hopped with Saaz hops, and spiced with white pepper, sea salt, coriander and sweet orange peel. Brewery Ommegang's house yeast is used in primary and secondary fermentation. This double white ale pours a hazy pale straw color with a stark white head. Aromas of banana, clove, and pronounced peppery phenols lead, and the flavor is slightly sweet malt, subtly balanced by hints of sea salt. Despite a full mouthfeel and healthy ABV, it still manages to drink quite lightly. The finish gradually builds in a warming crescendo of peppery spice.
Fire and Blood was the third beer in the collaborative series, originally released in spring of 2014. It's brewed with pilsner, spelt, rye, and other specialty malts, hopped with Styrian Golding and German Tettnang hops, and spiced with ancho chilies for additional complexity. The hue is deep, dark red with a persistent, creamy, off-white head. The aromas of ripe fruit, raisins, slight spice and malt mix nicely with a slight floral, spicy hop character. The flavor of sweet malt gives way to faint dryness and is balanced by spicy rye and hop flavors with underlying raisin and prune notes. The finish offers balanced malt and spicy characteristics from hops and rye. Fire and Blood is 6.8% ABV, and the label art features one of the original three labels, a fiery image of Daenerys Targaryen's dragon, Drogon.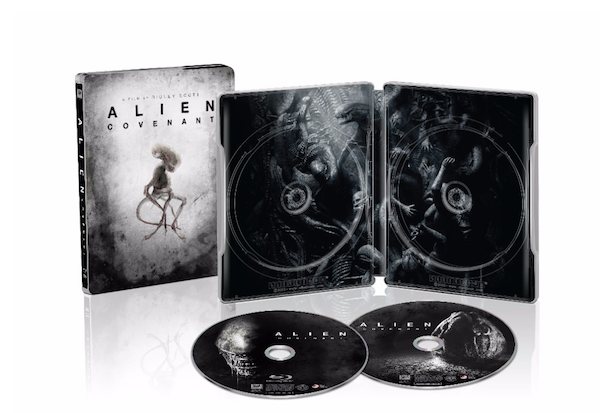 Did you see the latest ALIEN film when it came out in theaters early this year? If not you get a chance to bring the film home! Twentieth Century Fox Home Entertainment presents Ridley Scott's return to the universe he created, with ALIEN: COVENANT, the newest chapter in the groundbreaking ALIEN franchise, arriving on Digital HD August 1 and on 4K Ultra HD™, Blu-ray™ and DVD August 15. Limited Edition Exclusives will be available at Walmart, Target, and Best Buy.
The crew of the colony ship Covenant, bound for a remote planet on the far side of the galaxy, discovers what they think is an unchartered paradise, but is actually a dark, dangerous world. When they uncover a terrifying threat beyond their imagination, they must attempt a harrowing escape.
Featuring an all-star cast including Academy Award Nominee Michael Fassbender (X-Menfranchise, Steve Jobs), Katherine Waterston (Fantastic Beasts and Where to Find Them), Billy Crudup (Jackie), Danny McBride (This Is The End) and Demián Bichir (The Hateful Eight), ALIEN: COVENANT is loaded with bonus material including a making-of documentary, deleted and extended scenes, commentary by director Ridley Scott, an inside look at "David's Lab," crew fear tests, and much more.
Fans can also pick up exclusive editions of ALIEN: COVENANT at Walmart, Target and Best Buy!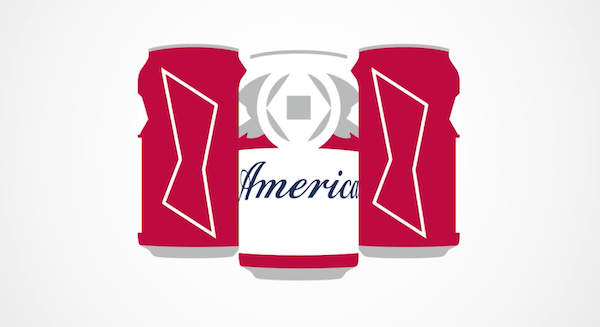 We all know that Budweiser has been an American classic, so it comes as no surprise as they officially started launching a new brewery-market inspired bottles and cans as the latest and final evolution of Budweiser's 2017 summer packaging lineup. In celebration of Budweiser proudly brewing across America for over 140 years, the brand will swap its namesake on bottles and cans with each of the 11 states where the classic lager is proudly brewed. The new state packaging aims to raise a cold one to the local communities and employees who help to brew Budweiser.
The brewery markets featured on-pack include California (home to two Budweiser breweries), Colorado, Florida, Georgia, Missouri, New Hampshire, New Jersey, New York, Ohio, Texas and Virginia
To add to the celebration, Budweiser is also opening its doors for special "Open Houses" at all 12 of its breweries to the neighboring communities throughout the summer. These events will feature local food, music, entertainment and even appearances by the famed Budweiser Clydesdales. For more information on the brewery Open Houses, please visit www.budbrewedlocally.com.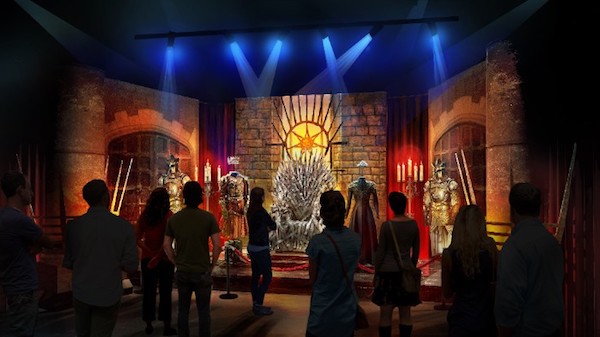 Are you ready for the next season of Game of Thrones? Well to help get you in the mood here is some cool news from the hit series. Inspired by and filled with the breathtaking images and enthralling artifacts from the hit HBO series GAME OF THRONES, this all-new exhibition will drop fans in the center of the Seven Kingdoms for an up-close and personal look at authentic props, costumes and set decorations from the show.  In collaboration with HBO Global Licensing, global events provider GES is designing and building the new 10,000-square-foot interactive experience, and will exclusively tour the exhibition to worldwide destinations starting Fall 2017. The tour will kick off in Europe, with the first location to be announced soon.
Featuring a unique mix of immersive environments, interactives, and multimedia content, visitors will experience the mythical lands of Westeros and Essos and relive the trials and tribulations of the series' nobles and common folk alike who struggle for survival in the shadow of the Iron Throne.
In anticipation of the launch of the exhibition later this year, GES' creative team will work closely with HBO to create diverse environments from Westeros and Essos and to design an exhibition as exciting as the show itself.  Spanning the Seven Kingdoms from King's Landing to the land Beyond the Wall and across the Narrow Sea, GAME OF THRONES: THE TOURING EXHIBITION will allow fans worldwide to experience the craftsmanship and artistry of the GAME OF THRONES production up close in the largest public display to date.
Visitors to the exhibition will see displays of costumes, props, weapons and armor and will explore several dynamic themed exhibition areas featuring series settings such as:
• The wintry landscapes of the North, the tree-lined pathway of the King's Road, and the regal settings of King's Landing.
• The conquered city of Meereen with its garrisons of Unsullied warriors and the loyalists of House Targaryen.
• Iconic settings like the mysterious House of Black and White, the home of the Night's Watch: Castle Black; and the frozen lands Beyond the Wall.
• The show stopping centerpiece of the iconic Iron Throne Room, where visitors can gaze upon the Westerosi seat of power in all its foreboding glory.


One way to beat the summer heat is by chilling at the pool. While you are at said pool you might want to create some of these fantastic tasting and very chill cocktails from Belvedere. Each cocktail has its own signature taste to it and will make that summer heat and humidity go away!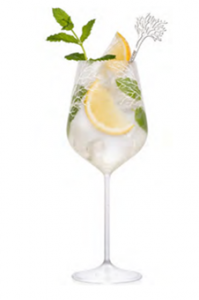 BELVEDERE CITRUS SPRITZ
Ingredients:
1 oz Belvedere Vodka
1 oz Dry Vermouth
3 Lemon Slices
2 Lime Slices
Fever Tree Sparkling Water
Fever Tree Tonic Water
Method: Combine all ingredients in a wine glass over ice. Top with equal parts of sparkling water and tonic water. Garnish with a lemon and lime slice.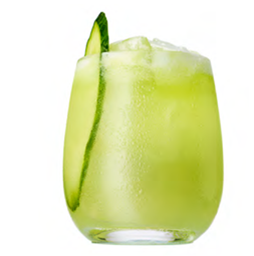 BELVEDERE CUCUMBER SMASH
Ingredients:
1.5 oz Belvedere Vodka
.5 oz St-Germain
.5 oz Fresh Squeezed Lime Juice
Pinch of Sea Salt
3 Cucumber Slices
Method: Add all ingrediets to a shaker with ice and shake vigorously  Pour contents of shaker into a rocks glass and top with additional fresh ice.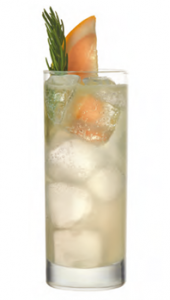 BELVEDERE FEMME FATALE
Ingredients:
1 oz Belvedere Vodka
1 oz Lillet Blanc
.75 oz Fresh Grapefruit Juice
.5 oz Simple Syrup
1.5 oz Soda Water
Method: Add Belvedere Vodka, Lillet Blanc, lemon juice and simple syrup to a shaker without ice and shake. Strain into a highball glass, add ice and top with soda water. Garnish with a grapefruit wedge and rosemary spring.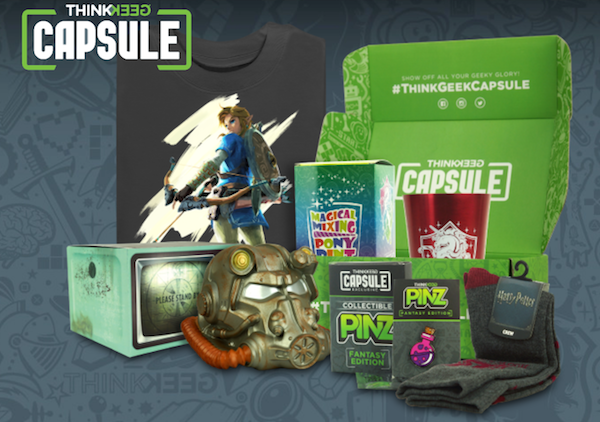 For those who frequent the ThinkGeek site you already know how cool that site is. From Game of Thrones to Star Trek to Nintendo they have a bevy of items that you would love to pick up. Now ThinkGeek is offering a box subscription that they are calling the ThinkGeek Capsule.
Every month you will get ThinkGeek exclusives. It could be a special run of a t-shirt, a weird new gadget, a licensed enamel pin, and so much more. They will also stock a very cool collectible in the capsule. Whether it's a limited edition figurine, an art print, or something else entirely, the payload of every capsule will include at least one collectible to expand your personal collection.
They even have clothes for you to show off your geek pride. This month I got a Legend of Zelda shirt and some Harry Potter socks! That is just the stuff they tell you that they are going to put in there. Now ThinkGeek goes above and beyond by hiding other awesome stuff to surprise you in a good way. There is a gift card that is valued at five dollars to one hundred bucks. You just to to the site they tell you to on the card and see how much you card is worth. How cool is that? They even slipped in some cool Ghostbuster playing cards that almost disappeared like a ghost. Watch the video below to see what happened to them.
So if all of this awesomeness is something you wanted delivered to your home go to thinkgeekcapsule.com to subscribe to the monthly capsule program. You wont be disappointed. Next week's capsule will showcase items from Star Trek, Game of Thrones and Dungeons and Dragons.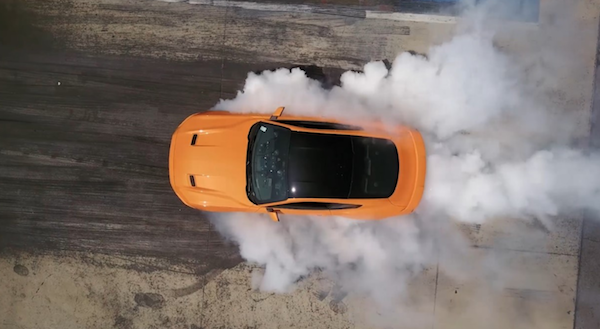 Today Ford released some cool news on the Mustang. It looks as though there will be more rubber meeting the road as the Ford expands the availability of electronic line-lock on 2018 Mustang. The track-exclusive feature – previously available only on V8-powered Mustang GT – will be standard on all pony cars, including those equipped with 2.3-liter EcoBoost® engines.
The feature is available with either the 10-speed SelectShift® automatic or six-speed manual transmission.
On models equipped with an available 12-inch, all-digital instrument display, drivers will see an industry-first, video-game-like animation of a spinning alloy wheel kicking up a cloud of smoke to indicate when the electronic line-lock feature is activated.
"Burnouts just never get old, no matter how old you are and how many times you've done them," said Vaughn Gittin Jr., Formula Drift Champion. "Who would have thought that we would see an EcoBoost Mustang producing 15 seconds of fury like this? You've got to love these rad things Ford is doing."
To introduce the new updates to the world, Vaughn randomly recruited pedestrians in Southern California to join him at Irwindale Speedway, where he put them behind the wheel of a new Mustang to lay rubber.

Electronic line-lock is traditionally used by drag racers ahead of the starting line to heat up the tire rubber for improved traction when the start light goes green. The feature leverages state-of-the-art software technology that also allows amateur race car drivers, particularly those competing in bracket racing, to achieve more consistent performance times.
Using steering wheel-mounted thumb switches, a driver toggles through a menu on the instrument cluster to activate electronic line-lock. Once engaged, the system builds pressure on the front brake calipers. Another button press holds the pressure for up to 15 seconds, allowing the driver to hit the throttle and spin the rear wheels while the car stays in place.