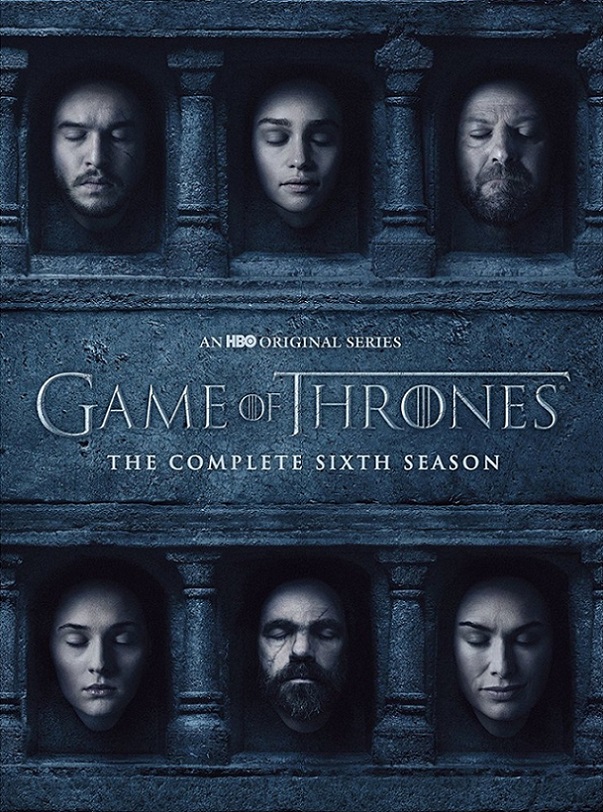 What is better than watching an episode of Game of Thrones? How about watching the entire season back to back? If you missed out on Season 6 don't worry. We got you covered. Want to win Season 6? Just tweet me here and tell me your favorite Game of Thrones Character and use the hashtag of #GoTGiveaway
If you don't win it from me, but still want to get go to HBO's site right here.
The most-watched series in HBO history and a worldwide TV phenomenon, Game of Thrones returns with another power season. This year, after the shocking developments at the end of Season 5 – including Jon Snow's bloody fate at the hands of Castle Black mutineers, Daenerys' near-demise at the fighting pits of Meereen, and Cersei's public humiliation in the streets of King's Landing – survivors from all parts of Westeros and Essos regroup to press forward, inexorably, towards their uncertain individual fates. Familiar faces will forge new alliances to bolster their strategic chances at survival, while new characters will emerge to challenge the balance of power in the east, west, north and south.
There is a ton of bonus content besides the all 10 episodes from that season. There is the digital HD download as well as the bonus features below.
Bran's Journey – A nine-minute feature delving into the shocking and revelatory journey Bran Stark took in Season 6.
The Dothraki World – Behind-the-Scenes featurette bringing viewers up to speed on the Dothraki culture, not seen since Season 1.
Inside Game of Thrones: Prosthetics – Behind-the-Scenes featurette detailing what goes into the show's prosthetics creation.
The Game Revealed – Five-part series covering the creation of Season 6's most epic set pieces and scenes.
In-Episode Guide – Dig deeper into the show with this in-feature resource that provides background information about on-screen characters, locations, and relevant histories.
Histories and Lore – Learn about the mythology of Westeros and Essos as told from the varying perspectives of the characters themselves in 18 history pieces.
The Old Way: narrated by Euron Greyjoy (Pilou Asbæk)
The Kingsmoot: narrated by Euron Greyjoy (Pilou Asbæk)
The Sunset Sea: narrated by Euron Greyjoy (Pilou Asbæk)
War of the Ninepenny Kings: narrated by Brother Ray (Ian McShane)
The Great Tourney at Harrenhal: narrated by Meera Reed (Ellie Kendrick)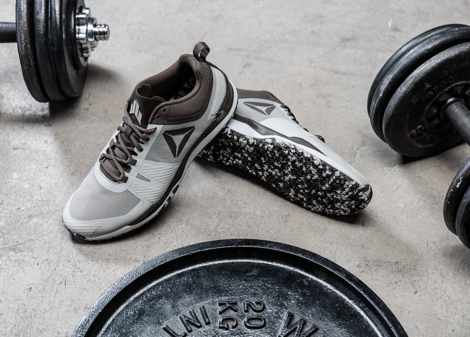 J.J. Watt's signature shoe the JJ I is going to get the military treatment in the latest colorway. Even better than being a great shoe to work out in, it is going to help veterans. The JJ I is inspired by J.J.'s appreciation for our servicemen and women, the Military Edition of the ultimate training shoe is created to inspire others to show their support at this time of year.
The JJ I Military Edition also leads the proud partnership between Reebok and the Boot Campaign, which raises awareness of the unique challenges that service members face during and post service (www.bootcampaign.org). The multi-channel marketing push for the JJ I Military Edition features the Boot Campaign throughout, spreading the word for a cause close to the hearts of J.J. and Reebok.
In J.J.'s words: "We as athletes are often the subject of headlines and highlights, when in fact it is the men and women of our military who truly deserve the adoration and praise. I chase a ball around a field for a living. These men and women lay their lives on the line to secure and protect our freedom. They are real American heroes. The JJ I Military Edition was inspired by them and serves as a daily reminder to take advantage of every opportunity this great country has to offer thanks to these men and women. Reebok and I are very proud to support The Boot Campaign and all of the men and women who are so deserving of our respect."
As well as featuring all the technology that makes the JJ I the ultimate training shoe, the new colorway pays homage to J.J.'s appreciation for our troops with subtle sandstone, brown, and tan colors along with a camouflage outsole and bottom.
Reebok has a longstanding and year-round support for the military. The global fitness brand offers 20% off all product to military, veterans, first responders, and their families throughout the year.
The new JJ I Military Edition will be available on November 11 for $99 at Reebok.com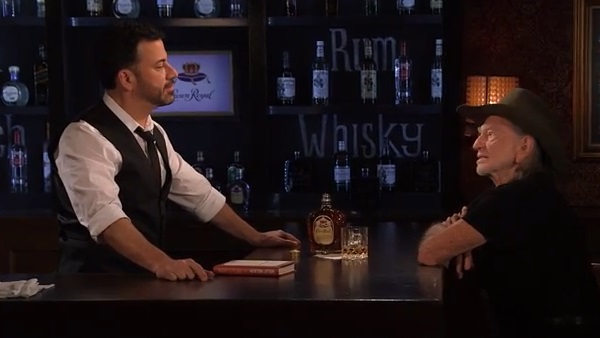 When you host a music legend like Willie Nelson you need to make sure you serve nothing but the best. That is why Jimmy Kimmel brought out the Crown Royal when the two were having a chat. Willie Nelson stopped by Jimmy Kimmel's bar, where he enjoyed a Crown Royal cocktail while answering "Three Ridiculous Questions." He and Jimmy touched on a bunch of different topics which are pretty hilarious to watch.
Plus here is a cocktail you can enjoy responsibly next time you have some friends over at your house.
Crown Royal Press
1.5 oz. Crown Royal Deluxe® Whisky
3 dash(es) bitters
2 squeezed lemon wedge(s)
1 lemon wedge(s)
1 splash(es) lemon-lime soda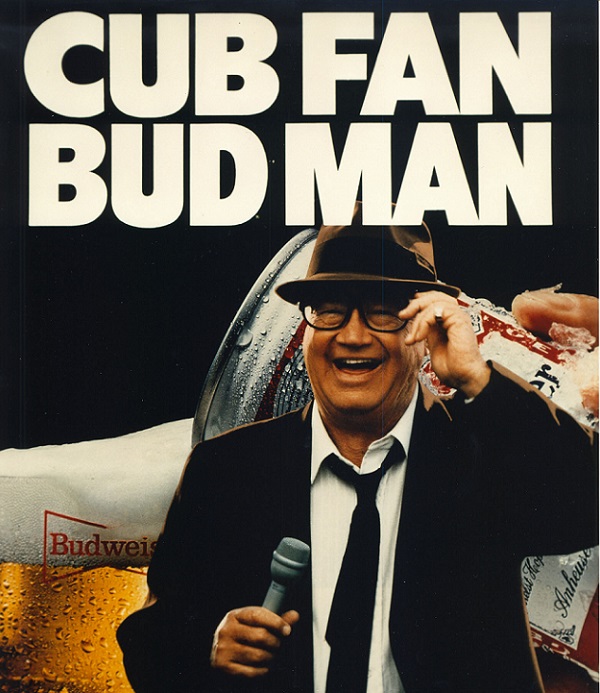 Chicago Cubs fans can rejoice! They just saw their team win the World Series. To celebrate long time Major League Baseball sponsor Budweiser pays tribute to legendary sportscaster and Cubs play-by-play man Harry Caray for Cubs fans everywhere.
The ultimate Cubs fan (and Bud man) Caray dreamed of the day his beloved Cubs would win the World Series but of course never got to call the final out for a Cubs Series win. Until now. The new video was made a reality by Budweiser working with the Caray family estate to get Caray's actual audio/voice and then lay it over with footage from last night's win in Cleveland and celebration here in Chicago. The result should give any Cubs and Caray fan goose bumps hearing Harry call the Series as if he was still here with us on earth.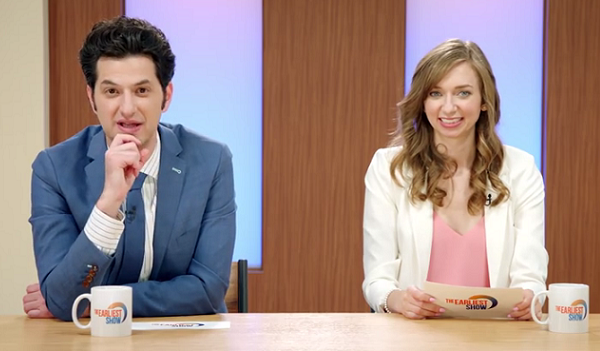 There are a ton of morning shows out there, but there is a new show on TV that you should be watching. To be honest it is not like a typical morning show you see on the major networks. It is actually a spoof on these shows. It is being driven by Cap'n Crunch. The cereal brand is reinventing itself by tapping into the very spirit of the brand with innovative partnerships, content and collaborative programming that caters to the "man child."
For its first act, the brand has partnered with Funny Or Die to co-produce a spoofy talk-show style digital series, "The Earliest Show" co-hosted by comedians Ben Schwartz (Parks and Rec and House of Lies) and Lauren Lapkus (Orange is the New Black). "The Earliest Show" pays tribute to the classic morning talk show with a twist; it's happening in the middle of the night.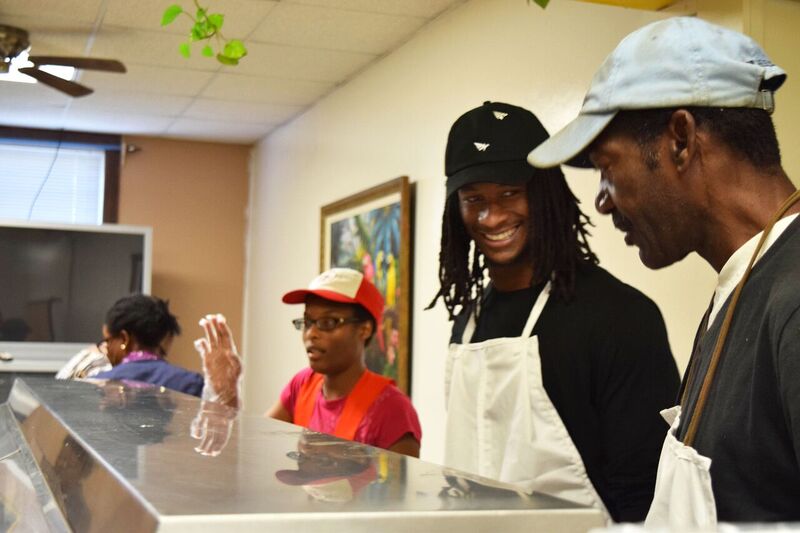 A few weeks ago people on the east coast were impacted by Hurricane Matthew. To help those in need LA Rams' running back Todd Gurley returned to his hometown of Tarboro on Friday, October 28 during his bye week to partner with the Food Bank of Central & Eastern North Carolina.
The Food Bank selected the Tarboro Community Outreach Center, one of their 800 partner agencies throughout central and eastern North Carolina, for Gurley to volunteer within their soup kitchen and food pantry. The Tarboro Community Outreach Center has been distributing food almost daily since the hurricane hit from their congregate feeding site and food pantry. Gurley spent several hours serving guests meals and distributing food to those affected by Hurricane Matthew. After making sandwiches and packing groceries, Gurley took the time to sign autographs and take photos with fans visiting the center.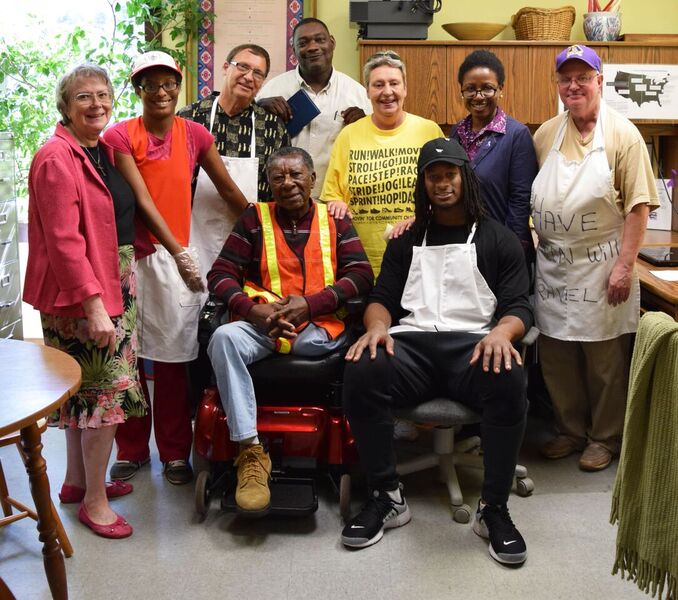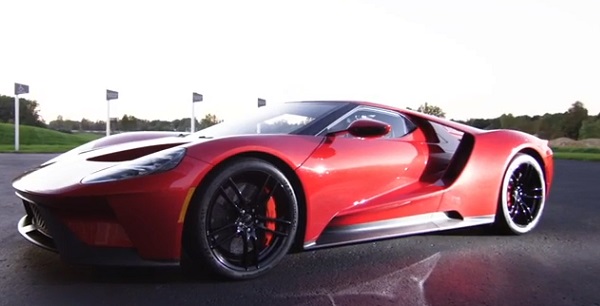 There is a very cool new app out there from Ford Motor Company. It will take driving to a whole new level. The all-new Ford Performance App brings track-based data-logging, advanced analysis, sharing capability and video capture to a user's smartphone. It leverages the latest capability of Ford SYNC 3 and provides intuitive controls allowing users to record and share their track accomplishments. The app will be available for the most popular smartphone platforms in 2017.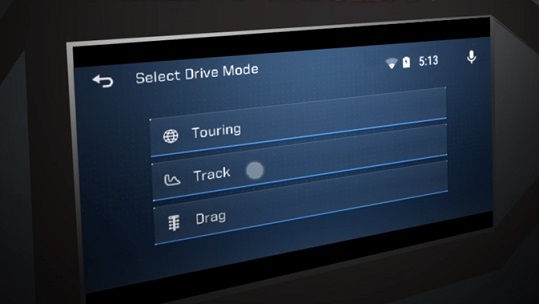 "Ford Performance wants to provide our customers a simple, shareable way to capture their track exploits," says Dave Pericak, global director, Ford Performance. "The ability to take their track sessions with them everywhere they go and easily share their footage and data with friends is a huge benefit of our new app."
The Ford Performance App is based around the user's smartphone, giving them easy access and portability to their data. Using a smartphone's built-in camera offers mounting flexibility, letting users decide which perspective best captures the action.
The Ford Performance App features multiple recording modes and provides a host of vehicle performance data. The latest SYNC 3 technology communicates with the app – integrating performance data with course overlays, timing statistics, and on-screen virtual gauges to be shared via a user's smartphone.
Data and video can be shared over social networks or exported easily for analysis on a personal computer. The new app launches in 2017 on the all-new Ford GT, and will migrate to other Ford products.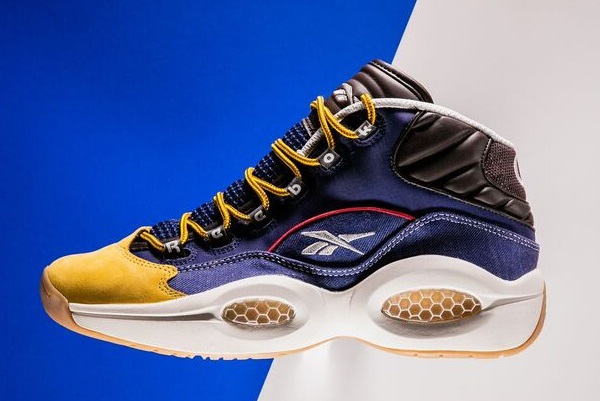 There are a few true real trend setters. I am talking about the ones who change the way we look at things. Allen Iverson will always be known for single-handedly bringing hip-hop fashion sense and street cred to basketball.  You never saw braids, tattoos, and baggy clothing until AI showed up in the late-90s, and his style would forever change the game – just like his play on the court.
Reebok continues its Year of the Question for 2016 with another special edition of Allen Iverson's first signature shoe. The Question Mid "Dress Code" features colors and materials pulled from AI's iconic tastes, specifically blue denim and tan nubuck inspired by his baggy jeans and workboots. Further details include brown leather, white mesh interiors, gum outsoles, and "banned" symbols on each heel.
The Reebok Classic Question Mid "Dress Code" releases Friday, November 4th for $139.99 at Reebok.com and select retailers including Finish Line, Footaction and Champs Sports.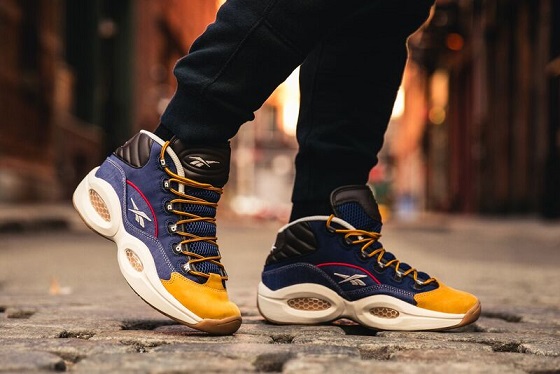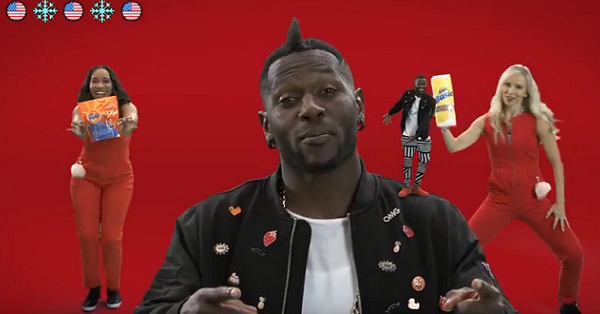 Ever since Antonio was on Dancing with the Stars he now not only known as a football player, but now as a sweet dancer. So the  Pittsburgh Steelers wide receiver teamed up with Rite Aid and Procter & Gamble to help a lucky fan win Super Bowl LI tickets.
Known to cut a rug in the end zone, Brown showcases his moves in this catchy video encouraging viewers to enter their best dance moves while they clean around the house. To enter, fans share videos on social media of their own performances using #AntonioDanceContest and Brown will choose a winning dancer to send to Super Bowl LI with their family.
For official rules and to learn more, visit your local Rite Aid or go to Riteaid.com/AntonioDanceContest.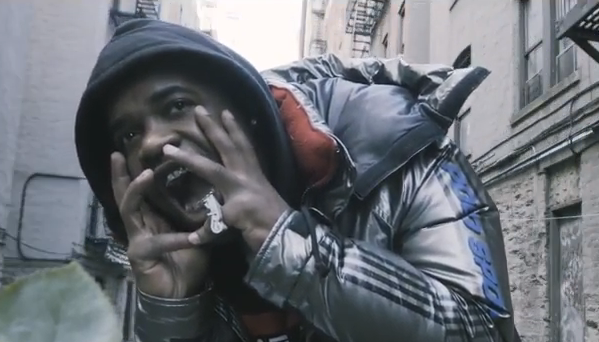 Trap Lord A$AP Ferg is all hyped up for Halloween. He recently shot a video where he takes us around Harlem to talk about his favorite memories. From the time when he was a young kid to now A$AP Ferg gives us Halloween Tour of Harlem.