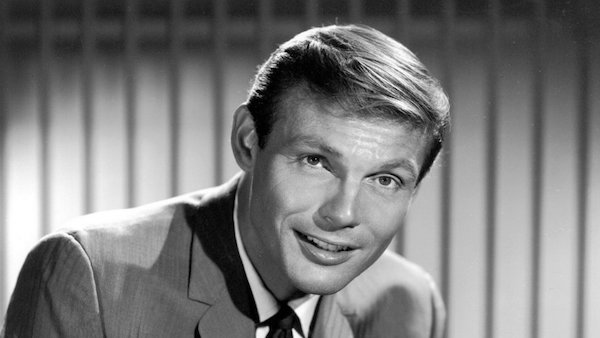 Last Friday we heard the sad news that Adam West passed away. Most known for his role as Batman in the 1966 television series, West is a legend to Hollywood and all around the world.
In a fitting tribute to pop culture icon Adam West, Los Angeles Mayor Eric Garcetti and Police Department Chief Charlie Beck will join surprise Bat-guests for a ceremonial lighting of the Bat-signal at City Hall TONIGHT!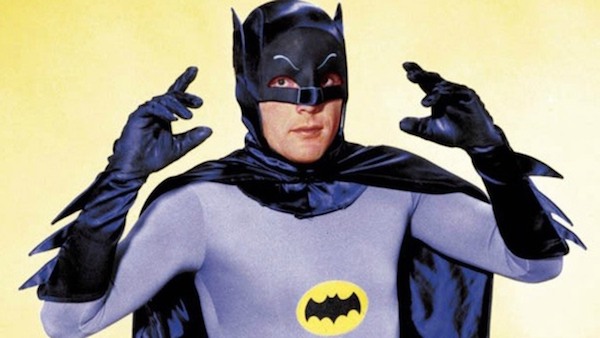 The legendary star of the classic Batman TV series, which aired from 1966-68, passed away at the age of 88. In rememberance of West's unforgettable portrayal of the celebrated "Bright Knight," Mayor Garcetti and Chief Beck will light the iconic Bat-signal, which will be projected onto the tower of Los Angeles City Hall at Spring Street. Attending Bat-fans are invited to don their Bat-suits and trusty utility belts in honor of West's signature role as the true crimefighter.
Here are the details of the ceremony:
When: Today
Time: 9:00 PM PST
Location: Los Angeles City Hall, Spring Street Steps: 200 N Spring St, Los Angeles, CA 90012
If fans are not able to join in the tribute Thursday night, the West family encourages Adam's "old chums" to make a donation to the Adam West Memorial Fund for St. Jude Children's Research Hospital and Idaho-based charity for children diagnosed with cancer and their families, Camp Rainbow Gold.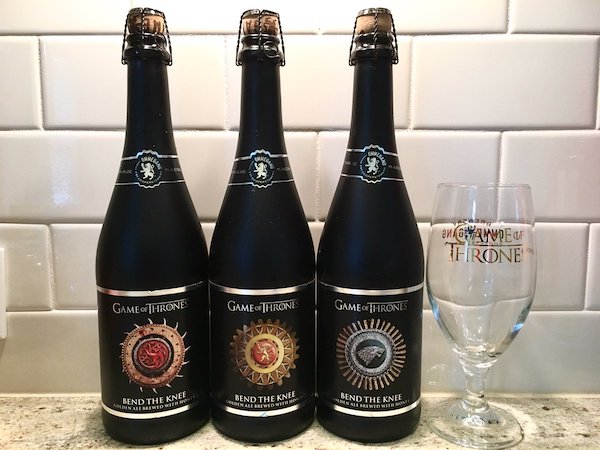 I am guessing that you have a better relationship with your dad than pretty much any character on Game of Thrones. So to show your dad that you are thankful for him and that he hasn't tried to kill you or set you on fire like some of the fathers on Game of Thrones why not pick him up some beer inspired by HBO's hit series?
To commemorate the coming mêlée in the Emmy® Award-winning show's epic seventh season, Brewery Ommegang and HBO Global Licensing are excited to announce a new beer in their collaborative series: Bend the Knee Golden Ale. You can grab some bottles for him and yourself and prepare to watch Season 7 together with a nice brew!
Paying homage to the struggle for control of the Seven Kingdoms, Bend the Knee will be available on draft and in a series of three collectible 750ml bottles, all finished in matte black and adorned with one of the three Great House sigils: Stark, Targaryen, or Lannister. The beer clocks in at 9.0% ABV and bears a suggested retail price of $10.99 per bottle. And while the show's return date has yet to be announced, fans can mark their calendars for the official nationwide release of the beer, which is now available.
Bend the Knee is brewed with pils malt and flaked oats and hopped with Saaz, Bravo, and Styrian Golding hops. It pours a golden hue with a large, frothy head. Both the aroma and flavor mix maltiness and citrus from the hops, while Ommegang's signature house yeast produces prominent fruitiness. Wildflower honey added during fermentation provides light sweetness to the beer, which finishes dry and with firm hop bitterness.
Fit for any feast table, Bend the Knee's clean and balanced flavor and effervescent carbonation make it a fine pairing for a variety of foods including seafood and shellfish, roasted or grilled chicken, grilled steaks, and aged Swiss-style cheeses.
You can use the Ommegang Brewery finder HERE to see where you can pick up Bend the Knee Golden Ale.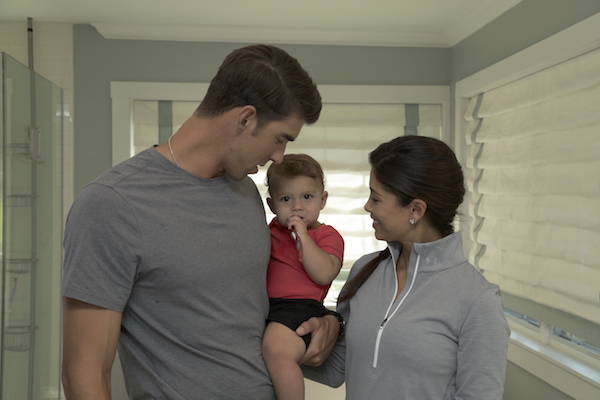 Michael Phelps made a name for himself in the water. Now Phelps is look to help conserve the world's water supply. Phelps is arguably one of the most famous athletes and new dads of all-time.  And with his second Father's Day around the corner, he has dedicated himself to working toward a healthy future for his son Boomer.  That is why he has joined Colgate's 'Save Water' program to help raise awareness about water conservation and to inspire the next generation to take action.
Together with Phelps and The Nature Conservancy, Colgate's 2017 mission is to reach 100 million people and inspire 10 million children to turn off the faucet while brushing, because every drop counts.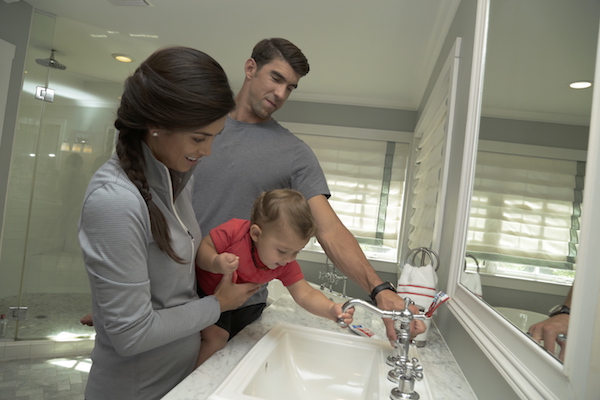 Did you know that the average American can waste up to four gallons of potable drinking water while leaving the faucet on when brushing his or her teeth for two minutes? Or that one in ten people worldwide lack access to clean water?
"Water is the earth's most precious resource, but without realizing it we often take it for granted," Phelps said. "I'm committed to joining Colgate's efforts to save water and encouraging the next generation to turn off the faucet. Our son Boomer just turned one, so he isn't brushing his teeth on his own quite yet, but we'll teach him to as soon as he does!"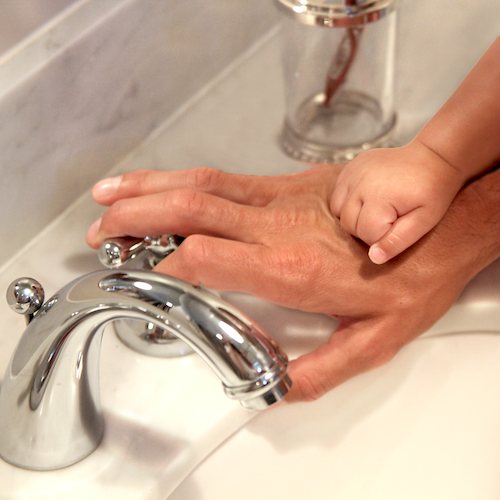 In addition to turning off the faucet while brushing, individuals can spread awareness using #EveryDropCounts on social media and by learning more at www.EveryDropCounts.Colgate.com.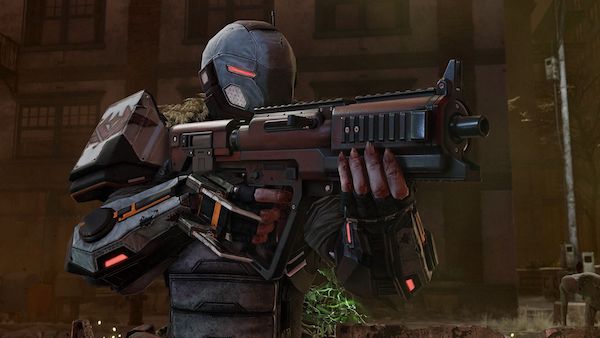 Some exciting news coming out of E3. 2K announced that XCOM 2: War of the Chosen greatly expands upon the XCOM 2 campaign. ADVENT, in its bid to recapture the Commander, has deployed a deadly new enemy force called the "Chosen."  To aid XCOM in its fight to liberate Earth, players will have access to three new resistance factions, each with their own Hero class.
The expansion also includes other new enemies, missions, environments and increased depth of strategic gameplay.
"Firaxis continues to redefine the award-winning XCOM franchise with XCOM 2: War of the Chosen," said Matt Gorman, VP of Marketing at 2K. "XCOM 2 fans are going to love the all-new narrative and features, enhancing the XCOM experience and providing endless reasons to re-play through the campaign."
"We're thrilled to offer our fans an unprecedented amount of cool new toys and features in XCOM 2: War of the Chosen, challenging and empowering players in exciting new ways never seen before in the franchise," added Jake Solomon, creative director of XCOM 2 at Firaxis Games.
XCOM 2 is rated T for Teen by the ESRB and available for PlayStation®4 system, Xbox One and Windows PC. XCOM 2 is also available for Mac and Linux by Feral Interactive. XCOM 2: War of the Chosen will be available on August 29, 2017 for PlayStation®4 system, Xbox One and Windows PC, and will be available for Mac and Linux by Feral Interactive at a later date.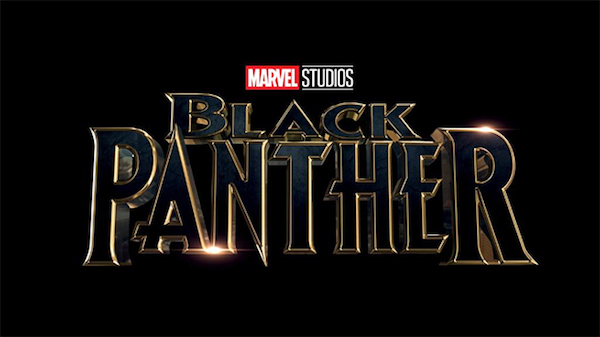 During the NBA Finals Marvel Studios released the trailer for the upcoming Black Panther movie. Marvel Studios' Black Panther follows T'Challa who, after the death of his father, the King of Wakanda, returns home to the isolated, technologically advanced African nation to succeed to the throne and take his rightful place as king. But when a powerful old enemy reappears, T'Challa's mettle as king—and Black Panther—is tested when he is drawn into a formidable conflict that puts the fate of Wakanda and the entire world at risk. Faced with treachery and danger, the young king must rally his allies and release the full power of Black Panther to defeat his foes and secure the safety of his people and their way of life.
Black Panther stars Chadwick Boseman, Michael B. Jordan, Lupita Nyong'o, Danai Gurira, Martin Freeman, Daniel Kaluuya, Letitia Wright, Winston Duke, with Angela Bassett, with Forest Whitaker, and Andy Serkis. The film is directed by Ryan Coogler and produced by Kevin Feige with Louis D'Esposito, Victoria Alonso, Nate Moore, Jeffrey Chernov and Stan Lee serving as executive producers. Ryan Coogler & Joe Robert Cole wrote the screenplay.
Marvel Studios' Black Panther arrives in theatres everywhere on February 16, 2018!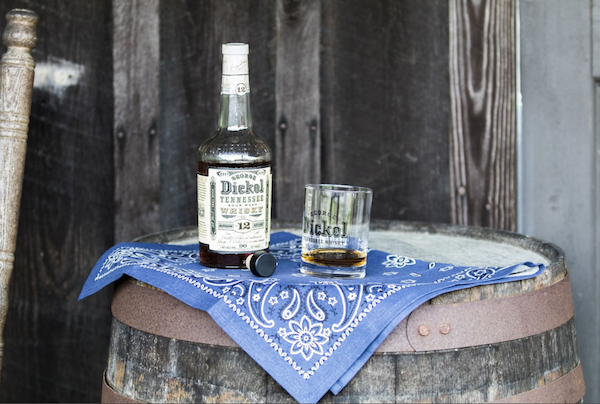 In a few weeks we will be celebrating dads. What are you looking to get him for that special day? Studies show that folks are 10% more likely to treat Mom right on Mother's Day vs. remembering to get Dad a gift on Father's Day. Whiskey is a great go-to gift for Dad.
Every whiskey possesses unique qualities, just like each individual dad. No two dads are alike, but there's a whiskey out there that matches every dad's personality.
Here are some great options.
For a dad who appreciates rare whiskey…
Orphan Barrel 23-Year-Old, $120
Rhetoric 23-Year-Old Kentucky Straight Bourbon Whiskey is the tenth and most recent release from the Orphan Barrel Whiskey Distilling Company and the fourth in the Rhetoric series of progressively aged whiskeys. Aged three years longer than the first release, it is slightly more mature and carries a higher proof. Rhetoric 23-Year-Old begins with juicy dried fruit and just a hint of leather and tastes of rich, smooth coffee, dark chocolate, anise and cracked nuts. The finish is long with oak and a touch of smoke.
For a dad who loves whisky, no matter the price point…
George Dickel No. 12, $24.99
George Dickel No. 21 is a 90 proof Dickel whisky that uses older whiskies to create deeper, more assertive flavors and an incredibly smooth finish.  The taste is refined with hints of vanilla and a dry crisp finish– a result of our charcoal mellowing process.
For the craft beer-loving dad…
Bulleit Bourbon, $27.99
Recently the boilermaker has been making a comeback, with bars around the country adding special pairings to their cocktail menus. A great whiskey that compliments a variety of beers is Bulleit Bourbon. Pick up a bottle and dad's favorite six-pack to create his perfect Bulleit Boilermaker:
·         1 oz. Bulleit Bourbon
·         6 oz. beer
*Contains two servings of alcohol
For the dad who tries to stay on top of pop culture…
The Hilhaven Lodge, $49.99
Released in 2016 in partnership with celebrated director/producer Brett Ratner, The Hilhaven Lodge is named after Ratner's luxurious Hollywood estate, Hilhaven Lodge. Winner of a Double Gold Medal at the 2016 San Francisco Spirits Competition, The Hilhaven Lodge cocktails were served at the Governor's Ball following this year's Oscars. If your dad has an appreciation for Hollywood and what his favorite stars are drinking, surprise him with a bottle of award-winning The Hilhaven Lodge
For the dad who constantly watches The History Channel…
Blade and Bow 22-Year-Old, $200
Any true whiskey aficionado will respect the rare Blade and Bow 22-Year-Old. Blade and Bow honors the five steps to crafting bourbon – grains, yeast, fermentation, distillation and aging. Blade and Bow 22-Year-Old was just re-released in May for the first time since its launch in 2015. This limited-release offering is a must have for any bourbon aficionado.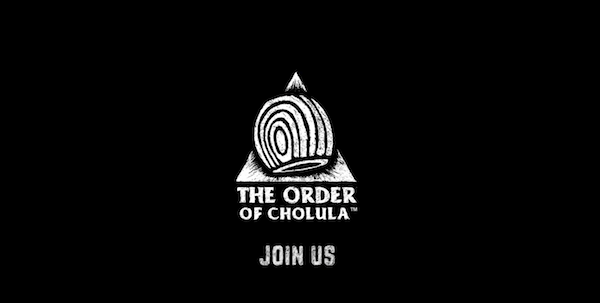 Cholula's Original recipe has sparked an obsession for flavor and earned widespread devotion. The Order of Cholula was founded as an online community to give this vast group of passionate Cholula fans a place to unite and share their stories of discovery. Membership to the Order of Cholula is highly selective and only the most dedicated will be admitted. Once selected, our members, known as "Cholulians", are rewarded with special gifts, valuable offers and other exciting benefits.
The Order's first member was All-Star pitcher Noah Syndergaard. Known for his on-field prowess and flavorful character, Noah shares his love for Cholula by headlining a recruitment-style video debuting today at www.OrderofCholula.com. The captivating short film features inspiring stories of real Cholula fans who credit the role the flavorful hot sauce plays in their lives – including Syndergaard himself. The video encourages viewers to join Noah and other flavor-seeking zealots by applying for admittance into this members-only club by sharing their Order-worthy stories of Cholula devotion.
"Cholula is a part of my life – whether it's the morning before a game, in an after-game meal or during an off day, it's a brand with a personality I'm naturally drawn to," said Syndergaard. "Having grown up in Texas I've tried all the hot sauces. Cholula is not about simply delivering heat, it's about bringing a unique flavor and attitude, which really mirrors how I try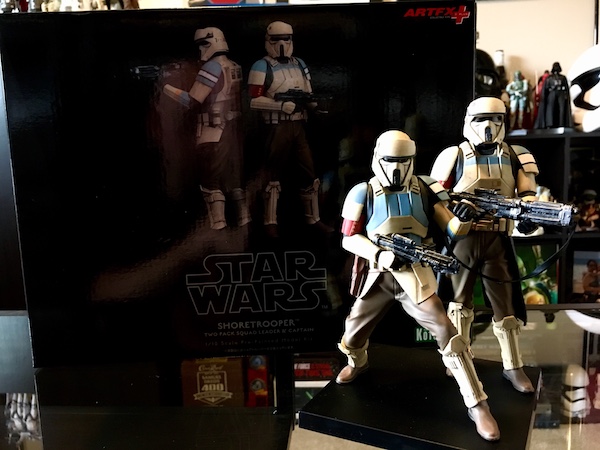 Ever since I was a kid I have loved the Star Wars universe. Today as more and more films, series and collectibles come out my fellow Star Wars geeks and I are in nerd nirvana. For some reason I am a big fan of the Stormtrooper. I even purchased an authentic Stormtrooper costume for last year's Halloween. When Star Wars VII: The Force Awakens came out in theaters I was really digging the First Order Stormtrooper design.
When Rogue One: A Star Wars Story, we got the see even more new Stormtrooper designs. There was the Death Trooper and the Shoretrooper. The designs for each trooper was badass. I couldn't wait to see what type of merchandise came out from Star Wars around the movie's theatrical debut.
A few years back I stumbled upon the company Kotobukiya. They specialize in high quality collectibles from Star Wars to DC Comics to Marvel to Anime. Kotobukiya is a geek's favorite place to go to add some fantastic statues to their collection.
So I was really excited to see that Kotobbukiya was coming out with the Shoretrooper and the Death Trooper two pack statue set. The Death Trooper set is coming out later this year, but the Shoretrooper will be available soon.
The Rogue One: A Star Wars Story Shoretrooper TWO PACK ARTFX+ is beautifully re-created in 1/10 scale, the Shoretroopers look like they stepped straight off the screen. The sencludes multiple arm and weapon parts allowing for the creation of dynamic action poses to change up your display.
Check out the Shoretrooper and the rest of the brilliant designs over at kotobukiya.com. Below is a video that I made with the Shoretroopers.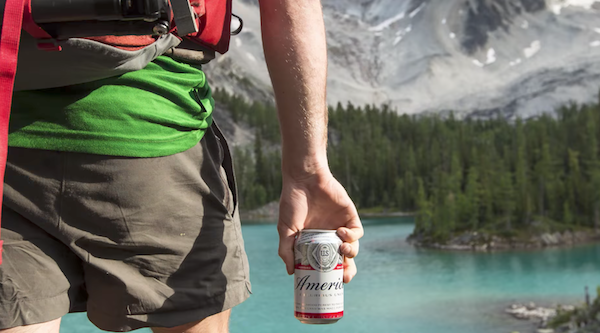 This summer be on the lookout for a new ad from Budweiser. The celebratory spot is an ode to fans everywhere as real photos show how Budweiser drinkers across the country enjoy an ice-cold 'America' in front of some of the most iconic of U.S. backdrops. The video was created to not only showcase the people Budweiser brews for but the country every drop of Budweiser in the U.S. is brewed in – 'America!'
The video aims to empower those bold enough to pursue their dreams with toasting voice-over noting: "This Bud's for the dream and the people bold enough to pursue it."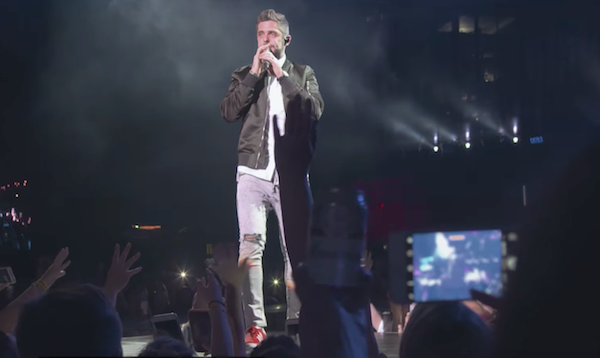 Finally, making an appearance in the spot is ACM Male Vocalist of the Year, Thomas Rhett. Budweiser's history with the artist first began in 2016 and will continue through 2017, with the beer brand sponsoring his nationwide tour. Rhett will also be appearing at several country music festivals this summer as part of the Budweiser Country Club fan experience.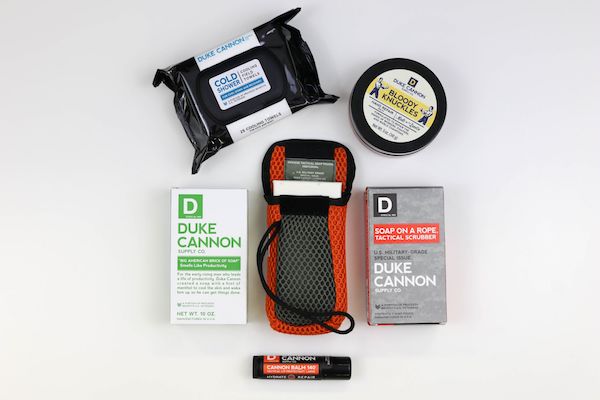 What are you looking to pick your dad for this Father's Day? If you need some ideas you should check out Duke Cannon Bundle Sets. There are a few sets to choose from and your dad with thank you for getting him MAN soap!!!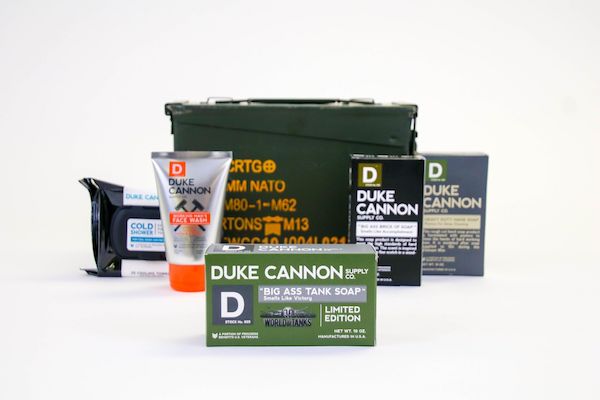 NEW! – The World of Tanks Ammo Can Set:
Duke Cannon and World of Tanks have joined forces to construct the perfect gift set for Dads who enjoy gaming or blowing shit up in their free time. The World of Tanks Ammo Can Gift Set is a limited-edition set that breathes Post-War era. This bad-ass offering includes a Big Ass Tank Soap, Heavy Duty Hand Soap, Cold Shower Cooling Field Towels, and Working Man's Face Wash all bundled up in a heavy duty ammunition can. To top things off, this gift set comes equipped with World of Tanks in-game currency, including a card that can be redeemed for $15 for new or existing users. Whether you're out in the real world or cyber world, we've got you covered right here.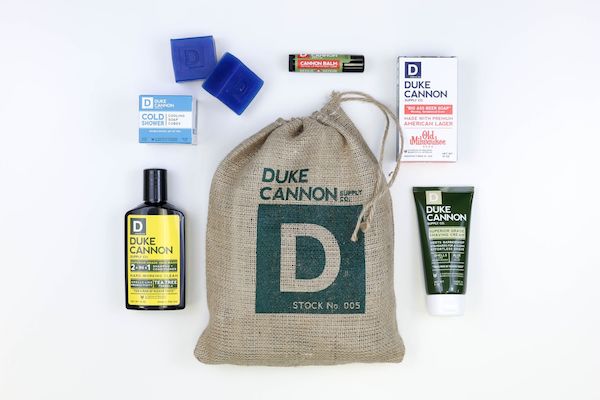 The Shower Beer Sack:
Make pops reminisce to the times when guys at the bar didn't care about hops or the ABV in their beer. Duke Cannon's Big Ass Beer Soap is made with Old Milwaukee beer as a key ingredient, but that doesn't mean you'll smell like your local bar when leaving the shower. Duke Cannon's Big Ass Beer Soap gives off a robust sandalwood scent that provides that 'just showered smell' versus that 'just left the bar smell.' Additional items included in this gift set include Cold Shower Cooling Cubes, Superior Grade Shaving Cream, Superior Grade Hair Wash, and Cannon Balm Tactical Lip Protectant that is delivered in a custom Duke Cannon burlap sack.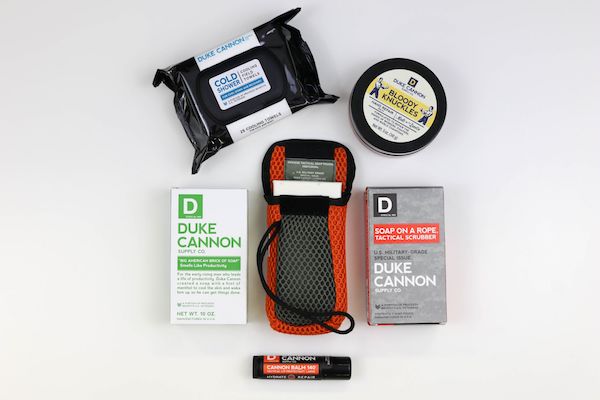 The Apocalypse Survival Kit:
No matter what you're going up against, the Apocalypse Survival Kit carries the essentials to make sure that you survive your own rendition of The Revenant or an intense session of yard work. Things can get heated out there, so we've thrown in the Cold Shower Cooling Field Towels and a Cannon Balm 140 Lip Balm, which withstands heat up to 140 degrees. Additional items include, Bloody Knuckle Hand Repair Balm, Tactical Soap On A Rope Scrubbing Pouch, and a free bonus Big American Bar Soap (Productivity) to ensure freshness throughout. Like all Duke Cannon products, these items are made in the U.S.A.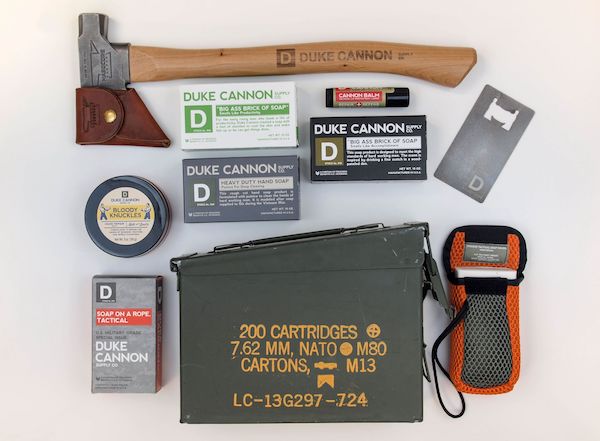 The American Soap and Hatchet Set:
This kit provides men all the supplies they need for a productive day. From a survival hatchet to split wood or ward off a bear attack, two Big Ass Bricks of Soap, Tactical Soap on a Rope, Heavy Duty Hand Soap, Bloody knuckles Hand Repair Balm, Cannon Balm Tactical Lip Protectant and a steel bottle opener to crack a cold one after a hard day's work. All Duke Cannon items and the survival hatchet are made in the U.S.A. The kit comes packaged in an old military ammo can completing one of the most kick-ass gifts any dad can receive this summer.