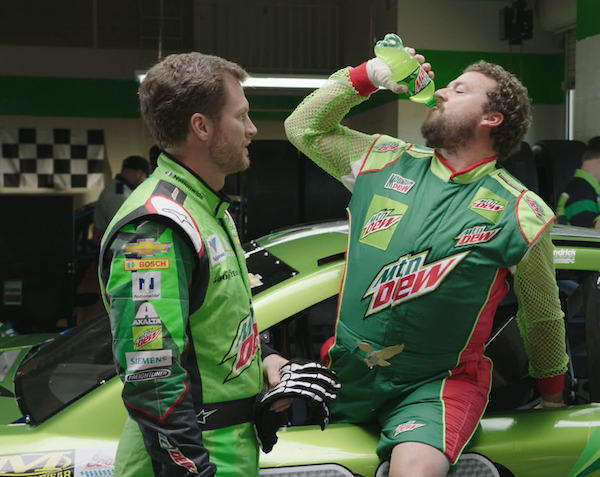 When you are one of the best in your field people are always looking to take your place. This happens in NASCAR and Dale Jr. is seeing that right before his eyes. Who is taking his place? Well it is a guy named Dewey Ryder. He even penned a letter about what he is looking to do. We at MANjr got our hands on the letter and we want to share it you!
Dewey writes:
What's up, racing fans. I'm Dewey Ryder, here to announce the biggest racing news since lug nuts. Me. The only person capable of filling Dale Earnhardt Jr.'s green firesuit when he retires at the end of the season. And as the handsome new face of Mountain Dew, I'm issuing this official press release while I chug that bold, citrus nectar.
I'll be picking up right where Junior left off. Driving fast cars. Endorsementing. Basically, the same stuff that he does.
While I have never actually driven a stock car, I know enough to be dangerous. Now, you may be asking yourself, "Aren't you Danny McBride, the world's funniest actor? What are you doing racing cars?" To which I say, "Pfft. I'm Dewey Ryder, the rightful heir to this throne."
This is surely a bittersweet announcement for some of you. Dale Jr. and Mountain Dew have been partners since 2008. Dale Jr. is super popular and everyone says he's a swell guy. But every time a stock car door closes, another stock car door opens [editor's correction: stock cars do not have doors] and I'm here to pick up the mantle.
For the future generations, I videotaped the passing of the torch moment and it's on the interweb right now. It's a real tear jerker. While this was completely 100 percent my idea, I am supposed to mention it was in collaboration with the ad nerds at BBDO. You can witness the momentous occasion on NBCSN Sunday, Oct. 29, during the Martinsville Speedway race. You're welcome.
But don't just take my word for it. When I spoke to my buddy, Dale Jr., he said, and I quote, "My partnership with DEW goes back almost a decade and it's been an amazing ride. I knew the guy who'd come after me would be someone special, and Dewey's definitely… well, he's someone."
DEW can back that up too. "Dewey has no racing experience. No training behind the wheel. And, we have no idea how this is going to work out," said Chauncey Hamlett, Senior Director of Marketing, Mtn Dew. "We'll definitely miss seeing Dale Jr. behind the wheel as he starts his retirement, as he is an incredible partner to the brand. Dewey Ryder brings something we've never seen before, from the way he holds a bottle of DEW to his bold, fun and boundary-pushing style."
There you have it. To recap, Dale Jr. is retiring and I'm the new model – the upgrade – if you will.
Stay tuned. Down the road there will be more Dewey for many moons to come. To join the conversation, just follow @MountainDew on Facebook, Twitter, Instagram and Snapchat and use the hashtag #DeweyRyder.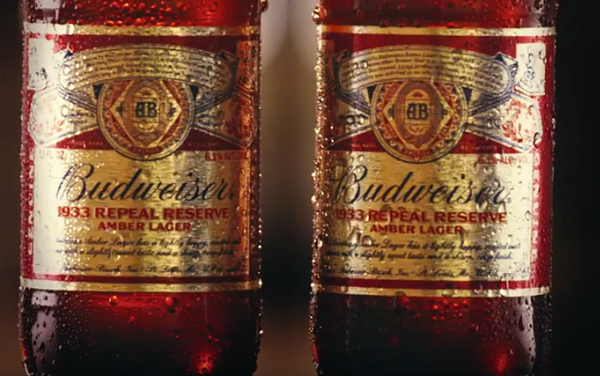 Ever wonder what beer tasted like during the Prohibition period? Well now you can. Budweiser is giving beer lovers the chance to experience and taste history with the release of its limited-edition 1933 Repeal Reserve Amber Lager. The recipe behind Repeal Reserve dates back to the pre-Prohibition era when Adolphus Busch created and brewed a special Amber Lager for his friends and local community to enjoy. Due to the onset of Prohibition in 1920, the beer didn't have a chance to be distributed widely outside the St. Louis area… until now. Beginning today, Budweiser is releasing this historically inspired recipe nationwide to celebrate the Repeal of Prohibition.
The Prohibition era marks a defining moment for the Great American Lager, as the brand, and the country, faced 13 years without a drop of beer. Budweiser's limited-edition 1933 Repeal Reserve is brewed to recognize and raise a cold one to America's determination through Prohibition.
The amber lager consists of a light, hoppy aroma and a rich caramel-malt taste. As a nod to the pre-Prohibition era, Repeal Reserve boasts a higher ABV than original Budweiser – 6.1% vs. 5%. And, inspired by the earlier style of beers, new Repeal Reserve comes packaged in a vintage Budweiser stubby bottle.
As part of the launch, the brand is bringing the Prohibition era to life by unveiling a fleet of antique cars in partnership with Lyft, Budweiser's preferred safe rides partner. On Wednesday, October 25, New Yorkers (21+) will have a chance to score the Bud Vintage Mode for a ride in an authentic, vintage car to experience the 1930's first-hand, between the hours of 3-7 pm ET by visiting www.lyft.com/BudVintageMode. During the specialized ride, passengers will cruise through the famous streets of New York, passing landmarks and neighborhoods that were integral to Prohibition, while learning about the newly released beer.
From New York and beyond, fans can experience a taste of history with Budweiser as part of Repeal Reserve's full marketing campaign inclusive of new TV commercials, digital content and Clydesdales appearances. Budweiser is also partnering with Drizly to deliver a taste of history to beer drinkers across the country with a special code for $5.00 off their first purchase of 1933 Repeal Reserve, using the code Prohibition.
To score a ride in the Bud Vintage Mode with Lyft visit www.lyft.com/BudVintageMode. For more information on 1933 Repeal Reserve, visit Budweiser on Twitter, Instagram, Facebook and YouTube.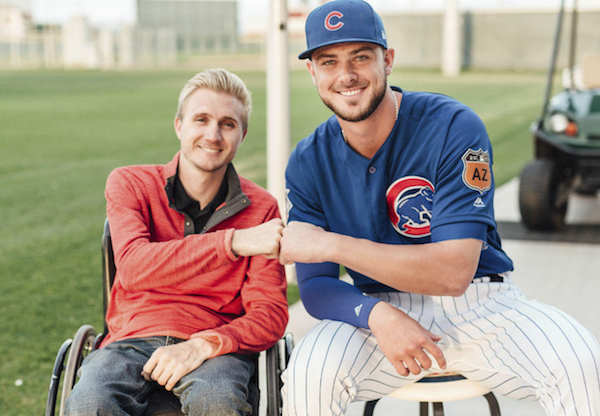 The Chicago Cubs are out of the playoffs, but Kris Bryant is still doing his part to spread some magic in October.  During MLB's "Players Weekend" in August, Kris Bryant wore three pairs of specially designed cleats to shine a light on spinal cord research. Now, fans can bid on those game-worn cleats at charitybuzz.com/KBcleats.  In those cleats, Kris Bryant went 4 for 11 with a homerun and a sizzling .364 average against the Phillies.
As you may know, the cause is near to Bryant because he is friends with Cory Hahn, a former All-American high school baseball player who was paralyzed sliding into 2nd base in 2011 while a freshman at Arizona State University.
As background, three Chicago street artists designed the cleats with a theme of "Wings" in honor of the Wings for Life Foundation, which is dedicated to raising money for spinal cord research. Each pair also celebrated one of the three cities that have given Kris Bryant his wings in life – Las Vegas, San Diego and Chicago.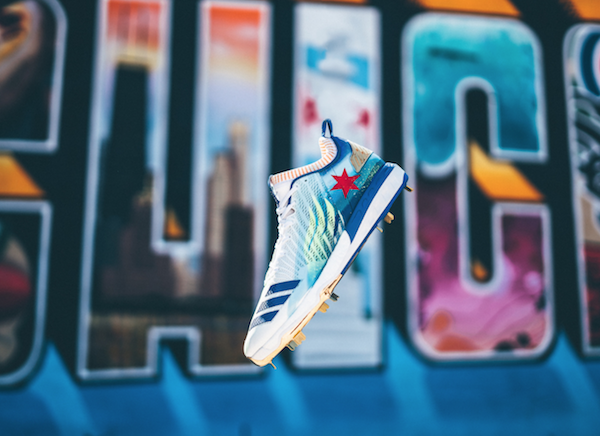 Who are the artists?
The Las Vegas edition cleat was designed by artist Joseph Perez – aka "Sentrock" – using inspiration from Bryant's hometown of Las Vegas.
The San Diego edition cleat was designed by street artist JC Rivera, in honor of Bryant's University of San Diego days when he became a nationally known name in the world of baseball.
The Chicago edition cleat was designed by artist Max Sansing, who was born in Chicago and has a history with Kris Bryant dating back to Summer 2016 when he collaborated on a stunning mural of the player that is still up in the heart of Chicago's Wrigleyville.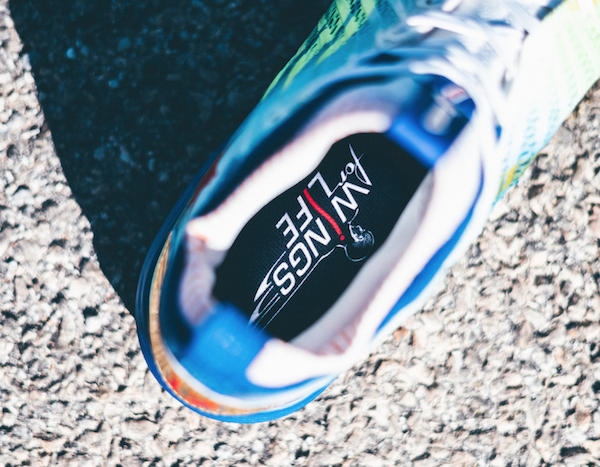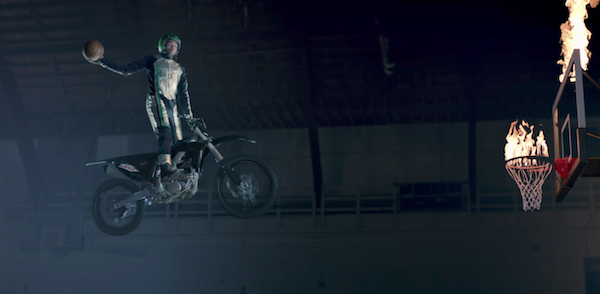 Not only are NBA fans getting ready for the NBA season kick off today, but so is Mountain Dew. They just announced over the summer that the brand would honor brand athlete and NBA MVP Russell Westbrook with a truly unique fashion outfit for his wardrobe: the first ever Triple-Double Breasted Suit. And just in time for tipoff of the 2016-2017 NBA season, the suit has arrived.
Created by American menswear designer Mark McNairy, the Triple-Double Breasted Suit pays homage to Russ' record breaking season and "Don't Do They" mentality – whether on the court dropping 50 point triple doubles, or off the court sporting flashy post-game outfits.
The suit includes several unique style elements that pay tribute to his historic campaign, including:
Don't Do They: Russ' iconic rallying cry from his ASW commercial is featured on the underside of the jacket collar as a bold "THEY" crossed out in green
42: Russ' season-defining tripe double record is emblazoned on the jacket breast pocket
Camo Pattern: DEW has a history with camo as does McNairy which made camo an obvious color choice.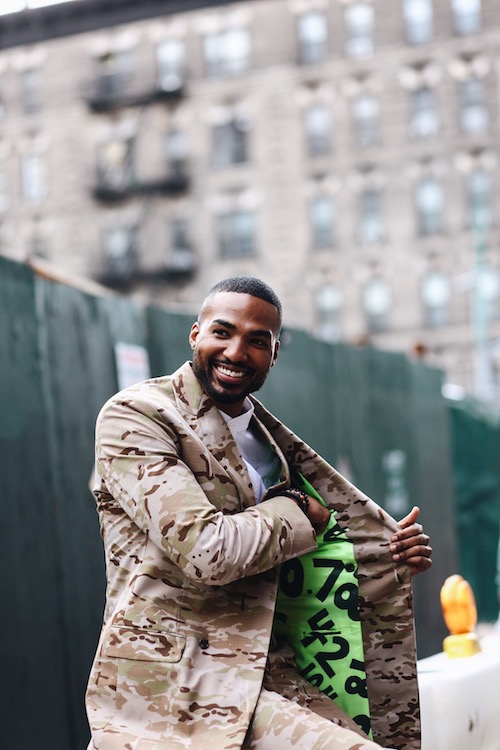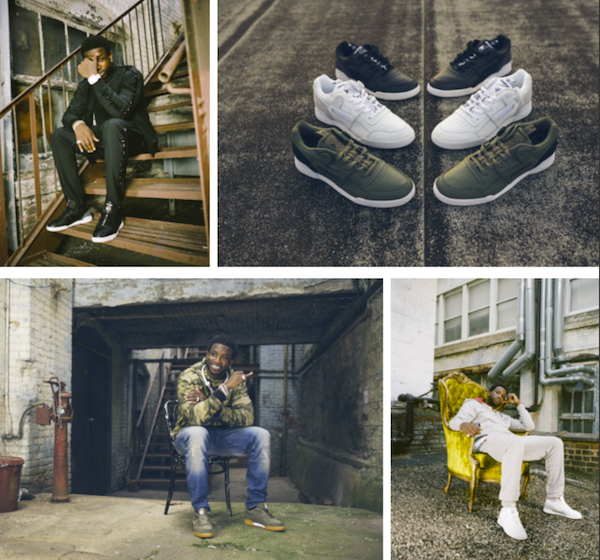 There is some really sweet news coming from Reebok Classic this week. Reebok Classic is recently announced that recording artist Gucci Mane will be the face of the brand's latest campaign. Gucci Mane will join the ranks of Reebok Classic's like-minded collective of inspirational style and music trailblazers including Future, Machine Gun Kelly, Rae Sremmurd, Teyana Taylor and Jasmine Sanders.
The new campaign starring the Atlanta-based rapper will support the latest iteration of Reebok's iconic Workout Plus sneaker, the Workout Plus EG. Originally launched as a fitness sneaker in 1986, the Workout Plus has had a resurgence in recent years as a fashion staple through various style drops and collaborations. The new Workout Plus campaign featuring Gucci Mane was shot against an industrial backdrop at Attic Studios in New York City by renowned lifestyle photographer Daniel Regan, videographer Thuan Tran and stylist Jason Rembert.
The Workout Plus EG are available in five men's colorways, including black/white, army green/white, smoky indigo/white, burnt amber/white and skull grey/white. Known for its iconic H-Strap construction, the shoes come in a premium nubuck suede overlay with a perforated upper along with its signature gum bottom. The Workout Plus EG is  available at Reebok.com and Jimmy Jazz for $85.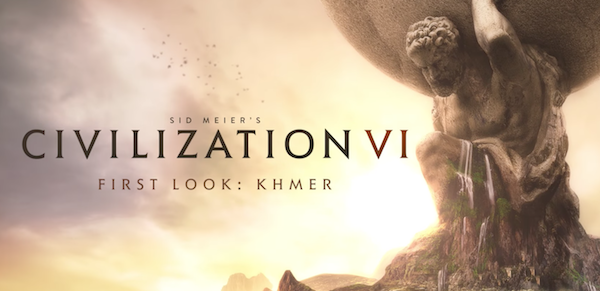 2K and Firaxis Games today revealed that Jayavarman will lead Khmer in Sid Meier's Civilization VI.
Rising to power during a period of crisis for the Khmer, Jayavarman was a military leader. By 1181, Jayavarman VII had repelled Cham invaders to the north and when hostilities died down, he crowned himself king. But instead of turning outward and seeking to aggressively expand, he focused on his people.
King Jayavarman VII saw himself as a warrior for his subjects. As a result, his rule was marked by its tolerance and his drive to create a place of safety and paradise for his subjects.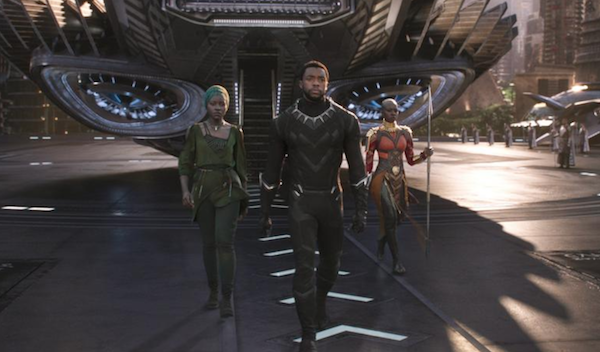 Black Panther looks like it will be one of the best films of 2018. Marvel Studios' BLACK PANTHER follows T'Challa who, after the death of his father, the King of Wakanda, returns home to the isolated, technologically advanced African nation to succeed to the throne and take his rightful place as king. But when a powerful old enemy reappears, T'Challa's mettle as king—and Black Panther—is tested when he is drawn into a formidable conflict that puts the fate of Wakanda and the entire world at risk. Faced with treachery and danger, the young king must rally his allies and release the full power of Black Panther to defeat his foes and secure the safety of his people and their way of life.
Marvel Studios' BLACK PANTHER opens in theaters everywhere on February 16, 2018!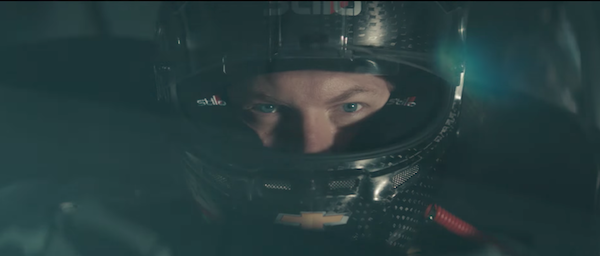 As the legendary Dale Earnhardt Jr. continues his final laps around the track before retiring at the end of this season, decade-long partner Mtn Dew celebrated NASCAR's most popular driver and his final race in the No. 88 Mtn Dew Chevrolet with a big weekend at Talladega. This included a new TV commercial, culmination of the Ride with Jr. program and limited-edition Dale Jr. Mtn Dew cans.
To celebrate the last few weeks of Dale Jr.'s racing career, DEW launched limited-edition "cheers to Dale Jr." Mtn Dew cans, hitting shelves in major markets across the US.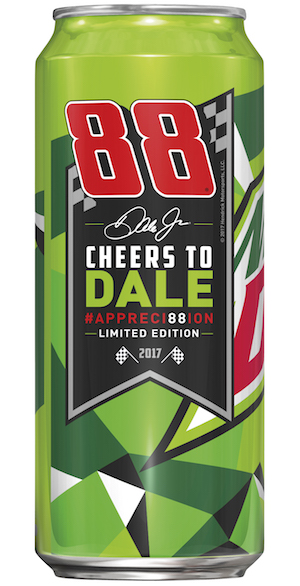 I am a big fan of the Crown Royal brand. When Crown Royal Apple came out it brought the whiskey game to a whole new level. Crown Royal, one of America's best-selling and most-loved whiskies, has enlisted the talents, and all-around creative brilliance, of actor and comedian J.B. Smoove to continue momentum for its flavored whiskies – Crown Royal Regal Apple and Crown Royal Vanilla.  As a leader within the nearly 10 million case flavored whisky category that grew 8% last year, Crown Royal looks to celebrate the fun-loving side and irresistibly delicious side of whisky with a new spirited campaign!
The latest work between J.B. and Crown Royal premiered last week called "Crown Royal Regal Apple: The Musical," which began airing in October, also known as National Apple Month.  In a true collaboration, Crown Royal paired J.B. and his crew to create a pulsating original track, "It's Apple Time, Baby," along with corresponding dance moves. In the main film, J.B. struts through a lavish nightclub, as patrons jump into his dance number and join his crew for Crown Royal Regal Apple shots – all while not missing a beat.
To commemorate J.B.'s starring role and new-found crooner skills, Crown Royal crowned him as its "King of Flavor" during an uproarious coronation in New York hosted by comedian Chris DiStefano. This is not the first foray for Crown Royal and the newly anointed King. Over the last year, J.B. brought out the true meaning of "Vanilla So Good," to launch Crown Royal Vanilla.
After watching JB's new video check out the Crown Royal recipes below.
Featured Recipes
Chilled Neat Apple Shot
1.5 oz. Crown Royal Regal Apple
The Big Apple
1.5 Crown Royal Regal Apple
.75 oz. Ginger Ale
.5 oz. Fresh Lemon Juice
Garnish with Lemon Wedge
Instructions: Combine Crown Royal Regal Apple, ginger ale and fresh lemon juice into a shaker with ice. Pour into a rocks glass over ice and garnish with a lemon wedge.
The Green Flag
1.5 oz. Crown Royal Regal Apple
1 oz. Pineapple Juice
.25 oz. Fresh Lime Juice
.25 oz. Simple Syrup
2 oz. Ginger Beer
Instructions: Build all ingredients into a shaker with ice. Stir and pour into a collins glass with ice. Top with ginger beer and garnish with a pineapple wedge.
Vanilla Old Fashioned
1.5 oz. Crown Royal Vanilla
0.25 oz. Simply Syrup
3 dashes Angostura Bitters
3 dashes Orange Bitters
Orange Peel Twist
Instructions: In old-fashioned glass, combine simple syrup and bitters. Fill glass halfway with ice, then stir. Add enough ice to fill glass. Squeeze orange peel over glass to extract oils, add peel to glass and add whiskey. Stir just until drink is cold and serve.
Crown Vanilla and Hella Cola
1.5 oz. Crown Royal Vanilla
1 oz. Hella Cola Cocktail Syrup
3.5 oz. Club Soda
Whole Madagascar Vanilla Bean
Wedge of lime, optional
Instructions: Fill a highball glass with ice; add Crown Royal Vanilla, Hella Cola Cocktail Syrup and Club Soda. Using vanilla bean as a stirrer, gently stir drink for several seconds and leave vanilla bean in with straw. Drop in lime wedge without squeezing (optional).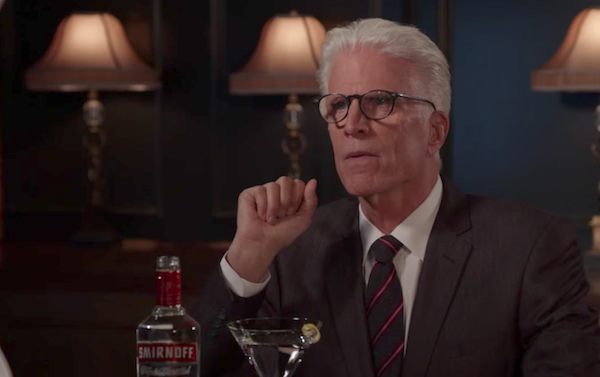 Did you miss Ted Danson on Jimmy Kimmel last night? Well we got you covered. Jimmy Kimmel had a drink with the most famous TV bartender ever, actor Ted Danson, who is best known for his previous role as iconic bartender Sam Malone on the television show, Cheers.
During the comical conversation, Jimmy proceeded ask Ted the following three "ridiculous questions":
-          Would you rather live in a haunted house or a gingerbread house?
-          If you had to sneak a parrot through airport security, how would you do it?
-          When you were a little kid, did your mother ever lick her fingers and smooth out your eyebrows?
Ted currently stars on television sitcoms, The Good Life, and Curb Your Enthusiasm, which just returned to HBO earlier this month.