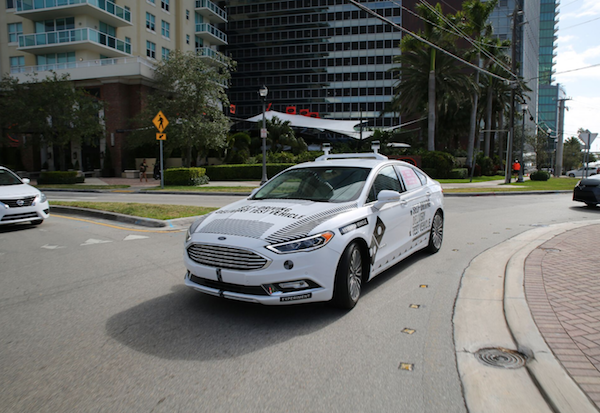 The future of automobiles could be found in Miami. In partnership with Miami-Dade County, Ford recently announced the launch of its first self-driving vehicle business in Miami and Miami Beach.
Ford will take various steps to prove out its self-driving business model for moving both people and goods, including:
Working with partners Postmates and Domino's, Ford will test and research the customer experience with autonomous delivery, looking at how customers will interact with a self-driving car to get their food or groceries, how far they are willing to walk and most importantly what they will enjoy about the experience.
In parallel, Ford will also continue to develop the autonomous technology powering its vehicles by expanding testing in partnership with Argo AI – who already has vehicles on the road mapping Miami streets and learning about the unique driving habits of residents;
The establishment of Ford's first autonomous vehicle operations terminal close to downtown Miami, which will house fleet vehicles for developing Ford's vehicle management processes.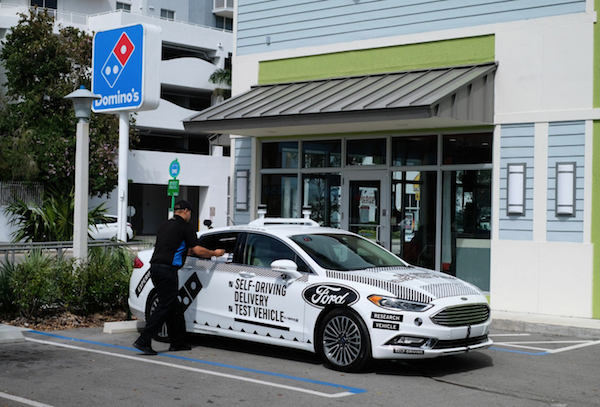 If you are looking for a classic film that will keep you guessing all along the way you need to pick up Murder On The Orient Express. Kenneth Branagh directs and leads an all-star cast, including Johnny Depp, Michelle Pfeiffer, Penélope Cruz, Judi Dench and Leslie Odom, Jr., in this stylish, suspenseful and thrilling mystery based on the best-selling novel by Agatha Christie. Everyone's a suspect when a murder is committed on a lavish train ride, and a brilliant detective must race against time to solve the puzzle before the killer strikes again.
Produced by Branagh along with Ridley Scott (Alien: Covenant), Simon Kinberg (Logan), Mark Gordon
(Molly's Game), Judy Hofflund (As You Like It) and Michael Schaefer (The Martian),
MURDER ON THE ORIENT EXPRESS is loaded with bonus material that dives into the making of the film including an eigh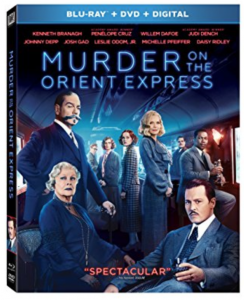 t-part documentary, eleven deleted scenes, commentary by Branagh and much more.
4K Ultra HD, Blu-ray & DVD BONUS FEATURES
Agatha Christie: An Intimate Portrait
Let's Talk About Hercule Poirot
Unusual Suspects (Part One, Two and Three)
The Art of Murder
All Aboard: Filming Murder on the Orient Express
Music of Murder
Deleted Scenes (with and without Commentary by Kenneth Branagh and Michael Green)
Alternate Opening
Newsreel (Extended)
Director commentary by Kenneth Branagh and Michael Green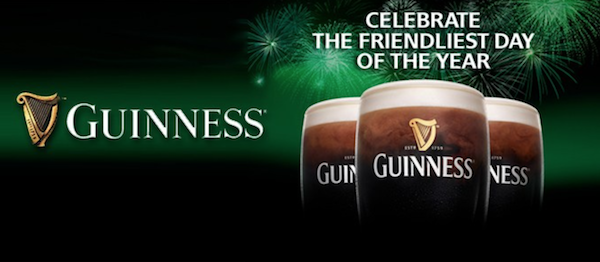 If you are looking to celebrate with Guinness this year on St. Patrick's Day know that it is the 200th anniversary of Guinness sharing the holiday with America. It is the latest reminder of the two-century connection between a legendary brewery and its good friends across the Atlantic. Once again, in the days and weeks leading up to March 17, it's time for us all to embrace the stories we tell,  the memories we make and the bonds we build over a pint of Guinness.
The Guinness brand is encouraging all Americans, 21 years and older, to make a simple pledge (assuming they've already promised to drink responsibly, of course): gather with friends, new or old, toast to the many things we all have in common…and give a 'Stache. Indeed, this St. Patrick's Day, the Guinness 'Stache – that unmistakable hint of foam left behind on the upper lip after the first sip of stout – is back as a symbol of the goodness and the Irish-ness that lives within all of us.
From now through March 31, 2018, when adult beer lovers share photos of their 'Staches – self-grown and groomed, drawn-on, or Guinness-enhanced – on social media (tagging @GuinnessUS and using #StacheForCharity), Guinness will donate $1 (up to $100,000) to the Guinness Gives Back Fund*, which supports nonprofits that contribute to the common good in our communities, including Team Rubicon, a veteran-led disaster response organization.
The symbol of the 'Stache will appear alongside Guinness brand activity at bars and restaurants and on social media throughout the St. Patrick's Day season, including in some digital content that pays homage to 200 years of mustaches in America. To spread the word about the bonds a 'Stache can build, the brand is releasing additional digital content that will help us all reflect on the friendships we cherish – and some very recognizable Guinness fans will also get involved in spreading the word.
In addition, it's time for the latest limited-edition Guinness Draught cans, which will hit shelves in time for St. Patrick's Day. The ongoing series celebrates the famed Guinness ad campaigns of the 1930s and '50s. While it doesn't have a mustache, the kinkajou – which we thought was a sloth at first – will be featured on this version.
To keep an eye on everything the Guinness brand is doing and to get in on the 'Stache action, follow @GuinnessUS on Twitter, Instagram and Facebook. Whether you're making a new friend or meeting an old one, having a Guinness Draught, or ordering up any other Guinness beer this St. Patrick's Day, please respect the beer and drink responsibly.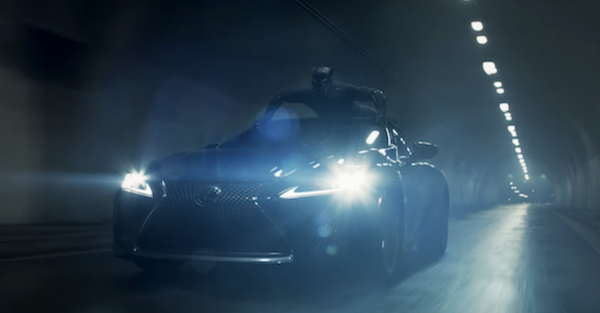 If you haven't seen Black Panther in theaters yet I have ask you one question? Why not? I saw it last week and it was an amazing film on many levels. In the film, which takes place after the events of Marvel Studios' Captain America: Civil War, the character T'Challa (Black Panther) returns home to the isolated, technologically advanced African nation of Wakanda to take his place as king.
T'Challa's sister sets him up with some unbelievable tech. One item from the ridiculous tech is the the Lexus LC 500. In the clip below you get to see where movie magic and real life come together.
Lexus said: "The LC's aggressive styling, high performance and agile handling are a perfect fit for the Black Panther's quick, cat-like reflexes and superhuman feats. We're excited to see the duo in action."
Watch "The Road Ahead," a thrilling 30-second spot resulting from Marvel Studios' collaboration with Lexus on its highly-anticipated film, Black Panther, in which the 2018 Lexus LC 500 is featured alongside the title character in an exciting chase sequence.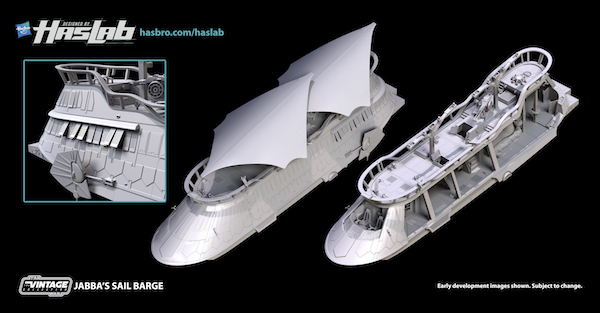 If you missed out on the New York Toy Fair then you missed out on some fantastic news from HASBRO. They are constantly working to create innovative and exciting new products that cater to the unique needs of consumers and fans. In 2018, they take that pledge one step further with the launch of HASLAB!
Announced at this year's Toy Fair, HASLAB is Hasbro's new platform that hopes to put dream products into the hands of fans. They announced that the first HASLAB item is the biggest Star Wars vehicle Hasbro and Kenner have ever produced – fan favorite JABBA'S SAIL BARGE!
Measuring approximately 4 feet long, this large scale, highly detailed item features premium deco and vintage packaging. An incredible addition to any collection, Jabba's Sail Barge comes complete with  exquisitely-detailed and fan accessible interior/exterior decks, one Jabba the Hutt 3.75-inch scale figure, two soft-cloth fabric sails, and other realistic features that mimic one of the most notorious vehicles in the Star Wars universe.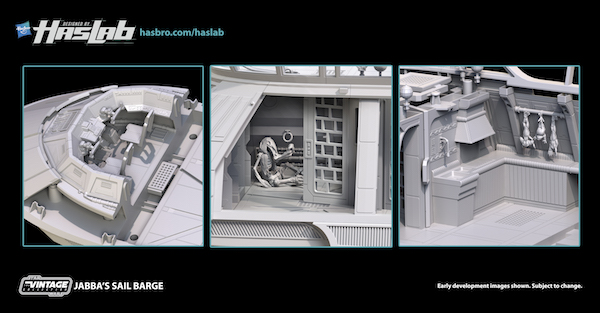 HASLAB takes inspiration from other platforms by inviting participants to support the product by backing the project up front by placing a pre-order. You're our only hope to make Jabba's Sail Barge a reality! For Jabba's Sail Barge to go into production, Hasbro must meet a certain minimum threshold of 5,000 pre-orders. It's up to the fans to support the campaign and help successfully reach that goal by 11:59pm ET on April 3rd, 2018.
Those who pre-order the item will also receive "Jabba's Sail Barge (The Khetanna): Behind The Workbench,"  a premium, 64-page booklet that goes behind the scenes of the design and development of the actual Sail Barge film set piece and Hasbro toy and includes set photos, product blueprints, interviews, and more.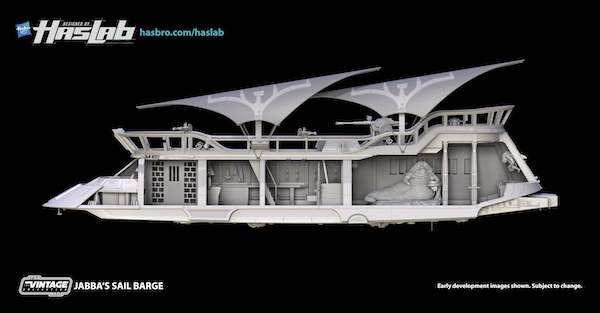 Starting today, fans can place a pre-order for Jabba's Sail Barge at HASBRO.COM/HASLAB. If the goal is met, the product will go into production. For more information on HASLAB and to follow the project's progress throughout the 45 day pre-order window, visit HASBRO.COM/HASLAB.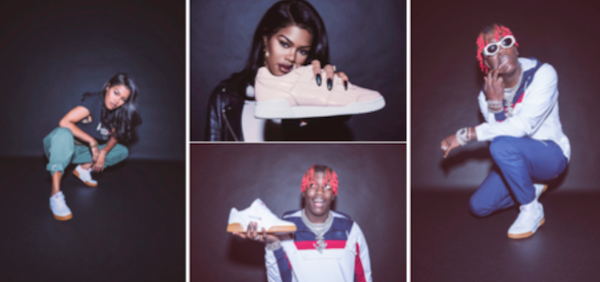 Today, Reebok Classic launches the next iteration of its Always Classic Spring/Summer 2018 campaign by inviting Atlanta rapper Lil Yachty and the multi-talented Teyana Taylor to showcase what it means to be a classic with the timeless Workout Plus sneaker.
Known for her fitness prowess, unapologetic style and her freedom of language in music, fashion and dance, Teyana Taylor champions the Workout Plus' defiant style features and gym-to-street versatility.
As a rapper who has quickly skyrocketed to international stardom through his genre-defying sound, Lil Yachty and the Workout Plus gum are united in their mission to break boundaries and defy expectations.
The ultimate versatile sneaker, the Workout Plus is a true testament to how both style and comfort should be prioritized, featuring the patented H-Strap, gum bottom and signature design details on the toe cap and heel. The sneaker retails for $80 and can be copped online here.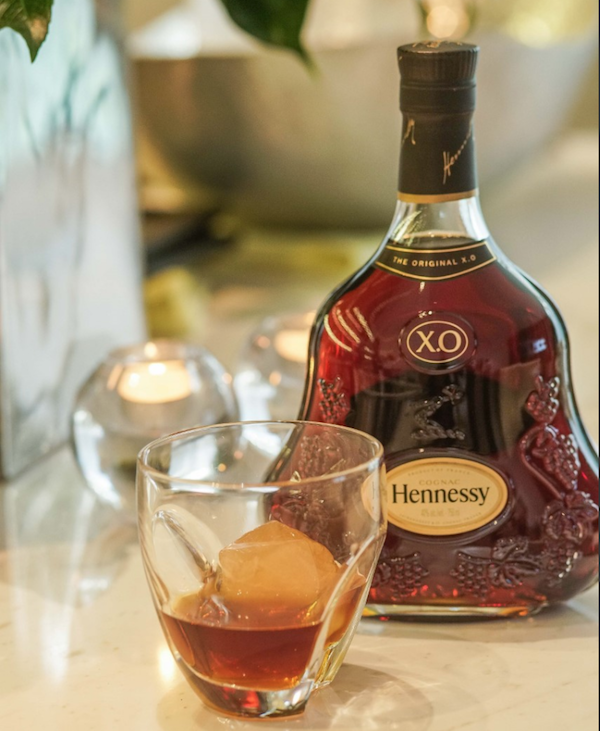 Hennessy has a new cocktail to share with you. Check out this Hennessy X.O recipe that celebrates the encounter of two cultures – "East Meets West" – to usher in good fortune for the year ahead.
For the Hennessy X.O Green Tea Rock recipe, traditional Chinese tea meets the modernity of ice in Western mixology for an unexpected way to enjoy Hennessy X.O as part of Lunar New Year celebrations. When served over the tea-infused cube, the subtle flavors of Hennessy X,O are released for a multi-faceted, sensorial taste experience.
HENNESSY X.O GREEN TEA ROCKS
2 oz Hennessy X.O
3 Large ice cubes made from mineral or filtered water
Glass: Rocks
Method:
Preparation (48 hours before)
Boil the water and infuse it with green tea for two minutes. Add sugar syrup and stir. Pour into a deep ice cube mold and freeze.
Making the Drink
Chill a glass in the freezer for five minutes. Once chilled, add three green tea ice cubes and pour Hennessy X.O over them. Stir to ensure the drink is cool throughout.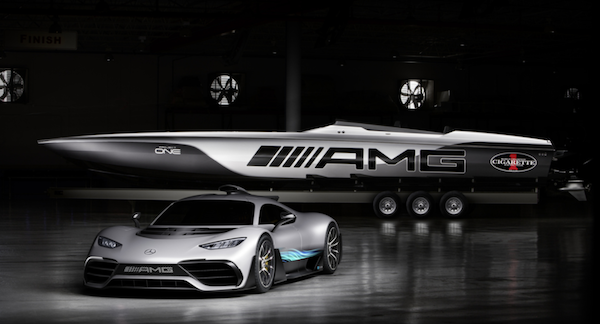 Mercedes-AMG and Cigarette Racing are proud to mark 11 years of collaboration with the debut of the most impressive and innovative performance boat ever constructed by the iconic Miami-based boat manufacturer. Designed from the ground up using the latest technology and methodologies, the Cigarette Racing 515 Project ONE was  inspired by the highly anticipated Mercedes-AMG Project ONE super-sports car.
Representing the ninth special edition boat created from this partnership, the Cigarette Racing 515 Project ONE is 51′ 5″ in length and features an increased beam of 9′ 6″ which allows 6  passengers the ability to be seated comfortably. The new boat offers an increase of  over 30% greater surface area  when  compared to the existing 50′ Marauder, while  still  providing  similar performance and an impressive 140 mph top speed through the use of a highly optimized composite structure consisting of carbon-fiber, Kevlar and E-glass. Cigarette's signature aggressive shoulders, which rise in the  rear  of  the boat, also allow the integration of a large sun cushion on  the  flat exposed-weave carbon fiber hatch – despite the  tall  engines beneath  -  for  maximum comfort and versatility when stationary.
The boat's deck is constructed completely of carbon fiber to reduce the total weight and lower the center mass of the boat. Carbon Fiber is also used for the inner structural laminate of the hull, forward bulkheads, cabin liner, engine hatch, consoles and storage hatches to significantly reduce the overall weight. For example, the air intakes, which are over 7ft long and 14 inches wide, weigh only 4.4 lbs. Overall, the weight optimized Cigarette Racing 515 Project ONE is over ten feet longer than the Cigarette Racing 41′ SD GT3 but it weighs over 5,000-lbs less. Kevlar has also been used for tabbing bulkheads and around the edges of framing for its extreme toughness properties.
The price of this one-of-a-kind boat from the Cigarette Racing Team is available upon request. For additional information on Cigarette Racing, please visit www.cigaretteracing.com.
The Miami International Boat Show is open to the public from February 16-20, 2018 at the Miami Marine Stadium Park & Basin. For more information, please visit www.miamiboatshow.com.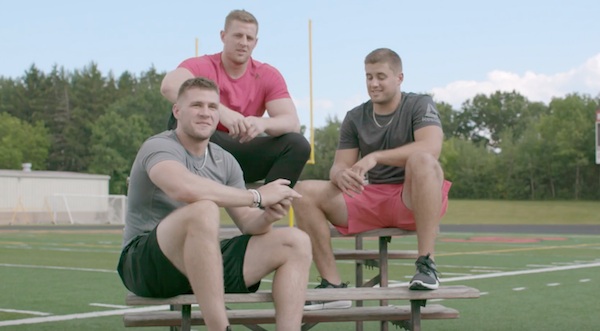 Reebok brand ambassadors JJ, TJ and Derek Watt , who helped launch the all-new Reebok Hydrorush in December, recently hashed out their rivalries on and off the field in a Reebok exclusive featuring the truth about Sibling Rivalry.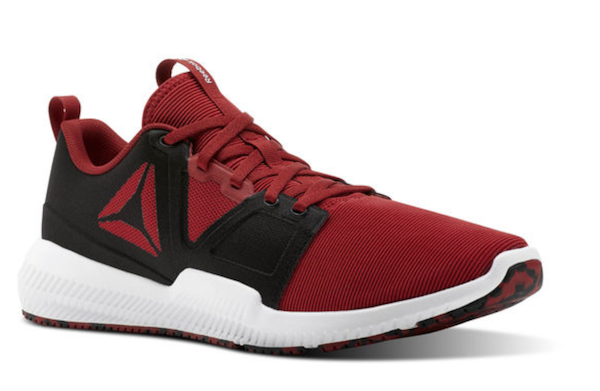 Reebok conducted a survey among men and women who have siblings and played sports in high school, in an effort to expose the truth about siblings as one of the most competitive breeds. The results were clear—sibling rivalry is very real.
With more than half of those surveyed admitting their sibling is the person they are the most competitive with and over 80% of siblings would rather be ghosted than lose to their sibling, it's no surprise that the Watt brothers share the same sentiment.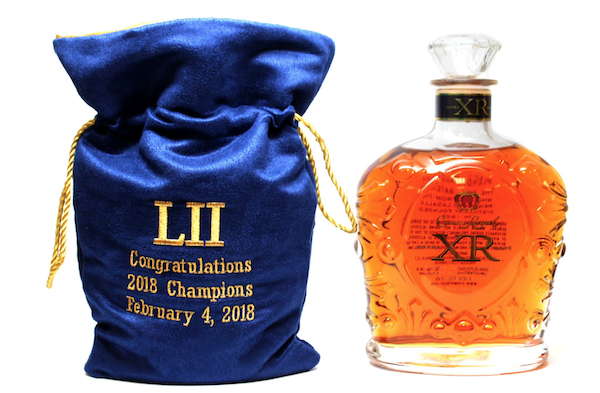 The Philadelphia Eagles returned to Philly as world champs this week and they had a victory parade for the ages. In honor of their big win, defensive end Chris Long generously gifted bottles of Crown Royal XR to the entire 2018 squad. The bottles of $130 whisky come enclosed in blue velvet bags that were embroidered to reflect the team's achievement (see below).
Long had the following to say about their accomplishment:
"We came together on Sunday and finished out the season on the highest note possible," said Chris Long. "To commemorate this big win, me and my friends at Crown Royal are giving each of my teammates a bottle of Crown Royal XR in a custom embroidered bag."
Crown Royal donated a total of $100,000 to Waterboys, a charitable organization within the Chris Long Foundation. Waterboys has funds life-sustaining water wells for East African communities and Crown Royal helped fund two additional wells for those in need during the football season.