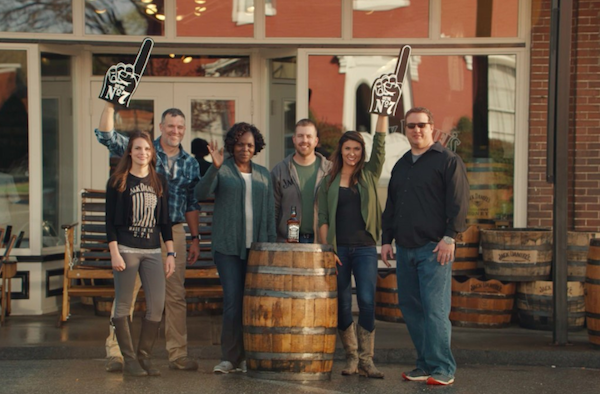 While the NBA playoffs are going on some cities and towns hope and dream for an NBA franchise to settle in their town. Two requirements of hosting a successful sports franchise are room for an arena and a wildly passionate fan base. And the people of Lynchburg, Tennessee, home of Jack Daniel's, believe they have those things and more. So they'd like to ask the NBA to bring a team to their great city. Or, town, rather.
In "Lynchburg Lights" – a new spot from Jack Daniel's, Lynchburg puts that request to the NBA. Sure, Lynchburg only has 572 residents, but what they lack in size they make up for in heart. And while its residents admit their collective basketball skills could use some work, Lynchburg knows through and through what it takes to build and grow a franchise. Just look at what they've done with Jack Daniel's.
The video highlights the unassuming town, workers at the distillery rolling a barrel of their prized product, and the actual residents of Lynchburg politely making their point to the NBA. The voiceover tees up Lynchburg's dream to have their very own NBA team as a way to bring a little excitement to their corner of the world. A scale model of a basketball arena appears, and television sportscaster and former NBA all-star Bill Walton makes a cameo, clearly shocked by the idea. After all, Jack Daniel's is the most exciting thing about Lynchburg, TN. For now.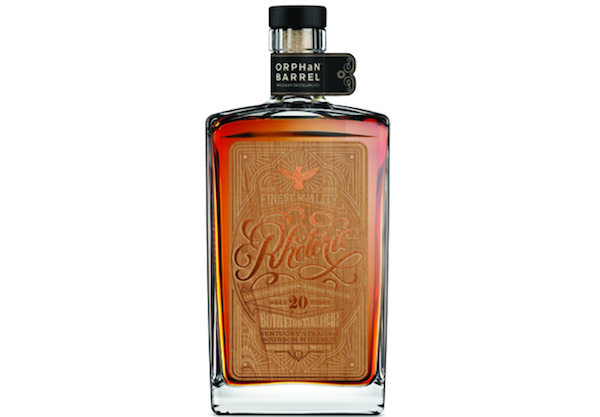 If you are looking to treat yourself right and are looking for a fantastic bourbon you should check out the latest from Orphan Barrel Whiskey. It is the Rhetoric 23-Year-Old Kentucky Straight
Bourbon Whiskey is the tenth release from the Orphan Barrel Whiskey Distilling Company and the fourth in the Rhetoric series of progressively aged whiskeys. Aged three years longer than the first release, it is slightly more mature and carries a higher proof. The whiskey will continue to be progressively aged and re-released annually at a year older, allowing whiskey aficionados to collect the series and compare the whiskeys side-by-side.
An intricate gold label features a hummingbird rising above chaos and confusion to find clarity and reason. The background, reminiscent of the oak barrels in which the whiskey aged, will grow deeper in color as Rhetoric is released each year.
Beginning with juicy dried fruit and just a hint of leather, Rhetoric 23-Year-Old tastes of rich, smooth coffee, dark chocolate, anise and cracked nuts. The finish is long with oak and a touch of smoke.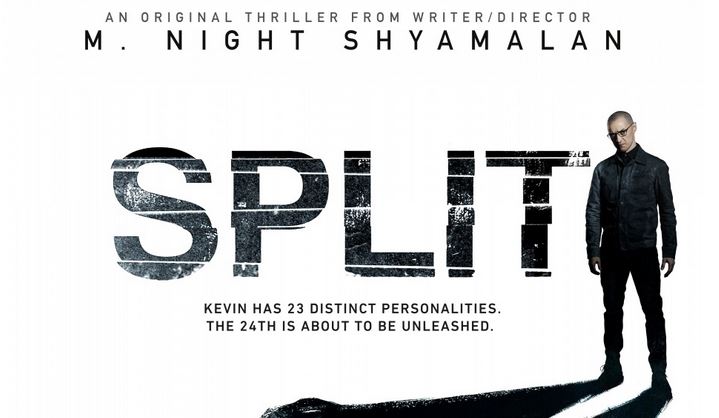 If you are looking for a great movie to watch might I suggest the latest from writer and director M. Night Shyamalan? You know him from his work such as The Sixth Sense, Unbreakable and The Visit. In Split he delivers his most gripping film yet. It is an original psychological thriller available now on Blu-ray and Digital HD.
This film stars James McAvoy and delves into the mysterious depths of one man's fractured mind as a terror unlike the world has seen prepares to be unleashed. Split offers viewers a closer look at the movie fans are raving about with a never-before-seen alternate ending, deleted scenes, character spotlight, and a behind-the-scenes look at the making of the film.
Heralded as "one of his best films – period" (Alex Welch, IGN), M. Night Shyamalan returns to the screen with SPLIT. Kevin Crumb's (McAvoy) fractured mind has revealed 23 personalities, but one remains dangerously submerged, set to materialize and dominate the others.  McAvoy delivers "the role of his career" (Peter Debruge, Variety) as Kevin reaches a war for dominance among all those that rage within him, threatening his stability and impacting the survival of everyone around him.
Producer Marc Bienstock (Before I Fall) and executive producers Ashwin Rajan (Devil, The Visit) and Steven Schneider (Paranormal Activity series) who collaborated on The Visit reunite with SPLIT. Starring James McAvoy, Anya Taylor-Joy (The Witch), Betty Buckley (The Happening, "Oz"), Haley Lu Richardson (The Edge of  Seventeen, Follow) and Jessica Sula ("Recovery Road"), critics hail SPLIT as "a nerve-shredding thriller" (Tim Grierson, Screen International).
Some of the Bonus features include:
The Making of Split- Filmmakers, cast, and crew discuss what attracted them to the project and how they were able to bring such a unique premise to life.
The Many Faces of James McAvoy- A look at how James McAvoy approached the challenge of playing so many different identities.
The Filmmaker's Eye: M. Night Shyamalan- Director and writer M. Night Shyamalan has a singular, big-picture vision of his projects. Producers, cast, and crew discuss how Night's process gives them the freedom to execute their roles to the fullest.
To win tweet me HERE with your favorite M. Night Shyamalan film. A winner will be chosen at random. Good luck!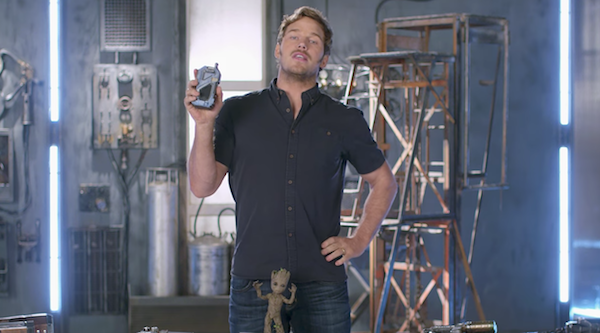 Last night I saw a screening of Guardians of the Galaxy Vol 2 and loved every minute of it. From the cast to the plot to the special effects it was just another home run from Marvel Studios. To get you all pumped up for the film I wanted to a video from Chris Pratt who plays Star Lord as he describes the best prop from the movie!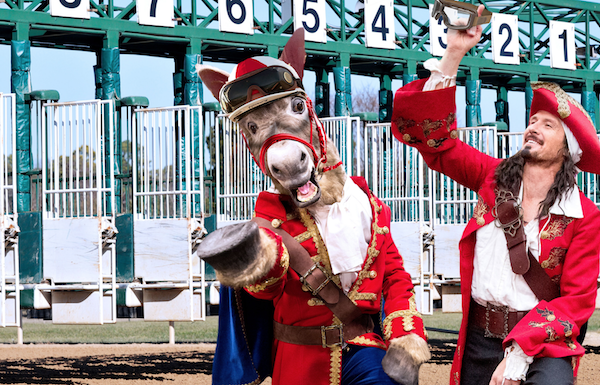 Some cool news coming out from the Captain Morgan team. The Captain is making an unprecedented offer to enter his friend, the Morgan Mule – who is 1 part horse, 1 part donkey and 2 parts Captain – into the legendary horse race on Saturday. Captain Morgan is promising that if the Morgan Mule is allowed to compete, he will donate $1 million to charity.
The Captain is asking fans 21+ to share their support on social media and to responsibly raise a glass of his new signature drink named after his friend – the Morgan Mule! In addition to his $1 million offer, Captain Morgan is rallying his supporters to share a photo with their best Captain's pose and use #MorganMule. He will donate $1 to charity (up to $10,000) for every photo shared from now through Saturday, May 6.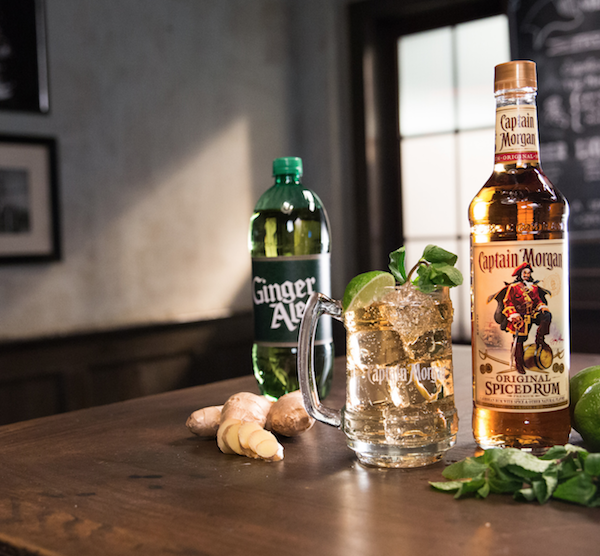 Morgan Mule
1.5 oz. Captain Morgan Original Spiced Rum
4 oz. Ginger Ale (or Ginger Beer)
1 Lime Wedge
Directions: Pour ingredients over ice and garnish with lime.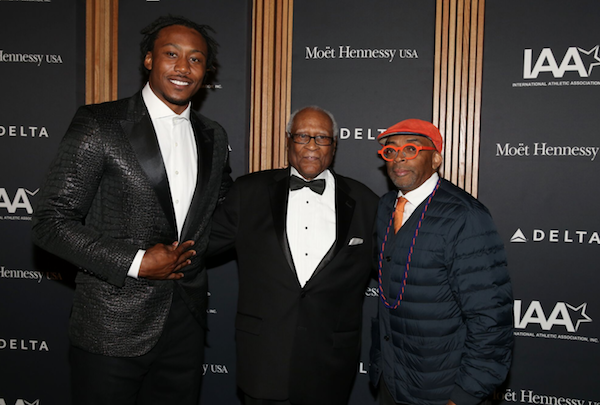 In case you missed it New York City was the host city to many great athletes last night. It was a who's who of sports including the likes of Victor Cruz, Brandon Marshall, and more, attended the 2017 Jesse Owens International Athlete Trophy Gala in New York City, an annual recognition of sports legends who exemplify the ideals embodied by Olympian and humanitarian Jesse Owens: integrity, perseverance and service.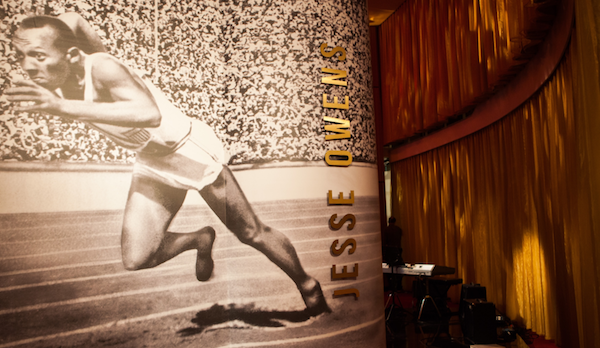 The prestigious celebration honored tennis legend Serena Williams and posthumously awarded Muhammad Ali for their achievements in sports and continuing the ideals of Jesse Owens himself.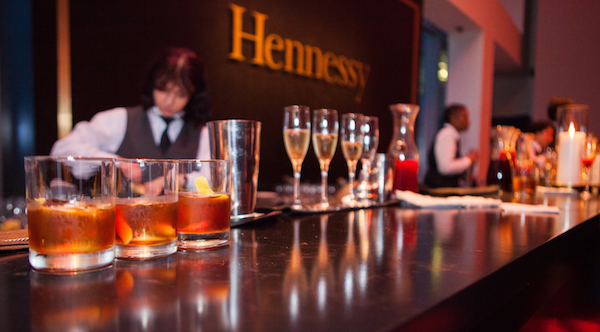 NFL athlete and humanitarian Victor Cruz presented Ms. Williams with the Jesse Owens Athlete Trophy, given to the world's best athlete as voted by a group of sports writers and experts from all over the world. Iconic filmmaker Spike Lee had the honor of presenting Muhammad Ali's family with the Jesse Owens Global Peace Award in recognition of the boxing legend's commitment to peace and justice outside the ring.


Marvel's The Defenders follows Daredevil (Charlie Cox), Jessica Jones (Krysten Ritter), Luke Cage (Mike Colter) and Iron Fist (Finn Jones). A quartet of singular heroes with one common goal – to save New York City. This is the story of four solitary figures, burdened with their own personal challenges, who realize they just might be stronger when teamed together. The Netflix original series will launch globally on August 18, 2017.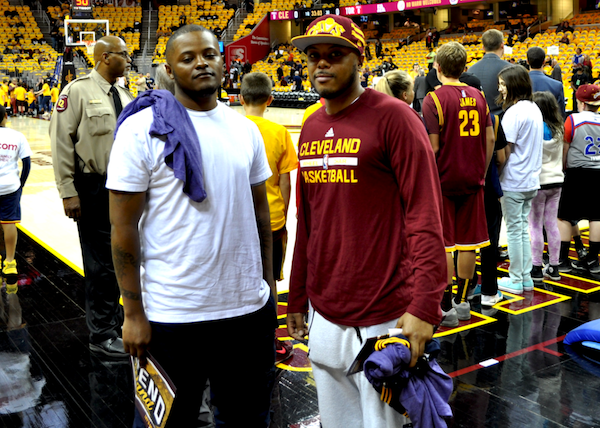 One of the reasons I like to support Crown Royal is that they take time to honor the men and women who have served or are currently serving in the United States military. To kick of National Military Appreciation Month, a Cleveland Military veteran was honored as part of Heroes Night thanks to Crown Royal last night. Officer Darron Lewis was treated to a VIP experience including watching the pre-game shoot around from the bench, receiving a signed jersey, meeting former Cleveland Star, Campy Russell, and enjoying specialty Crown Royal cocktails.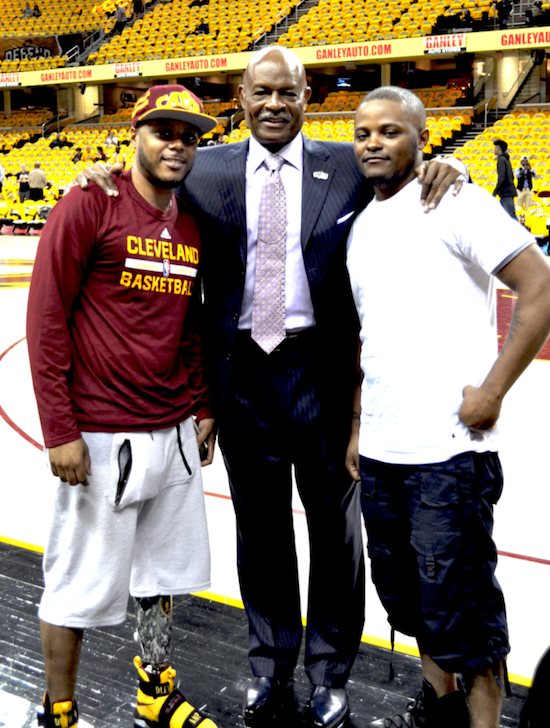 Officer Lewis lost part of his leg and shattered every bone in the other after he was struck with an IED while serving in Afghanistan in 2012. Lewis underwent extensive rehab and now resides in Cleveland and periodically practices with the Cleveland Wheelchair Cavaliers. His guest for the night was his brother who also serves in the United States military and recently returned from Japan.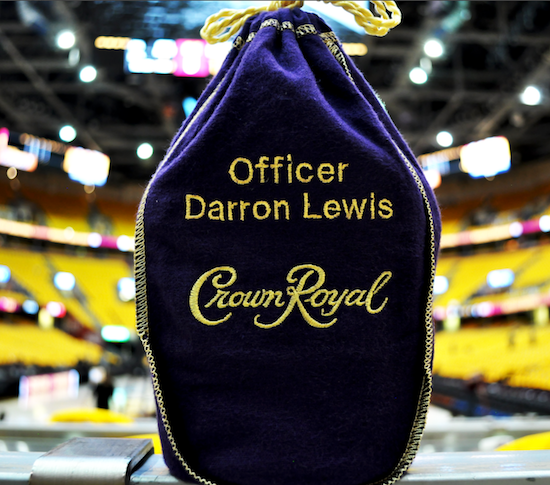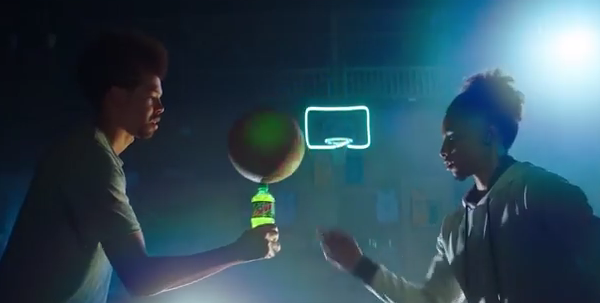 We are still have a lot of NBA Playoffs ahead of us. The games have been great and so is the soundtrack of these games.  Joey BadA$$, in collaboration with Mtn Dew, has just released the music video for the single "Victory," a motivational track that features lyrical nods to basketball.  The video is set to celebrate this year's NBA postseason and features premier current Team DEW NBA Stars such as Russell Westbrook, Devin Booker, CJ McCollum, Myles Turner and Emmanuel Mudiay.
The 'Victory' music video was shot during a live performance from Joey Bada$$ during All-Star 2017 at DEW's Courtside HQ Event in New Orleans. The collaboration is the first project from the DEWxNBA Courtside Project, a unique collaboration by Mtn Dew that brings together NBA players and trendsetters across style, art and music.
The hit song, which currently appears as the background track on TNT's NBA playoff telecasts first dropped in February for NBA All-Star.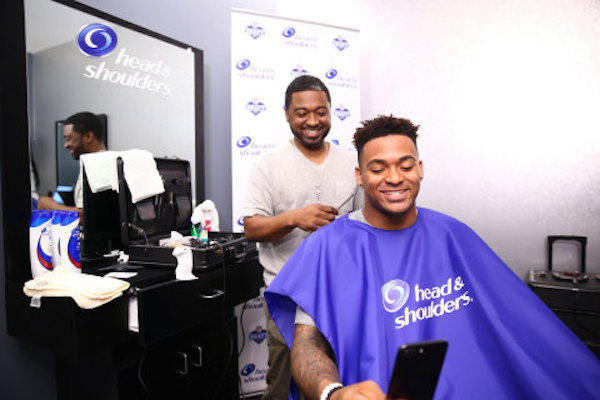 Tonight will be one of their biggest nights for some of the young men who are looking to go from playing college football to the making a name for themselves in the NFL. Yesterday afternoon seven top NFL prospects and their families relaxed at the Procter & Gamble VIP Style Lounge in Philadelphia for some pampering and rejuvenation ahead of tonight's draft. Mitch Trubisky, Jonathan Allen, Malik Hooker, Deshaun Watson, John Ross, DeShone Kizer, and Jamal Adams were treated to shaves, haircuts, shampoos, trims, and hair styling to ensure they look their best for tonight. They talked about what they're wearing tonight in addition to their workout routines, grooming techniques and how they're feeling leading into one of the biggest nights of their lives.