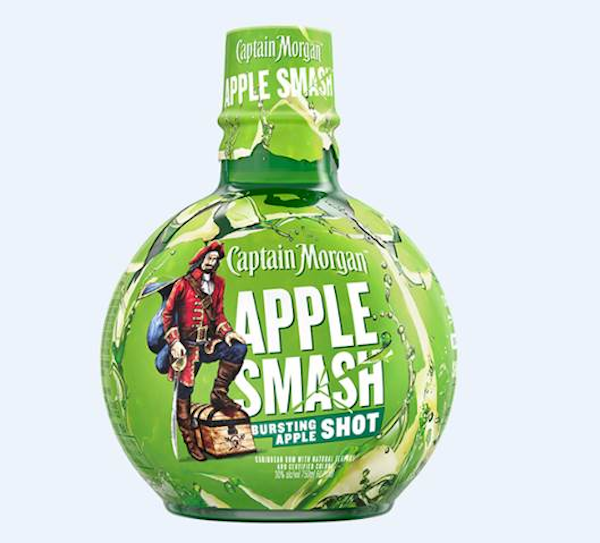 Tomorrow is National Rum Day. To celebrate the Captain is introducing Captain Morgan Apple Smash, a new party-starting shot that blends Caribbean rum with a burst of green-apple flavor. Apple Smash is delicious, ready-to-serve and the perfect standout to help you and your crew party #LikeACaptain! Though best enjoyed as a chilled shot, Captain Morgan Apple Smash can also be served in a number of cocktail recipes. Check out a few below.
Not only does Apple Smash taste like an apple, it smells like one too! The Apple Smash packaging resembles an apple and emanates the aroma of tart green apple when you scratch the bottle. Apple Smash (60 proof, 30% ABV) has a suggested retail price of $15.99 for a 750 ml bottle.
Captain Morgan Apple Smash & Soda
1.5 oz. Captain Morgan Apple Smash
4 oz. Club Soda
Muddle mint leaves in a highball glass. Add ice and stir.
Captain Morgan Apple Smash & Ginger
1.5 oz. Captain Morgan Apple Smash
4 oz. ginger ale
Add ice and stir. Garnish with lime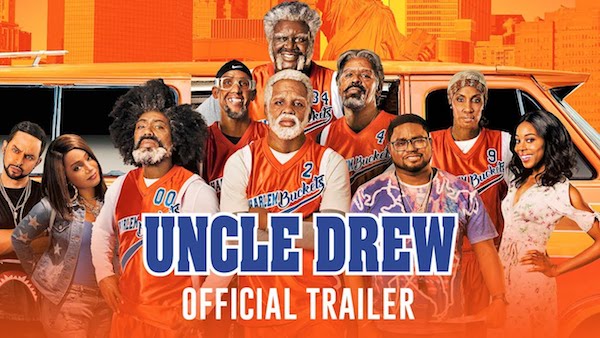 An all-star cast drives to the hoop in the hilarious basketball comedy Uncle Drew, arriving on Digital September 11 and on 4K Ultra HD™ Combo Pack (plus Blu-ray and Digital), Blu-ray™ Combo Pack (plus DVD and Digital), DVD, and On Demand September 25 from Summit Entertainment, a Lionsgate company. Based on the hit Pepsi web series, the film tells the raucous tale of a young team owner and Uncle Drew rounding up Drew's old basketball squad to prove that a group of septuagenarians can still win the big one. Starring in the film are NBA All-Star Kyrie Irving (Uncle Drew Web Series); Lil Rel Howery (Get Out, TV's "Friends of The People" and "The Carmichael Show"); four-time NBA champion and Basketball Hall of FamerShaquille O'Neal (The LEGO Movie, Scary Movie 4); five-time NBA All-Star Chris Webber (Unexpected, Like Mike); five-time NBA All-Star, Basketball Hall of Famer and Olympic Gold medalist Reggie Miller (He Got Game, Forget Paris); three-time NBA slam-dunk champion Nate Robinson (TV's "Mike & Mike" and "Ridiculousness"); NAACP Award-winner Erica Ash (Scary Movie 5, You Can't Fight Christmas, TV's "Survivor's Remorse"); two-time WNBA champion, three-time WNBA MVP, four-time Olympic Gold Medal winner and Basketball Hall of Famer Lisa Leslie (Think Like a Man, Martin, Inconceivable); withTiffany Haddish (Girls Trip, Keanu, TV's "The Carmichael Show"), and Nick Kroll (Sausage Party, Sing, TV's "The League").
After Dax (Lil Rel Howery) loses his street ball team to his archrival (Nick Kroll), he's desperate for a way to enter the upcoming tournament and win the cash prize. Dax stumbles upon the man, the myth, the legend Uncle Drew (NBA All-Star Kyrie Irving), and draws up a crazy game plan: convince Drew and his old squad (Shaquille O'Neal, Chris Webber, Reggie Miller, Nate Robinson, and Lisa Leslie) to hit the court one more time and prove that septuagenarians can still win the big one!
The Uncle Drew home entertainment release includes special features including 7 deleted scenes, 3 behind-the-scenes featurettes, an animated short, and an audio commentary with director Charles Stone III. Both the 4K Ultra HD Combo Pack and the standard Blu-ray disc will feature Dolby Atmos audio remixed specifically for the home, to place and move audio anywhere in the room, including overhead. Uncle Drew will be available on 4K Ultra HD Combo Pack, Blu-ray Combo Pack, and DVD for the suggested retail price of $42.99, $39.99, and $29.95, respectively.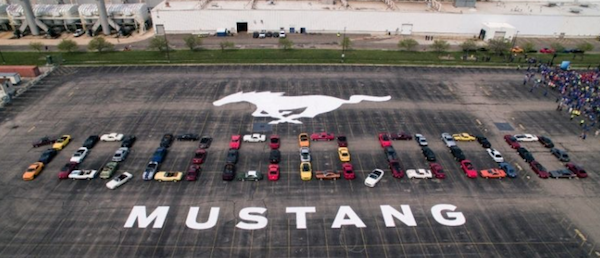 Ford is celebrating the production of its 10 millionth Mustang – America's best-selling sports car of the last 50 years and the world's best-selling sports car three years straight.
The 10 millionth Ford Mustang is a high-tech, 460 horsepower 2019 Wimbledon White GT V8 six-speed manual convertible equipped with the latest driver assist technology and built at
Ford's Flat Rock Assembly Plant in Michigan. The first serialized Mustang (VIN 001) produced in 1964 was the same color and model with a three-speed automatic transmission and 164 horsepower V8.
"Mustang is the heart and soul of this company and a favorite around the world," said Jim Farley, president of global markets, Ford Motor Company. "I get the same thrill seeing a Mustang roll down a street in Detroit, London or Beijing that I felt when I bought my first car – a 1966 Mustang coupe that I drove across the country as a teenager. Mustang is a smile-maker in any language."
Ford is celebrating the milestone with employee celebrations at its Dearborn headquarters and its Flat Rock Assembly Plant, including flyovers from three WWII-era P-51 Mustang fighter planes and Mustangs produced for more than five decades parading from Dearborn to Flat Rock, where the Mustang currently is manufactured.
During its 54-year production history, Mustang also was built in San Jose, Calif., Metuchen, N.J., and the original Mustang production facility in Dearborn, Mich.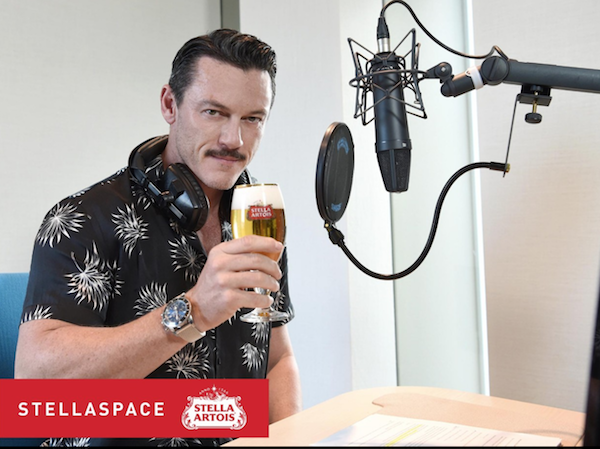 Luke Evans is teaming up with Stella Artois to share some knowledge.  Stella Artois is launching the first-ever mindfulness guide to properly enjoying a beer in partnership with the modern meditation experts at Inscape. STELLASPACE is a 20-minute audio guide that takes users on a journey through mindfully sipping a Stella Artois – blending meditation techniques with beer tasting notes and witty personal anecdotes from narrator and actor Luke Evans for a complete sensory experience.
Why 20 minutes? The Stella Artois beer experts agree: 20 minutes is the optimal time needed to truly appreciate every sip of this full-flavored Belgian lager. In short STELLASPACE is intentionally designed to inspire mindful drinking with friends as listeners breathe, focus and "sip and know they are sipping."
You can purchase the Sip & Savor Chalice ($12.00) – while supplies last can be found HERE
Stella Artois Cidre Spritz Summer Cocktail:
A twist on the cocktail of the summer, and Luke Evan's personal favorite – an Aperol Spritz – the Stella Artois Cidre Spritz offers a refreshing option easy to create for a perfect evening of summer sipping with friends. Less time cocktail mixing, more time to enjoy happy hour.
Ingredients:
·         5 oz of Stella Artois Cidre
·         1.5 oz Aperol
·         .5 oz Grand Mariner
·         1 oz Grapefruit Juice
·         Grapefruit Twist
Directions: Build ingredients in a Cidre wine glass with ice, stir. Garnish with a grapefruit twist. Open the Inscape app, turn on STELLASPACE, sip slowly, and enjoy.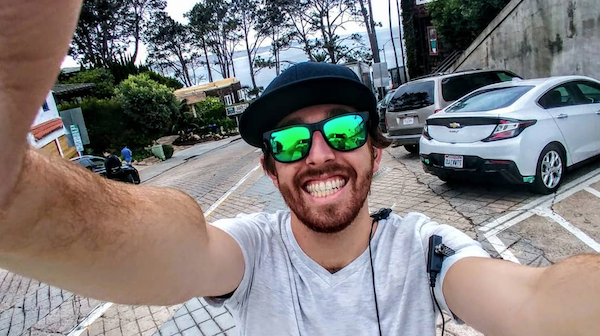 Aaron Roberts sits down with me to talk about his new series called Chartered. This series is a Mockumentary Comedy. The plot follows a kid named Eric that is based off of Aaron's life. When Eric Scutella is pushed by his parents to attend the relatively new, off-beat but surprisingly successful local Charter High School, he struggles to find his place in a school filled with established cliques, quirky teachers and bizarre traditions.
In a parallel plot, first year teacher Jessica Graham is hired the day before school starts and strives to handle her first day with strength and class, but two minutes into her first period and Jessica wonders how she'll make it through the year.
The series stars Sloane Morgan Siegel, Mark Christopher Lawrence, Jonathan Joss, Daniel Van Kirk, Claire Engler.
To listen to the entire interview click HERE.
Follow Aaron on Twitter and Instagram at @AlwaysArob and follow Chartered on Facebook and Instagram at @CharteredTV.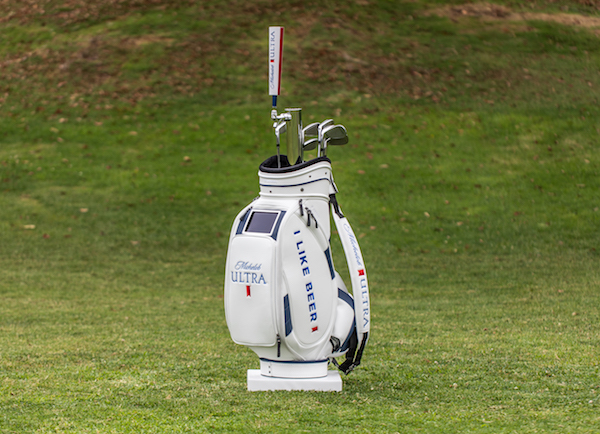 Golf just got a whole lot better. Michelob ULTRA is unveiling the caddie that every golfer and Caddyshack fan could only ever have imagined in their wildest dreams. The Michelob ULTRA Caddie Bag is the latest innovation from the fastest growing beer brand in the country and includes everything you could ever need for the optimal 19th hole experience.
The one-of-a-kind bag includes:
·         128 oz. refillable beer keg with a tap handle and pint glasses
·         BOSE Bluetooth speaker
·         LED lighting
·         Built-in tablet for streaming all your favorite media
Want your own ULTRA Caddie? Consumers everywhere can enter for a chance to win the bag by sharing how they live ULTRA with @MichelobULTRA using #ULTRACaddieContest on Facebook, Twitter or Instagram.
As the official beer of the PGA Championship, Michelob ULTRA will debut the first ever prototype of the ULTRA Caddie Bag this week at the PGA Championship at Bellerive Country Club in St. Louis.
Play the best friv games web-site online. The most popular collection of friv games are presented on this mega portal.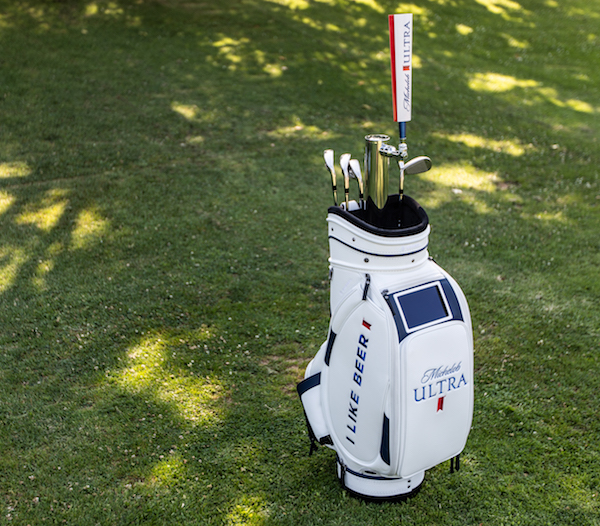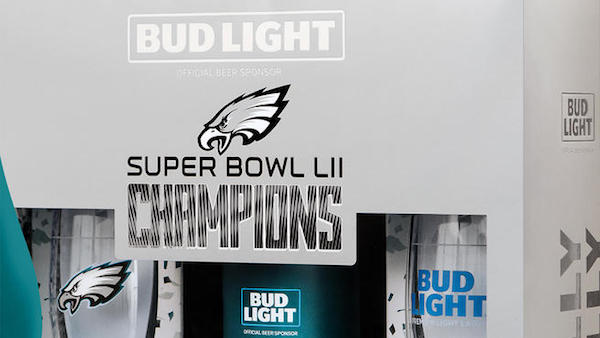 Bud Light looks to honor the Eagles. Earlier this week Bud Light revealed its limited edition "Philly Special"-themed Super Bowl LII commemorative pack that will hit stores Aug. 16, when the Eagles head to Foxboro for a preseason rematch with the Patriots.
According to a press release, there are only 20,418 packs available — and that was done on purpose. The Eagles beat the Patriots in Super Bowl LII on Feb. 4, 2018, or 2/4/18.
Each pack will cost $29.99 and will include a 25 oz. Bud Light aluminum bottle and two glasses with the "Philly Special" play on it. A select number of packs will allow fans a chance to receive tickets for the Eagles' season-opener Sept. 6 against Atlanta.
Check out Eagles offensive tackle Lane Johnson and teammate Brandon Brooks unboxing their very own commemorative pack on Twitter HERE.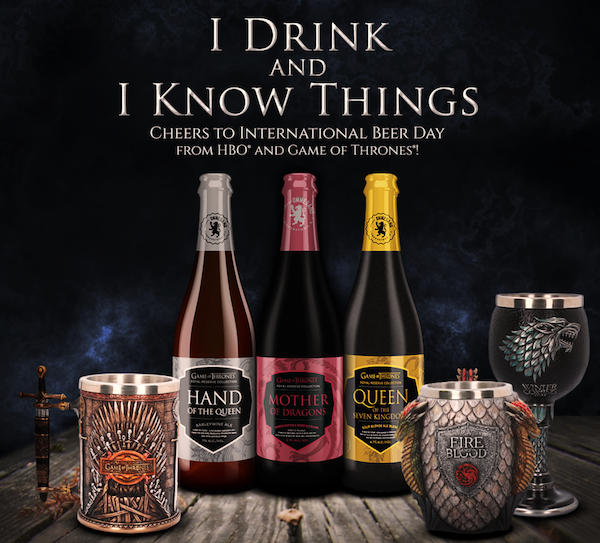 Today is International Beer Day! HBO wants to help Game of Thrones fans celebrate this special day like a Stark, Targaryen or Lannister, offering a great selection of quality beer distributed by Brewery Ommegang, along with drinkware such as incredibly designed Irone Throne and House Targaryen tankards, and a sleek House Stark Direwolf goblet, available at the HBO Shop HERE!
The Royal Reserve Collection is a series of limited beer releases, each designed and brewed as a homage to epic figures engaged in the battle for the Seven Kingdoms. The series began in April with Hand of the Queen, a barleywine, and was followed in June by Queen of the Seven Kingdoms, a sour blonde blend. Following the release of Mother of Dragons, the final beer will be announced later this year. To find the beer at a retailer near you, please visit the beer finder HERE!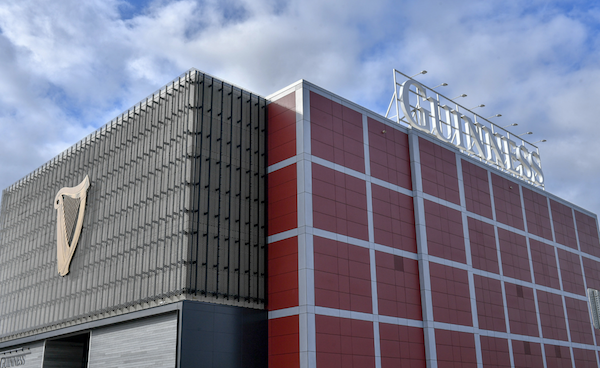 Today a new era for Guinness in the U.S. began! Guinness brewers and executives, beer industry friends, Maryland government officials and special guests gathered for a ribbon-cutting event at Guinness' highly anticipated new home in America – the Open Gate Brewery & Barrel House in Halethorpe, Maryland.
During the ceremony, Diageo and Guinness executives expressed their excitement in joining the Baltimore County and larger Maryland beer communities and joined with Governor Hogan and the Brewers Association of Maryland to officially cut the ribbon on the brewery.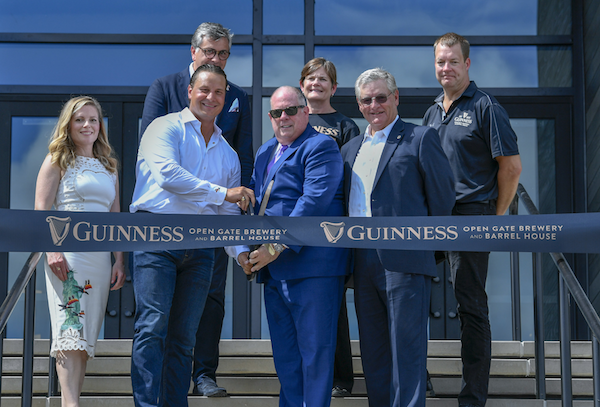 At 3 p.m. tomorrow (August 3) the doors will open to the public, and they will have the chance to experience the Open Gate Brewery & Barrel House by touring the brewery, sampling beers in the on-site tap room and much more! real6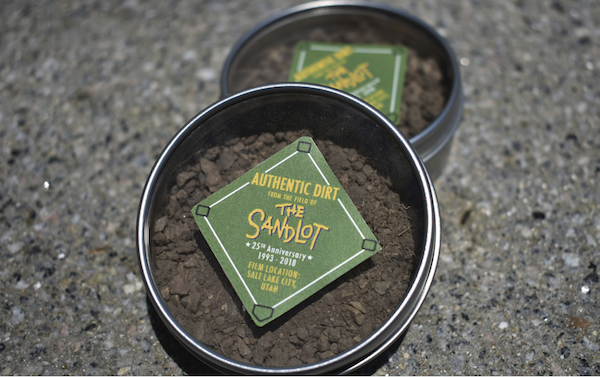 For years, sports collectors have had the opportunity to own mementos from the nation's most cherished baseball fields, including Old Yankee Stadium, Wrigley Field, Fenway Park and more. In celebration of the 25th anniversary of hit classic, The Sandlot, Shop.FoxMovies is offering fans limited-edition collector's capsules packed with dirt from the field that hosted Ham's epic home run, Smalls' lost baseball signed by Babe Ruth, and The Beast, the unforgettable threat that taunted fans' favorite kids.
To showcase its authenticity, each capsule features an individually-numbered hologram seal. Shop.FoxMovies will offer these limited collectibles free with the purchase of any Sandlot merchandise from its exclusive line of apparel, home goods, stationary and Funko Pop! Figures, while supplies last.
"The Sandlot is a classic film that means so much to people of all ages," said Craig Radow, VP of Global Marketing of Fox Consumer Products. "To honor the film and the devoted fans it has cultivated since its 1993 theatrical debut, we wanted to share this collector's item, which can proudly be displayed to simultaneously celebrate the spirit of the film and the cherished game of baseball."