Chris Stout
Posts by Chris Stout

The Sports Illustrated Swimsuit Issue is an American institution. For nearly half a century, SI's annual swimsuit edition has featured the most beautiful, ridiculously good-looking models in the world. The list is impressive: Cheryl Tiegs, Christie Brinkley, Elle Macpherson, Niki Taylor, Stephanie Seymour, Angie Everhart, Cindy Crawford, Rebecca Romijin, Heidi Klum, Marissa Miller, Anna Kournikova, Maria Sharapova, Beyoncé Knowles, I could go on, but you get the idea.
Why does any of this matter? Because SI and HTC are teaming up to give one person the chance to experience the 2011 SI Swimsuit photo shoot up close and in person. The "Behind the Tan Lines" contest will give one grand prize winner a trip for two to the undisclosed location of the November SI Swimsuit Photo Shoot, access to the 2011 Swimsuit launch parties in New York and Vegas, two HTC smartphones and $10,000 in cash. Four primary prize winners will receive an HTC smartphone and $400 in cash. Twenty-five secondary prize winners will receive a phone and an exclusive HTC/SI Swimsuit-themed prize pack. Not a bad set of prizes.
For the grand prize winner, the expectation is that you'll be an HTC correspondent and use your HTC smartphone to the fullest by blasting videos and photos of the shoot on www.si.com/behindthetanlines. They're looking for someone who's great behind the camera, has a way with words and is down to social network the hell out of the whole thing.
Here are the official entry instructions:
1. Show us your creativity by uploading a video up to three minutes long OR a photo shot with your mobile phone with a brief description highlighting the unique perspective you'll bring to this exclusive access. Feel free to send us a link to any reference materials – your Twitter account, Facebook page, blog, or online gallery.
2. Then, "tweet" us! Enter a short, witty message in the box provided (140 characters or less, of course) and tell us why we should check out your creative perspective
So if you want to spend this November with extra babes, new technology and cash, get do it. Entries must be received by 9/6/10.
Good luck!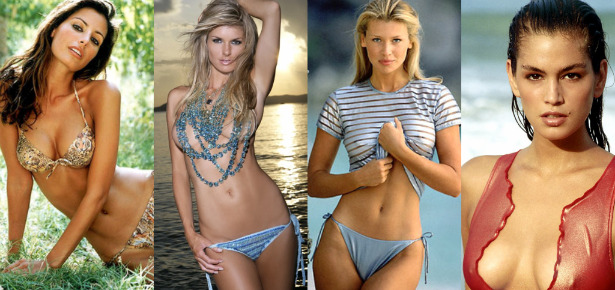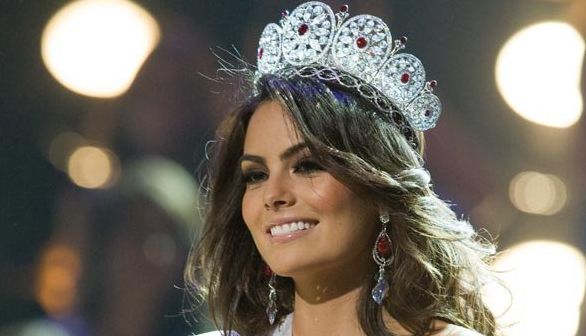 The Miss Universe pageant was held in Sin City last night, and Jimena Navarrente from Mexico was crowned the galactic champion. The 22-year-old Navarrente, who hails from Gualalajara, knows how to work a pageant. She was crowned Nuestra Belleza Jalisco in July 2009 and she also took home Nuestra Belleza Mexico honors in September 2009. She's the second contestant from Mexico to be recognized as the hottest chick in any solar system.
Did I mention she's super hot?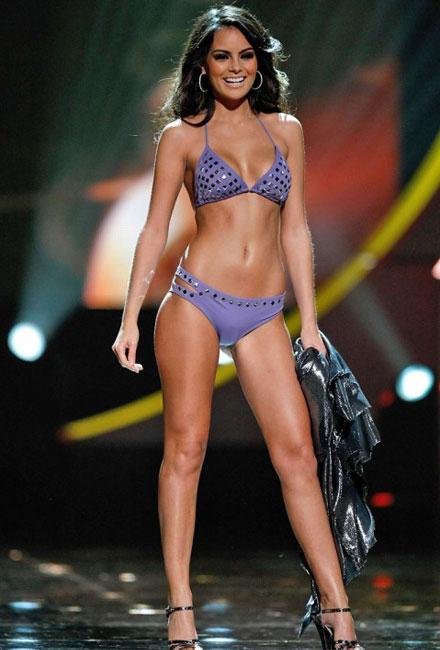 Yep.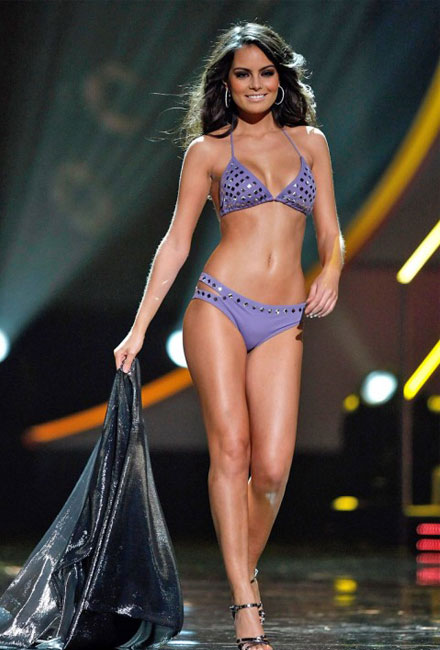 Told ya.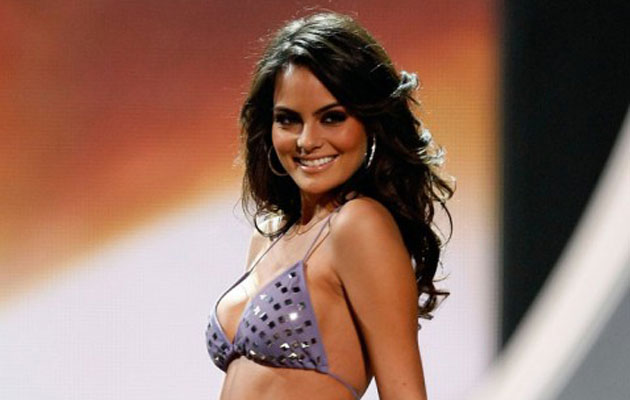 Thanks FHM.
Remember that crazy Japanese Spiderman baseball catch from a couple weeks ago? Well I guess that sort of stuff is routine in The Land of the Rising Sun. Here's another player getting robbed of a home run by some spiffy ninja moves in the outfield:
(Via BroBible)
Having kids isn't easy. Especially if your a professional athlete. There's all that time you have to spend training and traveling. It's really hard to keep up with the fam.
Things get even more complicated when you're a 26 year-old former first round pick who's trying to resurrect his career on a new team while trying to remember all the names of his 8 kids (note: 50% of his kids are or will soon be turning 3 years-old). Antonio needed two hands and some extra time to break it all down for us: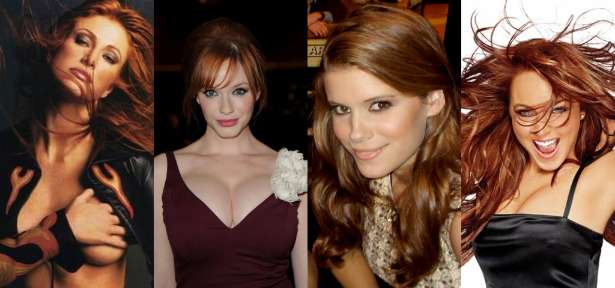 Oh man, ginger girls. There's just something about 'em. When they're not hot, boy are they really not hot, but when they are hot, look out, man. Smokin' redheads project a sweet 'n spicy, cinnamon-pepper sexiness that puts them in a separate class of attractiveness. Hot gingers can pull off the classy girl routine AND the fiery sexpot act. They can play the approachable sweetheart card, but they can also give off that hubba hubba vixen vibe. Here's a look at the 15 hottest redheads of all time:
15. Maureen O'Hara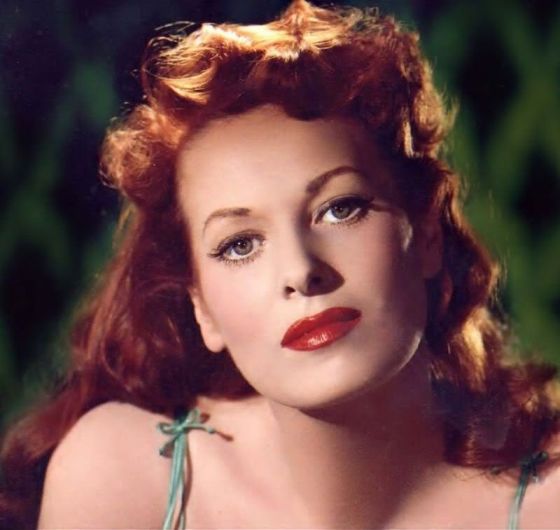 You're gonna have to ask your grandpa about this one, but trust me she deserves to be on the list. O'Hara was a feisty, fire-haired woman who looked hot in black 'n white but really sizzled in Technicolor.
14. Rita Hayworth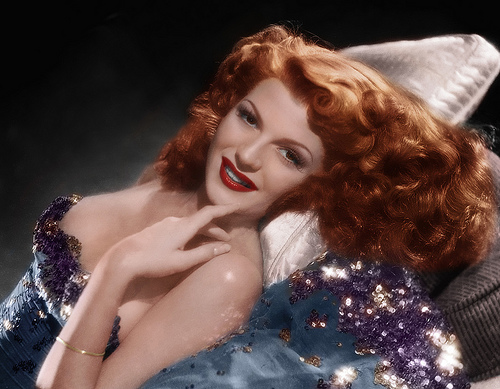 Nicknamed the "Love Godess," Hayworth set a new standard for glamour. She appeared in over 60 films and her
pin-up posters
were admired by millions of servicemen during World War II. From Orson Welles in his prime to Prince Aly Khan, Hayworth married and divorced five times. Each marriage lasted five years or less.
13. Ginger – Tina Louise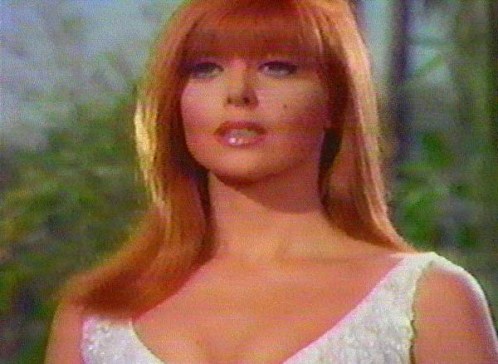 Ah, yes. The original Ginger. Sure most people prefer Mary-Ann, but you have to show love to Tina Louise. In 1958 and 1959, when Columbia Pictures was giving this young actress the push, the studio arranged for Louise to pose for Playboy. In 1964, Louise took on the roll of Ginger and cemented her image as a sex symbol for good.
12. Julianne Moore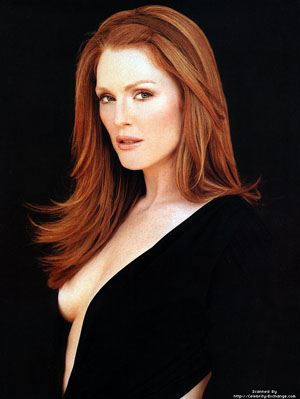 Yea, I know she's getting old, but in the proper light, Julianne Moore can still look pretty hot. And who can forget her memorable performance as porn star Amber Waves in
Boogie Nights
. Classic.
11. Gillian Anderson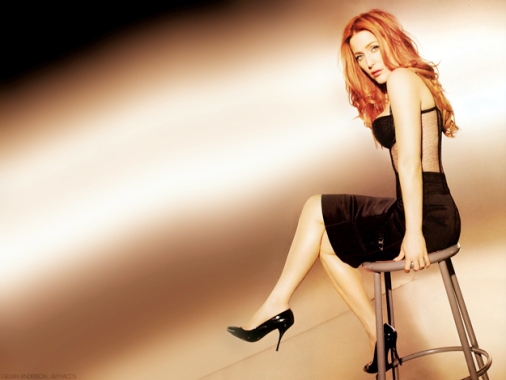 C'mon, you know you had a thing for Scully back in the day. The trench coat, that gorgeous ginger skepticism, Gillian Anderson's probably one of the main reasons that David Duchovny became a sex-starved maniac. She may not be a natural redhead, but her high school classmates did vote her "Most Likely to be Arrested" so you know she's still trouble.
10. Nicole Kidman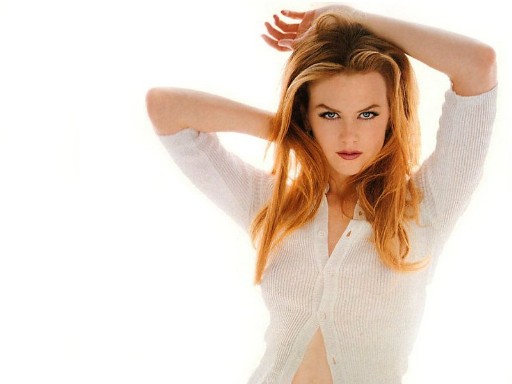 Okay, so she's obviously had some work done, and she does the blond thing quite a bit, but this Australian-born natural redhead still looks pretty damn good at age 43.
More >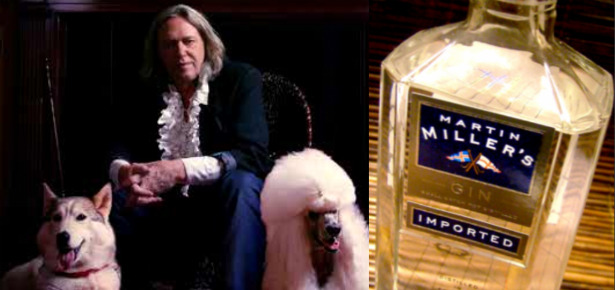 Martin Miller is a millionaire who knows what he likes. With a gregarious personality and a strong entrepreneurial spirit, Miller set out to make a name for himself. As a business-savvy schoolboy, Miller got into hamster breeding and started a magazine for local teenagers. By the age of 14, Miller put out a mail-order dating book called Success with the Fairer Sex. Miller's next big venture was a The Lyle Antiques Guide, a mail-order guide for antique buyers that had annual sales of $100,000 within four years. That spawned The Miller's Antiques Price Guides which led to a series of other publications. After accumulating cash in the publishing game, Miller started investing in property. He opened a series of boutique hotels including the popular Miller's Residence in Notting Hill.
In 1999, Miller sat down with to friends and mapped out this idea to create a super-premium, extra luxurious gin. After much tinkering and an unbelievably complex distillation and chilling process, Martin Miller's Gin was born. We asked Miller about his gin, his drinking habits and his various entrepreneurial pursuits. Here's what he had to say.
CS: From publishing to antiques, boutique hotels and distilling, you've been involved in quite a few ventures. Is there a common thread that runs through your various entrepreneurial pursuits?
MM: Well, the first thing I learned to draw at art school was a palm tree, since then I have pretty much planned my businesses around spending as much time as I can laying under one!
Most of my enterprises have started from hobbies or pastimes that, were I not involved in them professionally, I still would do for the pure pleasure of it.
MM: Whether that has been collecting antiques or publishing, owning and running hotels or for that matter gin distilling, I guess the one common thread has been to always do it for the love of it. That way the passion for whatever it is you are doing will shine through. I believe a little naivety mixed with a lack of cynicism can be very useful. The worst thing you can do is jump on a bandwagon thinking you'll make a million. As they say,"once you spot a bandwagon it's already passed!"
CS:  How often do you sip on the gin that bears your name? More >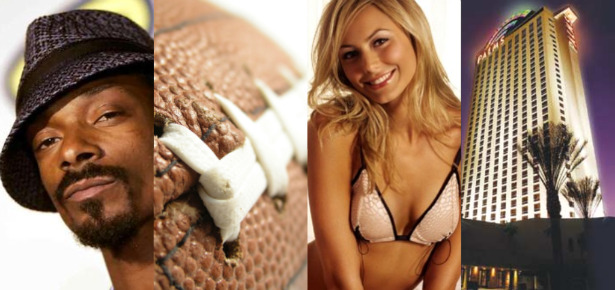 With the NFL preseason in full swing, it's time to start thinking about your fantasy football plans. Are going play in that one league where the commish always changes the rules? Are you doing an online draft from your living room or are you going to meet up at your buddy's house again? You need to start planning this stuff out.
But what if you want to deviate from the same boring fantasy draft experience? What if you want to party it up at the Palms Casino Resort in Vegas for some live drafting, VIP parties and a tailgate concert with Snoop Dogg?
Well, you're in luck. MANjr is teaming up with Fantasy Superdraft 2010 to giveaway two tickets to the ultimate fantasy football draft experience. The tickets (valued at $125 each) give you access to the ultimate draft room, VIP parties (hosted by Stacy Kiebler and other celebs), a model search/bikini competition and a live concert with Snoop Dogg. So instead of spending two hours alone on your couch or stuck in your buddy's basement, you can live it up in Vegas from August 26th to 28th and make this year's fantasy football draft one to remember.
Here's how things went down last year:
Here's how to enter:
Follow us on Twitter (@MANjrcom)
Leave us a comment telling us which player you think will be a top fantasy football performer this season
Winners will be chosen at random
Contest ends on Friday, August 20th
Good luck!!


200 sexiest celebrity sideboobs of all time (COED Magazine)
The best Craigslist ad of all time (Caveman Circus)
The dry erase board girl hoax impacted us all (Tech Crunch)
Top 5 reasons why you must see The Expendables (Hollywood.com)
You probably already knew this, but Ben Franklin was the man (Men's Health)
The evolution of Mickey Rourke's face (Buzzfeed)
The 2010 NFL season in 10 story lines (Sporting News)
5 essentials every man should have (Leftos)
The art of reverse graffiti (FORA.tv)
11 hot hair bras (Maxim)
Top 10 Cover Letter Blunders (The Smoking Jacket)
The Art of the Deal as Entertainment (NY Times)
Is John Demjanjuk a Nazi? (Esquire)
Twitter creator Jack Dorsey talks plane crashes, Britney Spears, and the difficulty of defining influence (Fast Company)
Don't act like you don't want to see a gallery of Larissa Riquelme pics (Total Pro Sports)
9 ways to move up the corporate ladder (Primer)
Uh-o. You called down the Ben Quayle thunder, we'll now you got it, sonnn! Baby Quayle is running for Congress, and he's not gonna pussyfoot around the major issues that are freakin' out America. This 30-second video covers it all:
Barack Obama is the worst president in history ('sup now Warren G. Harding?). How does Ben know this? Cause he's from Arizona and he was raised white right. Drug-pushing immigrants, presidents and all of D.C. beware, Baby Quayle is coming to Washington and hell's coming with him.
It's gonna be a bloody, bone-crushing, bare-knuckle beatdown as this Washington outsider/son-of-a-former-Vice-President comes to town to drop a hammer of values on the entire system. Might as well turn our nation's capital into an octagon now.
Seriously though, that commercial is 30-seconds of well-crafted fear-hate. What happened to America? A black president, a bunch of Mexicans and taxes. They're all working together in a synergistic cartel to eff the country up for Ben Quayle's generation (he's 33).
Look, hope and change may not be as hopeful and change-like as advertised, but worst president ever? C'mon now. It's silly trash like Ben Quayle's ad that makes it impossible to have a serious political conversation in this country. Most people don't love Obama more than they love Jesus and most people don't hate Obama more than they hate Hitler. There's a whole lot of middle ground in between those two extremes.
America's full of indifference. The more shrill each side of the aisle gets, the more difficult it is to get all those uninterested folks in the middle to give a shit.