Review of Superdraft 2010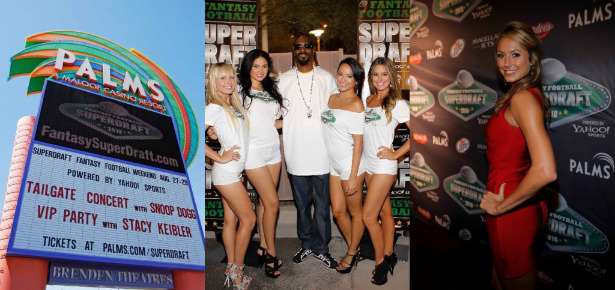 What do you get when you take 2,000 fantasy football nerds, countless beautiful women, tons of football-lovin' celebs, a handful of fantasy experts and put 'em all in the Palms Casino in Vegas? The ultimate fantasy football draft experience, aka Fantasy Football Superdraft 2010.
The MANjr team was more than happy to attend this year's epic fantasy football celebration. We weren't really sure what to expect when we got there, but we were certainly impressed.
The Superdraft was designed to give fantasy football players a more memorable drafting experience. Why make your picks on your laptop at home when you can grab your boys and party it up in Vegas? Saturday was the main draft day. Players who reserved spots were making their picks, consulting with experts and checking out celebs.
Ashton Kutcher, TJ Jefferson and Nathan Zegura (aka The Fantasy Consultant) hosted a live fantasy football show on Friday. Stacy Kiebler hosted a VIP party at the Rain Nightclub inside the Palms. Kiebler knows her stuff too. She's a former Baltimore Ravens cheerleader and diehard Ravens fan who was drafting her squad in the main draft room on Saturday. Shannon Elizabeth had her own Superdraft party at the LAX nightclub at Luxor as well. While Kiebler gets props for being a former cheerleader, Elizabeth gets extra points for sporting a Troy Polamalu jersey on draft day.
Outside of all the celebs, you had throngs of jaw-dropping beautiful girls running around all weekend. Everywhere you turned you'd see babe armies making all the fantasy football heads nervous and happy. Whenever we rounded a corner at the Palms, troops of gorgeous gals (I'm looking at you Miller Lite girls) were marching down the casino floor.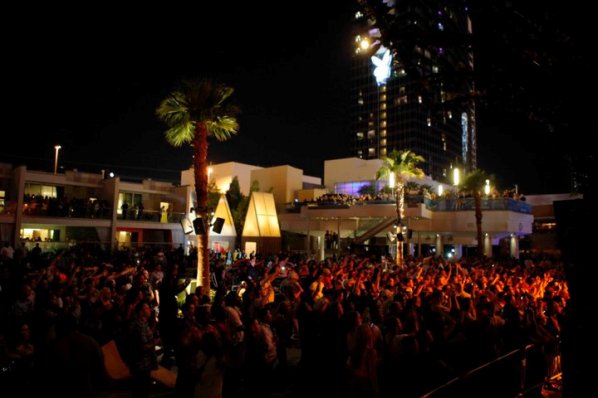 All the draft day action, VIP parties, celebs and eye candy aside, the best part of the weekend by far was the Tailgate Concert that Snoop Dogg put on. What an incredible show. Not like this is news or anything, but that guy Snoop can really rock a crowd. He came out with a bada dada da and the crowd erupted for the "Next Episode." Snoop played all the favorites. He mixed the old with the new:
"Nuthin' But a G Thang"
"Who Am I (What's my Name?)"
"Gin and Juice"
"Drop It Like It's Hot"
"Sensual Seduction"
"I Wanna Rock"
That set would've been amazing by itself, but Snoop showed all kinds of range. He did a "Rock Steady" duet with Fantasia and a cover of "Jump Around." Snoop paid tribute to 2Pac with "Hail Mary" and "2 of Americaz Most Wanted." Everyone in attendance lost it to "Ain't No Fun (If the Homies Can't Have None)" with Kurupt and Warren G both there doing their thing on stage. When Warren G busted out "Regulators," the crowd went nuts.
At one point in the show, Demi Moore got on stage and got all nasty with Snoop while Ashton took photos with his phone. There's something to tweet about, big guy. It's hard to look cool when your hot wife's getting down with the Doggfather, but Ashton was on the receiving end of some Demi freakin' as well. Damn, that lady's fit.
I don't see how this annual draft bonanza doesn't get bigger every year. It's too smart. The formula works too well. Babes (yea, model search!), clubs, fantasy experts, celebs, good music and a party atmosphere for your imaginary football team selection festivities – I can't think of a better way to kickoff the season.
Related Posts
Comments are closed.