Top 25 Bikini Babes of All Time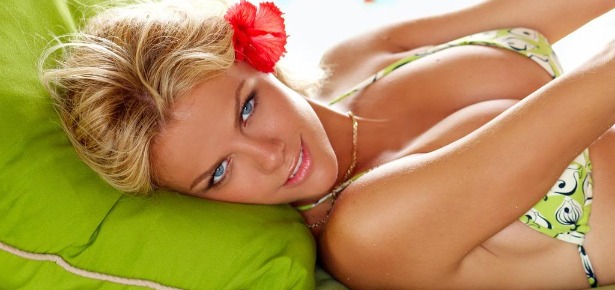 MANjr created this list of the top 25 bikini babes of all time based on a scientific scale that considered the following factors: bangin' body, bikini skills, cuteness of face and overall hotness. If you disagree with these picks, let us know where our scientific method went wrong. We probably won't make any adjustments, but we'll try to recognize any glaring omissions.
25. Jessica Alba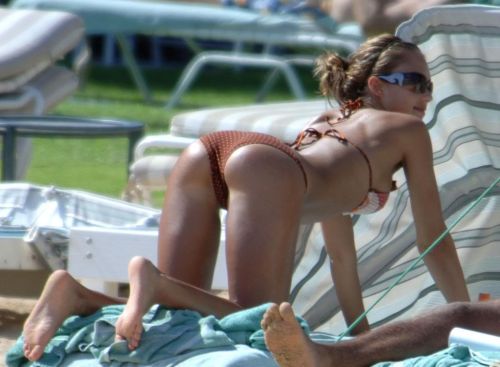 She's always going to make the list, even if she doesn't want to be considered sexy anymore. Sorry Jessica, you have no say in this.
24. Stacy Keibler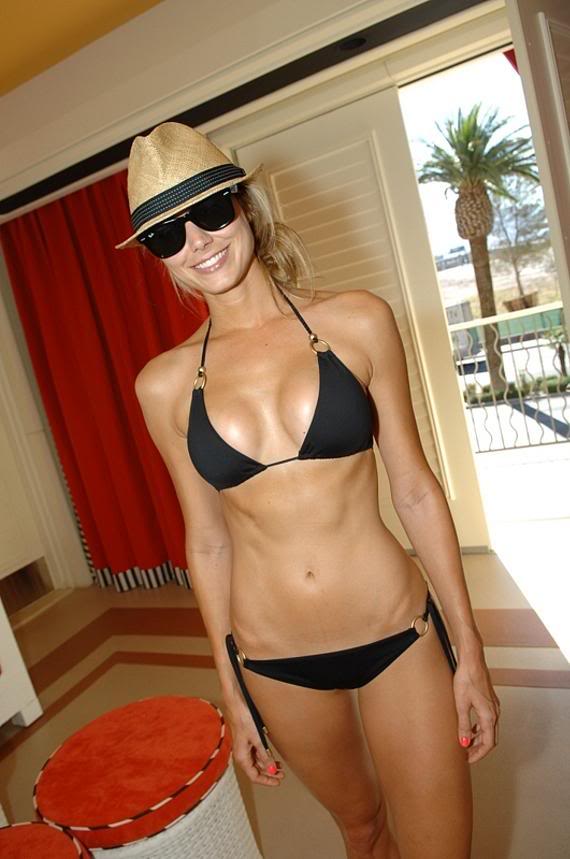 Stacy's got the body to pull off any bikini in any situation. Kieblers was a WWE Diva, Baltimore Ravens cheerleader and a serious dancer (she started training when she was three), so she knows how to put those extra-long legs to good use.
23. Kelly Brook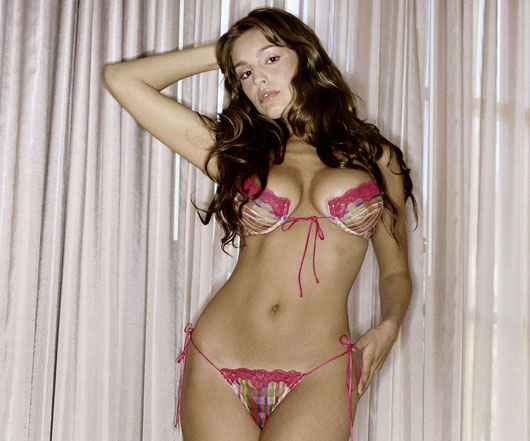 Kelly Brook is no stranger to bikini work. The buxom Brit began modeling at the age of 16, and she's appeared in TV, films and top sexy lists ever since. Brook, who won a babe of the summer award this year, even has her own line of swimwear and lingerie going, so you know she belongs on this list.
22. Tyra Banks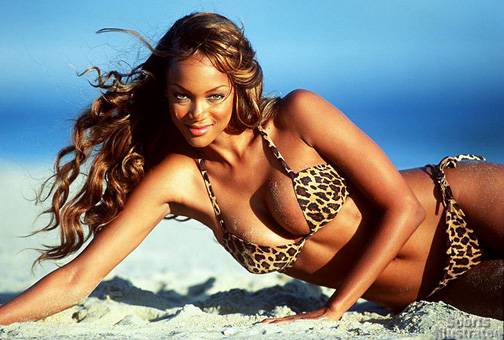 It's hard to remember a time when Tyra Banks wasn't super annoying. But think back, way back. Think back to guest appearances on the Fresh Prince of Bel Air and all those SI Swimsuit shoots. Remember? Yep, Tyra was hot. She wasn't constantly calling herself fat and she didn't have her own talk show. I miss that fly 90s chick who knew how to work a bikini and keep her mouth shut.
21. Shakara Ledard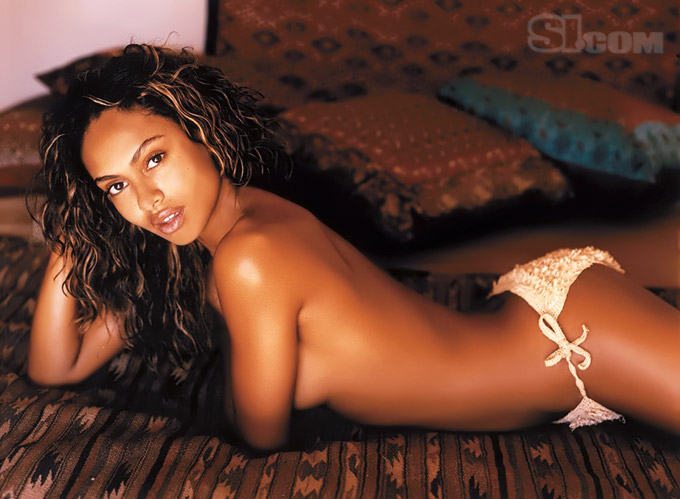 A relative newcomer to the swimsuit scene, Shakara Ledard has made a big enough splash to hang with the all time greats. This beauty from the Bahamas has appeared in multiple films and music videos for usher, Babyface and Justin Timberlake.
20. Niki Taylor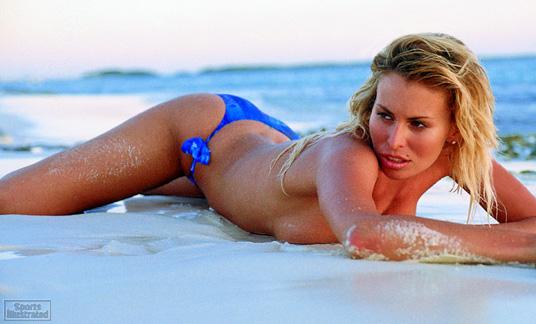 Dude, remember how hot Niki Taylor was? This foxy chick from Florida started modeling when she was 13. She was a cover girl for a solid decade or so during which she married an Arena Football League linebacker and had twins. Taylor's only 35 years old, and you know this blonde-haired, hazel-eyed head-turner's still got it.
19. Stephanie Seymour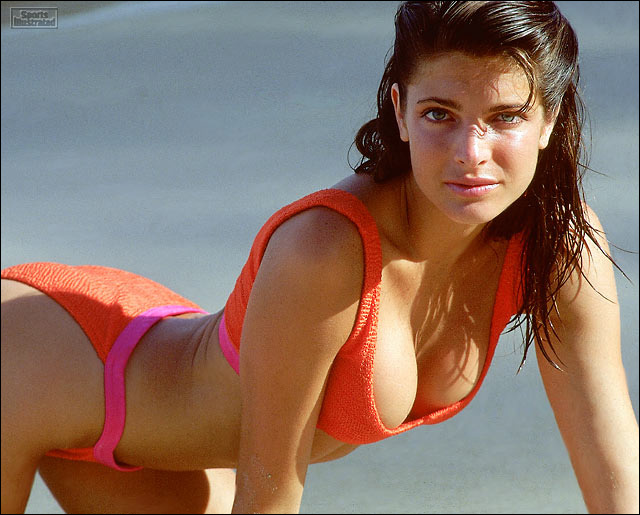 Stephanie Seymour was on top of her game in the 90s. The San Diego-native appeared in numerous Sports Illustrated Swimsuit Issues. She helped establish Victoria's Secret mail catalogs as prized postal possessions, and she posed in Playboy in 1991 and 1993. Sadly, this still wasn't enough to help Seymour survive her wedding to Axel Rose in the November Rain video. Everybody needs somebody, and we all need more Stephanie Seymour.
18. Elle Macpherson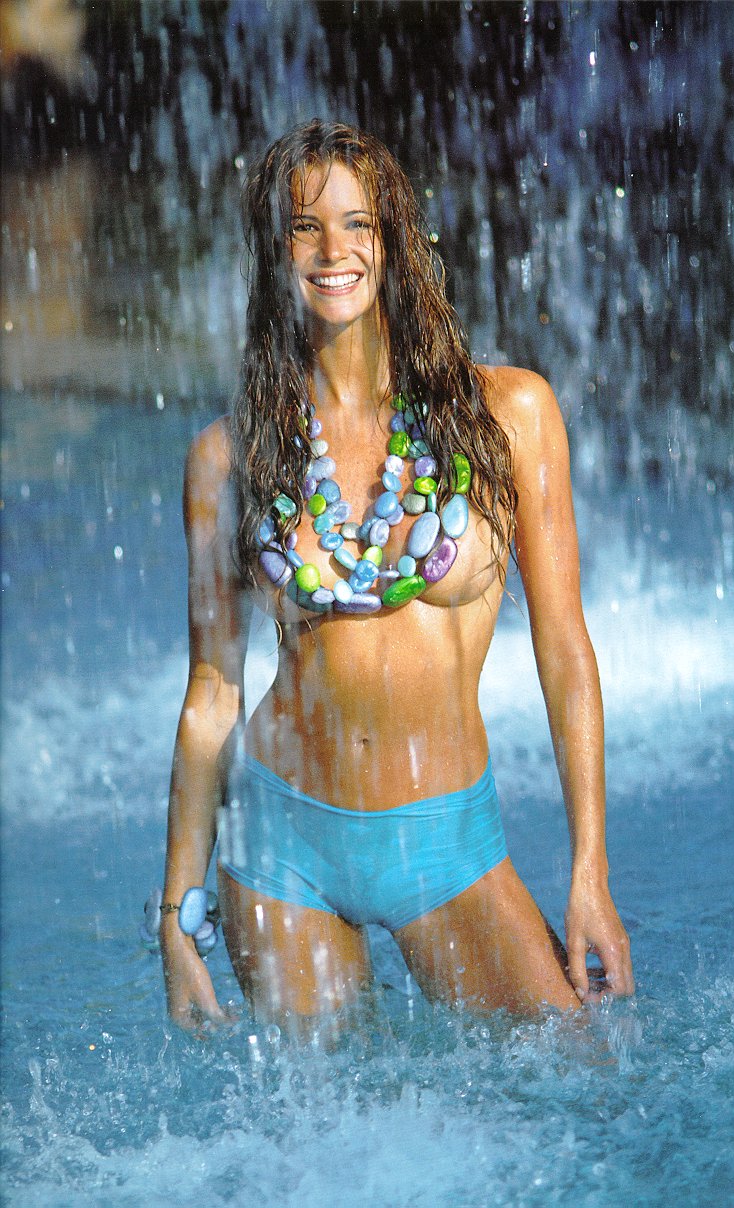 Long legged Aussie beauty Elle MacPherson has been out of the spotlight for awhile, but her gorgeous bikini body still lives on, even at age 47. Total package bikini beauty like that doesn't fade fast. If you ever find yourself wondering if there's a Hugh Grant movie out there from the 90s that features a hilarious slow-motion nude running scene with Elle Macpherson, the answer is yes. It's called Sirens.
17. Selita Ebanks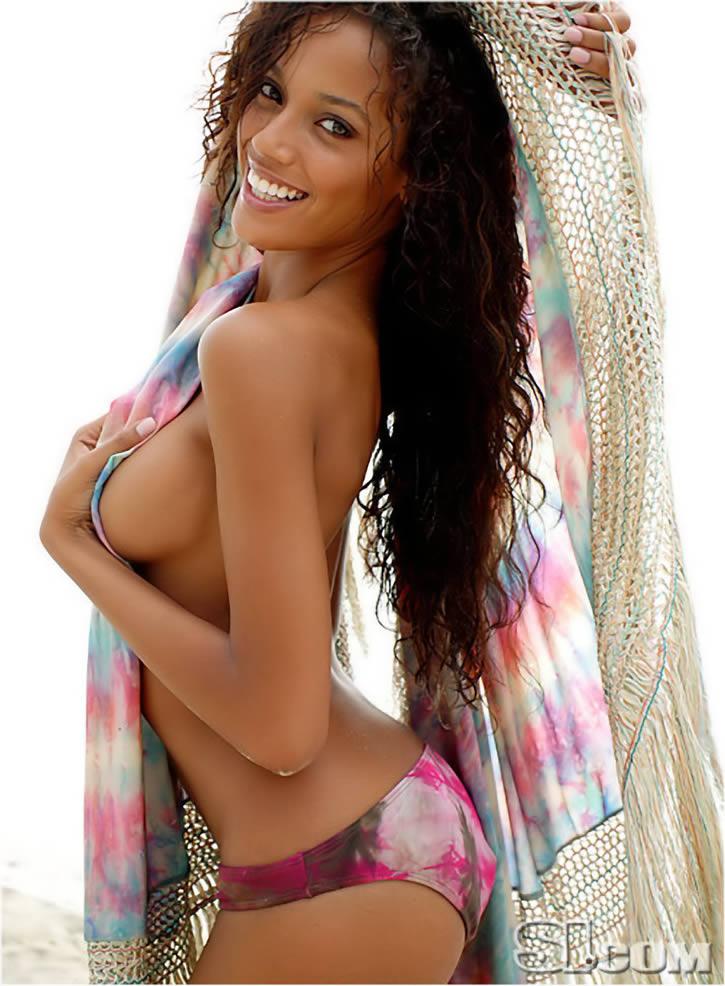 Cayman Islands native Selita Ebanks was discovered at a Six Flags when she was 17. What kinda crazy job would that be? Hey, before you ride the Ninja, I just wanted to say your gorgeous and I work for a modeling agency. I think I want that job. Ebanks was once engaged to Nick Cannon. As Maria Carey gets more chubby and/or pregnant with each passing day, Cannon can always reminisce about his old Victoria's Secret fiancé and wonder what might have been.
16. Rachel Hunter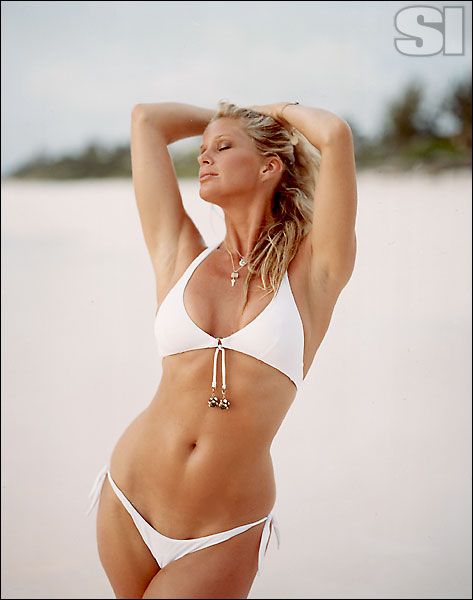 Rachel Hunter had it going on long before Fountains of Wayne reminded the world just how bangin' she is in that Stacy's Mom video. And when you look that good for that long, people get over the fact that you married Rod Stewart. I ain't mad atcha Rachel. Not now and not ever.
15. Jessica Burciaga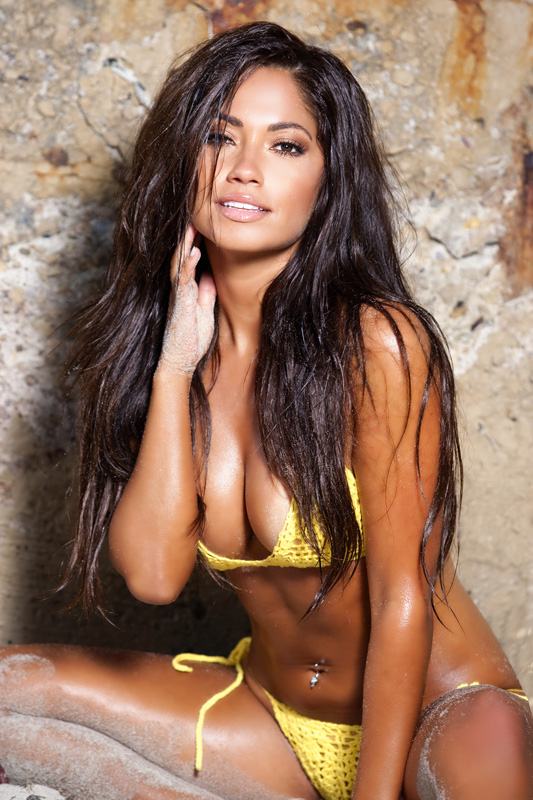 SI Swimsuit gal she is not, but that doesn't mean that Jessica doesn't belong on this list. Her frequent Twitter profile pic updates and tales of 1000s of bikinis in her closet seal the deal. Miss February 2009 has a unique gorgeousness to her. Jessica's father is Mexican her mother is French, Irish and German. When you have the chance, please thank Jessica's parents for creating one amazingly stunning bikini babe.
14. Ana Beatriz Barros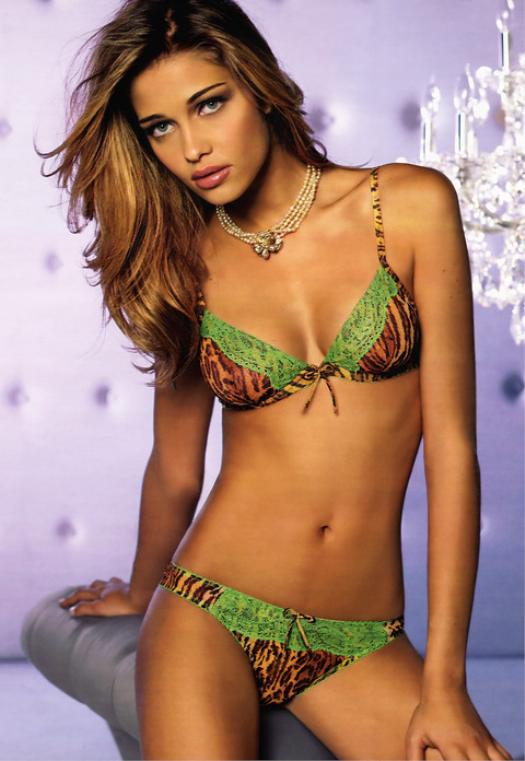 I don't know what it is about Brazil, but they sure can make some sexy bikini babes down there. Born in 1982, Ana Beatriz Barros is of Portuguese, Spanish and Italian descent. She's appeared in SI's Swimsuit Issue seven times from 2002 to 2008.
13. Rebecca Romijn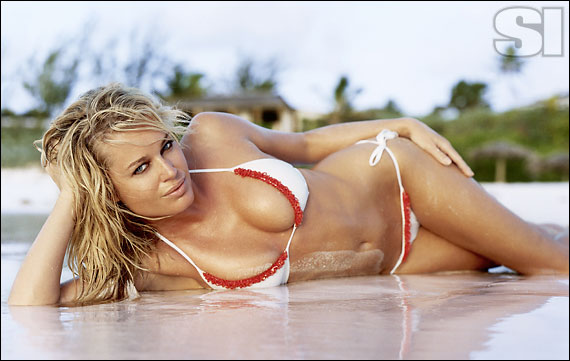 And then there's the global treasure that is Rebecca Romijin. Her exceptional rear-end deserves some type of UNESCO recognition for being a World Heritage asset. Don't get me wrong, Rebecca's clicking on all cylinders (really, there's no part of her that isn't amazing), but that butt is just fantastic.
12. Yamila Diaz-Rahi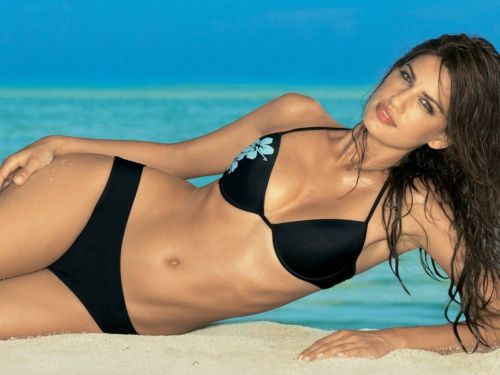 Let's see, born in Argentina of Spanish and Lebanese descent… That's just a recipe for swimsuit super stardom. Yamila appeared in the SI Swimsuit Issue in 1999. She was on the cover in 2002 and 2006. She was the first Latin spokesmodel in CoverGirl history, and she's just really, really hot.
11. Bar Refaeli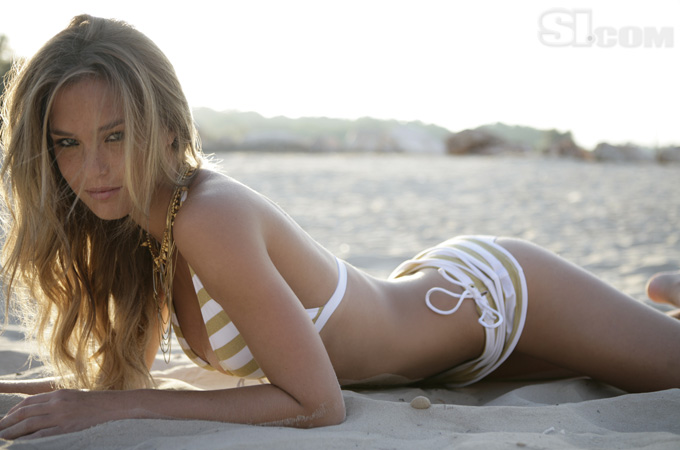 If you're going to hang out with heartthrob Leonardo Di Caprio all day, you better be able to counter the dude's handsomeness with some head turning action of your own. Bar Refaeli is up for this challenge. The 2009 SI Swimsuit Issue cover girl is the hottest discovery to come out of Israel since Abraham found monotheism. Bar Refaeli started modeling when she was eight months old. That's what happens when your mom's a model too.
10. Daniela Pestova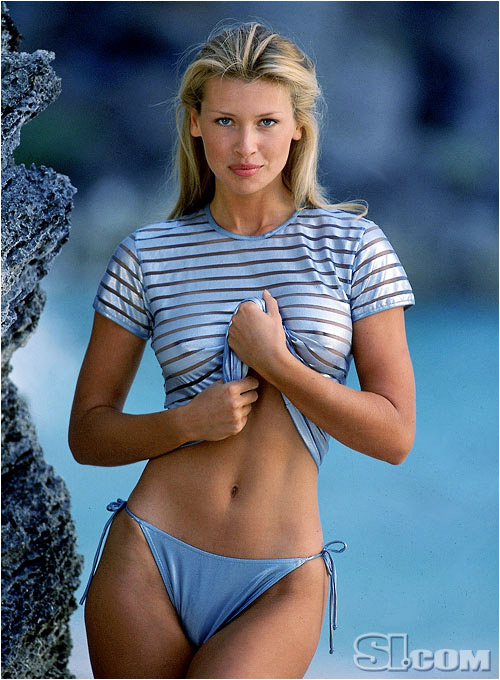 You may not know her name, but you know her face and you know that body. Da-damn. This Czech model was born in 1970, and she appeared on the cover of the Sports Illustrated Swimsuit Issue in 1995, 2000, and 2006. That's staying power. Daniela can speak fluent Czech, Russian, French and Italian, so she can tell dudes all over Europe to stop staring at her in four different ways.
9. Miranda Kerr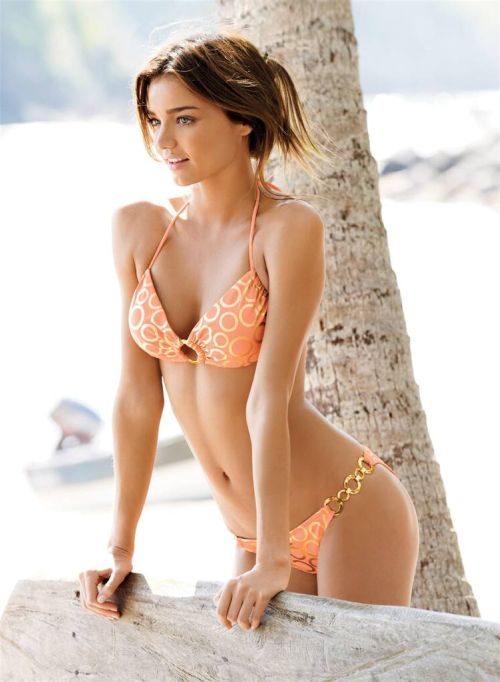 Miranda Kerr is 5 feet 9 inches of adorable Aussie goodness. She's a little button with a bright smile and a bikini body that stands out in a crowd of Victoria's Secret Angels. Kerr is married to Orlando Bloom. I bet that scruffy elf-pirate isn't more than two inches taller than his super-sexy better half.
8. Heidi Klum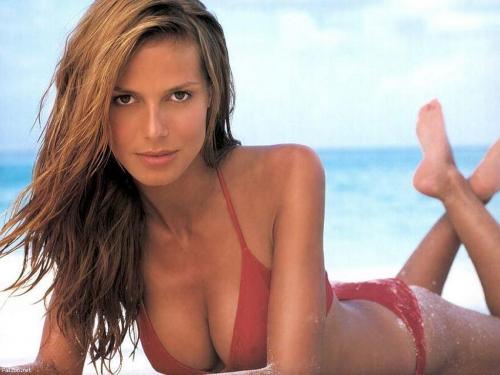 Before Project Runway, Heidi Klum made bank as a supermodel. This SI Swimsuit staple and Victoria Secret powerhouse crushed it for years before she started making babies with Seal. She's still one hot German MILF and she still making bank as a model, actor, producer, designer and perfume maker.
7. Gisele Bundchen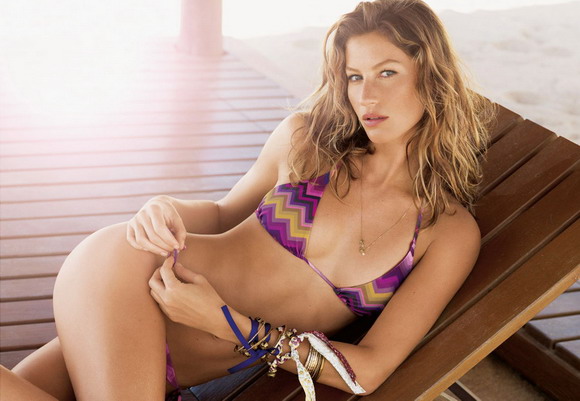 When Gisele Bundchen says that their should be a worldwide law requiring new mothers to breastfeed for six months, who am I to disagree. Someone let me know when this Brazilian bombshell takes Tom Brady's baby out for a feeding session after a long bikini shoot.
6. Cindy Crawford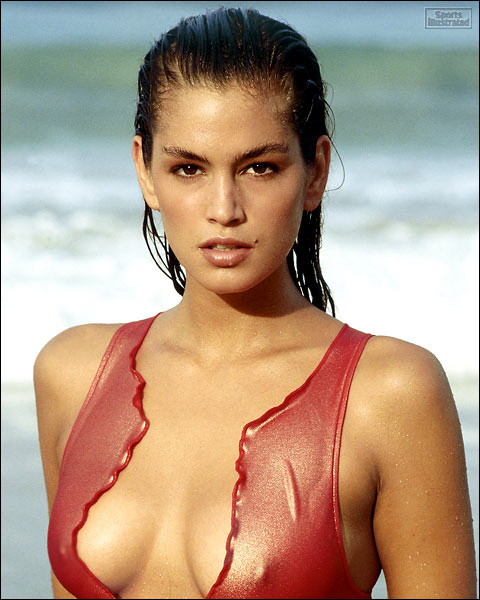 I don't know how old Cindy is now and I don't care. She's Fair Game for looking mighty fine in a bikini or anything else for that matter. I'll drink Pepsi, buy skin cream, whatever it takes. Someone make sure Cindy sees more camera time so a new generation can appreciate her timeless gorgeousness.
5. Adriana Lima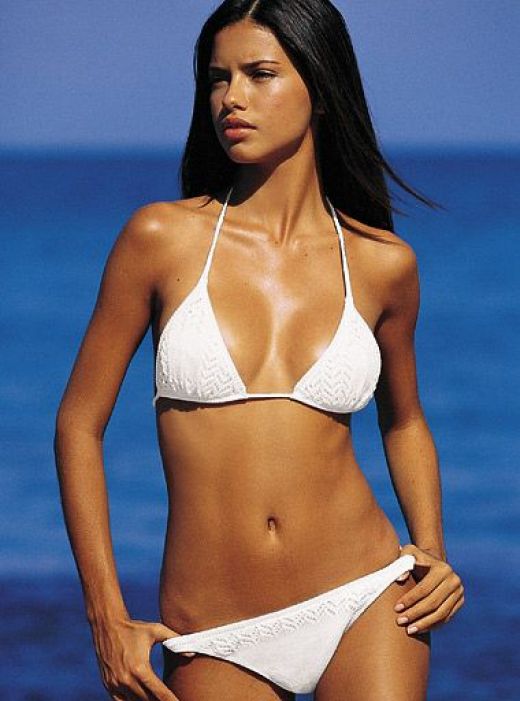 This chick has been smoking hot since she was 15. That might sound creepy, but like Lima, I was born in 1981, so I can get away with that observation. Lima's been a Victoria's Secret knockout since 2000. She has years and years of swimsuit and lingerie experience under her bikini bottom, and she's hands down one of the sexiest women in the world. Lima's married to Serbian basketball player Marko Jaric, and she's one of the XX Brazilian models to make it on this list.
4. Brooklyn Decker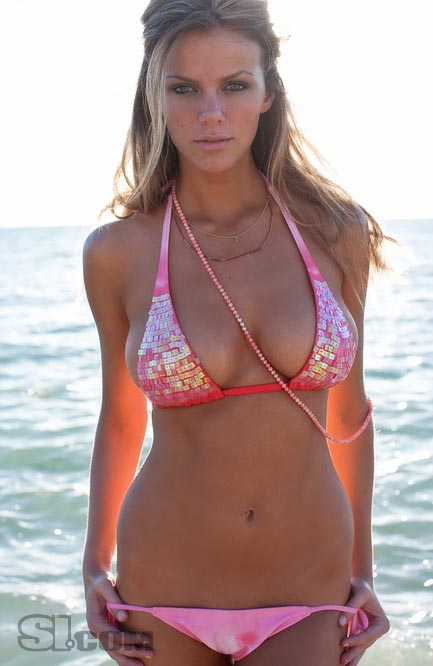 Brookyln Decker is a healthy slice of knucklefist-biting Ohio scorchery. Decker was discovered in a shopping mall and she's burned up the pages of SI's Swimsuit Issue every year since 2006. Decker is married to the Stifler of the tennis world, Andy Roddick. She's starting to act more and she bested 64 other beauties to win Esquire magazine's 2010 Sexiest Woman Alive bracket challenge.
3. Elsa Benitez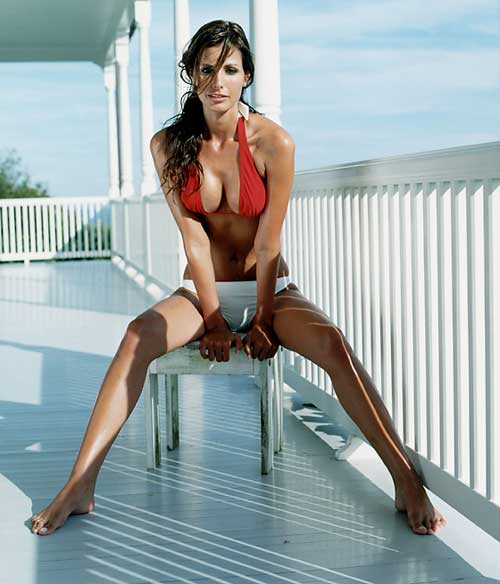 Damn right Elsa Benitez is in the top three. She looks so fantastic in a bikini, laws should be passed to make her sport swimwear at all times. Ever since winning an international model search contest in Costa Rica back in 1995, Elsa Benitez has been on the cover of Vogue, Glamour and the 2001 Sports Illustrated Swimsuit Issue. She's been in the Swimsuit Issue a total of five times.
2. Alessandra Ambrosio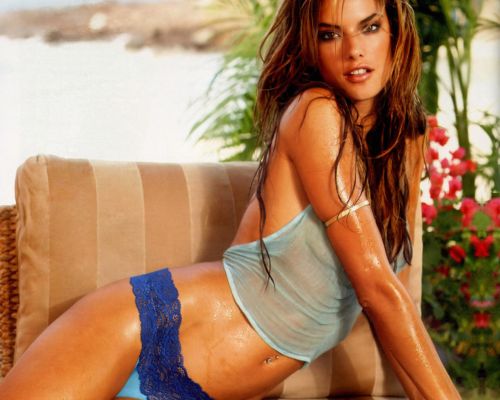 It's hard to believe that this Brazilian beauty was ever self-conscious about her looks, but she actually had cosmetic surgery to pin back her ears at age 11. Ambrosio started taking modeling classes at age 12, and she was working steadily by the age of 15. She's now one of the most sought after models in the world and her best friend is Ana Beatriz Barros.
1. Marisa Miller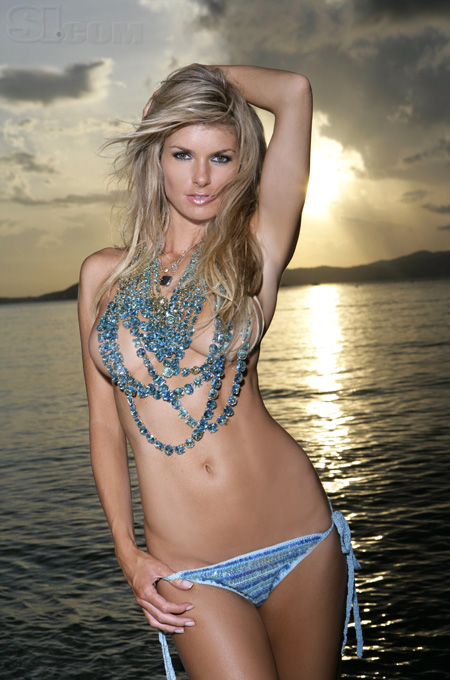 No one person has done more to advance the bikini arts than Marisa Miller. It's hard to imagine a bikini without conjuring up at least one image of this gorgeous girl from Santa Cruz, California. In fact, Marisa deserves her own bonus bikini gallery:
Related Posts
| | | |
| --- | --- | --- |
| | Print article | This entry was posted by Chris Stout on October 22, 2010 at 10:24 am, and is filed under Girls. Follow any responses to this post through RSS 2.0. Both comments and pings are currently closed. |
Comments are closed.