Chris Stout
Posts by Chris Stout


The 2011 Pro Bowl roster selections are out, and while there are a plenty of familiar faces in the mix, there are quite a few newbies in the bunch this season. The Pro Bowl is going back to Honolulu this year, and the game will be played a week before the Super Bowl. Here's a couple of quick observations on the 2011 Pro Bowl roster selections:
Four rookies made the Pro Bowl this year (pictured above), and all of them deserved the recognition. Lions DT Ndamukong Suh leads all interior lineman with 9 sacks this season. He'll start for the NFC. Steelers center Maurkice Pouncey has been a strong, stabilizing force for an offensive line that's been uncharacteristically shaky the past couple seasons. Plus, he's got a great name for an O-lineman. Pats CB Devin McCourty's racked up six picks, two forced fumbles and 81 tackles for a super-young defense in New England, proving again that the Pats know how to find draft gems at the bottom of the first round. Titans kick returner Marc Mariani amassed 1411 yards and one score on 56 kickoff returns this year. He also added 322 yards and a score on 25 punt returns.
The QB selections shouldn't surprise anyone. The AFC's picks include Brady, Manning and Rivers. Vick, Ryan and Brees will represent the AFC. Solid groups for both squads. Vick and Brady were neck-in-neck as consensus MVP picks before the Eagles fell flat against the Vikings in last night's Tuesday Night Football upset. Brady should lock up his second MVP award without much debate.
Lots of newcomers made the Pro Bowl this year. The NFC is sending seven first-time selections to the Pro Bowl. The AFC is sending 14 fresh faces.
Texans WR Andre Johnson likely won't play in the Pro Bowl. I think Steelers receiver Mike Wallace should get some consideration when the league looks to fill that spot.
The Pro Bowl just isn't big enough to include every awesome player in the league. Notable snubs this year include guys like Aaron Rodgers (101.9 QB rating, 3693 passing yards) and Matt Cassel (27 TDs to 5 INTs), Chris Johnson (1325 yards, 11 TDs), Peyton Hillis (1164 yards, 11 TDs) and LeSean McCoy (over 1000 yards rushing,  leads all RBs with 78 catches for 592 yards), LaMarr Woodley (8.5 sacks, 3 forced fumbles and 2 INTs), Derrick Johnson (116 tackles, 4 forced fumbles) and Shaun Phillips (11 sacks). It's hard to argue against the selections at QB, RB and LB for either squad though.
Is DeAngelo Hall worthy of a trip to Honolulu? I know he's got six interceptions, but it seems like the guy gets burned a bunch.
Old timers like Packers CB Charles Woodson and OT Chad Clifton made the NFC squad on reputation this year.
Tony Gonzalez has been ridiculous for years, but this season the future Hall of Fame tight end didn't do a damn thing. We broke 100-yards just once (in Week 3), and he only had three weeks where he delivered double-digits fantasy points. He's just not the same guy. Useful, sure, but no longer worthy of being named an elite, All-Star-type player.
Here's the complete list:
AFC Offense

NFC Offense

Quarterbacks

Tom Brady, New England

Philip Rivers, San Diego

Peyton Manning, Indianapolis

Quarterbacks

Michael Vick, Philadelphia

Matt Ryan, Atlanta

Drew Brees, New Orleans

Running Backs

Maurice Jones-Drew, Jacksonville

Arian Foster, Houston

Jamaal Charles, Kansas City

Running Backs

Michael Turner, Atlanta

Adrian Peterson, Minnesota

Steven Jackson, St. Louis

Fullback

Vonta Leach, Houston

Fullback

Ovie Mughelli, Atlanta

Wide Receivers

Andre Johnson, Houston

Reggie Wayne, Indianapolis

Brandon Lloyd, Denver

Dwayne Bowe, Kansas City

Wide Receivers

Roddy White, Atlanta

Calvin Johnson, Detroit

DeSean Jackson, Philadelphia

Greg Jennings, Green Bay

Tight Ends

Antonio Gates, San Diego

Marcedes Lewis, Jacksonville

Tight Ends

Jason Witten, Dallas

Tony Gonzalez, Atlanta

Centers

Nick Mangold, N.Y. Jets

Maurkice Pouncey, Pittsburgh

Centers

Andre Gurode, Dallas

Shaun O'Hara, N.Y. Giants

Guards

Kris Dielman, San Diego

Logan Mankins, New England

Brian Waters, Kansas City

Guards

Jahri Evans, New Orleans

Chris Snee, N.Y. Giants

Carl Nicks, New Orleans

Tackles

Jake Long, Miami

Joe Thomas, Cleveland

D'Brickashaw Ferguson, N.Y. Jets

Tackles

Jason Peters, Philadelphia

Jordan Gross, Carolina

Chad Clifton, Green Bay

AFC Defense

NFC Defense

Defensive Ends

Dwight Freeney, Indianapolis

Robert Mathis, Indianapolis

Jason Babin, Tennessee

Defensive Ends

Julius Peppers, Chicago

John Abraham, Atlanta

Justin Tuck, N.Y. Giants

Interior Linemen

Haloti Ngata, Baltimore

Vince Wilfork, New England

Richard Seymour, Oakland

Interior Linemen

Ndamukong Suh, Detroit

Jay Ratliff, Dallas

Justin Smith, San Francisco

Inside Linebackers

Ray Lewis, Baltimore

Jerod Mayo, New England

Inside Linebackers

Patrick Willis, San Francisco

Brian Urlacher, Chicago

Outside Linebackers

James Harrison, Pittsburgh

Cameron Wake, Miami

Terrell Suggs, Baltimore

Outside Linebackers

Clay Matthews, Green Bay

DeMarcus Ware, Dallas

Lance Briggs, Chicago

Cornerbacks

Nnamdi Asomugha, Oakland

Darrelle Revis, N.Y. Jets

Devin McCourty, New England

Cornerbacks

Asante Samuel, Philadelphia

Charles Woodson, Green Bay

DeAngelo Hall, Washington

Strong Safety

Troy Polamalu, Pittsburgh

Strong Safety

Adrian Wilson, Arizona

Free Safeties

Ed Reed, Baltimore

Brandon Meriweather, New England

Free Safeties

Nick Collins, Green Bay

Antrel Rolle, N.Y. Giants

AFC Specialists

NFC Specialists

Punter

Shane Lechler, Oakland

Punter

Mat McBriar, Dallas

Kick-Return Specialist

Marc Mariani, Tennessee

Kick-Return Specialist

Devin Hester, Chicago

Kicker

Billy Cundiff, Baltimore

Kicker

David Akers, Philadelphia

Special-Teamer

Montell Owens, Jacksonville

Special-Teamer

Eric Weems, Atlanta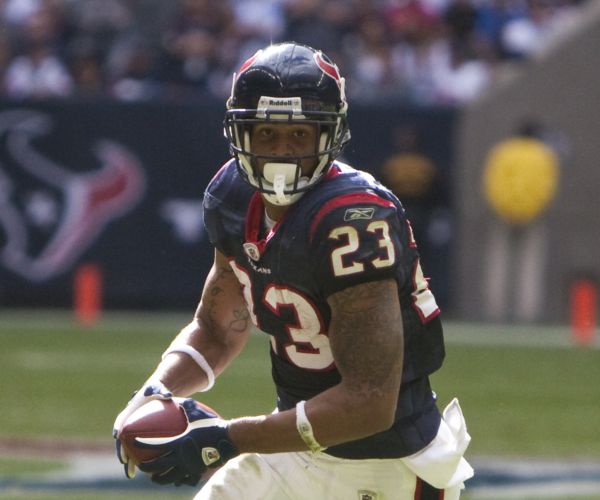 At Pittsburgh -14 Carolina

PICK: Steelers -14

At Chicago -1 NY Jets

PICK: Bears -1

Dallas -7 At Arizona

PICK: Cowboys -7

Baltimore -3.5 At Cleveland

PICK: Ravens -3.5

At Miami -3.5 Detroit

PICK: Lions +3.5

At Kansas City -5 Tennessee

PICK: Chiefs -5

At Philadelphia -14.5 Minnesota

PICK: Eagles -14.5

Indianapolis -3 At Oakland

PICK: Colts -3

At Jacksonville -7 Washington

PICK: Jags -7

Houston -2.5 At Denver

PICK: Texans -2.5

At St. Louis -2.5 San Francisco

PICK: Rams -2.5

At Green Bay -3 NY Giants

PICK: Packers -3

At Tampa Bay -6 Seattle

PICK: Bucs -6

San Diego -7.5 At Cincinnati

PICK: Chargers -7.5

New England -8 At Buffalo

PICK: Pats -8

At Atlanta -2.5 New Orleans

PICK: Saints +2.5
Last week: 7-9
Season: 108-107-7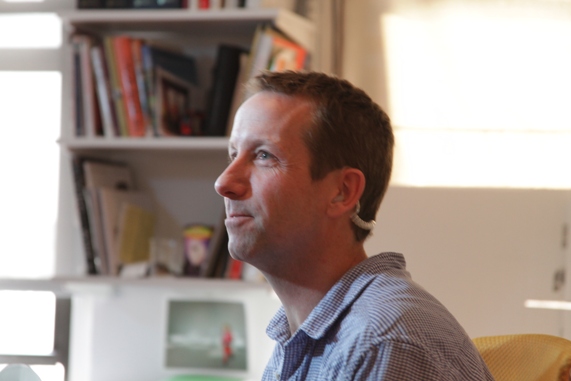 Let's face it, most dudes are slobs. I know I am. Guys are just a messy bunch and we just don't focus too much on improving our living spaces. Organization and cleanliness are typically not top priorities for us. We care more about acquiring tech items than we do about organizing and arranging them in a neat and tidy way.
But arranging your living space is important. You don't have to go all Feng Shui with it, but a little organization to the madness never hurt anyone. Having your home free from clutter is really quite liberating. It centers you and gives a relaxing retreat from the world.
When your home is loaded with junk and jumbled piles of disorganized clothes, gear and other personal items, it gives you an uneasy feeling that you carry around with you all day. Even if you notice it, disorder in your living space is just plain toxic.
Now you don't have to be a professional interior designer to improve in the way you organize your living space. All it takes is a little bit of effort and a focus on functionality and compartmentalization for you to free yourself from the mental baggage of a messy home.
I recently had the chance to speak with Maxwell Gillingham-Ryan, the founder of ApartmentTherapy.com, and he shared with me his thoughts on the importance of bringing order to your living space. We also discussed the notion of "techorating," and Maxwell shared with me some products that can help you spruce up your place by removing unnecessary cord clutter. Take a look at the video:
One of the products that Maxwell showcased was the Duracell myGrid. After my interview with Maxwell, Duracell sent me a unit to check out. The myGrid is super-flat charging pad that serves as a cord-free charging station for different types of phones. It works with Blackberry, iPhone, Motorola, Nokia and LG phones (note: you'll need an additional power sleeve if you have an iPhone).
After inserting a power clip to the back of your phone (or using the sleeve with an iPhone), you can simply drop your phone on the flat surface of the myGrid and it'll charge without any cords. The myGrid lets you charge up to four phones at once, which is great if you live with someone who has a different phone than you do. The myGrid lets you get rid of pesky charging stations that you only use for a couple of hours anyway. You can get rid of all chargers and just drop the phone right on the myGrid surface when you walk through the door.
If you're looking for a last-last minute Christmas item for anyone who needs help organizing their dangled phone charging situation, check the myGrid out. With the New Year right around the corner, it's time for you to start de-cluttering your life for 2011!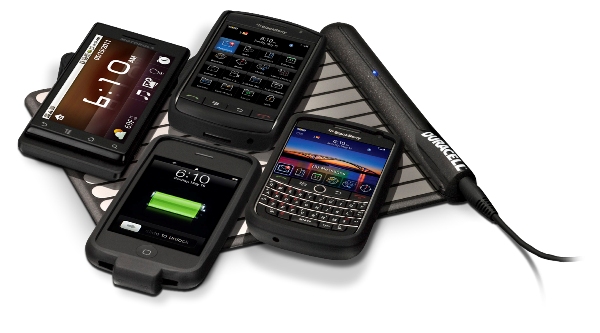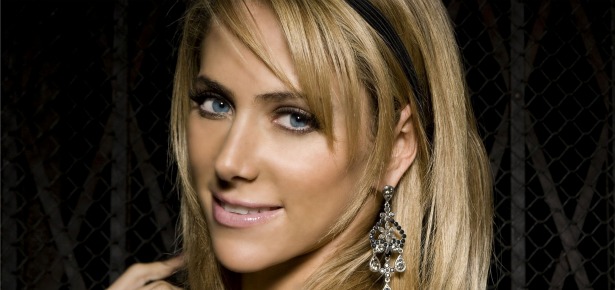 It's funny how sports lets us talk about cultural themes that we don't normally discuss in everyday conversation. Let's take gender equality for example. It's not really something you talk about on the regular, but when the women's basketball team at UConn tries to break the all-time NCAA basketball winning streak, the issue becomes a source for water cooler conversation all week. Sports allows us to talk about bigger issues in a totally detached, relaxed and conversational way. Under the umbrella of athletic competition, no topic is off limits. Everything – culture, identity, values, etc. – can be folded in.
That's why the Ines Sainz/Jets story took on such a life of its own. Sexism and exploitation are interesting topics, but they become much more discussable when wrapped in the easy-going blanket of sports talk.
I'm sure you've heard about what happened when TV Azteca reporter Ines Sainz visited a Jets practice back in September. Stories came out that this stunning reporter was subjected to all kinds of disrespectful behavior by the Jets players (and other members of the organization). Balls were thrown her way on the practice field so that players could try to bump into her. There was some lewd behavior reported in the locker room when Sainz was trying to interview QB Mark Sanchez.
Sainz was embarrassed and tweeted about it. Fellow reporters were offended and jumped to her defense. The Association for Women in Sports Media stepped in and filed a complaint with the Jets and the NFL. The story blew up, and Sainz even appeared on Good Morning America to talk about it.
After the story reached critical mass, two opinion camps formed. One camp saw Sainz as a victim of sexual harassment, in the workplace no less. Here's a woman with an established career as a professional sports journalist who was mistreated by a bunch of chauvinistic, sophomoric football players. Her rights needed to be defended, and the culture of pro football players, with respect to their treatment of women reporters, needed to be changed dramatically.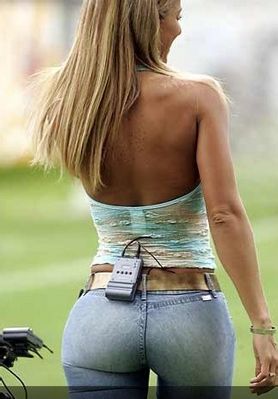 The other camp saw Sainz as an opportunist. A sexy bombshell who used her good looks and attention-hunger to exploit a situation for her own gain. I mean what sort of treatment did she expect wearing jeans that tight?
After speaking with Sainz, I believe that there's a lot of gray area to explore between these two opinion camps. Ines Sainz is a lot of things. She's a wife, a mother, an international sports personality and a former Miss Spain. Sainz's journalistic approach may be a bit cheeky, but she's not just some bimbo journo. She's articulate, engaging and experienced. Sainz has interviewed over 300 athletes in her career, guys like Peyton Manning and Lionel Messi, Roger Federer and Jerry Rice. She's covered all kinds of sports events from around the world. Super Bowls, top tennis matches, multiple World Cups. Stuff like that.
Is she gorgeous? Unquestionably yes. Is she a victim of sexual harassment? She'll be the first one to tell you no. When I asked her if she felt mistreated by the Jets players that day at practice, this is what she said:
"No, I didn't feel like they were not treating me well. I went there, I did my job. I had the chance to make my interview when I arrived at the locker room. Evidently, the moment [in the locker room] wasn't the best. But it wasn't as rude as people think because – as I said many times – I just hear things like 'Senorita Bonita' or 'I want to be Mexican' or something like that. Probably, Latin women, we are kind of used to men that say something nice to us. But it wasn't anything offensive or sexual even. I think that it's lean, the line that you can cross between being nice and always friendly and, I don't know, cat calls I think they call it. So I truly believe that in this particular moment, it wasn't a bad thing. Everything was not with the intention to disturb me," she said.
One woman's compliment is another woman's sexual harassment. So was it all an overreaction?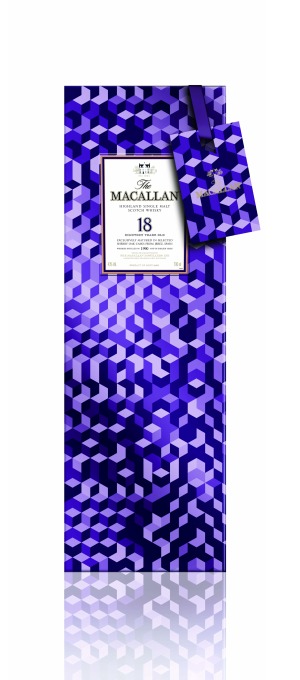 Dude, we are days away from you needing to bring an amazing gift to wherever it is you go to celebrate Christmas. Now you can try to pick up a bottle or some other last minute gift, but if you're giving the gift of booze, you might as well be classy about it.
Enter the 2010 Macallan Holiday Gift Pack. It's a sweet bottle of Macallan Single Malt Scotch Whisky housed in a posh-purple, trippy-3D festive holiday box. The packaging will capture everyone's eye, but the bottle inside will capture their hearts. The Sherry Oak 18 Year Scotch is a top-shelf holiday beverage that incorporates hints of dark chocolate-orange, dried fruits and spices for a smoothness that'll please anyone on your gift list. The spirit is aged for a minimum of 18 years in Spanish Oak casks that are handcrafted and sherry seasoned in Jerez, Spain. How many other bottles can make this claim?
If you need to pull an amazing gift together, the 2010 Macallan Holiday Gift Pack should be on your short list of go-to items. It looks as good as it drinks, and it'll distinguish you as a thoughtful giver of good taste. The bottle's not cheap (you can find it for around $150), but if you need to impress your girlfriend's Dad, a loveable Uncle with discerning tastes or your own Scotch-lovin' pops, you can't go wrong with this timeless holiday package.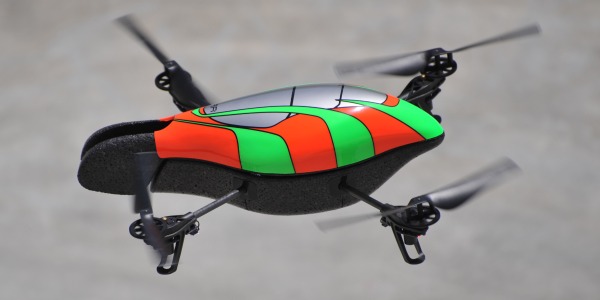 Attention last minute shoppers! Still scrambling for that perfect gift? Not sure what to get that special someone on your list? Well if you've waited till the last minute to find a kickass gift, you're in luck. The AR.Drone quadricopter will set you apart from every other gift giver this Christmas. It's essentially a flying video game that you can control with your iPhone, iPod Touch or iPad. Sound crazy? Well, it is.
The AR.Drone is a remote controlled quadricopter that has an on-board Wi-Fi System that allows you to play other AR. Drone users on a network. If you have two AR. Drones in the mix, you can compete in the multiplayer game AR.FlyingAce. This augmented reality game lets you launch missiles at your buddy during some seriously interactive dogfights. Check it out:
The Parrot AR.Drone is designed to operate both inside and outside. The average range is an impressive 50 meters/ 160 feet. The thing can fly up to 6 meters/ 20 feet high!
There are two cameras embedded in each AR. Drone, one in the front of the drone and one located underneath the quadricopter facing the ground. You can fly the thing around all by yourself and get a live video feed on your iPhone screen, or you can battle a friend in some head-to-head action. The AR.FreeFlight game and the AR.FlyingAce game are both available through iTunes.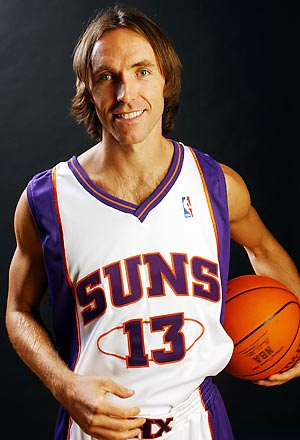 How does it all work? Check out the Parrot Facebook page to see for yourself. Once you give the page a thumbs up, you'll have access to videos of Phoenix Suns star Steve Nash displaying his impressive flying skills. Just click on the Steve Nash tab to see Nash test out the AR.Drone after practice and battle through five different challenges.
MANjr will not let you go into the holidays empty handed, so we're giving away a Steve Nash autographed AR.Drone to one lucky visitor! That's a $299 value right there, kids. The runner-up will receive an autographed basketball as well.
Interested? You should be! Here are the details for entering the contest:
Visit the Parrot Facebook page to view the videos of Steve Nash
Leave a comment below telling us how many times Nash was able to circle the AR.Drone around himself.
That's it! Winners will be selected at random next Tuesday, December 21.
Whether you win a free AR.Drone or not, this thing's definitely worth checking out. It combines the enjoyment of remote control flying with the fun of video games all in a super accessible way.
Good luck and happy holidays from Parrot and MANjr!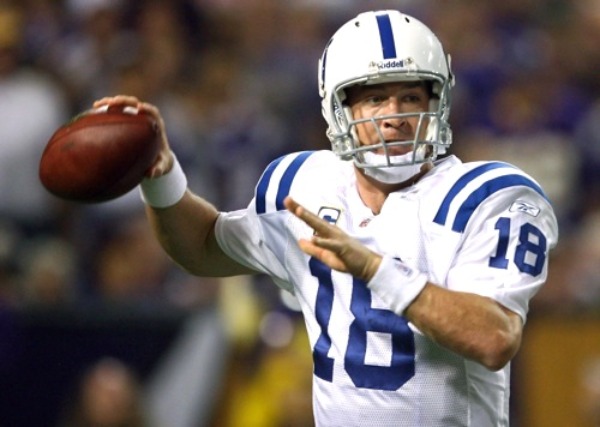 At San Diego -10 San Francisco

PICK: Niners +10

At Dallas -6 Washington

PICK: Cowboys -6

Kansas City -1 At St. Louis

PICK: Rams +1

At Tampa Bay -5.5 Detroit

PICK: Bucs -5.5

At Tennessee -1.5 Houston

PICK: Texans +1.5

At Baltimore -1.5 New Orleans

PICK: Saints +1.5

At Indianapolis -5 Jacksonville

PICK: Colts -5

Atlanta -6 At Seattle

PICK: Falcons -6

At Carolina -2.5 Arizona

PICK: Panthers -2.5

At Pittsburgh -6 NY Jets

PICK: Steelers -6

At Cincinnati -1.5 Cleveland

PICK: Bengals -1.5

At Oakland -6.5 Denver

PICK: Raiders -6.5

At Miami -5.5 Buffalo

PICK: Dolphins -5.5

At New England -11 Green Bay

PICK: Pats -11

At NY Giants -2.5 Philadelphia

PICK: Eagles +2.5

Chicago-6 At Minnesota (TCF Bank Stadium)

PICK: Bears -6
Last week: 7-9
Season: 101-98-7
This game looks ridiculous. Can't wait to try it.
In what has to be some sort of metaphor for the Vikings' season, the roof caved in on the Metrodome in Minnesota today. Check out the video of the Metrodome roof collapse: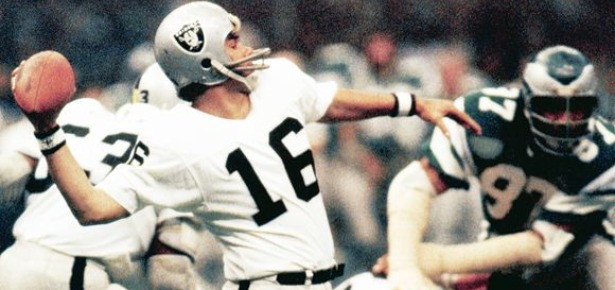 The Heisman Trophy will be awarded this weekend to the best player in college football, and I had a chance to speak to a former recipient of college football's top honors, Jim Plunkett. Plunkett had quite an interesting football career. He was super-hyped coming out of Stanford, he won the Heisman in 1970, and he was selected by the New England Patriots with the first overall pick in 1971.
Plunkett started 14 games for the Pats in 1971 and completed just 48 percent of his passes while compiling a record of 6-8. The following year, Plunkett threw eight touchdowns and 25 interceptions, and lost 11 out of the 14 games he started. Plunkett struggled with injuries over the next few seasons, and in 1975, the year the Patriots drafted Steve Grogan, Plunkett was traded to the 49ers. Plunkett's tenure in San Francisco started well (he led the team to a 6-1 record), but the Niners tailed off and Plunkett was released by the team during the 1978 season.
With his career teetering on journeyman status, Plunkett was picked up by the Raiders in 1978. He served as a backup that year and barely saw the field the following season. When QB Dan Pastorini broke his leg a few weeks into the 1980 season, Plunkett stepped in, led the Raiders to nine wins in 11 games, helped the team earn a wild card berth in the playoffs. He went on to lead the Raiders to a 27-10 victory over Dick Vermiel's Eagles in Super Bowl XV. Plunkett was 33 years old. He was the first QB to lead a wild card team to Super Bowl victory, and he became the first (and only) player of Latin-American descent to win the Super Bowl MVP.
Plunkett would return to a backup role before an injury to Marc Wilson forced him into the top spot on the depth chart again in 1983. Plunkett responded by leading the Raiders 10 wins in 13 games. The Raiders made the playoffs again and served up a blowout victory over the Redskins in Super Bowl XVIII.  Plunkett's the only NFL QB with two Super Bowl victories to not be enshrined in the Pro Football Hall of Fame. He currently does post-game radio shows and tons of TV work for the Raiders.
During our interview with Plunkett, we chatted about this year's Heisman trophy ceremony, Stanford QB Andrew Luck, Raiders' owner Al Davis, today's pass-happy NFL offenses, his pick for who will take home the Heisman this year, and whether he thinks college football needs a playoff system.
CS: So you won the Heisman Trophy back in 1970.
JP: Back in the Dark Ages, yes.
CS: Can you tell us what it's like to belong to such an elite fraternity of college football greats?
JP: Well, obviously it's a great feeling to be chosen among so very few. It's started in 1935, the first Heisman award, and now they're up to 76 that are coming up this year. It's a great feeling, you know. You were selected among so many other certainly very viable athletes back when, for me 1970. Any number of people could have won that, but you were chosen because of what you did on the football field and how you carried yourself off the field. It really means a lot to me as it does to all the other recipients over the years.
CS: Now people are calling Stanford QB Andrew Luck one of the best NFL QB prospects to come out in years, and some coaches said the same thing about you back in the day.
JP: Right.
CS: Do you think Luck is ready to make a big splash in the NFL and what's it like dealing with those high expectations going in to your pro career?
JP: Well you know number one, yes I do really, truly believe that Andrew Luck is probably the best passing quarterback in college today. I don't think there's any doubt about it. I see him almost every week. I was at the Oregon State game. I go to most of the home games, sometimes a road game or two, and he's head and shoulders above everybody. As far as just passing the football ,there are other quarterbacks who could probably run better obviously, but he runs pretty well as well. He's got a great feel for the game, a great feel for what's happening around him and he reads the defense extremely quickly and more often than not goes to the right receiver. He's got a great arm. He can throw off balances almost as well as he can when he's stepping into the throw because he's got that great arm strength. He anticipates well. He's got some innate abilities. He can sense pressure, get out of trouble, take off and either run or give himself more time by shuffling around. He's just a great kid and he's a great football player and it's just fun to watch the way he executes out there. That being said, whenever you go somewhere, expectations are always high when you're a front pick if that's what Andrew will be – and I'm sure he will be, he might even be the very first pick. So when somebody steps into that kind of situation, they're always scrutinized very heavily, especially if you start off right away. You get paid a lot of money and professional fans in particular expect results right away. That doesn't always happen but he's a lot like… there's a kid over at Saint Louis, I just can't remember his name right now, out of Oklahoma – San Bradford – who won the Heisman a couple of years ago. He's in that mold. He's in the Manning mold, Eli and Peyton. He's just ahead of his time so to speak. But yeah, I mean you get in the NFL, you usually go to a team that has not had a great season, so they're not probably as good as some other team you might go to. Sometimes it's a learning curve, it's a process. You get beat up a little bit. You take your lumps, and hopefully when all the dust settles, you'll have made progress. Sooner or later you'll be the quarterback they've drafted you to be.
CS: How can fans participate in this year's Heisman trophy ceremony process?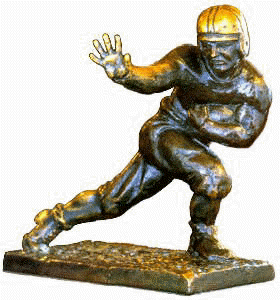 JP: Well I think the best way is to go to Heisman.com. It will give you the information whether you want to come as an individual, buy a table, be a sponsor, there are different levels. It's a great event to attend. You get to see some of the greatest football players arguably of all time, some great former Heisman winners. I know a lot of the guys go. I've gone to the last three. I go in streaks. I can't make them all as I do work for the Raiders during the season. But it's a fabulous event to watch, especially if you have kids, take grandchildren. It is just a lot of fun to be there, to see them, to talk to them, to hear them talk, get autographs at times, it's just a wonderful experience. I've sent some people here from California where I live – I live over by Stanford – out to the Heisman. Sometimes through some of the raffles we've had out here, to make them part of the thing. One of my best friends has gone back twice. They've enjoyed the experience so much. So I highly recommend it. Come out and see some of these great former athletes and have a great time.