Bud and Burgers Championship with Chef David Chang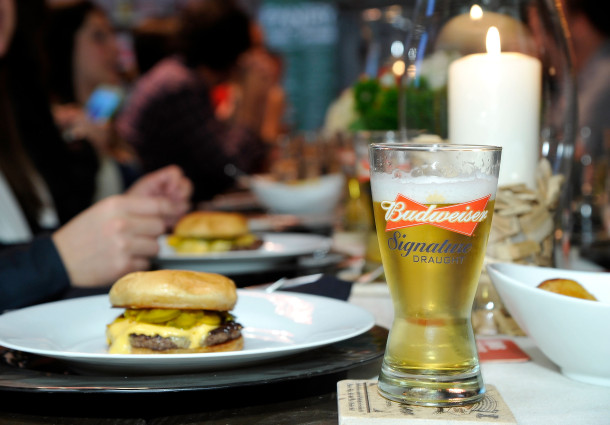 Ah, Burgers and beers. They go together like peas and carrots. Like peanut butter and jelly. Or football and Sundays. This winning food and beverage combo forms the bedrock of the American belly. It's what most of us are made of, really.
We already told you about the announcement of the Bud and Burgers Championship. It's is a three-month nationwide competition where amateur chefs will compete at major festivals across the country. The winner will take home $100,000 to jumpstart their culinary career. The winning chef will also be invited to compete in a new cooking competition show on the Esquire Network.
Last week, I got to experience the higher end of this fine Bud and burger pairing at an exclusive dinner hosted by Budweiser and Chef David Chang. Before Chef Chang was introduced, the folks from Budweiser announced the upcoming burger competition with the bold claim that the burger was first unveiled to the world at the 1904 World's Fair in St. Louis. This meant that burgers and Budweiser were joined at the hip from the get-go.
I decided to look into this a bit, and it turns out the 1904 World's Fair was a pretty big deal. The origins of the burger in America are a bit murky, but one thing's for sure, people were probably chomping on burgers and sipping Budweiser during in St. Louis in 1904.
Also known as the Louisiana Purchase Exposition, the 1904 World's Fair in St Louis lasted for seven months. Sixty-three countries participated in the expo and over 19 million people attended. The first Olympics ever held in the US took place during that summer in St. Louis. Geronimo was on display in a teepee. Helen Keller gave a lecture. Max Weber was there. TS Elliott wrote a short story about his expo experience for his high school newspaper. Jack Daniel and his Tennessee whiskey were awarded a gold medal at the World's Fair, something that's still advertised on every Jack Daniel's bottle.
Was it the first time the world was introduced to hamburgers? Hard to say, but if you believe different accounts, it was arguably the first time people were introduced to things like Dr. Pepper, peanut butter, cotton candy and the waffle cone, too.
So yea, a lot went down at the world's fair that year, but let's get back to burgers in 2015, specifically the burger that was served at the dinner that kicked off this whole Bud and Burgers Championship thing last week in Santa Monica.
Too often a premium burger has too much going on. If you can't hold it in one hand and put it in your mouth, is it really still a burger at that point? I say no. But i'm a simple man. Chef Chang's burger recipe was simple by design.
"Keep it simple," Chang said. "Simple is hard to do."
And simple it was. Simply delicious. Here's the recipe:
Short rib beef blend (or at least a 80/20 lean/fat blend)
American Cheese Slices
Hamburger Buns
2 TBSP Neutral, High heat Oil
Bread & Butter Pickles
Cast Iron Skillet
How You'll Make It
Ask your butcher for a short rib blend (16oz will make four 4oz burgers). If you can't get a short rib blend, make sure ou get a blend that has 20-30% at content
Form the patties. Measure/estimate out 4oz portion and form into 1/4" thick patties
Season liberally with salt on each side
Add oil to cast-iron skillet over medium-high heat
Cook patties for 3 minutes  on each side. During the last minute, add one slice of cheese to the patty and a dab of butter to the pan. Baste burger until cheese is melted and set aside on a cooking rack to rest
In the same pan, toast buns face down until golden brown
To assemble the burger, place the patty on the bun, dress with bread and butter pickles to taste and top with the other side of the bun
What's this, you ask? No veggies?
"If you want vegetables," Chang said, "eat a salad."
The no frills burger was perfect. The short rib provided the proper fat balance, it was just salty enough, and the pickles were a nice crunchy complement. Did it look pretty? Not really, but who cares? Taste should dictate success in any burger sampling exercise, and the taste quality was off the charts. Pair it all with a frosty Budweiser Signature Draught, and you get a room full of happy people. The bud and burger combo wasn't complicated. It was familiar and user-friendly, and according to Chef Chang, that's all part of the appeal.
"Cooking Zeitgeist is changing," Chang said. "The burger is the perfect example of where food is going. You're doing something delicious that's also accessible."
Think you got a winning burger concept? Submit a photo or video of your burger creation to Budweiser.com/burger to see if you can score a festival invite and a chance to compete in the final burger battle at the Budweiser Brewery in St Louis. Good luck, burger lovers!
Related Posts
| | | |
| --- | --- | --- |
| | Print article | This entry was posted by Chris Stout on April 15, 2015 at 5:56 pm, and is filed under Lifestyle. Follow any responses to this post through RSS 2.0. Both comments and pings are currently closed. |
Comments are closed.