Audio-Technica Customizable SonicFuel Headphones Review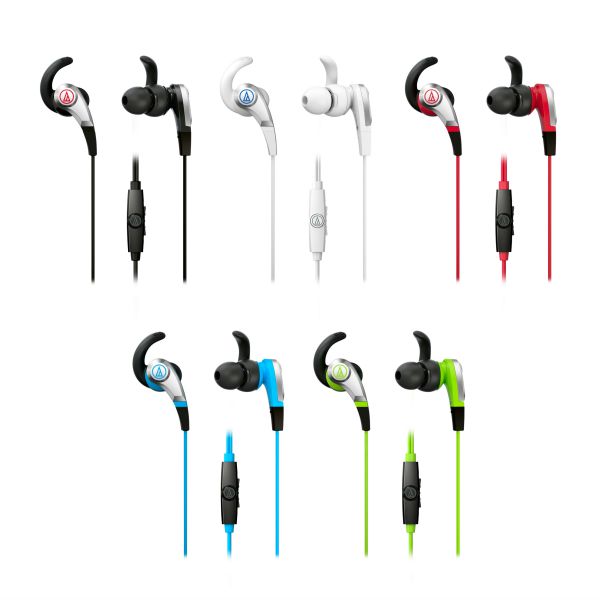 If you use headphones, and let's face it who doesn't, you got options. I'm not talking about brand or sound quality or color fashion statement options. I'm talking about the different types of headphones that are out there. Do you go in-ear buds or on-ear buds? If you go full phones, do you rock the on-ear, small on-ear or go full around-the-ear? What if you want more stability from ear clips or a neck wrap? You get the idea.
For me the choice usually boils down to small buds or big headphones. Earbuds are quick and easy, but sometimes you want that extra ear-enveloping music enjoyment experience. But if you're working in the office or working out, you may not want to go full-on Colin Kaepernick with a massive set of over-ear headphones resting on your dome. There's a time and place for each option.
Setting aside ear clips and neck wraps (because seriously why would you want to do that), there's an interesting new addition to the headphone selection mix – Audio-Technica's fully customizable SonicFuel Headphones. They're not big, expensive headphones. But they're not your run of the mill earbuds either. Sure, they're in the ear bud family, but these things are made for maximum stay-in-place-ability without going clinging to your outer ear like some old school hearing aid device.
These buds do not budge. They derive their stability from an extra little rubber strip that follows the contours of your outer ear along the auricle, providing a subtle but sturdy flap that keeps the actual earbud firmly in your ear canal. That probably sounds less comfortable than you would expect, but these things rest nice in your ears without being to invasive. Jogging will not jar them loose. Nor will a hefty pat on the back from an over-eager coworker. When you put these on (or in?), you need to apply a small degree of force to get em out. Not a lot of force. Just a little, but tug nonetheless.
And most, importantly, these SonicFuel Headphones actually sound good. Solid lows, quality highs and the I'm-not-going-anywhere quality of the ear tip inserts provide a sort of design-based noise cancellation effect which is always nice. The headphones also feature in-line volume and mic controls so you can use em with your smartphone while your driving (if you're into that sorta thing). I prefer speakerphone, personally. There's also a bunch of different tip options so you can get a perfect fit for your specific ear type.
My one big knock on these is that despite the super sturdy construction of the ear tip and supporting c-tip that holds these things in place so nicely, the actual audio cord feels a bit weak. I haven't had any issues with the review unit I received, but holding the cord in your hand or wrapping the headphones up for storage or transport, you just feel like the thin cord might not make it through conditions that come close to extreme. I haven't abused mine so I haven't had any issues, but I'm interested to see how the SonicFuel Headphones hold up over time.
Top of the line over-the-ear headphones these are not. They're buds with benefits. If you value quality sound and in-ear stability over rugged durability, you'll dig these.
Related Posts
| | | |
| --- | --- | --- |
| | Print article | This entry was posted by Chris Stout on July 15, 2015 at 6:45 pm, and is filed under Lifestyle. Follow any responses to this post through RSS 2.0. Both comments and pings are currently closed. |
Comments are closed.