Chris Stout
Posts by Chris Stout

We're a few weeks away from the start of the 2012 Summer Olympics in London. The open ceremony is scheduled for Friday, July 27, and in the weeks ahead there will be plenty of patriotic sentiment building up and a flurry of human interest stories to consume.
With the proliferation of social media worldwide, this year's Olympic games promises to be new experience. Fans can follow the action on a minute-by-minute basis and there are new ways available to connect with the athletes that will be competing.
To further this effort, Samsung and the U.S. Olympic Committee are teaming up to launch the U.S. Olympic Genome Project. This online community will give fans a chance to connect with Team USA Olympians, Paralympians and Olympic hopefuls in new and unique ways.
A few weeks back, I had a chat with four-time Olympic medalist Dominque Dawes and U.S. women's soccer team member and Olympic hopeful Megan Rapinoe. We discussed the U.S. Olympic Genome Project, the problem of obesity in America, the Magnificent Seven and the hopes and chances of the women's U.S. gymnastics and U.S. soccer teams. Here's the interview:
You can learn more about the U.S. Olympic Genome Project by visiting the Samsung Genome Project Facebook Page.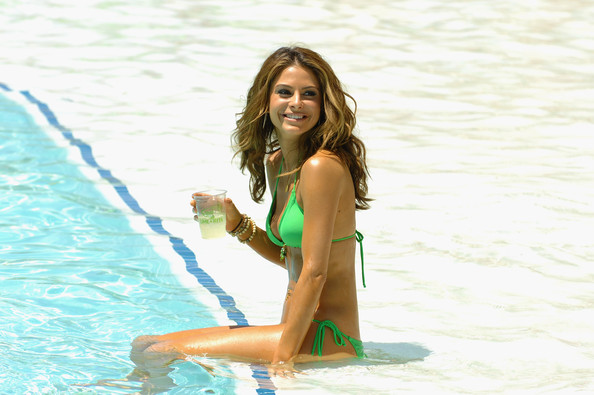 It was a fun weekend in Vegas. The weather was great, it was Cinco de Mayo and you had quality sports on at all times (Mayweather-Cotto, the Kentucky Derby, playoff basketball and hockey games, the English F.A. Cup, baseball, etc.). It was a good time to schedule a Vegas trip.
I was in town for a bachelor party, and we all spent the day on Saturday soaking up some sun poolside at the Mandalay Bay. The whole crew went to the Bud Light Lime-a-Rita Cinco de Mayo launch party and we all had a blast.
The launch party wasn't overly packed, which was a good thing. Maria Menounos hosted the event in a green bikini and she got some pool time in with the rest of the crowd. There was good music, cool people, tasty pretzels and all the Bud Light, Bud Light Lime and Bud Light Lime-a-Rita you could drink.
The Bud Light Lime-a-Rita is more marg than brew. It's a malt beverage that's pretty refreshing on a hot day, but it's just way better when served cold, ideally over ice. The taste is a bit acidic, but if you enjoy margaritas, this sensation will be nothing new to you. This isn't the kind of beverage that you want to slam back to back to back to back. It's more of a nice sipping compliment to a warm day of beer drinking.
But back to the party. The music was solid throughout and Jermaine Dupree took over DJ duties for bit and really got the crowd going. Nelly was there having fun on the stage by the pool. I saw this guy trying to pull off the Will.i.am look and I thought to myself, whoa guy, that's a strong look to try to pull off. But he was real convincing about it, and I'm like 95 percent sure that it wasn't an imitation. Will he was indeed.
So with the summer season right around the corner, this Bud Light Lime-a-Rita stuff is worth checking out. It's a mellow malt beverage that provides some chill, revitalizing  refreshment and serves as a great compliment to pool party beer drinking.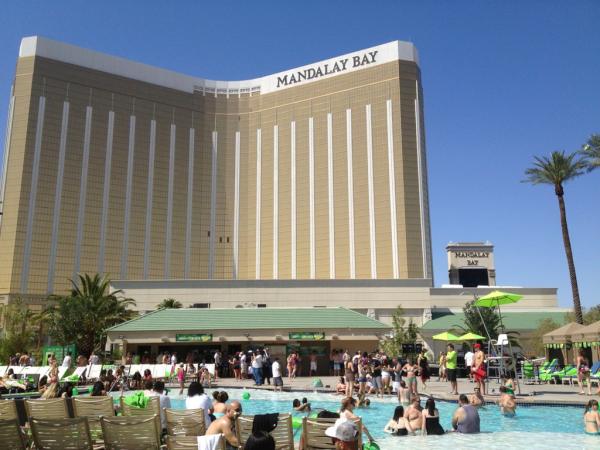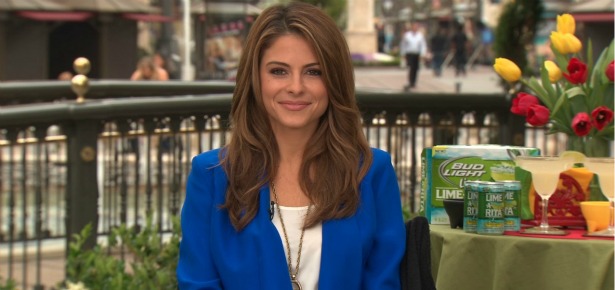 It's a Cinco de Mayo weekend, people! And if you're having a hard time deciding what to drink – beers or margaritas – Bud Light has a solution for you. The Bud Light Lime-a-Rita is an 8oz can of 8% alcohol that's a combination of weekend-ready margarita and a splash of Bud Light Lime. Best served over ice, this malt beverage will take the guesswork out of your weekend drinking plans. It's an all-in-one, all-inclusive answer to your Cinco de Mayo party needs.
To celebrate the launch of Bud Light Lime-a-Rita, we spent a few minutes chatting with the beverage's lovely spokeswoman, Maria Menounos. Menounos was born in Massachusetts. Her parents are Greek immigrants and she can speak fluent Greek and Spanish. In addition to being an absolute stone-cold fox, Maria balances a sporty/beauty pageant/journalism background with acting, TV hosting, celebrity dancing and even professional wrestling duties. Basically she does it all.
And when she's not putting up perfect scores on Dancing with the Stars, interviewing President Obama and the First Family, catching touchdowns from Joe Montana, winning tag team matches at Wrestlemania or losing Super Bowl bets that require her to sport a bikini in the middle of winter, Menounous still finds time to enjoy a beer or a marg or in this case, a beer-marg combo like the Lime-a-Rita.
We talked with Maria about the upcoming Bud Light Lime-a-Rita kickoff party this weekend at the Mandalay Bay Hotel & Casino in Las Vegas, dominating dancing and wrestling, staying so damn fit, what her Greek parents think about her racy photo shoots and a whole lot more. Here's the full interview:
We're heading out to the kickoff party in Vegas this weekend. We'll let you know how it goes! Have a safe and fun Cinco!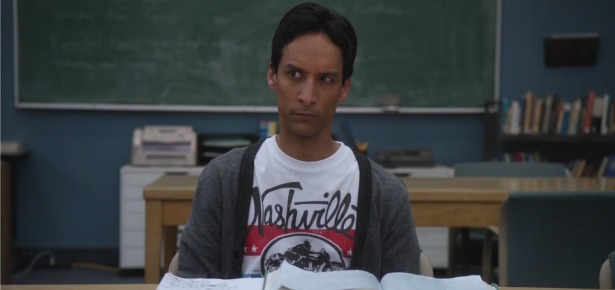 You know Danny Pudi. You've seen his comic skills and on-point timing on NBC's hit show Community. Pudi plays Abed, an awkwardly loveable geek with a passion for TV and films (a guy who may or may not have Asperger's syndrome). But Pudi's not as socially awkward as the character he plays on TV. In fact, the guy's a pretty smooth dude.
He's engaging, humble and always willing to make himself the butt of a joke. He's a sharp guy, but when it comes to his brand of humor, he's a giver, not a taker. He has the type of humility you'd expect from a guy who grew up having to explain that he's half Indian and half Polish.
Pudi is a mellow, approachable cat who grew up in Chicago and cut his teeth doing improve at Second City. In addition to his TV work, Pudi's got a few film projects lined up, he's new Dad with twins and he's also working with Speed Stick to help guys deal with random embarrassing situations.
Yes, Pudi and Speed Stick are kicking off a new campaign called "Handle It." The gist is this: if you've got a weird, totally awkward situation that you need to sort out, send a tweet to @SpeedStick (before May 14) and use the hashtag #HandleIt. Danny Pudi will select his favorite submission and the winner will get to see their submission turned into a video where Pudi will provide advice as an "inner voice."
We talked with Pudi about the #HandleIt campaign, improvising on the set of Community, working with Chevy Chase, fame, fatherhood, Alison Brie's hotness and a bunch of other things. Here's the full interview:
CS: So tell me a little bit about how you got involved with Speed Stick and the #HandleIt campaign.
DP: Yeah I think they came to me and we teamed up because I too am fond of and prone to awkward moments (laughs).
CS: (laughs).
DP: Many a time. Starting from childhood when my Mom made me the center of a Polish dancing troupe and I had to explain why that was to most of my friends, all through all my awkward moments with girls and high school, with my wife – which continues to this day. That kind of stuff, from lighting myself on fire, from trying to figure out how to parent a child – which I have two kids now. I'm always hoping I will learn something from somebody else's awkward moments. My very first red carpet for Community, I ended up walking down the carpet and realized halfway down that I had spinach in my teeth – or actually kale, I had kale in my teeth.
CS: (laughs)
DP: So these kind of things happen to me quite a bit. I even done a couple live shows here like mortified regarding some of these awkward moments. I was excited to partner with Speed Stick, cause we're asking guys to Tweet some of their awkward stories and how they handled it to @SpeedStick with the hash tag #HandleIt. Out of those stories we're going to make a video and I'm going to narrate it. So I'm excited to see what we'll come up with.
CS: So were you involved in the scoping of how you wanted the campaign to play out?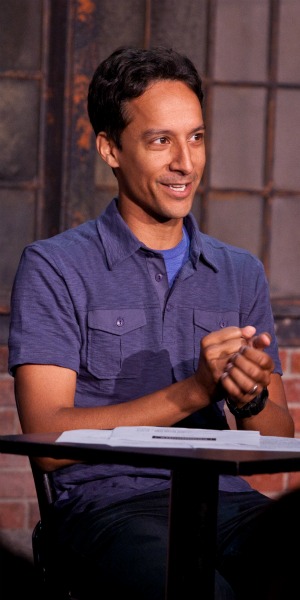 DP: No not really. They came up to me and they told me that they were doing this campaign regarding "handle it" moments and I think it's something that just kind of resonated with me because there's nothing I enjoy more and that seems more honest and true to me as an actor and person than that awkward moment between people. And I think it's part of why I love my characters like Abed. He's constantly questioning social etiquette, always second guessing how you handled a situation. That to me is life. My wife makes fun of me all the time for some of the things that happen to me. I woke up one time with a squirrel in my bed and I was trying to tell people about that and I ended up freaking out and screaming, and this is when I was doing summer stock theatre. One time I walked out of a building and as I walked out of the building I was really holding in a spit and as soon as I opened the door of the building I spat. I have terrible peripheral vision and I realized I spit in a guy's face.
CS: (laughs).
DP: I had to explain myself, make sure I didn't get punched in the face. It was also on my shirt so I was wet. I gave him my sleeve so he could like wipe the spit off his face on my sleeve. And the guy was right next to me so it's like (laughs) I don't know. More than anything I'm hoping this generates a community of people who endured these awkward moments together and you have to share that you're not the only one who has suffered (laughs).
CS: So I read that interviews kind of weird you out still. How are you coping with all the fame and attention you've been getting?
DP: It's strange for me. I'm not used to it. I like to kind of do goofy things, walk around and make sure I can pick my nose in peace. But now people watch me a little bit more so that's interesting. I do think it's actually pretty cool too to be connecting with people, audience. The show is actually kind of making an impact. I love that. I love being able to play a character that has—like gives a voice to people. Especially a character that's a little bit more unusual and not typical to American television. But yeah, as far as like getting used to it, it is weird. Like all of the sudden walking down the street, someone yelling "Abed! Hey Abed! You going to get coffee?" or whatever.
CS: (laughs)
DP: Or "Abed you're buying blueberries?" and I'm just buying blueberries, just kind of stuff like that. It makes you a little self conscious but, you know, I'm doing okay.
CS: Does it change you at all or do you still feel like you're the same dude?
DP: I still feel like I'm the same dude. Just because, I don't know, I've been married for a while and most of my friends and my family are pretty down to Earth. And also my family—my mom speaks Polish, she'll yell at me and curse me out in Polish if I'm  doing anything weird. So it's a nice way to kind of come back to reality. I do still feel like I live in a small town. And I'm not from a small town, but most of my friends and my wife, that's really who I hang out with. The other thing is the show I'm working on, Community, they're truly some of the greatest people and they're very family oriented. And we are like a family so that's all we do. We literally work and hang out with each other then we go home and that's it. And then I cry (laughs)
CS: (Laughs)
DP: (laughs) I just find a place where I can cry once a week. That usually does the trick.
CS: So what's it like balancing your work schedule with being a new dad?
DP: That's really difficult – I don't know. You'll have to ask my wife. She has become parent of the century because we have twins too, and she's trying to do it all. She's incredible. I mean, I love it. We're having so much fun. The babies are amazing we're really blessed. They're really inquisitive. Every day is sort of a new adventure. They're three months old now so it's like all these new milestones. Now they're mimicking us a little bit. They smile at you and recognize you and man, there's no … there's no greater feeling in the world and also no heavier responsibility in the world. I used to like get worried or panicked about memorizing lines for Community and now I'm like if I can get to set or if I can get somewhere when the babies are down for a nap, I feel like I literally just won an NBA championship.
CS: (laughs) So do you like pop culture and movies and TV as much as your character Abed does?
DP: I do. I think that I have an appreciation for pop culture. I think I'm not as, I guess, obsessive in terms of Abed and his knowledge. I definitely don't have the grasp and reach that Abed does, and the other writers in Community that do Abed. I feel like there are 10 brains working there. You know, there are certain things, like "Raiders of the Lost Ark" was just on the other night on USA and that's like… I get angry when it comes on at 11:00 at night because there's no way I'm going to be able to fall asleep. I've got to watch the whole movie. So there are some things like that where I do feel I fall in line with Abed, but he definitely has a way stronger knowledge. I was more of a famous sports kind of guy. I would memorize baseball cards and baseball players as a kid and I was obsessed with Michael Jordan. That was how I was sort of a fanatic.
CS: So with Community I understand that there's lots of improvisation that goes on on the show, especially those final segments like with you and Donald Glover. Coming from Second City, that's something that you really have to enjoy right?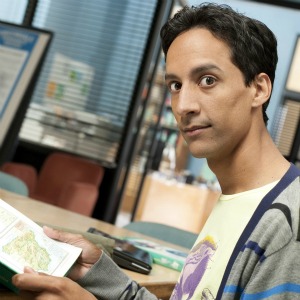 DP: Oh I love it, yeah. I mean to me, I love watching theatre, I love watching TV shows, but there's no greater inspiration for me than when I watch a really great live improv or sketch comedy show. Like a Second City or Improv Olympic show. Just because it's just so spontaneous – you're really part of the discovery as an audience and as a performer. And I think there's just something really special about being in one place in one row and one moment, and everyone experiencing something truly brand new and spontaneous together. So that to me is something I just love and I think there is a spirit of that in our show definitely. I think Donald Glover and Jim Rash are exceptional improvisers, but most of our cast is really strong comedic actors. We have this group vibe that developed over three seasons. We're really able to play off each other pretty well. But that's just fun. Something happens, we start going in a certain way, it's always kind of fun just to see what happens. It all starts with something specific and really man, it's the writing which I think helps create these really great characters and allows us that sort of freedom to play.
CS: Now you kind of alluded to this already but it's really the talent of the people that are around you, with the cast, that makes that successful improv possible, right?
DP: Yes. Definitely. That to me is like the number one thing. That's why I love to be—I feel like I excel and I feel challenged and most excited and liberated when I'm in an ensemble working with people towards a common goal. That to me is the funniest comedy too, where two people or three people or four people are all trying to do the same thing, all failing in their own individual ways. I mean that's really entertaining for me to watch. So it's as simple as watching two people with their bags stuck in a door and watching one person ask for help, the second person comes to help, and these people are struggling and still they can't figure it out. And you want to help them of course, but there's something so entertaining about two people trying to help each other, but stuck in a bubble that I will always find entertaining.
CS: When is your character going to get a love interest?
DP: I don't know, you know? I mean there's been hints at it. There was the CIA agent last year and there seemed to be sort of a good dynamic between the two. I think it just clicked. Very factual dialogue, they just understood each other. Abed takes direction really well so if you tell him to kiss you now and kiss your for 4 seconds he will do that (laughs). Abed had a Han Solo moment with Annie Edison last year, I think that was fun for Abed, especially to play the heroic character. But I don't know. It's definitely going to take a very patient and interesting girl (laughs).
CS: (laughs)
DP: And he's going to have to love kickboxing.
CS: (laughs) What can you tell me about the possibility of a fourth season?
DP: I don't know. I've been told from others around that they're confident in it but there's nothing confirmed yet. We're all still waiting, just like everybody else. I know that from the history of how I've been informed – like about being picked up from hiatus – I was one of the last people to find out.
CS: (laughs) Gotcha.
DP: So I do have a feeling that people on Twitter and Facebook will know probably about an hour or two before I do. Actually even sooner. I don't know if that's because I'm aloof or because they don't want to tell me because they're scared of how I'll react (laughs).
CS: (laughs)
DP: We don't know. We're hopeful. I think we had a really great strong ending to season three and we're looking forward to graduating. It makes sense and it would be fun to see what happens in the senior year at Greendale, but in the meantime we did look at every episode as a potential last episode – which is why they were so ambitious.
CS: So I read something on your Wikipedia page that sounded like the coolest couple sentences ever; that you won the Chris Farley scholarship and that lead to an improv comedy event with Jim Brewer and Dave Chapelle? I mean, that has to be insane.
DP: Oh yeah, it was completely overwhelming. I only remember about 30% of it (laughs).
CS: (laughs)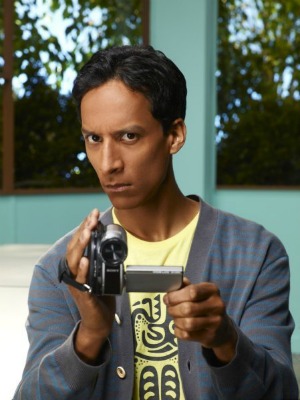 DP: I kind of feel like I'm always thrust up to these very "trial by fire" situations. It was like when I first went in to read for Community. It was Joel McHale, Chevy Chase, and Gillian Jacobs there and I didn't know what to do. I couldn't believe I was sitting there at this table with these people. So it's the same thing with that event. In college I was a junior and won the scholarship. When Chris Farley passed away they developed this scholarship in his name, a comedy scholarship, I won it. At the time, I wasn't sure what I wanted to do. I was kind of a little lost, and it led me to study comedy. I was doing some theatre in college but I was really becoming more and more interested in the art of comedy. I learned that Chris Farley had studied at Second City and that eventually led to a Saturday Night Live career. The first thing I do is sign up for a class at Second City and that really kind of changed my life in terms of realizing that … first of all getting me out there so that I could do it for a living, and also it was just so much inspiration. That place is really historic and kind of an institution. Going in there and watching shows and doing shows, I just knew right then I wanted to do this for a living. And one of the first things they did, I was asked to be in this show, just improvise a little bit in between the sets that Jim Brewer and Dave Chapelle did, and I was just blown away at how good they were and also completely over my head. Which was fun though, because I realized more than anything, I needed to start studying for real.
CS: So what advice do you have for young comics or young people interested in improv that are just getting started? Is it time on task? Is it variety? What would you say to young people who are interested in following a similar path?
DP: That's really a tricky question because I do think that people learn differently and I think people are inspired in different ways. One of the things, for me, that I know that works is I needed to be surrounded by people that are better than me. I always feel like that helps. So at Second City I made sure I'd take classes from people that I'd see on stage or really admired their talent or their point of view. So that helped. It also helped performing a lot because I think you develop your voice. I didn't move straight to Los Angeles, I was in Chicago for about three years before I moved to Los Angeles. But Chicago allowed me to perform a ton so by the time I got to Los Angeles, even though I came out there with nothing, I at least felt like I started to develop my own comedic voice and had enough performances under my belt to kind of feel confidence when I was on stage. So that's what I did. I watched a ton of shows. If I saw a show I liked at a theatre, I would investigate it a little bit more. And beyond that one of the things I'm obsessed with – I'm still obsessed with— is I watch people all the time. I just watch people and I talk to people and I think that there's no greater inspiration. You learn, as an actor, just by watching people and seeing how they behave, I think that's kind of worked for me.
CS: Now I know you've got some film projects coming up like Knights of Badassdom. What was it like working with Peter Dinklage from Game of Thrones?
DP: Incredible. I only spent a couple of weeks with the cast, sort of a minor role, but working with Steve Zahn and Peter Dinklage was pretty incredible. At the time Game of Thrones wasn't out yet.
CS: Right.
DP: So I didn't know how amazing it was. But I knew of Peter Dinklage. I mean now he's my favorite character on Game of Thrones – the Lannisters, I mean it's just an incredible show. That whole cast was pretty amazing, working with Steve Zahn and Ryan Kwanten. Again it's one of those things where I love being surrounded by other actors who I'm a fan of so it's kind of fun for me to be a fan and also be a participant in anything I do.
CS: And tell me a little bit about The Guilt Trip, the comedy written by Dan Fogleman that's coming up.
DP: Oh yeah. That's a fun movie. It's with Seth Rogen and Barbara Streisand. I get a minor part where I just play a friend of Seth Rogen, but I like the story. I think it was really fun. I play a chemist, and this is one of those—I call it one of my "Sanjay" roles. I've definitely played quite a few Sanjays.
CS: (laughs).
DP: (laughs) I'm adding another Sanjay to the belt.
CS: Okay just a couple more questions for you, rapid fire.
DP: Okay.
CS: Is Allison Brie super hot in person?
DP: Yeah. Next? (laughs)
CS: (laughs) What's it like sharing a stage with Chevy Chase?
DP: It is like being in a bizarre hard work study program (laughs). Next?
CS: (laughs). I think I'll just end it there. I don't want to take up too much time, but I appreciate the time, Danny.
DP: No worries, man. Thank you so much.
CS: All right take it easy.
DP: Cheers man.
So yea, Danny Pudi's a pretty cool, down-to-Earth guy who can make you giggle on the fly. If you have an awkward moment to share with Danny, hit @SpeedStick up on Twitter with the hashtag #HandleIt before May 14.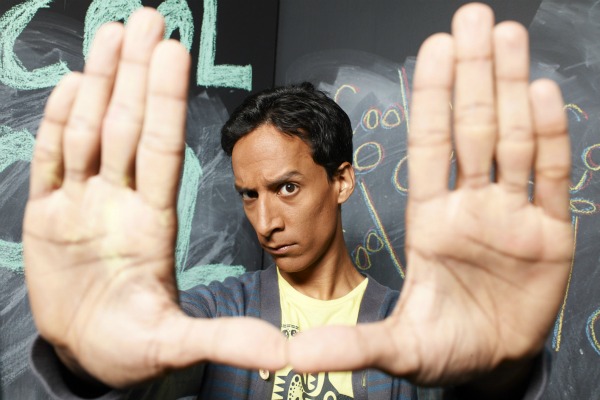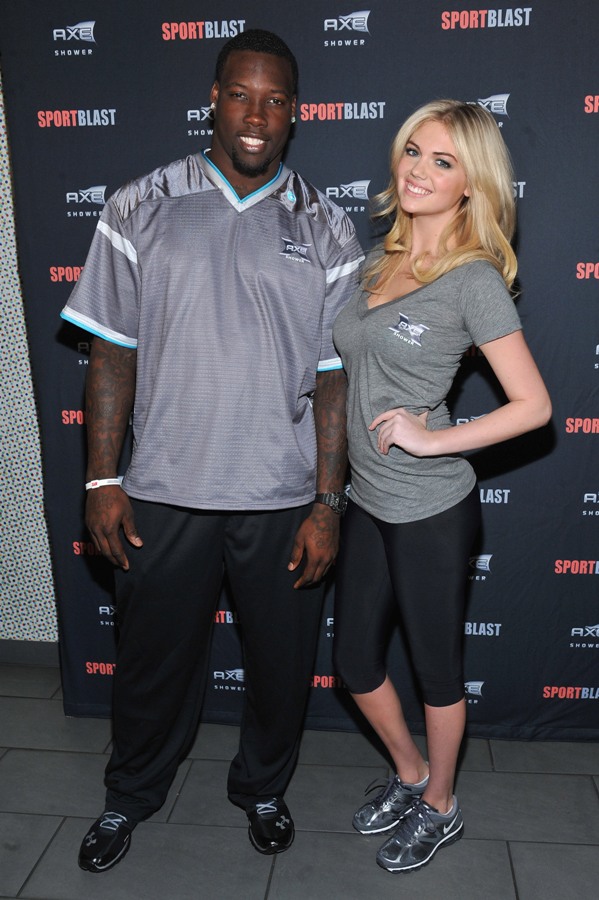 A day before the 2012 NFL Draft, AXE held a last-minute display of athleticism in the AXE Sport Blast Combine House in New York City. This was not another pre-draft workout for college football players vying for the 253 available NFL draft slots. It was a friendly combine competition between Giants defensive end Jason Pierre-Paul and super-sexy supermodel Kate Upton.
Upton and Pierre-Paul went head-to-head in a balance beam competition and took part in an intense table tennis battle. The event was organized to promote the launch of AXE Sport Blast 2-in-1 Shower Gel + Shampoo, a new combo shower product that'll leave you energized and happy that you made such efficient use of your shower time.
And hey, we'll take advantage of any opportunity we can get to post photos of Kate Upton: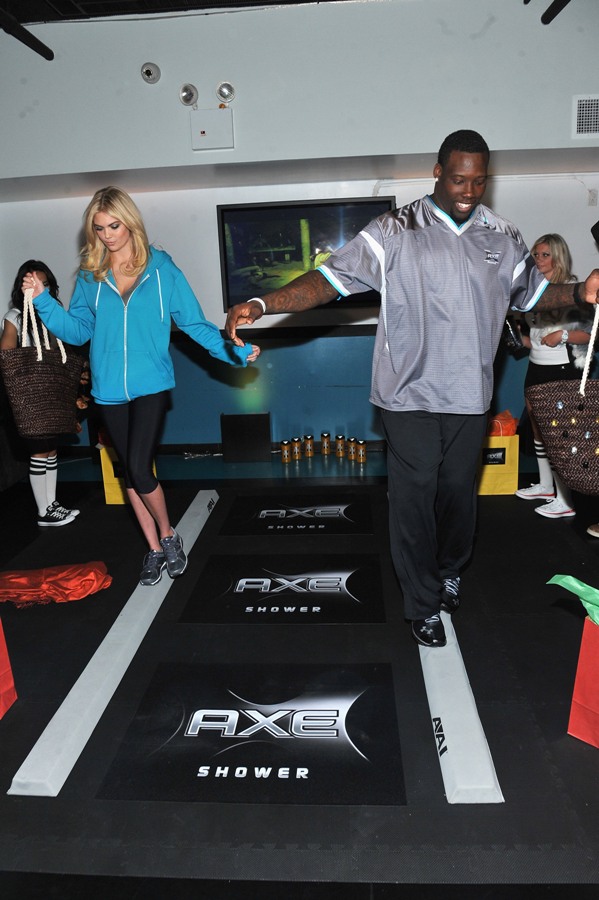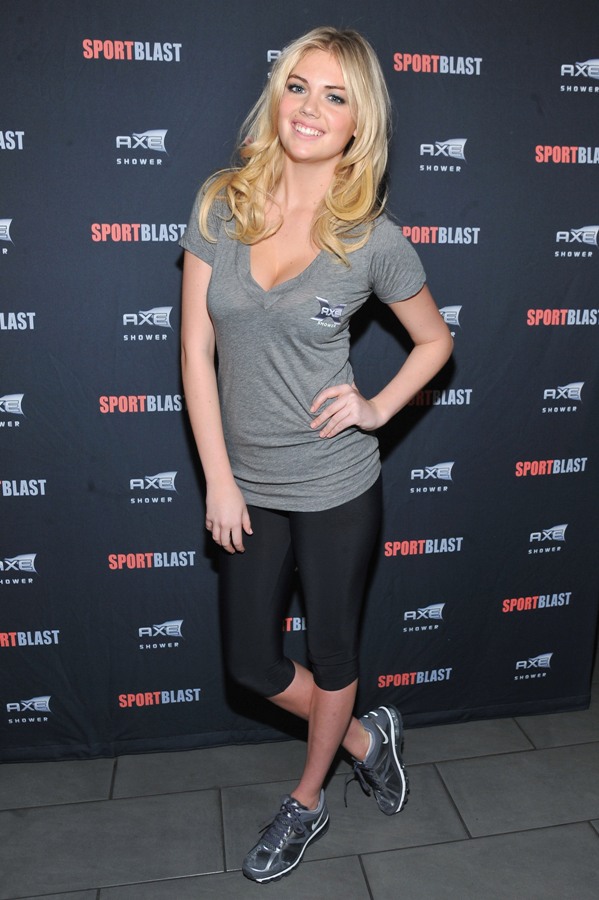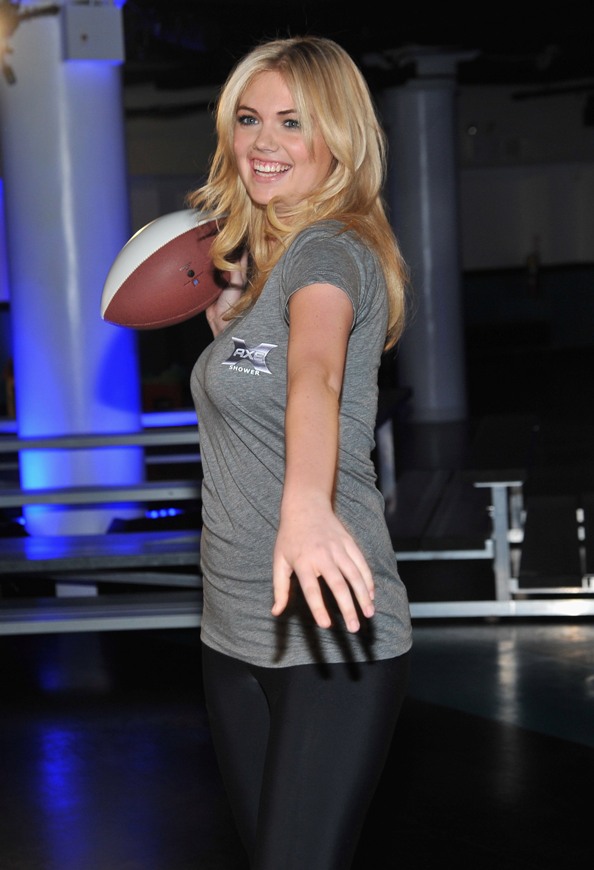 Check out the newest music video from Don't Stop or We'll Die:
So yea, I guess Tupac is still alive: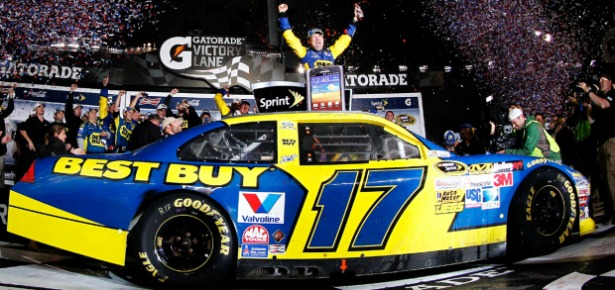 Matt Kenseth won a wild Daytona 500 a few weeks back. Due to the rain delay and the extra-late conclusion of the race, Kenseth wasn't able to attend his Champion's Breakfast until this week. We talked to Kenseth on Wednesday about his Daytona experience, social media, the new tandem racing rule changes and the upcoming race in Texas this weekend on FOX.
CS: So how does it feel to finally get Daytona 500 Champion's Breakfast out of the way?
MK: Well there's there problem, I showed up and there's no food.
CS: Oh what? (Laughs).
MK: I guess it's not breakfast. That was the bad part. We got jipped out of the food (laughs). But it's cool to come out here and see the car sitting there in the Daytona 500 Experience with all the confetti on it just like it was sitting in Victory Lane. It was really neat. I mean it's different coming now a couple months later and celebrating it, but it's always neat to come back and see the car, see the fans, and kind of relive the experience of the Daytona 500.
CS: That was such a wild race, man. I was following along on TV along with a bunch of other people. How did you stay in the right mindset with that extra long delay?
MK: Yeah it was different. Waiting till Monday night was one thing, but that delay in the middle of the race was really … it was really kind of a tough one. So it was after our last pit stop and I was worried about the track not getting fixed. And, you know, if we went back to green we were going to be the leader, the first off pit row, and the guys in front of us were going to have to pit. So it was just a lot of anxiety and you know, anticipating getting the race started and wondering what's going to happen.
CS: And what did you think about Brad Keselowski's Twitter antics during the red flag?
MK: Well he just seemed to be popular with the fans and the media and the TV and all that. It was very popular with the fans and the broadcasters and the TV and doing all that stuff. For me, it didn't really matter to me. I was more thinking about the race than I was about Tweeting.
CS: Do you use social media at all to connect with fans? I mean, when you're not racing?
MK: I do. I got on Twitter last August or something like that, so I was one of the later ones. But I do get on there at least a couple times a week, usually. You know, send some notes or pictures about what I'm doing or whatever and try to get on there and communicate with the fans on Fridays or Saturdays when I get a little down time at the track. I'm not on there every day and checking it every day, several times a day – I think like a lot of people do. I enjoy finding another way to connect with the fans.
CS: Gotcha. And what do you think about the new tandem racing rule changes?
MK: Oh I like the new rules that broke up the pack a little bit. You get back to kind of pack racing and kind of racing, you know, one against 42 and trying to make moves and not so much worrying about another car.
CS: You think most drivers have adjusted to the rule changes already?
MK: Yeah. Yeah I do. I think that's kind of the way it was forever and I think everybody's adjusting pretty well. That's a little different. You can still try to get locked up for a couple laps, but it certainly has changed the race ethic for the better.
CS: Now I'm sure you get asked this all the time but what was your initial reaction a few years back to the Matt Kenseth rule – the whole point change that was made after your first championship?
MK: Oh, I think the change to the Chase was great. I think, if you look at last year for instance, I don't think the battle or race could have been any more exciting. I mean at the ended up being the same amount of points and it went to the guy with the most wins, which I think is what they want. You had some people qualify for the chase, you know, with wins during the season but couldn't make the top ten for whatever reasons – they had a bad start, but won some races made the Chase and were contenders down the stretch. I think it's really added a new exciting element to the sport. Did they have Yoga Mudras . All passengers aboard the Orient Express have a secret to hide, and one among them is a ruthless murderer. As the luxury train speeds through Europe, the man known only as Poirot must match wits against a murderer who could be anyone, even a fellow passenger. The stakes are high
CS: Excellent. So last question, what's the race you're most looking forward to the rest of the way?
MK: Well, there's a lot of races left, but right now I'm really looking forward to going to Texas. That's always been one of my favorite tracks and we've had some pretty good success there in the past so I'm looking forward to getting out there and getting on the track tomorrow.
Matt is currently in fourth place in the Sprint Cup Series. Tune in to FOX this Saturday at 7pm EST to see Matt try for his third victory at the Texas Motor Speedway.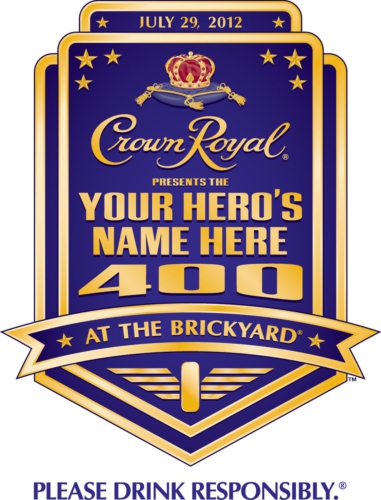 Every year, Crown Royal runs a program that provides naming rights to a NASCAR Sprint Cup Series race to a deserving hero. The winning servicemen and servicewomen are selected by fans. You can submit stories on the "Crown Your Hero" tab on the Crown Royal Facebook Page. If you want to nominate a firefighter, police officer, first responder, volunteer, soldier or other service person, make sure to submit an essay (100 words or less) by April 30, 2012. The essay must answer the following question: "Describe a personal achievement, unselfish act, or honorable act that is worthy of a toast with Crown Royal?" Finalists will be selected in May and fans will get to vote on the grand prize winner.
This year's grand prize winner will receive an ultimate race experience at the 2012 Brickyard 400 at the Indianapolis Motor Speedway where they'll drop the green flag to start the race, tour pit row, get infield access and access to the Crown Royal suite and RV during the race. The grand prize also includes access to Victory Lane at the end of the race, room accommodations for two, roundtrip airfarem ground transportation to the race and a per diem. Five finalists will also receive tickets to the race, roundtrip airfare and accommodations in Indianapolis.
To learn more about the program, check out this video that showcases the experience of past winners: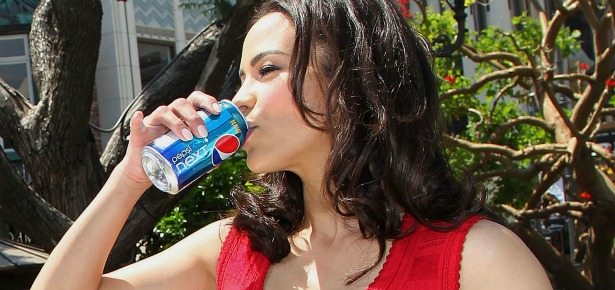 Paula Patton is a stone-cold fox. But I'm not telling you something you don't already know. You've seen Paula in films like Déjà Vu, Mirrors and Mission Impossible: Ghost Protocol. She's like a younger, longer-haired, happier version of Halle Berry. All comparisons aside though, Paula Patton is talented and gorgeous enough to merit all the attention she's getting.
In addition to promoting the latest Mission Impossible (now available on DVD) and her upcoming role in the film Disconnect, Paula just signed on to play Denzel Washington's love interest in 2 Guns. She's also been working with Pepsi to get the word out on their new product, Pepsi Next.
Pepsi Next combines four different types of sweeteners to deliver a cola product with 60 percent less sugar. The combination of high fructose corn syrup, aspartame, sucralose and acesulfame potassium results in a Pepsi that doesn't quite taste like a diet soda and is a bit mellow on the syrup factor than an original Pepsi. A regular Pepsi contains 150 calories and 41 grams of sugar. Pepsi Next has 60 calories and 15 grams of sugar.
To be honest, if I was walking around Los Angeles and Paula Patton asked me to taste-test a beverage as part of a "Drink It to Believe It" campaign, I'd probably drink just about anything. Believe that.
I did a quick interview with Paula this week and we talked about her involvement with Pepsi Next, the filming of Mission Impossible 4, Swedish actor Michael Nyqvist, Paula posing nude for her hubby's album cover and whether or not the original script for the film Mirrors called for Paula's character to sport a wet t-shirt through the entire third act of the film. Here's the interview:
Now go support Paula and try out this Pepsi Next business for yourself.