Chris Stout
Posts by Chris Stout

The madness is about to get started, but before the tourney kicks off, Coke Zero is giving college hoops fans a chance to get in on the action a little bit early. The Coke Zero School Shout Out gives fans a chance to support their teams and win some cool prizes in the process. Leading up to March 10, fans can text "0" and their favorite NCAA Division I basketball team to "2653" for a chance to win thousands of free NCAA March Madness Live access packages.
NCAA March Madness Live provides live, high-quality video streams and highlights for every game in the tournament straight to your iPhone or Android phone. You can also get live game alerts and live radio broadcasts for all 67 games. The package costs $3.99 and is available across all videos screens and over Wi-fi and 3G. If you want to pay four bucks and not miss a damn thing, visit NCAA.com.
Coke Zero will be ramping up the prizes as the tourney kicks off. On Selection Sunday, Coke Zero will be launching a "Watch & Score" program that will provide a new level of fan engagement throughout the tournament. Basically, when you tune in to watch March Madness on CBS, TNT, TBS and truTV, you'll see calls to action and keywords during the broadcast and on March Madness Live. Fans can text in for a chance to win a bunch of prizes like a home entertainment system makeover, trips to the 2012 and 2013 Final Four or a spot on an Ultimate Fantasy Basketball Camp hosted by legendary college coaches.
My Coke Rewards members can also get in on the Coke Zero Bracket Game. Starting March 12, make sure to look for unique codes on Coke Zero products and enter them in through your my Coke Rewards account on the EnjoyMoreMadness.com site. Select the right team to advance in a given round, and you'll earn a chance to win gift cards, Final Four trips, music downloads and all kinds of good stuff.
You know you're going to watch all these games anyway, so might as well take a look at this stuff and get in on the action. Who knows, you may even end up in New Orleans for the Final Four this year.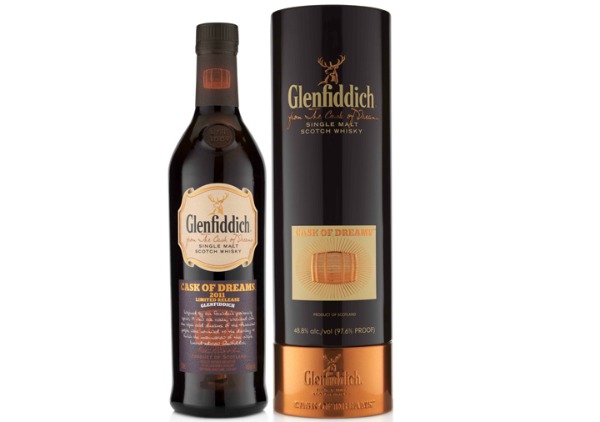 A couple weeks ago, I attended a tasting of Glenfiddich's rare Cask of Dreams whisky at Seven Grand in Downtown LA. The tasting was hosted by Mitch Bechard, the Glenfiddich Brand Ambassador for the western US. Bechard did a great job of explaining the story behind the Cask of Dreams release, and he scored extra points with me after he hooked me up with a limited edition Cask of Dreams bottle to take home.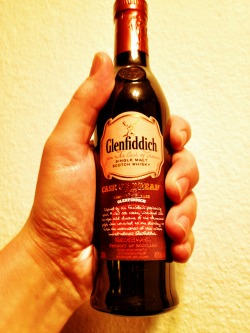 So here's the story behind the Cask of Dreams whisky. The limited bottling of the Cask of Dreams is part of Glenfiddich's 125th Anniversary celebration here in the states. In 2011, Glennfiddich brought 11 brand new American oak barrels from the Ozarks to different iconic cities throughout the US. They encouraged people from all over the country to sign these barrels and include a note about their dreams and what inspires them.
So people around the US arrived at these cask signing events, enjoyed some great whisky and put their mark on the oak barrels.  The barrels were then shipped back to Glenfiddich where they wree filled with a variety of matured whiskies, the youngest being 14 years old. The whisky was decanted in the new oak barrels and monitored to ensure that the right combination of vanilla, spice and aromas were achieved. The whisky was sampled every three to four weeks by Glenfiddich Malt Master Brian Kinsman. After three months of finishing and achieving a 48.8% ABV, the limited edition whisky was ready to be bottled. Only 3,500 bottles were produced (for the US only) with a recommended retail price of $99.
So sampling this stuff was pure joy. I love single malt whisky and the Cask of Dreams flavor was just fantastic. Super smooth, well-blended flavor. No single flavor dominated the taste. It was strong without a big bite. It's the kind of spirit that you don't even want to swallow. You just let it sit on your tongue as long as possible so you can soak in the complexities. It has a sweet and fruity nose, a friendly entry and a mellow-spicy finish. If you have a chance to get your hands on this limited release, I highly recommend it.
And if you're interested in regular whisky tastings at Seven Grand, contact Pedro Shanahan – pedro@213downtown.la. Pedro invites master distillers and brand ambassadors to visit the local Whiskey Society. He runs weekly and monthly events where you can learn about and sample whisky from all over the place. If you live close to Downtown LA, it's definitely worth checking out.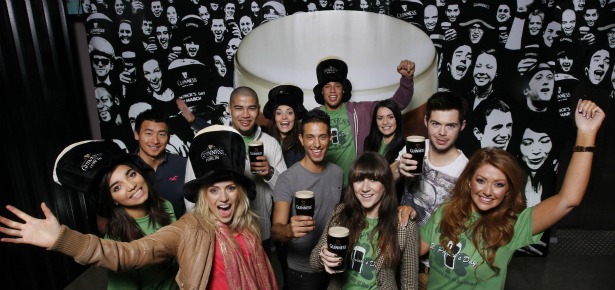 It's never too early to start thinking about your St. Patty's Day plans. Those four leaf clovers, green outfits, parades, pints and pubs aren't going to enjoy themselves. You need to start mapping out what your March 17 festivities are going to look like now.
This year, instead of sipping on some god-awful American light beer loaded with green food coloring, why not take part in a time-honored St. Patrick's Day tradition and responsibly celebrate with some tasty Guinness?
According to National Geographic, Guinness sales go through the roof on March 17:
On any given day 5.5 million pints of Guinness, the famous Irish stout brand, are consumed around the world. But on St. Patrick's Day, that number more than doubles to 13 million pints, said Beth Davies Ryan, global corporate-relations director of Guinness.
The folks at Guinness are well aware that St. Patty's Day and Guinness are the perfect party combination. That's why this year Guinness is recruiting people from all over the world to sign a pledge to responsibly enjoy their tasty brew on March 17. Their goal is to set a Guinness World Records title for "The Largest St. Patrick's Day Celebration" ever.
MANjr is partnering up with Guinness to get the word out on this pledge. Our blog is the representative for the state of California, so we're asking you, dear reader, to help support the cause and sign the pledge for on Guinness.com.
When you visit the site, click "Join the Party" and you'll be directed to a form that asks for your first name, country, zip code and an optional code. Just fill out the form and enter "MANJ" into the optional code field so they can track all the MANjr pledges that come in. You don't have to be form California to sign the pledge, but help us represent our fine state in this noble cause! You could also win a trip to Dublin!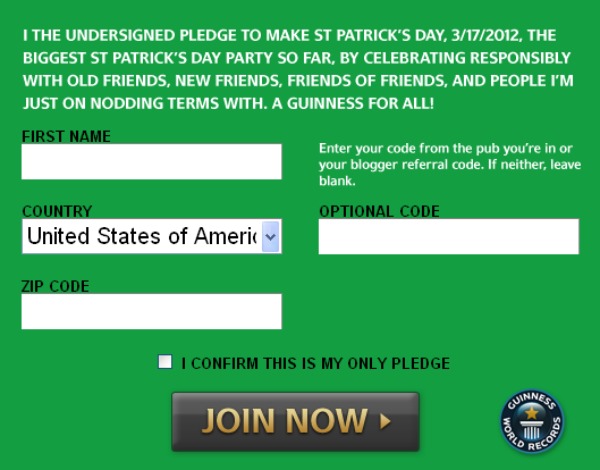 We get $1 for every pledge we bring in (up to $1,000), and if we dominate this pledge stuff, we can earn a trip to Dublin to attend a party at St. James Gate in September.
So help us out people! The competition is fierce, the cause is just and we need your support. Don't forget to include "MANJ" in the optional code.
Thanks for your support and have a safe and happy St. Patrick's Day!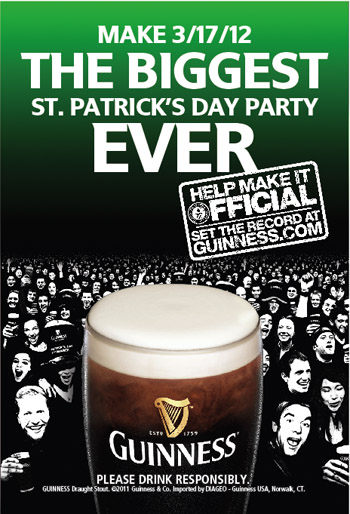 So last night was a great night for our friends at Valvoline and Roush Fenway Racing. We had a rooting interest in cheering on Jeff Burton (due to our participation in the Daytona 500 Blogger Challenge and the fact that he's a really cool guy), but we have a history with the guys from Roush Fenway Racing and Valvoline as well, so it was awesome to see them enjoy success at Daytona.
The Roush team includes Carl Edwards, Greg Biffle, Matt Kenseth, Trevor Bayne and Ricky Stenhouse, Jr. Kenseth beat out teammate Greg Biffle to win the Daytona 500, much like he did during the Gatorade Duel Daytona 500 qualifying race in Thursday's second duel session at Daytona International Speedway. This put Kenseth in the #4 starting position for the Daytona 500, just behind Carl Edwards (who earned the pole) and Greg Biffle who earned the #2 starting spot.
Matt Kenseth finished fourth in the 2011 NASCAR Sprint Cup Series, and his teammate Carl Edwards lost to Tony Stewart in a tie-breaker. Ricky Stenhouse Jr, was the 2011 Nationwide Series Champion. Roush Fenway Racing had three drivers finish in the top 10 in the Daytona 500 yesterday. Not bad at all.
Here are some images from this weekend's festivities at the Valvoline NextGen Pit Stop at the Daytona 500: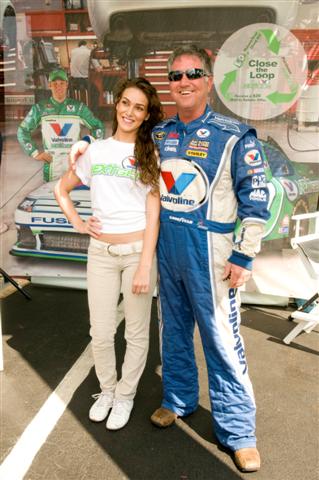 Fans get a chance to dress like the pros at the Valvoline NextGen Pit Stop during the Daytona 500.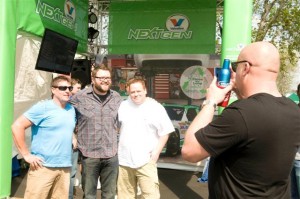 Rutledge Wood from Top Gear (USA) shows fans how they can Close the Loop and get a $20 gift card from Valvoline by returning their used oil to be recycled into NextGen motor oil.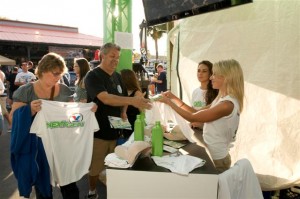 Fans enjoy complimentary gear and learn how they can Close the Loop at the Valvoline "NextGen Pit Stop" during the Daytona 500.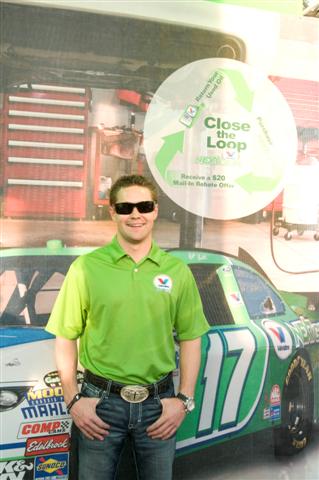 Ricky Stenhouse Jr., visits the Valvoline NextGen Pit Stop to share his excitement about his team's decision to run Valvoline NextGen technology in all of their Sprint Cup and Nationwide cars this season.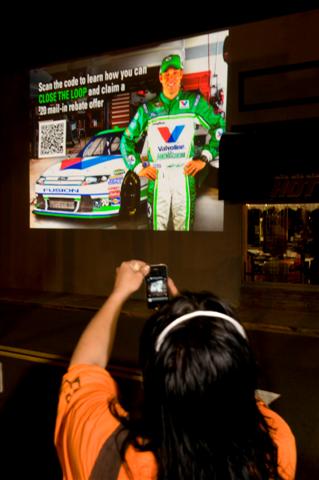 Race fans take in the pop-up Valvoline NextGen projection billboards all around town during the Daytona 500.
Congrats again to our friends at Valvoline and kudos  to Roush Fenway Racing for earning their 300th NASCAR victory!
Last night's Daytona 500 likely did more to further interest in the sport of NASCAR than any race that came before. This race had it all – early controversy, chippy driving, a pyrotechnic explosion of jet fuel, a two hour delay that featured miraculous track repair work, an explosion of social media interest and if all that wasn't enough, a little bit of free, overtime NASCAR.
What a spectacle. What a way to recruit new fans to the sport. Pushing the race to a prime time platform was a stroke of genius. During the red flag, the anticipation that built up for those last 40 laps was palatable.
I really do see this as the moment when NASCAR crossed over to the mainstream sports consciousness. Listening to sports talk radio this morning, I heard Jim Rome say, "Damnit, we're talkin' NASCAR whether you like it or not."
This isn't to say that NASCAR didn't have a massive following before last night. Of course it did. But on a night when there was no basketball, no football, no baseball, no other major sport competing for eyeballs, the wild, unpredictable race in Daytona won over new NASCAR fans in droves.
Fox's rain-delayed broadcast of the Daytona 500 brought in 14.2 million viewers. The network finished ahead on Monday night, drawing in viewers away from regular programming on NBC, CBS, and ABC.
After Juan Pablo Montoya crashed into jet dryer containing 200 gallons of jet fuel, the race was delayed for a full two hours as NASCAR cleanup crews used Tide detergent and a bunch of other stuff to fix the damaged track. During this red flag pause, drivers started getting out of their cars and hanging out.
One driver, Brad Keselowski, started tweeting like crazy. He actually took a photo of the Montoya crash from his car while driving on the track. He tweeted the photo, became a topic of conversation, and used the red flag delay to generate over 100,000 new followers on Twitter. Keselowski ended up crashing out after the restart, but he sure did a lot to promote himself and the sport while other NASCAR drivers were standing around waiting to get back into the action.
Jeff Burton, our driver in the Daytona 500 Blogger Challenge ran well the whole night. He led for 24 laps and finished in fifth place. We'll have some JB autographed merchandise to give away soon, so make sure you keep an eye on that for your chance to win.
Matt Kenseth beat out Dale Earnhardt Jr and fellow Roush Fenway teammate Greg Biffle to win his second Daytona 500. The race ended with a green and white checked flag and two extra overtime laps. It was a fitting end to a crazy night of racing.
Congrats to Kenseth, Roush Fenway, Valvoline and The Smoking Jacket, who had Kenseth in the Daytona 500 Blogger Challenge. Make sure to tune in to Fox next week as the NASCAR season rolls on at the Phoenix International Raceway.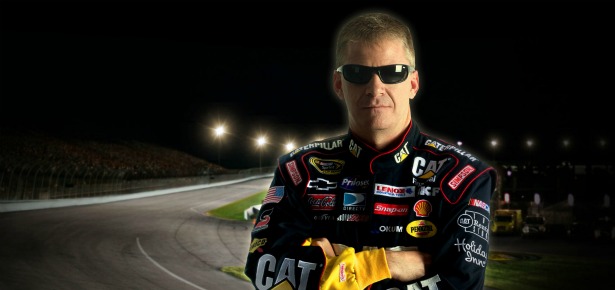 I went to my first NASCAR race last year and I totally got into the sport. I mean these guys are in pressure cooker situations traveling at speeds close to 200 MPH for hours at a time. The amount of preparation that goes into each race is crazy. And the communication that takes place on race day between drivers, crew chiefs and pit crews is something that I never really understood. It's just fun to watch and even more impressive to see in person.
The NASCAR season kicks off this Sunday, Feb. 26 at 1pm with the Daytona 500 on FOX and we're happy to be partnering up with NASCAR to celebrate the launch of the new season. MANjr is participating in the Daytona 500 Blogger Challenge this year. Basically, a bunch of blogs are getting assigned top drivers who will compete in the Daytona 500 this weekend. The driver with the best finish will deliver an all expense paid trip to the Sprint All Star Race in Charlotte, N.C. on May 19 for the participating blog and a lucky reader!
The drivers for the Daytona 500 Blogger Challenge were chosen at random and we got the Mayor, aka JB, aka Jeff Burton! JB's appeared in 619 races during a NASCAR Sprint Cup Series career that has spanned almost 20 years. The 44 year old driver has collected $77 million over his NASCAR career.
We had a good chat with JB last week. We talked about his expectations for the 2012 season, his new crew chief, what he thinks of the new two-car tandem racing rule changes, NASCAR and social media, Danica Patrick and a whole lot more. Here's the interview:
CS: So as a NASCAR driver how do you turn off that killer racing instinct when you're just driving around town, like going to the grocery store or taking your family out to dinner?
JB: (laughs) You know, driving a racecar is no different from driving a street car. The competition just isn't there. The point of driving a racecar isn't just about going fast. It's about competition, and you don't necessarily have somebody pushing you on the highway. Every now and again you do, you just have to ignore them.
CS: But do you feel a constant need to pass people on the freeway?
JB: I just stay the hell away from them. I've learned that most people don't know how to drive.
CS: (Laughs)
JB: I'm much happier when I stay away from them.
CS: I read that you were pissed off about last year's performance. It was your worst since '95. How is that motivating you leading into this season?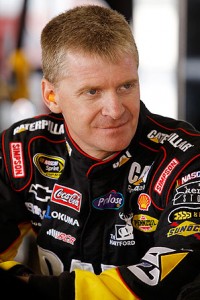 JB: Well obviously you put high standards for yourself and your team and when you don't meet those standards, it's very disappointing. And I think that in some cases people lay down a little bit. But I've always done better after real bad years and I think that it does, it does make you mad. It puts you in a position where you want to prove yourself not necessarily to other people but to yourself. And at the end of the day, you know motivation comes more from within than it does from outside. So you want to prove to yourself that you can do it. You want to have the best for yourself and your team. Those things are high motivators and I think that sometimes difficult years force change. In this case, we had a really bad year last year, but that put us in a position to activate some changes. It's going to be better for us so I view it as kind of a stepping stone. Yeah, we had to go backwards to go forward, but I think that's what we've done.
CS: Well you did finish strong last season. You had four top 10 finishes in the final five races. How does that carry over year to year?
JB: Well you know it's always nice to finish strong because you feel like you've built on something and you had something to work off of. Last year we always put ourselves in great position to win races, and we did start having better finishes. But we still weren't necessarily the best enough to win so we did change some stuff as the year went on and we did do a lot better, but we never were as good as we needed to be. So it was good to finish strong but it wasn't strong enough to say "okay now we've got it figured out," it was strong enough to say "okay we learned how not to do things." But I feel like we got a grasp of what we needed to do to go out and be successful on a consistent basis. So you know it's good, but it didn't change the way it was.
CS: Now you mentioned the changes from last season. One big change is your new crew chief. Are you excited to work with Drew Blickensderfer again?
JB: Yeah, I'm really excited about that. I think that that's just a big bonus for us. He's got a tremendous amount of talent. He's got a lot of drive, a lot of heart. He's good with our people, very well respected. You know it was time for some new energy around here, time to bring in a new thought process. You know I worked with him before, but it was a long time ago. The timing was right, and we're damn lucky to get him.
CS: So what are the qualities that every good crew chief must possess?
JB: Well it's different for every team. You know there is no template that says "every crew chief is this, every crew chief is that," you know. It varies from team to team, organization to organization. For us, I believe the crew chief is someone that can use all the tools around him, use the assets that the company has, add to those assets, be part of a distributing group that makes the overall company better, which obviously makes your individual team better. You can't have the personality that it's all about me, it's all about me. It's got to be about the whole company doing well. Honestly, we want 31 to be the best at RCR, but how we're going about doing that is all working really really well together and then just doing a better job with the same assets. And if you don't have that understanding and appreciation in today's world I don't think you can be successful. You've got to find a way to work with other teammates, motivate people, organize, delegate. It's not a game anymore with the crew chief making all the decisions by himself. It's truly a lot of people making decisions. It's not just the crew chief.

topbankinfo.ru
As I'm sure you've heard, the 2012 Sports Illustrated Swimsuit Edition is available on newsstands everywhere. Just look for the insanely hot cover with Kate Upton smiling back at you, and take a look inside. You'll find page after page of super fine models wearing barely a damn thing while posing in the most exotic locations in the world. You'll also find Yvonne Strahovski's steamy body paint photo shoot for SoBe Lifewater.
Yvonne is the third model to appear in a SoBe Lifewater Skinsuit, and she chatted with us about the experience a few weeks ago. We posted a couple of photos from the shoot, but photos on a blog a really don't do the shoot justice. To fully appreciate the SoBe skinsuit, you need a big poster autographed by Yvonne herself. Something like this: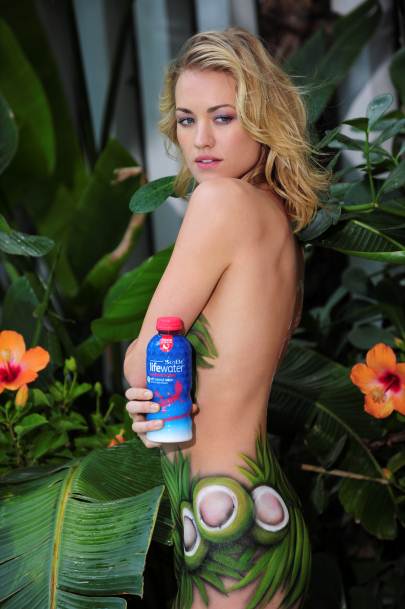 How do you score the poster? Easy! Just follow us on Twitter @MANjrcom and send us an email below. We'll pick a winner at random next Tuesday.
Good luck!
It's been a week since the NFL season came to a close. The Super Bowl has been picked apart and over-analyzed and revisited countless times in the last seven days. There's not much else to say about Super Bowl XLVI. It's in the books, time to move on.
But before we close out all mentions of Super Bowl XLVI, let's pause and appreciate some photos from the Super Bowl Playboy Party at The Bud Light Hotel in Indy:
Goodbye, NFL football. See you next year…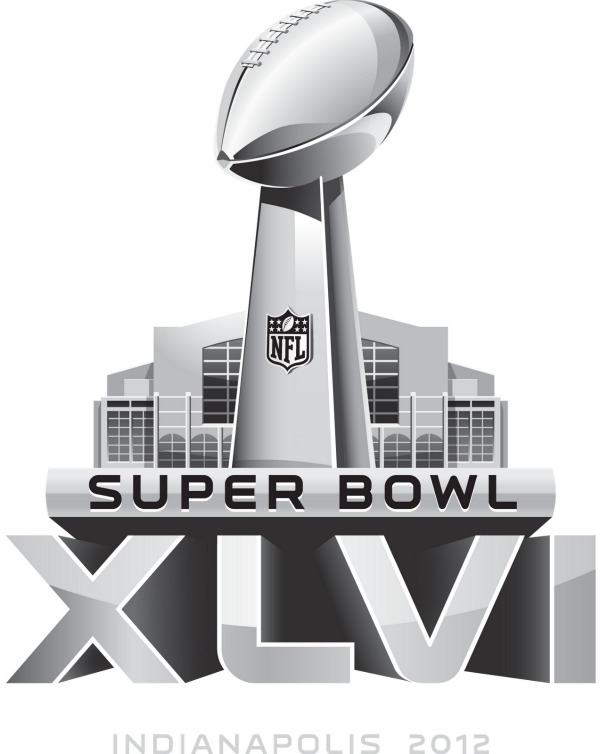 I feel like this is going to be a great game to watch. No one's expecting a blow out. No one's expecting one team to be in over their heads. Both coaches and QBs know the drill. They understand the importance of the moment. Belichick and Coughlin won't be underprepared. Brady and Manning are both big game quarterbacks that won't back away from the big stage.
But who's going to win? The line started at Pats -3.5, and after a ton of early action on the Giants, it settled in at -3. If the Pats were favored by anything over a field goal, I think it'd be a no-brainer to roll with the G-men. But the line sits at an awkward-to-call -3, so there are arguments to be made for both teams. They go something like this:
Giants
Eli's on fire. He dominates the fourth quarter, threw for over 5,000 yards this season and he's only tossed one pick in the postseason. New York's front four will pressure Brady into total confusion, causing QB jitters, happy feet and throwing mistakes. Just look what happens to Brady when he plays teams like the Ravens and the Steelers. Brady can be rattled. He's human. He hates pressure and with a healthy set of top-flight D-linemen, New York's pressure on Brady will be the difference in the game.
Plus, the Giants' trio of speedy, sure-handed wideouts will be too much for New England's suspect secondary to deal with (especially if Victor Cruz gets matched up with makeshift DB Julian Edelman). The Pats have the worst defense in football and everyone knows that defense wins championships. New York's defense has steadily improved over the last few weeks. The Giants got hot at the right time. They beat the Pats in the regular season, and they aren't afraid of knocking them out of Super Bowls either. Sure, Gronk is a matchup nightmare, but dude's extra hurting and with the long halftime (31 minutes), his high ankle sprain will stiffen up and he'll be unable to produce in the second half. Giants all the way.
Patriots
Belichick and Brady are the best there ever was. With another Super Bowl win, Belichick will join Chuck Knoll as the only head coach to win four titles. A fourth Super Bowl victory would put Tom Brady into an elite class that includes just two Hall of Fame QBs: Joe Montana and Terry Bradshaw. Brady and Belichick are the only coach/QB combo to make five Super Bowl appearances. Aaron Rodgers had an MVP-type season and Drew Brees set the all-time mark for passing yards, but Brady's year was pretty sick as well. The guy threw for 5,253 passing yards (a career-best and the second-best total in NFL history) with 39 TDs, 12 picks and a passer rating of 105.6. Brady's coming off his worst passing performance of the season (239 yards, two INTs, no TDs and a passer rating of 57.5 against Baltimore). It's not like he needs extra motivation for the Super Bowl, but you get the sense that Brady's going to bounce back, put on a performance for the ages, and grab the chance to seal his already stellar legacy.
The Pats D is viewed as a weakness, but Vince Wilfork is playing amazing and New England's defense has actually improved during the postseason. Sure, they haven't faced an offense as potent as the Giants, but the Pats seem to get stops when they need to. They've allowed just three touchdowns through eight quarters in the playoffs.
And sure, the Giants have some solid weapons in the passing game. But look at what the Pats have to work with. Gronk and Hernandez combined for 2,237 receiving yards and 24 TDs in the regular season. Wes Welker posted 1,569 receiving yards, the second most in the league.
So how is this all going to shake out?
My money's on Brady seizing the opportunity to cement his legacy. If he can get the time to throw, he'll carve up the G-men. I'm sure it's going to be a close, high scoring game. With so many things to balance, I say Brady tips the scale and delivers a huge game.
Pick: Pats -3
Season: 140-119-12