Experience "The Lincoln Way" at the New Lincoln Experience Center in Newport Beach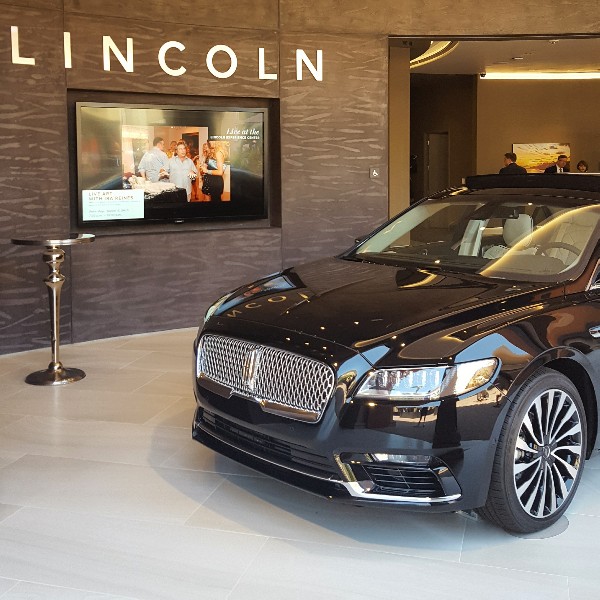 Lincoln is back, baby. Once a shining leader in the American luxury car space, Lincoln hit some hard times a few years back. U.S. sales fell to a 32-year low in 2013, but the brand bounced back in a big way.
The introduction of the MKC crossover propelled a 16 percent year-over-year sales increase in 2014, making it the fastest-growing luxury brand in the U.S. that year. This upward domestic sales trend continued last year, and with six months of sales figures in the books for 2016, the positive trend continues for the luxury-focused company that was founded in 1917 and has been a subsidiary of Ford since 1922.
A big part of the brand's resurgence can be attributed to a renewed focus on "The Lincoln Way." I learned more about this approach when I met up with Andrew Frick, Director of Sales and Service Operations this past week at the new Lincoln Experience Center located inside Fashion Island in Newport Beach (139 Newport Center Dr, Newport Beach, CA 92660).
Frick is a tall, affable dude who's quick to smile and has a sense of humor that's as clever as Lincoln's new brand messaging. The gist of "The Lincoln Way," as Frick described it, is creating a "warm, human, personally crafted" experience for car owners. The words rolled off his tongue quite effortlessly and he revisited this central approach frequently when describing the new Lincoln Experience Center.
Officially launching this weekend, the Lincoln Experience Center is a comfortable, 5,200 sq. ft. space that provides visitors with immersive, tactile opportunities to explore the Lincoln Way.
"Our brand is in a better place than the perception of the brand locally," Frick said. The purpose of the new space is to change that perception. Situating the space in an area with high foot traffic with a local demographic receptive to luxury car buying also helps.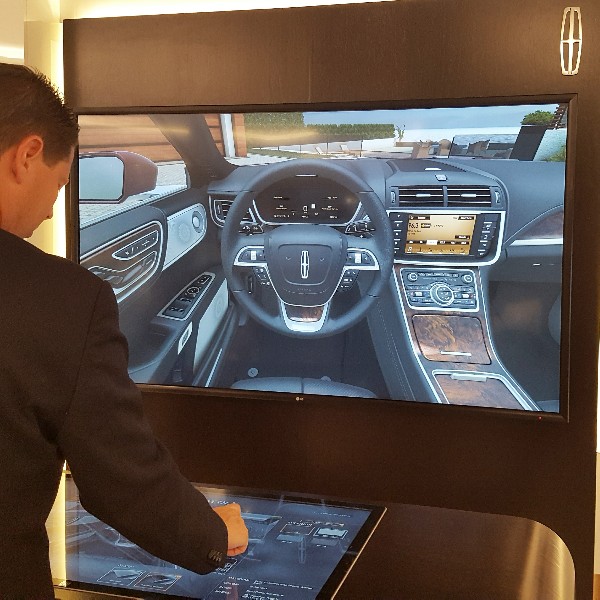 Visitors can pop in and get a break from shopping by chilling (or working with Wi-Fi) in the lounge with a complimentary beverage. Tablets and a large, interactive Technology Wall are available so that guests can learn more about new Lincoln models and explore features and options. Cycling through colors, environments, wheel variations, roof options, interior color tones, back seat views, etc. in real time is a great way to expose more people to the brand's offerings. An app is in the works as well and will likely be released in this fall.
Guests can also take in different design inspirations, schedule a test drive (or a more extended "date night" 24-48 hour weekend test drive) and visit the Revel Audio room to get a first-hand feel for the sound system's capabilities. As Frick mentioned, "we sell a lot of vehicles because of the sound system," and the audio room at the Lincoln Experience Center helps explain why. Visitors can also inquire about guaranteed pickup and delivery services (available for owners of new 2017 model-year Lincolns), leasing and finance options or even Skype directly with dealerships.
"We do believe we are going to sell vehicles through this experience," Frick said, "and we've already started to do so."
Frick went on to explain that "the plan is to learn from this environment" with the goal of opening similar spaces up in the near future. These types of environments also allow the brand to "do business on clients' terms in ways that are important to them," according to Frick.
The Lincoln Experience Center will also be used to host events in an effort, as Frick put it, to "engage the local community and support local businesses." Visitors can reserve spots for events that will feature everything from musicians, artists and jewelers to chefs, sommeliers and cheese mongers. This program to deliver culture and luxury outside of the vehicle is part of Lincoln's plan to reassert itself in the luxury car space in a way that's more "warm, human and personally crafted" than a trip to your local Lincoln dealership.
One of the bigest things I took away from my visit to the Lincoln Experience Center and my conversation with Frick is that most luxury car owners don't really want to get into the specs of a high performance, luxury vehicle. Horsepower, torque – not so important. The actual driving experience and the specifics of the luxury options available — like the curated Lincoln Black Label Collection or the Revel Audio sound system or the new Perfect Position Seats – these are the things that luxury car buyers in the America really care about.
"It's not about what the car can do," Frick said, "it's about what the car can do for you."
If you're curious about the Lincoln Way, the 2017 Lincoln Continental Concept or just you want to find out more about different Lincoln models and options as you sip a free glass of champagne, go check out the space (139 Newport Center Dr, Newport Beach, CA 92660).
Related Posts
| | | |
| --- | --- | --- |
| | Print article | This entry was posted by Chris Stout on July 22, 2016 at 6:01 pm, and is filed under Lifestyle. Follow any responses to this post through RSS 2.0. Both comments and pings are currently closed. |
Comments are closed.