Crown Apple Event at Staples Center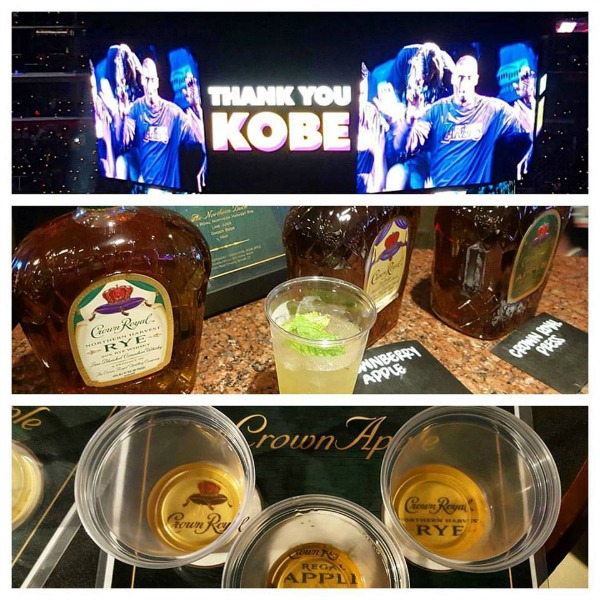 Our friends at Crown Royal invited us out for a night of sweet basketball and tasty Crown samplings at Staples Center this past Wednesday. On display were the lowly Lakers and surging Clippers and of course, inspired cocktails featuring different Crown variants.
The star of the night's festivities was Crown Royal Regal Apple Whisky. The heart of this spirit is the classic Crown Royal Deluxe, which itself is a blend of 50 Canadian whiskies. The Crown Royal Deluxe that serves as the base is infused with Regal Gala Apples and apple flavors. The result is a sweet variant on the traditional Crown taste, which leads with a vibrant apple nose, rests on your tongue with a tart smoothness and finishes with a very apple-forward sweetness.
Crown Apple isn't for everyone. If you like your spirits sweet, you can certainly get down on it. I think it plays well as a cocktail ingredient, where the sweet apple flavor can play nicely with other drink elements.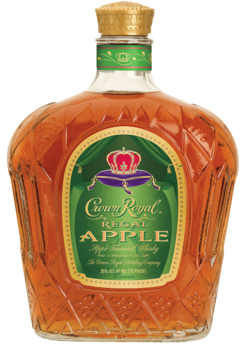 Here are the cocktails that were served at the tasting event:
Crownberry Apple
1.5oz Crown Royal Regal Apple
4oz Cranberry Juice
Garnish with apple wedge
Crown Royal Press
1.5 oz. Crown Royal Deluxe
3 dash (s) Bitters
Top with Lemon-Lime Soda
1 Lemon Wedge
Garnish with a lemon wedge
The Northern Buck
1.5 oz Crown Royal Northern Harvest Rye
.5 oz Lime juice
Top with ginger beer
Garnish with a lemon wedge
The combination of Cranberry juice and Crown Royal Regal Apple was a winning choice. The sweetness of the apple whisky was offset a bit by the tartness of the cranberry juice. Two distinct tastes that taste pretty good together.
The Crown Royal Press makes for a nice warm weather cocktail, good for summer days and sticky nights where a little bitters and a lot of lemon-lime lighten up the classic Crown Royal Deluxe.
The Northern Buck showcases the whisky of the year, Crown Royal Northern Harvest Rye. I found the lime juice to be a bit of a distraction, but I certainly enjoyed the rye + ginger beer combo.
Master of Whisky Stephen Wilson was on hand to guide those in attendance through a tasting of each whisky variant before we moved on to cocktails and one-sided basketball. We trust Steve on all things whisky related, but his detailed overview of the perfect process for experiencing retronasal olfaction and really understanding the flavor of each variant was a real treat.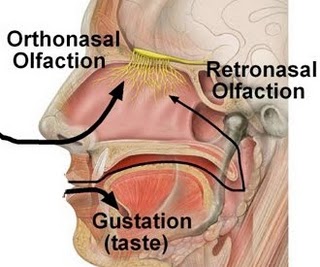 Next time you're trying a neat spirit, go through these steps:
Smell the glass first and take a small swig
Tilt your head left to right to let the spirit coat both of your cheeks
Let the spirit coat your tongue and press your tongue against the roof of your mouth
Swallow your swig
Open your mouth and inhale across your tongue
Close your mouth and exhale through your nose
Enjoy that retronasal olfaction!
After the tasting it was game time. And for the 2015-16 LA Lakers that meant one thing – sadness. The Clippers jumped out to an 18-2 lead and we're never really threatened by the young Laker squad. It was hard to watch Kobe Bryant struggle through 22 minutes of a 2-12 shooting performance from the field on his way to a six point, zero assist, three rebound night. Kobe tried to create when there was nothing to be created and lobbed up tough shot after tough shot. Metta World Peace looked surprisingly effective putting up 17 points, five rebounds, two steals, a block and an assist off the bench. He was also 2-3 from three point land.
The Clippers looked like a team ready to make a deep playoff run. Chris Paul scored 25 points and Jeff Green contributed 21 points off the bench as the Clippers easily dispatched the Lakers 103 to 81.
The love for Kobe was strong, but it's hard to see the guy go out this way. Chants of MVP showered Bryant when he made it to the free throw line. The crowd called out his name when he wasn't on the court. Kobe sat out the entire 4th quarter with his shoulders and knees all wrapped up. Watching the end of the Kobe era coincide with the Lakers' franchise-worse 61st loss was a bittersweet sight.
Related Posts
| | | |
| --- | --- | --- |
| | Print article | This entry was posted by Chris Stout on April 7, 2016 at 5:25 pm, and is filed under Lifestyle. Follow any responses to this post through RSS 2.0. Both comments and pings are currently closed. |
Comments are closed.