2017 Lincoln MKZ Review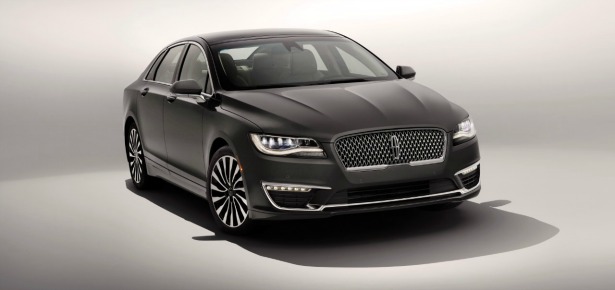 Last month I got to take the 2017 Lincoln MKZ out for a drive around LA. The day started with a lunch at Broken Spanish, a hip spot near the Staples Center where Chef Ray Garcia reimagines classic Mexican dishes with a modern touch. The folks at Lincoln wanted to make sure we were all properly fed before testing out the MKZ, and fed we were. Calabacitas tamal, campechana, ensalada verde, ensalada rusa, birria, ridiculously tasty guac, tres leches cake – you get the idea. It was almost too much, but nothing could go to waste. Even after I hit capacity, the grub was too good to pass up.
During lunch, I met Solomon Song, the Exterior Design Manager for the MKZ. When Song spoke to the group, he introduced himself by saying "I'm a little quirky." I found his quirkiness entertaining and his passion for design refreshing. Song described the amount of detail that went into designing the exterior of the MKZ, which was first introduced in 2013. From the refractive quality of the headlamps (which were inspired by crystal chandeliers and vases) to the need for "quiet luxury" (an appreciation of the finer things that embraces understatement and shies away from in-your-face swagger), Song spoke about the MKZ like a proud parent.
"Treat it like a rocket ship," he said, where every detail is a painstaking decision but function leads the way. Song spoke of the human to machine interface that really defines the driving experience. He also stressed his focus on depth as a core point of design emphasis. He highlighted the tight radius in the front of the car flowing into the bigger radius in the back – pleasing lines that he likened to a well-tailored suit. While most of the media folks in attendance powered through course after course at Broken Spanish, Song sat down with a pen and produced MKZ sketches for everyone. The proud parent's joy was on full display when Song sketched out the familiar lines of the MKZ from memory.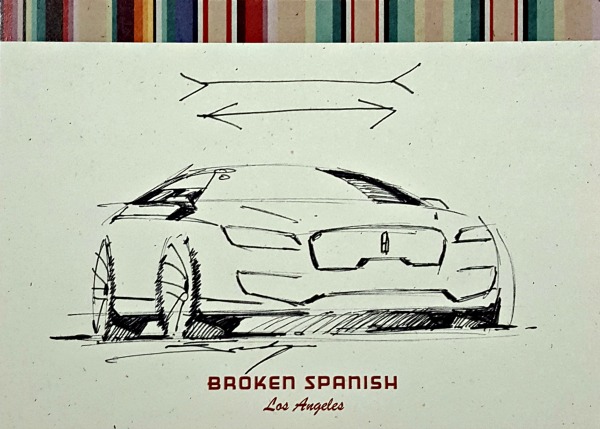 Song's partner in crime is Tom Ozog, the Chief Program Engineer for the MKZ. As Song put it, Song gets to come up with the concepts, like a retractable glass roof, and Ozog has to figure out how to execute it. Continuing with the "quiet luxury" theme, Ozog underscored the isolation from outside noises in the cabin as a core part of the MKZ experience.
"Quality is quietness," Ozog explained. He encouraged all the folks who would be testing out the MKZ to pay attention to this important feature. Ozog also emphasized the exterior design, overall craftsmanship and the "effortless performance" of the driving experience as distinctive features of the new MKZ.
After the good eats and introductory chats, it was time to hit the road. My destination was Hammer & Nails, a manicure/pedicure salon for men located in West Hollywood. I've never gotten a manicure before, so that was an interesting bit of man-pampering that I got to experience. If you're a guy and you need to up your hand/food grooming game in a chill environment with cool people, check em' out.
The 2017 MKZ Reserve AWD was my ride for the day. It came in Magnetic Grey Metallic with an Ebony Leather interior. As advertised, the overall luxury look-and-feel of the car definitely came with a dose of subtly. It's clearly in the luxury class, but it doesn't need to try too hard to flaunt this distinction. The outside lines are pleasing and display a certain depth, something I was keen to look for after chatting with Song. The interior cabin is a like a tastefully designed living room. Nothing gaudy. No gold and marble. Just cozy and comfortable with a touch of class.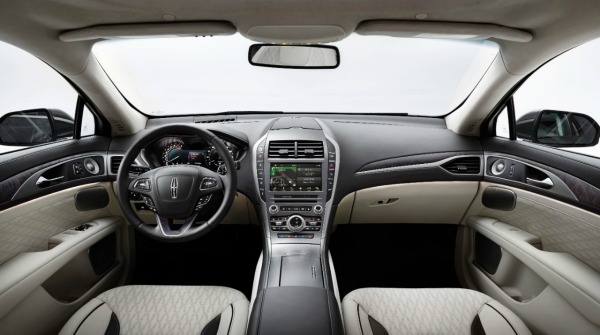 The MKZ had a few features that I knew I had to test out. The first was Auto Hold, a system that allows you to remove your foot off the brake when the car is idle. I was initially hesitant to activate this feature, as I can be pretty absent minded and clumsy at times. After working up a bit of courage, I gave it a go. It's the type of feature that you wouldn't think is really necessary. I've been leaving my foot on the brake when idle my whole life, so I never thought about active foot pressure being an inconvenience. After flipping the switch though, I never went back. It's a subtle indulgence that may seem unneeded, but being able to chill at a red light and adjust your comfort level without having to worry about the brake is really quite nice. There's no hiccup when you want to press the gas and go. It's all pretty seamless.
Another feature that I was keen on testing was the Active Cruise Control. I'm not really a big cruise control guy. I get that it can be convenient for long road trips, but just like using my foot to control the brakes, I'm pretty used to actively driving cars without assistance. With Lincoln's ACC, the cruise control senses traffic slowing ahead and reduces your speed to maintain a preset distance automatically. Your cruising speed resumes when traffic has passed, which is nifty. AAC also includes forward collision warning with brake support. This feature flashes a heads-up display to warn you of potential impact and even pre-charges/increases the sensitivity of brake assist to provide a more responsive braking situation if you're about to smash into someone.
Any review of the MKZ wouldn't be complete without a discussion of the Revel Audio System. The MKZ comes in 14 and 20 speaker options. I'm glad I got the 20 speaker Ultima setup. I just got back from Spain so I was keen on bumping some tunes that I picked up at the Rastro. Like this record. Pairing my phone up to the Revel Audio System was super easy, and I was blasting travel tunes in no time. The sound system really is a major selling point here, especially with the overall quietness of the cabin helping to isolate the sounds you actually want to hear. No matter what seat you end up in, you're going to get a crisp, rich audio experience in this ride. It also helped that the redesigned control panel was as intuitive as advertised, allowing me to jump from Spotify playlists to the navigation map with ease.
There's a lot to like about the new MKZ: the understated luxury, the signature grille, comfort and quality sound for all passengers, clean lines, a fully retractable panoramic glass roof. You can't argue with 41 city/38 hwy/40 combined mpg from the 2.0L Atkinson-Cycle I-4 Hybrid Engine either. It's the little things that go a long way with this car, and with releases like this, it's easy to understand why Lincoln is experiencing double-digit growth in year-over-year sales.
Related Posts
| | | |
| --- | --- | --- |
| | Print article | This entry was posted by Chris Stout on August 8, 2016 at 7:04 pm, and is filed under Cars. Follow any responses to this post through RSS 2.0. Both comments and pings are currently closed. |
Comments are closed.