Week 17 NFL Picks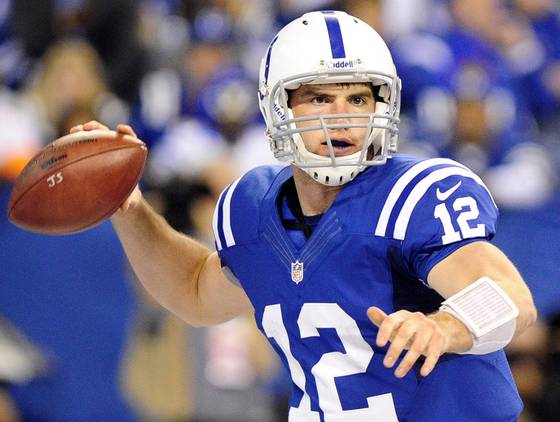 It's the last week of the regular season, folks. It's been an interesting year. Young QBs have injected hope in sad, sorry franchises. The playoff-bound teams of the AFC look similar to the group that went last year, with the Colts being the only new addition. There's been considerably more turnover in the NFC, with the final slot still TBD.
Fantasy football is over, but there's still time to make a few more bets or look to bet on the Super Bowl online. On to the picks.
At Buffalo -3.5 NY Jets
Sanchez gets the call and no one can be happy about that. On the flipside, Ryan Fitzpatrick is fielding questions on whether this will be his final NFL start. Both QBs could be destined for clipboard duty soon.
Pick: Bills -3.5
At New England -10 Miami
The Pats put forth a sorry effort last week. Look for them to end the year with a convincing W.
Pick: Pats -10
At Cincinnati -2.5 Baltimore
This game changes nothing about the AFC Playoff picture. I think the crowd in Cincy will fire the Bengals to victory.
Pick: Bengals -2.5
At Pittsburgh -10 Cleveland
Everyone who can make plays for the Browns will not be making plays on Sunday. Thad Lewis gets the nod under center, with Brandon Weeden and Colt McCoy out. Trent Richardson is sitting too. This is a meaningless game for both teams, but you'd think the Steelers would show some pride and close out the season at home against what amounts to a second-string team.
Pick: Steelers -10
Houston-6.5 At Indianapolis
This game means more to Houston than it does to Indy, but I don't think that's going to dictate how things will unfold. The Texans have never won in Indy, and they'll be up against a raucous crowd, a playoff-like atmosphere and the return of Chuck Pagano. I like the Colts to ride into the playoffs with some inertia.
Pick: Colts +6.5
At Tennessee -4 Jacksonville
The Titans are coming off a serious drubbing. The Jags are a two win team riding a four game losing streak. There doesn't seem to be anything compelling here, but I think the home team with the better record gets the benefit of the doubt.
Pick: Titans -4
At NY Giants -7.5 Philadelphia
The Giants need all kinds of help to get to the postseason. It all starts with a win against Michael Vick, who's basically treating this game like a job interview. New York needs a win plus a Dallas loss or tie, plus a Chicago loss and a Minnesota loss to get in the tourney. It doesn't look good. Still, I think the G-men show up for the first time in weeks.
Pick: Giants -6.5
At Washington -3 Dallas
A win for Dallas clinches the NFC East. Same thing is true for the Skins. This is really a playoff game for both teams. The Skins can still sneak if they lose, provided that the Bears and Vikings both lose as well, but this is a win and in situation. As awesome as Romo and Dez Bryant has been these past few weeks, I like the Skins' chances better. RGIII is healthier and ready to will this team to the postseason.
Pick: Skins -3
Chicago - 3 At Detroit
The Lions can spoil things for the floundering Bears. The Bears need a win and a Vikings loss to get through. It all starts in the Motor City though. The Lions are going to come out chucking the football, trying to get Megatron over the 2,000 yard mark. The Bears haven't exactly been lighting up scoreboards these past few weeks. I say they finally get it together and put up some points.
Pick: Bears -3
Green Bay -3 At Minnesota
It's hard not to love the Vikings. They've been on such a roll of upsets. And I know the Packers are already locked in to the playoffs, but I still think they're a much better team. Still, there's something about the Vikings at home. They're 6-1 at home this season and oone more win gets them in.
Pick: Vikings +3
At Atlanta -3 Tampa Bay
The Bucs have lost five in a row and Atlanta's not resting any starters.
Pick: Falcons -3
At New Orleans -5 Carolina
Up and down year ends on a high note for the Saints.
Pick: Saints -5
At Denver-16 Kansas City
The Chiefs are the lowest scoring team in the NFL. The Broncos are second only to the Pats in the points department. The Broncos are locked in to their playoff slot, but Peyton Manning knows all too well what happens when you let up off the gas to close out the regular season. Broncos roll.
Pick: Broncos -16
At San Diego -8 Oakland
This one's for Norv!
Pick: Chargers -8
At San Francisco -16.5 Arizona
Brian Hoyer makes his first NFL start. It could be his last. Aldon Smith has 19.5 sacks on the year. He's within striking distance of Michael Strahan's sham sack record and you know he's going to be gunning for Hoyer all day. Six players from San Francisco's defense are heading to the Pro Bowl. Six! Arizona's looking at a painful end to a painful season.
Pick: 49ers -16.5
At Seattle -10.5 St. Louis
The Seahawks look like the team most likely to do damage in the playoffs. At home, they're lights out. Look for them to go 8-0 on the year in Seattle.
Pick: Seahawks -10.5
Last Week: 11-5
Season 122-108-5
Last Season: 140-120-12
Related Posts
| | | |
| --- | --- | --- |
| | Print article | This entry was posted by Chris Stout on December 29, 2012 at 10:37 am, and is filed under Sports. Follow any responses to this post through RSS 2.0. Both comments and pings are currently closed. |
Comments are closed.