Art Eddy III
This user hasn't shared any biographical information
Jabber/GTalk: Art Eddy III
Posts by Art Eddy III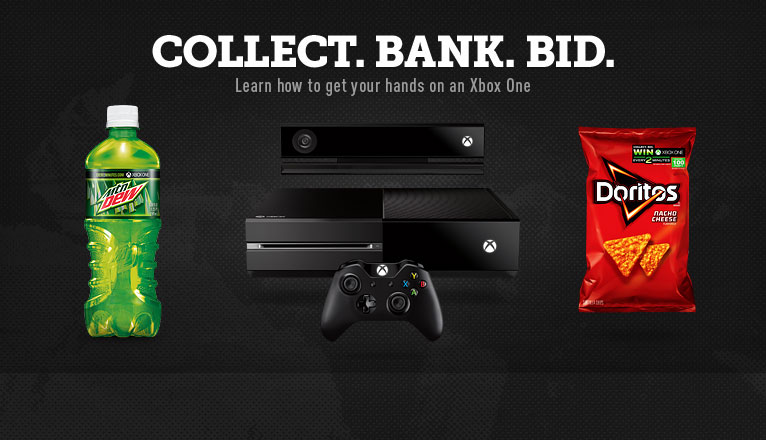 With the holidays upon us, one thing is on everyone's mind – scoring the must-have items of the season. To give fans everywhere a fighting chance to get their hands on this year's coveted entertainment system, Mountain Dew and Doritos are giving away thousands of Xbox One entertainment systems from November 5 to December 9 via nightly online auctions at Every2Minutes.com.
Instead of skipping out early on Thanksgiving dinner to trek to the store or spending Black Friday elbowing other over eager shoppers in line, Every2Minutes.com offers a convenient and interactive way for consumers to cross the Xbox One off their must-buy list.
Here's how the auction works:
·         Participants collect points on specially-marked DEW and Doritos products
·         Collected points are then banked as auction currency at Every2Minutes.com
·         Beginning November 5 to December 9, auctions take place every two minutes from 9PM – 2AM ET
·         On Black Friday only, an auction will take place every two minutes for 24 hours!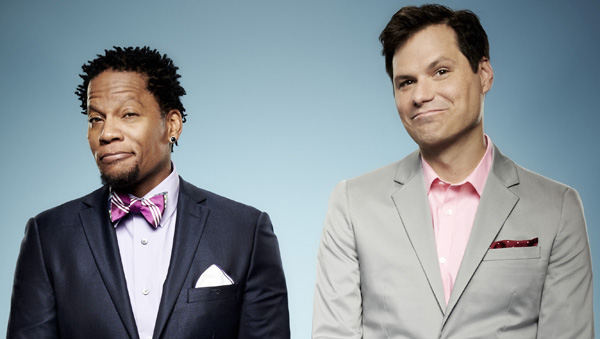 TBS has great new game show out there called "Trust Me, I'm a Game Show Host." This show takes a fun and new approach to break out of the standard game show mold. The contestants have to contend with a pair of dueling hosts determined to deceive them at every turn.
Comedians D.L. Hughley and Michael Ian Black are the hosts of the show, who are looking to trick the contestants. TBS did a phenomenal job of casting two hilarious hosts. Both of them present the contestant with an odd and highly unlikely fact. One of the statements is true and the other is false. The contestant must decide which fact is correct in order to win money on the show.
Michael Ian Black was kind enough to take some time to chat about the show, lying, and who he would like to see as a contestant on "Trust Me, I'm a Game Show Host."
Art Eddy: How did you become involved with the show?
Michael Ian Black:  Well, I got a call asking if I would be interested in hosting a game show. I was initially like, not really, but when they explained the concept to me, which is that it is as much a comedy show as it is a game show where two contestants try to, well not try to fool anybody, but one of us is telling a lie and one of us is telling the truth and the contestant has to figure out who's doing what.
What I understood that it was as much about making people laugh as it is about imparting information, then I thought it sounded interesting and when they told me that D.L. was involved, I thought it sounded like a great idea.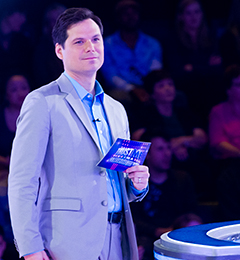 AE: Watching the show it seems that you and DL have a really good rapport. It seems like the contestants are, even though they're playing for money, at ease because they're having a good time. Did you kind of feel that as well?
MIB: Yeah, there's a couple reasons for that. One, DL and I really do get along. We didn't know each other before this, but we've become friends working on it and we have a kind of easy rapport I think because we're both comedians and we know a lot of the same people and we've had a lot of the same experiences. So that's fun, and he's very fast and very smart and very funny, and he keeps me on my toes.
I think for the contestants, I think they are having a good time. It's not, you know, the money you can win on the show is a fair amount of money. You can win up to $35,000 but it's not like, it's not going to change anybody's life. It's not like, "Who Wants To Be A Millionaire", where if somebody wins a million bucks, that's life-changing money. For us, it's more about having fun and winning some money that would be great.
AE: Has anybody every told you if you have any kind of tells when it comes to lying? Have you had to work on anything like that?
MIB: Yeah, in some of the episodes people think they've picked up on them, and in particular I think it was a cop who is like, you do this when you're lying and he was just wrong. It did not give me a lot of confidence in our law enforcement capabilities.
AE: Have you tried to up the ante a little bit by bringing in the people that maybe can detect that kind of stuff, maybe like poker players?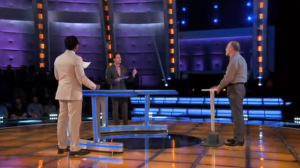 MIB: Oh yeah, we had a poker player on the show. I don't remember how well he did, but it wasn't great. It wasn't great. I think the people who are most confident in their ability to spot tells or learn to snuff out when somebody is lying tend to do the worst.
AE: Have you and D.L. had any kind of rapport as far as how you're going to go about attacking these people with your questions and information?
MIB: No, because we're competing against each other, too. You know there's no money at stake for D.L. and I, but we both want to be picked. We both want to be convincing in whether we are telling the truth or telling a lie. We're not strategizing against the contestants. If I'm telling the truth I want the contestant to pick me. If I'm lying I want the contestant to pick me, but we also just want everybody to have a good time. Ultimately I do want people to win money. I feel kind of bad when they suck at the show. I want them to walk out of there with something.
AE: Do you feel good about your acting prowess when somebody picks you and you're completely lying?
MIB: Oh yeah, nothing's more satisfying. Nothing makes me happier than when I've just delivered the biggest lie in the world and they pick me.
AE: How much room do you guys have to improv while you're taping the show?
MIB: Well, it's all improvisational. Nothing is planned beyond the reading of the questions and the actual game play. Neither D.L. nor I have a hand in writing the questions. We're only responsible for being funny. There's times when, if I have time to really look at the question and think of some jokes I will, but there's a lot of time where you just don't and you just have to go by the seat of your pants. I tend to find that the funniest moments just happen off the cuff anyway.
It's a combination. What you're seeing on the show is an edited down version of what we shot. We probably shoot 45 minutes to an hour per episode that you end up seeing 22 minutes of, so a lot of snips get lost in the edit room. None of the questions do and not of the important game play aspects do, but a lot of the comedy does, which is nice for us because we can just keep going. It doesn't matter so if we find something fun to talk about, we talk about it. If makes the cut, that's great. If it doesn't, it doesn't.
AE: Who's your favorite game show host of all time?
MIB: I'm trying to separate host from shows because my favorite show was "Jokers Wild."
AE: Nice. So would it be Wink Martindale.
MIB: I can't say that. Wink Martindale was the host on my favorite game show, but he is not my favorite host. Favorite host? I guess, I mean it's hard not to go with Bob Barker. I'll go with Bob Barker, or the other guy that I liked was Peter Marshall. He seemed kind of like a drunk as I'm thinking about it.
AE: You'll see sometimes different games shows now, will have celebrities come out and play for their charities. Do you guys ever think about doing that and if you did, who would you love to have on the show to see if you can pull some fast ones over on?
MIB: Well, an idea that I had, that I still think is a good idea and they tell me, maybe we will do it at some point is that D.L. and I are actually throughout the season playing for charity where every time we get picked money goes to one of our charities so it raises the stakes for us in terms of wanting to be picked. I still hope we get to do something like that. If we bring on celebrities I'd love to bring on the most pompous celebrities we can find and see how adept they are at figuring out who's lying and who's telling the truth. Journalist, politicians, you know, people like that.
AE: Like a Bill O'Reilly type in it?
MIB: Bill O'Reilly would be fantastic. Make him look like a total ass that would be the hope. It would suck if he was great at it.
AE: We all know you from your improv days as well. You've been with some amazing troops, "The State" being one, "Stella" being another and it's definitely helped you, I would say in this show, but has there been anything that you learned from back then that just not apply at all to what you're doing now? Is there anything new that you're learning when it comes to improv?
MIB: It's interesting. All of those skills do come into play with a show like this where you really do need to, the main thing with improvisational comedy is just listening and making sure that you're not trying to steal the spot light. If you have something to say you say it, but you're also trying to give other people room to maneuver. I think that's been one of the nice things about working with D.L.
I think we have a good sense of how to support each other and that is sort of the nature of improvisational comedy. It definitely comes into play. There are things that really don't. There's such a strict architecture of game shows that you have to follow because there's money at stake and that's sort of the precise opposite of what improvisational comedy is. Being able to combine those two things can be, it's not tricky, but it just requires a new skill set.
AE: Is it difficult when there is less people you have to improv with?
MIB: No, in a lot of ways it's easier because it's just like playing tennis. You just hit the ball back and forth. With more people it actually gets a little more complicated.
"Trust Me, I'm a Game Show Host" airs on TBS Tuesday at 10:30 PM EST.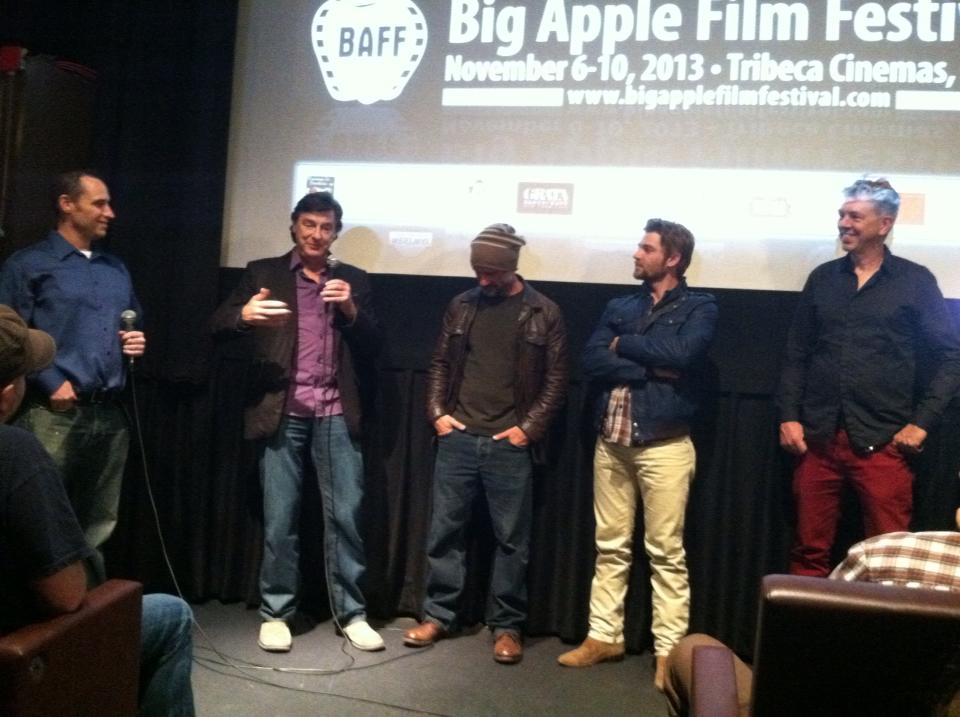 This past week I got to take in a few films at the Big Apple Film Festival in New York City. For those who don't know the Big Apple Film Festival was created to help support independent films and filmmakers from the New York City area. It allows audiences to see movies that might not receive national distribution. Hopefully after seeing these films a buzz would be created from these movies that have merit and deserve to have a "national" voice.
I had the privilege to attend an intimate dinner with Howard Goldberg, who directed the film "Jake Squared." The plot of the film centers around what happens when a director looks to film a new project in order to figure out how he's screwed up every relationship he's ever had.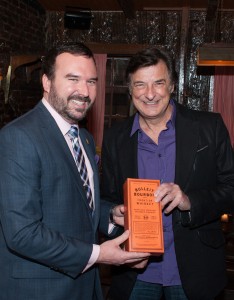 Before the screening Bulleit Bourbon set up a Q&A session at the dinner with Howard. During the dinner Bulleit had a formal whiskey tasting with Stephen Wilson, who is a Master of Whiskey. Wilson showed us the different spirits from the Bulleit line and what to look for in each sip. All varieties had their own flavor and it is was hard to me to pick out a favorite. As always when drinking Bulleit please enjoy responsibly. We also learned that Howard's favorite drink from that line was Bulleit 10 with a splash of soda.
After the dinner we were able to chat with Howard before we saw his film. I asked him a few things about the film. He not only directed the film, but was also wrote the screenplay. I asked him if he could describe what the process was like for him when he wrote the film, "Jake Squared."
Howard said, "When I write, it is a different process for each film. I have a plan, but for this film my journey went down many different paths. Sometimes I would end up in a totally different place from where I started. It was kind of like the main character in the film."
Speaking of the main character, whose name in the film is Jake Klein, was played by Elias Koteas. In the movie Elias plays many varieties of himself at different ages. Koteas did a wonderful job of playing the many different versions of Jake in the film.  After we saw the screening of the film, the floor opened up for us audience members. I asked Elias what his first thought was in regards to that role when he finished reading the script.
The soft spoken Koteas said, "I threw the screenplay across the room. I thought at first that taking this role would be insane. I couldn't believe that this character was so involved. After taking it all in, I reread the script and was excited about the challenge this role would bring."
"Jake Squared" is a very interesting film. The movie also stars Jane Seymour, Mike Vogel, Virginia Madsen, and Jennifer Jason Leigh. The concept of the film is very different from other movies I have seen. To be honest I might not have seen the film if it was not for this invite from Bulleit Bourbon and Howard Goldberg.
This is just case in point of why there are programs like the Big Apple Film Festival. These festivals promote unique and thought-provoking movies and showcase the endless creativity in the writers, actors, and directors. I highly recommend you check out "Jake Squared." You might even want to sip Goldberg's drink of choice, the Bulleit 10 with a splash of soda, to feel like the director himself.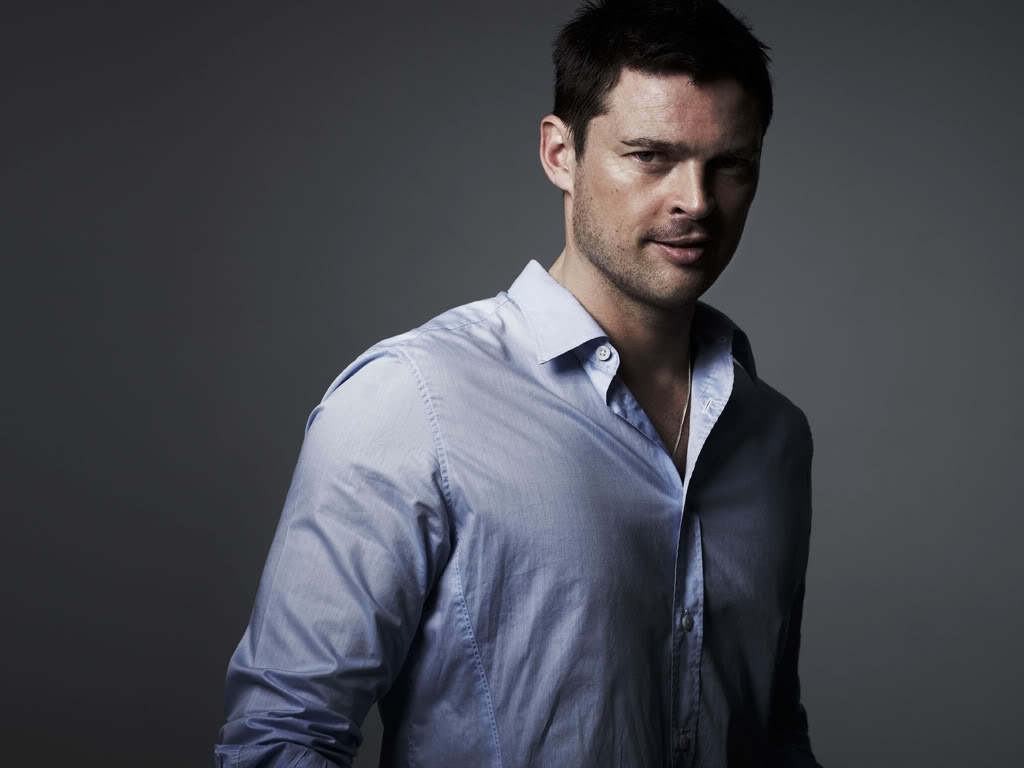 Karl Urban has had many successful roles in film and on television. Most recently, "Star Trek" fans loved his portrayal of Dr. Leonard "Bones" McCoy in the J.J. Abrams version of the film. Urban has also been in the second and third installments of Peter Jackson's "The Lord of the Rings" trilogy playing the role of Éomer. He was in "Xena: Warrior Princess," "The Chronicles of Riddick," and the lead in "Judge Dredd."
Now Karl plays one of the lead roles in the new sci-fi series "Almost Human." Urban takes up the role of Detective John Kennex, who is a cop that survived one of the most catastrophic attacks ever made against the police department. Waking up from a coma he now has issues with his memory. Still one memory is intact, which is that his partner was killed. Kennex also lost one of his legs and he is now outfitted with a highly sophisticated synthetic appendage. Kennex also has to deal with his new android partner Dorian, played by Michael Ealy.
Karl is very excited for viewers to check out his new series, "Almost Human" on Fox starting November 17th.. Urban and I discussed the show, "Star Trek,"and working with J.J. Abrams.
Art Eddy: You play the role of John Kennex, who is a cop that wakes up from a 17-month coma. John lost his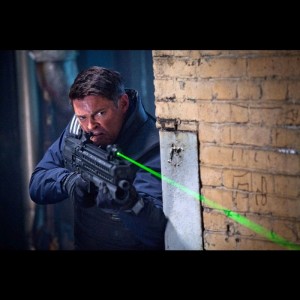 partner and one of his legs and now has a synthetic appendage. He is dealing with a lot of mental and physical baggage. What was your approach on how you wanted to play the role of Kennex?
Karl Urban: I had extensive conversations with J.J. Abrams and all the creators involved to get a real understanding of who John Kennex was and the direction we were going in for the show. Beyond that I started me research. I for ridealongs with a bunch of cops for over a week, a couple of weeks actually.
It was really interesting to see what they have to deal with on a day to day basis. That really forms the baseline reality of a lot of elements for my character. I just have such a huge admiration and respect for all of those guys. The first responders, like the brave firefighters in 9/11, those guys who are walking into the face of danger when everyone else is walking in the opposite direction. Kennex is cut from that similar type of cloth.
I also did some research on post dramatic stress and the effects that is has on people. That was heavily featured in the pilot. By and large Kennex deals with it in the pilot and then we move on beyond that. That's where the show gets really fun and exciting. I cannot wait for an audience to see where we take the show. It is crazy good.
AE: As we have seen in the "Almost Human" trailers your character hates robots. Why is that?
KU: Kennex feels a certain distain for robots because he feels that they are partially responsible for the loss of human life and for the loss of his colleagues. There is quite a bit of resentment. There are opinions out there in the police force that think that Kennex is responsible.
Kennex was on the ground and was let down by one of these androids. His partner died. Kennex got his leg blown off as a result and put in a coma for 17 months. So these issues that he has are kind of well founded. The fun thing is that he comes back to work and the first day he is partnered with an android. That leads to a lot of fun conflict and comedy. By the end of that first day, this android Dorian proves his own worth. (Dorian) engineers a paradigm shift within Kennex. It enables him to move beyond the point that he was in.
AE: Yet it looks like he starts to bond with Dorian, played by Michael Ealy. Dorian is the closest android line to that of humans. Is that why John tolerates Dorian?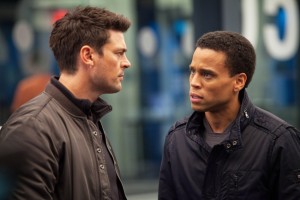 KU: I think John acknowledges the true value of Dorian. Dorian proves himself by saving John's life and by contributing to solving the issues and the problems they faced in the pilot. John is not stupid. He can see that this DRN model is not like those NX models that John hates. He actually has value and worth.
The fun thing is that when you put these guys together it is exploring their relationship. It is the heart of the show. At times Dorian is the smartest computer on the planet. At other times he is like a six year old child. He is discovering things for the very first time. It is so funny. Dorian has got no concept of boundaries or personal space. I can't tell you how crazy excited I am for audiences to see what happens to these guys.
AE: I love when I get the pleasure to speak with an actor before the series starts on TV. The reason is that I have the opportunity to ask that actor who the audience should be on the lookout for when the series debuts. For you do you have one character that you think the audience should focus in on due to their performance on set?
KU: I would be remiss if I was to single out anyone in particular. When you watch "Almost Human" it is a wonderful ensemble of eclectic characters, who are genuinely funny and crazy. You will just enjoy spending time with them. I can't wait for the audience to see where the show goes. Here is a little teaser. In episode two we are in sex bots territory. (Both laugh) This show is going to be very fun. That is all I can say or else I am going to get rapped on the knuckles by the higher ups.
AE: You mentioned that you went around with cops for some perspective for your role. Did you hang out with Michael (Ealy) at all before shooting to build that relationship?
KU: We really hit the ground running. We were thrown into the deep end. It was pretty clear on the first day working with each other that we would really get along. We both like to laugh and we laugh a lot in each other's company. To me it is not only a great testament to what a great guy Michael is, but also to J.J. Abrams. He is so good of putting groups of people together that work well together.
He has done it on "Alias," "Lost," and he has done it with "Star Trek." He has done it here again on "Almost Human." This is a fun group of eclectic people with a really fun group of eclectic characters. You enjoy spending time together and that is gold.
AE: How great is it to be back working with Abrams?
KU: I just love that man. I have so much admiration and respect for him. He is hands down one of the most gifted directors, writers, and producers that I ever had the privilege to work with. I cannot wait to see what he does with "Star Wars." I would be lying to say if I was not envious of that cast who are going into "Star Wars" and having the opportunity to work with a man like J.J. Abrams.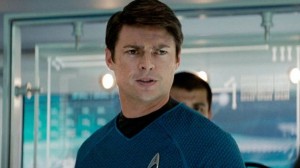 AE: You did a great job of making Dr. "Bones" McCoy your own especially after DeForest Kelly made that role iconic. Are you pleased with how Trekkies responded to your version of Bones?
KU: Yes. I have to say that I was really touched. I certainly really appreciate that fan feedback and that fan response. Doing a film is not like doing theatre where you instantly get feedback on what you did and how it is appreciated.
With both of these films with the people that I meet in the street, or at a convention, or wherever I really feel the appreciation for these movies and for these characters. I can't want to get back in there and continue the journey. It is always a lot of fun.
AE: I have to say for me that the moment you got on the screen in the first film you nailed it. You had me hooked.
KU: Well I have to say I had really a lot of help there. Not only in J.J., but the tremendous writing from Roberto Orci and Alex Kurtzman. When they write dialogue like 'Space is full of disease and danger wrapped in darkness and violence.' I mean it just clicked. These guys are good and it certainly makes my job a lot easier.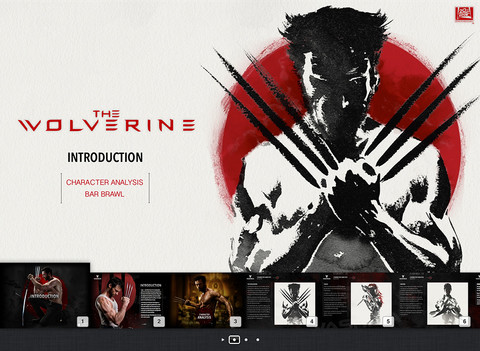 To celebrate The Wolverine November 19th Digital HD release, Twentieth Century Fox Home Entertainment today launched The Wolverine Unleashed Experience – an immersive website experience that allows fans to take a deeper look into Wolverine than ever before. Through this interactive website, fans can delve into the character of the Wolverine by navigating through a layered, three dimensional site that reflects Logan's inner struggle with his immortality. Log on and uncover hot spots to unlock new content, including special feature sneak peeks and bridges to past films. The content is also compatible across desktop and tablets, and users can embed and share across all social platforms.
The Wolverine Unleashed experience comes hot off the heels of The Wolverine multi-touch experience – released for free November 5 exclusively at the iTunes iBook Store. The Wolverine multi-touch experience adds to the story with original narrative, exclusive behind-the-scenes video, beautiful imagery, and interactive models.
Twentieth Century Fox Home Entertainment is the industry leading worldwide marketing, sales and distribution company for all Fox produced, acquired and third party partner film and television programing. Each year TCFHE expands its award-winning global product portfolio with the introduction of new entertainment content through established and emerging formats including DVD, Blu-ray™ and Digital HD. Twentieth Century Fox Home Entertainment is a subsidiary of 21st Century Fox.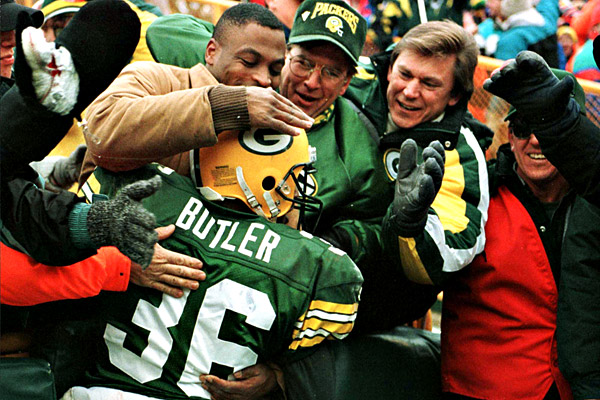 LeRoy Butler played strong safety for his entire career with the Green Bay Packers. Known for creating the famous "Lambeau Leap," Butler still roots for his old team. If you follow him on Twitter you see that he is always giving his perspective during games.
Butler won a Super Bowl title with the Packers when Green Bay beat the New England Patriots in 1997. Butler was selected to the Pro Bowl four times and was part of the NFL 1990s All-Decade Team. He is also a member of the Green Bay Packers Hall of Fame.
Recently LeRoy released his latest book called "Packers Pride: Green Bay Greats Share Their Favorite Memories." Even if you are not a Packers fan this is a great read. As a 49ers fan I soaked up every story that Butler shares in his book. The rivalry section was very intriguing.
Butler was kind enough to chat with me about the Packers, his book, and his foundation.
Art Eddy: Your book "Packers Pride: Green Bay Greats Share Their Favorite Memories" recently came out. I am digging this book. I love the stories and insight. How did you come up with the idea for this book?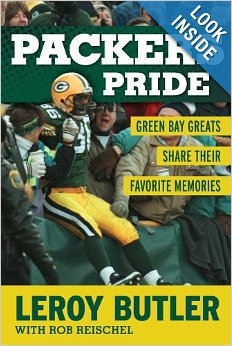 LeRoy Butler: Well I wanted to do a football geeky type book. I think a lot of fans see us playing on the field, but they don't get a chance to see what we are thinking or what were are favorite moments about playing. I got a chance to do that.
I did a book earlier about my life. It wasn't necessarily about my life in Green Bay, but it was about my life growing up.  With the "Packers Pride" it really is a tribute to all the Green Bay Packers fans out there everywhere that we appreciate them supporting us.
Some of these stories are hilarious. For me we have stories about Brett Favre growing up and Reggie White. Both of those guys were free agents. One came from Atlanta and the other came from Philadelphia. How did they adapt to the team. So I have some great stories about great guys from around the league. I just had a lot of fun putting it together.
AE: What was the reaction of your former teammates when they heard you were working on this book?
LB: A lot of guys said that they have so many stories to tell and I never either had the time to do it or thought about doing it. Me and Rob Reischel talked to about 60 guys. All of them wanted to tell at least one story or one paragraph. They wanted to be a part of it.
They had things that they wanted to share. We call it barbershop talk. Everyone has their opinion. We would say, 'Who is your favorite guy?' Or we might say, "Who is the best at this?' I talk about that in the book. It gave me the chance to talk about football from perspective. It was a lot of fun.
AE: There are so many great stories in this book. I love how you break down Green Bay's rivals and your stories of the Packers greats. Tell me a bit about those rivals.
LB: There were a few things that I talked about that was awesome like the playoff game against San Francisco. We were used to playing a 4-3 defense that is with four defensive linemen. We wanted to do some new stuff. I remember Fritz Shurmur, our defensive coordinator said that we are going to try a little 3-4. It will surprise them a little bit, because they are expecting a 4-3. We dominated them because they didn't see that particular defensive front.
I never was asked that in my whole entire playing career. Now I have a chance to talk about that in detail. So I was so excited about that.
AE: You were credited with starting "The Lambeau Leap." I was watching video of that play. One of the first Packers to come off the sideline to congratulate you was Brett Favre. In your book you talk about how Brett made everyone feel at home. Fans and the media didn't see that side. How important was it for you to put that in your book?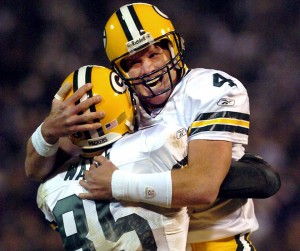 LB: It was important because it was 100 percent the truth. Brett Favre is the single best teammate in the history of sports. What he did was what you would never see guys do. When he came from Atlanta he adapted with the African American community with hip-hop. He went with the white guys with country music. He went with some of the younger guys who were playing the video games. He went with the older guys who like to do hunting.
Everybody loved the guy. He didn't wait for people to come congratulate him. He was assertive at his networking skills. That is why if you look at Brett Favre's career you couldn't name a lot of these receivers, because it didn't care to him. He would put you in the position to make plays. Not only that guys would dive to make plays for him. Case in point when his dad died and they played the Raiders these guys were jumping all over each other making catches. He is the ultimate teammate. I was very adamant about putting that in the book.
I never did that when I came into the league as a rookie. When I came in the guys just hung around me because I was a second round pick. I wasn't networking. I wasn't going over trying to meet guys. I figured that I would just meet them throughout the day. It was just an awesome way to see how he networked. I don't think that I will ever see that again.
AE: In your opinion which Packer performed "The Lambeau Leap" the best?
LB: Oh, that is a fantastic question. I would say that if I have to vote I will give three guys that did it well. Donald Driver is in that three. Ahman Green was great at it. The guy who was the best at it was Robert Brooks. He would run and jump and then turn around and sit down. That was phenomenal.
AE: When you look back on winning Super Bowl XXXI, what are some of the main memories you have from that game?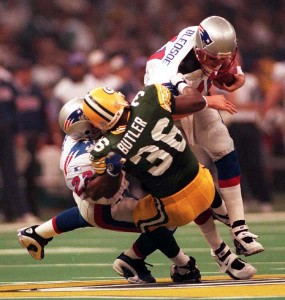 LB: One of the things was the free agents and the things we did to put together that type of team that year. We brought in Andre Rison, no one wanted that guy. We brought in Desmond Howard, who was a receiver in Jacksonville that people said he couldn't play. He was the Super Bowl MVP.
AE: Yea, he was doing the robot into the end zone in that game. It was hilarious.
LB: Right! People thought that Desmond was always there. No, we had to go out and get this guy. Ron Cox was our middle linebacker. He played with the Bears before coming to the team. Antonio Freeman, who people said he wasn't fast enough. He had an 86 yard touchdown in that game.
If you look at this game it was unbelievable. The development and the maturity of that team that went into that Super Bowl was great. New England had a pretty good team. They had a great tight end. They had a great quarterback in Drew Bledsoe. They had a Hall of Fame running back and a pretty good defense.
The way this team came together was like no other. Once people look back at that roster you shake your head on how we won it. These guys came together to win a championship. I am very thankful for that.
AE: How far do you think the Packers will go this year?
LB: I think that if you have a quarterback with a proven passer rating that is always over 100 and have a defense that is very opportunistic you will have good chance to make it far. There are a few injuries like Clay Matthews and some of the young wide receivers. You have young running back in Eddie Lacy and they have a fresh guy in James Starks to come off the bench. It is a good one two punch.
Not to mention that they have rookie left tackle. It is sort of a head scratcher on how Ted Thompson is putting this team together. They didn't build it with a lot of free agents. I will be honest with you. Just look at the schools that some of these guys have come from. It is not USC. It is not Florida. It is not Ohio State. They are not coming from these big schools. For Ted Thompson, if you have talent he will find you. So anyone in that green and gold uniform you feel that you have a chance to succeed.
AE: Tell me a bit about your foundation.
LB: One of the biggest things that we did was for breast cancer. I have four daughters and I wanted to get out in front of it. Brett Favre and I did a DVD to help support and raise money for breast cancer. We are also doing an anti-bullying campaign. We are trying to get the bullies and those who are bullied to become buddies. We call it the "Don't be a bully, be a buddy" campaign. We got to schools and talk with them to educate them on bullying.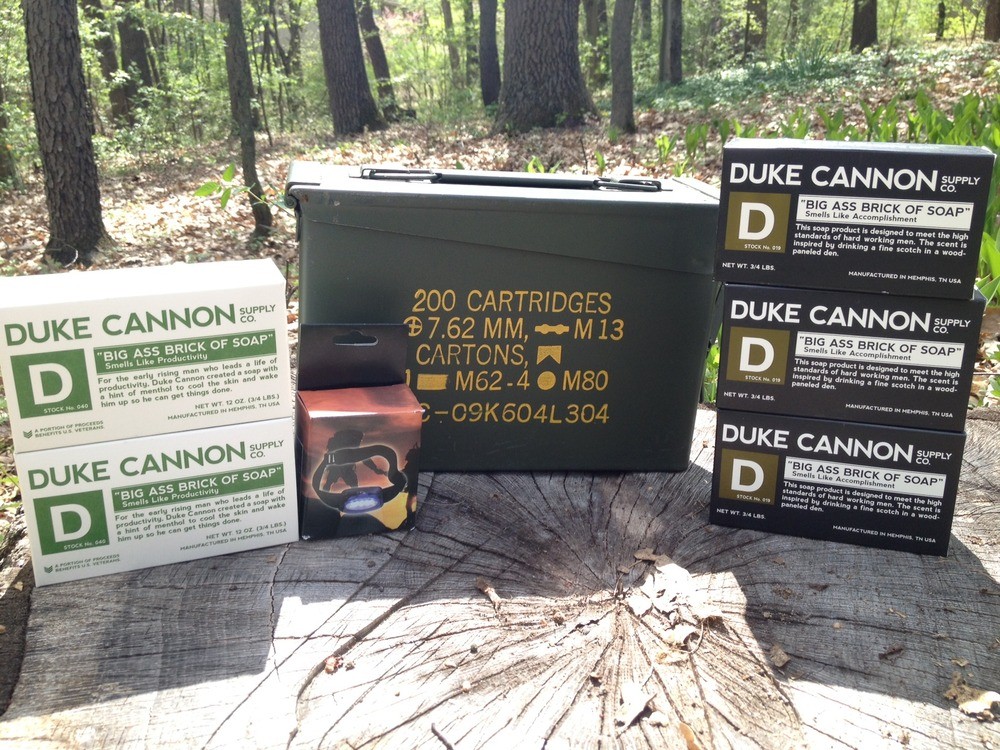 And quite frankly, he prefers it that way. After all, Duke Cannon doesn't dine with Vegans and he could give a damn about your new Ipad. Duke Cannon comes from a different era. It was an era when men had a greater purpose than building spreadsheets and spending their Saturdays at Banana Republic.
In Duke's time, men pursued meaningful endeavors. They worked with their hands. They took pride in the things they built, not the things they bought. And the mindset was simple: men wanted to win, not find the "win-win".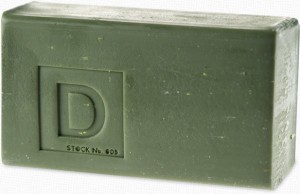 If you think you are man enough for this soap why not go all in with the Limited Edition U.S. Military Field Box Gift Pack? This soap product is designed to meet the high standards of hard working men who want to get clean and smell good without using feminine shower gels and accessories. This product is modeled after the rough cut, "brick" style of soap used by GIs during the Korean War and is manufactured in the same plant that was the primary supplier of military soap for over 20 years.
While clown soaps offer a free loofa, the Duke Cannon gift pack offers a variety pack of 5 big ass bricks of soap (3 black, 2 white), and an authentic, military field box used to carry .30 cal ammunition. These cans are reusable and watertight, and they make for great hunting/camping storage cans, or the greatest lunch pail ever.
And as a meaningless bonus, they are offering a free headlamp, a case of which was given to Duke Cannon when he rescued a Chinese shipping vessel from Somali pirates back in '86. The headlamps are made with the low quality you'd expect from Chinese manufacturers and should last at least a couple weeks.
Note: Cans are in used condition, and therefore have dents and scratches.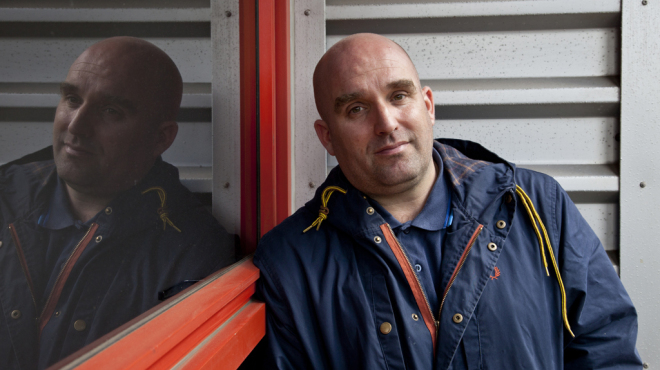 Shane Meadows recently finished a documentary called "The Stone Roses: Made of Stone," which is being released in the US for two weekends only in early November.  Meadows follows the press-shy band, The Stone Roses from the UK, who is known for their smash debut album, "The Stone Roses."
The band headlined this year's Coachella Music & Arts Festival. Meadows is a longtime fan of the band and a BAFTA winning director. I was able to catch up with Shane to talk about the band and his experience shooting the documentary.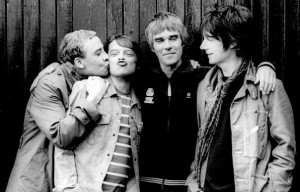 Art Eddy: Do you remember the first time when you heard The Stone Roses?
Shane Meadows: It was 1989. Everyone in trendy cities got the Roses way before we did in Uttoxeter. But there were a couple of lads who worked in Kwik Save who had really refined tastes, and one of them played me the first album in his house, this mad horrible block of flats. I'd be 16, nearly 17, about to start at Burton-on-Trent tech.
I had this really wank ginger 'tache and a crap hairdo. But that music gave me a sense of identity. The first time I dated a girl who wasn't a hairdresser, I put "Waterfall" on and she snogged me. All of a sudden I was going out with this girl in tie-dye, and I was this little tramp from nowhere.
AE: What was it about their music that got you hooked?
SM: Because they were taken out of their prime and people had to wait so long for them to come back. Plus a lot of the other music that came out at the time felt like it was part of a scene, but their album; if that came out now it'd still cause a massive stir. And that's the sign of any great music, any great album. And then you throw in the bravado and swagger with which they carried it all off, and on their own terms, fighting lawsuits against record companies, they were complete one-offs and anyone like that is going to make a mark on a young kid.
AE: Being a fan of the band and filming them did you get nervous or star struck at all?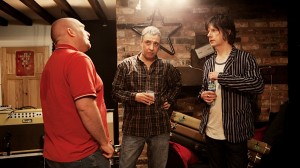 SM: Ian said 'We're doing this press conference to announce us getting back together and we wanted to document it', and I started to twig, and I said: 'Look, if you are thinking about making a film and you let anyone else do it, I will kill myself. So you're going to have to let me do it.'"
The risk was that I would damage my dream, working so closely with them, or that I would get complacent about their music. But if anything, I've fallen in love with them and their music even more. This film is the closest thing to a love letter that I've ever made.
AE: I read that in your documentary you did not include the band's fights on tour. What made you decide to cut that from the film?
SM: So many films have done it, it's nice to hold something back for once. I just didn't think it was tasteful. If they were having a discussion, I'd say to my crew, "We're going to leave them to it." If someone tried to film me having an argument, I'd probably lose respect for them. My dad taught me to be that way. Don't sift for shit, it's not the gentlemanly thing to do.
"This was a celebration and was always meant to be a celebration rather than something that tries to dig too deeply into the past. It hints and it shines a light on some of those things, but it tries to leave that to one side. Obviously there's the hiccups at Amsterdam, there's some moments in there. But ultimately it was a fan's-eye perspective.
I'm a big believer that to get to the core of something, or the core of the emotion, you don't have to go down that obvious route, and sometimes less is more, and in that case I think it was. It's not like the film is a glossy, over-the-top fan perspective, waxing lyrical and licking people's bums. It's honest.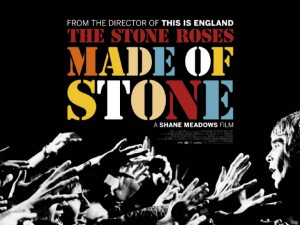 AE: Do you have any funny behind the scenes stories during filming?
SM: After the tour, John Squire asked me round to his house for dinner, to show him a rough cut of the film. I got lost. His house is in the middle of nowhere, and it was icy. We're driving up this steep hill, the lanes about a foot wide, I've got a real panic on. We're late and I'm trying to text John, but it won't go through because it's so remote. Then the wheels start spinning. And just as we manage to get near the top, a fucking horse appears with a woman on it. So we start sliding back down the hill. The horse starts freaking out, slips, falls on its arse and starts sliding, this half-ton animal coming right at us.
We went backwards into a hedge, the horse went the other way, and we survived. I wound the window down to get some air, and at that moment a Canadian goose flew past the window, did a massive shit. It came through the window and hit me in the arm and the face. I went to John's covered in shit. That was about my lowest point.
AE: While filming the documentary what was the number one thing that you learned about the band?
SM: There are quite a few who really wouldn't be out of place in This is England! Fans young and old, rushed to Warrington Parr Hall that day with the hope of seeing the band back together for the first time. Bringing their memorabilia or merchandise, having left work, or home and their families, what stuck us was that what mattered were the lasting memories and the raw feelings the band evoked and the passion of their fans. We could have made a whole film just with the event, characters and feeling of the Warrington Parr Hall gig.
AE: How did the band react to your idea of the documentary and when did they start to forget you were there when you were filming?
SM: I realized I was going to window into that world. I was seeing what you see in the film, when I didn't have any cameras on and you're sat there, watching the rehearsal and maybe have a chat about the film.
I could see all that banter going on and I thought it'll take me ages. When I turn the camera on here, they'll probably dry up and it'll probably be a month before we get to that place where they're comfortable. But it didn't. They never changed.
You realize that they, as a foursome, when they were at their strongest, when Mani says 'We were one of the toughest gangs in town,' they were untouchable. You realize that the bravado in some of those interviews that they gave, 'We're the best band in the world and we don't care who thinks otherwise.'  When you actually strip it back to that room, they were just like us.
AE: Do you have any future projects on the horizon?
SM: I have the option to do "This Is England '90", the next installment in the series. I love that cast, it's become something special and the broadcaster wants it. I'm starting to write now with Jack Thorne. But I'm also trying to raise £10m to make a biopic of Tour De France cyclist, Tommy Simpson who died during the race in 1967. He was the BBC Sports Personality of the year, he was the first Briton who had the chance to win the Tour, but he killed himself with amphetamines. It is like "Raging Bull" with a great flawed hero.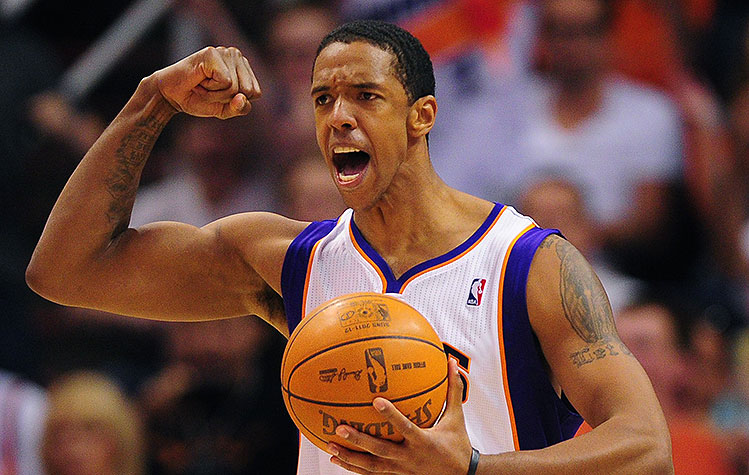 Phoenix Suns power forward, Channing Frye couldn't wait for this year's NBA season to begin. Last year after a preseason physical, Channing found out that he had an enlarged heart. Frye was told he couldn't play. It was tough news for him to digest, but he didn't let that slow him down.
In his year hiatus from the NBA, Frye spent time with his family, did some traveling, and had time to do some personal reflection. Frye also started up the "One Heart" T-shirt campaign for his foundation, the Frye Family Foundation. Proceeds from the sale of these shirts will go to two charities, the Phoenix Children's Hospital and Portland's Providence "Play Smart" Youth Heart Screenings. Purchase the shirt here!
Now that the NBA season is in full swing Channing is happier than a kid at Christmas. He gets to be back with his teammates and play the game he loves. I was able to talk with Channing right before the season got underway. Channing spoke with me about his time off the court, his preparation for this year, and we even chatted about his sneaker collection.
Art Eddy: So the start of this season is really special for you since you didn't know if you would be cleared to play since you found out that you had CHD last year. Can you put into words your feelings and emotions you have as you get ready to play this season?
Channing Frye: I think the first thing is accomplishment. There was some encouraging information of what I had at that time and was told I would be able to play again. I just felt in my heart and my soul that I wasn't done yet.
I scoured the country to find the best doctors and information for what I have and here I am. The second thing is the camaraderie with my teammates. I love being a part of the Phoenix Suns organization. I know that a lot of people are saying that we are rebuilding, but for me I take a lot of pride being in this uniform. Being from Phoenix I really want to help the team out to do the best that we can.
A championship is a pretty high and lofty goal. Playoffs are pretty high and lofty also, but I think we can come out and compete every night. For me I want to be part of this rebuilding group.
AE: It must have been tough not playing last year. What did you do last year to help take your mind off of basketball?
CF: I traveled a lot. I did a lot of yoga. For me it was spending a lot of time with my family. It wasn't so much taking my mind off of it, but it was doing things that in the long run it was doing things that could make me a healthy as I possibly could.
I think laughter is something that always helps. For me I have not been around my family that much consistently, so I was very excited. A lot of guys don't know what it is like to be around their family all the time. With basketball we sometimes put ourselves first. To have a year where I put my family first and know that I am okay with that and I can do that as a man, a father, and a husband really gave me the confidence to come back and be comfortable with playing and doing the best I can on the court.
AE: Reading up on your team, your head coach Jeff Hornacek and the rest of the team have a lot of faith in you.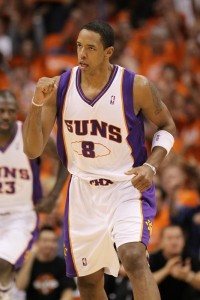 How much does that help you mentally as you prepare for this season?
CF: That helps me a lot. I appreciate that Jeff says that out loud. I think he sees me day in and day out. It is tough getting back after taking a year off. For me, I have expectations of what I can do and how I can help out the team. I am just so hungry to help and be the player I know I can be. I want to be that now. As we all know everything is a day to day thing. Every day I try to do the best I can and get better.
AE: Are there any games in particular that you are looking forward to the most this season?
CF: Any game that I have to start. (Both laugh.) Anytime we will play Portland. I live up there and that was the last team I played for. I love the city of Portland. So for me anytime playing them and since I know those guys it will always be an exciting time for me.
AE: This is kind of a basketball related question. I am a sneakerhead and I want to know what pair of sneakers you play in on the court and which ones you rock off the court.
CF: I play in the Kobe VI's. They just seem to fit my feet perfectly. I don't know if I like the new ones too much. So Nike is going to send me some new shoes to try out.
At home I'll be honest, it just depends on my outfit. I just got a shipment. I love the Jordan II's. I love those. The Foamposites, like all those and I think I want to say the Jordan XIII's.
AE: The ones with the hologram known as the "black panther" shoe right?
CF: Yeah. Those are the ones I rock pretty much all the time. Those and Vans.
AE: I love the work you are doing with your foundation. You have a great shirt called "One Heart" to help spread awareness about heart disease. Tell me a bit about how you started that up.
CF: The biggest thing that I have learned about my foundation is that is has always changes with me. I am always trying to work with other foundations. I am trying to do things that are fun for everyone. No offense to other foundations that do this, but going to kind of stiff events where people have to wear suits and begging people for money is not my style.
My foundation is about giving back. I think a lot of times no one looks at the young adults between the ages of 22 and 35. That is the age group where if they can start to make an impact, the older the get the more successful they get, they will be like I had fun doing this event I do want to give back. They might be like hey instead of giving back $50 I might give $500. Instead of giving $500 I might give $5,000.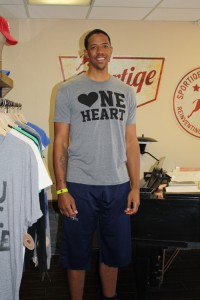 Other than last year I have done a kick ball tournament. I have done a golf tournament. This year with my "One Heart" shirt I started last year I took some time off because if I can't put 100 percent into something I am not going to do it. It might sound weird, but I want to put my all into it.
Right now we are in talks with the Phoenix Children's Hospital and in talks with another hospital out in Portland. So for everyone who buys a "One Heart" shirt it is going toward kids. It brings awareness to heart disease and help those kids with heart ailments.
AE: You also have a few great tattoos that give you inspiration. Tell me about the significance of those tattoos.
CF: One of is "Let go and Let God." It is kind of dark. At that time I was transitioning between two places. I had never been traded. I was coming from a team that wasn't that good and was going somewhere else. I was just an angel stepping forward. We all are angels. It is just a matter of if we are going to take a step forward and accept the responsibility of doing what is right and trying to live the right way. I wouldn't say that I am living the right way 100 percent of the time, but I am just trying.
The other tattoo is just a set of stairs with a word on each step like selfishness, happiness, doubt, fear, and hate. These are all things that you have to get over. You have to get over yourself. You can't always be right. You don't always want to be right. Being wrong is going to actually help you become a better person. You look at any genius. Look at anyone who as ever invented something, they have one hundred wrongs to their one absolutely awesome right.
You have to get over doubt. You have to know in your heart that you are supposed to be out there and you are doing everything that you can. In my case it is to be the best player that you can be every day. You go down the line with fear and happiness. You can't always do things that make you happy. Do I want to run and do sprints? Do I want to shoot 200 to 300 times a day? No, but I know that is what I need to do to get better. So for me every time that I look at a tattoo that I have I always know that there is a reason for it. I wouldn't have put it there permanently if it wasn't important to me.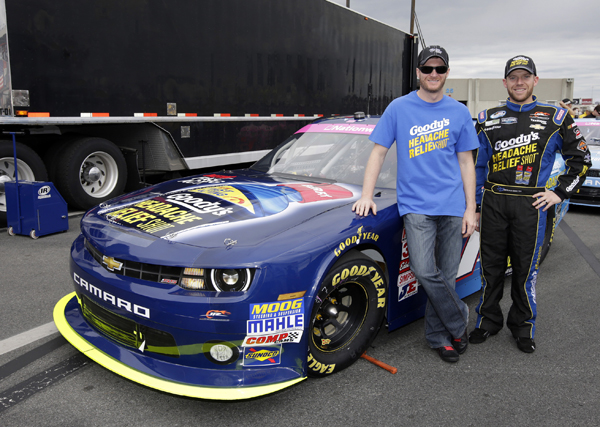 Goody's, the brand known for its fast-acting headache relief, and Dale Earnhardt Jr., the driver known for his speed on and off the NASCAR track, are joining forces for a nationwide search to find Dale Jr.'s fastest fan.
The Goody's Headache Relief Shot Fastest Fan Challenge kicked off this past week at Martinsville Speedway, where Goody's and Dale Jr. unveiled a new video to inspire fans to create their own videos depicting their speediest moments. The new video features Dale Jr. speeding through his day, making fast work of everything from solving a Rubik's cube, to commuting to work, to dressing up for a big night out. It premiered during pre-race ceremonies at the Goody's Headache Relief Shot 500 and on the national broadcast of the race on ESPN.
Fans can enter the Fastest Fan Challenge by uploading an original video that captures high-speed action to their own profiles on Facebook, Twitter or Instagram. To be eligible, each post must include the hashtag #FastestFan. All entries must be posted by 11:59 p.m. Eastern Time on December 1, 2013 to be considered. After five finalists are selected, fans will cast their votes for the winner on the Goody's Facebook page. For complete rules and information on how to enter the contest, and to watch the Dale Jr. video, visit the Goody's Headache Relief Shot Facebook page at facebook.com/GoodysHeadacheReliefShot.
Video entries will be judged on their creativity, and of course, speed. The grand prize winner will receive an ultimate NASCAR tailgate weekend hosted by Goody's and Dale Jr., including: a race weekend RV for him or herself and three friends, travel to and from the Goody's Headache Relief Shot 500 in Martinsville, Virginia, tickets to the race (including VIP access to the garage and pit areas), $1,000 in spending money, and a personal meeting with Dale Earnhardt Jr.
"Working with the Goody's team to create the fast day-in-my-life video was a lot of fun," said Dale Earnhardt Jr. "I know our fans are extremely creative. I am looking forward to seeing their videos and to meeting the Fastest Fan at next year's Goody's Headache Relief Shot 500."
Think you got what it takes? Make a video and send it off for Dale to be the judge!