Art Eddy III
This user hasn't shared any biographical information
Jabber/GTalk: Art Eddy III
Posts by Art Eddy III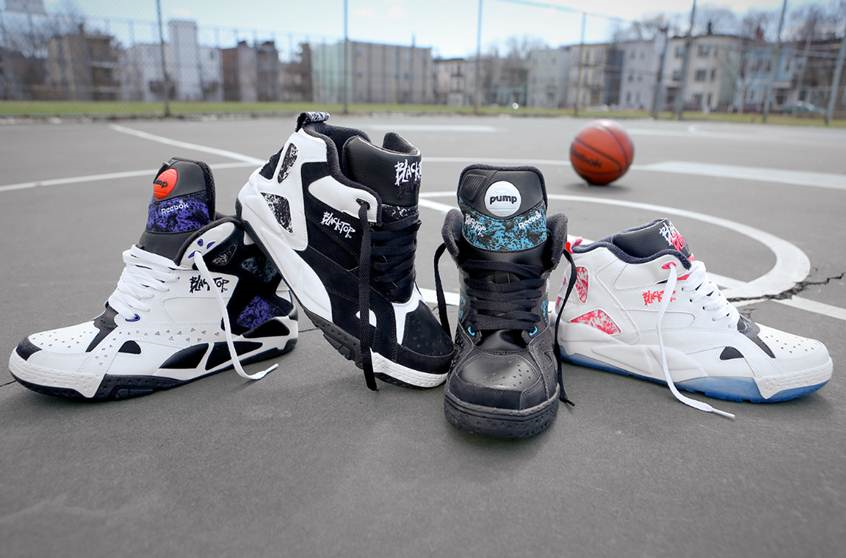 This spring, Reebok Classic will bring back one of the most popular basketball collections ever introduced – the Reebok Classic Blacktop collection. Shoes so bad they gotta be fenced in.
Originally built for the outdoor game, the Reebok Blacktop collection has become synonymous with the glory days of 90s street ball. The two most popular models – the Blacktop Boulevard and Battleground – were not only tough enough for the court, but had sky-high style to match.
On Friday, May 9th, limited pairs of the Reebok Classic Battleground ($125 ADULT/ $90 GS/ $50 TD) and Reebok Classic Boulevard ($100 ADULT/$75 GS) will return to the streets at key retailers Jimmy Jazz, Expressions, Shiekh, City Gear, Villa, DTLR, Reebok.com.
A must-have shoe both then and now, the Blacktop collection will go fast so be sure to get 'em before they're gone!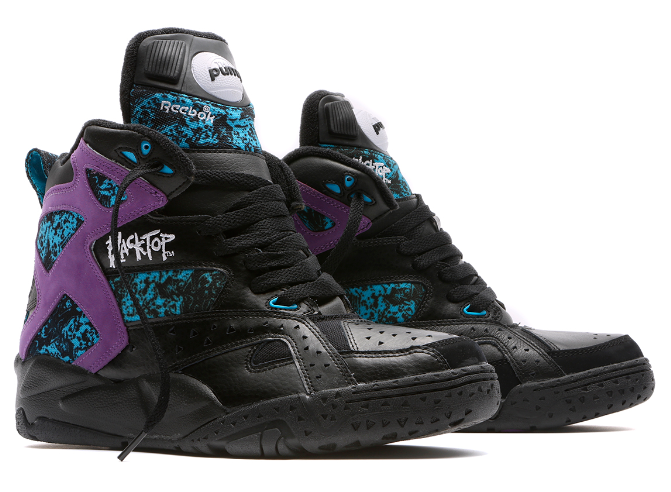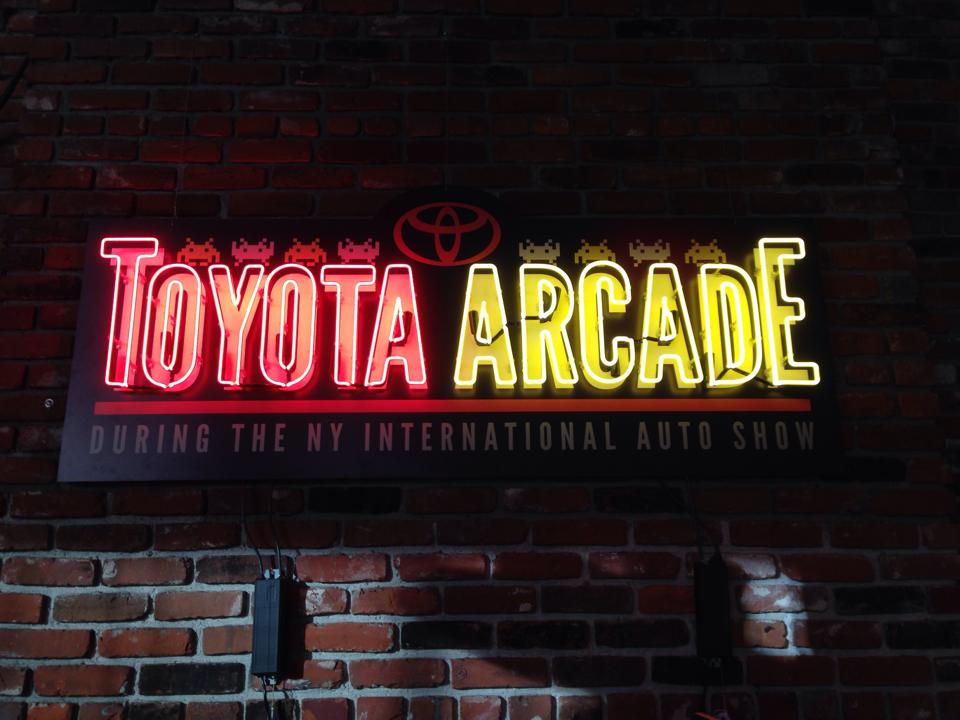 Last week I was at the Standard High Line & Biergarten in NYC to check out the Toyota FT-1. The car was the centerpiece to an awesome night that Toyota hosted. They had an old school arcade theme to it. From Frogger to Rolling Thunder there were many games that took us back in time. All the games were not from the 80's though. Toyota had two custom made driving machine cars set up so we could virtually drive the FT-1 around the track in Sony's Gran Turismo 6, which the FT-1 was created for. Hence that is why Toyota went with an arcade theme.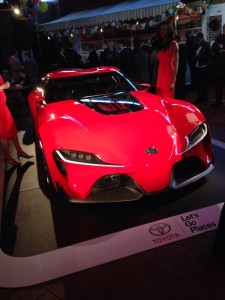 Still let's get back to the main reason why I was there. It was to check out the FT-1. From top to bottom this car is sexy. It has curves in all the right places and it has a hydraulic spoiler and a pop-up display in front of the steering wheel. The seats even have fans in the headrest so that your head doesn't get hot. Crazy right?
The FT-1 concept is a pure performance, track-focused sports car model created by CALTY Design Research, Toyota's North American Design branch. The FT-1 concept is a symbol that captures elements of the emotion and energy we can expect to see in future Toyota vehicles designs. Its design is heavily influenced by Toyota's long sports car tradition that includes vehicles such as 2000GT, Celica, Supra and most recently, FT-86 (Scion F-RS).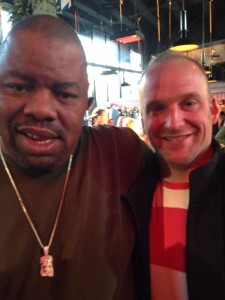 At the Toyota Arcade Biz Markie came to the event to not only DJ the event, but he was looking to test drive the FT-1 and even get one of his own. I can't say I blame him. The food and drink had a German theme to it, which were all very delectable. The Arcade even had a booth where a company was making 3D copies of the FT-1. There were a few large scale models, but they made a lot of them in Matchbox car size. I did take a few of the smaller ones since it will be the closest I will ever get to own an FT-1.
The larger 3D copies of the car went to the people who finished on the top of the leaderboards in the Gran Turismo 6 game. It was safe to say that I had no chance in winning that at all. Still whether I finished in first place or last, Toyota put on one great party where the old school met the future as the FT-1 was proudly on display.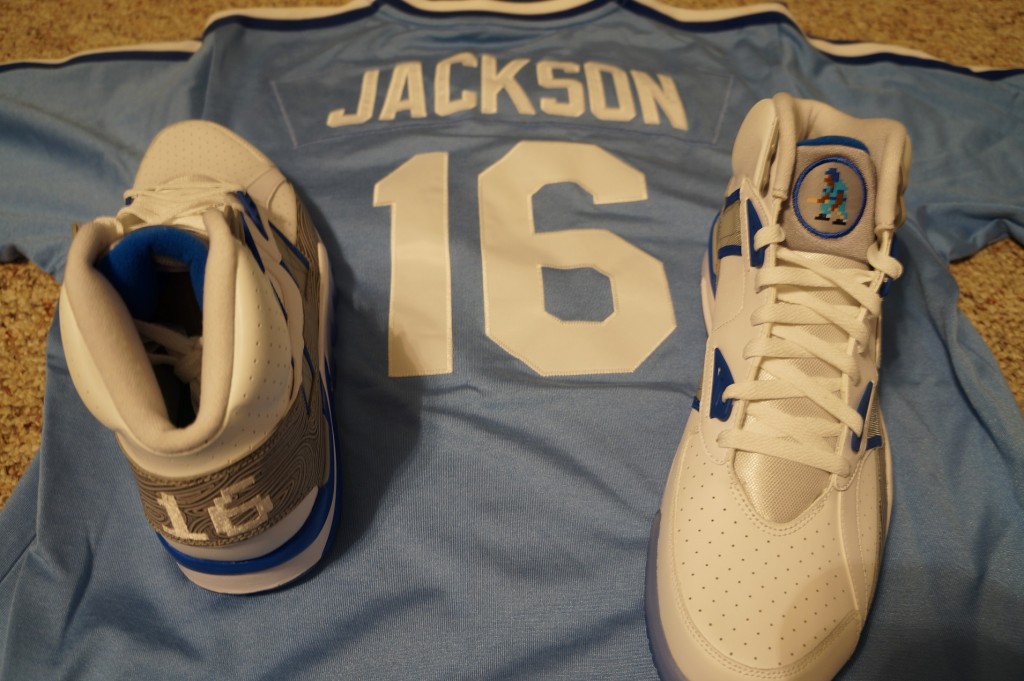 With all the different retro kicks to hit the market the "Broken Bats" SC Trainers are sure to be a hot commodity. Bo Jackson was known for his superhero like strength and agility on the football field and the diamond. Nike is paying tribute to one of his iconic moments on the baseball field.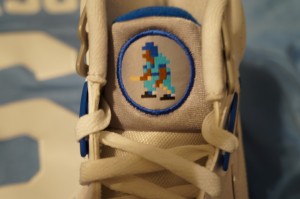 Jackson loved swinging for the fences to try and knock the ball out of the park. Unfortunately he did strike out on occasion. When he did he would take his frustrations out on his baseball bat. He would either break the bat over his head or drive the bat into his thigh and he would need a new bat the next time he was up at the plate.
The shoes already sold overseas, but they are going to be hitting the U.S. this Friday. Thanks to Urban Industry over in the UK, I already got a pair of these limited edition shoes. From my pictures you can see the great detail that Nike put into these SC Trainers.
The shoes not only have his "16″ on the back, but they also have an 8 bit arcade image of Jackson snapping a bat on his knee, swirling wood grain patterned accents on the upper, and the icy blue outsoles read "Broken Bats" when put together. They even have an 8 bit writing of "Bo Knows" inside the shoe.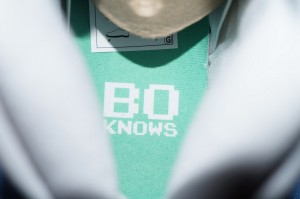 Nike released this statement on Bo Jackson and the "Broken Bats."
"Bo knows this. Bo knows that. And perhaps better than anyone else, Bo knows broken bats. The legendary two-sport phenom had a knack for hurdling over defenders on the gridiron and robbing sluggers of hits with dazzling displays of athleticism. His power in the batter's box was also evident from his first professional at-bat in 1986. However, when his swing didn't connect, he made his frustration clear by famously breaking his bat across his leg.
The latest Air Trainer SC pays homage to Bo's baseball prowess with a Kansas City-inspired colorway. The design also draws from other facets of Bo's legacy with a digitized Bo Jackson logo appearing on both tongues. But the key detailing comes from under the design. An ice blue outsole houses a "BROKEN BATS" graphic print as a nod to the athlete's brute strength. Never before has the classic cross-training silhouette told such a rich, nostalgia-soaked story. And you can bet Bo knows that."
The Nike Air Trainer SC "Broken Bats" are set to release this Friday, April 25th for $130.
Here are some old school clips of Bo making sure that Louisville Slugger stays in business.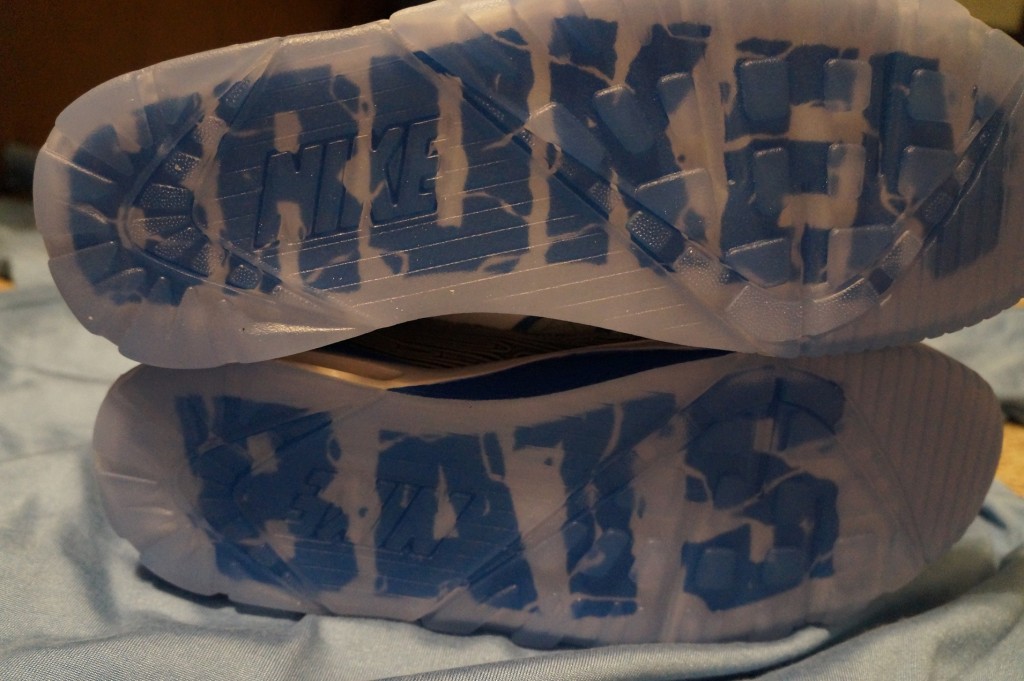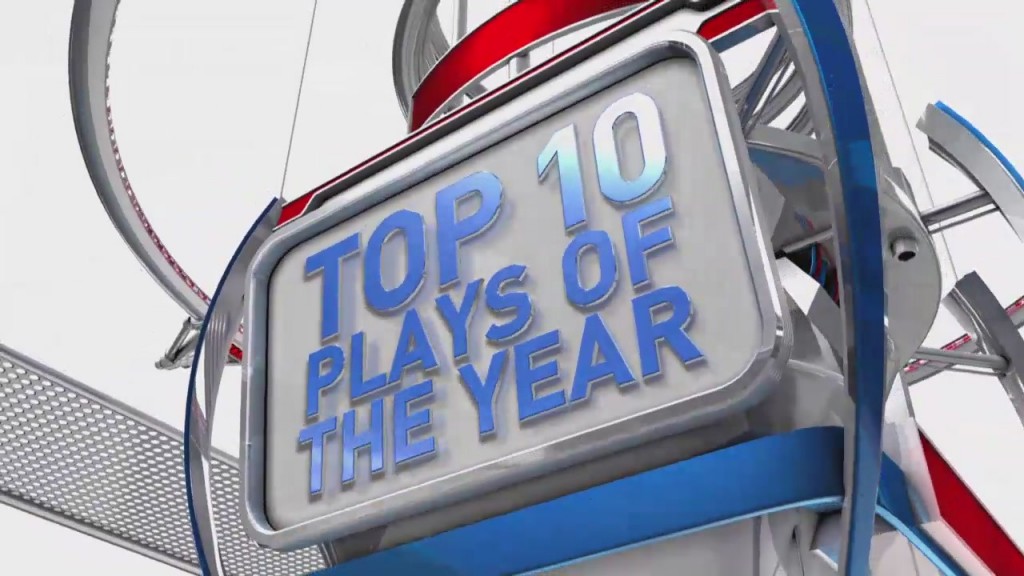 The NBA Playoffs are now in full swing. The regular season is done, but there have been some memorable plays. The NBA and Crown Royal have put together the best of the best plays from this year. From sensational dunks to great defensive stops here they are! Which one is your favorite?
Sit back and watch the plays that make us love this game! While watching the playoffs hopefully my Chicago Bulls will be able to #ReignOn!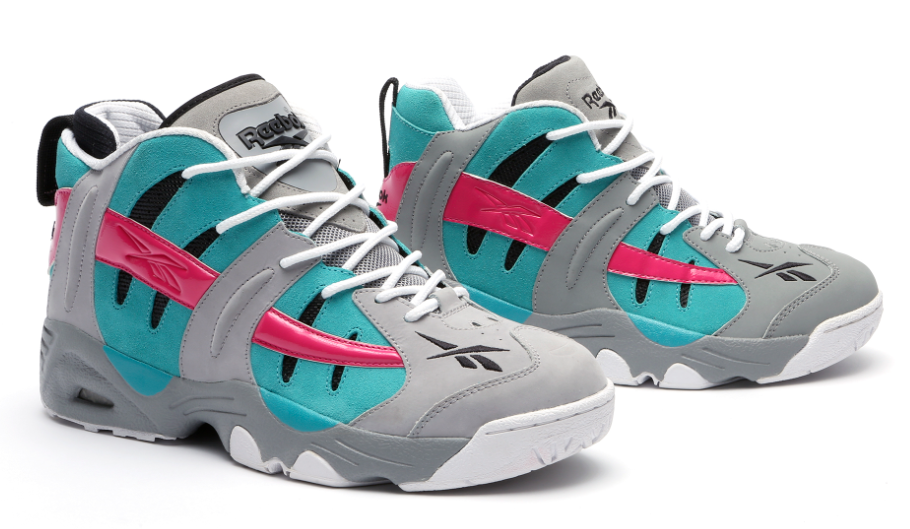 For years, Glenn "Big Dog" Robinson was known for his dominant presence on the court. His silky smooth jumper made him a headache for opposing teams and his hard-nosed style of played inspired a shoe just as aggressive: The Rail. Glenn Robinson and The Rail, Razor Sharp Since 1996.
Limited pairs of The Rail blue/pink/grey will hit stores on Friday, April 25th in adult and extended grade school sizing.
Pairs of the adult San Antonio inspired colorway will be available at key retailers Finish Line, Champs, Jimmy Jazz, DTLR, Villa, Reebok.com for $100 and grade school pairs will be available at key retailers Finish Line, Champs, Eastbay, Shoe City for $85.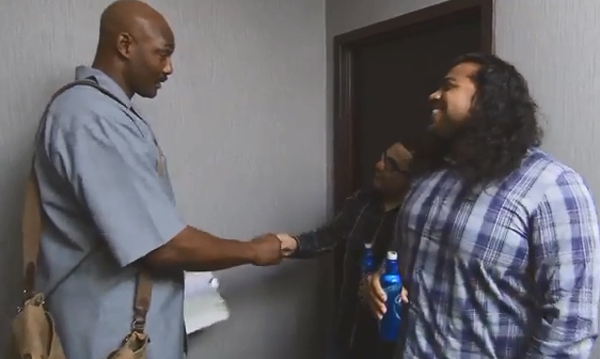 Bud Light is getting fans pumped up for the NBA playoffs with the same mentality by releasing the latest installment in the brand's "Up For Whatever" video series, where they surprised two fans with the ultimate NBA weekend. They played video games against Alonzo Mourning, received a special delivery from "The Mailman," played a predictably brief game of H.O.R.S.E. against Clyde Drexler and went suit shopping with Darryl Dawkins. And that's only part of what happened.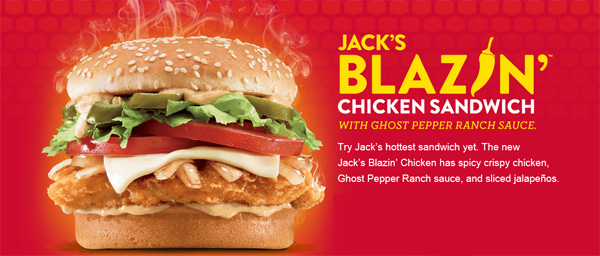 Jack in the Box has just released a brand new spicy chicken sandwich nationwide. The Blazin' Chicken Sandwich features a spicy chicken filet, grilled onions, jalapeños, swiss cheese, lettuce, tomatoes, and some ghost pepper ranch dressing.
Want to try it out? Just follow MANjr on Twitter and we might select you as a winner of some Jack Ca$h cards.
Check out their new ad here where the new Jack's Blazin' Chicken Sandwich is just SOOOOOOOO HOT for some!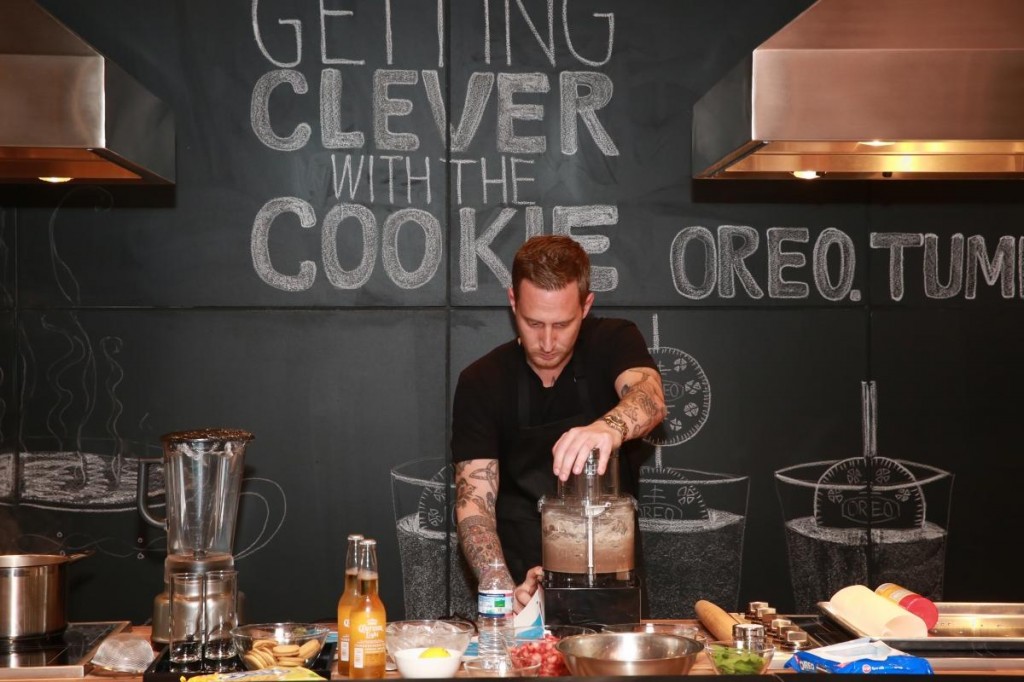 Keep your bag of chips clipped because food innovator Michael Voltaggio's Fanatic Hack re-writes the playbook on how to serve a winning game time snack.
Oreo Fanatic Hack
36 Oreo cookies
1 Cup all-purpose flour
½ Cup water
¼ Cup powdered sugar
Prep: Heat oven to 325 degrees
1. Blend cookies, flour and water in food processor until ball of dough is formed
2. Divide ball of dough into two pieces. Roll each ball until paper-thin between two sheets of parchment paper
3. Place on cookie sheets, remove top piece of parchment paper and score dough using pizza cutter. Bake in oven for approx. 10-15 minutes.
4. Remove, and break apart.  Garnish with powdered sugar.
Oreo Shandy
Makes 40 oz. total. 4 servings, 8 oz. each.
9 Oreo cookies
1 Cup water
1 Cup sugar
2 Cans or bottles of light beer (24 oz.)
1. Place 5 Lemon Oreo cookies in a pot with sugar and water. Cook until the sugar is dissolved and cookies are tender
2. Blend the Lemon Oreo mixture/syrup until smooth
3. Strain Lemon Oreo syrup through a sieve or fine mesh strainer
4. Fill 4 glasses halfway with Lemon Oreo syrup over ice and top with beer.
Garnish each glass with remaining Oreo cookies.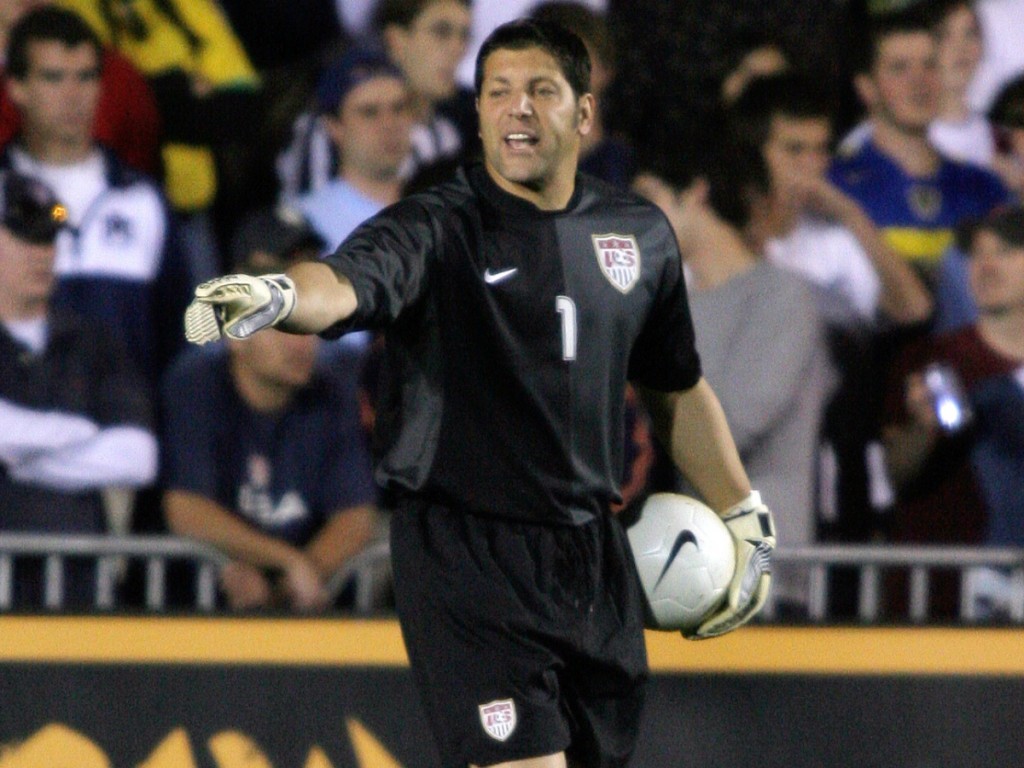 Even though Tony Meola is retired from soccer he still has a passion for the game. He played on the U.S. Men's National Team and played in the MLS. He was in three FIFA World Cups and is a member of the National Soccer Hall of Fame. During his time playing in the MLS, Tony was named the league MVP in 2000. That year he and his team the Kansas City Wizards won the MLS Cup title.  He now co-hosts a soccer radio show on Sirius/XM Radio called "Counter Attack."
Meola and I had a chance to chat about his work with Allstate for the "Good Hands" soccer clinic where he surprised a local soccer team by stopping by their practice and giving them a few pointers. We also discussed if he would make any changes to the World Cup.
Art Eddy: Last year around this time you and I had a chance to talk about the great work you were doing with the Allstate "Good Hands F.C." soccer clinic. Now it looks like you are picking up where you left off from last year. Tell me what you are doing this year?
Tony Meola: We will march in on a practice for some young kids. We look to run a clinic and in the end we will give the team and the coaches everything that they need in order to be successful on the field. Things like training gear, soccer balls, soccer uniforms, shin guards, bags, sweat suits, and everything else that need to run a club.
We also openly invite them to the Allstate fan zone during the United States and Mexico friendly game. We give them tickets to the game. It is a great event. We love seeing the look on their faces when they are finding out that they are going to the game. It is fun to be a part of it.
AE: What are the main things you look to focus in on during the Allstate "Good Hands F.C." soccer clinic?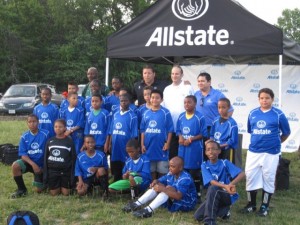 TM: Obviously it is hard to make an impact with just one night of practice. We will kick the ball around a bit. It is more about showing how much Allstate cares about the community. We love to give back with this sponsorship. If they don't learn any soccer that night or don't get any better I am okay with that. The vehicle is soccer, but the mission is to make the kids happy. We want to give them something in one night that would not necessarily get.
AE: You must have a blast at these events where you get to teach kids about the sport you love, right?
TM: The end result is always fun. These kids are so appreciative. The coaches who spend all their time and effort and probably send more emails than they really want to. They probably have to deal with more issues than they want to. They don't get paid, but they are really, really appreciative. It is great to see that they get something that they necessarily wouldn't have if it wasn't for the people at Allstate.
AE: How do you think the game of soccer has evolved since you retired from the game?
TM: It has been all positive. It continues to grow. I am now coaching at the youth level. It is great to see all the different age groups improve their game. It was great to see what the 17 year old group did at the recent Nike friendly as well as what they did in the tournament overseas.
I don't know what more we could ask our youth coaches to do other than to continue in the direction that we are going in right now. The coaches are doing a great job of that. They are putting the time in and showing the kids the passion that they have about the sport. I think the future is bright.
AE: Is there a league or team that you love to watch these days?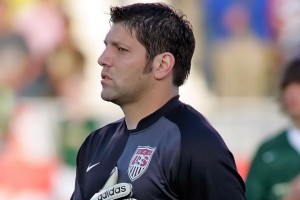 TM: I follow soccer every day. I do that because I am on the radio all day. I like the EPL (English Premier League). I am a fan of La Liga. I love watching the Champions League. There are not a lot of leagues that I don't like. I love watching the game. I love watching the tactics of the game, the adjustments that are made during halftime, and just studying the game.
AE: Are there any changes you would love to see in the game especially in the World Cup?
TM: No, I am happy with it. Everyone argues what region should have more teams. We respond to it because we have to since it is part of our job, but I don't get too caught up in it. Instead of complaining about the World Cup I would rather enjoy it. Just enjoy the greatness of the players, the teams, and the passion of the fans.
To me there is nothing negative about the World Cup. Everyone wants to argue all the time, but I try to stay away as much as I can. I just try to enjoy what I am seeing for that month.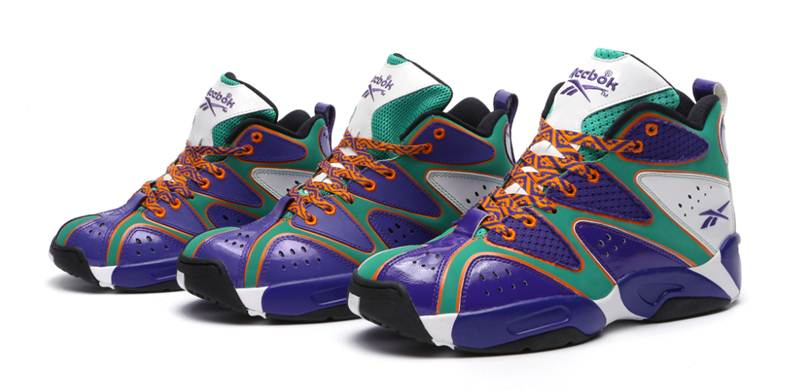 Reebok Classic introduces the Kamikaze I purple/green/orange – one of the first full family packs of the year.  Inspired by the legendary Shawn Kemp, this aggressive colorway is accented by metallic purple hits on the upper and Aztec patterned lacing in a nod to Shawn Kemp's 1996 All Star Game appearance.
Lightning struck every time Shawn Kemp stepped on the court. His larger than life persona set a new pace for basketball, and his groundbreaking athleticism inspired a shoe just as bold: The Kamikaze I. Shawn Kemp and the Kamikaze I, A Cut Above Since 1994.
Very limited pairs of the Kamikaze I purple/green/orange will be available on Friday, April 25th at City Gear, Shoe City, Villa, Shiekh, and Cool J's for $115 ($90 GS, $70 PS).