Art Eddy III
This user hasn't shared any biographical information
Jabber/GTalk: Art Eddy III
Posts by Art Eddy III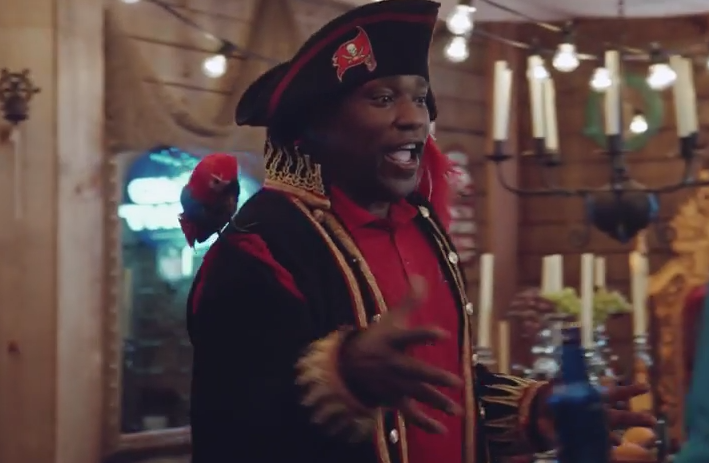 On Sunday, Bud Light, the official beer sponsor of the NFL, kicked off its NFL ad campaign for the season with a new Up For Whatever creative spot. The video features a Buccaneers fan who gets his house "Buccaneer'd" by NFL legend Warren Sapp wearing a parrot on his shoulder while facilitating a backyard cannon firing as beautiful pirate maidens cheer.
And remember, if you're holding a Bud Light in your hand while watching a NFL game this season, it means you're #UpForWhatever – and anything can happen!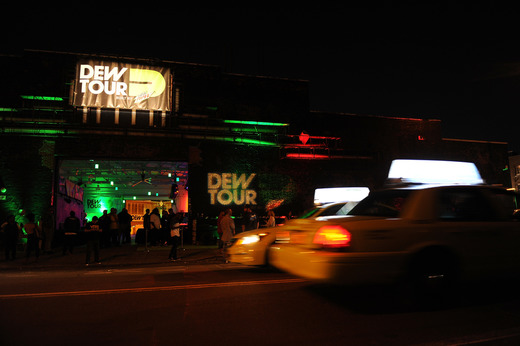 This past week J. Cole and Bleachers performed during Mountain Dew's kick-off party in Brooklyn to celebrate the 10th anniversary of Dew Tour – one of the hottest action sports events, which took place Sept. 20-21 at House of Vans. Questlove also made a special surprise appearance to DJ between sets to get the crowd ready for J. Cole.
Celebs and notable guests attended the event, including: J. Cole, hip hop artist; Jack Antonoff (Bleachers/lead guitarist in Fun.); Questlove, musician and DJ; Zosia Mamet, actress; Sam Worthington, actor; Takeo Spikes, athlete/NBC sports analyst; Paul Rodriguez, professional skateboarder; Danny Davis, professional skateboarding; Scotty Lago, professional snowboarder; Sean Malto, professional skateboarder; Boo Johnson, professional skateboarder; Theotis Beasley, professional skateboarder – and others.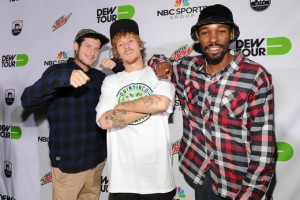 Shutting down Franklin Street in Brooklyn, N.Y. directly in front of the House of Vans, BMX streetstyle set the tone on Sunday for the final day of the Dew Tour Toyota City Championships. Bringing back some of the biggest obstacles such as the shipping container at the start, the Toyota car jump and the 10-stair to close out the course, the crowds were taken back by BMX.
For streetstyle, each athlete receives three attempts at the intimidating course and, although it may not be desired, athletes were encouraged to continue down the course even if they missed a trick along the way. In the end, only their top run counted for their placement.
Moment of Truth
The entire event was full of massive tricks, transfers and bails. As this course can be quite grueling, the athletes realize that despite being encouraged to continue they need to conserve energy in order to pull that perfect run — especially when they see what their competitors are pulling.
The idea to stop and recoup was the route Garrett Reynolds chose on his second run once he slipped up on the beginning of the course. Knowing he was not in the top spot and feeling "completely out of rhythm" after messing up, the pressure was on when he rolled in for his final run. Not to mention Garrett only was able to get 15 minutes of riding in during practice as he was held up in the medical tent waiting to be cleared.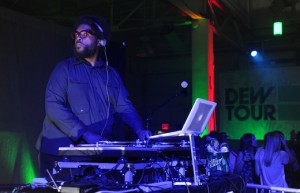 The final came and Garrett went off. He did what he had to, completed his run and impressed everyone on his way to reclaiming his streetstyle title as the original winner of the event.
Top Tricks:
Chad Kerley – feeble grind to hard 360 out off the first box jump, 180 barspin to fakie over the Toyota car jump, crank grind to barspin out off the flat white fence rail, manual through the whoops then up and across the tall long box jump to barspin in and an insane 540 over the planter gap to flat at the end.
Tyler Fernengel – giant truckdriver from the A-frame wedge to roller gap, also a massive tuck no-hander to late barspin on the same gap earlier, tailwhip over the bump to flat and a barspin over the planter gap to flat.
Scotty Cranmer – tailwhip in off the shipping container, backflip tailwhip over the first box jump, enormous double tailwhip from the A-frame wedge to roller gap, double tire ride to barspin out on the Toyota bench and an over double peg on the 10-stair rail.
Dennis Enarson – feeble grind to opposite tailwhip off the shipping container, truckdriver to flat over the Toyota car jump, double tire to tailwhip off the flat white fence rail, 180 tailwhip to flat off the A-frame wedge, feeble to barspin off bump to out ledge and a double tire down the 10-stair handrail.
Winner's Top Tricks:
Garrett Reynolds – feeble to truckdriver in off the shipping container ledge, opposite 360 lookback over the first box jump, opposite tailwhip over the Toyota car jump, barspin 180 to crooked grind to 180 out off the flat white fence rail, truckdriver over the A-frame wedge to flat, barspin ice pick and a tailwhip over the 10-stair handrail to flat.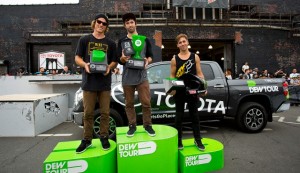 Winner's Quote:
"This event is really fun because you cruise down a hill and you hit what comes your way. It sounds cliché but it feels like you are riding in a video game because no skatepark is this long and you just keep hitting fun stuff the whole way. I have more fun riding this contest than I probably will for the rest of the year." — Garrett Reynolds

I love talking to stand-up comedians for many reasons. One is that I love hearing how they form their craft. It is interesting for me to hear how they form their material and to see if their friends always have a demand for them to be funny. I think the world of stand-up is fascinating. I have a ton of respect for their profession.
Last week I was able to chat with comedian Greg Walloch. Greg currently lives and works in Los Angeles, CA and is the host of the popular live storytelling show, Eat Your Words at The Standard, Hollywood. Greg and I talk about how his career started, his current projects, his time on the Howard Stern show, and much more. To listen to my interview with Greg CLICK HERE. I also asked Greg which comedians we should check out. He said that Ron Funches, Jen Kirkman, Baron Vaughn, Hasan Minhaj, Beth Stelling, and Kurt Braunohler are some very funny people. So if you get a chance make sure you check out their shows.
Greg has appeared on everything from The Howard Stern Show to Kurt Andersen's Studio 360 on Public Radio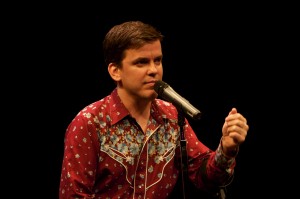 International. Greg performed to a capacity crowd at Lincoln Center's David Rubenstein Atrium in the variety show Sxip's Hour of Charm. He has opened for '60's icon Janis Ian at the World Institute on Disability Gala in the Bay Area, and appeared in The Moth: West Village Stories with Amy Sedaris and Andy Borowitz in New York City.
Greg was featured in USA Network's Characters Unite national tour with sold out engagements at Seattle Center's Marion Oliver McCaw Hall, the Denver Center for the Performing Arts, the Newseum in Washington, DC, and at the Pacific Design Center in West Hollywood.
In conjunction with the Peabody Award winning storytelling collective The Moth, the Characters Unite tour featured Christopher Gorham, Forest Whitaker, Meghan McCain, Kevin Jacobsen, Jeffery Rudell, Pam Grier, Dan Choi, Nathan Lane, Dustin Lance Black, Octavia Spencer, Aimee Mullins, Matt Bomer, John Legend, Willie Garson and more. Greg also appears in USA Network's Characters Unite "I Won't Stand For…" PSA campaign to fight hate and discrimination.
Greg's live solo shows have toured in Moscow, Toronto, Vancouver, London, Ireland, Germany, Australia, Poland, Scotland, Tel Aviv, and in various festivals across the United States. The concert film "F**k The Disabled," based on Walloch's live show stars Greg Walloch with a cast that includes Stephen Baldwin, Jerry Stiller and Anne Meara.
Here is what a few notable actors and comedians have said about Greg.
"ONE OF THE MOST PROFOUND PIECES OF COMEDY IN THE MOST TRUTHFUL WAY. JUST WONDERFUL!" – Jerry Stiller
"WALLOCH DELIVERS WITH BITE AND WITHOUT BOMBAST." -The New Yorker
"WONDERFULLY FUNNY." – Nathan Lane
"Absolutely amazing! I just sat back and took a ride. I listened intellectually, I laughed my ass off and my heart listened too… articulating what it means to be human so eloquently… this is what my soul is supposed to feel, I'm supposed to have more human moments like this!" – Jen Kirkman, Chelsea Lately and After Lately
Check out Greg's website and follow him on Twitter, and his Facebook page for his Eat Your Words show.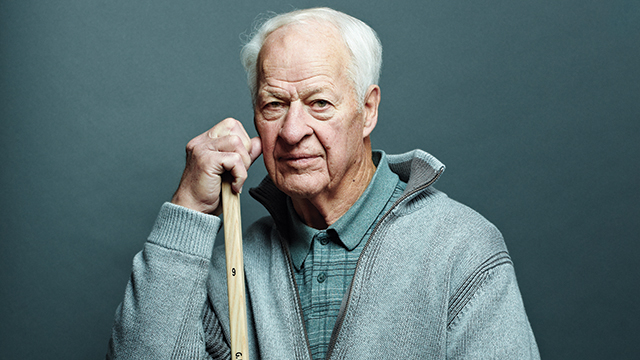 Big, skilled, tough on the ice, and nearly indestructible, Howe dominated both the sport and the record books like no one has before or since. Over an incredible six decades, the Hall of Famer had so many accomplishments that he set the record for the most records by any athlete ever in any sport.
I had the chance to read Mr. Howe's autobiography before its release date. Whether you followed his career or are looking for an intriguing read than this book should be on your to buy list. "Mr. Hockey: My Life" does follow the traditional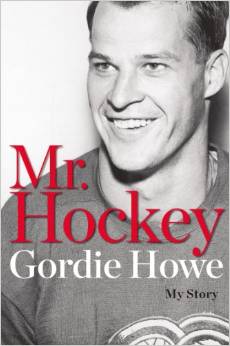 autobiography theme. It starts from his early childhood and follows his career into the sport where he set numerous records.
Howe writes about the violence in hockey, his salary issues with the Red Wings, and the toll hockey took on his body. You get to see Gordie's love for hockey, how he discovered it, and the countless hours he spent honing his craft. Howe even speaks on famous players like Bobby Orr and Wayne Gretzky in which he passed the torch too in the NHL.
Gordie doesn't just talk hockey. I loved hearing his take in his family. You can see that his family meant so much to him. His wife, Colleen has some of her letters to him in the book. His sons Mark and Marty even played with him in the NHL, which was one Howe's best moments in his career.
"I've often thought that some of the happiest years of my career came in Houston when I had the chance to play with my sons Mark and Marty. I wasn't the player I was during the glory years in Detroit, but how many fathers get the chance to play professional with their kids? It's what kept me going into my fifties."
Right there alone just goes to show how fantastic the man was. This book is an addictive read and it was hard for me to put down. You will definitely enjoy this memoir for a hockey legend.
Even some hockey greats shared their thoughts on Mr. Howe.
"The greatest is Gordie—he's my man."—Bobby Orr
"The greatest one of all . . . still the greatest in my mind and in everybody else's mind."—Wayne Gretzky
The book is published through Putnam Books and is available on October 14th. You can pre-order the book on Amazon.com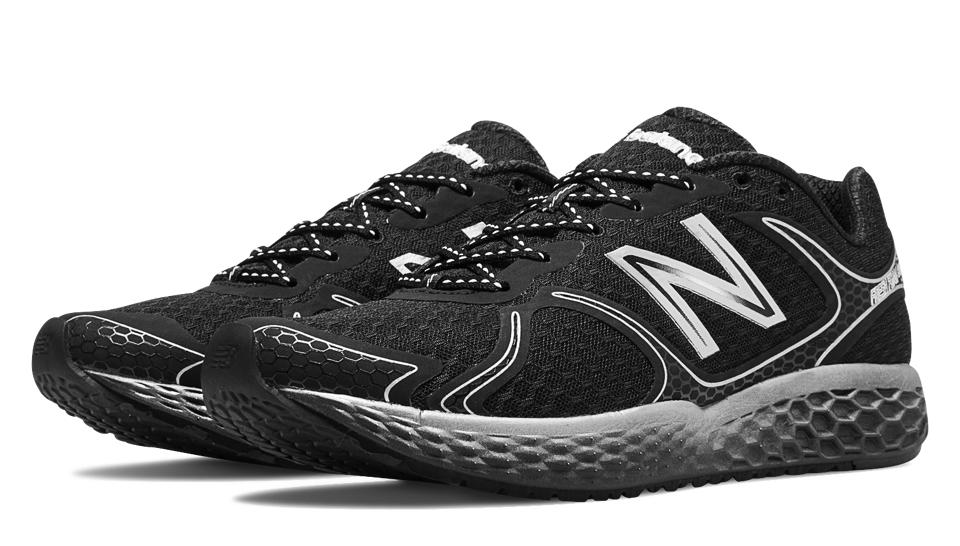 The New Balance Fresh Foam 980 is very lightweight and is a good looking shoe. But don't judge this shoe solely by its looks. New Balance put a ton of time and effort to create the 980.
As you can guess from the shoe's name, the Fresh Foam, it has an innovative midsole that is created from a single piece of foam. It helps provides a lower, more natural underfoot feel. New Balance used specialized design software to create a lightweight men's running shoe. The 980 also features breathable air mesh and simple no-sew overlays that wrap the foot in the right places. When you try the shoe on it feels like you are walking on a cloud. Not that I have ever walked on a cloud, but I have stepped through fog. Fog is a form of a cloud right?
The blown rubber outsole complements the shoe's cushioning and which gives a runner a very smooth ride. The 980 has received a ton of praise so far this year. It was celebrated by Competitor Magazine Spring Shoe Guide as they awarded the 980 with the "Best Ride" in their March issue. Running Network called it the "Best Neutral Running Shoe."
I have seen hard core runners to beginners rave about these kicks. Some of the features that runners have been talking about is the performance from the midsole compound, known as the Fresh Foam that delivers a lower, more natural underfoot feel.
Others like the no-sew air mesh construction with welded overlays for breathability to keep your feet feeling fresh. Still most of the praise has been from New Balance's use of the blown rubber outsole for added cushioning, traction, and durability. Even if you are looking for some comfortable sneakers to walk in these 980's are something you should look at. Check out the New Balance website HERE!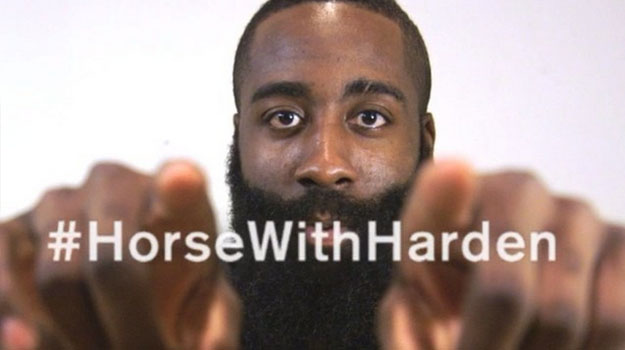 A challenge has been made. Are you ready to accept it? James Harden is ready to take on YOU, The Internet, in a game of HORSE. Get a ball, grab your phone and find a hoop. It's GAME ON, October 1st. Visit HorseWithHarden.com for more details. #HorseWithHarden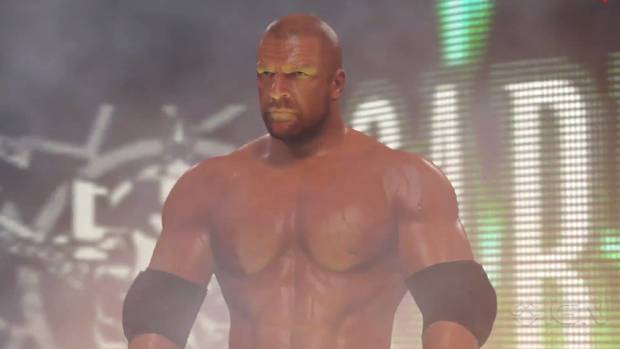 WWE 2K15 will usher in a new era of WWE video games and deliver the gaming experience that fans have sought for generations!
Features:
All-New MyCAREER Mode: For the first time ever, take your custom Superstar through an unprecedented and authentic WWE career spanning countless hours of gameplay. From NXT to RAW, make your way up to the WWE Championship and live the life of a real WWE Superstar. Xbox One and PlayStation 4 only.
Presentation Overhaul: Proprietary facial and body scanning technology deliver the most realistic WWE Superstars, Divas and Legends EVER. Xbox One and PlayStation 4 Only. Listen to Jerry Lawler and Michael Cole call the action with the best commentary featured in a WWE game to date, with more than five times the lines recorded than any other year. WWE 2K15 will also feature a custom soundtrack featuring today's hottest artists, curated by John Cena.
Introducing: 2K Showcase: Relive the groundbreaking rivalries of John Cena vs. CM Punk and Triple H vs. Shawn Michaels in a new single player campaign told through your gameplay and historic WWE footage.
Gameplay Enhancements: WWE 2K15 will significantly improve the core gameplay experience through key additions and improvements designed to elevate the franchise now and into the future. By using new motion capture technology, 2K15 includes five times more new animations than any WWE game before. Combined with a brand-new chain wrestling system, WWE 2K15 will take the drama and adrenaline of a WWE match to new heights…just like on WWE TV! Xbox One and PlayStation 4 only.
WWE Universe and Creation Suite: Create your own Custom Superstar, or customize WWE Superstars and Divas, Move-Sets and entrances. Take control of WWE as your actions shape your Universe: storylines, schedule, rivalries, alliances and more!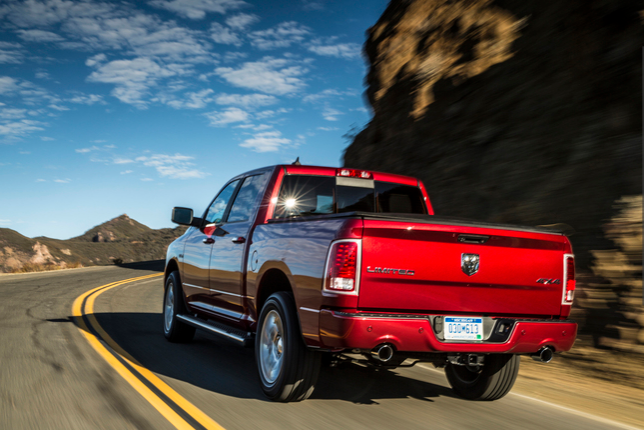 Cars.com just put together a list of tailgate tips to maximize your car for the ultimate tailgate experience This year's favorite is the RAM 1500. The RAM has built in WiFi, and the beverage ready RamBox provides tailgaters with a built in cooler.
Here are some tailgating tips from Patrick Olsen, Cars.com Editor-in-Chief
What's the best way to use storage space for tailgate gear?
Patrick Olsen: Three words: Cover, secure, safety.
Cover: It starts with laying down a good protective cover (tarp, etc.) inside your car. Even the cleanest travel grill will have a lot of grease and grime after tailgating, and you don't want that all over your interior.
Secure: Once you have the tarp down, start by putting in the grill because it usually has the most unwieldy shape. You'll want to put some bracing items around it (coolers are good) to limit any movement while you drive to and from the game. A grill that tips over while you're driving will make for a bigger mess than the Jacksonville Jaguars. Once you have that down, put other things in with the biggest items (folding chairs, coolers, etc.) first and smaller stuff toward the end. Finally, don't leave food or other items to become projectiles in the case of a sudden stop or crash.
Safety: Don't stack anything in your line of sight — especially out the rear or rear-quarter windows — and make sure you store sharp objects like knives or metal tongs in an enclosed container. And, as tempting as it might sound, avoid draping team flags over windows you need to see out of until you get to the tailgate lot. We're all about creating the ultimate fan-mobile, but do it safely.
Tips for conserving battery life?
PO: Be prepared: Have jumper cables or a rechargeable jumping kit on hand. But feel free to leave the engine running throughout the tailgate. When idling, the typical car only consumes about a gallon of gas per hour, so for most cars, a four-hour tailgate would use less than a quarter-tank of fuel, and eliminate the risk of a dead battery.
Be aware: Avoid standing (or having trash bags and other items) within a couple feet of the exhaust to avoid burns or fires. And obviously this is a bad idea if you're tailgating in an area with limited ventilation.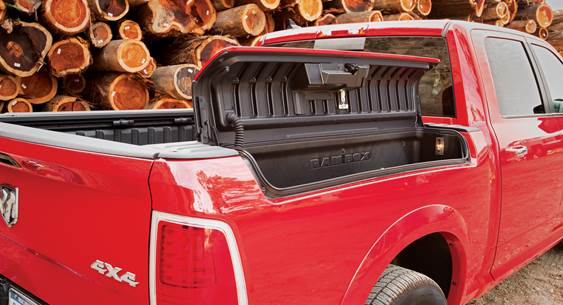 How to maximize rear space for an optimal tailgating experience?
PO: See first question.
Tips for quick clean-up after the tailgate?
PO: Set aside some time: Tailgates often turn into a rush for the gates when everyone realizes the game is about to start, and if you aren't prepared, you might miss kickoff. So keep track of time, and leave yourself 15 minutes just to clean up before heading into the stadium.
Make it a team activity: Don't be afraid to delegate; after all, you planned this shindig, and you shouldn't have to clean up alone. Bring a few trash bags, fill 'em up and identify public trash containers (most tailgate lots have plenty) where you can leave them.
Sound is a key element to any tailgate is there a car with a particularly great sound or multimedia system for tailgating?
PO: Bring your own: While some cars, like GMC's Acadia SUV, have thought about tailgating when designing the factory stereo, by and large, car stereos are designed to fill the cabin with noise, so they don't do a very good job broadcasting music outside the car. Bring along a portable stereo with Bluetooth or an iPod plug-in, and either plug it into a car using an inverter or a factory household-style, two-prong outlet.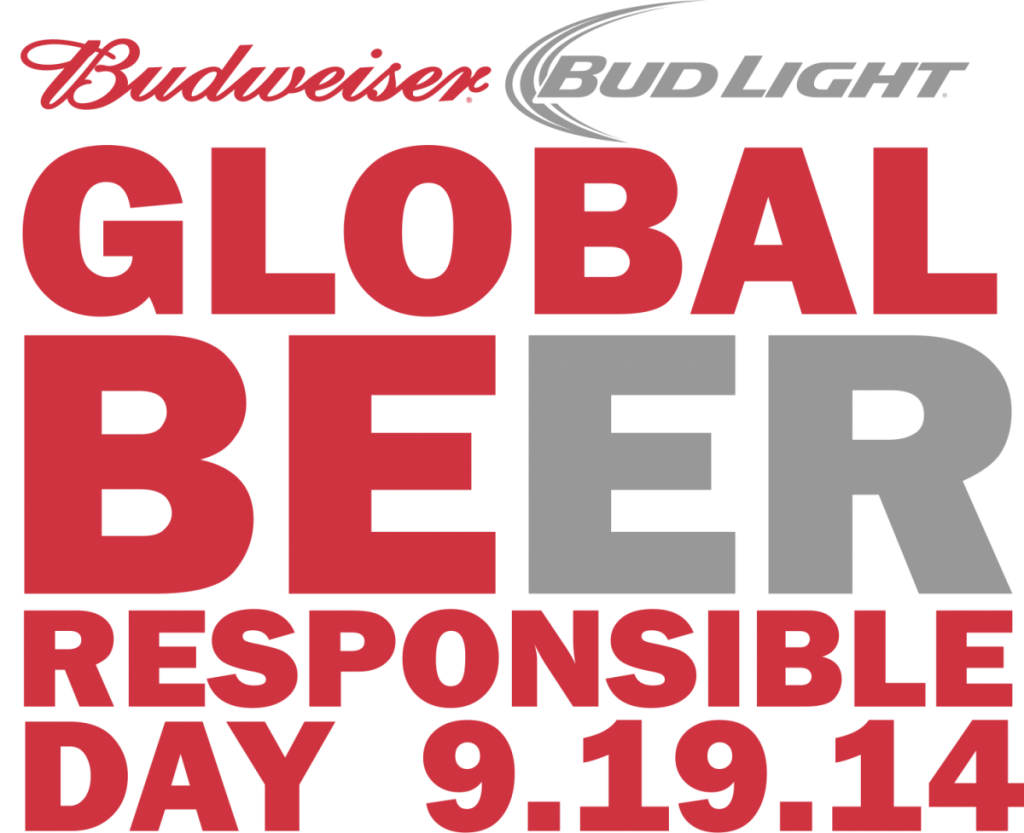 Budweiser today released an exclusive digital video to raise awareness for drunk-driving prevention. Unlike previous spots from Anheuser-Busch's flagship beer brand, the online-only content carries a more emotional tone and portrays how having a plan to get home safe can result in a positive ending.
Anheuser-Busch and Budweiser believe drunk driving is 100 percent preventable when adults make a plan to get home safe. However, lives are still lost in drunk driving-related crashes every year. The "Friends are Waiting" video opens with the deep bond between two best friends—Luke and his dog Cooper—and culminates with Cooper's reaction when Luke doesn't come home after a night out.
Anheuser-Busch is one of the first alcohol companies to widely deliver a responsible drinking message with this tone, and the new video represents an evolution in how the company talks about responsible drinking. Although Budweiser is sharing this message with anyone of legal drinking age, the brand is releasing the video digitally to capture the attention of drinkers ages 21-27, who consume and share content via online news sources and social sites.
"Budweiser has long championed the message to 'designate a driver and enjoy the great times,' but this video goes a step further to reinforce the importance of making a plan to get home safe while showing how our decisions impact those around us," said Kathy Casso, vice president, Corporate Social Responsibility, Anheuser-Busch. "Creating this video to live – and be shared – digitally is an important way to keep the momentum going and reach as many adults as possible."
The launch of the 60-second video is being timed with Anheuser-Busch's 5th annual Global Be(er) Responsible Day on Friday, Sept. 19, a day Anheuser-Busch InBev and 155,000 colleagues worldwide dedicate to promoting responsible drinking worldwide.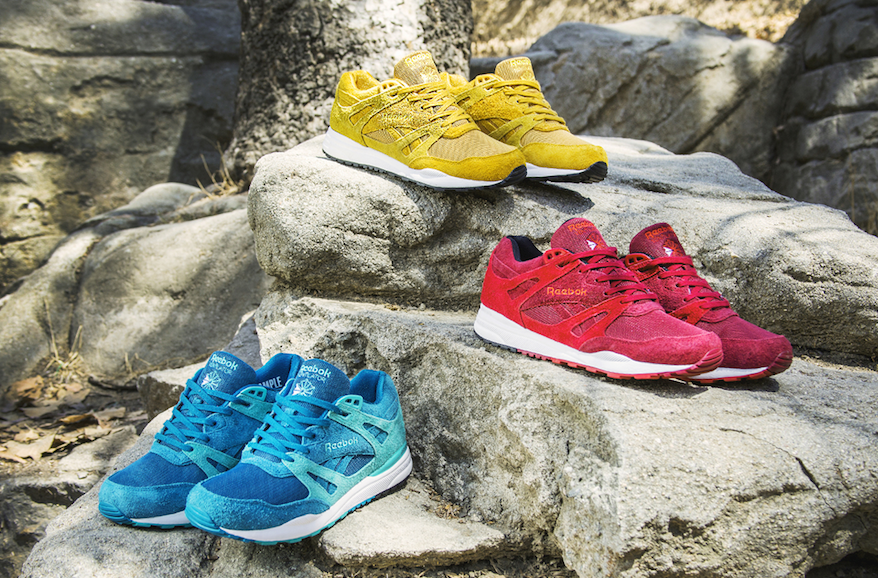 On the heels of the Ventilator "Night Vision" pack release, Reebok Classic introduces the Ventilator "Tonal Ballistic" pack.  Inspired by the outdoors, the rugged suede upper execution on this limited edition pack is sure to become a style statement this Fall.
Born during the golden era of Reebok design and technology innovation, the Ventilator was a game-changing runner when it was first introduced in 1990.  The first Reebok lightweight runner with a focus on breathability, the Ventilator was a bold, expressive silhouette that was years ahead of its time.  Today the Reebok Ventilator remains an extremely versatile, one-of-a-kind sneaker, with the chameleon-like ability to take both clean and bold executions.
Very limited pairs of the Ventilator "Tonal Ballistic" pack are available now at Jimmy Jazz, Urban Outfitters, Bait, Active Athlete, and Reebok.com for $90.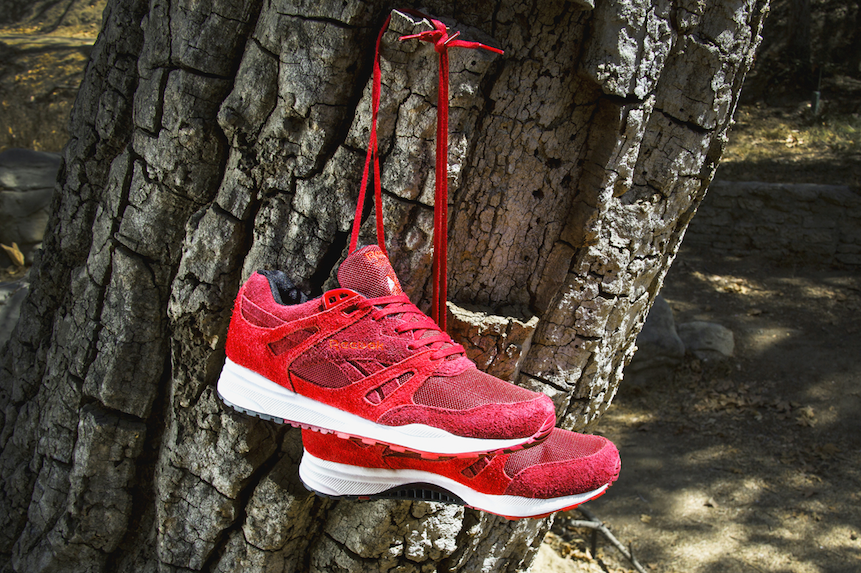 YG and French Montana were seen on the red carpet of the Saturday, 9/20 taping of the 2014 BET Hip Hop Awards this weekend.
Both were wearing the fresh new Ventilator "Tonal Ballistic" sneakers in the cranberry red/excellent red/black/white colorway for $90.