Art Eddy III
This user hasn't shared any biographical information
Jabber/GTalk: Art Eddy III
Posts by Art Eddy III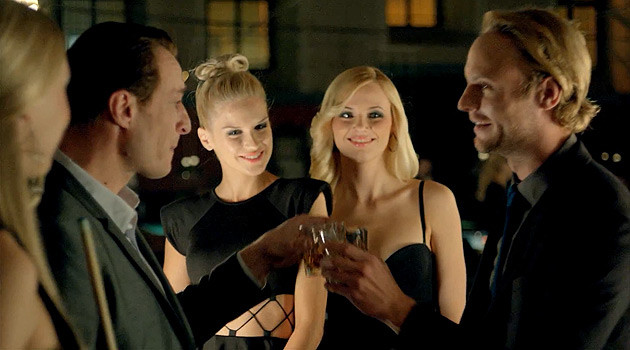 "The One Man Gang" and "The Baron" are two films that Dewar's has put together to pay respect to those men who go above and beyond.  These two personality types each embody the powerful yet refined taste of Dewar's Scotch Whiskey.
First, the One Man Gang. Ever know someone who had the bulk and the brawn to be the ultimate enforcer, but behaved like a gentle giant because he knew that senseless violence wasn't the answer? The man's class and finesse commanded respect, so no one tried anything funny? Then you've been in the presence of a One Man Gang. Check out the video here!
Secondly, meet the Baron, a friend who's always willing to take one for the team. He's the world's greatest wingman, who's always looking out for your best interest, especially when you don't even realize it. If you have a friend that's willing to ruin his night just to bail you out of a sticky situation, you know The Baron. See the Baron in action here!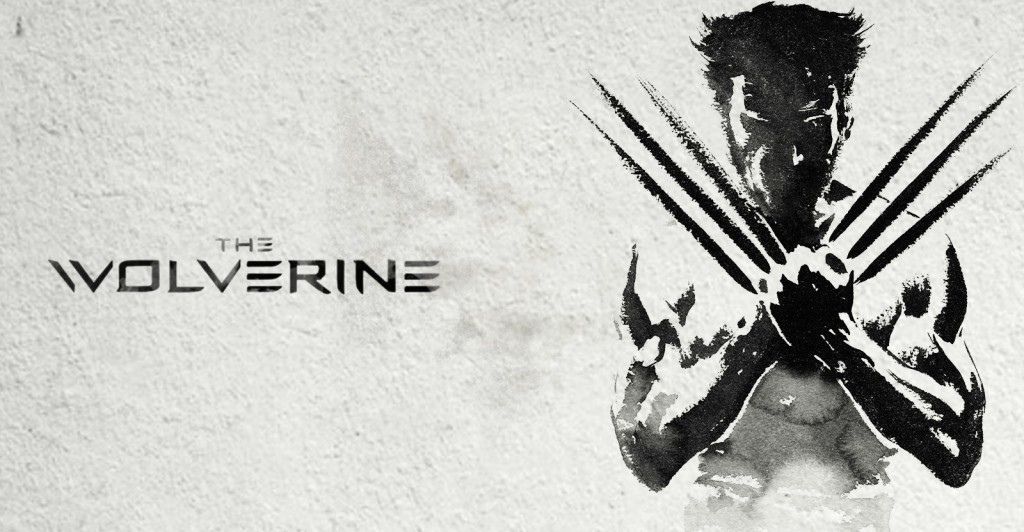 The year's most action packed blockbuster comes home as THE WOLVERINE debuts its 4 disc Blu-ray Unleashed Extended Edition, 2 disc Blu-ray, DVD and Digital HD on December 3 from Twentieth Century Fox Home Entertainment.  Directed by James Mangold (Knight and Day, 3:10 to Yuma, Walk The Line), THE WOLVERINE inspired by the celebrated Marvel comic book arc and featuring Hugh Jackman, in the title role takes the hero to a Japan he hasn't seen since World War II – and into a shadowy realm of ninjas, mutants, and a brand new class of villains.  To date the film has topped over $371 million in the worldwide box office becoming the highest grossing film in the franchise internationally.
Jackman returns as The Wolverine and faces his ultimate nemesis in an action-packed, life-or-death battle that takes him to modern-day Japan. Vulnerable for the first time and pushed to his limits, Wolverine confronts not only lethal samurai steel but also his inner struggle against his own immortality; an epic fight that will leave him forever changed.
THE WOLVERINE Blu-ray will allow fans to sync with the Second Screen app where viewers can immerse themselves in the world of The Wolverine, including a synced viewing experience, concept art, and many more cool and interactive bonus materials! The Unleashed Extended Edition will feature an extended cut of the film for the first time ever in the entire X-Men franchise, allowing viewers to go further into the creation of the darker Wolverine and the journey that he undertakes. THE WOLVERINE Unleashed Extended Edition Blu-ray includes 3D Blu-ray, DVD and Digital HD™, complete with exclusives that make it the perfect gift for the holidays.
To celebrate The Wolverine Digital HD release, this first-ever multi-touch experience from Twentieth Century Fox Home Entertainment was revealed, taking Wolverine fans deeper intoThe Wolverine than they've ever gone before. Through this visually-driven multi-touch experience, readers will explore all the ramifications of Logan's mutant powers as they are diminished, lost, and then regained. Focusing on four powerful fight scenes in The Wolverine, the multi-touch book adds to the story with original narrative, exclusive behind-the-scenes video, VAM teases, beautiful imagery, and interactive models. The multi-touch experience is free on the iTunes iBook Store to be downloaded with iBooks on your Mac or iOS device, and with iTunes on your computer. The interactive features may work best on an iPad.
HIGHLIGHTS
·       More than 50 pages of content
·       Extensive film and behind-the-scenes footage, along with photos and Easter eggs
·       95% original written text and exclusive narrative writing
·       Pre-visuals and 3D content
·       Multi-media Rich Interactivity: Nearly every page contains a video, keynote animation, scrollable text, hidden gem, or audio icon
·       iBooks Author Interactivity: Scrolling text blocks, hi-res full-screen image galleries, pop-ups with additional text and photos to drive the experience
·       Easter Egg Exclusive Content allows readers to dive deeper into the world of Wolverine as they discover hidden, exclusive content
·       Interactive Blueprint Images use the built-in iBooks Author Interactive feature to a pan-and-zoom experience to dive deep into the Suppressor Beetle
To enter, just follow us on Twitter (@MANjrcom) and send us an email in the form provided below. Good Luck!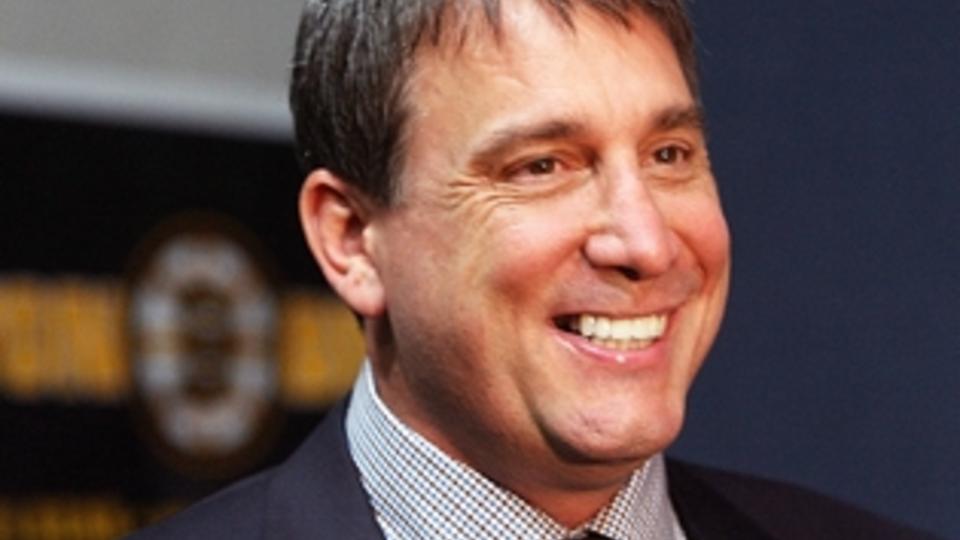 Cam Neely had an outstanding playing career in the NHL. He played 13 seasons for the Vancouver Canucks and Boston Bruins. Most of his playing career was in a Bruins uniform. In 2005 he was inducted into the Hockey Hall of Fame. Currently Cam serves as the president of the Boston Bruins. Cam was instrumental in organizing the Bruins 2011 Stanley Cup Championship.
Cam set up The Cam Neely Foundation. He set this foundation up to help those who are battling cancer and assist their family members as well. Neely lost both of his parents to cancer. Cam knows the pain of seeing a loved one battle this disease. He and longtime friend, Denis Leary work together to run their annual "Comics Come Home" comedy night that raises money for Cam's foundation.
Neely also has been in a few TV shows and most notably played the cult classic role of Sea Bass in the movie "Dumb and Dumber."
Cam was gracious enough to take the time to talk with me about the current state of the NHL, his playing career, his work as the president of the Bruins, and his role in "Dumb and Dumber."
Art Eddy: First off let's talk a bit about some of the possible changes to the NHL. Most notably the change to overtime play. What is your take on the possible change to overtime?
Cam Neely: I am not a fan of the shootout. I have never been a fan of the shootout. So if we can decide a game before we get to a shootout I am all for it. If we get into a three on three there will be a lot of scoring opportunities and you will be able to finish out a game.
My feelings are if we can figure out to do a four on four for a period of time and then get into a three on three it should work. If there is no score to settle a game after a three on three then go onto a shootout. I do feel that there will be plenty of scoring opportunities to finish a game if we can go three on three.
AE: In your great career was there one moment or playing against a certain rival that sticks out the most in your mind?
CN: I really enjoyed playing against Montreal. It is such a rivalry. When I first got to Boston it was always a big deal when you went and played Montreal. Whether it was in Boston or in Montreal, which I really enjoyed playing in Montreal, it is such a great hockey atmosphere. Like I said it was a huge rivalry and so everybody was up for those games.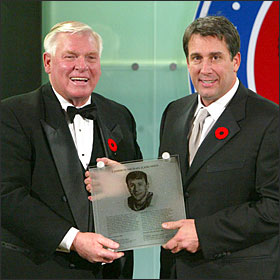 AE: In 2005 you were inducted to the Hockey Hall of Fame. When you were notified of your induction what was your initial reaction?
CN: Just shock in the sense that you are put in a place with these guys where you looked up to for years and years and years playing the game of hockey. You also think about the people who helped you along the way. It is just quite an honor. I felt very honored to be inducted to the Hockey Hall of Fame.
AE: You are now the president for the Boston Bruins. Has being a player helped you out with your current position?
CN: I believe it has. I can certainly look at a lot of situations with our players and think like a player. So that is beneficial. Playing in the league as long as I did and going through a lot of things as a player I certainly reflect back on that.
I know that the game is a little different and times have changed, but bottom line is that you are still a hockey player. I can reflect on a lot of those things whether it is playing a lot of games in a short period of time or having some time off. Now I think about what it would be like for a player now that I have the experience. Being able to look back and think about some moments in time where I had some questions, but didn't have the answers.
AE: As someone who lost a parent to cancer and I know you lost both of your parents, I want to thank you for setting up The Cam Neely Foundation. How did your foundation come to be?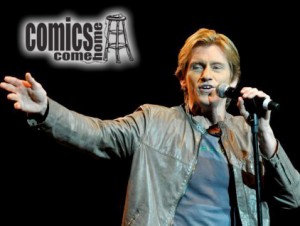 CN: Well as most people know being an athlete you get to help out in various ways and different charities. When I was going through what I was with my parents I gravitated towards more cancer related causes. Then I figured why not do something I know is needed based on my experience my family had with my parents.
For us we wanted to find a way to provide comfort, support, and hope to cancer patients and their families. Being a family member of a cancer patient as I am sure you know going through with one of your parents is that there not really a lot you can do. The doctors really don't fill you in too much. They don't give you too much information of what is going on. You feel kind of left out, but you are still affected by that terrible disease. So that is the reason why I decided to start up the foundation.
AE: You and Denis Leary have the great "Comics Come Home" fundraiser that has a tremendous lineup of comedians. This year's event just happened. How did it go?
CN: We say this every year, but this year it was said by many that this was the best show. It was a fantastic show. First of all I have to commend and give Denis and Apostle Pictures a ton of credit. They go above and beyond. They put this line up and great show together. It is really a fantastic way to take your mind off for a couple of hours of some of the things that you are dealing with and also raise money for cancer patients and their families. It is a nonstop laugh fest. It is a great way to raise money.
AE: Lastly outside of hockey fans, what do you get recognized more for? Is it your great hockey career or your amazing role as Sea Bass in "Dumb and Dumber?"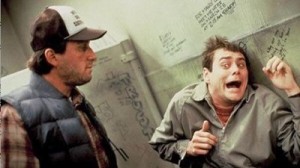 CN: (Laughs.) It is really a combination. Hockey more, but I do hear a lot of "Kick his ass Sea Bass" while I am walking the streets now and then.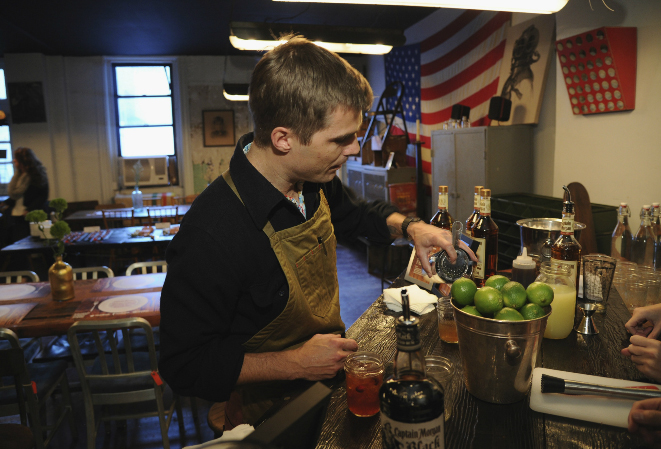 Recently in New York City "Top Chef" judge Hugh Acheson worked with Captain Morgan Spiced Rum to launch the rum's charity program called Captain's Table at City Grit. Chef Hugh prepared some phenomenal rum-infused food and cocktail recipes. He also was kind enough to share a few cooking tips that are perfect for this holiday season.
Hugh is not stopping there. He is looking to have others, who are 21 years and older to share recipes and entertaining tips. This all benefits the worthy cause called WhyHunger. This is a charity that seeks to end hunger by connecting people to nutritious, affordable food.
In the spirit of giving Captain Morgan will donate $1 to the charity WhyHunger to support their hunger relief efforts every time the hashtag #CaptainsTable is used on Twitter, Instagram and Pinterest. Donations will be made now through the beginning of February.  The cool part is that we all like share our latest dinner creations and holiday treats so why not help out those in need when you do so.
To get you started here are a few recipes that you can use for upcoming holiday parties.
Cape Corsair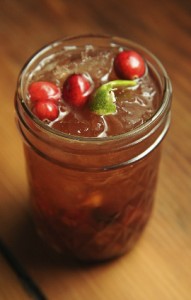 Ingredients:
12 fresh whole cranberries
1 inch piece fresh ginger, thinly sliced
½ oz. simple syrup
2 dashes Orange Bitters
1 ¼ oz. Captain Morgan Black Spiced Rum
1 oz. cranberry juice
½ oz. lime juice
Lime peel to garnish
Directions:
In mixing glass muddle the cranberries, ginger, and simple syrup. Add the bitters and Captain Morgan® Black Spiced Rum, cranberry and limes juices and shake with ice. Pour into a double old-fashioned glass, ice and all, smash style. Garnish with an expressed lime peel.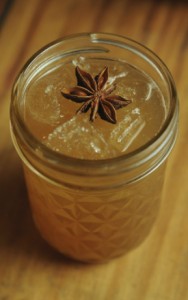 Starboard Sour
Ingredients:
1 ½ oz. Captain Morgan Original Spiced Rum
1 oz. apple cider syrup (recipe follows)
¾ oz. fresh lime juice
2 dashes Angostura bitters
2 pieces of star anise
Ice, enough to fill cocktail shaker with the above ingredients
Directions:
Combine the Captain Morgan Original Spiced Rum, apple cider syrup, lime juice, bitters, and 1 piece of star anise in a cocktail shaker and shake vigorously. Strain the liquid into a cocktail glass. Garnish with the other piece of star anise.
Apple Cider Syrup (Makes 1 ¼ cups)
2 cups apple cider
2 cinnamon sticks
1 cup brown sugar
In a small saucepot over medium-high heat, cook the apple cider and cinnamon sticks until the cider is reduced to one cup, about 10 to 15 minutes. Add the brown sugar and remove the pot from heat. Stir the mixture until the sugar is dissolved.  Allow the syrup to cool before use.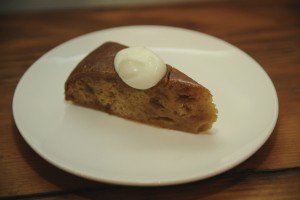 Captain Morgan Toffee Pudding with Rum-Maple Sauce & Yogurt
Ingredients:
½ stick unsalted butter, room temperature, plus extra for greasing pan
1 ¾ cups all-purpose flour, sifted, plus extra for dusting pan
1 ½ cup Captain Morgan Original Spiced Rum
1 ½ cups dried figs, cut into small pieces
1 teaspoon baking soda
1 teaspoon baking powder
1 teaspoon salt
1 cup sugar
1 teaspoon vanilla extract
2 large eggs
1 ½ cups Captain Morgan Original Spiced Rum-Maple Sauce (recipe follows)
8 tablespoons yogurt
Directions:
Preheat oven to 350°F. Butter and lightly flour a medium cast iron pan and set it aside. In a small saucepot set over medium-high heat, combine the Captain Morgan Original Spiced Rum and dried figs and bring the liquid to a boil. Remove from heat, mix in the baking soda, and set the mixture aside to cool for later use. In a food processor, combine the flour, butter, baking powder, salt and sugar. Pulse the processor until all is incorporated.
Place the flour mixture into a mixing bowl and add the eggs, vanilla and the reserved fig mixture. Combine until all ingredients are well incorporated. This will be a fairly wet batter. Add the batter to the cast iron pan and bake for 35 minutes. While it's cooking is a good time to make the sauce. Check the pudding with a cake tester to see that it comes out clean, and remove it from the oven. Flip the pudding in the cast iron pan and add ¾ of the sauce and then bake for an additional 10 minutes.
Let the pudding cool and absorb all of the sauce. Slice it into wedges and serve with the remaining sauce and 1 tablespoon of yogurt per serving.
Captain Morgan Original Spiced Rum-Maple Sauce (Makes 1 ½ cups)
Ingredients:
1 cup maple syrup
1 cup heavy cream
½ cup Captain Morgan Original Spiced Rum
¼ cup unsalted butter
3 bay leaves
½ teaspoon sea salt
Directions:
In a small saucepot over medium heat, combine the maple syrup, heavy cream, rum, bay leaves, and butter. Whisk often to prevent the sauce from bubbling over. Reduce the liquid to 1 ½ cups, about 15 minutes, and remove from heat. Remove the bay leaves before using.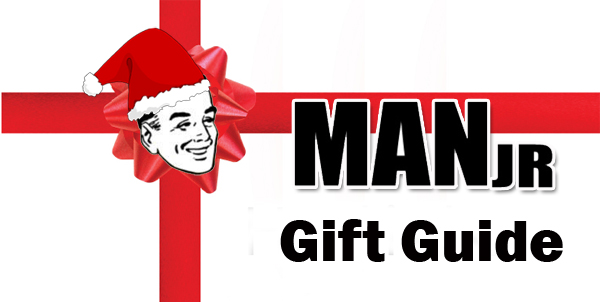 It is that time of year where your friends and family ask you what you want for the holidays. For me this is always a tough question. It is not like back in the day when you were a kid and had a wish list a mile long. What seems like an easy and fun question to answer isn't always the case. To help you out we are going to supply you with a list of some cool and unique items that you would love to unwrap this year.
V-MODA: M-100 Headphones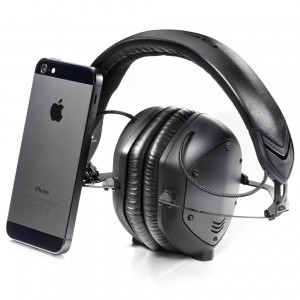 This version of V-MODA headphones was designed by a crowdsourced collective brain trust of audiophiles, editors, producers, and DJs brings to life the most versatile headphones ever. This latest M-Class is a masterpiece for the modern music aficionado features pure analog soundscape, exquisite style, exotic materials, military-grade durability and unrivaled utility.
The M-100 are exquisitely balanced and unique sound signature characterized by its addictive deep yet clean bass, vibrant mids, and ultra-extended clear and transparent highs. The combination of steel and metal materials lives up to the military-level standards of the MIL-STD-810G testing guidelines. The Boom Pro microphone instantly transforms the M-100 into the ideal headset for gamers, podcasters and broadcast professionals. You can even get laser engraving customization service with logos, artwork, text, numbers and multiple plate colors.
"Assisted: An Autobiography" by NBA Great John Stockton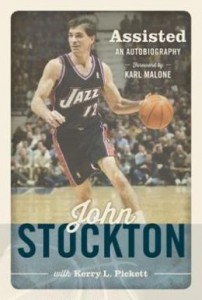 John Stockton left the NBA after playing nineteen outstanding seasons with the Utah Jazz. He held and still holds a few NBA records, including the all-time assist career mark of 15,806. He also twice led the league in steals, with a career total of 3,265 and retired as the NBA's all-time leader. During Stockton's career with the Jazz the team never missed the playoffs.
The soft spoken NBA Hall of Famer tells us why he wrote his autobiography with one question "How did this wonderful life come to find me?" Stockton who has been blessed throughout his life felt the need to share his story with his family, friends and fans through his book.
Even if you are not a fan of the Utah Jazz this book is a must read for sports fans. Stockton is a humble guy. His partner in crime in Utah, Karl Malone said the following about his longtime teammate and dear friend.
"From the very first, I realized that what you see is what you get with John. He lined up without excuses. Stocks never wavered one iota from his beliefs. He never shared them publicly so people thought he didn't have them. He did, and he stayed true to them." – Karl Malone
The book is available anywhere books and ebooks are sold and is published through Shadow Mountain Publishing.
The PowerPot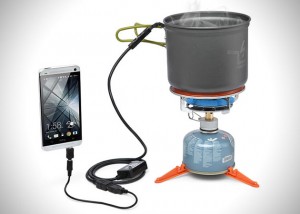 The PowerPot is a lightweight thermoelectric generator that converts heat into DC electrical power. Simply add water to the pot and place it on a heat source appropriate for boiling water.  The PowerPot will immediately start powering up your mobile electronics.  The PowerPot comes equipped with a standard USB (5V) port, making it compatible with devices you already have. The cable has three feet of heavy-duty, flame-resistant wire.  The solid-state voltage regulator provides up to 5W of power to charge your high-tech devices.
The PowerPot® gives you the power to charge your electronics anytime, in any situation.  Use it in the backcountry or at home during a power outage.  The PowerPot will charge cell phones, GPS units, iPods, and lithium ion batteries or will also run speakers, lights, fans, or other low-power USB appliances.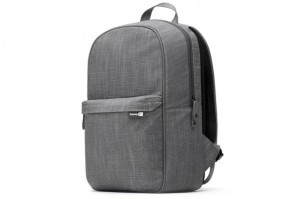 booq: Mamba daypack
The Mamba daypack has an old school-style backpack constructed with water-resistant natural fiber, houses up to 15" Mac/PC, iPad, iPhone and all the accessories you need to power through your day. It is made from lightweight yet rugged water-resistant natural fiber, designed exclusively for booq's Fibre Collection.
It has a padded notebook compartment lined with a lightweight nylon fabric is outfitted with pockets for iPad, iPhone and pens. The exterior zippered pocket provides protection and easy access for smaller items. It also is equipped with an integrated ergonomically contoured padded shoulder strap.
Wren Sound: Wren V5 Wireless Speaker System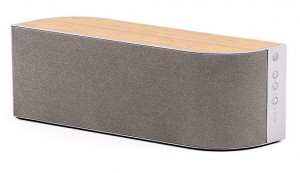 The Wren V5 is elegantly designed wireless speaker connects to smart devices and tablets, filling any room with rich and superior sound. The speaker has sophisticated styling, rich finishes, subtle curves, and real rosewood or bamboo wood cabinet enhances any interior. There are two versions that easily connect to Apple or Android devices over Wi-Fi – Airplay (Apple iOS devices) / Play-Fi (Android devices). The silicone pad base stabilizes frame and absorbs cabinet vibration, so that speaker can play at high volume without vibrations.
The Wren V5 is powered by Intersil's D2 50 watt DPS-controlled class D amplifier and has four-layer voice coils provide deeper bass and superior power handling. This wireless speaker streams music up to 150 feet from Wi-Fi router or access point and has a USB and AUX dock charge and connect additional devices.
Aio Wireless: No Contract Service Provider
Tired of your phone's service contacts? Why not ask for the Aio wireless plan. Aio has reliable nationwide coverage with no annual contracts, simple plans, and straightforward pricing provides no hassle communication. It comes with unlimited talk with every plan and phone, including voicemail, call waiting and forwarding, as well as three-way calling. You also get unlimited messaging, no matter if it is text, picture, or video messages.
Aio has basic phones, latest smartphones, and tablets (ZTE Prelude & Overture, Nokia Lumia 620, Samsung Galaxy S4, Galaxy Express & Galaxy Amp, iPhone 5s & iPhone 5c). You can transfer your existing number from previous wireless carrier at no charge.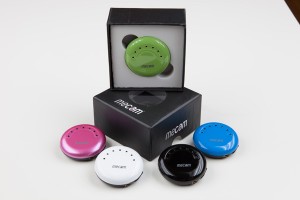 MeCam Wearable Hands-Free Video Camera
The MeCam is an inconspicuous and lightweight body-worn camera lets you capture the world as you see it from your point of view. The camera shoots 720p HD quality video and doubles as a 5 megapixel point and shoot camera. It has a built-in LED infrared technology works in picture or video mode, for nighttime or lowlight conditions.
There is a removable SD card and micro-USB port lets you charge, upload, and share footage/pictures as well as control buttons on upper-side let you power on and alternate between video and camera mode. It has 80 minutes of continuous battery life to capture all of your adventures.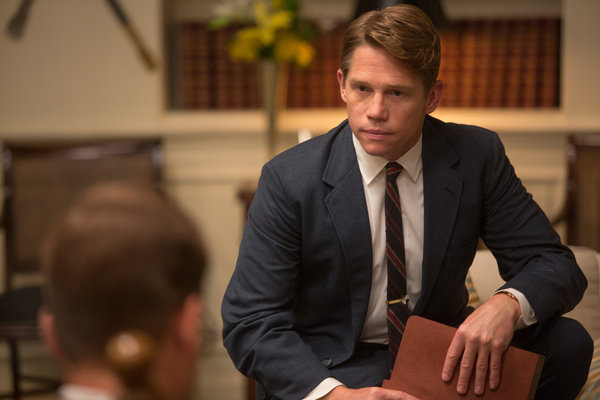 Jack Noseworthy grew up in Massachusetts. He received his Bachelor of Fine Arts degree from The Boston Conservatory and has starred in films, on television and on Broadway. He made his Broadway debut in the original company of "Jerome Robbins Broadway." He also played play opposite John Lithgow in the Broadway musical "Sweet Smell of Success."
Now Jack gets to go back to his Massachusetts roots as he stars in the National Geographic film "Killing Kennedy."
I spoke with Jack about the preparation for his role as Bobby Kennedy and what his expectations were for this role and the film.
Art Eddy: You play the role of Robert Kennedy in the National Geographic Channel's "Killing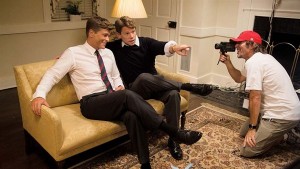 Kennedy." Was it nerve racking to be cast as such a recognizable historic figure?
Jack Noseworthy: I felt the need to be very respectful to this historical character that is a real person. He is revered in our history. I had self-imposed pressure I think to portray him in a way that I think would be historically correct to his character, but in a way that was true to the film. It needed to be an honest portrayal in the story that we were telling. Since he was a real person and people do love him there was real pressure, but like I said mostly self-imposed pressure.
AE: What was your research like for this role?
JN: There is so much research out there on the Kennedy's. They are our country's royalty. You really have to pick and choose what type of order you really want to go in. You don't want to spend too much time on stories or things that are not applicable to the story that you are working on.
First and foremost you look at the script that you are given and you take everything out of that. The script was based from the book "Killing Kennedy" by Bill O'Reilly. When I had to research my role past that and beyond those written words I really focused on two areas. I read a biography by Evan Thomas called "Robert Kennedy." I also watched a documentary called "RFK."
The documentary gave me a physical, audio, and visual of who Bobby was and what he was portraying. It showed me how he carried himself and how he spoke. The biography really filled in the blanks from what an hour and a half documentary couldn't possibly do.
AE: During your research what was some of the interesting facts you learned about Robert?
JN: While doing my research I found things that were really fascinating. One was his ability to change. He was brought up with a silver spoon in his mouth. Jack's assassination affected him so powerfully and so deeply. He believed that Jack was the golden child. When Jack was assassinated, Bobby took it really hard. When he was able to change his own views on civil rights, I think it goes back to the assassination and people could feel his pain.
He was able to empathize with people who didn't grow up like he had or had the resources like he did. The promise of Bobby was lost. I think he could have done some amazing things in his life. So what I really learned was his ability to embrace the unknown with open arms and his ability to not pass judgment on others. His ability to change was the greatest thing I learned from him.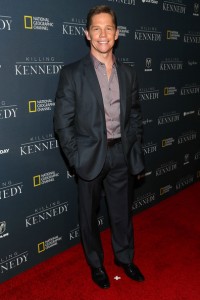 AE: Being from Massachusetts did you feel any more pressure on making sure you had the New England accent down?
JN: It was one of the most important things to me. There was no way that I was not going to use an accent. I never once questioned it. I never once thought about it. I am enormously proud of my roots and where I am from. I went to college in Boston. I worked at the Boston Conservatory. Some of my family still lives there. I am a "Masshole" from the get go. (Both laugh.)
There was no way that it was ever going to be an issue. I gave you my full on Boston accent. It is for real.
AE: There has been a huge viewer response to this film. What was the cast and crew's expectation for the films reception?
JN: I didn't have any expectations other than my own excitement for working on the project. I loved the script. Kelly Masterson wrote a great script. He adapted Bill O'Reilly. Everyone involved was really focused on doing a great job. Everyone stepped up to the plate and brought their A game.
So right from the get go I felt that I was involved in a really special project. From the director to the cast this was something that we all wanted to be proud of. Ultimately when we finished the project we were really proud of it. It is hard when you make something. Once it is done it is out of your hands.
So my expectations were more about hope than anything else. I hoped that it would be great. It would have a great score and it the editing would be great. The fact that is did well and fans responded well to it was fantastic. It is not a movie about conspiracies. Based on Bill O'Reilly, he thought it was a lone gunman. The film is about people and their relationships. I think that is why people responded to it.
AE: Like you stated earlier this film is based on the Bill O'Reilly book with the same title. Was he on set at all?
JN: Yes. Bill was on set on one of the days that I was working on the film. I was able to talk with him about how he saw Bobby's character from his book. He and I were able to discuss what he was interested in regards to how Bobby acted in the film.
There is a scene where I talk with J. Edgar Hoover. Bill wanted to make sure that I called him Edgar instead of Mr. Hoover. Bobby never called him Mr. Hoover so Bill wanted to make that I got that part right in the film.
AE: What was Bill's reaction to the film?
JN: He was really impressed with it. He was incredibly happy with it.
AE: Are there any other projects that you are currently working on?
JN: I have a movie that I finished not too long ago. It is called "Julia". I play a psychiatrist where I help women who have been victims of rape. It is sort of a physiological thriller and I play this psychiatrist who tries to have power of these women. The main character Julia is played by an actress named Ashley Williams. I think it is a really interesting movie. Matthew A. Brown is the guy who directed it. It will be doing the film festival circuit. I haven't seen it yet, but when we shot it I thought it was a really good film.
Right now I am in Los Angeles to promote "Killing Kennedy." I would love to be on a long running TV show. I love the theatre. That is where I came from. It is great to go to work every day with the same cast and crew. I don't know if it means to come on as a guest star and stay on that show or get on a pilot and have it do well with audiences. That would be what I would love to do next.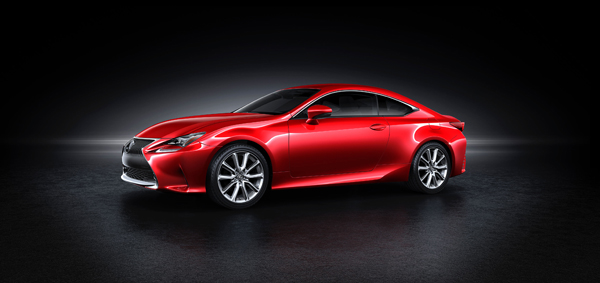 Lexus unveiled its striking new production-ready RC coupe, scheduled for launch in 2014, at the 2013 Tokyo Motor Show. The RC raises Lexus' profile with a broader audience, injecting emotional appeal into the Lexus DNA which has become well known for building quality, refinement and reliability.
"Our focus is to strengthen the brand's emotional appeal through our products and RC is another demonstration of this focus," said Mark Templin, Lexus International executive vice president. "The emotional attachment of a coupe is found in its purity of design and its engaging driving experience, and with RC the engineers have achieved the balance."
"We developed RC to deliver extra response that exhilarates rather than overwhelms drivers, in keeping with the true spirit of Japanese hospitality, or omotenashi.," noted Junichi Furuyama, RC and IS chief engineer.
RC is part of a ride and handling revolution at Lexus, which started with GS mid-size luxury sedan and continued with the new IS sport sedan. The RC is a stand-alone model, rather than a two-door derivative of a sedan. Based on the GS platform, the coupe differs in all dimensions from the GS and IS lines.
The aggressively styled coupe will be available with two powertrains:3.5-liter V6 teamed with an eight-speed sequential transmission and 2.5-liter Lexus Hybrid Drive system.

Design Exterior
The RC has been infused with deeply contoured lines, integrating the widest and lowest application yet of the Lexus spindle grille. It is unique in the Lexus range – 1.2-inches wider, 1.4-inches lower and 2.8-inches shorter in wheelbase than the new IS sedan, providing a road stance that emphasizes the attraction of a luxury two-door vehicle.
The unique headlamp design adopts the symbolic Lexus L-shaped motif front and rear. There are two choices of aluminum wheels – a deeply sculpted 10-spoke 19-inch and a muscular five-spoke 18-inch.
A new red exterior paint color is made brighter and shows more contrast thanks to a new painting process.
Design Interior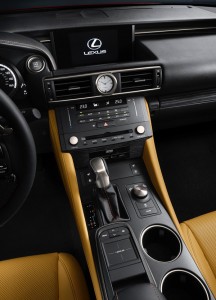 Highly acclaimed sports concept vehicles have greatly influenced the RC interior, making maximum use of contrasting colors, materials and lighting.
A purpose-built Lexus-first lighting package provides a great sense of occasion, with illumination that reflects upwards, rather than downwards, to envelop the cabin. High contrast interior colors emphasize design lines and accentuate the elegant cabin. Genuine shimamoku wood highlights – the result of an intense, layered wood production technique refined by Lexus – are used to emphasize the surrounding trim.
The driver's cockpit is divided into operational and display zones. The upper zone houses the instrument panel and a seven-inch navigation screen while a layered center console integrates a new Lexus-first Remote Touch Interface.
The seats utilize an integrated foaming construction method, much like the molding of racing seats, to ensure optimum occupant comfort and support which is important in a sport coupe.
Driving Dynamics
The RC's strong and purpose-built chassis is the latest evolution of Lexus' objective to achieve a world class driving experience, epitomized by the improved performance of both the GS and IS lines.
Extra thick underbody rocker panels greatly increase the two-door's rigidity to support driving performance. New manufacturing techniques pioneered in the LS and IS models, including the use of body adhesives, have strengthened the chassis.
Aerodynamic aids, especially on the underbody, contribute to the handling package.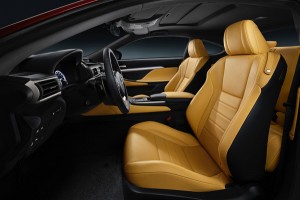 RC uses double wishbone front suspension and multi-link suspension at the rear.
Powertrains
The dual injection 3.5-liter V6 gas engine produces maximum power of 314 hp at 6,400 rpm, and peak torque of 280 lb.-ft. at4,800 rpm.
An eight-speed Sport Direct Shift with paddle shift transmission adapted from the ISF performance sedan optimizes power delivery and fuel economy. In manual (M) mode full torque converter lock up from second to eighth gears allows for down changes in just 0.2 seconds.
The hybrid variant – the first Lexus hybrid coupe – uses a dual-injected 2.5-liter four cylinder engine with a 105kW electric motor driven through an electronic continuously variable transmission with six step gears in a sequential shift-matic feature.
The RC coupe will be offered in rear wheel drive and all-weather drive (AWD), however availability will vary by market.
The sound generated by the engine has been tuned to ensure it delivers a stirring exhaust note under spirited driving conditions.
Advanced Technology
The RC offers several advanced technology features including an updated Spot Monitor and new Remote Touch Interface (RTI).
RC is the first Lexus to adopt the revised Blind Spot Monitor system which detects vehicles that are approaching from behind at a higher speed and from a greater distance than is covered by the current system.
The innovative touch-sensitive Lexus Remote Touch Interface for audio and navigation systems is particularly important in a coupe in which tactile reaction is a desirable part of the driving experience.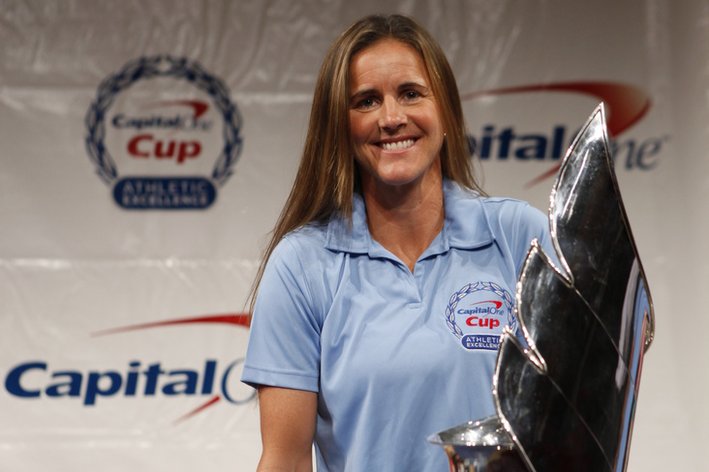 In sports there are certain moments or plays that become iconic. There can be that one picture that as soon as your eyes see it you travel back in time to that moment. Whether it is Michael Jordan soaring from the free throw line or Carlton Fisk using body language to will a home run, we as sports fans live for moments like those.
One of these images that captures that essence is when Brandi Chastain kicked a game winning penalty kick in the 1999 Women's World Cup. After scoring the fifth kick in the penalty shootout to give the United States the win over China in the final game, she took over her jersey and fell to the ground in jubilation. That moment will forever remain in the hearts of USA soccer fans.
I had the great pleasure of chatting with Brandi about soccer and her work with Capital One to promote the Capital One Cup. This campaign celebrates both men and women student athletes. For the past four years the Capital One Cup has rewarded the best Division I programs for their cumulative athletic performances across 39 men's and women's sports. After the spring season, the winning men's and women's programs will receive a trophy and $400,000 in scholarships for student-athletes.
Check out the Capital One Cup Facebook page to see how your team is doing!
Art Eddy: You are working with Capital One looking to find the best men's and women's NCAA Division I college athletics programs in the country. Tell me about this campaign.
Brandi Chastain: This is the fourth year of the campaign. When it first started I immediately fell in love with it. One reason was that I was a collegiate student female athlete. I was always looking for women's sports to be recognized on the same level as men's sports. Even though the awareness of women's sports have become more prevalent in our society, I think that this promotion provides an even better awareness with sports like lacrosse and soccer.
For these types of sports that do not get the national headlines like football or basketball do, now are given the same amount of validity through the Capital One Cup. Plus both sides, men and women are awarded a trophy. I think that this is important because it recognizes the great performances from the men's side as well as the women's side.
AE: Tell me your thoughts for the 2013 Women's College Cup. Which school has the best chance of winning it?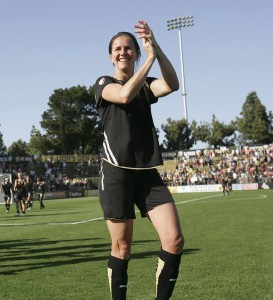 BC: 64 very deserving teams were announced for this year's College Cup for women's soccer. I am partial to Santa Clara because my husband is the coach there and I am the volunteer assistant there. So I would like to throw us into the mix. It is an interesting mix of teams.
There are four number one seeds all from the ACC. That is unusual and something to look at. There are some colleges who haven't been there in a while. There are some colleges out there that have not made their mark yet and now they get the chance to do so with the Women's College Cup.
I think the big names are always the ones to look at. Virginia has only lost one game this season. It was to Virginia Tech in the ACC semifinals. They are probably feeling the sting from that so I am guessing that they will be on a tear in this series.
North Carolina has won a bunch of championships, but they are in a bracket with UCLA, who has been having a very successful year. That bracket should be interesting. This is a toss-up year. There has not been one dominating team, except for the one hiccup that Virginia had. This year's tournament looks to be very exciting.
AE: Any colleges that might give the number one seeds a run for their money?
BC: I think that sports fans have to know that the tournament is different from the regular season. It is different because this season is only one game long. You lose and you are out of it. You could be a better team on paper, but you can throw that to the wind. Sports are emotional. They are physical. Weather plays a big part in soccer. There are so many variables that in a season you can overcome, but not in a tournament.
You have to look at teams like Portland. They might not be having a great season, but they have a great team. You look at a school like Marquette, who won the Big East. Those are two teams that people should look out for in the tournament.
AE: How has the landscape of college soccer changed since your playing days?
BC: Number one is Title IX. It has been such a huge proponent in women's education and therefore women in sports. When I played there was 75 Division I teams. Now there are over 325 Division I teams vying for a National Championship. That just speaks volumes. You multiply those schools by 30 people, that is a lot of players. So that alone is amazing.
AE: What advice do you have for student athletes?
BC: I would say in general that their time in college is unique. It is precious and goes by very quickly. It is hard to sometimes enjoy that time in college. There is pressure in the classroom and also on the field of play. The students that I have the great pleasure of working with at Santa Clara are probably similar to college kids all around the country. They are instinctually motivated to win and be successful.
I think it is hard for these students to balance their time with academics and sports. There is a bigger picture then these games these athletes are playing. I would say to these athletes to try and enjoy the training aspect of sports. The training is really the foundation for the rest of your life. The lessons you learn about being successful in college are things you can take with you in life.
The idea of balance is something that should be thought of for these student athletes. A person should try their best and give it their all in sports, but there are other things out there. Sports or whatever it is at that time is not the only part of you. They need to realize that and create a balance in life.
AE: Moving from college to the pros, what is your take on the current USA women's soccer team?
BC: In past games like the 4-1 victory over Brazil, the U.S. women's soccer team has been very strong. When you have goal scorers like Abby Wambach, Sydney Leroux, and Alex Morgan the list goes on you can see that.
I think defending is the number one problem. Finding the right combination of four backs, three backs, or whatever it is will be the challenge for Tom Sermanni. So I think that is the focus. The attacking part of it has never been their thorn in their side. I think finding the right combination of players who can play soccer, defend, and be organized is key.
AE: Do you have one memory in your great career that stands out the most?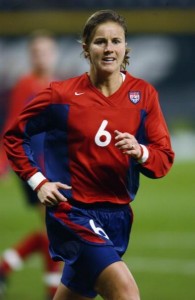 BC: Gosh. I would say that I have loved soccer ever since I kicked a ball at seven years old. There is a lot of wonderful memories. The majority of them, well maybe half of the memories have been ones on the field. Obviously people go right to the penalty kick.
I would have to say that my number one memory was when I kicked a really good left footed goal. I was eleven years old. I can shut my eyes and remember that goal vividly. It felt really good. Then I think the moment in the 1999 Women's World Cup where I scored an own goal in the game against Germany. The interaction that followed that will be something I will always remember. Carla Overbeck told me not to worry about it and told me that we were going to win the game and you are going to help us. After that I scored a goal and we went on to win that game.
I think that memory stands out because I was able to fix my mistake and go on to win that game. In sports there are times where you can literally change someone's life in a moment.  Carla did that for me. She told me that my mistake was okay and we were still going to win. Ever since that day I am looking for the opportunity to do that for someone else.
You can use moments like those to reflect on and tell yourself that things are going to be alright. That is why I cherish moments like those.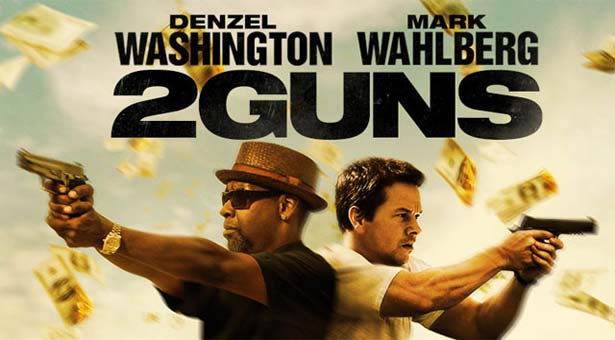 In Universal Home Entertainment's 2 Guns, when an attempt to take down a drug cartel blows up in their faces, two undercover operatives are forced to go on the run together, though neither knows that the other is a federal agent. Suddenly, everyone on both sides of the law wants them dead, and their only hope is to trust each other.  Featuring Denzel Washington and Mark Wahlberg, we celebrate the Blu-ray, DVD and Digital HD release on November 19, by revisiting some of the most memorable buddies in blue.
Axel Foley & Detective Rosewood – Beverly Hills Cop
While Eddy Murphy and Judge Reinhold have made names for themselves in today's pop culture, it's easy to argue that Beverly Hills Cop launched their now successful film careers. With Axel as the mouth behind the duo, and Rosewood as the partner getting him out of trouble each time, there match up is as timeless as the film. The 1980s film proves itself to be a classic was slated to make its way to television this fall, as a series featuring Axel's son, Aaron Foley (played by Brandon T. Jackson). While the pilot wasn't picked up to series, both critics and fans excitedly welcomed it.
David Starsky & Ken Hutchinson – Starsky & Hutch
Based on the popular 1970s series, Ben Stiller and Owen Wilson hilariously star as two street-smart undercover cops that bust drug deals with the help of their connection with the underworld boss, Huggy Bear. Stiller and Wilson bring the classic back to life and add their own flavor with their comedic talent audiences have come to love them for. And who else is better matched to play the role of Huggy Bear today than the 1970s inspired pimp himself, Snoop Lion (aka Snoop Dog).
Mike Lowrey & Marcus Burnett – Bad Boys
'Bad Boys,Bad Boys, what'cha gonna do, what'cha gonna do…' you know the rest. While the film was not based on the addicting early 90's show about real-life police busting drug deals and ordering donuts – it was the first film that arguably catapulted the then-television stars Martin Lawrence and Will Smith to movie stardom. Proving that they haven't aged, Lawrence and Smith teamed up again for more action in Bad Boys II in 2003.
Lee & Carter – Rush Hour
What do you get when you cross a very loud-mouthed LAPD detective with a Martial Arts cop visiting on assignment from Hong Kong? You get an odd couple that works perfectly, when it is Jackie Chan and Chris Tucker.  Directed by Brett Ratner, the hilarious combo go from battling a drug lord to save a little girl that rivals Chan's karate skills, to fighting crime in Las Vegas in matching outfits.
Martin Riggs & Roger Murtaugh – Lethal Weapon
Mel Gibson and Danny Glover literally redefined the action genre with their roles as L.A.P.D. detectives Riggs and Murtaugh.  While there's no 5th film in the works currently we still can't get enough of the banter between the two of them and of course, Gary Busey aka Mr. Joshua.
Terry Hoitz & Allen Gamble – The Other Guys
Mark Wahlberg is tough and Will Farrell is funny, the perfect combination for a memorable buddy cop film, like The Other Guys. They play the underdogs striving to gain respect from their precinct by solving a crime and bringing down a multi-billionaire, played by Steve Coogan.
Det. Alonzo Harris & Jake Hoyt – Training Day
Before he teamed up with Mark Wahlberg in 2 Guns, Denzel Washington played crooked detective Alonzo Harris opposite rookie narcotics cop, Ethan Hawke in the Spike Lee directed project.  Known for his roles of the noble and good guy (think Remember the Titans) fans were shocked and impressed to see Denzel Washington do such a good job playing the bad guy.
To enter, just follow us on Twitter (@MANjr) and drop us an email below. Good luck!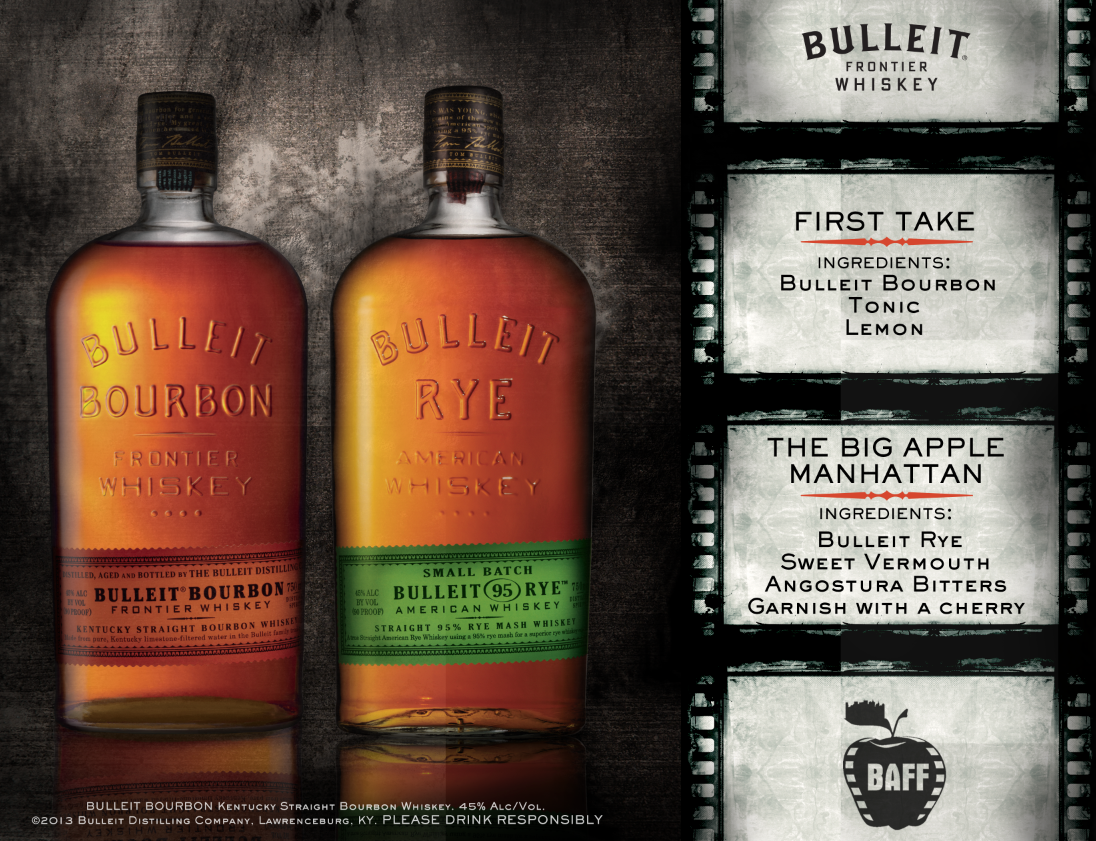 While I was enjoying my time at the Big Apple Film Festival I wanted to make sure I was taking in all the sights, sounds, and tastes. Yes, that is right I said tastes. You might ask yourself what kind of tastes would there be at a film fest. Believe it or not there were some great foods and cocktails to experience at the festival.
After movie screenings there would be the occasional after party. These parties were a blast to attend. I had the good fortune to talk with some of the actors or directors of those films. These actors and directors took the time to give me some in depth analysis of the films that they were in.
Another cool aspect about these parties was the fact that everyone was so down to Earth. The actors were happy to engage in some conversation about their roles and what their mindset was as shooting began. I learned a great deal from these discussions.
The chats with the actors and directors were fun all by itself, but having the opportunity to try out some of the inspired cocktails for the film fest was icing on the cake. So for those who were not able to check out the Big Apple Film Festival, here are some of the cocktail recipes from the fest that I think you will enjoy.
First Take
1 ½ oz. Bulleit Bourbon
2 lemon wedges
3 oz. tonic
Preparation: Build in a highball glass, serve over ice.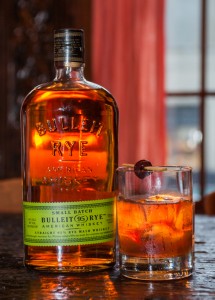 The Big Apple Manhattan
1 oz. Bulleit Rye
.25 oz Sweet Vermouth
3 dash Angostura Bitters
Preparation: Stir. Strain. Serve over ice in a rocks glass with a cherry.
Kentucky Calling
.75 oz. Bulleit Bourbon
.25 oz. East India Solera sherry
.25 oz. Ramazotti
2 dash Bittermens Mole bitters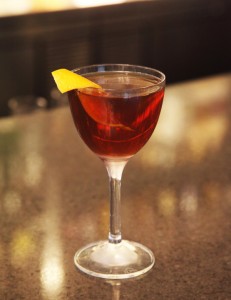 Preparation: Stir and strain into a Nick and Nora glass. Garnish with an orange twist.