Art Eddy III
This user hasn't shared any biographical information
Jabber/GTalk: Art Eddy III
Posts by Art Eddy III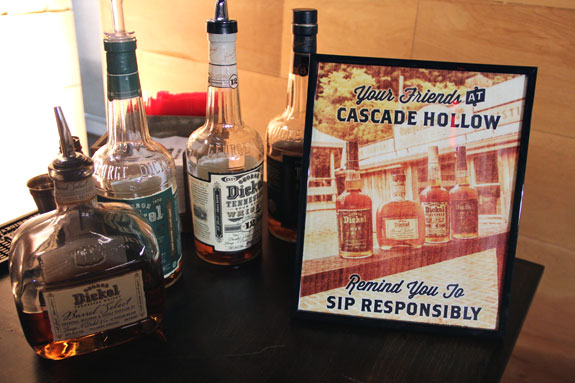 For chef Adam Perry Lang, serious barbecue requires serious commitment to doing things the right way. To him that means handcrafting to the highest standards – something they've been doing at George Dickel since it's start more than 100 years ago. At the George Dickel distillery in Tullahoma, Tenn., the master distiller carries out each step the old-fashioned way, even procuring pure water from the same spring used by the whisky's namesake himself back in 1870. In this video, Lang stops in to get a firsthand look at the process as part of his "Serious Barbecue" tour across the nation.
This summer, Lang set out to craft the ultimate barbecue experience, incorporating superior hand-crafted products every step of the way, from forging artisan knives in Wisconsin to throwing a barbecue party in the back lot of the "Jimmy Kimmel Live!" show in Los Angeles.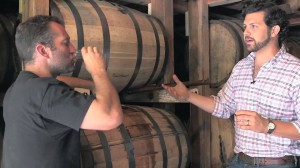 "Adam Perry Lang is a craftsman, he's always thinking about doing things the hard way, and he's about doing things by hand. And that's what George Dickel is about," says Doug Kragel, national brand ambassador at George Dickel.
For the perfect mash of corn, barley and rye, George Dickel employs a master distiller who personally oversees the milling, yeasting, fermentation and distillation. That includes taking the extra step of chilling the whisky before it goes into the charcoal mellowing vats for a smoother taste.
Attention to detail, devotion to quality and passion are what American craftsmanship is all about, says Lang. "For me, it's the essence, and that's what I've captured here, and that's why I'm so proud to partner up with them."
In this episode, Adam travels to Cascade Hollow to learn more about how George Dickel hand made their whisky the hard way.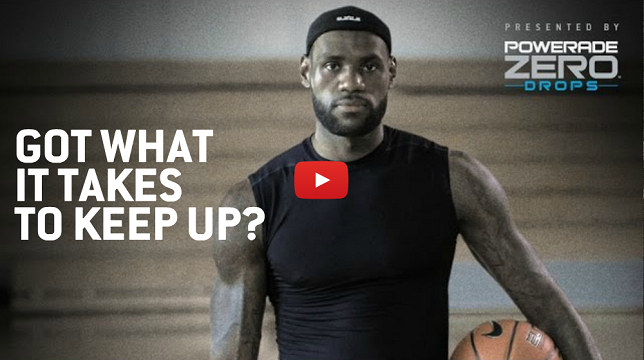 Over the past 15 months, LeBron James established himself as basketball royalty by capturing an Olympic Gold Medal, his second consecutive NBA Championship, fourth league MVP and being named Sports Illustrated Sportsman of the Year. Now POWERADE ZERO DROPS is giving athletes across the country an inside look at James' rigorous practice regimen that helped him Power Through and elevate his game.
"LeBronTime" chronicles a typical, one-hour training session for the reigning NBA Finals MVP. The video will be housed on YouTube and obviously something of this length will tempt users to skip ahead, which presents an opportunity for James to deliver words of wisdom for athletes everywhere.  Each time users try to fast forward, pause or interact with other YouTube functionalities, they'll be served a message from James himself encouraging them to eliminate those distractions and focus on what matters:  their game.
In support of LeBron's message that there are no shortcuts to success, POWERADE ZERO DROPS provide athletes with the ease they need to stay on the court. POWERADE ZERO DROPS are simple to use, requiring only a sports bottle and water fountain, and give athletes the hydration they need to power through.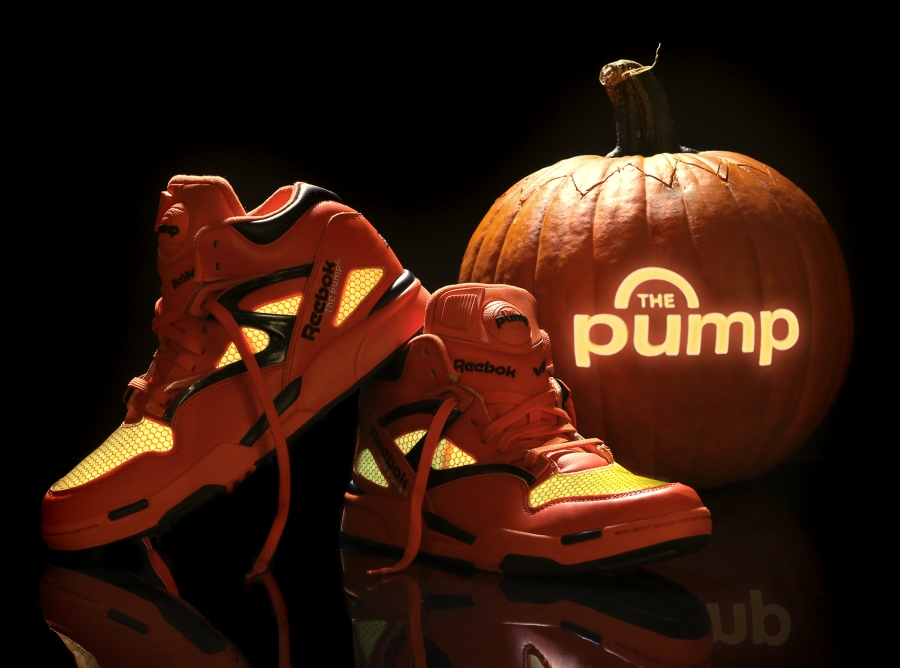 Reebok is giving out an early treat this year for Halloween. Reebok has the Pump Omni Lite "Pumpkin" for a pre-Halloween release. Looking like a Jack-O-Lantern, the Pump Omni Lite has an orange and black theme to it. These kicks will complement any costume this year.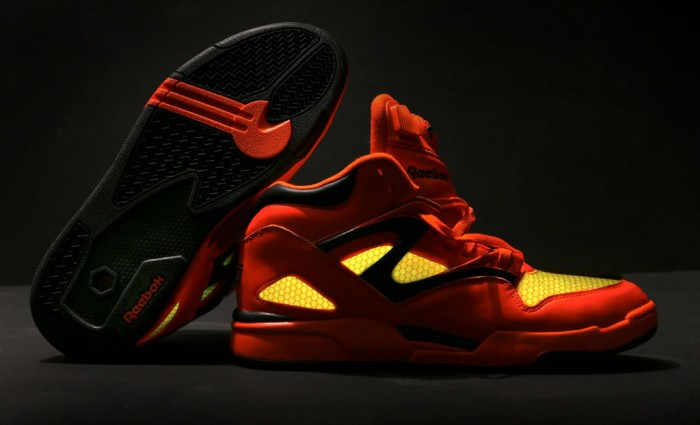 The iconic sneaker is predominantly decked out in orange with slightly lighter orange shade in the honeycomb paneling and has contrasting black accents throughout. Orange also works the midsole, which sits atop a black rubber outsole. The date is set for these to drop on October 25 at select Reebok retailers for $120.
The Reebok Kamikaze II (pictured below) that glows in the dark will release the same date. The will sell for a retail price of $100. For more info go to Reebok.com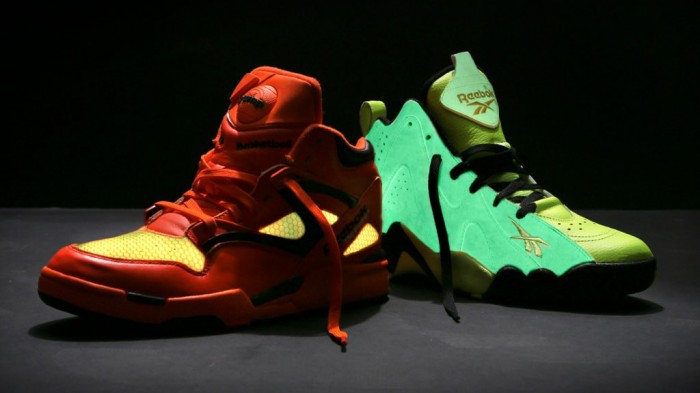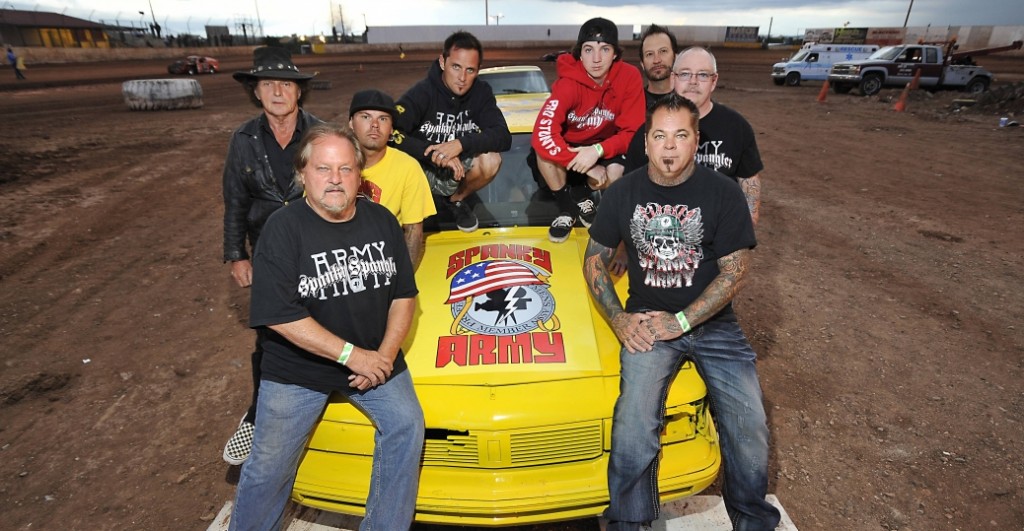 History presents "American Daredevils," a new series that allows viewers to ride shotgun with a dying breed of uniquely American heroes. The 16-episode half-hour series premieres tonight at 10PM ET/PT with back-to-back episodes.
From the dirt tracks of America's heartland to the bright lights of the country's biggest speedways, "American Daredevils" brings to life the stories of the men who proudly carry the torch lit by Evel Knievel.  These daredevils travel the country performing live death-defying acts without the luxuries of rehearsals or second chances. They launch themselves through the air in cars and motorcycles, light themselves on fire, jump off tall buildings and risk their lives in countless crash and burn stunts all for the freedom of making a living while doing what they love. These are the last of the daredevil breed and as their lives unfold, it becomes clear that "the stunt" is only part of their story.
Based in Arizona, Spanky Spangler has been a daredevil his entire working life. It's all he knows. After surviving 22,000 stunts and setting a number of world records, he has earned the title of the greatest living daredevil.  However, he's now staring down the twilight of his career as his son Bryan (Spanky Jr.) is gearing up to take over the family business.  Meanwhile, Texas daredevil Dr. Danger's quest is a simple one – to gain legitimacy as a professional daredevil and acceptance by his peers. Dismissed for his duct tape and paperclip approach to stunts, Danger has a new plan that he believes will win him the fame and fortune that has eluded him for two decades. Not to be outdone, Washington's own Mr. Dizzy is setting out to build on his world record-setting reputation by expanding his daredevil business into an empire.
Spanky, Bryan, Danger and Dizzy are just some of the daredevils featured in each episode. Shot on location in ten states, resulting in the destruction of countless cars and pieces of camera equipment, "American Daredevils" is an explosive account of what it takes to live, thrive and survive on the professional daredevil circuit.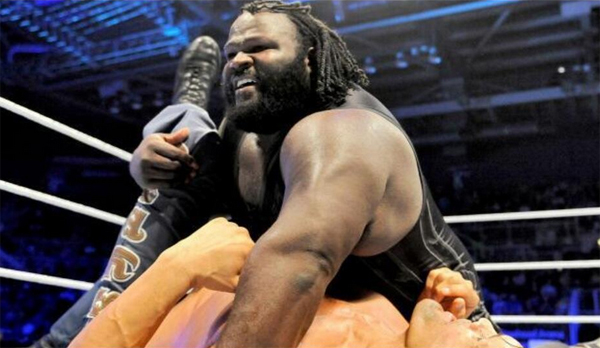 Whether you are a fan of the WWE, the Olympics, or the "World's Strongest Man" contest you definitely know the name Mark Henry. Before he joined the WWE in 1996 he competed in the Olympics twice. He was recently inducted into the International Sports Hall of Fame in 2012 with Arnold Schwarzenegger and Jack LaLanne.
Henry made his presence known at the 1992 Summer Olympics in Barcelona, where he competed in weightlifting in the super-heavyweight division. Fast forward three years and Mark won a gold, silver and bronze medal at the Pan American Games. In 2002 he won the "World's Strongest Man" competition at the Arnold Schwarzenegger Classic.
In 2011 he won the title of World Heavyweight Championship at Night of Champions for the WWE. Henry has accomplished so much in his career and he is still going strong. I sat down to chat with Mark about the WWE, the Olympics, and weightlifting.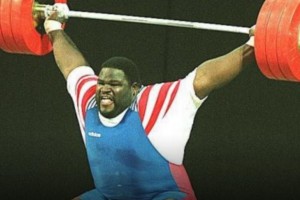 Art Eddy: It is a real pleasure to chat with you. To see all of the tremendous things that you have accomplished such as being a two time Olympian, the "World's Strongest Man," to now a WWE Superstar. When you do have time to sit back and reflect, are you amazed at the things you have accomplished?
Mark Henry: I have sacrificed and worked so hard that it is hard for me to be surprised because I expect it out of myself. I put the work in. It was not like it was happenstance.
AE: Out everything you have done does one stand out more than others?
MH: The first Olympics nobody expected me to do the numbers that I did. Nobody expected me to go to Barcelona and come in tenth place after only training for a year and a half of my life. I have some special gifts. I got introduced to the right sport and is set me up for the rest of my life.
AE: For the Olympics I know that an athlete has to be very disciplined to train year round. Was there ever a moment in your Olympic career that you thought about giving up?
MH: Oh, about three or four times. I tried to quit and I was going to go back to play football. The weights just kept on calling me back. It fulfilled me in a way that nothing else ever did until I started wrestling.
AE: Speaking of wrestling, you have a great stage presence. How long did it take you to be comfortable in front a large crowd?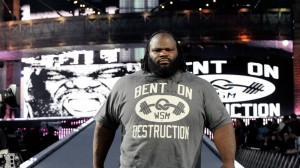 MH: The performance in front of a crowd was never a problem. I was never shy. I was always kind of wide open. Trying to be the life of the party type of guy. The thing that was hard was that I was in an anaerobic sport, which was powerlifting, weightlifting, and strong man competition. You have a lot of exertion and then you have a lot of time to rest.
In wrestling it is an aerobic sport as well as a strength sport. You have to for 20 to 25 minutes be able to sustain a level of energy. You have to train your lungs to be able to handle that kind of work load with talking at the same time, with trying to be entertaining and not just being a body out there moving. People think that wrestling is an easy road and just do a reality show and it will happen. That is not the truth.
This sport and this industry is one of the most complicated because you do a full live feature film every week. To be able to sustain the kind of energy that it takes to do that is a miracle in itself. Not to mention the physical toll it takes on your body.
AE: I am going to guess that becoming the World Heavyweight Champion is it, but for you do have one moment in your WWE career that is by far your most favorite?
MH: That is definitely the pinnacle. I am sitting in my office and I look up at the wall and I see this title inside this glass enclosure. In 136 years now there has only been 31 people that to hold that title. To be one of those 31 men says a lot. I was ECW champion and barring injury I think I would have had more titles. I am proud of the work that I put in. I value very much of what is staring me in the face right now.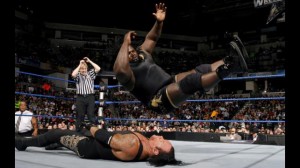 AE: Which wrestler gets you going the most in the ring?
MH: Me and The Undertaker was pretty energy packed. Right now in my career the battles that I had with Randy Orton, The Undertaker, and The Big Show I had all the longest sagas with. All three of those people are going to be in the Hall of Fame. So I am in good company.
AE: How long did it take you to perfect the World's Strongest Slam?
MH: I started doing the World's Strongest Slam in 2003. By 2005 it was pretty concrete. Before than there was no such thing as the World's Strongest Slam. To be able to add something to an industry where it is commonplace for people remembering Jake "The Snake" Roberts for doing the DDT. I felt like I added something.
During the Sexual Chocolate years I was doing the Chocolate Mousse, where I ran and jumped through the ropes to the floor. A lot of people looked at that and asked what is the name for that? There was really no name for that because it was a Mark Henry original. It was the Chocolate Mousse. People called it the Skid Mark. I was able to say that I added something.
AE: You were inducted into the International Sports Hall of Fame in 2012 with Arnold Schwarzenegger and Jack LaLanne. Tell me about that experience?
MH: It was a great experience. People started pointing out to me saying that I have been a National and World Champion in three different sports. To be the best in the world in power lifting and strong man and one of the best in Olympic weightlifting has never been done before. They were like if anyone belongs it is you. I took a lot of pride in the fact that my peers looked at me like this small town boy, Mark Henry from Silsbee, Texas being worthy of being the greatest athletes that ever lived. That is just special.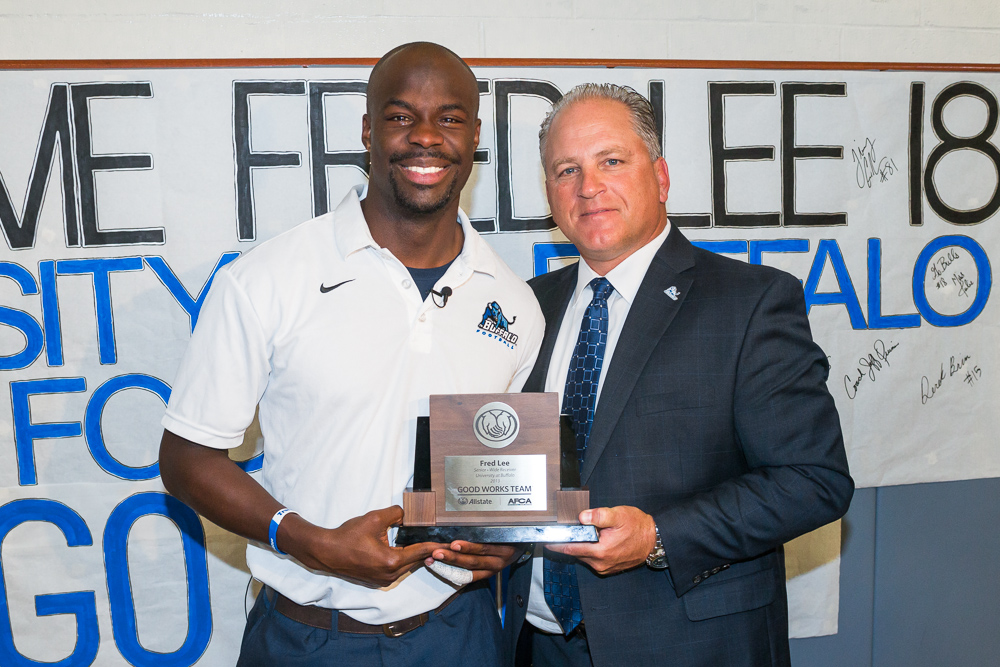 Day after day it seems that there is a new scandal going on in college football. As sports fans we wonder if there is any good that is happening off the field. Well I am here to say yes. There are plenty of noble people out there who are making a difference. It is not just with their athletic ability, but it is also with the positive impact that these young athletes have had on their communities and the lives of others.
Allstate Insurance Company and the American Football Coaches Association (AFCA) today announced the 22-player roster for the 2013 Allstate AFCA Good Works Team.  Recognizing the "good works" of a select group of college football players from across the country, the Allstate AFCA Good Works Team is one of the most prestigious off-the-field honors in college sports.
For more than two decades, the Allstate AFCA Good Works Team has recognized college football players at all levels of the sport for inspiring acts of service and off-the-field achievements. This summer, the program received a record 150 nominations from colleges and universities across the country.  From the nominations, an esteemed voting panel comprised of former Allstate AFCA Good Works Team members and college football media selected 11 players from the Football Bowl Subdivision and 11 players from the Football Championship Subdivision, Divisions II, III and the NAIA to comprise the 22-player team.
"Allstate is thrilled to embark on another year of collaboration with the AFCA, and together honor this group of extraordinary young men for their "good works" in the community," said Cynthia Whitfield, field senior vice president of Allstate's Southern region and a member of the 2013 voting panel.  "As fans of college football, Allstate continues to be inspired by the remarkable performances that take place on-the-field, but equally inspiring are the acts of service that have earned these 22 players a spot on the 2013 AFCA Good Works Team."
The following players have been selected to the 2013 Allstate AFCA Good Works Team:
Football Bowl Subdivision (I-A)
Name                          Cl.        Pos.     School                                     Hometown
Fred Lee                      Sr.       WR      Buffalo                                      Chester, S.C.
Nick Forbes                Jr.        LB        California                                 Frederick, Md.
Jordan Luallen            Sr.       FB       Cincinnati                                Greenwood, Ind.
Dave Harding              Sr.       OL       Duke                                       Orlando, Fla.
Jacob Karam             Sr.       QB       Memphis                                 Friendswood, Texas
Stephen Morris           Sr.       QB       Miami (Fla.)                             Miami, Fla.
C.J. Zimmerer            Sr.       RB       Nebraska                                Omaha, Neb.
Asa Watson                Sr.       TE       North Carolina State               Rock Hill, S.C.
Jeff Budzien               Sr.       PK       Northwestern                          Hartland, Wis.
Eric Soza                   Sr.       QB       Texas at San Antonio             Beeville, Texas
Carey Spear              Sr.       PK       Vanderbilt                                Mayfield Village, Ohio
Football Championship Subdivision (I-AA), Divisions II, III and NAIA
Name                          Cl.        Pos.     School                                     Hometown
Tyler Simmons           Sr.       DE       Aurora                                     Crystal Lake, Ill.
J.D. Mehlhorn             Sr.       DB       Bethel (Minn.)                         Lakeville, Minn.
Curt Duncan              Sr.       PK       Carson-Newman                    Morristown, Tenn.
Ryan Cobb                  Jr.        TE       Delaware                                 Saddle River, N.J.
Miles Williams             Jr.        DB       Elon                                         Roebuck, S.C.
Kevin Rodgers            Jr.        QB       Henderson State                     Rockwall, Texas
David Brackett            Sr.       OL       Kenyon                                     Ahoskie, N.C.
Jordan Sitzmann         Sr.       P          Morningside                            Le Mars, Iowa
Jordan Reid               Sr.       QB       North Carolina Central            High Point, N.C.
Winston Wright            Sr.       DB       South Dakota State               Lee's Summit, Mo.
Bo Cordell                  Sr.       QB       Tusculum                                Cincinnati, Ohio
This year's Allstate AFCA Good Works Team boasts some of the most impressive service resumes in the award's 22-year history.  From building houses overseas, to founding a mentorship program for at-risk youth, to serenading cancer patients at the local children's hospital, this unique group of young men continues to raise the bar for the impact that student-athletes can have on their peers, teammates and communities.
"The AFCA, along with our partner Allstate, has been honoring football student-athletes for their good works, volunteerism and community service for 22 years with the Allstate AFCA Good Works Team," Grant Teaff, AFCA Executive Director said. "The 2013 class of Good Works Team members is another great example of the outstanding athletes, and even better men, that our nation's college football programs produce each year."
Fans can vote for the 2013 Allstate AFCA Good Works Team Captain by visiting ESPN.com and searching "Good Works."  There, fans can learn more about this year's team members and vote for the player who they feel represents the "best of the best" in the areas of giving back and contributing to the greater good of their communities.  The Team Captain and his fellow award recipients will be invited to New Orleans to take part in a community project leading up to the 2014 Allstate Sugar Bowl.


Prong LLC recently brought the PocketPlug to the tech market. It is the world's first case with an integrated charger. The PocketPlug is designed to provide protection and charging capabilities for the iPhone. Users can abandon their cords and chargers and rely entirely on their PocketPlug.
The PocketPlug is unlike any other device on the market, designed with retractable prongs to double as a case and portable charger. When not in use, the prongs conveniently retract allowing the PocketPlug to transform into a sleek carrying solution with optimal pocket-ability.  The durable case is made out of high-grade polycarbonate, protecting the iPhone from drops and scratches.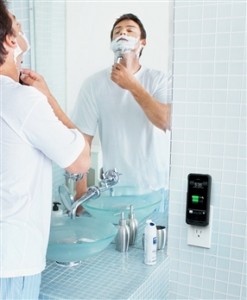 The prongs easily deploy allowing the case to connect to an outlet for direct charging, without the need for an additional adaptor or cable. PocketPlug has a micro-USB port built in for times when you're in your car or have a cord handy. From your pocket to the socket, the lightweight PocketPlug provides the only all-in-one protective case and charging solution.
The PocketPlug's slim and portable design allows for easy storage in a carry-on, backpack, purse, or pocket. The minimalistic case makes the perfect travel companion, eliminating the hassle of digging through your bag in search of a charger. The PocketPlug is also designed to enhance both the smartphone's speakers and microphone by redirecting sound to the front of the phone for louder and clearer audio.
Available in black or white, the PocketPlug for iPhone 4, 4s and 5 can be purchased at goprong.com for $59.99 to $69.99. Learn more about Prong by visiting goprong.com.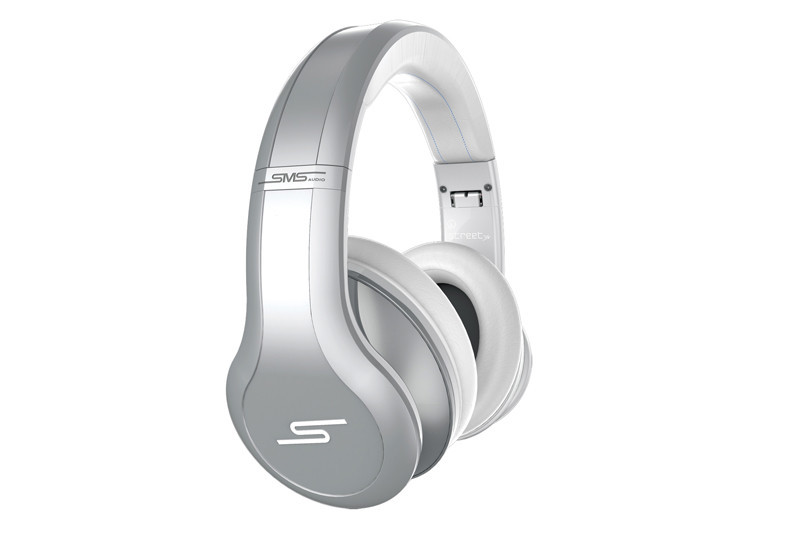 SMS Audio is 50 Cent's premier audio headphone line. The STREET by 50 Over-Ear Active Noise Control are an innovative set that eliminates unwanted ambient noise. Whether you are on a plane or walking the loud and noisy streets these headphones are legit.
The STREET features what SMS Audio calls active noise cancellation technology (ANC). The set contains awesomely tuned 40mm drivers and soft leather memory foam ear cushion. That pretty much means whatever sound the engineers and producers wanted you to hear in films and in music you will definitely hear.
50 Cent aka Curtis Jackson, who is the CEO of SMS Audio said, "I have spent a long time searching for a great pair of headphones that not only deliver great sound quality, but that also are durable and comfortable enough during my extensive travels. That's why we created the STREET by 50 Over-Ear ANC Wired headphones with active noise cancellation technology. Not only do they deliver the best in studio mastered sound, but they are also tough enough to withstand extensive traveling while providing a secure and comfortable fit for hours of listening enjoyment."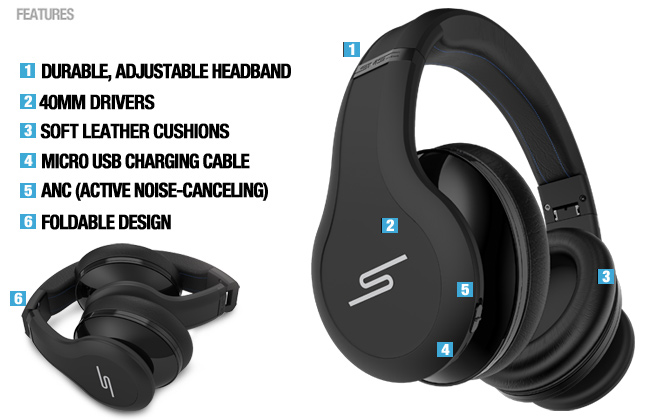 With a price tag of $279.95 you get what you pay for not only in sound quality and in durability as well. The STREET ANC has a hard exterior, but the earcups are made of memory foam cushion so you ears won't get irritated as you wear them. These headphones are very flexible too. They are foldable and also come with a removable cable with 3 click microphone, soft touch cleaning cloth, micro USB charging cable, airplane adaptor and hard shell carrying case for easy transport.
The left arm of the headphones is where all the magic happens so to speak. On that side is the ANC power switch, an LED power indicator, a mini-USB charging port, and a 3.5mm cable input. The battery life for the STREET lasts up to an outstanding 70 hours. To recharge the headphone battery take about two and a half hours.  Like all normal charging devices the LED indicator glows blue with ANC engaged, red while charging, and green when the battery is fully charged.
So does the SMS STREET live up to the hype? Well the last time I was on a plane I had a different set of headphones. They were supposed to be noise canceling, but I heard many noises coming in from the outside while I was trying to watch a movie on my iPad. When I put on the STREET ANC recently on the subway all the outside noises were eliminated. When the ANC feature is running you will notice a difference. If you are serious about sound quality and are looking for a great set of headphones, the STREET By 50 ANC is definitely worth a look.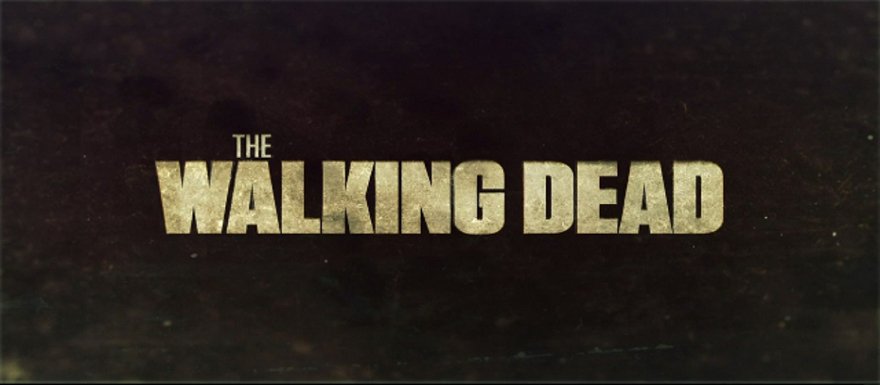 The Season 4 premiere of "The Walking Dead" is this Sunday. To celebrate the return of AMC's hit show here are some apocalyptic-inspired cocktails for you and your friends to enjoy during the show.
While you ponder what lies ahead of Sherriff Rick Grimes and his team of survivors as things looks ominous as they square off against the walkers why not kick back and relax on one of these drinks? You can sip on a "Woodbury's Harvest" as you watch the group stand their ground at the prison, or mix up a "Black and Buried" or "The Walker" to get a taste for the post-apocalyptic world the survivors are living in.
Maybe one of these drinks were created in Woodbury when they would have one of their festivals. Not sure the prison has any of the ingredients below to make these cocktails, but you do. So while watching this season have a drink for Rick and his crew.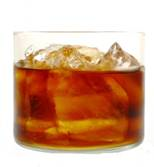 The Walker
Ingredients
1 oz Captain Morgan Black Spiced Rum
½ oz Stirrings Espresso Flavored Liqueur
3 Dashes Chocolate Bitters
5 oz Cola
DIRECTIONS: In an ice filled Collins or rocks glass combine all the ingredients and then stir to blend.
Woodbury's Harvest
Ingredients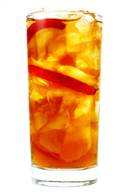 1¼ oz Captain Morgan Black Spiced Rum
2½ oz Apple Cider
1/4 oz Fresh Lemon Juice
DIRECTIONS: Combine all the ingredients in a shaker with ice.  Shake well and strain into an ice filled Collins glass. Garnish with apple slices.
Black & Buried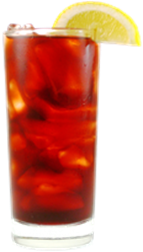 Ingredients
1 oz Captain Morgan Black Spiced Rum
½ oz Zwack Liqueur
3 Blackberries
4 oz Cola
1 Lemon Wedge
DIRECTIONS: Add blackberries to a cocktail shaker and crush with a spoon.  Add Captain Morgan Black Spiced Rum, Zwack Liqueur and shake vigorously. Strain into a Collins glass over fresh ice and top with cola. Garnish with a Lemon Wedge.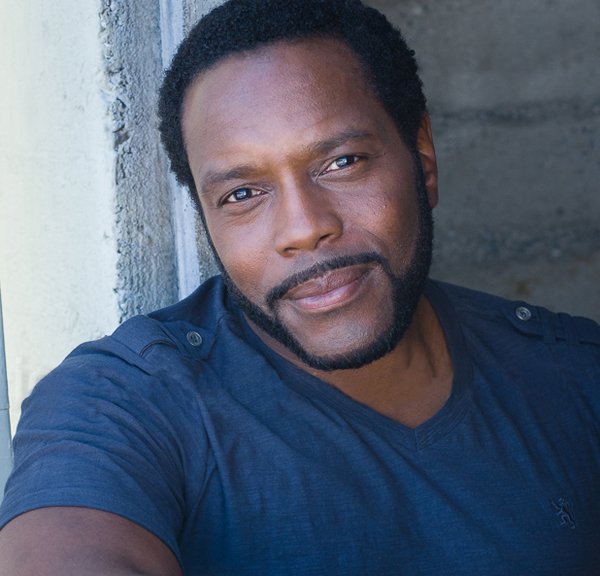 Chad Coleman might be best known for playing the character Dennis "Cutty" Wise from "The Wire," but that role is taking a back seat to his role on "The Walking Dead" as the character Tyreese. Coleman joined the popular AMC show last year during Season 3. Chad and the rest of the crew are gearing up for Season 4 which will air on Sunday, October 13th.
From film to TV, Chad has been part of many great movies and shows. I had the great pleasure of sitting down to talk with Chad about "The Walking Dead," and more.
Art Eddy: You joined the cast in Season 3 playing the character Tyreese. You and your small group of survivors reach the prison where Rick and his crew set up camp. You don't get that great of a welcome. What was Tyreese's first impression of Rick?
Chad Coleman: Well, initially considering the rest of the group and understanding he was the leader, Hershel and everyone else presented themselves in a very formidable, community oriented way. So, the possibility of being part of that community was exciting.
Then of course Rick comes in and throws everything off the rails, but I didn't throw the baby out with the bathwater. I was trying to give the guy the benefit of the doubt. Based on everything I saw before me, and everything we assessed, this guy couldn't have been just a crazy maniac and an effective leader.
From what we saw I was just trying to give the guy the benefit of the doubt, but I was also going to protect my people. Better to live to die another day than just lose my head and get us into a much deeper and much more precarious situation.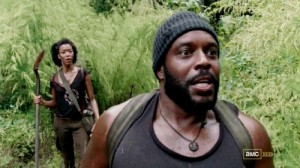 AE: You guys were thrown out of the prison by Rick as he was hallucinating. Do you think your character would rather take his chances with zombies than a crazy guy with a gun?
CC: Absolutely. That was the bottom line. When we were assessing the situation we had done okay. We were dog tired and ready for safe haven for sure, but we know we could handle ourselves out there in those woods if it was called for. Even though we were trying like hell to get out of it we at least knew what we were up against. We would rather deal with that opposition than to deal with a guy that was (laughs)… I don't really know what was going on.
AE: Then you and your sister Sasha end up in Woodbury with the Governor, who is able to hide his crazy. Did Woodbury seem too good to be true for Tyreese and Sasha?
CC: I think initially. I think that was what we were trying to go for when we first met him. It was very much about "hey let's not fall into temptation". We know the world that we are living in. That's why when we shot that scene and Greg Nicotero directed it we took a lot of time with that scene. It was very important that we just didn't go, 'Hey whoo-hoo free showers and food! Yea!'
It was like where are we? What are we dealing with? This guy has encountered (Rick) as well. There had been casualties. We had to make sure that we built that into that scene. When he was asking me how to get into that prison I had called up the producer, at the time it was Glen Mazzara, I said "hey man how do we do this?" I don't want to feel like I am just throwing these people under the bus because of Rick.
I felt a good connection with Hershel and even Carl. I know that he is a young kid with a gun, but he was rational. He was level headed. I said "hey tread lightly". There is nothing going on here that can't lead us here to the security and safety that we are looking for. We have to be precautious as well. That scene was a hard decision for me to make.
AE: Towards the end of Season 3 you and Sasha join Rick's crew. What was Tyreese's feeling on joining them?
CC: If you go back and look at it Hershel presented himself in such a manner. The humanity was there. I felt like if that guy had spent that much time around Rick, Rick could not be that out there. I guess we caught him at a bad time. As things would have it, it did turn out that way. As the situation unfolded it is like, okay now coming back and Rick accepting us, I pretty much could say alright this guy was just having a bad day.
To see (Rick) allow the rest of the Woodbury community to come as well I was very happy. Andrea played a pivotal part in our decision making too, when we ran into her at the top of the bus. What she shared with us, stayed with us. That played into our decision to not go with the Governor and to see who he was. When we got to that gate and we were trying to get Carrie back Rick stepped out first. He showed what a man he really was. So for us right now it is like how do we fit into this community?
AE: Season 4 airs on October 13th. Can you give me a little bit of info on what we can expect from Tyreese?
CC: You guys are going to get to know Tyreese in a way you haven't seen thus far. It is epic. It is gut wrenching. That goes across the board for Season 4. No one goes untested. No one goes unscathed in a post apocalyptical world. It is just not going to happen.
Look at Hershel as the voice of reason and look at what happened to him. Look at where his character started from and the arc his character took. Tyreese has a sense of that. He is a voice of reason. He has a certain moral compass and a right way to do things. Everybody gets put into the blender. That's the way it goes. When you witness what happens it is some jaw dropping stuff.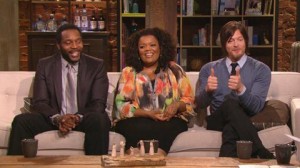 AE: I love the show "The Talking Dead" that follows "The Walking Dead." You have been on that show. How much fun did you have on that show and also how did it feel to see the reactions of the fans since the show has a live audience?
CC: That is one of the biggest pleasures of doing that show. You are right there with the audience. You are right there with the fans. Right there with the people who made it. You are talking 12.5 million people a week. You see that passion firsthand, and you get to have fun with it. You get to learn about the insight of other people watching the show. You also get to have a spooky phone call on the live show. That call was incredible and bizarre. The producers cut the phone call with the caller pretty quickly.
AE: Yea! (Chris) Hardwick was ticked that they cut him off. You were with Norman (Reedus) at the time right?
CC: Yea I was with Norman and some comedian. I think she was from "Community." She was a great guest. People on Twitter were putting up pictures saying "hey this is what your face looked like". It was funny. I was messing with Reedus. I asked him if that was one of his friends. It was appropriately bizarre. You couldn't have planned that any better.
AE: What are some funny things that happen on the set between filming scenes?
CC: It is always hard to remember. We joke around, that's for sure. We have fun with each other like doing a silly dance right before we go on and we will say crazy stuff to each other. It is more like locker room humor. It always depends on what scene that we are working on. Sometimes just the crazy mishaps that happen when we are doing physical stuff. You miss, and end up stepping on a zombie by mistake. These things happen. Some of the stuff is is the type where you ask are you okay, but it is still kind of funny.