Brandi Chastain Interview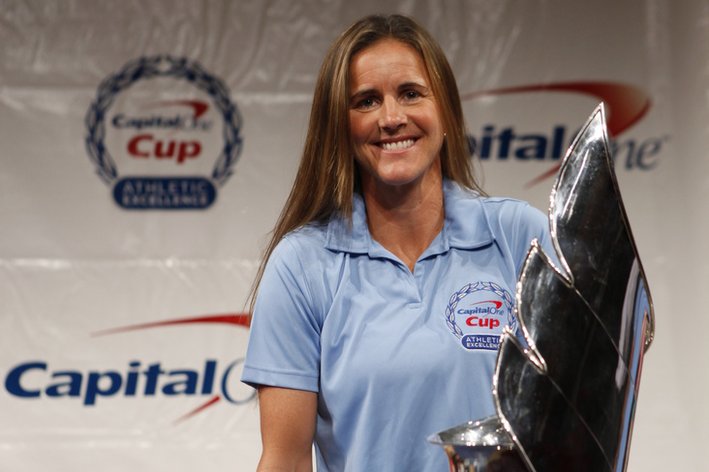 In sports there are certain moments or plays that become iconic. There can be that one picture that as soon as your eyes see it you travel back in time to that moment. Whether it is Michael Jordan soaring from the free throw line or Carlton Fisk using body language to will a home run, we as sports fans live for moments like those.
One of these images that captures that essence is when Brandi Chastain kicked a game winning penalty kick in the 1999 Women's World Cup. After scoring the fifth kick in the penalty shootout to give the United States the win over China in the final game, she took over her jersey and fell to the ground in jubilation. That moment will forever remain in the hearts of USA soccer fans.
I had the great pleasure of chatting with Brandi about soccer and her work with Capital One to promote the Capital One Cup. This campaign celebrates both men and women student athletes. For the past four years the Capital One Cup has rewarded the best Division I programs for their cumulative athletic performances across 39 men's and women's sports. After the spring season, the winning men's and women's programs will receive a trophy and $400,000 in scholarships for student-athletes.
Check out the Capital One Cup Facebook page to see how your team is doing!
Art Eddy: You are working with Capital One looking to find the best men's and women's NCAA Division I college athletics programs in the country. Tell me about this campaign.
Brandi Chastain: This is the fourth year of the campaign. When it first started I immediately fell in love with it. One reason was that I was a collegiate student female athlete. I was always looking for women's sports to be recognized on the same level as men's sports. Even though the awareness of women's sports have become more prevalent in our society, I think that this promotion provides an even better awareness with sports like lacrosse and soccer.
For these types of sports that do not get the national headlines like football or basketball do, now are given the same amount of validity through the Capital One Cup. Plus both sides, men and women are awarded a trophy. I think that this is important because it recognizes the great performances from the men's side as well as the women's side.
AE: Tell me your thoughts for the 2013 Women's College Cup. Which school has the best chance of winning it?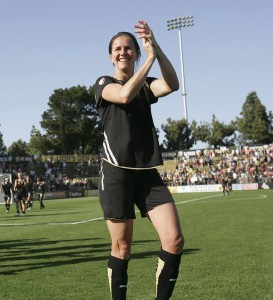 BC: 64 very deserving teams were announced for this year's College Cup for women's soccer. I am partial to Santa Clara because my husband is the coach there and I am the volunteer assistant there. So I would like to throw us into the mix. It is an interesting mix of teams.
There are four number one seeds all from the ACC. That is unusual and something to look at. There are some colleges who haven't been there in a while. There are some colleges out there that have not made their mark yet and now they get the chance to do so with the Women's College Cup.
I think the big names are always the ones to look at. Virginia has only lost one game this season. It was to Virginia Tech in the ACC semifinals. They are probably feeling the sting from that so I am guessing that they will be on a tear in this series.
North Carolina has won a bunch of championships, but they are in a bracket with UCLA, who has been having a very successful year. That bracket should be interesting. This is a toss-up year. There has not been one dominating team, except for the one hiccup that Virginia had. This year's tournament looks to be very exciting.
AE: Any colleges that might give the number one seeds a run for their money?
BC: I think that sports fans have to know that the tournament is different from the regular season. It is different because this season is only one game long. You lose and you are out of it. You could be a better team on paper, but you can throw that to the wind. Sports are emotional. They are physical. Weather plays a big part in soccer. There are so many variables that in a season you can overcome, but not in a tournament.
You have to look at teams like Portland. They might not be having a great season, but they have a great team. You look at a school like Marquette, who won the Big East. Those are two teams that people should look out for in the tournament.
AE: How has the landscape of college soccer changed since your playing days?
BC: Number one is Title IX. It has been such a huge proponent in women's education and therefore women in sports. When I played there was 75 Division I teams. Now there are over 325 Division I teams vying for a National Championship. That just speaks volumes. You multiply those schools by 30 people, that is a lot of players. So that alone is amazing.
AE: What advice do you have for student athletes?
BC: I would say in general that their time in college is unique. It is precious and goes by very quickly. It is hard to sometimes enjoy that time in college. There is pressure in the classroom and also on the field of play. The students that I have the great pleasure of working with at Santa Clara are probably similar to college kids all around the country. They are instinctually motivated to win and be successful.
I think it is hard for these students to balance their time with academics and sports. There is a bigger picture then these games these athletes are playing. I would say to these athletes to try and enjoy the training aspect of sports. The training is really the foundation for the rest of your life. The lessons you learn about being successful in college are things you can take with you in life.
The idea of balance is something that should be thought of for these student athletes. A person should try their best and give it their all in sports, but there are other things out there. Sports or whatever it is at that time is not the only part of you. They need to realize that and create a balance in life.
AE: Moving from college to the pros, what is your take on the current USA women's soccer team?
BC: In past games like the 4-1 victory over Brazil, the U.S. women's soccer team has been very strong. When you have goal scorers like Abby Wambach, Sydney Leroux, and Alex Morgan the list goes on you can see that.
I think defending is the number one problem. Finding the right combination of four backs, three backs, or whatever it is will be the challenge for Tom Sermanni. So I think that is the focus. The attacking part of it has never been their thorn in their side. I think finding the right combination of players who can play soccer, defend, and be organized is key.
AE: Do you have one memory in your great career that stands out the most?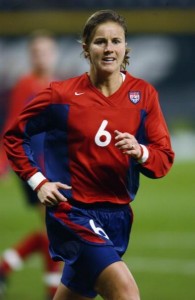 BC: Gosh. I would say that I have loved soccer ever since I kicked a ball at seven years old. There is a lot of wonderful memories. The majority of them, well maybe half of the memories have been ones on the field. Obviously people go right to the penalty kick.
I would have to say that my number one memory was when I kicked a really good left footed goal. I was eleven years old. I can shut my eyes and remember that goal vividly. It felt really good. Then I think the moment in the 1999 Women's World Cup where I scored an own goal in the game against Germany. The interaction that followed that will be something I will always remember. Carla Overbeck told me not to worry about it and told me that we were going to win the game and you are going to help us. After that I scored a goal and we went on to win that game.
I think that memory stands out because I was able to fix my mistake and go on to win that game. In sports there are times where you can literally change someone's life in a moment.  Carla did that for me. She told me that my mistake was okay and we were still going to win. Ever since that day I am looking for the opportunity to do that for someone else.
You can use moments like those to reflect on and tell yourself that things are going to be alright. That is why I cherish moments like those.
Related Posts
| | | |
| --- | --- | --- |
| | Print article | This entry was posted by Art Eddy III on November 18, 2013 at 5:43 am, and is filed under Sports. Follow any responses to this post through RSS 2.0. Both comments and pings are currently closed. |
Comments are closed.