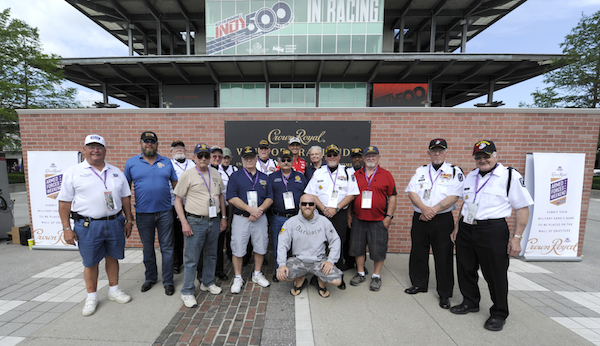 Crown Royal goes to great lengths to honor and support the military. This week was just another display of that gratitude. This weekend, thousands of fans will flock to the Racing Capital of the World to watch their favorite drivers qualify for the 101st running of the Indianapolis 500 during Crown Royal Armed Forces Weekend. And starting this year, those fans will have the opportunity to permanently cement the names of their military heroes at the track in recognition of their generous sacrifice.
Inspired by the iconic Yard of Bricks marking the track's finish line, Crown Royal and Indianapolis Motor Speedway (IMS) have erected a brick Wall of Gratitude to display the names of military members past and present. Located in the infield at New Myers Drive and 6th Street (next to the Crown Royal tent), fans 21+ can submit names to be engraved on gold plates permanently affixed to the brick wall as a small token of appreciation for their selfless service. And throughout the weekend, Crown Royal will be randomly surprising select nominators with VIP race experiences and tickets.
Race-goers can also stop by the Crown Royal tent to assemble care packages for troops overseas, interact with custom photo booths that facilitate local charity donations and sample various whiskies. The full schedule for submissions to the Wall of Gratitude is below:
·         Friday, May 19 through Sunday, May 21: 11 a.m.-5 p.m.
·         Indianapolis 500 Race Weekend
·         Friday, May 26: 10 a.m.-4 p.m.
·         Saturday, May 27: 9 a.m.-1 p.m.
·         Sunday, May 28: 7 a.m.-12 p.m.
"Serving one's country is, without a doubt, among the most generous things a person can do," said Jim Ruane, Director of Crown Royal. "We look forward to seeing the Wall of Gratitude filled to the top with names of servicemen and women as we toast to their honor during Crown Royal Armed Forces Weekend and the Indy 500 – rooted in remembrance and celebration of our nation's heroes."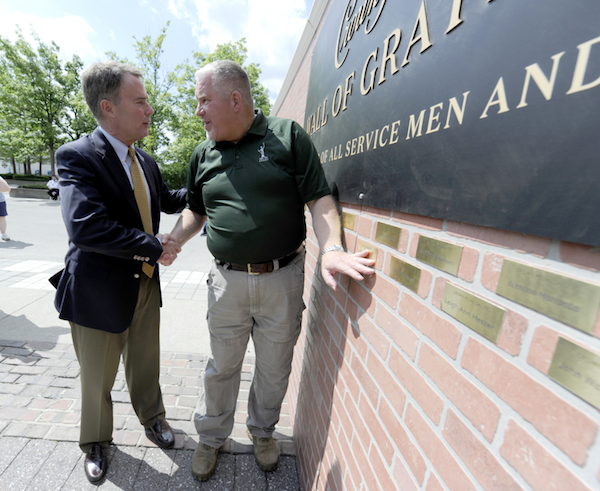 Building upon the legacy of Crown Royal's "Your Hero's Name Here" program, 2017 marks the sixth straight year the whisky maker has partnered with IMS to recognize the most generous among us – the true kings and queens of their communities – in one-of-a-kind ways.
"This is a fitting and unique way to honor our military heroes during the Month of May at the Racing Capital of the World," said IMS President J. Douglas Boles. "Crown Royal's Wall of Gratitude and the chance it provides to celebrate our military members and veterans will be a highlight for many fans visiting the track."
Crown Royal's "Live Generously and Life Will Treat You Royally" campaign aims to inspire generosity in all of its many forms, building upon the brand's longstanding history of celebrating military heroes – from giving veterans the royal treatment at pro sporting events, to helping a blinded soldier see his hometown in a novel way, to year-round collection of care packages for deployed troops.
Crown Royal asks that all race fans honor generously, but drink in moderation.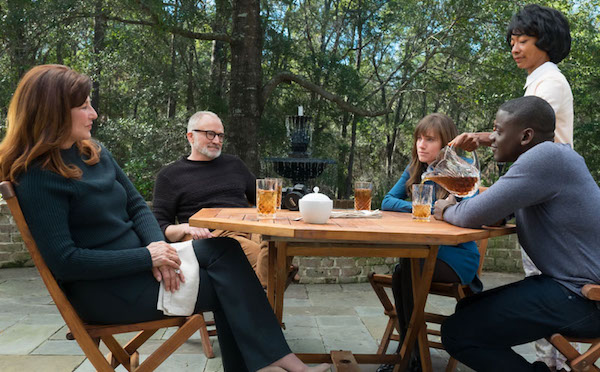 One of the most talked about films in recent years has been Get Out. Next week the movie comes out on Blu-ray and you can win it here at MANjr. When Chris (Daniel Kaluuya), a young African-American man, visits his white girlfriend's (Allison Williams) family estate, he becomes ensnared in the more sinister, real reason for the invitation. At first, Chris reads the family's overly accommodating behavior as nervous attempts to deal with their daughter's interracial relationship, but as the weekend progresses, a series of increasingly disturbing discoveries lead him to a truth that he could have never imagined. This speculative thriller from Blumhouse (producers of The Visit, Insidious series and The Gift) and the mind of Jordan Peele (Key & Peele) is equal parts gripping thriller and provocative commentary.
Some of the special features include:
Digital Copy of Get Out
Includes UltraViolet
Alternate Ending with Optional Commentary by Writer/Director Jordan Peele
Deleted Scenes with Optional Commentary by Writer/Director Jordan Peele
Unveiling the Horror of Get Out
Q&A Discussion with Writer/Diretor Jordan Peele and the Cast
Feature Commentary with Writer/Director Jordan Peele
Alternate Ending with Commentary by Writer/Director Jordan Peele
Deleted Scenes with Commentary by Writer/Director Jordan Peele
To win tweet me HERE. A winner will be chosen at random. Good luck!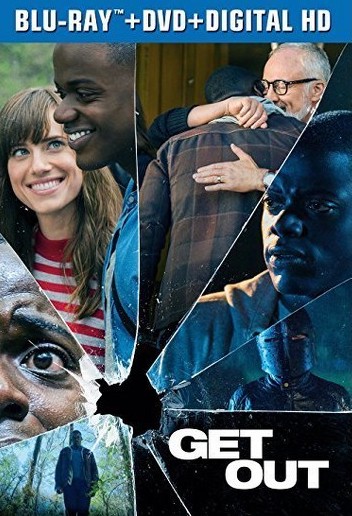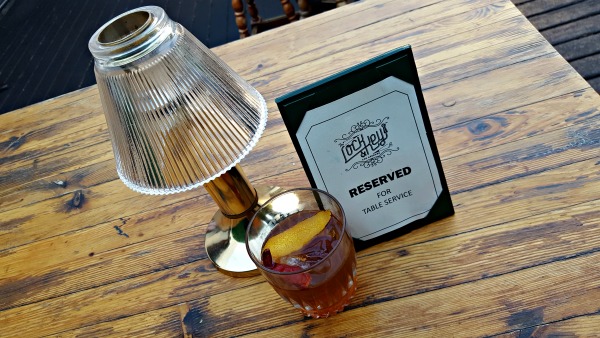 NYC's Cognac Classics Week is officially underway and we got an early jump on the festivities with a very special Hennessy V.S.O.P. pub crawl last week in Los Angeles. With a solid crew of people in place, we hit up three different LA hot spots to test out some interesting new takes on classic Cognac cocktails crafted by local bartenders. With us was Jordan Bushell, Hennessy's U.S. Head of Mixology & Brand Education. Well-dressed and well-equipped with quotes from the movie Cocktail, Bushell was good company and he provided some extra info on each of the cocktails we sampled.
Our first stop was Mama Lion, a swanky corner gem in the heart of K-Town that just opened up in the past couple weeks. There's an old school glamour and supper club charm to this place. It's a big, boldly decorated space that combines a nightclub vibe with a quality bar feel and plenty of seating for a nice meal. Todd Eames created a signature cocktail for us to sample, The Baby Lion. It was a refreshing start to the night. Check out the details:
From Mama Lion: Todd Eames's The Baby Mama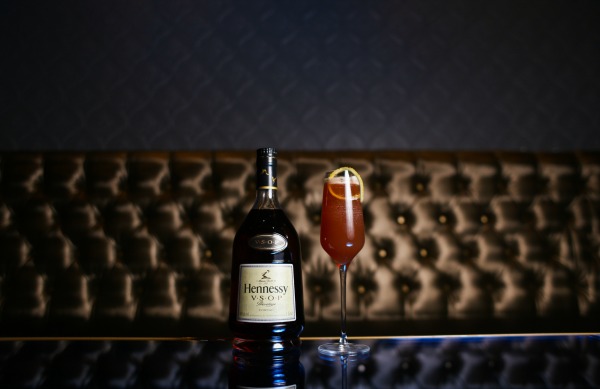 Ingredients
1.5 oz. Hennessy V.S.O.P Privilège
.75 oz. pomegranate liqueur
.75 oz. lemon juice
.5 oz. Demerara syrup
2 oz. Chandon champagne
Directions
Shake all ingredients (except for champagne) with ice and strain into a champagne flute.
Top with champagne and garnish with a lemon twist.
Next up was Lock & Key, K-Town's lowkey speakeasy with a super friendly staff, inviting indoor bar and a nicely nestled outdoor patio area. Here we got to sample Miranda Zeiger's Inferno's Spirit, a fiery cocktail with just the right amount of kick. The prep for this drink was as entertaining as the effects. Check it out:
From Lock & Key: Miranda Zeiger's Inferno's Spirit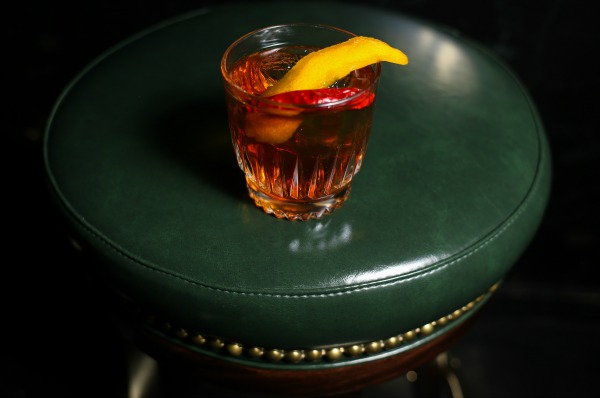 Ingredients
2 oz. Hennessy V.S.O.P Privilège
.5 oz. Grand Marnier
.5 oz. Amaro Meletti
2 dashes of Firewater (by Scrappy's Bitters) can be substituted with any bitters with a bit of spiciness
2 dashes of Chocolate Chili Bitters (by Miracle Mile Bitters Co.) can be substituted with any chocolate bitters
Directions
Combine all ingredients in a mixing glass with cubed ice.
Stir well for 45 seconds then strain cocktail into a Winchester glass.
Use a slice of orange peel and express the orange oil on top of the cocktail and around the rim of the glassware.
Garnish with the slice of orange peel and one dried chile de arbol.
The last spot of the night was Serafina on Sunset. The LA installation of the famed NYC Italian eatery, Serafina featured some good grub and airy décor that features artwork from Mr. Brainwash, the eccentric Frenchman who went from street art documentarian/fanboy to pop art pseudo celeb (see Exit Through the Giftshop). Before making headlines with their divorce, Stephen Belafonte and Spice Girl Mel B were part of the ownership crew that brought Fabio & Vittorio's Italian fare to Hollywood. While snacking on plate after plate of solid dishes (I'm thinking of you, yummy meatballs), we were treated to Balke Porter's take on the classic Sidecar. Here's how Porter doctored up this classic:
From Serafina: Blake Porter's Blackberry Sidecar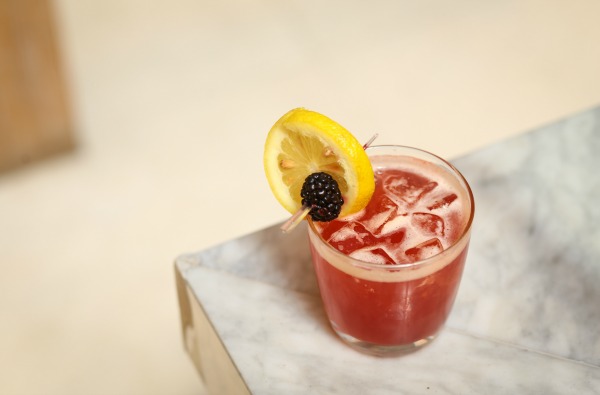 Ingredients
1.5 oz. Hennessy V.S.O.P Privilège
1.5 oz. St. Germain
.5 oz. pineapple juice
.25 oz. lemon juice
3-5 blackberries
Directions
Shake all ingredients in a mixing glass.
Pour cocktail into a rocks glass over ice and garnish with a lemon wedge.
Check out #CognacClassicsWeek to find more interesting takes on timeless Cognac cocktails that we all know and love.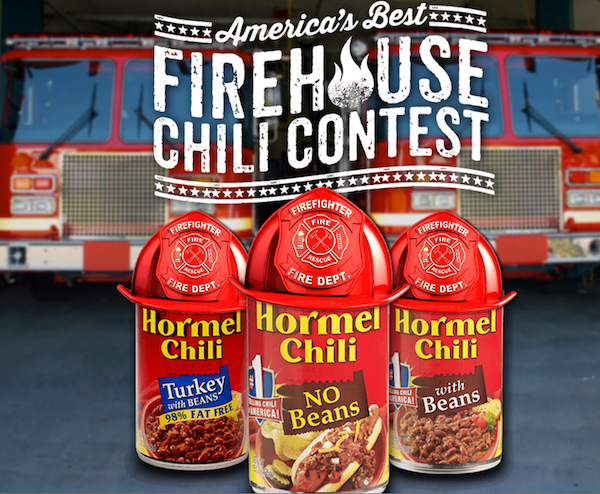 Do you like chili? How does your recipe stack up with other recipes? When it comes to firehouse kitchens, chili recipes are always a favorite. That's why this summer, Hormel Chili is partnering up with the National Fallen Firefighters Foundation to highlight the under appreciated cooking talents of firefighters across the country, while also giving them a chance to win $10,000 for their station!
Through "America's Best Firehouse Chili Contest," active firefighters can visit www.hormel.com/firehousechili starting today, to submit their chili recipe for a chance at the grand prize. Recipes submitted to the site will be judged by retired NYC firefighter and host of the cooking show, "Firehouse Kitchen," Ray Cooney. Ray will be looking for originality, potential of flavor (flavor profile) and inspiration behind each recipe submission, to narrow the field down to the top 10. Once the top 10 recipes are selected, America will then have the chance to vote for the top 3, who will be flown to NYC to compete in a live chili cook-off for a chance to win $10,000 for their station!
In addition to contestant prizing, Hormel Chili will also be honoring the NFFF with a $20,000 donation to support their efforts.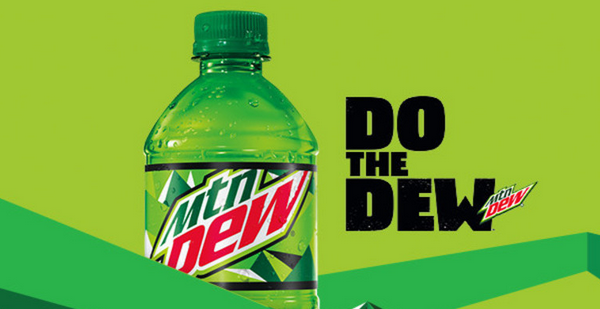 There is some very cool news from the gaming world. Mtn DEW is getting into the action too. Mtn DEW is partnering with premiere PC gaming rig manufacturer, Origin PC and CEO Kevin Wasielewski, to create the most badass custom DEW Super Rig on the market – all through a user-influenced Twitch series.
The exact specs and details of the build will be decided by Twitch users! During an 8-week Twitch livestream on DEW's Twitch channel, users will help determine the specs of the PC through commenting and voting in polls.
Every episode in the 8-part series—complete with guest appearances from pros, top gaming hosts, and industry insiders—will highlight a core gaming rig component from the Super Rig which users can influence (i.e.: graphics card, motherboard).
Notable Twitch influencer hosts include:
MightyMouseUFC
Optic Di3sel
Kevin Wasielewski from Origin PC
Zombiunicorn
Dyrus
Koozyl
Jeff Cannata
Christian Spicer
Twitch users will also get prizes by commenting and participating.  Example prizes include custom headsets, keyboards, DEW merch and more. The series launches on May 31st and will publish weekly until June 19, when the gaming PC will be completed. Each session will be hosted by DEW's Twitch Game Fuel host David Miller and will last two hours. Even better, DEW will give the PC away to one lucky Twitch user once it's done (est. value of $50K)!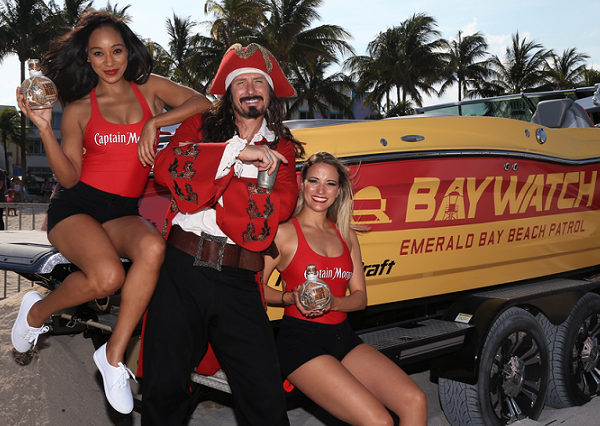 This past weekend Captain Morgan traveled to Miami to meet the cast and crew of Baywatch at the official red carpet premiere. Select stars and producers were seen sipping the newest addition of the Captain Morgan family – Captain Morgan LocoNut, a delicious coconut shot – while fans watched the red carpet action on the beach.
The red carpet and VIP tent served LocoNut cocktails in real coconuts to the cast and crew, which many enjoyed in between their takes down the red carpet. At the VIP after-party, guests could also enjoy LocoNut shots and Morgan Mule cocktails.
Captain Morgan LocoNut is making a big splash this summer, just like the long-awaited release of the Baywatch movie. The stars were excited about the bottle, which is shaped and smells like a coconut, and the delicious taste that's basically summer in a bottle.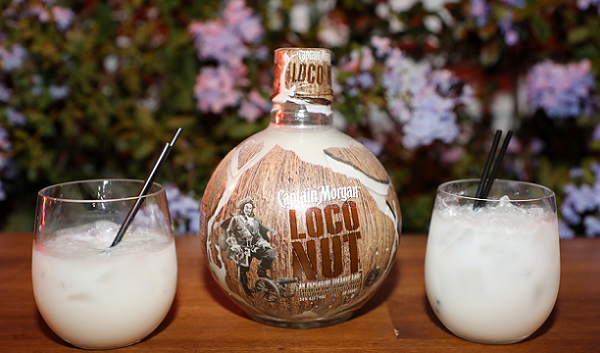 Locojito
1½ oz. Captain Morgan LocoNut
6 Fresh Mint Leaves, plus 1 sprig to garnish
3 oz. Coconut Water
Muddle mint in the bottom of a tall glass. Add coconut water and LocoNut and stir to combine. Add ice to fill and garnish with a sprig of mint.
Red Suit Ready
1½ oz LocoNut
1½ oz Coconut Water
¾ oz Captain Morgan White Rum
1½ oz Strawberry Daiquiri Mix
¾ oz Water
Combine LocoNut and coconut water. Stir to combine. Separately, combine Captain Morgan White Rum, strawberry daiquiri mix, and water. Stir to combine. Fill a plastic freezie sleeve halfway up with strawberry daiquiri mixture. Top with LocoNut mixture and freeze overnight before serving.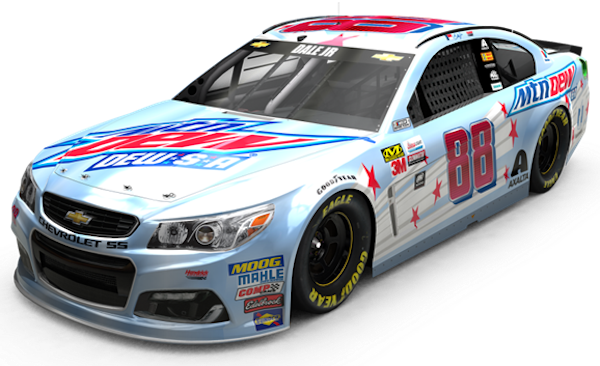 Some cool news coming from the racing world. To celebrate America's favorite summer holidays, Mtn Dew is teaming up with decade-long partner Dale Earnhardt Jr. for his final racing season to celebrate America and introduce a new flavor that is sure to be the go-to drink for any summer gathering: DEW-S-A.
To celebrate DEW fans' flavor-mixing experiments on social media, DEW-S-A was created from a combination of three fan favorite flavors: Code Red, White Out and Voltage to make it a red, white and blue summer across America. What better way to promote this new product than with an infomercial starring "pitchman" Dale Jr.– and a fully functioning 1800 call-in number – 1-877-DEWSA-88 – for fans to purchase the product!
Coming up this weekend at Kansas Speedway on May 13, there will be a special Mtn Dew DEW-S-A paintout on Earnhardt's No. 88 Chevrolet SS. Red, white and blue in-store displays across the country will feature the same bold star-spangled graphics, but will be easier for fans to see than the paintout on Earnhardt's Hendrick Motorsports car as it zooms by at nearly 200 mph.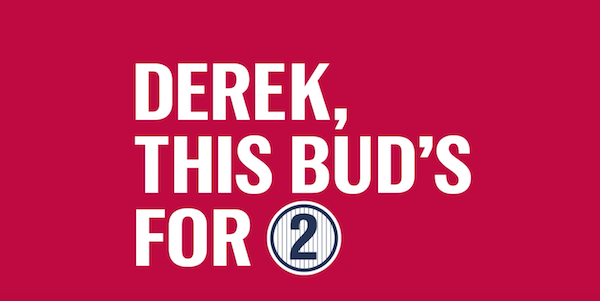 Many Yankee fans are looking to go Sunday's game in the Bronx as the Yankees retire Derek Jeter's number. To celebrate and honor one of America's most beloved baseball players, Budweiser, the official beer of MLB, created a tribute video in advance of Sunday's ceremony to raise a cold one to Jeter's iconic number.
The emotive video, titled "This Bud's For 2,"portrays how New York City is forever changed because of Jeter's commitment to the game, the city and its fans. The 2-minute long video takes baseball fans and New Yorkers alike on a journey to experience what the city would look like with the number two missing from iconic landmarks and back drops (think the clock on the Flatiron building, the 2 train, 2nd Avenue, etc.).
After Jeter watched the Bud video, he noted: "I'm honored MLB and Budweiser chose to celebrate my jersey retirement this way, and I'm really looking forward to being back at Yankee Stadium this weekend."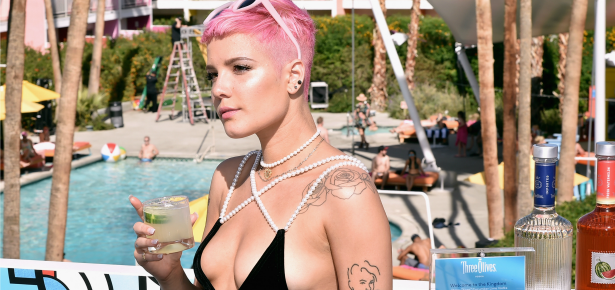 Last month, our friends at Three Olives invited us on a day trip to Palm Springs as part of their #FindOtherness campaign launch. First introduced in London in 1998, Three Olives was acquired by Proximo Spirits in 2007. Made in England, Three Olives produces a clear, unflavored vodka and uses the circulation method to flow vodka into flavored liquids to produce a wild mix of flavored vodkas. With varieties like fresh watermelon, cucumber lime, espresso and mango, Three Olives is all about embracing the flavor road less traveled. The mixing potential of these quirky spirits is pretty epic, as we found out during our day trip.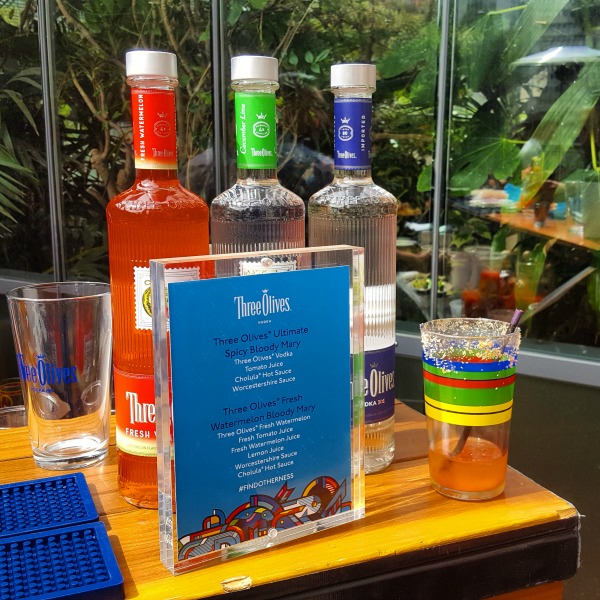 Our mission started out at The LINE Hotel on Wilshire, where we first got to sample the mixability of the Three Olives line. I went with the fresh watermelon Bloody Mary, which included watermelon juice, Three Olives Fresh Watermelon, tomato juice, lemon juice, Worcestershire sauce and Cholula. It was a pretty unique take on a classic morning cocktail.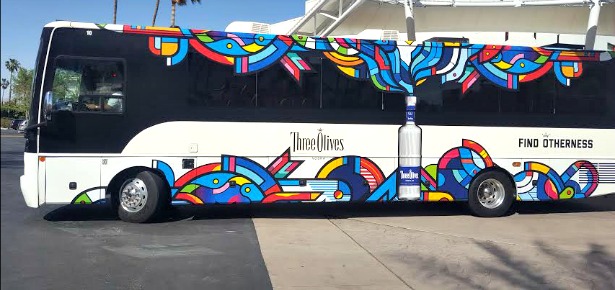 After this first sample, we piled into the Three Olives #FindOtherness bus and began our trip to Palm Springs. The #FindOtherness visual aesthetic was part of a collaboration with Van Orton Design, twin brothers from Italy who dabble in design, illustration and music. Their colorful, kaleidoscopic style was on full display when we first met our transportation for the day. After hitting the road, we were treated to some great tunes by KAT V, a classically trained electric violinist who combines DJ mixing skills with an additional layer of live instrumentation. It made for a particularly nice ride.
On the road to Coachella, we made a stop at Tio's Tacos in Riverside to take in the eclectic collection or art and artifacts on the grounds, grab some grub and try some agua frescas cocktails. Pineapple Three Olives with papaya agua fresca and Pink Grapefruit Three Olives with orange were two of my favorites. All the options were awesome, though. Three Olives flavored vodka is like a mixer with a kick. It doesn't need an extra active ingredient. It allows for maximum combinations while encouraging experimentation and creativity. Think Coconut flavored vodka mixed with Horchata.
We rolled into Palm Springs and met up with two additional contributors to the #FindOtherness campaign. Singer-songwriter Halsey spent some time with our group while dishing out fashion styles from a pop-up thrift shop. The goal was to get people to embrace some festival fashion otherness in prep for Coachella. I got a pretty cool Duran Duran pin, but I also got to talk to Halsey and designer/visual artist Ron Bass.
Halsey and I talked about her brand collaborations. I knew she did work as a Modern Icon for The Frye Boot Company, so I was curious to understand how these brand collaborations came about. With Three Olives, it was a personal connection with her friend Erin that first put the #FindOtherness campaign on Halsey's radar. The more she learned about it, the more interested she got.
"A campaign that's about identifying and celebrating individuality," Halsey said, is what gravitated her to the brand and the project.
"Especially right now at a time when it's really difficult for brands to be political, but they still want to say something that's motivating to people and comforting. I thought Find Otherness was a good mentality as far as surmising the idea of celebrating your peers and your neighbor for their differences and seeing that as a positive and something beautiful," she explained.
"So the collaboration came together really organically in that way. I was going to be here, at Coachella, and I love the company and it just seemed like a great way to work it out. When they told me they would be bringing people in and letting me style them, I was sold. If I can put cool clothes on people, then I'm super down," she told me.
Speaking of cool clothes, Halsey was particularly enamored with the fresh jacket that designer Ron Bass put together for the #FindOtherness campaign. Ron was a real interesting dude. When I chatted with him he was humble, engaging and his unique DIY-inspired positivity and creativity were infectious. His work has been made its way to celebs like Beyonce and Jay-Z, Cara D and Swizz Beatz. Bass talked to me about the evolution of his visual art. The thing that stuck with me the most is how he decided to get into fashion. Bass views the fashion world as a "mobile art gallery." He views the medium as a way to transport and showcase his whimsical visual art in a way that maximizes reach and exposure. I thought that was pretty cool. Here's a look at the jacket he created for the campaign spot (which Halsey still wants to get her hands on BTW):
With a variety of Three Olives bottles lining the windows of the bus, it was a fun ride back to LA. While I may be a bit more of a beer and whiskey guy, I can understand the appeal of flavored vodkas that lend themselves well to imaginative, DIY cocktail creations. From the decorative party bus powered by Van Orton Design, to the eclectic beats of KAT V, the mobile art gallery that is Ron Bass fashion and the pro-weird vibes of Coachella vet Halsey, Three Olives checked a ton of quirky boxes on their #FindOtherness campaign launch. It was a smart start for a campaign with a cool message.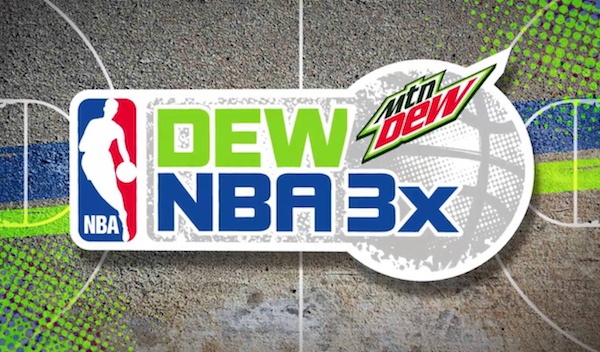 Sure the NBA Playoffs are still going on, but we all need more basketball in our life. Thankfully the NBA and Mountain Dew will tip off the second iteration of Dew NBA 3X – a national elite 3×3 basketball competition tour – on Saturday, May 13 in Chicago.  This year's basketball competition tour will feature some of FIBA's top 100 globally ranked players and make stops in six NBA markets throughout the summer – with the winning teams from each city qualifying for the 2018 USA Basketball 3×3 National Tournament.
The tour builds on the growing excitement for the 3×3 platform, which will soon be evaluated for inclusion in the next Summer Olympics.
Following Chicago, Dew NBA 3X will visit Miami (June), New York City (June), Washington D.C. (July), San Francisco (Aug.) and finally, Los Angeles (Sept.), where local market winners will compete in the tour's championship rounds.