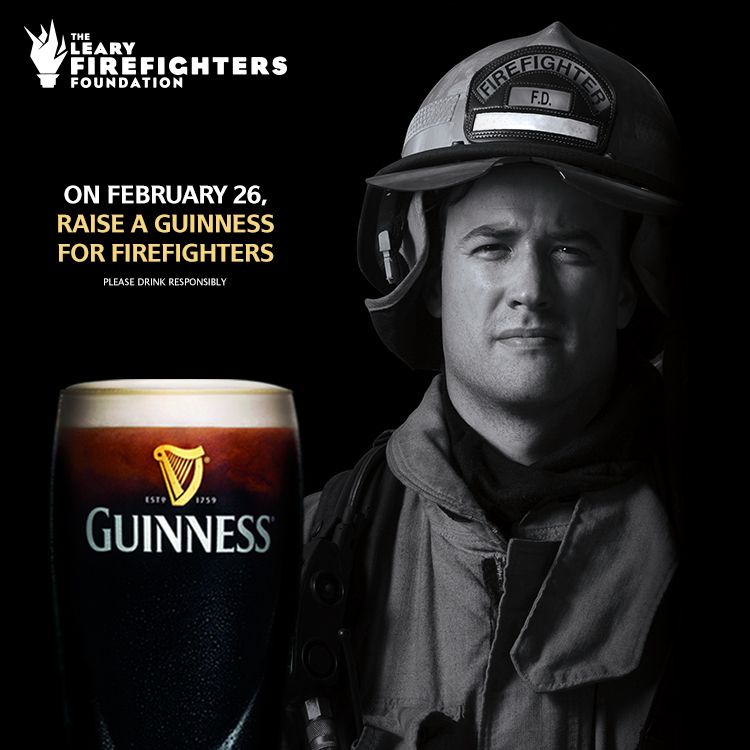 Guinness USA continues its quest to support local firefighters across the country by trying to raise $1 million by St. Patrick's Day 2015. In year three of its partnership with The Leary Firefighters Foundation (LFF), the Guinness brand ups the ante with its fundraising initiative by releasing a series of limited-edition, firefighter inspired t-shirts, one of which is designed in collaboration with country music superstar Brad Paisley, as a tribute to firefighters everywhere.
The Guinness St. Patrick's Day initiative is to inspire bolder choices and celebrate those of great character and heroism who want to be and do more – qualities firefighters showcase each and every day. Throughout this year's initiative, Guinness has also been raising a pint responsibly with local community events in honor of those who make great contributions to their communities – such as community leaders, military personnel, EMS workers, and of course, firefighters.
Patrons of legal drinking age are invited to celebrate National Raise Your Glass Day on Thursday, Feb. 26, by sharing a photo of their Guinness pint on Twitter, tagging @GuinnessUS, or post it on the Guinness US Facebook page. In addition to the Guinness iconic stout, Guinness® BlondeTM American Lager is perfect for those who prefer a lager but still want to raise a pint of Guinness for a good cause. For each photo posted, Guinness will donate $1 (up to $100,000) towards its fundraising effort in support of firefighters. From servicemen to firefighters to local volunteers, everyone has the potential to do more.
This year, the Guinness brand is also teaming up with Paisley to add his own spin to one of the firefighter-inspired t-shirts available for purchase with all net proceeds benefiting The LFF. Paisley comes from a family of firefighters including his father and brother-in-law who have loyally served their communities. With strong roots in the firefighter community and a long history of supporting these men and women, Paisley makes a perfect addition to the Guinness brand's St. Patrick's Day 2015 fundraising initiative.
"My father was a volunteer firefighter and showed me at an early age the sacrifices made every day by firefighters and how important what they do is to their communities," said Paisley, who offered artistic input on one t-shirt's design. "I'm so excited to be a part of the Guinness initiative knowing their work with The LFF has such an impact on the safety, effectiveness and overall lives of firefighters."
From now until St. Patrick's Day, t-shirts will be available for a $20 donation amount through more than 1,700 in-bar events held across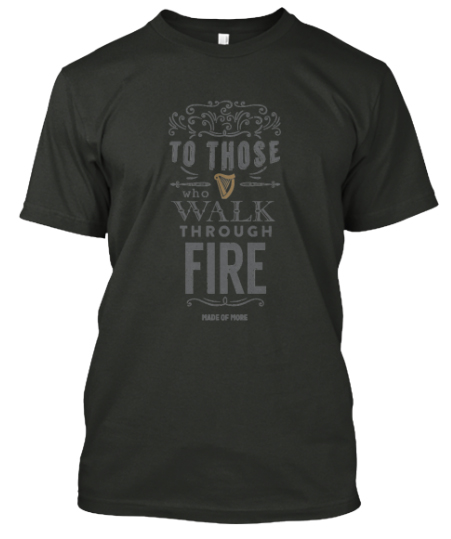 the country and at GuinnessGivesBack.com – the online hub for all philanthropic efforts surrounding the Guinness brand's commitment to local firefighters. All net proceeds raised will go towards The LFF to provide the much needed funding and resources for fire departments nationwide to receive equipment, technology and training necessary for the continued health and well-being of firefighters.
"We're thrilled to be partnering with Guinness for the third consecutive year to support local firefighters across the country," said Denis Leary, founder of The Leary Firefighters Foundation. "The Guinness brand's commitment to honoring these men and women who go above and beyond to help their communities has been fantastic. With the help of partners like Guinness, the LFF has been able to implement initiatives such as a First Responder leadership development program for fire departments in Boston, New York and Worcester, MA as well as donating more than $260,000 worth of fire and safety equipment to the Detroit Fire Department. We look forward to accomplishing even more this year."
To learn more about National Raise Your Glass Day and the Guinness brand's dedication to firefighters, make a donation, or to purchase a limited-edition t-shirt, visit GuinnessGivesBack.com.
Guinness reminds everyone raising a glass in support of firefighters and all of the men and women who do more for our communities every day, to please do so responsibly.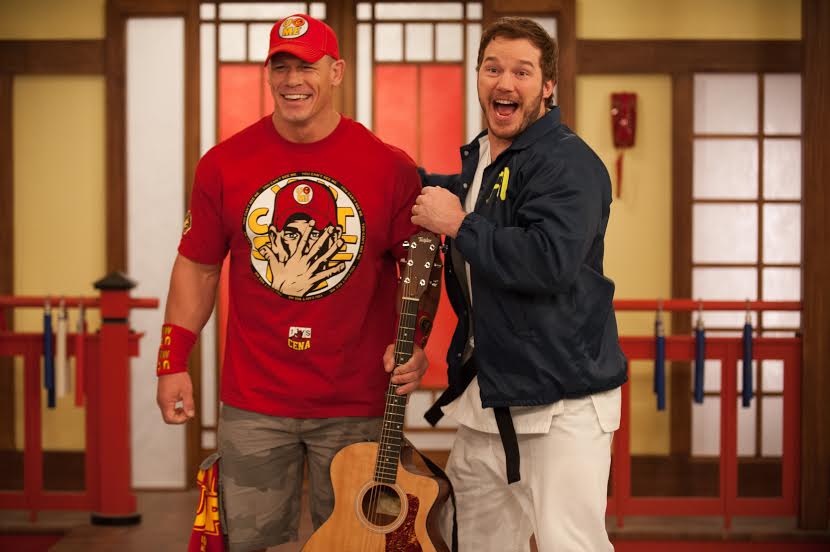 Don't miss WWE Superstar John Cena's guest appearance on NBC's award-winning show Parks and Recreation tonight at 8/7 C.  John pays a visit to Pawnee where he meets up with Amy Poehler's Leslie Knope in one of the hit series' final episodes.
Parks and Recreation, now in its seventh and final season, is a production of Deedle-Dee Productions, Fremulon, 3 Arts Entertainment and Universal Television.  Greg Daniels, Michael Schur, Howard Klein, David Miner, Morgan Sackett and Dean Holland serve as executive producers for the series.  Parks and Recreation has been Emmy Award nominated and has won the Television Critics Association Award for best comedy, AFI Award, American Comedy Award and the highly prestigious Peabody Award.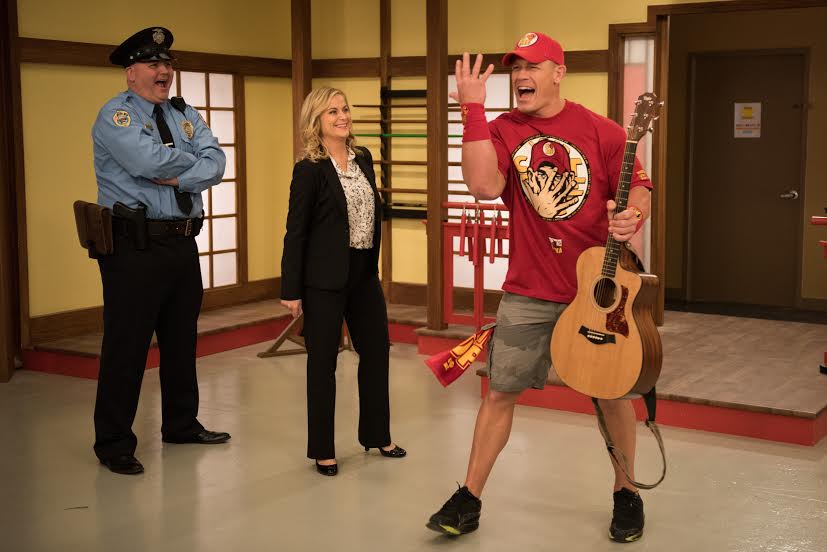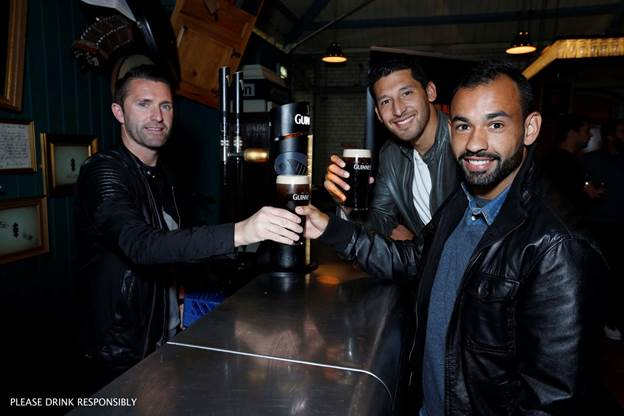 This weekend, members of the LA Galaxy traded in their soccer cleats for a pint glass during a visit to St. James's Gate (the Guinness brewery) in Dublin, Ireland. The LA Galaxy is continuing their preseason with an eleven day European tour including training sessions in Dublin.
A few members received a tour of the Guinness brewery and learn how to pour the perfect pint of Guinness.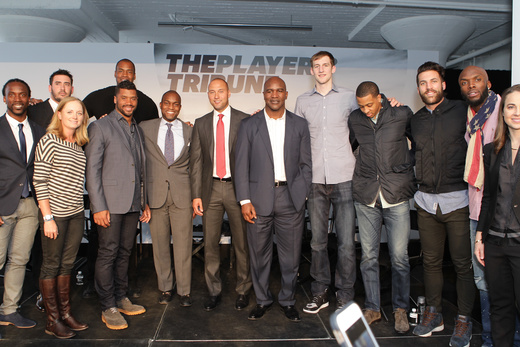 Have you checked out The Players' Tribune? It is a new media platform that shares the voices of professional athletes, bringing fans closer to the games they love than ever before. Founded by Derek Jeter, The Players' Tribune aims to provide unique insight into the daily sports conversation and to publish first-person stories directly from athletes. From video to podcasts to player polls and written pieces, The Tribune will strive to be "The Voice of the Game."
Here are some pictures from this weekend's party and roundtable chat.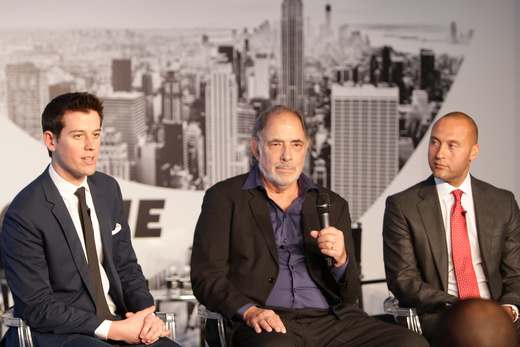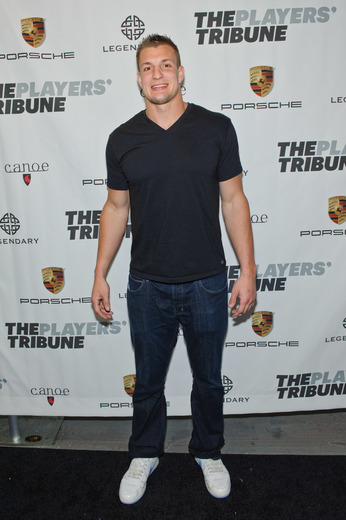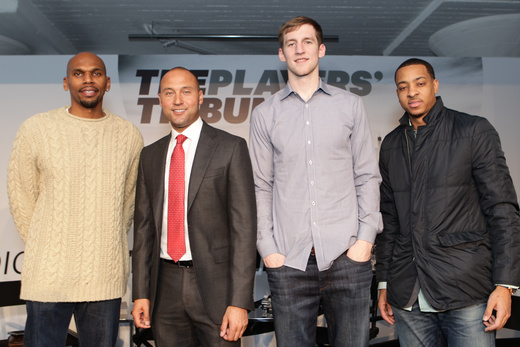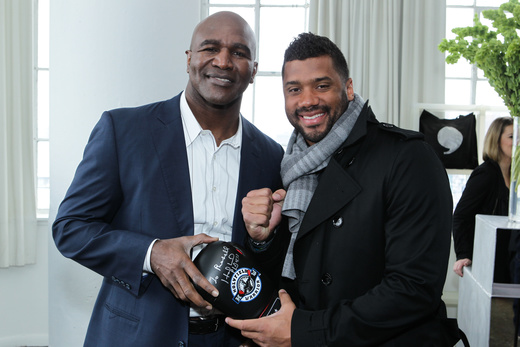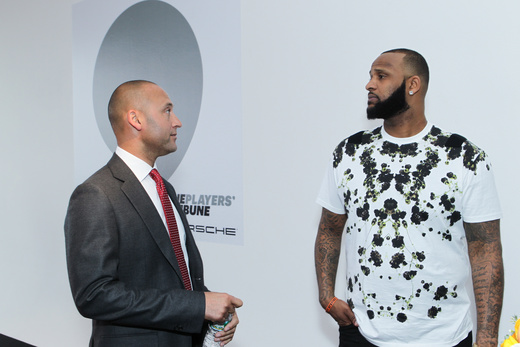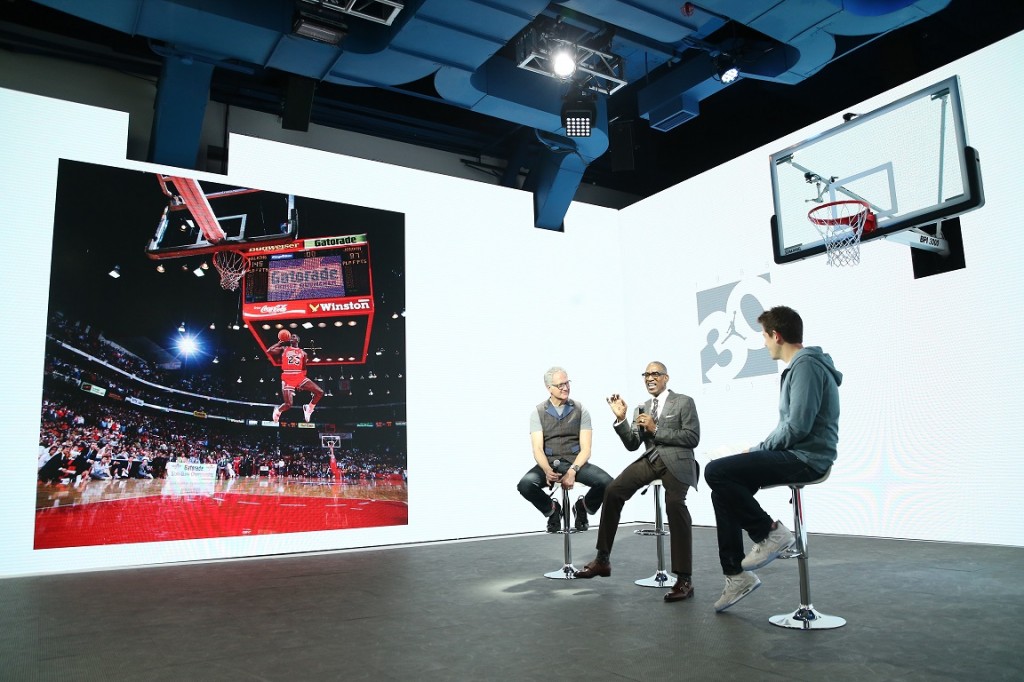 As we come to a close for the NBA All-Star Weekend we take a look at Jordan Brand's celebration of the 30th anniversary of the franchise in New York City.
Famed footwear designer Tinker Hatfield and Jordan Brand's Howard "H" White were on-site for the exclusive unveil, and Jordan Brand athlete Carmelo Anthony stopped by to visit the space prior to Pearl Pavilion opening to the public.
Jordan Brand's experiential space for All-Star Weekend, Pearl Pavilion showcases 30 years of the brand, highlighting epic and defining moments throughout MJ's career and providing the opportunity for fans to step into his shoes to emulate some of Jordan's iconic last shot moments.
Plus here is MJ and his friends that showed up for Jordan Brand's 30th Anniversary celebration last night in New York City for All-Star Weekend.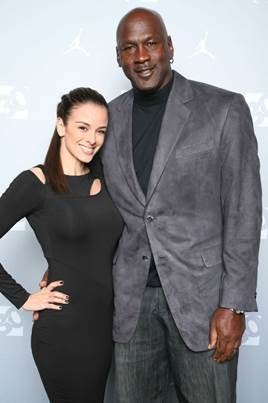 Michael and Yvette Jordan attend the Jordan Brand 30 Years of Greatness Celebration on Friday, Feb. 13, 2015 in New York.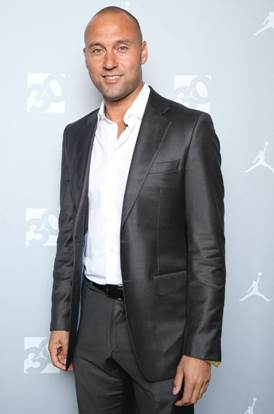 Derek Jeter attends the Jordan Brand 30 Years of Greatness Celebration on Friday, Feb. 13, 2015 in New York.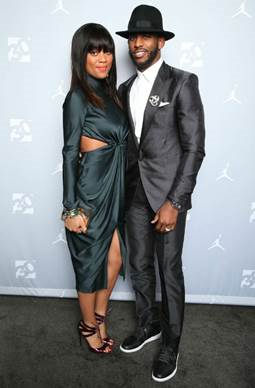 Chris and Jada Paul attend the Jordan Brand 30 Years of Greatness Celebration on Friday, Feb. 13, 2015 in New York.
Nicki Minaj attends the Jordan Brand 30 Years of Greatness Celebration on Friday, Feb. 13, 2015 in New York.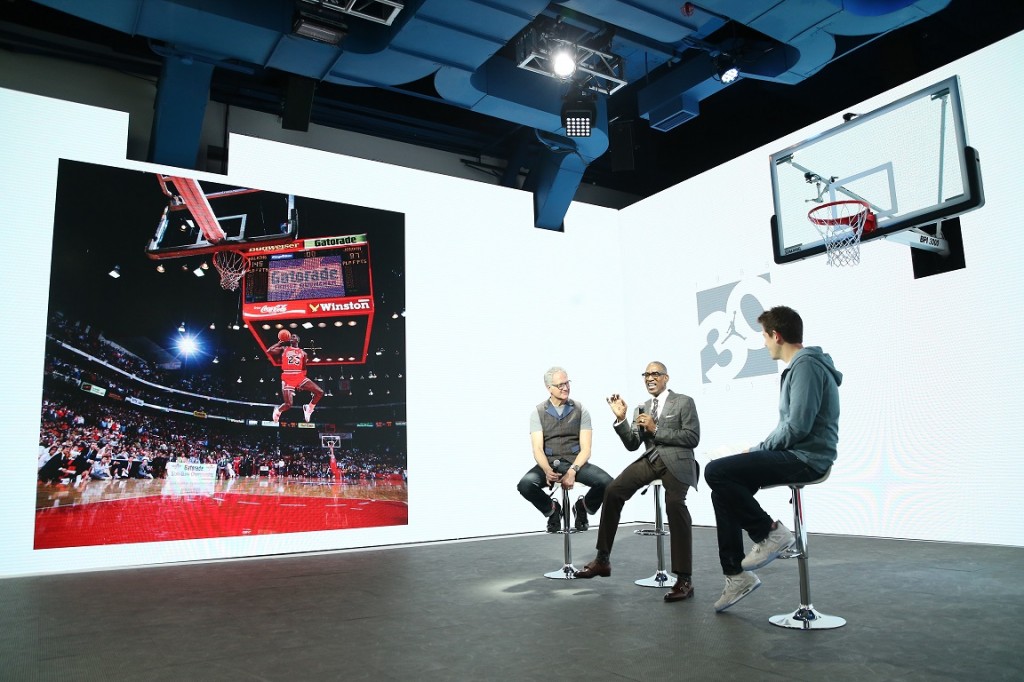 Today, the Jordan Brand celebrated its 30th anniversary, opening its NBA All-Star Weekend experience at Pearl Pavilion across the street from Madison Square Garden. Two of Michael's oldest friends and colleagues in the business, famed footwear designer Tinker Hatfield and Jordan Brand's Howard "H" White took part in a Q&A session, telling never-heard-before stories of the three decades since the launch of the Air Jordan I.
In addition, Jordan brand athlete – New York Knicks All-Star Carmelo Anthony – attended the event, checking out the venue's Hallway of Greatness , a collection of Walter Iooss Jordan photos, and an interactive experience where fans can emulate several of Jordan's greatest shots ever.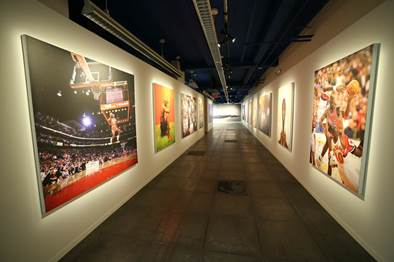 Sports photographer Walter Iooss' iconic imagery of Michael Jordan on display at Pearl Pavilion, New York City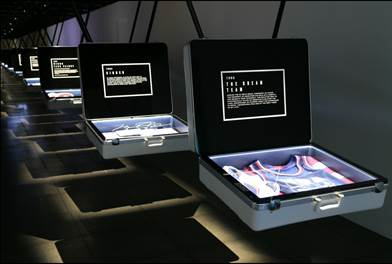 Fans have an opportunity to relive 30 years of the Jordan Brand's history at the Hallway of Greatness in Pearl Pavilion, New York City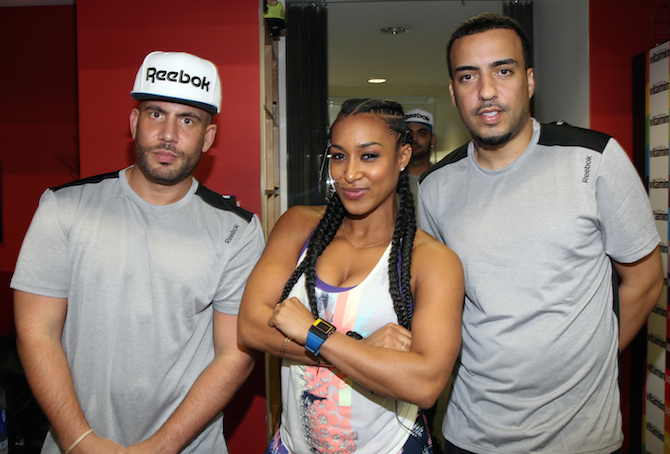 Last night, Reebok staged a high profile workout event at the Reebok Lounge in West Hollywood, California. Renowned rapper French Montana hosted the event along with fitness trainer Lita Lewis and DJ Drama on the decks.  Celebrities, influencers, and fitness and music industry executives were invited to partake in the boot camp style workout at the CrossFit box attached to the Lounge space.  Fusing fitness with music, the evening highlighted the Reebok Lounge and its combined lifestyle and fitness capabilities.
Post workout, guests mingled and received gift bags including Reebok fitness and Classic products.  Invitees were encouraged to post #breakyourselfie photos to their Instagram accounts, supporting Reebok's current social media campaign which inspires people to share images of themselves post-workout and showcase their achievements.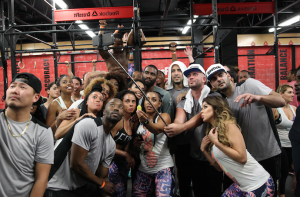 To bring friends of Reebok together and treat them to an experience fusing two sides of the brand; fitness and music. French Montana is a friend of the Reebok brand and a fitness enthusiast thanks to his discovery of CrossFit. He regularly trains at the Reebok Lounge location and wanted to host an event bringing some of his industry friends and contacts together to experience his favorite workout.
Guests wore apparel and footwear from Reebok's men's and women's collections, including Studio, Yoga and CrossFit apparel and ZCut TR sneakers for women and CrossFit apparel for men paired with Nano 4.0 sneakers.
The Reebok Lounge is a seeding space welcoming celebrities, influencers, media and tastemakers to experience Reebok's unique point of view on both fashion and fitness. It is located on LA's Melrose Avenue. The Reebok Lounge has an adjoining CrossFit box which features a program of fitness classes throughout the week.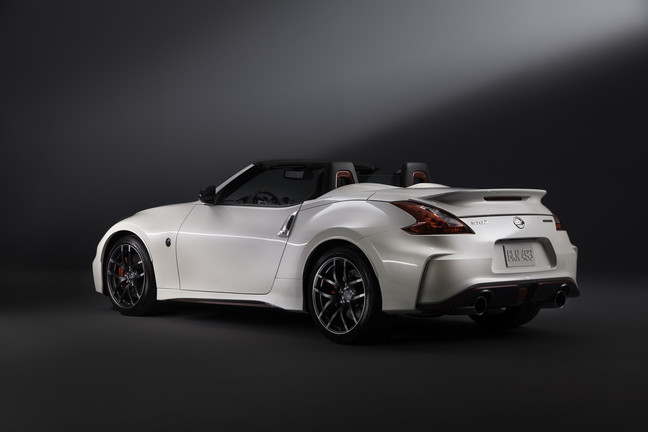 Nissan today unveiled two exciting new executions of its "Innovation that Excites" philosophy at a press conference at the 2015 Chicago Auto Show – the Nissan 370Z NISMO Roadster Concept and the GT-R LM NISMO race car.
The Nissan 370Z NISMO Roadster Concept is designed to provide the best of two worlds – the open-air driving exhilaration of a standard 370Z Roadster and the racing-inspired style and performance of a 370Z NISMO Coupe. It offers unique engine, suspension, exterior and interior features versus standard Nissan 370Z Roadster models – including a 350-horsepower 3.7-liter V6 and NISMO-tuned suspension.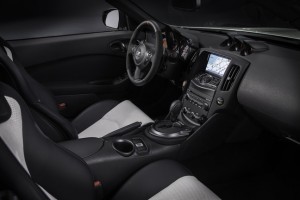 "While the 370Z NISMO Roadster Concept is just a performance study at this point, you can see its potential as a production model," said Fred Diaz, senior vice president, Nissan Sales & Marketing and Operations U.S., Nissan North America. "First, we've injected all the performance equipment from a 370Z NISMO Coupe. Inside, since the interior is on display whenever the top is down, it features the full NISMO treatment, as well as a few special custom touches."
The Nissan 370Z NISMO Roadster Concept's striking visual presence starts with the addition of GT-R-inspired functional and fully integrated aerodynamic body pieces, including a custom carbon-fiber rear spoiler created exclusively for use on the 370Z NISMO Roadster Concept. Inside, the NISMO-styled interior is just as stunning, anchored by black Recaro® seats with custom off-white Ultrasuede® inserts."
The 370Z NISMO Roadster Concept would join the current Nissan 370Z NISMO coupe model, expanding the NISMO lineup to five models, if approved for production.
The GT-R LM NISMO, which will take on the best in the world in the race to glory at the Le Mans 24 Hours later this summer, was created by a team of carefully selected experts in Japan, the United States and Europe. Unlike other LM P1 cars, the GT-R's 3.0-liter twin-turbo V6 gasoline engine sits in the front of the front-wheel-drive car, while the hybrid power is harvested from the front driveline to augment acceleration.
"This is the first time in 16 years that Nissan will be competing at the top class at Le Mans, though it has been a tour-de-force as an engine supplier in the LM P2 class with three wins over the past four years," added Diaz. "This is GT-R taken to the extreme, representing the pinnacle of current racing technology."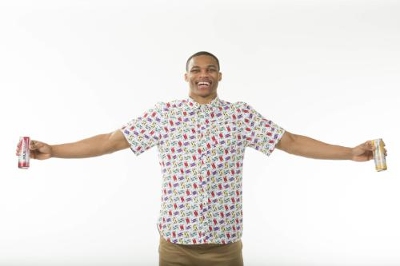 Today, Mountain Dew took a vertical leap and announced a multi-year partnership with basketball all-star and cultural icon, Russell Westbrook.  The partnership with Westbrook, who is known for his creative personality on and off the basketball court, marks the original flavor's first national partnership with a pro basketball player and will tip off an entirely new extension of the Mtn Dew® Kickstart™ "It All Starts with a Kick" campaign.
As the newest member of DEW Nation, Westbrook will be the face of Mtn Dew Kickstart, including the two new bold flavors – Pineapple Orange Mango and Strawberry Kiwi – that fuse an energizing blast of DEW with real fruit juice, coconut water and just the right amount of kick which hit shelves in January 2015. The partnership officially kicks off in New York City as we lead into the hottest weekend in professional basketball and fans will get a first look on February 14 when a new TV commercial airs, starring Westbrook and his buddies.
"Becoming part of DEW Nation just felt really organic and authentic for me," said Westbrook. "The brand is an instigator – it's about creativity and looking at life through your own lens and living it the way you want to live it.  Those are all attributes that are core to who I am."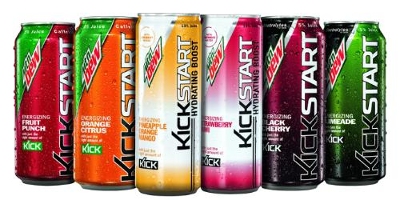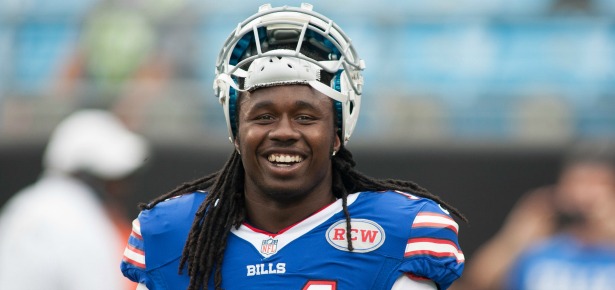 Sammy Watkins just finished up a phenomenal rookie season and along with a stellar defense, is bringing hope back to a weary fan base in Buffalo that is long overdue for a team to be hopeful about. Watkins completed a successful rookie campaign, setting franchise marks for both receptions and yards despite having his starting quarterback benched early in the season and finishing out the year with a solid but unremarkable Kyle Orton.
The Bills gave up quite a bit for the opportunity to move up and select Watkins in the form of two first rounders and a fourth round pick. This along with the successful rookie campaigns of other receivers in what will likely go down as one of the deepest and most talented receiver classes of all time had Watkins coming into the league with even more pressure than usual for first round picks.
Watkins responded by persevering through injuries, quarterback changes, drawing the defenses number one coverage man, and in some cases, entire games of double teams, by repeatedly coming up big for his team when they needed him. His most noteworthy moment according to himself and others was a game winning catch against the Vikings in week seven with the season already on the line with a tough schedule ahead of them.
Last month, Sammy Watkins teamed up with Pepsi to throw an exclusive Pepsi Halftime Show in Rochester, New York. Musical guests Nico & Vinz were on hand to celebrate Rochester, which was named the most hyped town in America after winning Pepsi's "
Hype Your Hometown
" contest.
Sammy sat down with Man Jr. to discuss his transition into the league, the coaching changes and volatility in Buffalo, adjusting to life in his new home, and his work on Pepsi's Hype Your Hometown contest. Check out the audio below:
Audio clip: Adobe Flash Player (version 9 or above) is required to play this audio clip. Download the latest version here. You also need to have JavaScript enabled in your browser.