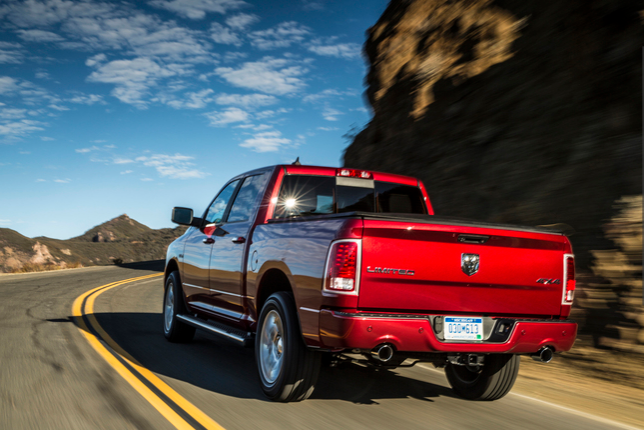 Cars.com just put together a list of tailgate tips to maximize your car for the ultimate tailgate experience This year's favorite is the RAM 1500. The RAM has built in WiFi, and the beverage ready RamBox provides tailgaters with a built in cooler.
Here are some tailgating tips from Patrick Olsen, Cars.com Editor-in-Chief
What's the best way to use storage space for tailgate gear?
Patrick Olsen: Three words: Cover, secure, safety.
Cover: It starts with laying down a good protective cover (tarp, etc.) inside your car. Even the cleanest travel grill will have a lot of grease and grime after tailgating, and you don't want that all over your interior.
Secure: Once you have the tarp down, start by putting in the grill because it usually has the most unwieldy shape. You'll want to put some bracing items around it (coolers are good) to limit any movement while you drive to and from the game. A grill that tips over while you're driving will make for a bigger mess than the Jacksonville Jaguars. Once you have that down, put other things in with the biggest items (folding chairs, coolers, etc.) first and smaller stuff toward the end. Finally, don't leave food or other items to become projectiles in the case of a sudden stop or crash.
Safety: Don't stack anything in your line of sight — especially out the rear or rear-quarter windows — and make sure you store sharp objects like knives or metal tongs in an enclosed container. And, as tempting as it might sound, avoid draping team flags over windows you need to see out of until you get to the tailgate lot. We're all about creating the ultimate fan-mobile, but do it safely.
Tips for conserving battery life?
PO: Be prepared: Have jumper cables or a rechargeable jumping kit on hand. But feel free to leave the engine running throughout the tailgate. When idling, the typical car only consumes about a gallon of gas per hour, so for most cars, a four-hour tailgate would use less than a quarter-tank of fuel, and eliminate the risk of a dead battery.
Be aware: Avoid standing (or having trash bags and other items) within a couple feet of the exhaust to avoid burns or fires. And obviously this is a bad idea if you're tailgating in an area with limited ventilation.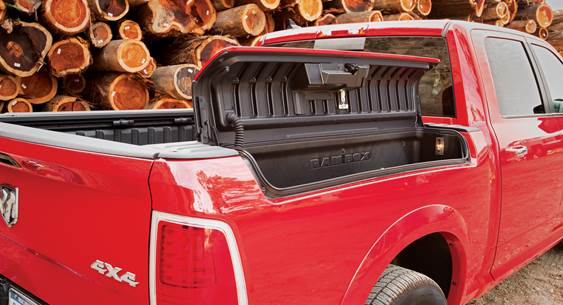 How to maximize rear space for an optimal tailgating experience?
PO: See first question.
Tips for quick clean-up after the tailgate?
PO: Set aside some time: Tailgates often turn into a rush for the gates when everyone realizes the game is about to start, and if you aren't prepared, you might miss kickoff. So keep track of time, and leave yourself 15 minutes just to clean up before heading into the stadium.
Make it a team activity: Don't be afraid to delegate; after all, you planned this shindig, and you shouldn't have to clean up alone. Bring a few trash bags, fill 'em up and identify public trash containers (most tailgate lots have plenty) where you can leave them.
Sound is a key element to any tailgate is there a car with a particularly great sound or multimedia system for tailgating?
PO: Bring your own: While some cars, like GMC's Acadia SUV, have thought about tailgating when designing the factory stereo, by and large, car stereos are designed to fill the cabin with noise, so they don't do a very good job broadcasting music outside the car. Bring along a portable stereo with Bluetooth or an iPod plug-in, and either plug it into a car using an inverter or a factory household-style, two-prong outlet.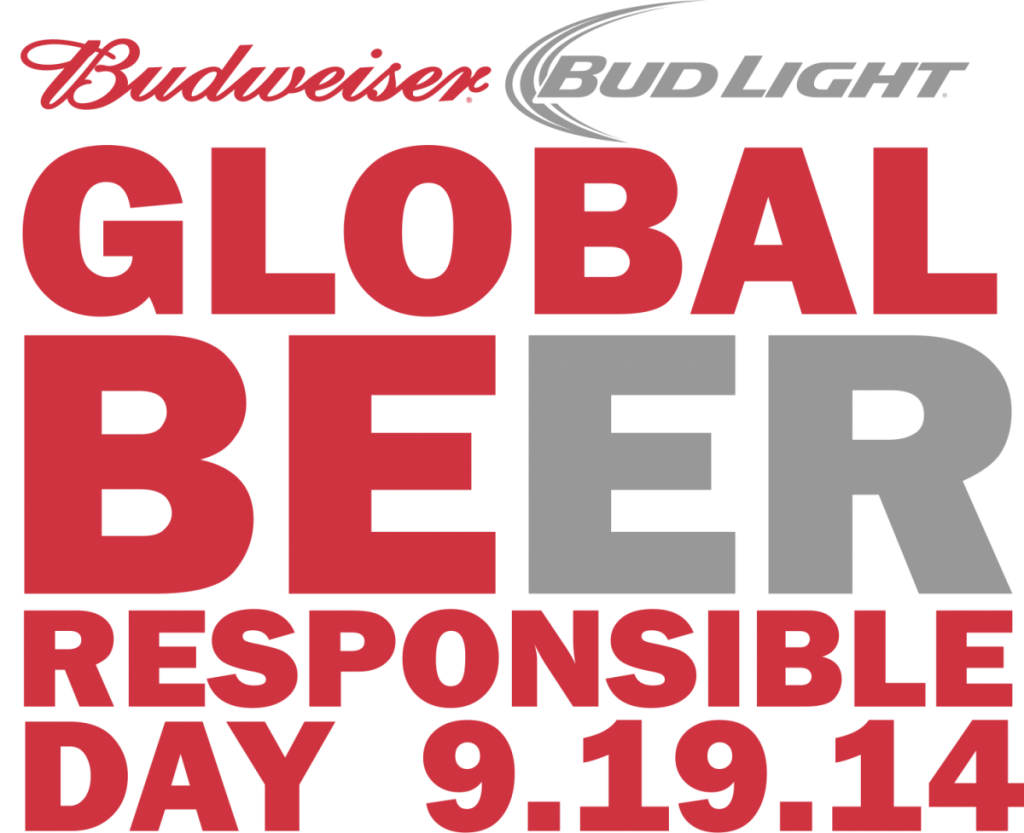 Budweiser today released an exclusive digital video to raise awareness for drunk-driving prevention. Unlike previous spots from Anheuser-Busch's flagship beer brand, the online-only content carries a more emotional tone and portrays how having a plan to get home safe can result in a positive ending.
Anheuser-Busch and Budweiser believe drunk driving is 100 percent preventable when adults make a plan to get home safe. However, lives are still lost in drunk driving-related crashes every year. The "Friends are Waiting" video opens with the deep bond between two best friends—Luke and his dog Cooper—and culminates with Cooper's reaction when Luke doesn't come home after a night out.
Anheuser-Busch is one of the first alcohol companies to widely deliver a responsible drinking message with this tone, and the new video represents an evolution in how the company talks about responsible drinking. Although Budweiser is sharing this message with anyone of legal drinking age, the brand is releasing the video digitally to capture the attention of drinkers ages 21-27, who consume and share content via online news sources and social sites.
"Budweiser has long championed the message to 'designate a driver and enjoy the great times,' but this video goes a step further to reinforce the importance of making a plan to get home safe while showing how our decisions impact those around us," said Kathy Casso, vice president, Corporate Social Responsibility, Anheuser-Busch. "Creating this video to live – and be shared – digitally is an important way to keep the momentum going and reach as many adults as possible."
The launch of the 60-second video is being timed with Anheuser-Busch's 5th annual Global Be(er) Responsible Day on Friday, Sept. 19, a day Anheuser-Busch InBev and 155,000 colleagues worldwide dedicate to promoting responsible drinking worldwide.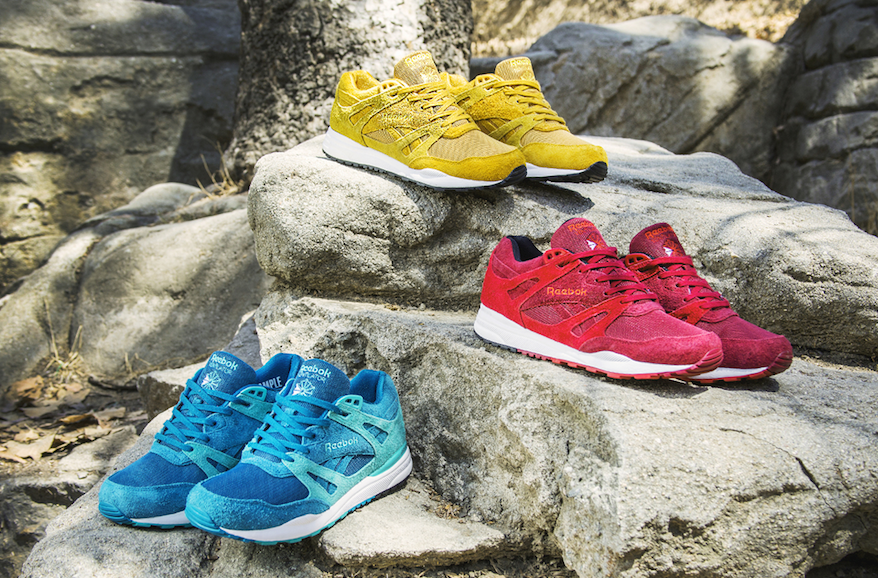 On the heels of the Ventilator "Night Vision" pack release, Reebok Classic introduces the Ventilator "Tonal Ballistic" pack.  Inspired by the outdoors, the rugged suede upper execution on this limited edition pack is sure to become a style statement this Fall.
Born during the golden era of Reebok design and technology innovation, the Ventilator was a game-changing runner when it was first introduced in 1990.  The first Reebok lightweight runner with a focus on breathability, the Ventilator was a bold, expressive silhouette that was years ahead of its time.  Today the Reebok Ventilator remains an extremely versatile, one-of-a-kind sneaker, with the chameleon-like ability to take both clean and bold executions.
Very limited pairs of the Ventilator "Tonal Ballistic" pack are available now at Jimmy Jazz, Urban Outfitters, Bait, Active Athlete, and Reebok.com for $90.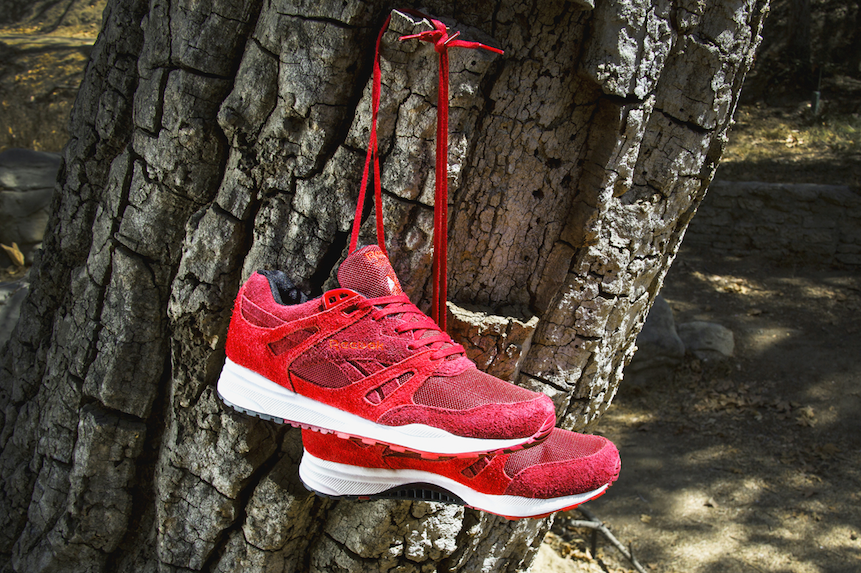 YG and French Montana were seen on the red carpet of the Saturday, 9/20 taping of the 2014 BET Hip Hop Awards this weekend.
Both were wearing the fresh new Ventilator "Tonal Ballistic" sneakers in the cranberry red/excellent red/black/white colorway for $90.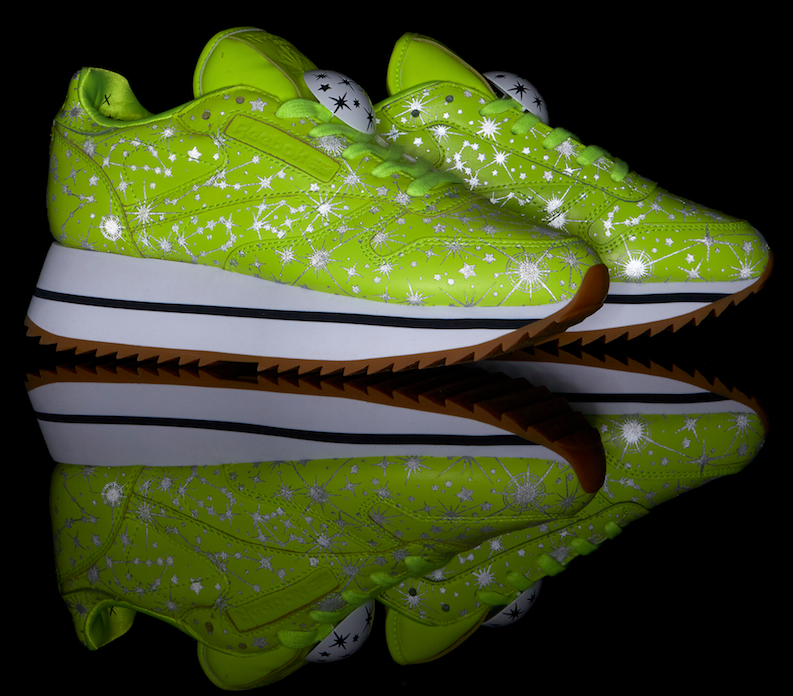 Reebok Classic continues its exclusive partnership and design collaboration with Los Angeles based designer Melody Ehsani with the introduction of the "Constellation Pack" for FW14.
The collection features two models that speak to the Reebok Classic heritage: the Freestyle and the Classic Leather, which are reworked with Melody's signature daring and directional designs.
Inspired by the beautiful and unique patterns of the 12 zodiac constellations and star groups, Melody took influence from the navigational use o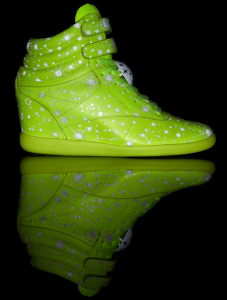 f the night sky and the idea of finding your own path; despite having your feet on the ground, looking up into the endless, unknown universe will guide your every step.
The neon lime full grain leather upper features the constellations printed in reflective 3M graphic for a standout detail that dazzles at night. Debossed logos on the tongue add a subtle Classic detail, while Melody added her own personal touch to the pack with eye-catching jewelry inspired lacelock hardware and a handwritten message hidden on the inside collar.
Reebok's iconic Classic Leather and Freestyle silhouettes are re-interpreted by Melody and updated with a platform midsole and hidden wedge respectively, for two fresh and contemporary designs that are unapologetic, special and multi-dimensional, just like the women who will wear them.
Strictly limited edition, the Constellation Pack will be sold for $149.99 and will launch exclusively at the Melody Ehsani flagship store (424 1/2 N. Fairfax, Los Angeles, CA 90036) from September 19th, and then retail through global fashion retailers from September 26th.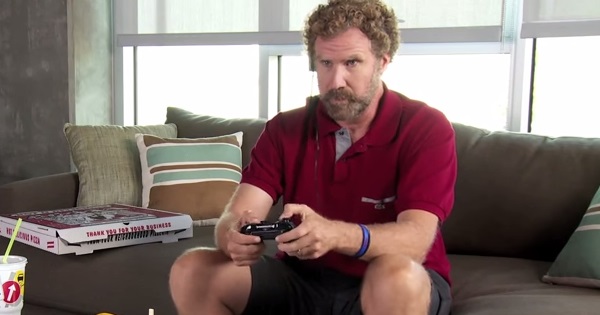 Did you ever want to play video games with Will Ferrell? Well now you have a shot to do so. In order to raise money for children and teens with cancer, Ferrell has set up a two-hour gaming event on 26th October where one lucky person will get an all-expense paid trip to play video games in person with Will in San Francisco.
This event will be streamed over Twitch. The cheapest backer tier is $10, which grants you a $5 Amazon credit and one ticket in the raffle to be Ferrell's game-playing buddy for the evening. Spending $25 gets you two tickets in the lottery along with Twitch Turbo access for ad-free streaming, and spending $50 grants all of the above along with limited edition collector's item Will Ferrell's SuperMegaUVBlastMax Gamer's Sunscreen.
From Will Ferrell:
Hello people of the video game universe…it's your friend Will Ferrell! How would you like to join me for a delightful evening of playing video games together? The only appropriate answer is YES!
I want to throw one of the coolest video game events in the history of mankind, possibly even dating back to the time of the dinosaurs, and I'm extending this challenge to gamers: Raise $375,000 for charity and children with cancer and then I'll host the event on October 26th…..AND, one lucky winner (aka one of you reading right now) could join me for this life altering moment in beautiful San Francisco!


Shiver me timbers! International Talk Like a Pirate Day is tomorrow, September 19th and Captain Morgan Rum Co. is sailing into uncharted waters by challenging adult consumers across the U.S. to channel their inner buccaneer, raise a glass of Captain & Colaaarr and talk like a pirate – all for a good cause.
In addition to raising a glass of Captain & Colaaarr, Captain Morgan is encouraging its convoy of fans to share their celebrations on social media. For every tweet using the #CaptainandColaaarr hashtag, the brand will donate $1 to charitable organizations, including NYC's City Harvest and Purple Heart Homes. Adult fans can also visit www.CaptainandColaaarr.com or the brand's Facebook page to complete the Captain and Colaaarr Challenge and show off their toast.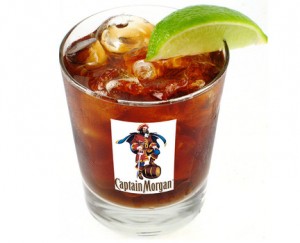 Captain and Cola
Cola is the perfect accompaniment to Captain Morgan Original Spiced Rum. Why? Because the mix accentuates the vanilla notes naturally produced during the maturation process to create a LEGENDARY MIX!
Ingredients
1.5 oz. Captain Morgan Original Spiced Rum
6 oz. Cola
1 lime slice
Preparation
Add Captain Morgan Original Spiced Rum and cola in ice-filled pint glass and garnish with lime.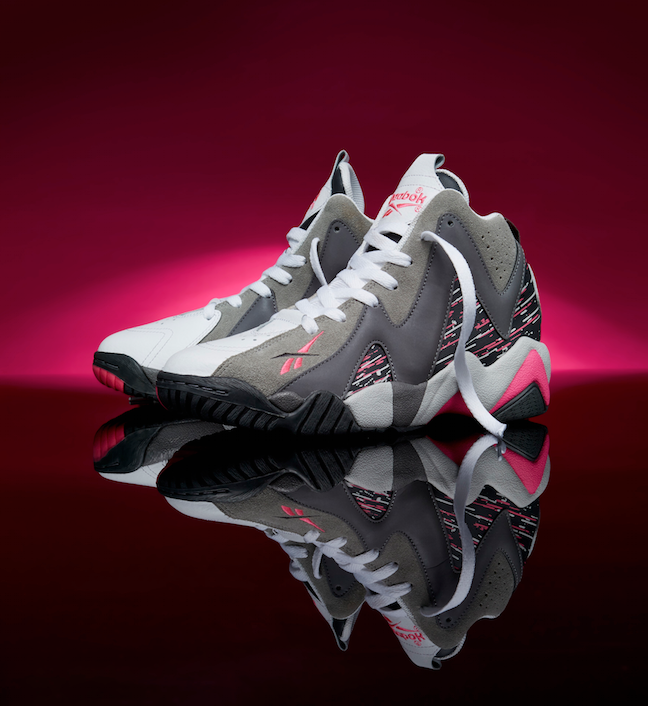 Reebok Classic delivers a sneak peek of the kicks Isaiah Thomas will be rocking for a cause when he steps back on the court this October. A perennial favorite among players both on and off court, the Kamikaze II Mid will be dialed up with hits of pink on its distinctive zigzag design in support of Breast Cancer Awareness month.
Limited pairs of the pink/grey Kamikaze II will hit stores on Friday, October 3rd at Finish Line, Jimmy Jazz, Champs, Eastbay, DTLR, Shoe City, Reebok.com for $110 for Men's Adult sizing. Grade school sizes will retail at $85 and Pre-school sizing will retail for $50.
A portion of the proceeds for every pair sold will be donated to the Avon Breast Cancer Crusade.  Reebok is proud to be national sponsor of the Avon Walk For Breast Cancer and will donate a minimum of $300,000 through pink ribbon product sales to support access to care and to help find a cure for breast cancer.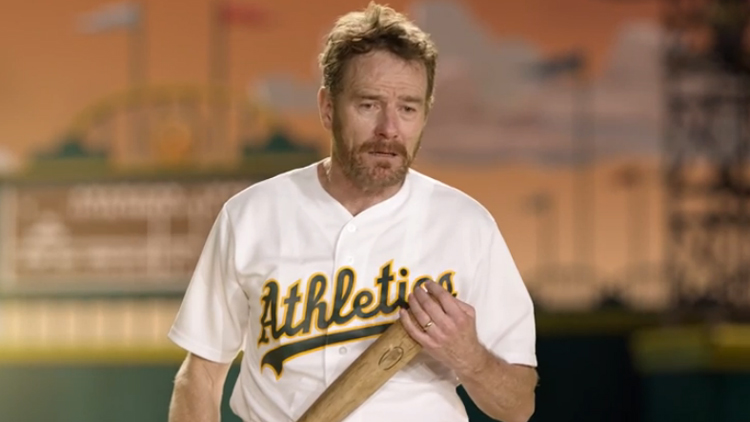 Looking for a new challenge in his career, actor Bryan Cranston of Breaking Bad puts on a one-man recreation of the MLB Postseason in this new commercial for MLB on TBS.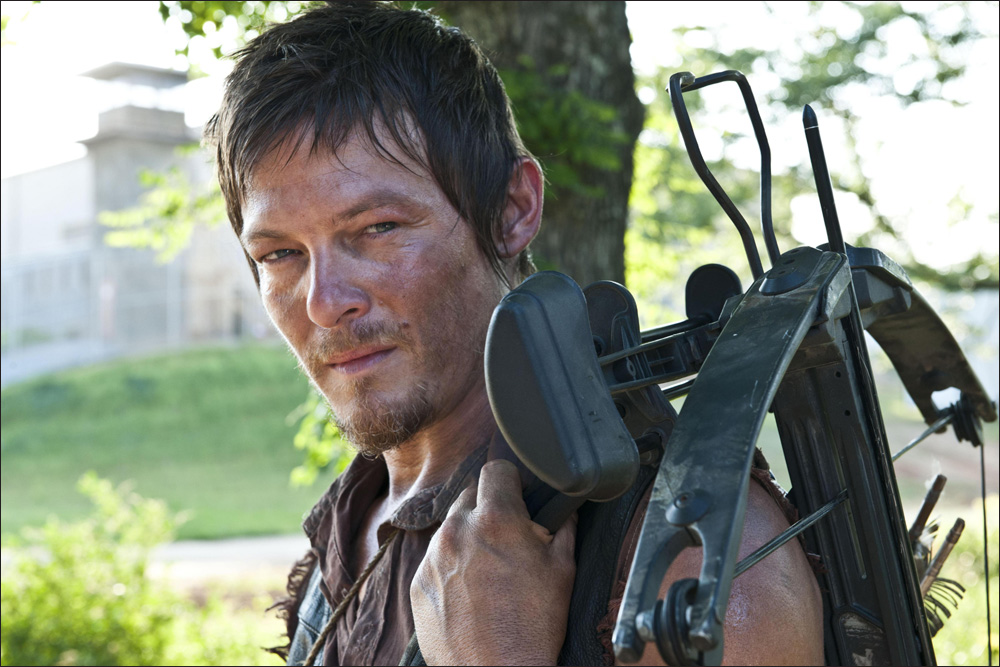 Norman Reedus, made famous by his role on THE WALKING DEAD, as the loveable, complicated survivalist Daryl Dixon, has become the object of insanely devoted fandom from around the world. The Daryl/Norman archetype has already approached a near-mythical status in the collective consciousness of pop culture. THANKS FOR ALL THE NICENESS is Norman's way to show his gratitude in a compilation of sometimes hilarious, sometimes sinister, but always fascinating artwork made by his fans. This is not your average display of fan artwork.
Created in every thinkable medium, the Norman/Daryl archetype is captured in tattoo designs, cakes, pencil sketches, mosaics, chalk drawings, digital art, and even children sketches from his youngest fans. And Norman's fans aren't your average fans. With over 3,000 submissions from all over the world—Japan, Spain, Mexico, England, Australia, Italy, Hungary, Brazil, Austria, Indonesia, the US—it was no small feat for Norman to select the 100 pieces that will appear in this beautifully designed book. It's real art made by real people for real people.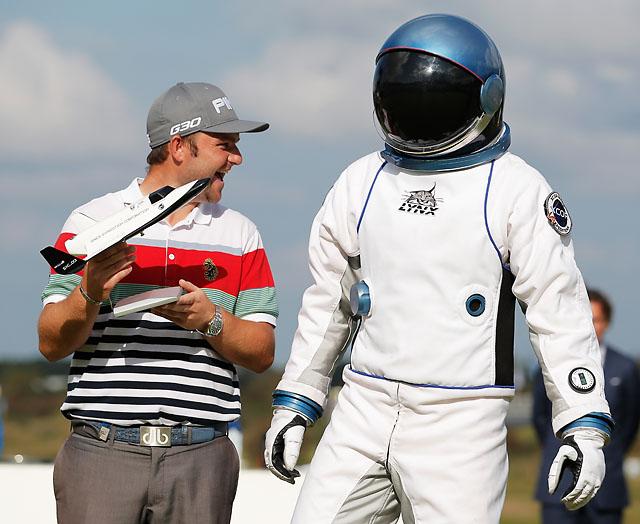 I have never hit a hole-in-one on the golf course, but many golfers have accomplished it. Yet European Tour player Andy Sullivan's hole in one this past weekend means a bit more than ones in the past. After making a hole-in-one on the 163-yard 15th hole at the Kennemer Golf & Country Club in the KLM Open, Sullivan could be blasting off into outer space.
As part of a promotion at the Amsterdam tournament, XCOR Aerospace offered a space flight to the first player to make an ace on the 15th hole. Sullivan aced the 15th on Sunday and ended up shooting a final-round score of 67.
XCOR Aerospace is an Amsterdam-based company that will offer trips to space for the public starting late in 2015. The trips cost between $95,000 and $115,000.
According to the company's website, space tourists will travel on the Lynx Mark II, a two-seat piloted space transport vehicle. Total flight time is 62 minutes, and at the highest point, travelers will experience five to six minutes of weightlessness.
'I'm not sure yet," Sullivan said of joining a XCOR space flight next year. "I'll see what the missus says!"