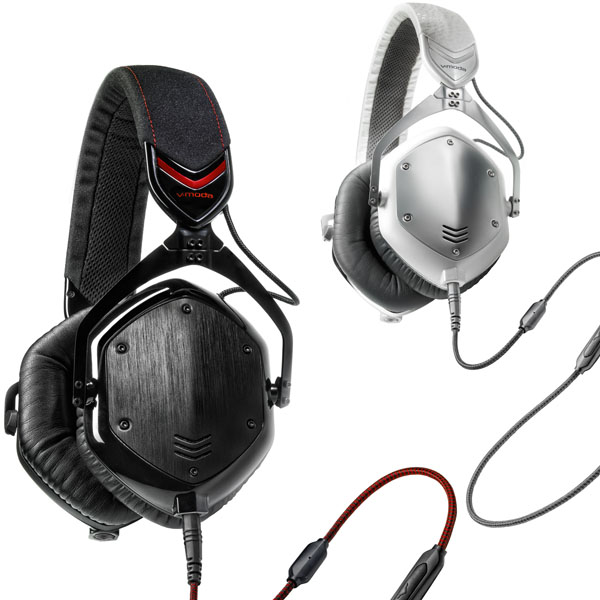 There's been a lot written about the V-MODA Crossfade M-100 over-ear headphones, and most of the reviews have been glowingly positive. This review is no different. These headphones are fantastic. V-MODA is the number one brand of headphones on Amazon for a reason. These things don't get the pop cultural attention that you see with Beats by Dre or other popular brands of over-ear headphones, but they have become a favorite for DJs and audiophiles all over the world.
The thing I like the most about the Crossfade M-100s is that they feel pretty much indestructible. When you have a pair of Beats by Dre headphones in your hands, you get the feeling that with a little bit of force, you could completely crush the plastic that makes up the overall structure. They're not super flimsy, but they don't feel completely study either. Not so with the Crossfade M-100s. These things were built to withstand a nuclear attack. You can drop, twist, stomp, smash, bite, punt, pass or kick these things and they'll be just fine.
This superior durability has been tested to the max. The V-MODA Crossfade M-100 headphones have a STEELFLEX headband and steel frame with interchangeable aircraft grade metal shields. The headband can be bent flat 10 times over without an issue. Theese headphones can survive 70-plus drops on concrete from six feet up, which is 10 times the industry standard. The kevlar reinforced cable and 45-degree plug can bend over 1 million times, which is 100x the industry standard. The traveling case that comes with the Crossfade M-100 is equally sturdy, but more compact than the cases that come with other higher end over-ear headphones.
You get the idea. You can abuse the shit out of these headphones and they just keep on ticking. But anyone can make extra-military-grade durable headphones. Okay, not anyone, but most governments and corporations with means can get the job done. But V-MODA pairs the rugged construction of the Crossfade M-100s with some superior quality sound output.
The best way to describe the sound that these things put out is unmuddied. Highs, kids and lows are crisp and distinct. The lows come in like they're supposed to, rich and warm, loud but not overbearing. Each area of the sound spectrum has room to exist where it should, like a well organized closet. It's quite remarkable actually. I'm a big fan of the low end of the sound spectrum. I listen to music with boom boom and I want to hear that boom boom. But it's refreshing for the boom to have a place that's distinct with room to spare, where clear highs and easy to hear mids can co-exist in the same headphone sound party.
If you've had bad experiences with low quality materials housing what should be top-of-the-line headphones, the V-MODA Crossfade M-100 headphones will be a welcome addition to your personal sound situation. You get the sturdy structure without any compromise in sound quality. I highly recommend these.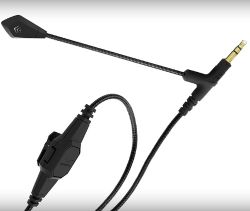 And if you like gaming or podcasts or Skype calls or just super easy voice recording, you can pair these headphones with a $30 BoomPro mic that features a steel flex arm and plug and play simplicity. The mic got the the same rugged, battle-tested qualities that distinguish the headphones from other options in the market, with quick mute and volume controls built-in and easy to access. An all around good combination of quality sound and durability, just like the headphones themselves.
And if all this quality and function wasn't enough, you can now take advantage of the world's first 3D printed personalized wearable technology in the form of custom printed shields for your M-100s. Material options include stainless steel, plated raw and precious metals. These shields run anywhere from $200 on up to $40,000 so you got plenty of range to express yourself.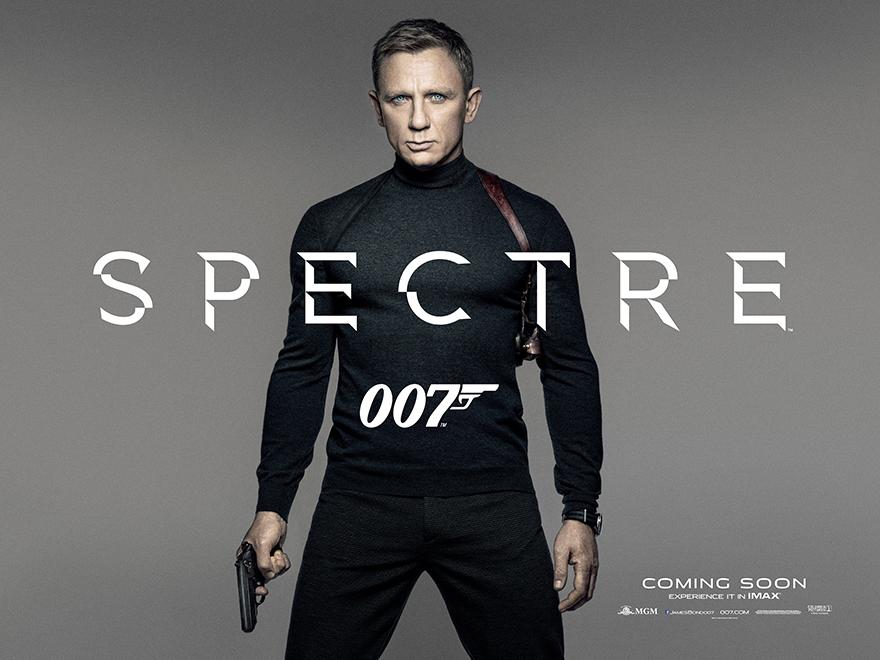 Here at MANjr we can't wait to see the new James Bond film, "Spectre." What are your thoughts? Are you digging this new film?
A cryptic message from the past sends James Bond on a rogue mission to Mexico City and eventually Rome, where he meets Lucia Sciarra (Monica Bellucci), the beautiful and forbidden widow of an infamous criminal. Bond infiltrates a secret meeting and uncovers the existence of the sinister organisation known as Spectre.
Meanwhile back in London, Max Denbigh (Andrew Scott), the new head of the Centre for National Security, questions Bond's actions and challenges the relevance of MI6, led by M (Ralph Fiennes). Bond covertly enlists Moneypenny (Naomie Harris) and Q (Ben Whishaw) to help him seek out Madeleine Swann (Léa Seydoux), the daughter of his old nemesis Mr White (Jesper Christensen), who may hold the clue to untangling the web of Spectre. As the daughter of an assassin, she understands Bond in a way most others cannot.
As Bond ventures towards the heart of Spectre, he learns of a chilling connection between himself and the enemy he seeks, played by Christoph Waltz.
"Spectre" comes out in the US on November 6, 2015.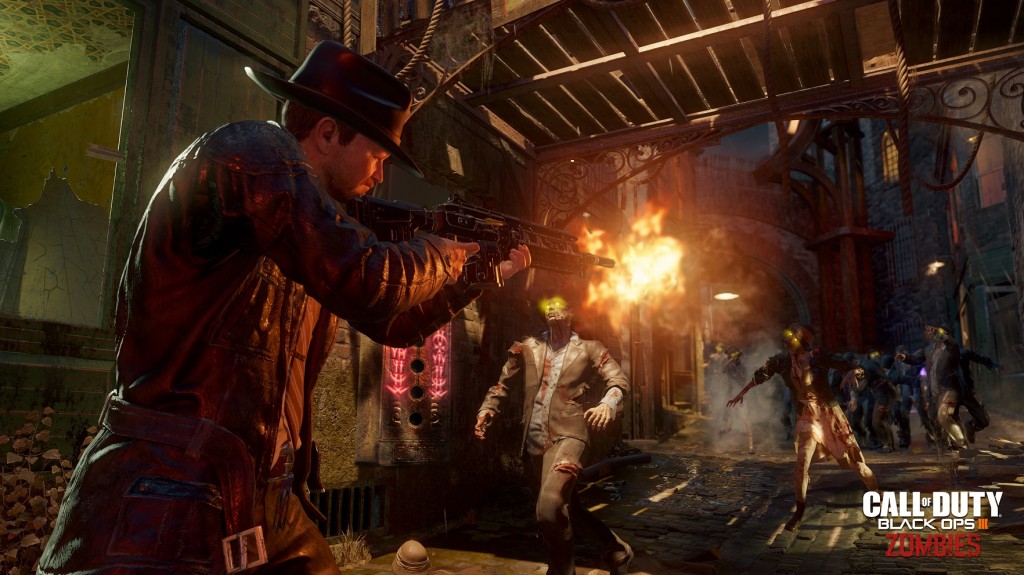 The next installment of Call of Duty looks to be epic. Treyarch, the creators of Call of Duty Zombies is back with, Shadows of Evil, the all-new undead survival co-op mode launching on November 6 with Call of Duty: Black Ops III. Shadows of Evil made its world-wide debut at San Diego Comic-Con. Players are introduced to an all-star cast of characters, including Jeff Goldblum, Heather Graham, Neal McDonough, Ron Perlman and Robert Picardo.
"Treyarch has crafted a totally unique and face-melting gameplay experience for our loyal Zombies community, with Call of Duty: Black Ops III: Zombies – Shadows of Evil" said Mark Lamia, Studio Head, Treyarch. "The development team has packed Shadows of Evil with more gameplay and fun than any other experience before it, and has an appropriately twisted and deep narrative, performed by fantastic acting talent, that will keep our fans spinning."
Call of Duty: Black Ops III: Zombies – Shadows of Evil drops players into a recognizable yet terrifyingly unfamiliar world, as they uncover the secrets and challenges laid out for them by a shadowy figure, who holds their fate in his hands.  Set in a 1940's film-noir era, Shadows of Evil introduces four unwitting characters – The Magician, The Femme-Fatale, The Cop and The Boxer – into an unraveling experience masterminded by the mysterious Shadow Man. Featuring voices and likenesses, the characters are played by Jeff Goldblum (Jurassic Park, Independence Day), Heather Graham (The Hangover 1-3, Californication), Neil McDonough (Captain America: The First Avenger, Band of Brothers), Ron Perlman (Sons of Anarchy, Hellboy) and Robert Picardo (Star Trek: Voyager, Stargate SG-1).
Activision Blizzard launched an exciting campaign with charity fundraising platform Omaze, which gives Call of Duty fans a chance to become a zombie in Call of Duty: Black Ops III.  This effort will raise money for the Call of Duty Endowment, a non-profit organization founded by Activision Blizzard CEO Bobby Kotick, which funds best-in-class nonprofits helping veterans find good jobs after their service.
Activision Blizzard is also matching each donation dollar for dollar up to $1,000,000.  Starting today, and running through August 31, 2015, fans can enter by donating $10 or more to the Call of Duty Endowment via Omaze for a chance to be zombified at Treyarch and appear in Call of Duty: Black Ops III DLC.  The winner will also have their name immortalized in a Zombies mode level, have lunch with Treyarch Studio Head Mark Lamia, and receive a behind-the-scenes tour of the studio behind the game.  For more information, fans can visit omaze.com/callofduty.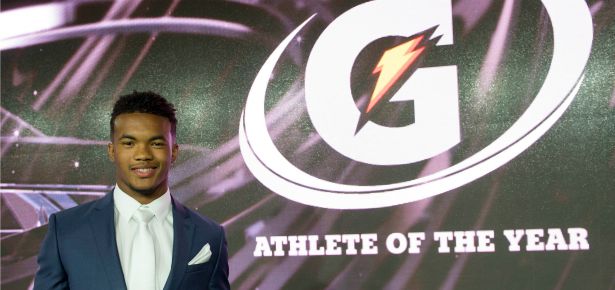 A day before the ESPYs, Gatorade held its High School Athlete of the Year Awards in Downtown Los Angeles. The awards show was packed with the top athletes of today celebrating the achievements of young athletes primed to be the future stars of tomorrow. Gatorade has been honoring high school athletes for the past 30 years, and there are some pretty big names among the past honorees. Names like LeBron James, Dwight Howard, Candace Parker, Allyson Felix and Kobe Bryant. And that's just the Gatorade Male and Female High School Athlete of the Year honorees. Previous Gatorade National Player of the Year winners include names like Peyton Manning, Derek Jeter, Emmitt Smith, Clayton Kershaw, Chris Weber and Alonzo Mourning. It's distinguished company to be in, for sure.
State Player of the Year awards are given to student athletes in 12 sports: boys' baseball, boys' football, girls' softball, girls' volleyball, boys' basketball, girls' basketball, boys' cross country, girls' cross country, boys' soccer, girls' soccer, boys' track & field, and girls' track & field. The students in each category are recognized for individual and team achievement, academic achievement and character and community service. From the pool of state players, Gatorade awards 12 students with National Player of the Year honors. From this pool of 12 athletes, one male and one female are selected to receive Athlete of the Year awards.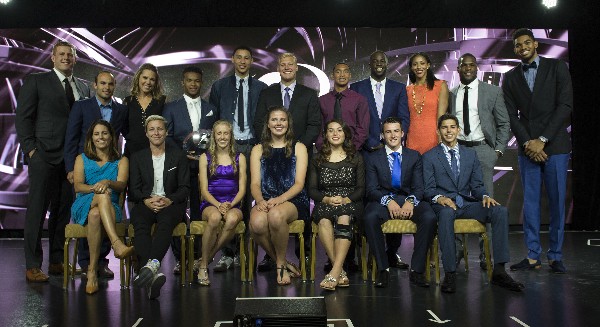 Candace Hill was named Female High School Athlete of the Year. She was the first sophomore to take home the honor and the youngest athlete to ever win the Gatorade National Player of the Year award. She's the first high school female athlete to run a sub-11 second 100-meter dash. She's basically the fastest woman under 20 years old. Oh, and she has a GPA of 4.61. I can't even imagine. Candace was competing at an event and was unable to attend the awards, but by all accounts she definitely deserves all the accolades.
Kyler Murray won Male High School Athlete of the Year honors. The starting QB for Allen High School, Murray led his team to three straight state championships. The guy has never lost a game as a high school quarterback, going 42-0 in his career. In Texas no less. That's crazy talk. He threw for more than 4,700 yards, 56 touchdowns and ran for nearly 1,500 yards and 25 scores. Murray is on his way to Texas A&M where he says he's going to get some time on the field no matter what. Murray had a very quiet confidence about him. His acceptance speech was mellow and humble. But the dude knows he's got what it takes to ball at the next level. Keep your eye on him.
Hannah Storm hosted the awards and gave a heartfelt tribute to Stuart Scott, who had previously handled hosting duties for the event before he passed away this year. His daughters were on hand and gave their dad a great tribute as well, something they would do again at the ESPYs.
After the awards ceremony, we got a chance to talk to a few of the presenters that were on hand. We asked JJ Watt about his role as a tight end. DeMarco Murray talked about the recruiting efforts of Sam Bradford to get him to Philly. Karl-Anthony Thomas chimed in on  Kevin Garnett, and Abby Wambach talked about her experience as a Gatorade Athlete and her upcoming downtime following her World Cup Victory. Here's the video: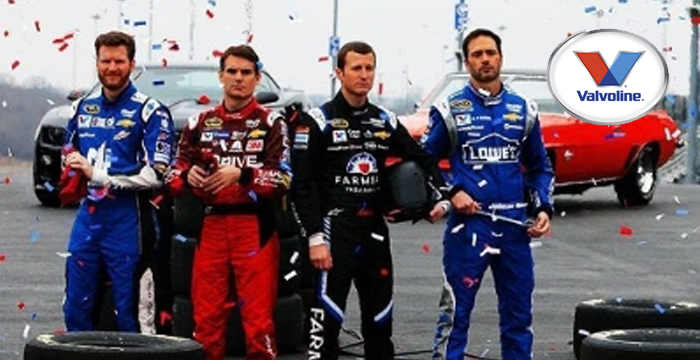 What do you get when you put four of the best drivers in NASCAR together to see who is the best? Well Valvoline decided it was high time for a showdown between these drivers. In an epic battle of driver supremacy it came down to this crazy race for the ages.
Visit www.ValvolineUndertheHood.com to watch as Dale Earnhardt Jr., Jeff Gordon, Kasey Kahne, and Jimmie Johnson go head to head in a race – with a twist – to determine the grand prize winner of a new car. It's an intense neck-and-neck battle to the finish that you won't want to miss!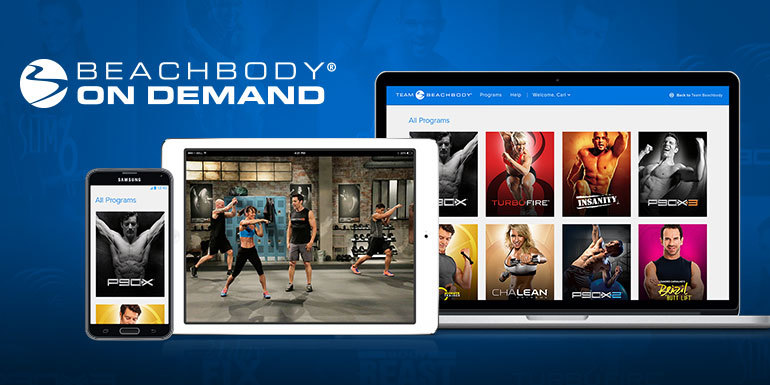 One of the oldest excuses in the book about not exercising is that you couldn't make it to the gym. Well that excuse if pretty much extinct with Beachbody on Demand. From the makers of P90X, Insanity, and many of the country's most popular fitness DVDs over the past 12 years, Beachbody announced the official launch of Beachbody On Demand.
Now you have the ability to customize a workout, anytime, anywhere, and on any device right from the comforts of your own home. Beachbody On Demand is available to anyone with a connected device, from mobile phones and tablets to desktop and laptops, as well as on TV's through streaming devices like Roku players, Amazon Fire TV and Google Chromecast.
You can actually test drive this program for free! Beachbody is inviting everyone to start the service's free 30-day trial by joining in the "Beachbody Super Workout," a one-hour live event led by some of the country's most popular celebrity trainers. More than 20,000 people will be participating in the "Super Workout" held in the streets of Nashville, and streamed live at BeachbodyOnDemand.com this Saturday, July 18 at 6 a.m. CST. This event is part of the company's annual "Coach Summit," Beachbody's yearly gathering to introduce its latest products and offerings.
While in its beta period the free trial give you the company's extensive library of comprehensive programs and workouts, as well as a sampling of Beachbody's newest fitness products. After the initial trial, you can sign-up for continued access to a member library valued at more than $3,000 at an introductory cost that equates to $2.99 a week. As part of the subscription, you will also have access to personalized meal plans, exclusive Q&A access to celebrity trainers, discounts on future purchases, and sneak previews of fitness programs as they are introduced.
If that doesn't motivate you I don't know what will. Check it out now at BeachbodyOnDemand.com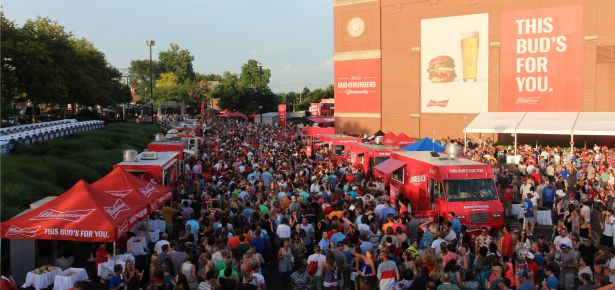 Our pals at Budwesier shipped us to St Louis this past weekend to attend the Bud and Burger Championships held at the storied Budwesier brewery. We first told you about this competition back in April after we attended the launch event hosted by Chef David Chang. Since that time, amateur chefs have been competing at festivals around the country for the chance to battle it out in the finals.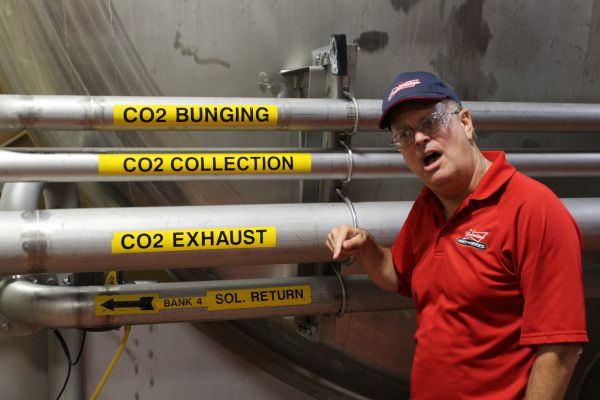 Before the burger action kicked off, we got a grand tour of the Budweiser Brewery from our old friend Brewmaster George Reisch. I met George in LA and we talked for a long time about Kolsch, Austrian vs. German beer, yeast, beechwood aging, all kinds of stuff. George is a fifth-generation brewmaster. His family started brewing beer in the mid 1800s in Springfield Illinois. George also served as the President of the Master Brewers Association of the Americas from 2008-09. Believe me when I say you will never meet a guy who has more passion or knowledge for the art of making beer. Having this master craftsman lead the Budweiser Brewery tour with all his enthusiasm and wisdom was a real treat.
Back in the mid-1800s, German immigrants came pouring through St. Louis and they brought their tasty lager beer with them. Lager is a crafted brew that takes time to make. It needs to rest and chill out. Back in the days before refrigeration, that required a cool dark place to store beer. This is why many lager breweries had underground faults.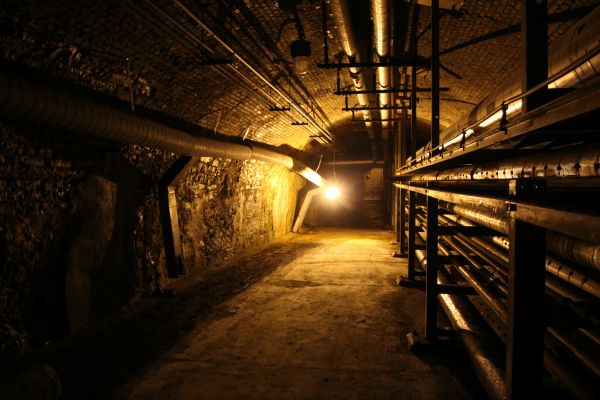 Sampling ice cold Budweiser straight from the source, visiting the Clydesdale stables and seeing beechwood aging and big beer science in action was cool, but I was really digging our visit to the vaults underneath the Budweiser Brewery. Just one of the many perks of having Brewmaster George as your tour guide. As George explained, German immigrants would seek out areas where they could carve vaults out of limestone. This area of the brewery hasn't been used for ages and back in the day, there wouldn't have been any pipes in fault. When I showed George the photo of the vault, he sent me anold advertising tin from the 1870s that shows the vaults as they were originally used.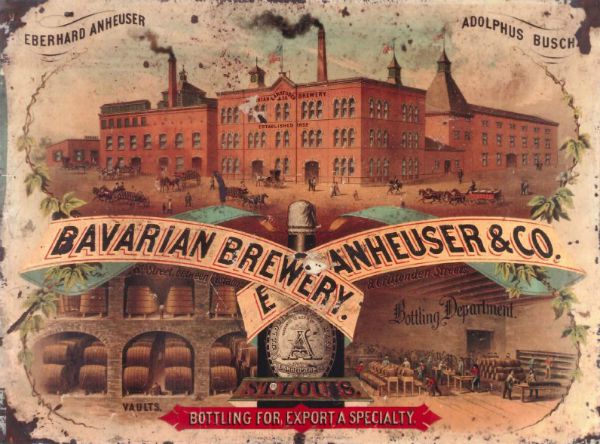 The Bud and Burger Championship wouldn't be complete without the burgers. The finalists and their food trucks lined up to get samples out to everybody and the folks who attended had some serious options to choose from. BBQ pulled pork with bacon in one corner. Smoked bacon with brat sausage in another. Ground veal with a special mesquite steak sauce next to a truck serving burgers with Portobello mushrooms, red onion relish and garlic herb aioli. You get the idea.
In the end though, the people voted and it was the Angie Burger that came out victorious. The creation of Angie Bos, the Angie Burger featured glazed bacon with provel cheese and caramelized onions. Here's the recipe:
The Angie Burger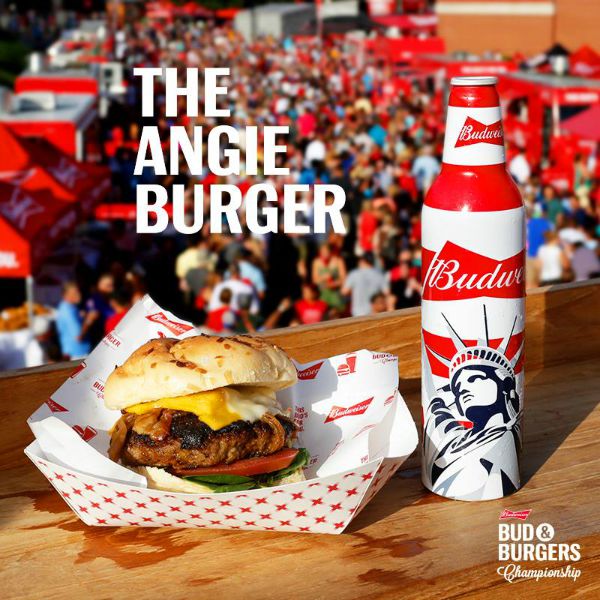 Glazed Bacon, Provel Cheese, Caramelized Onions.
Type of Bun: Onion Bun.
Prep time: 15 minutes.
Cooking time: 20 minutes.
INGREDIENTS
2 lbs. ground beef.
1 lb. ground pork sausage.
8 oz. shredded cheddar cheese.
3 oz. crumbled bacon.
1 egg, beaten.
Seasoning salt: mix salt, pepper, garlic powder, onion powder, minced garlic.
Slice of American cheese.
Slice of Provel cheese.
2 stripes glazed bacon (glaze is 1:1:1: ratio of brown sugar, maple syrup and honey).
Caramelized onion (1/6 of a sliced onion, cooked in 1 tbsp sugar and 2-3 oz. Budweiser).
Fresh spinach for topping.
Tomato slices.
METHOD
ONION
Head skillet to medium heat. Add in butter or oil, then sliced onion. Stir in sugar and Budweiser. Cook until the Budweiser is reduced and the onions are soft.
GLAZED BACON
Heat oven to 400 degrees. Lay out bacon strips on parchment paper or greased rack on baking sheet. Combine brown sugar, maple syrup and honey in a bowl. Bake bacon for 15-20 minutes until it reaches desired crispness. Every 5 minutes, flip and glaze the bacon. (If using a rack, remove bacon to cook so it doesn't stick.)
BURGER
Combine ground beef, ground pork sausage, shredded cheddar cheese, crumbled bacon, egg and seasoning mix. Shape into 8 oz. patty. Put a divot in the center of the patty. Cook patty in skillet over medium-high head. Add a little Budweiser. Flip and cook the other side (flip only once). Place slices of American and Provel cheese on the patty, then cover skillet so cheese melts.
BUN
Assemble the burger: bottom bun, patty with cheese, glazed bacon, caramelized onions, spinach, sliced tomato and top bun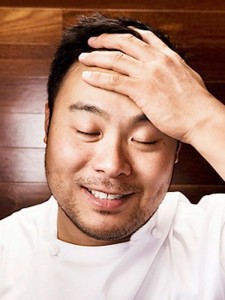 Chef David Chang
Angie took home a check for $100K and will also get the chance to star in a new cooking show that will appear on Esquire. Chef David Chang helped judge the competition and he was also present for a few of the different festivals where amateur chefs battled it out to get the the championship. Part of the reason that Chang signed up was that he wanted to be inspired.
"It was enlightening in ways that I never thought it would be," Chang told me. "I wanted to do it partly to get inspired. As a professional I sorta get stuck in my own ideas or the people I'm surrounded with. It's like being stuck in high school with the same kids your entire life," he said.
"I surround myself with the people I know and it doesn't really change. It gets homogenized. More importantly, even as a professional you get stuck with the ideas that you think you already know. Sometimes wisdom isn't necessarily the best thing," Chang said.
Chang explained that some of the recipes he saw were things that he would never do, but that's a good thing.
"You can learn from anything," Chang said, "and it's stupid to say that you can't."
True learning and growing as a chef comes from the mistakes you make as well as the wild ideas you see from others.
"The real discovery isn't knowing how to do it. The discovery is in fucking it up. Fucking up so hard is something I do less and less and less, even though that's how I know I'm going to learn," Chang said.
All of us can relate to that, especially in the kitchen. So if you want some burger inspiration to get your creative culinary juices flowing, check out the full list of the final Bud and Burger Championship recipes at www.budweiser.com/recipes.html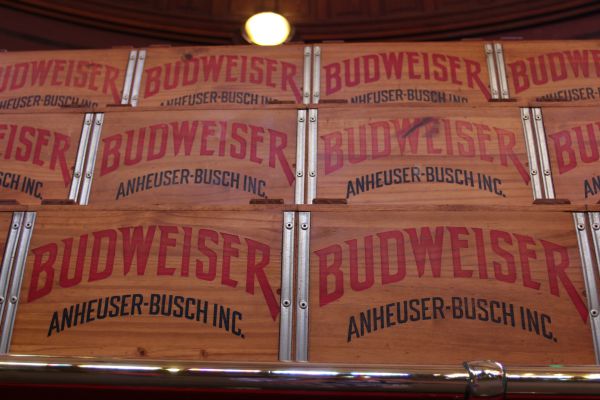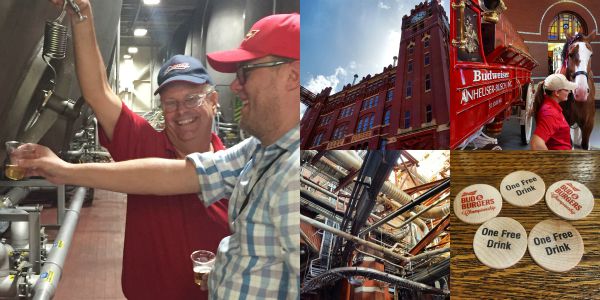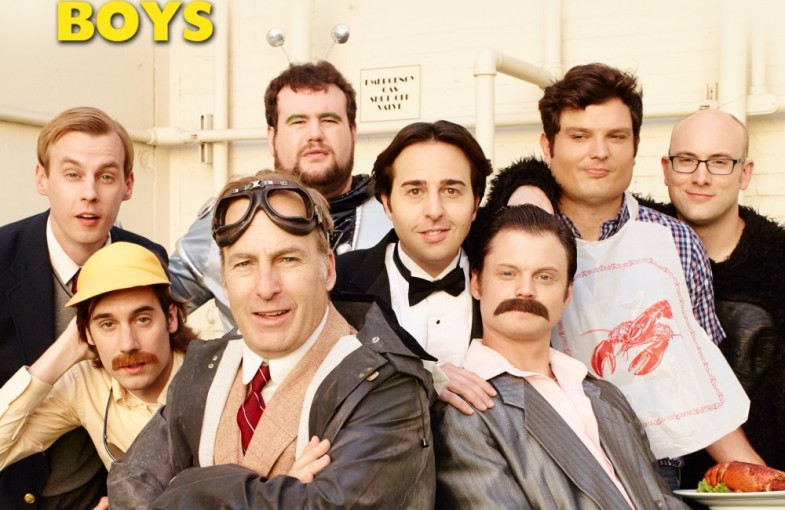 Originally from Dayton, Ohio, David Ferguson has been an L.A.-based comedy writer and performer since graduating from Ithaca College in 2006. His work with "The Birthday Boys" out of the Upright Citizens Brigade Theatre has included a long-running monthly sketch show as well as a number of festivals and live shows across North America. "The Birthday Boys" had Bob Odenkirk and Ben Stiller as the executive producers.
The group's sketch TV show "The Birthday Boys" is Executive Produced by Bob Odenkirk and can be found on Netflix. Dave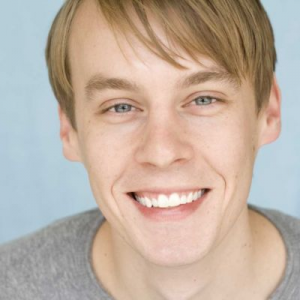 has also appeared in programs like "The Office," "Children's Hospital," and "Conan." He has written as a staff writer for Funny or Die, the MTV Movie Awards, and all seasons of "IFC's Comedy Bang! Bang!"
Mike and I spoke with David about his show, his work as a writer, the time he did a scene naked, and which shows he would love to see back on the air. Listen to the interview HERE!
Follow Dave on Twitter at @DaveTheFerg and keep up with his crew @theBirthdayboys.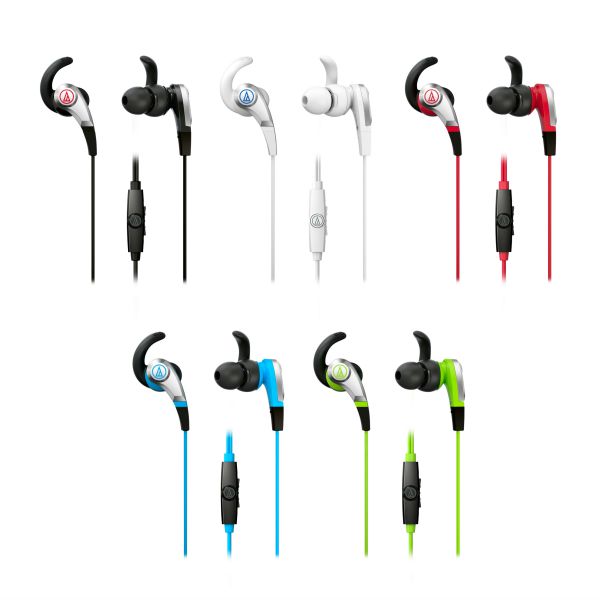 If you use headphones, and let's face it who doesn't, you got options. I'm not talking about brand or sound quality or color fashion statement options. I'm talking about the different types of headphones that are out there. Do you go in-ear buds or on-ear buds? If you go full phones, do you rock the on-ear, small on-ear or go full around-the-ear? What if you want more stability from ear clips or a neck wrap? You get the idea.
For me the choice usually boils down to small buds or big headphones. Earbuds are quick and easy, but sometimes you want that extra ear-enveloping music enjoyment experience. But if you're working in the office or working out, you may not want to go full-on Colin Kaepernick with a massive set of over-ear headphones resting on your dome. There's a time and place for each option.
Setting aside ear clips and neck wraps (because seriously why would you want to do that), there's an interesting new addition to the headphone selection mix – Audio-Technica's fully customizable SonicFuel Headphones. They're not big, expensive headphones. But they're not your run of the mill earbuds either. Sure, they're in the ear bud family, but these things are made for maximum stay-in-place-ability without going clinging to your outer ear like some old school hearing aid device.
These buds do not budge. They derive their stability from an extra little rubber strip that follows the contours of your outer ear along the auricle, providing a subtle but sturdy flap that keeps the actual earbud firmly in your ear canal. That probably sounds less comfortable than you would expect, but these things rest nice in your ears without being to invasive. Jogging will not jar them loose. Nor will a hefty pat on the back from an over-eager coworker. When you put these on (or in?), you need to apply a small degree of force to get em out. Not a lot of force. Just a little, but tug nonetheless.
And most, importantly, these SonicFuel Headphones actually sound good. Solid lows, quality highs and the I'm-not-going-anywhere quality of the ear tip inserts provide a sort of design-based noise cancellation effect which is always nice. The headphones also feature in-line volume and mic controls so you can use em with your smartphone while your driving (if you're into that sorta thing). I prefer speakerphone, personally. There's also a bunch of different tip options so you can get a perfect fit for your specific ear type.
My one big knock on these is that despite the super sturdy construction of the ear tip and supporting c-tip that holds these things in place so nicely, the actual audio cord feels a bit weak. I haven't had any issues with the review unit I received, but holding the cord in your hand or wrapping the headphones up for storage or transport, you just feel like the thin cord might not make it through conditions that come close to extreme. I haven't abused mine so I haven't had any issues, but I'm interested to see how the SonicFuel Headphones hold up over time.
Top of the line over-the-ear headphones these are not. They're buds with benefits. If you value quality sound and in-ear stability over rugged durability, you'll dig these.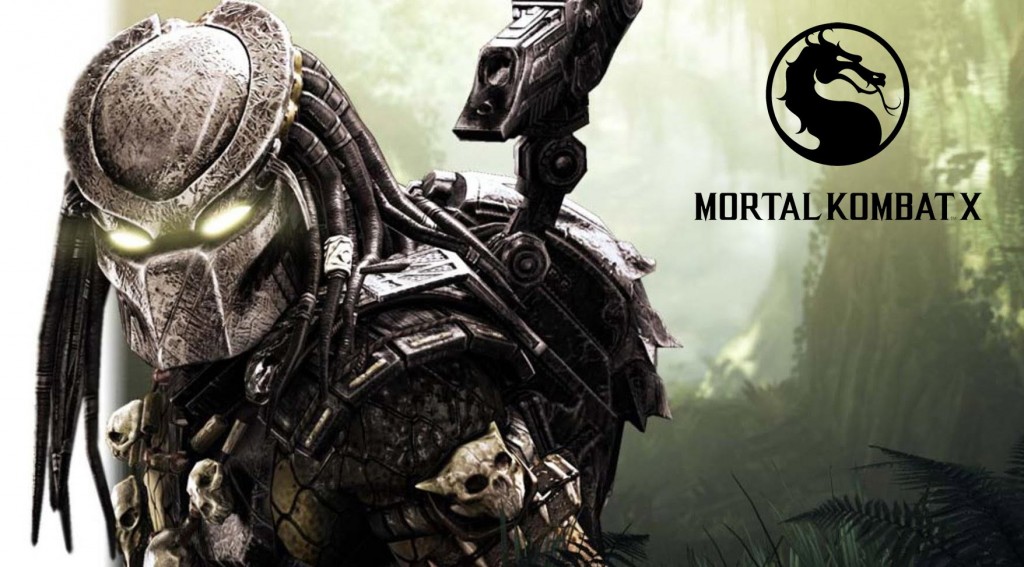 The latest Mortal Kombat X downloadable content is fantastic. For those like me who are a big fans of the Predator movies we just got a new character to play. The Mortal Kombat X: Predator / Prey adds three new character skins. One is so awesome. You can play the character of Jax, but in the style of Carl Weathers as he appears in the Predator movie. Plus there is a commando-style Johnny Cage, and an infrared Scorpion.
The DLC has been available since last week for anyone who owns the Kombat Pack season pass, but is now available to everyone! Enjoy!