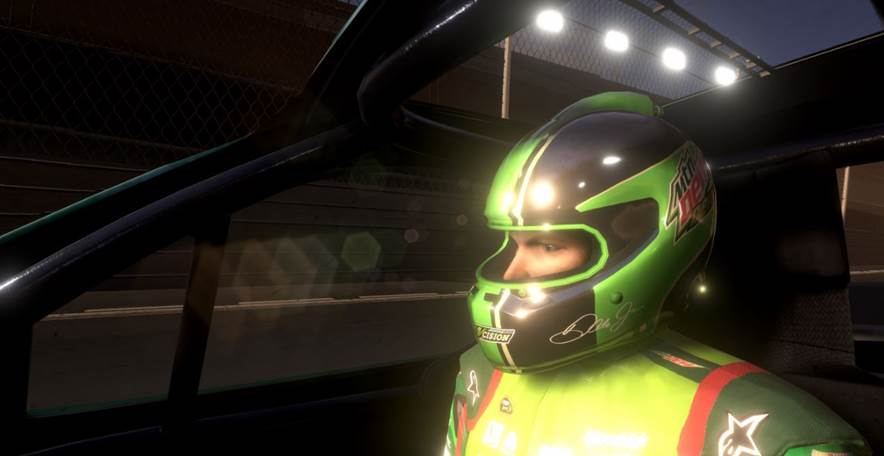 MTN Dew has been known to mix things up! Thankfully they are not mixing Dale Jr and dancing cat. Let's first take a look at the virtual reality NASCAR stuff.
The new VR content on YouTube360 is part of the DEWcision 2016 campaign, giving fans the power to choose which of their favorite limited-time flavor stays on shelves. The VR experience puts fans in the virtual driver's seat next to three of NASCAR's most popular drivers – Dale Earnhardt Jr., Kasey Kahne and Chase Elliott – where they can race through worlds powered by Baja Blast or Pitch Black. Depending on which path a fan chooses in the VR experience, their vote will also be counted to help determine which flavor wins DEWcision 2016.
New Hardware and Software: DEW is one of the first brands to use the new Oculus Rift VR headset and developer kit to transport fans to a choose-your-own adventure gamified VR racing experience. Firstborn developed the experience using Unreal gaming software for VR. After putting on the VR headset, the viewer is seated and given an Oculus-enabled steering wheel. The steering wheel is linked to the VR world, allowing viewers to steer their chosen car on the racetrack.
Shazam Partnership: The brand is also excited to announce a unique partnership with Shazam, where Mountain Dew becomes the very first brand to launch a VR campaign on the popular app – giving fans the opportunity to experience exclusive VR content when they scan Pitch Black or Baja Blast bottles using Visual Shazam. Once the bottle is scanned, fans will be able to view the VR content within the app and choose to vote on their favorite beverage as part of DEWcision 2016.
New VR Hub: In addition, the brand is launching a first-of-its-kind dedicated VR hub at MountainDew.com/VR that features all of DEW's VR content in a way that's playable straight from your mobile phone.
And now for the dancing cat. In celebration of DEW's new Kickstart commercial, which features a twerking cat, DEW is launching a mobile site extension called "Kitty Wop."  Kitty Wop is a shareable, customizable mobile experience showcasing the star character from the spot. Fans can customize their own Kitty Wop video to "Wiggle Wop," choosing from a variety of dance moves, backgrounds, and memes with text overlay options like "Meow or never" and "Do that Wiggle Wop."