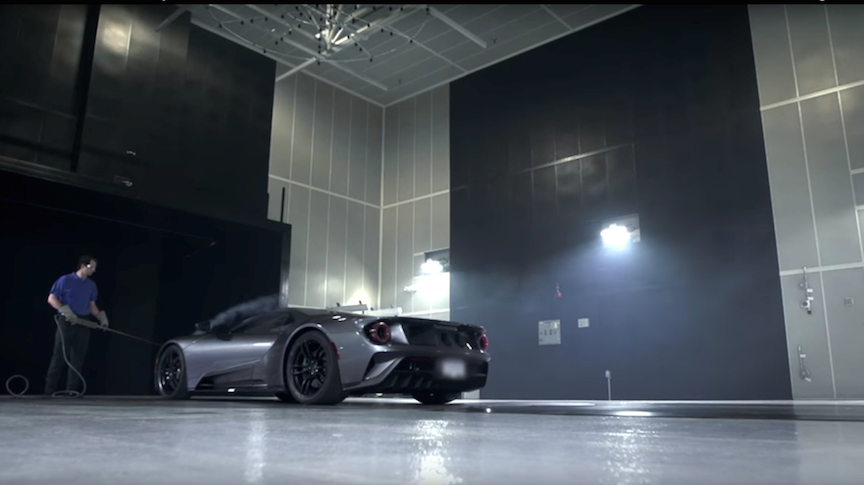 The Ford GT has been going through some serious testing. Ford is not messing around when it comes to design and development for the GT. The all new Ford GT is expected to go on sale before the end of this year. An innovation showcase in efficient EcoBoost engines, lightweighting and aerodynamics, the Ford GT is a study in functional design and active airflow management.
Ford engineering supervisor Nick Terzes takes us behind the scenes at Wind Tunnel 8 in Allen Park, Michigan, where a Ford GT pre-production verification prototype undergoes wind tunnel testing. The footage is of just one of multiple sessions to prove out the extensive computer aided aerodynamic models with physical wind tunnel data, at airspeeds approaching 125 mph (200 km/h).
Part of working on a program with compressed timing, Terzes and the Ford GT engineering team were in the Allen Park facility in the early a.m. hours of a Monday, demonstrating the non-stop nature of vehicle development. "Being the GT program," Terzes said, "we effectively test 24/7."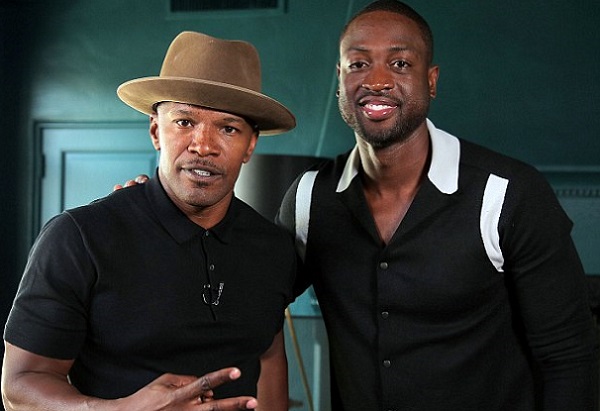 The stars from the entertainment world and sports world were out in full force earlier this week. Mercedes-Benz and Variety Magazine brought them all together for a star studded night. Variety's Sports Entertainment Summit showcased some of the most noteworthy voices in sports and media in Los Angeles for a full-day of discussions about the state of the industry. The event included keynote speeches from Kobe Bryant and Dwyane Wade, as well as appearances from Jamie Foxx, Hannah Storm, and many more.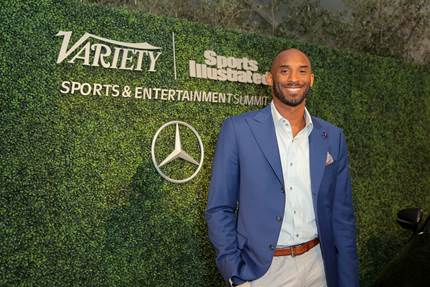 As a presenting sponsor, Mercedes-Benz displayed a new 2017 S-Class Cabriolet outside the Vibiana in Los Angeles for athletes and celebrities to check out upon arrival.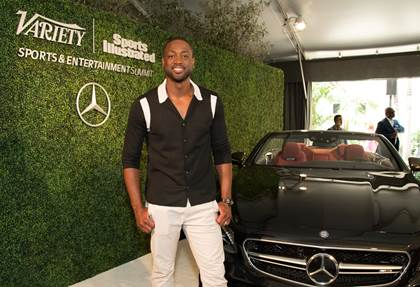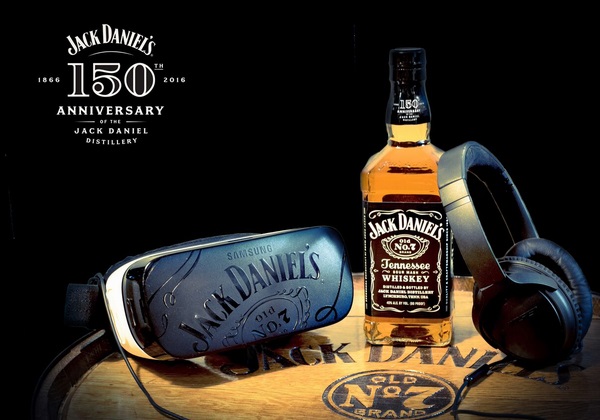 Never shy of innovation the Jack Daniel Distillery is always looking for the next best thing. Recently they partnered with FCB/RED and The Mill to create a fully immersive 360-degree virtual reality experience that artfully displays the timeless craftsmanship of America's first registered distillery.
This new technology transports fans of Jack Daniel's to sensory rich locations on the hallowed grounds of the distillery. From the blazing inferno being stoked at the rick yard, where sugar maple ricks are burnt down for use in the whiskey's charcoal mellowing process to flying over the rolling hills of Lynchburg to the top of the barrel house with Master Distiller Jeff Arnett, this new technology provides a vital tool to give consumers a better perspective of the craft that goes into making Jack Daniel's.
This year marks the 150th anniversary of the Jack Daniel Distillery, America's oldest registered distillery. "We all have our anniversaries. They allow us to honor the important events in our lives and to ensure the lessons of the past are not forgotten," says Jeff Arnett, Jack Daniel's Master Distiller. "This new technology is a way for us to celebrate the Jack Daniel Distillery with fans everywhere and bring them closer to Lynchburg. The 360 degree video experience will allow Jack Daniel's consumers a chance to "visit" the rick yard, see the cave spring hollow and feel as though they are right there in Lynchburg where each batch of Jack Daniel's Tennessee Whiskey is crafted, and has been for 150 years."
Co-directed by The Mill's Bowe King and Rama Allen, the VR component was produced to digitally manifest one of Jack Daniel's favorite phrases turned distillery mantra: 'Every day we make it, we'll make it the best we can.' Today friends of the Jack Daniel's family of brands can experience the VR component via YouTube 360 and Facebook 360 versions. The Gear VR Goggles will be available for consumers at special Jack Daniel's events and activations this summer including Lollapalooza, Life is Beautiful, Chicago Open Air and numerous other venues world-wide.
The visual style of 'mixed time' was developed for the content where moments slow down and time seems to stands still. The highly stylized, cinematic visuals combine with ambient surround sound. This style of film borrows from the visual language of cinemographs, allowing viewers to linger in moments of mixed time. Combining real-time and frozen elements in one shot, the mixed time film technique was developed by The Mill specifically for the Jack Daniels VR Experience.
To learn more about Jack Daniel's and the new 360 degree experience, follow @jackdaniels_us or visitwww.jackdaniels.com for more information.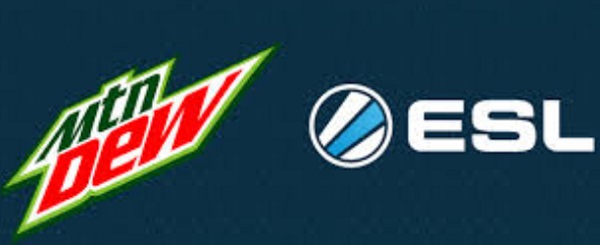 For those who might have not noticed eSports is becoming an integral part of gaming culture. So with that notion Mountain Dew is making waves by announcing the Mountain Dew League otherwise known as MDL. The league is designed with one purpose in mind: helping amateur gamers become pros. DEW and the ESL, the world's largest esports company,  are both instigators in the gaming world, and are now partnering to host a massive three-phase competition for amateur gamers.
The MDL global championship will culminate in one amateur team joining next season's ESL Counter-Strike: Global Offensive Pro League. The tournament will start in August, and will unfold over the course of 20 weeks beginning with 7,400 players, down to nine teams in each region, down to the final team. Fans will be able to watch the competition unfold through live-streamed events, behind-the-scenes action and real-time stat tracking via the ESL and Twitch channels.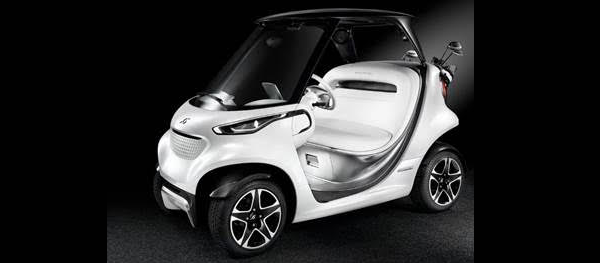 Mercedes-Benz has always been a fan of golf. Whether they are sponsoring athletes or tournaments Mercedes-Benz is present on the golf course. Now they introduce the Garia Golf Car. This new car transfers the unmistakable Mercedes-Benz automobile design to a premium-class golf cart. The show car is the result of a partnership between Mercedes-Benz designers, Daimler's Think & Act Tank Business Innovation and the well-known golf cart manufacturer Garia.
The Garia Golf Car has integrated onboard touchpad that displays several car functions, as well as the layout of the golf course, current position and an electronic score card. There is a built in refrigerator under the bench seat and a storage tray under the dashboard to hold a row of golf balls at one time.
The hands-free system with Bluetooth connection and hi-fi speakers integrated into the rear roof frame, allowing music from any smartphone make all those who love tech and gadgets swoon. It has a range of up to 50 miles with a top speed of 19 mph and uses LED technology in headlamps, ensuring good visibility in any weather conditions. So who is ready to test it out on the course?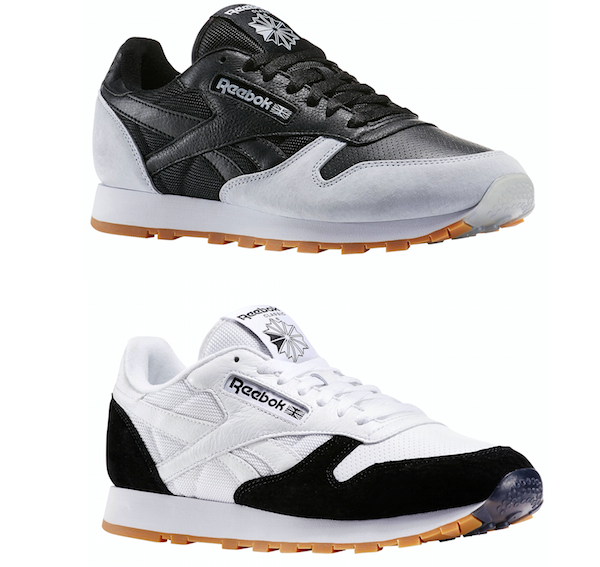 One of the hottest selling kicks came from Reebok and Kendrick Lamar earlier this summer. Now Reebok Classic and multi-platinum selling, Top Dawg Entertainment artist Kendrick Lamar return with the new Classic Leather "Perfect Split" pack.  The collection will comprise of Men's and Women's styles, launching on Friday, July 15, 2016.
The Classic Leather "Perfect Split" pack brings the split sides of Kendrick's personality to life, as the silhouettes' understated white and stone base is updated with contrasting color-blocked accents, alongside a 'split' rubber outsole combining retro GUM with contemporary ICE.
Globally acclaimed director Nabil photographed Kendrick in a complementing campaign entirely on vintage camera equipment.  The series of raw and candid portraits capture Kendrick in a range of poses, which also reflect the different sides to his personality.
The Classic Leather "Perfect Split" will be available for $74.99 at retailers including Reebok.com, Champs and Footaction, starting Friday, July 15, 2016.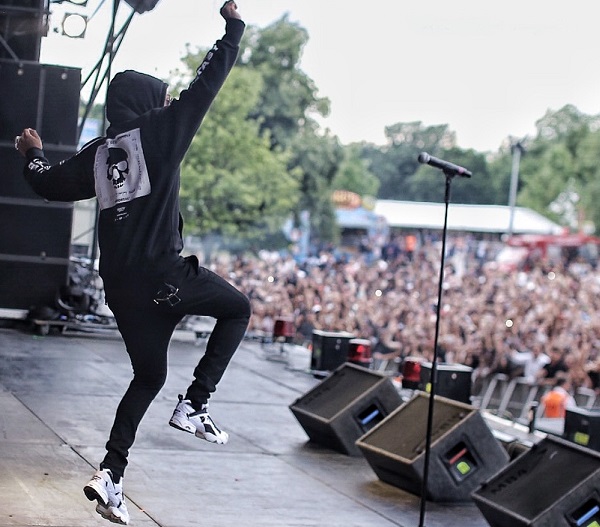 Reebok had one of the hottest selling sneakers this summer with their team up with Kendrick Lamar. Now Reebok is adding another artist into the mix.
Reebok is expanding the brand's network of global talent with the appointment of international style pioneer and music artist, Future. Future has joined Reebok's like-minded collective of innovative and inspirational creators. The American hip-hop superstar hailing from Atlanta, Georgia, is a true creative visionary.  Known for his pioneering unique sound within the music space mixed with his trend-setting style, Future continues to innovate both in and outside of the music industry.
Future launched the partnership on Saturday,July 9, 2016, on his Snapchat (@Future) and Instagram channels (@Future) where he touched on the synergies between both parties while unveiling the InstaPump Fury "Overbranded," launching Fall 2016. The InstaPump Fury marks one of Reebok's most iconic innovations in the sneaker industry from the 90's, a fitting pairing to the brand's new partner, a trailblazer in his own right.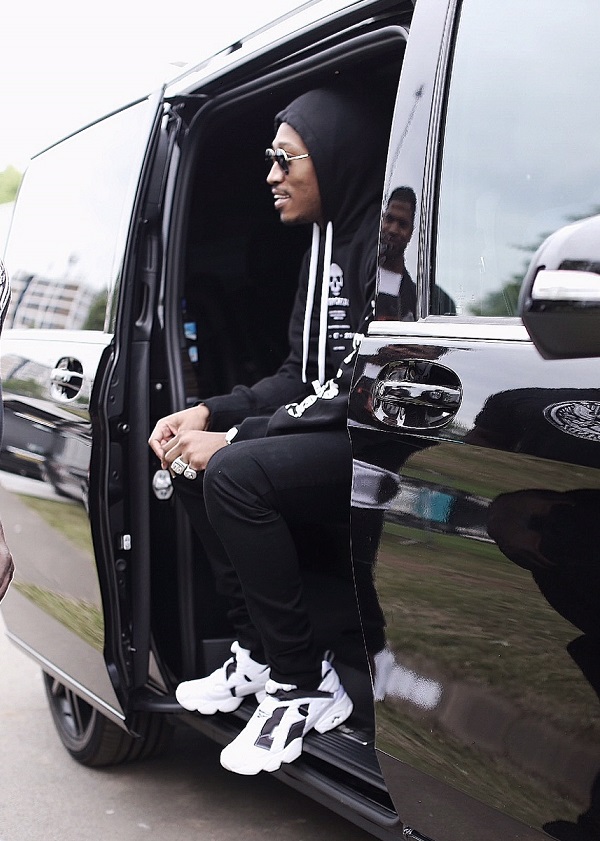 "Future exudes the type of fearlessness and authenticity that Reebok Classic stands for," said Todd Krinsky, Global Vice President of Reebok Classic and Entertainment. "This partnership not only continues our brand's longstanding legacy of working with the world's best hip hop artists, but also solidifies Reebok Classic's commitment to never back down from pushing boundaries. I've had a preview of what's to come from Future and Reebok and I can't wait for everyone to see!"
Commenting on the partnership Future said, "I'm excited to kick off the summer with Reebok by my side. It's a natural fit for me to work with a brand like Reebok that also shares my beliefs in moving culture forward and being passionate in what you believe in. Not only am I honored, but I feel privileged to be a part of the family."
The announcement marks the beginning of a significant creative relationship between Reebok Classic and Future, with more to come in 2016 and beyond. Next up, Future will kick off his highly anticipated Summer Sixteen tour starting July 20th where fans can expect to see a Reebok presence at each stop.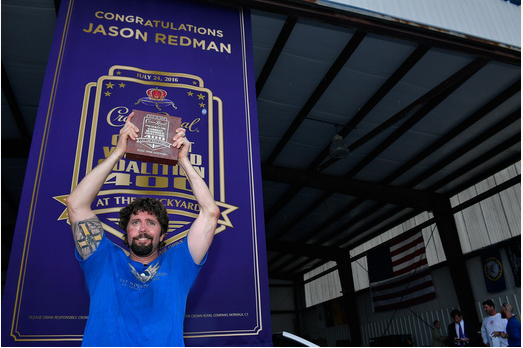 Crown Royal is known for their great work for the Your Hero's Name Here Program. This week they announced the winner of this year's program. In just a few short weeks, racing fans from across the country will flock to Indianapolis for one of NASCAR's biggest events of the summer. And despite being named the winner of the annual Crown Royal "Your Hero's Name Here" program, which renames the Brickyard 400 after a deserving hero, retired U.S. Navy SEAL Jason Redman's name won't be displayed around the famed Indianapolis Motor Speedway – for good reason.
Redman instead asked that the race bear the name of the charity he and his wife, Erica, founded. The NASCAR Sprint Cup Series Race will officially be referred to as the Crown Royal presents the Combat Wounded Coalition 400 at the Brickyard.
Today, during a special surprise event in Suffolk, Va., Redman was announced the winner of the annual program while completing his one hundredth skydiving jump. Redman witnessed the reveal of the official race logo, painted in the landing area at Skydive Suffolk, from mid-air as he approached the ground.
After the logo unveiling, Redman was greeted by Erica, Indianapolis Motor Speedway President Doug Boles, and Crown Royal Associate Brand Manager Dany Penn. Redman was then escorted to a nearby hangar for a party where he was able to celebrate the announcement with his closest friends, colleagues and family.
"What an amazing and humbling opportunity to have my organization as the official title of the Brickyard 400. This race is an icon of NASCAR, Americanism and patriotism," said Redman after being named the winner of the 2016 "Your Hero's Name Here" program. "I can't wait to arrive in Indianapolis and meet the fellow finalists, the awesome race fans, drivers and crews!"
Redman, of Chesapeake, Va., enlisted in the Navy following high school and served 11 years as an enlisted SEAL before enrolling at Old Dominion University. After graduation, Redman was commissioned as a Naval SEAL Officer and served ten more years. Throughout his career he served five deployments including two combat deployments.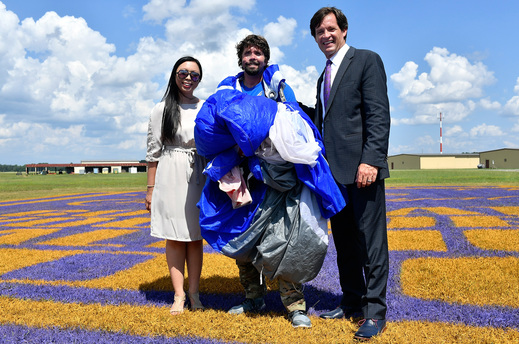 In 2007, Redman's Assault Team came under heavy machine gun fire and he was wounded with shots to the face and left arm. While recovering from his 37 surgeries at Bethesda Naval Medical Center, Redman wrote and hung a sign on his door which became a statement and symbol for wounded warriors everywhere. The original sign on the door now hangs in the Wounded Ward at the National Naval Medical Center Bethesda.  Redman was honored with the Purple Heart, the Bronze Star Medal with Valor, Defense Meritorious Service Medal, Navy Commendation Medal, Joint Service Achievement Medal, Navy Achievement Medals and two Combat Action Ribbons.
Following his recovery, Redman founded the non-profit organizations Combat Wounded Coalition and Wounded Wear to help combat wounded warriors overcome the wounds of war. The Combat Wounded Coalition provides free clothing, clothing modifications, and connections to other vetted service organizations for combat wounded warrior needs. To date, the Combat Wounded Coalition has helped over 500 wounded warriors return to daily life after serving.
This will mark the tenth time Crown Royal has renamed a NASCAR Sprint Cup Series race, and the first time a race will be named after a charity, through the whisky brand's "Your Hero's Name Here" program. After receiving hundreds of entries during the nomination period, five heroes were chosen as finalists and adult fans had the opportunity to cast their votes for the person they felt was most deserving of the honor.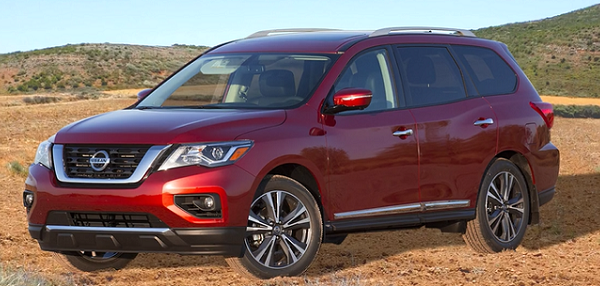 If you are in the market for a new SUV you got to look at the all-new 2017 Nissan Pathfinder. The 2017 Pathfinder takes performance and style to a higher level with an aggressive new exterior look, increased power, and enhanced safety and technology.
The reborn Pathfinder has bold new styling that evokes a stronger sense of adventure, character and presence in one of Nissan's best known nameplates. The refreshed exterior reflects Nissans latest signature design elements, including the new "V-Motion" grille and boomerang-shaped headlights with LED daytime running lights. Additionally, the 2017 Pathfinder features a new hood, front bumper, fog lights, and aerodynamic optimization efforts.
The roomy, refined interior will have a number of updates focusing on convenience and connectivity. The biggest change is the adoption of new-generation information technology, including improved Advanced Drive-Assist Display, voice recognition, and NissanConnect Services. Furthermore, the 2017 Pathfinder steps up its adventure credentials with a 3.5-liter V6 engine, allowing for more power, torque and towing capacity.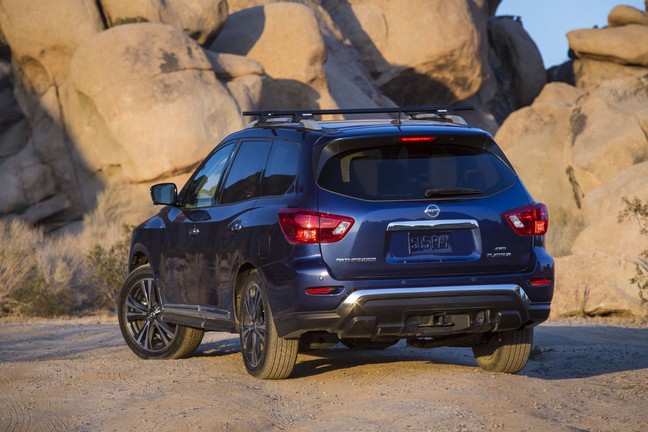 You already may have known this but, Reebok has been the leading global provider of CrossFit apparel and footwear. This week Reebok has unveiled the latest iteration of the most sought-after shoe in CrossFit boxes around the world – the Reebok CrossFit Nano 6.0 — the #1 shoe in CrossFit.
Ever-evolving, the Nano franchise continues to demonstrate Reebok's commitment to refine and engineer the most groundbreaking CrossFit footwear available. The Reebok CrossFit Nano 6.0 features one of the most innovative outsoles for performance training while providing an anatomical fit that is both natural and secure.
Strength starts from the ground up and the Reebok CrossFit Nano 6.0 introduces a new shape that is built to support the movement of the foot under load. The shoe provides more natural stability and control through a new molded heel counter and foot bed alongside a new stretch Kevlar fabric that retains durability.
Here are some details on the why the Nano 6.0 is perfect for your CrossFit workout.
Uppersole – 360 Degree abrasion protection Kevlar shell, fused to breathable performance upper mesh combined with heavy textured Kevlar on medial side, taking ROPEPRO to the next level
Midsole – Thermo-polyurethane midsole protective wrap for ultimate stability with R55 Rebound Reebok technology for great cushion, response and impact absorption during running movements
Outsole – MetaSplit Expansion forefoot flex grooves for optimum splay and increased stability for heavy lifting and dynamic movement.
The Reebok CrossFit Nano 6.0 will retail for $130 and is currently available on Reebok.com for
Men's
and
Women's
styles.