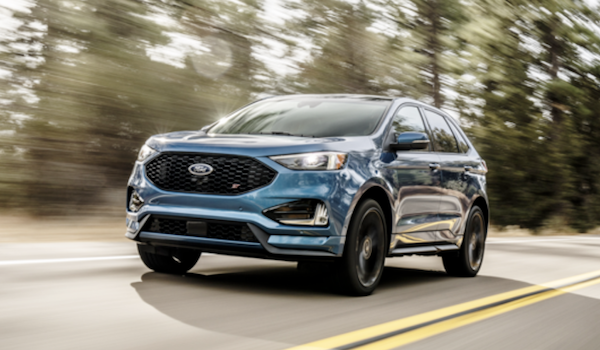 If you are looking to purchase and SUV this year you might want to check out what Ford has to offer. Following Ford's best-ever U.S. SUV sales in 2017, Ford further steps up the game by introducing first performance-enhanced ST to its SUV lineup with the all-new Edge ST.
The Edge ST features superior handling and braking, ST-tuned sport suspension, Sport Mode, new quick-shifting 8-speed transmission, standard all-wheel-drive, and the most powerful V6 engine in its class.
The all new Edge SUV lineup is Ford's smartest ever, offering more standard driver-assist technology than any other midsize SUV and introducing to the segment new available technologies such as Post-Collision Braking, Evasive Steering Assist and Adaptive Cruise Control with Stop-and-Go and Lane Centering.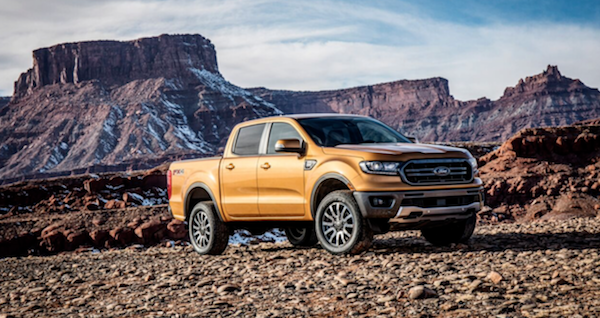 Ford is bringing it's A game right out of the gate this year! One of the latest news to surface is the Ford Ranger. The Ranger is built Ford Tough as Ford answers the call from truck customers looking for an affordable, rugged, and maneuverable midsize pickup that's Built Ford Tough; torture-tested alongside Ford F-150 trucks, Ranger quality starts with a rugged high-strength steel frame backbone, proven Ford-built 2.3-liter EcoBoost engine and class-exclusive 10-speed automatic transmission.
Ready for adventure with innovative technology: New features make driving easier and more fun, both on- and off-road; available FX4 Off-Road Package adds protective skid plates, upgraded tires, off-road-tuned shocks and suspension, while Terrain Management System and Trail Control help navigate challenging conditions; a suite of innovative technologies includes standard Automatic Emergency Braking to help avoid collisions.
Strong new choice for midsize truck fans: Ranger brings American truck lovers an all-new choice; production begins late this year at Ford's Michigan Assembly Plant as the U.S. industry sees continued growth in midsize pickups.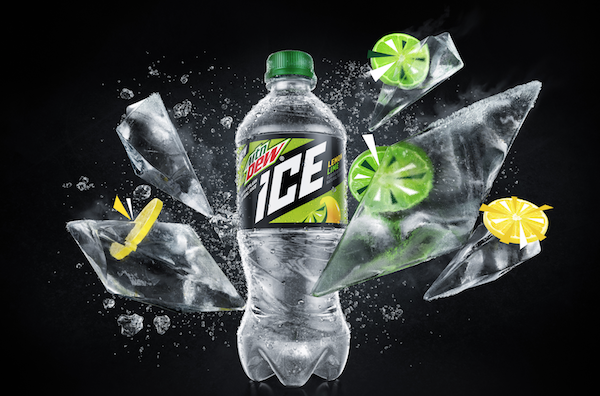 Anyone thirsty for something new? There are those that live life all out, but even those go-getters sometimes need a refreshing break from the daily grind. But visionaries don't rest – they thirst for a refreshing beverage that lightens their step and heightens their taste buds with a thirst-quenching burst of flavor. They desire a chill with a charge, a lightness that is bold and lemon-lime flavor so crisp it lights their fires and sharpens their swagger. So do-ers can refresh, recharge and get back to what they are doing.
Introducing new MTN DEW ICE. It's a clear, citrus-forward DEW made with a mouth-watering blend of lemon and lime flavors to excite your senses. Made with a splash of real juice, MTN DEW ICETM is charged with all of the right ingredients to keep you invigorated throughout your day.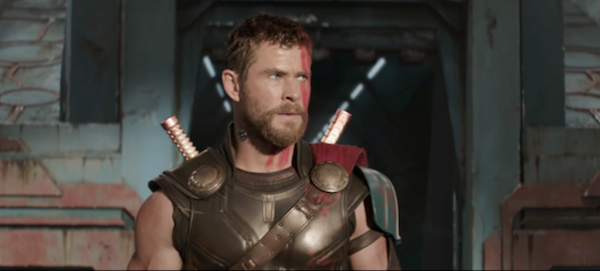 Marvel Studios' "Thor: Ragnarok," electrified both audiences and critics alike and now fans can enjoy the colorful cosmic adventure at home. Fans who bring home the Ultimate Cinematic Universe Edition (4K Ultra HD + Blu-ray + Digital) of "Thor: Ragnarok" will experience all the thunderous action and lightning-fast wit in stunning 4K Ultra HD with next-generation high dynamic range (HDR) visuals and Dolby Atmos immersive audio.
Exclusive, never-before-seen bonus features include deleted scenes; hilarious outtakes; an exclusive short: part three of the mockumentary "Team Thor," retitled "Team Darryl" and featuring an eccentric new roommate; the evolution of MCU's heroes culminating in "Avengers: Infinity War;" numerous making-of featurettes which explore the unique vision of director Taika Waititi; the story's unstoppable women; the effortlessly charismatic Korg; the tyrannical leader of Sakaar, the Grandmaster; and the film's comic-book origins;  audio commentary by Waititi; and more.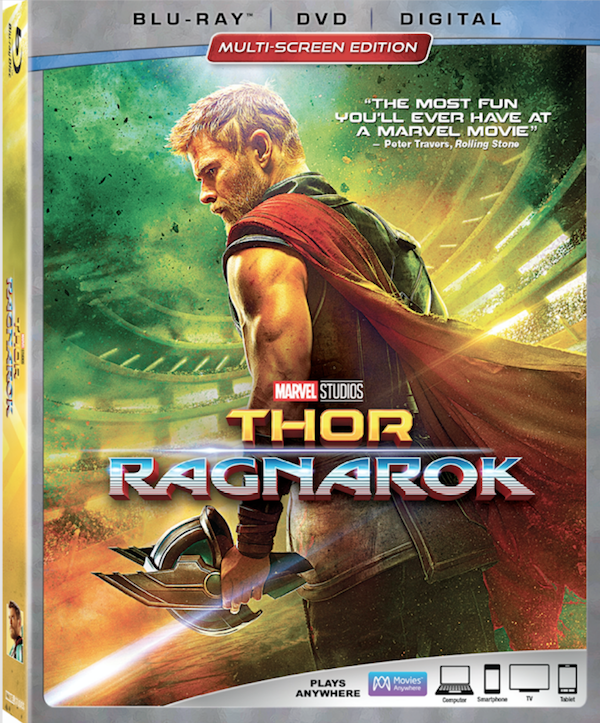 The action, humor, drama and spectacle, bursts into homes Digitally in HD and 4K Ultra HD™, and Movies Anywhere, on Feb. 20 and on 4K Ultra HD™, Blu-ray™, DVD and On-Demand on March 6th.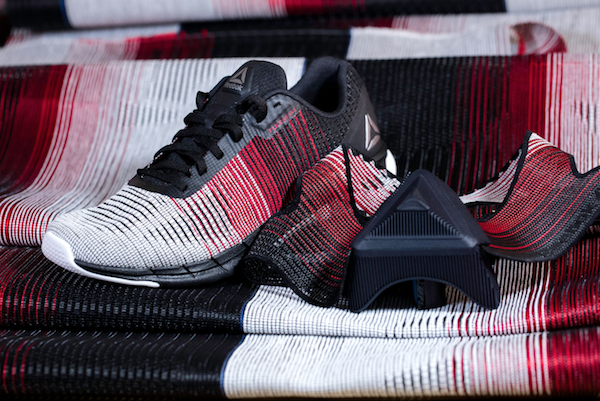 There is some exciting news coming out of Reebok today. They have partnered with some of the most creative and innovative minds in the world to create a custom collection of fitness prototypes showcasing the power of Flexweave; the brand's latest footwear innovation launching in Spring 2018.
In partnership with Joe Doucet x Partners (USA),  Modla (ENG) and Odd Matter (AN), the global fitness brand explored the potential of Flexweave. Flexweave boasts an open figure-8 construction that interlocks unlimited strands of fibers to create a single surface construction that is as strong as it is light. All designers worked with the version of the textile that will appear in the first-generation of Reebok Flexweave footwear, launching in 2018, made from chenille yarn.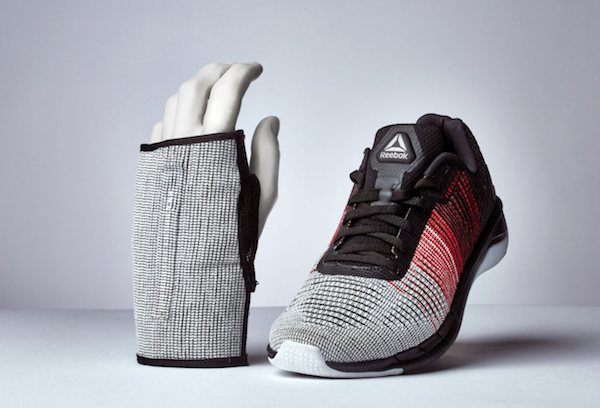 Each designer was briefed to explore Flexweave's limitless potential to create a unique product linking form and function, creating an aesthetic product utilizing the benefits of Flexweave whilst serving a fitness purpose.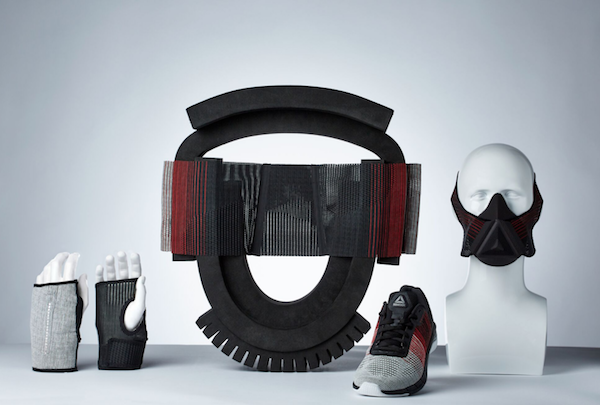 Reebok Flexweave prototype collection includes a pair of cutting-edge running gloves (Joe Doucet x Partners), a 3D printed altitude training mask(Modla) and a collection of light-weight, active sitting chairs (Odd Matter). Flexweave was developed by the Reebok Innovation Collective; a division championing the open-sourced pursuit of progression via innovation and partnerships that aims to push the boundaries of invention.
All prototypes can be viewed right now at reebok.com/en-US/campaigns/flexweave.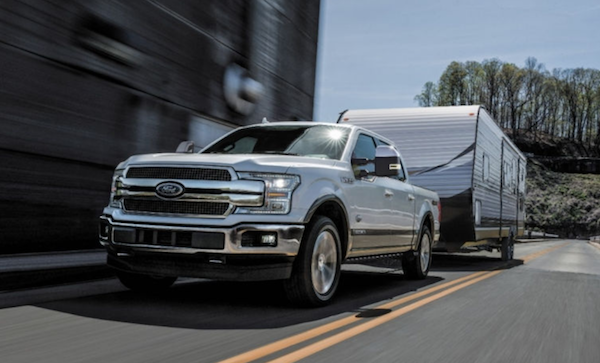 If you had a New Year's resolution to up your truck game it looks like Ford is going to help you with that one! News came out from Ford that they will deliver the first-ever F-150 Power Stroke diesel with a targeted EPA-estimated 30 mpg highway rating, a best-in-class 11,400 pounds of towing capacity and 2,020 pounds of payload capacity, plus best-in-class diesel 250 horsepower and 440 lb.-ft. of torque.
"For every truck owner who wants strong fuel economy while they tow and haul, we offer a new 3.0-liter Power Stroke® V6 engine that dreams are made of," said Dave Filipe, vice president global powertrain engineering. "The more you tow and the longer you haul, the more you'll appreciate its class-leading towing and payload capacity and how efficient it is at the pump."
This all-new 3.0-liter Power Stroke diesel now makes for six engine choices for F-150 customers.
The highly anticipated F-150 Power Stroke diesel shares proven commercial-grade technology with F-Series Super Duty's larger 6.7-liter Power Stroke – America's most powerful, capable heavy-duty pickup truck ever.
The very same Ford powertrain team behind the 6.7-liter Power Stroke for Super Duty trucks since 2011 designed and engineered this all-new 3.0-liter Power Stroke V6 diesel engine to the specific needs of North American F-150 customers who tow and haul frequently.
Peak torque comes at just 1,750 rpm with strong torque delivery continuing throughout the rpm range, which is ideal for towing or hauling heavy loads over long distances. This new V6 diesel features the same compacted-graphite iron block material construction and forged-steel crank used in the 2.7-liter EcoBoost® engine for added strength and durability along with reduced weight.
For greater responsiveness and reduced turbo lag, the Ford truck team chose a high-efficiency variable-geometry turbocharger. A common-rail fuel injection system precisely optimizes performance and fuel efficiency, while a high-pressure 29,000 pounds per square inch injection calibration enables smoother, quieter operation with reduced emissions.
Dual fuel filters are added for improved break-in, while a cast-aluminum oil pan and two-stage oil pump mean reduced parasitic loss and improved fuel efficiency. Engineering the most efficient F-150 towing machine ever is enabled by F-150's high-strength, military-grade, aluminum-alloy body, introduced in 2015. This revolutionary construction lightened the load by 700 pounds, allowing engineers to invest in additional technologies to further improve towing and payload capability, as well as greater fuel economy, even when towing. For 2018, stronger axles coupled with the fully boxed, high-strength steel frame add further robustness.
The Ford truck team paid particular attention to extreme driving conditions when engineering the all-new 3.0-liter Power Stroke diesel, which features a premium mechanical engine-driven fan and dual radiator shutters for improved high temperature, high-altitude performance – a key advantage versus the electric cooling fans used by competitors.
In mid-January, Ford dealers begin taking orders for the 2018 F-150 with all-new 3.0-liter Power Stroke diesel engine. Deliveries begin this spring. The all-new 3.0-liter Power Stroke is available for both 4×2 and 4×4 F-150 pickups. Retail customers can choose this engine option for 2018 F-150 Lariat, King Ranch and Platinum edition SuperCrew trucks with either a 5.5-foot or 6.5-foot bed configuration, and SuperCab trucks with a 6.5-foot bed configuration.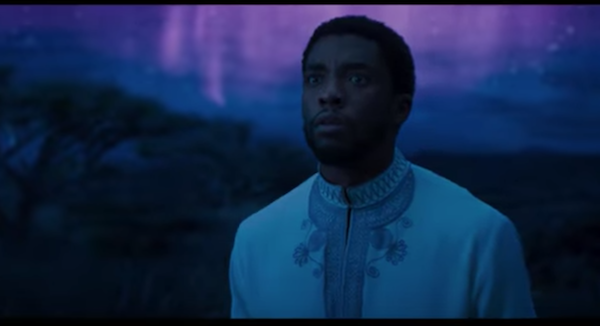 Next month we will able to see another fantastic Marvel hero in his own movie. Marvel Studios' Black Panther follows T'Challa who, after the death of his father, the King of Wakanda, returns home to the isolated, technologically advanced African nation to succeed to the throne and take his rightful place as king. But when a powerful old enemy reappears, T'Challa's mettle as king—and Black Panther—is tested when he is drawn into a formidable conflict that puts the fate of Wakanda and the entire world at risk. Faced with treachery and danger, the young king must rally his allies and release the full power of Black Panther to defeat his foes and secure the safety of his people and their way of life.
Marvel Studios' Black Panther opens in theaters everywhere on February 16th!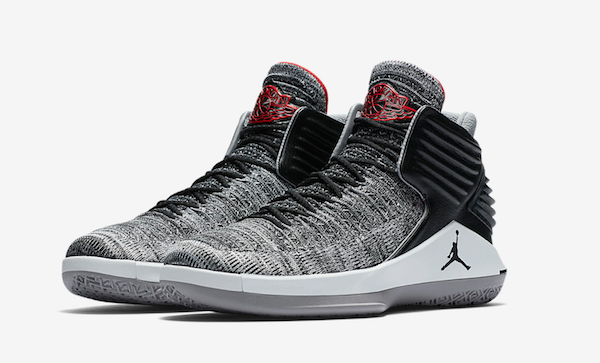 In 1988, MJ earned his first league MVP honors. That same year, the Air Jordan III turned in its MVP colorway in the unforgettable combination of Black & Cement Grey. The latest Air Jordan XXXII takes its inspiration from that chart-topping design. It sports black, white and red on the upper and includes the must-have elephant print on the heel piece. An "M.V.P" tag on the inside tongue throws a salute to '88 – a glorious year for both the man and the brand.
The show is on sale this Saturday at 10:00 AM EST via the SNKRS app or where Jordan Brand is sold.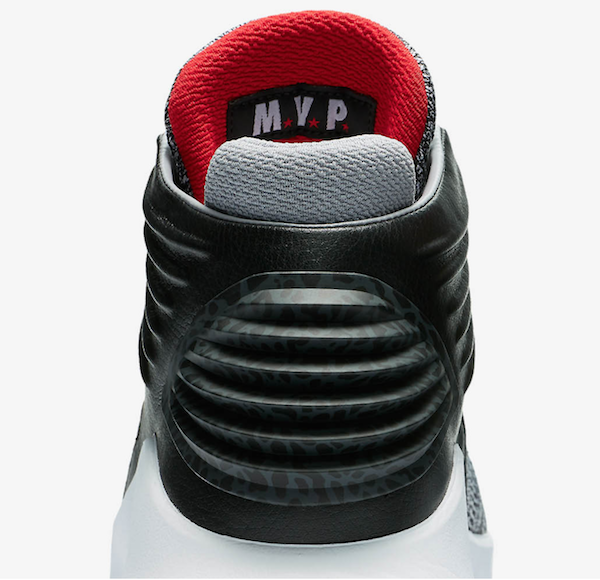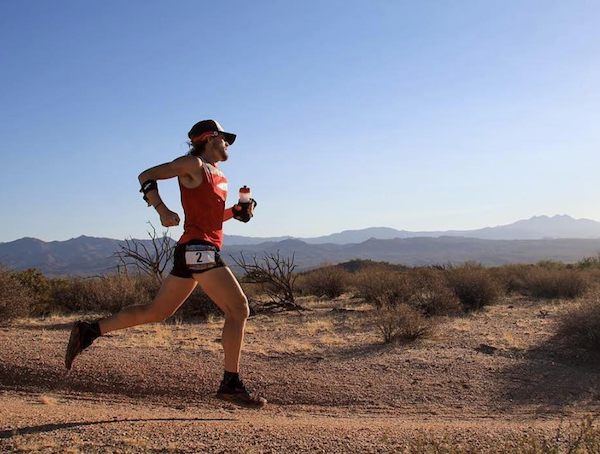 I chat with Zach Bitter, who is an ultra-marathoner and holder of the 12-Hour World Record and 100 Mile American Record with a time of 11:40:55 – 7:01 per mile. Zach fuels his body for these 100-mile races in what most would consider an unorthodox manner, as he follows a low carb, high fat diet throughout training and race day – debunking the myth that one needs to carbo-load before race day.
After having health problems that threatened his running career, he began working with leading low carb researcher, Dr. Jeff Volek of The Ohio State University, to develop a nutrition plan which has proven effective over the past 5 years.
Zach chats with me about getting goals set up for the new year, how he got into running, and how he has recently partnered with Atkins to help with his training.
For more on Zach go to his website at zachbitter.com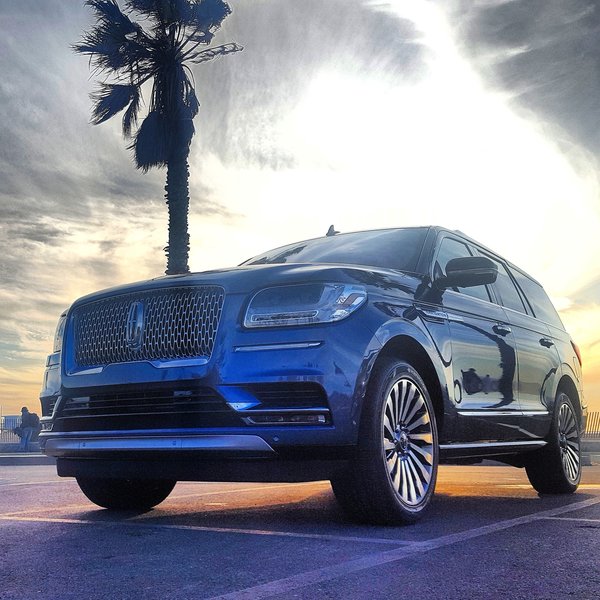 It's no secret that LA drivers spend an uncomfortable amount of time sitting in traffic. Workdays, weekends, holidays, late nights – it really doesn't matter. People in the LA area are so used to being stuck in their cars that we view our vehicles as extensions of our home. So naturally, us LA drivers want all the comforts of home in our cars, but I've never been in a ride where all these comforts are available in one giant luxury package. Until I spent a weekend in the 2018 Lincoln Navigator.
The 2018 Lincoln Navigator is a giant luxury living room on wheels. It doesn't feel like a car. It doesn't feel like an SUV. It's more like a lobby of a boutique hotel. A rolling spa day that you can take on the freeway. Luxury SUVs aren't anything new, but the over-the-top comfort, class and refinement available in the 2018 Lincoln Navigator is something I've never experienced before.
The Lincoln Navigator has been in production since model year 1998. It was Lincoln's first full-size SUV and it was based on the Ford Expedition that was first produced the previous year. The Navigator was the first Lincoln SUV to offer seating for more than six people and it also offered the greatest cargo capacity of any Lincoln to date. The major distinction between the Lincoln Navigator and the Ford Expedition is that the Navigator was always billed as a more refined machine, an upgrade in terms of trim levels, content and overall luxury.
After it first launched, the Lincoln Navigator faced immediate competition the following year when GM responded with the Cadillac Escalade. Although the initial head-to-head sales battle was close, the Escalade ended up taking over as North America's preferred full-size luxury SUV. The Navigator was revamped in 2003 and 2007 (with a refresh in 2015), but despite shedding its Expedition roots in favor of a design that was produced by the same team that created the 2013 MKZ, the Navigator was unable to take the top spot as America's favorite huge car for rich people.
That's about to change. This 2018 Lincoln Navigator is something else. Completely redesigned for 2018, the fourth generation Lincoln Navigator is the mobile luxury condo you've always wanted, but were never able to afford. It's gorgeous and intuitive. It's shamelessly comfortable. It's the kind of car that you should feel guilty about driving, but, once you start driving it, that guilt melts away like hot wax that contours precisely to snuggle your body in Lincoln's Perfect Position seats. This full-size SUV is unapologetic luxury at its most indulgent. You don't reach for the top shelf and feel bad about it afterward. If you're going for the topmost premium experience, you grab it, enjoy it and feel happy about the fact that you treated yourself.
The superlatives roll of the tongue with this ride. It's the ease of everything that stands out the most. Effortless luxury. Quiet comfort. These Lincoln tag lines never rang truer than with the 2018 Navigator.
The Perfect Position seats adjust in a standard 10-way, available 24-way or top-option 30 different positions. That doesn't even factor in the Active Motion massage chair option. An entire glowing review could be written about just the seat situation, but you get the idea. It really is quite nice just sitting in this car.
Back to this effortless luxury thing for a moment. It's hard to take stock of the many effort-removing features in this car. The list is just so long. The car illuminates when you walk toward it, with the Lincoln star projected on the ground and a welcoming LED halo inviting you to jump in. A simple wave of your foot provides access to the hands-free Liftgate in the back. The 2018 Navigator has memory recall for all your specific seat, audio, pedal and mirror settings. The 10-speed SelectShift automatic transmission makes on-the-fly moves for you so you can seamlessly shift without thinking about it. It just about drives itself.
Leveraging the same technology that's used in digital movie theaters, the Head-Up Display projects information like local speed limit, current speed, time, temperature, miles left in the tank and even navigation directions directly in your line of vision. It's bright, somewhat distracting, but impossible to miss.
Adaptive LED headlamps adjust automatically based on your speed. The rain-sensing wipers activate themselves in wet conditions. Auto Hold does the brake pedal work for you when you're idle. The Lane-Keeping System alerts you when you start swerving. This car also parks itself with Enhanced Active Park Assist maneuvers out of parallel parking spots with Park-Out Assist. You get alerts when you're too fatigued to drive or cars are in your blind spot or objects are too close to the front or rear of the vehicle. Active Braking will help prevent you from accidently colliding into people and things. The 2018 Lincoln Navigator will even do your taxes for you. It's unreal.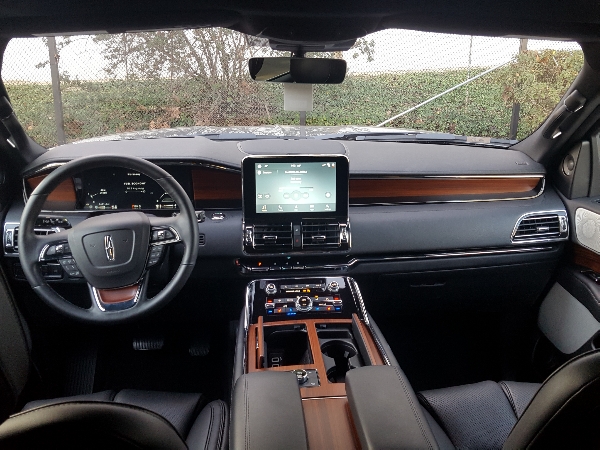 An effortless living room on wheels wouldn't be complete without some quality tech options. I mean you have to engage in something while inside these best-in-class interior quietness conditions. The 10" LCD screen is well-positioned and uncluttered in the center stack. It manages to be both non-intrusive and well-within reach. Nestled amid the real wood trim and European leather the LCD screen really completes the overall living room feel. Navigation and music control is easy to deal with, whether you push buttons on the screen, the steering wheel or just use your voice to control calls, music, etc. on the SYNC 3 system.
Synching up to Spotify is super easy and an absolute must if you want to leverage the world class Revel audio system that uses Waveguides, Clari-Fi music restoration, QuantumLogic Surround sound and cabin tuning tech to fill your core with rich, dynamic, robust, 20-speaker-strong sound. It's the kind of music system that keeps you sitting in your car long after you've arrived at your destination.
There's a wireless charging pad in the enormous media bin. Six USB ports are scattered throughout the vehicle, including two ports in the third row. You can keep your devices plugged in and they will continue to charge up to 75 minutes after the engine has been turned off. If you need a full 12V power outlet, that's available in the rear cargo zone. Up to 10 devices can connect to the 4G LTE Wi-Fi hotspot in a 50-ft radius of the vehicle.
If you want to tow stuff, there's 8,700-lbs of best-in-class towing available. If you want to move stuff, you got the best-in-class rear cargo area that leverages a tiered management system where you can partition the cargo space in four different ways. Passengers can stretch out in the best-in-class shoulder, hip and leg room space in the second row. You can sit up to 8 or 9 people in this road-living room. And if you want to admire the stars, the Vista Roof provides the largest panoramic opening in its class.
First class. Top drawer. Flawless. Believe the hype. It's all true. The Escalade had a nice run, but it's reign of luxury terror is over. A car that costs nearly $100K when fully loaded should feel like a $100K driving experience. Whether you go with the base level, select or premium reserve options, you're going to feel like a celebrity hosting a swanky party every time to drive around the block in this unquestionably luxurious mobile living room.