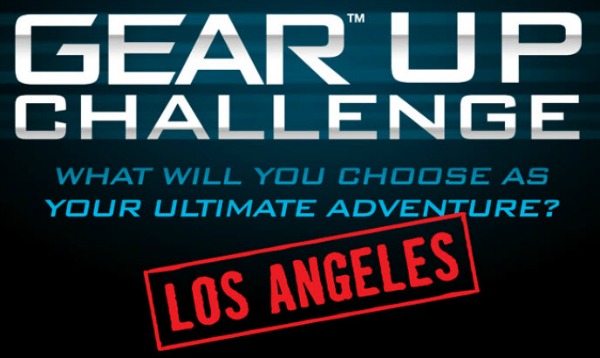 I don't really have an issue with sweaty pits and underarm stank. If I did, you know, I hope my friends and family would say something to me about it. But I haven't heard any complaints, so I don't really consider it a big issue.
But I'm not the most extreme guy out there. Sure, I can get intense sometimes (like when I ride my beach cruiser down the Venice Beach bike path at medium speed), but in general, I'm not put into too many situations that stretch the limits of intensity. So I don't really ask a lot of my deodorant/antiperspirant.
Our friends at Men's Speed Stick wanted to change that. In an effort to put their Dry Core technology to the test, Speed Stick invited me to test out their new Speed Stick GEAR deodorant/antiperspirant during a GEAR Up Challenge designed to put me in an extreme, sweat-inducing situation.
I had the choice of racing an exotic car, climbing some ice (yea, Sujeet!), taking a flying lesson, going to stuntman academy, paragliding or bungee jumping. I went with the exotic car. Had to.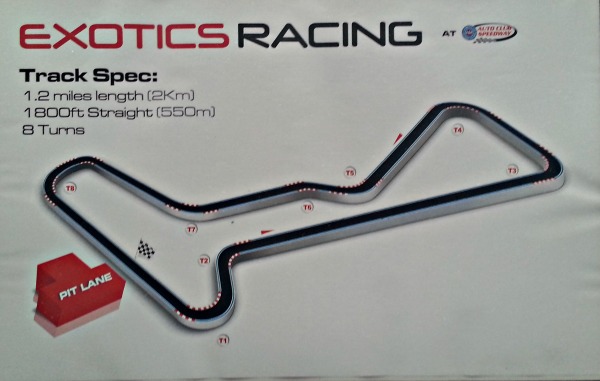 So a few weeks back I took a trip out to the Auto Club Speedway in Fontana with my girl Tam from MankindUnplugged.com. We both chose the racing experience and we were teamed up with Exotics Racing to knock it out. I got five laps in a Ferrari F430 F1 around a 1.2 mile course that featured eight turns and an 1800 foot straight away. The conditions were wet and rainy, but my instructor Theo made sure I got an education while trying not to spin out. Here's the video:
So yea, by the time I got the hang of it, the five laps were done. I didn't spin out or anything, but I do wish I would've pushed things a bit more. Either way, with all the pressure to push the limit and not cause bodily harm to me, my instructor or the Ferrari, I still came out smelling pretty fresh. If Dry Core technology can work under these circumstances, just think what it'll do under the normal, less-intense conditions of your everyday life!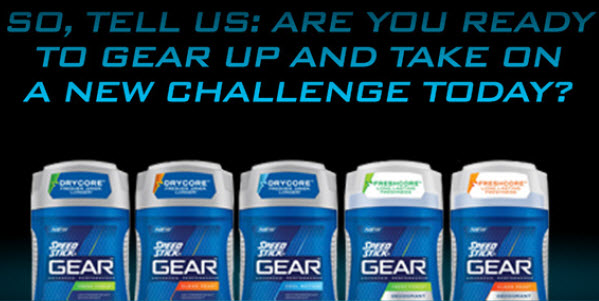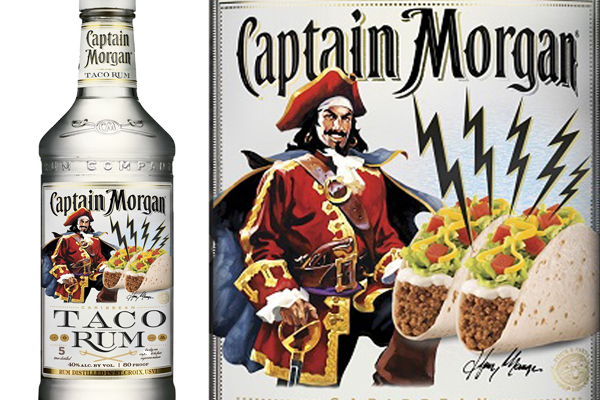 Our prayers have been answered. We now have the perfect drink to go with Taco Tuesdays. Captain Morgan struck gold yet again with their latest spirit called Taco Rum. The Captain is "spicing" up its newest white rum offering and reinvigorating the entire category with a taco flavored rum, perfect for the loads of individuals falling in love with all things cheese, beef and crunch.
Too many times I have yearned for rum that tastes like a taco. I am so psyched to try this rum out. They have great timing too as Cinco De Mayo is just about a month away. I smell a new favorite drink of choice for those will be celebrating on May 5th.
So how did Captain Morgan get the zesty taste of taco into rum? Great question. They crafted this new rum by mixing the Caribbean's finest white rum with Mexico's freshest blends of cheddar, jack and Chihuahua cheeses, along with green chilies, perfectly diced tomatoes and succulent beef, to make each sip of Captain Morgan Taco Rum deliver a remarkably delicious taste. Like its predecessor, this liquid is five times distilled to ensure a smooth finish that explodes with authentic flavor to delight even the most avid taco connoisseurs.
There is even a new cocktail to get even more taco and rum flavor together. Check out the video here.
Its suggested pour, a taco-tini, served in a shredded cheese rimmed glass looks to overtake the popularity of margaritas this summer and has earned rave reviews from various mixologists.  With the recent lime shortage, consumers are encouraged to garnish all their Captain Morgan Taco Rum cocktails with a jalapeno to add some heat. The product will be available for a limited time with a suggested retail price of $16.99. Consumers can visit Facebook.com/CaptainMorganUSA to learn more and order the product.
Oh and by the way….Happy April Fool's Day!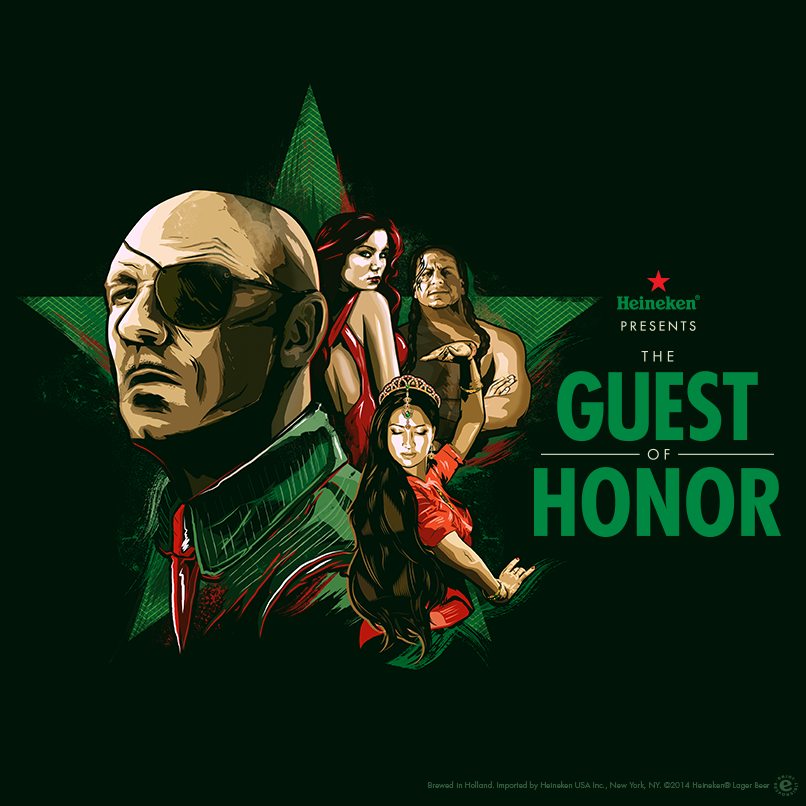 What if you went to see a play, only to realize you were the star of it? Thrown into the spotlight for an evening of unexpected challenges -would you take the stage? Heineken presents The Guest of Honor, a one night immersive theater experience. You can watch. Or you can act.
Watch as everyday people take the stage and showcase their legendary side in Heineken's immersive theater production, "The Guest of Honor," at Heineken's USA YouTube page and join the conversation with #guestofhonor and #openyourworld.
The immersive theater scene in New York provides a rich experience for theater fans, and Heineken's latest "social experiment," "The Guest of Honor" takes it to a new level by putting people at the center of the production., In past  "social experiments", Heineken has sent people to unknown destinations around the world on the spot, and broadcasted holiday karaoke-singers in Times Square.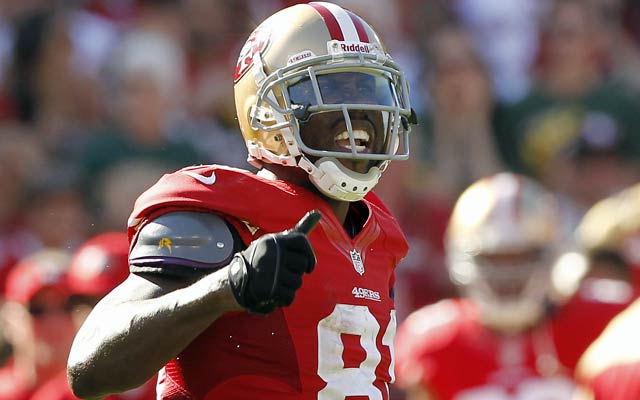 We all know that NFL players are tough. To me some are tougher than others. One guy that sticks out to me is San Francisco 49ers wide receiver, Anquan Boldin. He is one of the toughest both mentally and physically in the game today.
Boldin started his NFL career in 2003 when the Arizona Cardinals drafted him from Florida State. In his first year he made an impact by winning the NFL Offensive Rookie of the Year. Not one for personal accolades though, Boldin wasn't satisfied until he helped the Baltimore Ravens win Super Bowl XLVII.
The three time Pro Bowler is even more impressive off the field. In 2004 Boldin started up the Anquan Boldin Foundation to help those in need here in the United States and around the world. Anquan has a caring heart and it shows with the many programs his foundation provides for the youth.
I had the great pleasure of talking with Anquan about playing in the NFL, his foundation, and how it feels to be called a Super Bowl champion.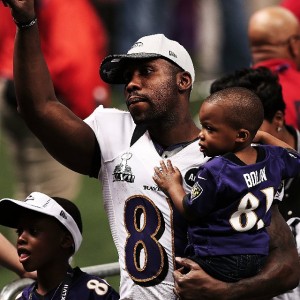 Art Eddy: You have reached the top of the NFL mountain when you helped the Baltimore Ravens win their second Super Bowl title in 2012. When the game was over and you were able to be called Super Bowl champion how long did it take for reality to set in?
Anquan Boldin: It took a while. It didn't hit me right away. It is what you work your entire life for. To eventually get into the NFL and win a championship on that level is something. For me it was a dream come true.
AE: What was your mindset like when the lights went out during the Super Bowl?
AB: In disbelief. (Both laugh.) It is the biggest game in the biggest sport in the U.S. and here we are with the lights off. We were trying to figure out what was going on, but at the same time trying to say warm because at some point we had to continue playing the game.
AE: 2003 was your rookie year and you made your presence known by winning the NFL Offensive Rookie of the Year award. Playing at the pro level is tough, so what did winning that award mean to you?
AB: I guess it is something that you can look back on once your career is said and done. It is something to be proud of. I am not into the individual accolades. Had we been a team that made it to the playoffs and had a winning record it might have meant more to me, but we struggled that year. We were probably 4-12 or something like that. Even though I had a great year individually, we had a long and rough year as a team.
AE: You have definitely showed toughness many times on the field. I remember watching the game against the New York Jets where you got injured. That was a scary scene. Still you just told the media that if you were really worried you wouldn't get back on the field. So I want to ask you where do you draw your strength from after taking a hit like that?
AB: My parents. Both of my parents are strong. They are the type of people that don't let anything get to them. Also being a product of my environment. Growing up in Pahokee (Florida) you have to be tough. It is a place of poverty. It is a place that lacks opportunity. So in order to make it you have to be tough. That probably had a lot to do with it.
AE: From trying to hear audibles at away games, tough defenses, staying healthy, and so on what is the most challenging aspect for you playing in the NFL?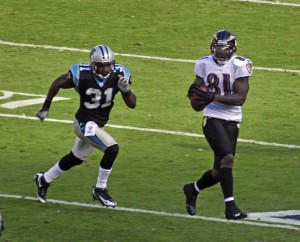 AB: The physical part isn't challenging at all. If you go out and prepare the right way and take care of your body I don't think that part is tough. I think for me just balancing the whole football part and being a husband and a dad. I think that is the toughest part for me.
You want to be there for your family as much as possible. I am going on 12 years in my career. It seems that my whole family has revolved around when dad has a game on Sunday. I don't want it to be that way. I want my life to revolve around my family. If my son has a game I want to be there for him. If my wife has something I want to be there to support her.  So for me that is the hardest part.
AE: You started the Anquan Boldin "Q81″ Foundation ten years ago. Congratulations on a decade of success for your foundation. You do a lot of great work here in the states and around the world. What inspired you to start up the foundation?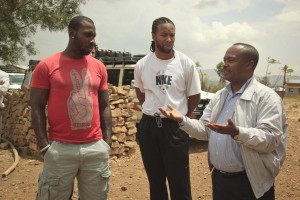 AB: For me it was something that I always wanted to do. Even if I didn't make it into the NFL giving back is something that is close to my heart. Like I said I didn't grow up in the best of situations. Definitely wasn't raised with a silver spoon in my mouth. There were a lot of things that I went without growing up.
As I said earlier I grew up in a place where there wasn't a lot of opportunity. Whatever opportunity you do have you have to make the most of it. Being in a position to help out and give back was what I wanted to do. If an opportunity wasn't there for a certain kid for whatever reason I want to help create that opportunity. There is a lot of talent where I grew up, but there is not a lot of opportunity for them to show that outside of athletics. For me I want to give them that opportunity.
AE: Talk to me about your annual "QFest" and how that came to be?
AB: It is the tenth year that we are doing this fest. At this point in consists of three events. Thursday we have a celebrity golf event at the PGA National, which is a course that everyone is dying to play. We are getting the champions course and the Palmer's course. So we will be playing two courses that Thursday.
Friday is the celebrity basketball game. We play it at my Alma mater high school in the gym in Pahokee. We usually get around 25 to 30 NFL guys to just have fun and play basketball. On Saturday we have a fun day at the park. We have a lot of activities going on. We feed everyone that comes out. We have entertainment and prizes on Saturday.
It started out as just a celebrity basketball game. It was my way of saying thank you to my community for supporting me over my career. They have always done that since high school. They have always backed me and supported me. So it is my way of saying thank you and it has grown from there.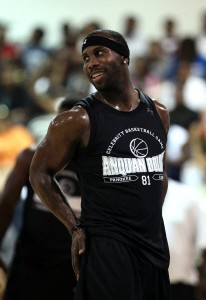 AE: Since the basketball game came first I take it that your basketball skills are better than your golf game.
AB: Yeah. (Both laugh.) Still working out some kinks in my golf game, but we are getting there.
AE: How do you pick your teams for basketball?
AB: The basketball thing is just random. We put guys on each team. It is just random. We don't really decide who is going to play for each team.
AE: How can people help out your foundation?
AB: We are always looking for people who have the same heart as us. If people are really wanting to help other people there are definitely things that they can do. We do a number of programs with my foundation that is not just athletically based programs.
One program that I am very proud of is one that we started a few years ago. I think that this will be either the third or fourth year that we will have it. We have a summer enrichment program. It is an eight week program where we help kids that are falling behind in school. We help them get back on track to graduate. That is a program that we are really proud of.
We have done a great job of getting kids back on track to graduate. Our percentage rate is really high in that program. Those are the type of things that I am more proud of than the athletics part. We do camps and things like that, but I am really just trying to help make a difference in kids' lives apart from athletics.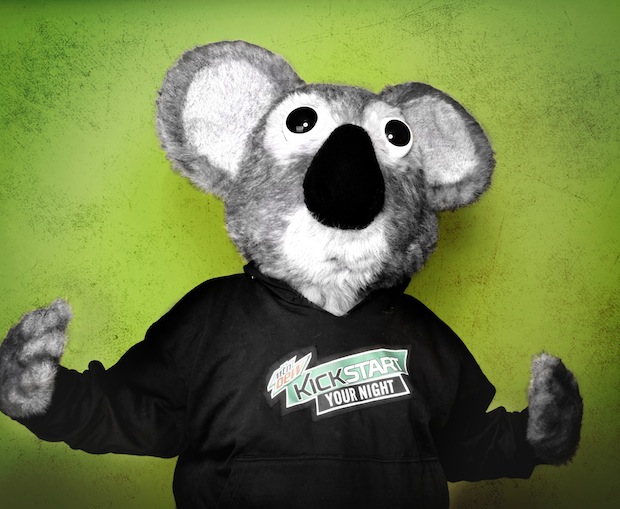 I remember some nights during my college years where my roommates and I would just sit on the couch. We were waiting for something to kick start the night. It was almost like a delivery guy was going to bring the party to us. How cool would that have been? Well today, college kids can rejoice as Mountain Dew announced that Kicks the Koala is making house calls to rescue you from the lame and open you to the awesome.
That's right, in the know college students will have a chance to have a human-sized koala named Kicks and his Hype Crew kick start their night simply by sending a tweet to the Mountain Dew Twitter handle – @mtn_dew – using the #GimmeKicks hashtag within the Tweet. Why? Because, who doesn't want to hang with a 6-foot, party-rocking Koala?  Please see images of Kicks being Kicks below.
Winners will be selected and notified via direct message immediately upon selection and Kicks, the most interesting human-sized Koala in the world, will arrive shortly – supplies in hand to kick start the night.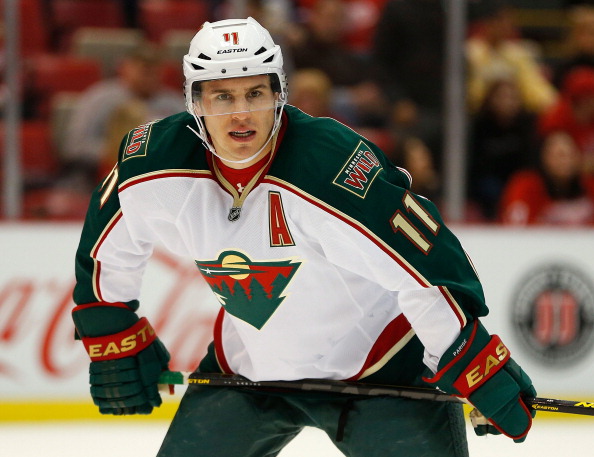 Zach Parise followed his father's footsteps by playing in the NHL. Zach was drafted by the New Jersey Devils in 2003 as the 17th overall pick. Parise then signed a 13 year contact with the Minnesota Wild where he currently plays the position of left wing. This move was sort of a homecoming for Zach since his dad, J.P. Parise played there and was the captain for the team who at the time was called the Minnesota North Stars.
Just recently Zach was named the captain for the 2014 U.S. Men's Hockey team for the Winter Olympics in Sochi. He and his fellow teammates came up short winning a medal, but he will always remember his time in Sochi.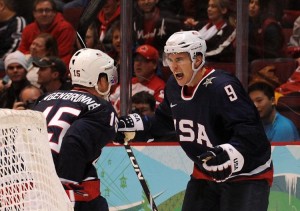 I was able to chat with Zach about the NHL, fatherhood, his Olympic experience including shooting a commercial with Chobani Greek Yogurt, and what lessons he learned from his dad before entering the league.
Art Eddy: The 2014 Winter Olympics are now a month behind you. What did you take away most from that experience?
Zach Parise: Unfortunately for us we left on a pretty sour note. We started off the tournament really well, but the way we ended with that loss to Canada and losing in the Bronze medal game to Finland was not what we had planned. We had some pretty high expectations over there.
The whole experience was awesome. There was a lot of fun. They did such a good job. The Russians did a great job of running the Olympics. I know all the stuff that was on the TV and the media before, but it was such a good experience. It was a lot of fun.
AE: The commercial you did with Chobani Greek Yogurt was pretty cool. How did working with Chobani come about?
ZP: They are one of our major Olympic sponsors for Team USA. They were looking for an Olympic athlete, well a hockey player in particular. We have a great relationship with them now. The commercial thing was one of the first times that I have done a commercial like that. It is amazing to see what goes into it.
It took us about 12 hours to film it. It was cool to see how they do everything and how many times you have to do the same thing over and over again, but it was really fun.
http://www.youtube.com/watch?v=r22DMJLRkRI&list=PLqmZKErBXL-M1v3JiejaMnCzu2rdFebo6
AE: Now switching to hockey is there a team that gets you more hyped when you see them on the schedule than any other team?
ZP: When I was playing in New Jersey you have those special rivalries. It was always us and the Rangers. Those games were so intense. I think we played them three times in the playoffs when I was there. Here in Minnesota we are starting to establish ourselves as a pretty good team. We are going to have some good rivalry games with the Jets and also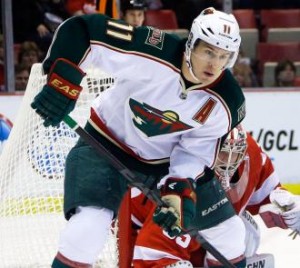 Chicago with just how close we are.
AE: Besides playing at home, which city do you like to play in?
ZP: Going to play in Montreal is always fun. The crowd is so good. To experience the excitement in the building is unbelievable. That is probably one of my favorite places to go play a game. It is a great atmosphere in the rink.
AE: Your dad, J.P. Parise made a name for himself in the NHL. What advice did he give you when you entered the league?
ZP: I think that his biggest thing was to enjoy it. He told me at the time of my first year that how quickly my career will fly by. At the time I was thinking okay I am 21 years old and it won't go by fast. Then all of a sudden I look today and I have been in the league for almost nine years. Then I was like he was right. He wanted to make sure that I enjoyed it and had fun playing.
It seems simple, but it was great advice. You go through so many ups and downs throughout your career. It is always good to take a step back and take a look at your career and see where you are and where you have come from.
AE: You have played in the NHL for about eight years now. How has your game evolved since coming into the league?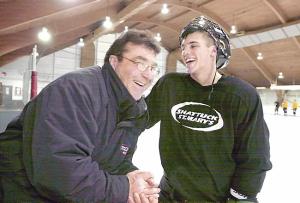 ZP: I think you learn a lot as you get older. You learn a lot mentally how to keep an even keel throughout a season. You go through so many different stretches where things are going right and everything seems to go in. Then there are times where nothing you do goes right.
As I have gotten older I kind of learned to keep a level head throughout the season. Not get too excited when things are good or not get upset when things aren't going so good. I think that is probably the biggest thing I have learned.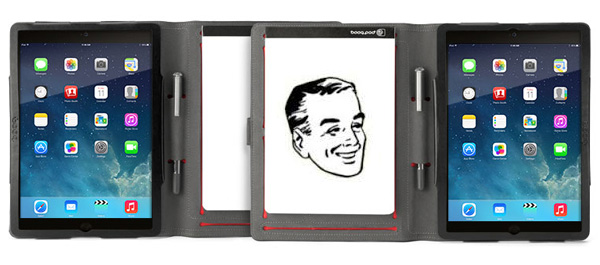 Here at MANjr we like to test drive a few new gadgets out and relay what we find. Here are some cool new tech toys that can help you get the most of your devices and adventures.
Booqpad for iPad Air
Booq, a leading brand of premium laptop bags, backpacks and iPad & iPhone cases unveils the new Booqpad for iPad Air, which is pictured above. Crafted from premium materials, the Booqpad combines an iPad Air case and notepad into one, giving creative professionals the ideal solution to create, store, review or present their next big idea. Multi-fold cover folio adheres magnetically to polycarbonate snap case via an ingenious super-array of magnets, giving your iPad Air the flexibility to be removed and ready for picture taking in a snap. A screen protector provides 360 degree protection. The Booqpad for iPad Air is available and shipping now for $60 at www.booqbags.com and retailers throughout the country.
Booq's intelligent design allows you to sketch like you mean business. A paper pad made from unbleached, acid-free and 30% recycled post-consumer content is perfect for salvaging ideas at your next meeting or while on-the-go. Its symmetrical design suits both left and right-handed note takers. The Booqpad easily folds into multiple angles, offering versatile protection while you view, type or play without interfering with the camera or access ports.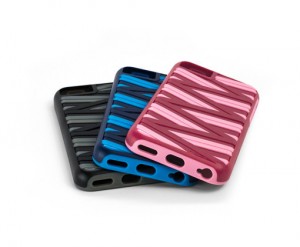 Rapt for iPhone 5c
Recently I picked up an iPhone 5c. My next mission was to find a case for my new phone. I saw the Rapt and I liked the design and how it would protect my phone. As a sneakerhead it also reminded me of the Air Jordan X sole. I got the blue/dark blue case and so far I am happy with the case. Hard polycarbonate and soft rubber criss cross and combine to make a new super protective case from X-Doria. Rapt's distinctive design is a combination of polycarbonate and rubber, wrapped together to form a super grippy surface across the back of your iPhone. Alternating matte and glossy textures add visual interest. Hard plastic protects your iPhone from impacts front, sides and back. Inside a soft rubber lining ensures that your iPhone never touches hard plastic. This soft lining extends to form a protective bezel, keeping your screen away from table tops and other potential scratch hazards. Volume and lock buttons are completely protected as well, yet absolutely accessible.
Blackfire: Clamplight
The Clamplight is an innovative and versatile LED flashlight that lights up every situation by clamping to virtually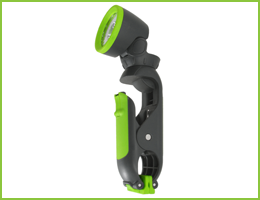 anywhere, making chores easier and play better. The quality grade CREE LED's provide 100,000 hours of bulb life and up to 100 lumens. It has resilient spring clamps to lock securely to shelves, doors, pipes, branches and a plethora of other objects, keeping both hands free and flashlight out of the way. There are two axis swivel head pivots and directs light where you need it. There is a nonskid feet lock to open and convert into a stand when there's nothing to clamp to. It also has high impact ABS plastic with non-slip TPR for a comfortable yet rugged look and feel. Last but not least the Clamplight has maximum portability which allows you to fit in a belt, pocket, or anywhere else.
BBQ Dragon
You are looking at the world's first charcoal accelerator that points a steady stream of fire-fueling oxygen directly onto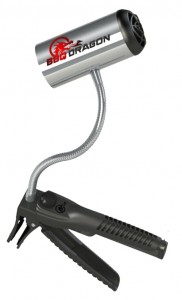 your BBQ to get it ready to grill in under 10 minutes. The BBQ Dragon takes a simple concept, which is adding oxygen to fire and puts some power behind it. For people like me it helps to make starting charcoal easier and faster than any other method and it's hand-free.  It is perfect for any fire, whether it is being used for the beach, smoker, fireplace, or wherever. The BBQ Dragon is battery-powered, hands-free and is micro-USB rechargeable. So as the summer approaches the BBQ Dragon could be very handy for those cook outs.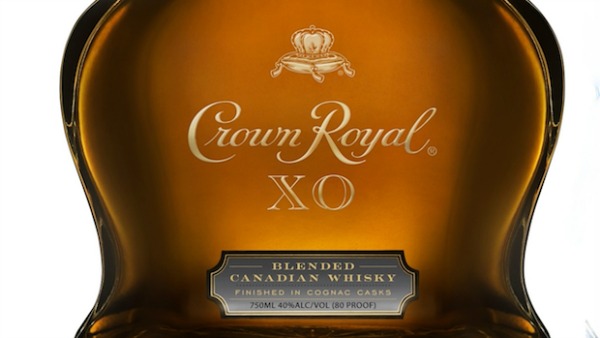 Earlier this year, Crown Royal welcomed a new spirit to the family. You already know the classic Crown. The original Crown Royal DeLuxe is still a favorite. Maybe you've sampled the sweetness of Crown Royal Maple Finished or taken in the fullness of Crown Royal Black and Crown Royal Reserve. If you're really lucky, you've savored the liquid dream that is Crown Royal XR – that rarest of rare Crown blends that includes the final batch of whiskies from the now-closed LaSalle Distillery in Montreal. The exceptionally smooth finish on the XR is well worth the price of a tasting. I highly recommend it.
The new Crown on the block is the Crown Royal XO. It's not as sweet as the DeLuxe or the Maple and it's not as impossibly smooth as the XR, but it does have one strong sensation these whiskies do not: spice. The type of spice we're talking about here isn't overbearing or anything like that. It's not like you're chugging a bottle of Cholula here. But make no mistake, there's some bite to the XO. It's a welcoming bite though – a crisp wave of spice that wakes you up without making you cry.
Maybe it's the blend of more than 50 different Crown Royal whiskies. Maybe it's the fact that XO is finished in cognac casks from the French Limousin Forest. I'm not sure what gives XO its bite, but I think that the feature that sets it apart from the rest of the Crown family.
Other folks have talked about the smoothness and vanilla undertones and hints or dried fruit and so forth, but that's not what I think of when I try this whiskey. I think of that spicy bite, and I like it.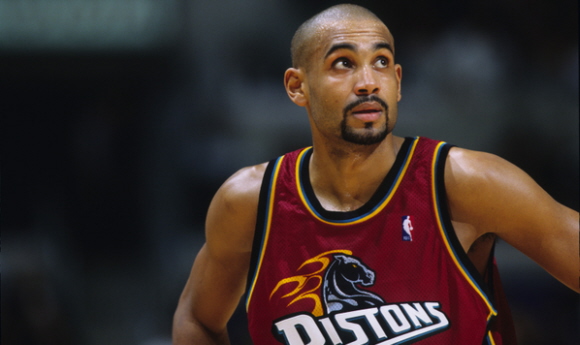 If you are a fan of the game of basketball than you are probably a fan of Grant Hill. From his college days at Duke University to his time in the NBA Hill always gave it his all on the court. If you don't believe just look at some of his accolades. In college he was a two time NCAA champion, the ACC Player of the Year, and NABC Defensive Player of the Year.
In the NBA Hill made his presence known right away by winning the NBA Co-Rookie of the Year award. He was a seven time NBA All-Star and was part of the All-NBA First Team in 1997.
Besides his great body of work on the court, Grant has helped just as much off the court with community service. Hill has been working with the National Association of Basketball Coaches (NABC) and Allstate to promote the 2014 Allstate NABC Good Works Team. This is a team made up of 10 college basketball players who have been recognized for their community service and work off the court. Hill is a member of the voting panel with other former student-athletes, coaches and media members to select the team.
Grant was able to chat with me about the NABC Good Works Team program, basketball, and his signature sneakers.
Art Eddy: First off let's talk about the 2014 Allstate NABC Good Works Team program. Tell how you are helping out with the NCAA and Allstate.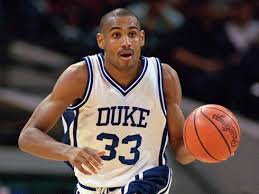 Grant Hill: I am proud to be associated with the National Associate of Basketball Coaches and of course AllState to be a national ambassador for this team. It is the second year of this program. Basically they select a group college basketball players who stand out in their community for their charitable achievements and activities.
We get a chance to honor the ten players who were selected for this team. It is really an outstanding group of men who exemplify and embody what this award is really all about. The great thing for me is that I had an opportunity to see the importance of giving back and making a positive impact on my community while I was at college in Duke. That is something that really stuck with me throughout my career and my life.
To know that there are basketball players all over the country that we had a chance to select from was great. Unfortunately not all could make it, but the ten who did are really exceptional. Just to know that there are other kids out there who understand this I think is really amazing and really important. I am honored to be involved and share it with people like you.
AE: How can fans participate?
GH: You can go to the website, nabc.org or bca.org. There is also a team for women's college basketball. There will be a program where we honor them at the Final Four this year in Texas. There will be a community project benefitting the city in the Dallas area. We will have an opportunity to get all ten of these honorees together. Certainly you can go onto the website and get all of the information.
AE: March Madness is here. Every sports station seems to always show your iconic moment with Christian Laettner to beat Kentucky. I take it that video highlight never gets old for you?
GH: No it doesn't. It is funny. You get a chance to relive great moments. Basically that happened about over 20 years ago. It is still one of those plays that I guess people will always remember. It is really just what I think the NCAA tournament is all about.
Those big game moments and great plays on that stage are fun. I don't have a problem whatsoever. I know that at some point during March Madness I get a chance to see it on television and I am not complaining. (Both laugh.)
AE: What were some of the things that Coach Mike Krzyzewski taught you at Duke that you still take with you in life?
GH: Coach K has taught me that there are so many values that you can take from the game and really apply them in life. There is hard work. There is preparation, discipline, collective responsibility, and pride. All these different things that he stressed makes him a great coach, teacher and a leader. It also translated into great teams.
Certainly all of his teams do not win the championship, but for the most part they play and do things the right way. I think a lot of those values you can take with you. I know I have. It stuck with me. I was a teenager 20 some odd years ago playing for Coach K. I still remember and go back and think about those lessons and apply them in all facets of life.
Coach K is the best. I am fortunate that I had a chance to play for him. He is still going. Coach is still continuing to contribute to the game. He still is having an impact over the span of 30 years at Duke University. It is pretty remarkable.
AE: Your first year in the NBA you showed the league what you could do. You won NBA Co-Rookie of the Year. What was your initial impressions about the NBA after your first year?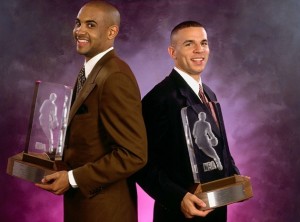 GH: At first it was interesting. There were certain things about the game early on that I realized were easier than I had anticipated. There also were some things that were more difficult. After a year under my belt and having the time to reflect after my rookie season I had an idea of what I needed to improve upon.
I had some confidence now. I can play at a high level. I can make the All-Star games. I was hungry like most young players to get better. After success early on you are still trying to prove yourself. After my first year I was still trying to prove myself. I locked myself in the gym. I worked on my game and I felt like I came out better the next year.
AE: Do you have a favorite all-time moment from your playing days in the league?
GH: It is hard to choose from. I feel like my career was separated in a few different careers. It was like two or three careers in one. In the 90s, which included my time at Duke from 1990 to my time in Detroit up to the year of 2000 were just amazing. I certainly couldn't have dreamt up anything better. Four years in college and six years in the pros, All-Star games, and all of that.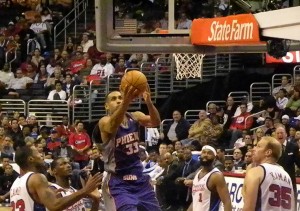 From the adversity of my time during the Orlando years, being hurt, and thinking that I might not be playing ever again. At the end there were some really neat years in Phoenix. Maybe because it was more recent I would say I enjoyed my time in Phoenix.  I had a new opportunity. I was appreciative of going through the fire and going through adversity.
Even though I was a different player it can be just the opportunity to play. Sometimes you can only appreciate things until they are gone. They were almost gone for me. My whole career was great. It had its ups and downs, but I wouldn't change it for one minute. I was just grateful that I was able to play and play for as long as I did.
AE: You had some cool signature kicks during your time in the NBA. Did you have a favorite?
GH: Not really. Maybe my first shoe might have been my favorite just because it was the first one. It really took off and did well. Those were fun times. I was real fortunate. A lot of things that I have dreamed of happened for me and happened right away. That seems like a whole lifetime ago. That was almost 20 years ago.
It was cool to have your own shoe. It is cool now for my kids to look back and see that I had my own shoe.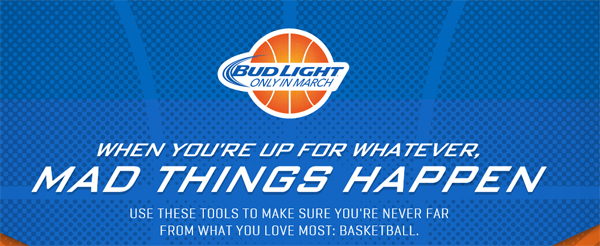 Brackets are made and all eyes will soon be on Dallas. If you're not heading to Dallas and are stuck in the office, Bud Light is making it easy to pretend like you're working when you're secretly watching the biggest basketball tournament of the year.
This week, Bud Light is introducing three tools to help sports fans focus on the tournament, even if they're trapped at their desks:
Mad Ads – Keep up with all the scores – no matter what site you're on – with Bud Light's Mad Ads. This handy little app will replace banner ads with scoreboards. You're welcome.
Cheat Sheet – Want to check the scores, but the boss is hovering? No sweat.  Just use the Bud Light Cheat Sheet, a spreadsheet that automatically populates with the latest tournament updates but looks like something you're supposed to be doing. You know, work stuff.
Fast Break – Need an excuse to get away from your computer? Use the Fast Break tool to fake a hard-drive catastrophe so you can sneak away to watch the games.
Beginning today, fans can grab the tools at BudLight.com/MadThingsHappen.