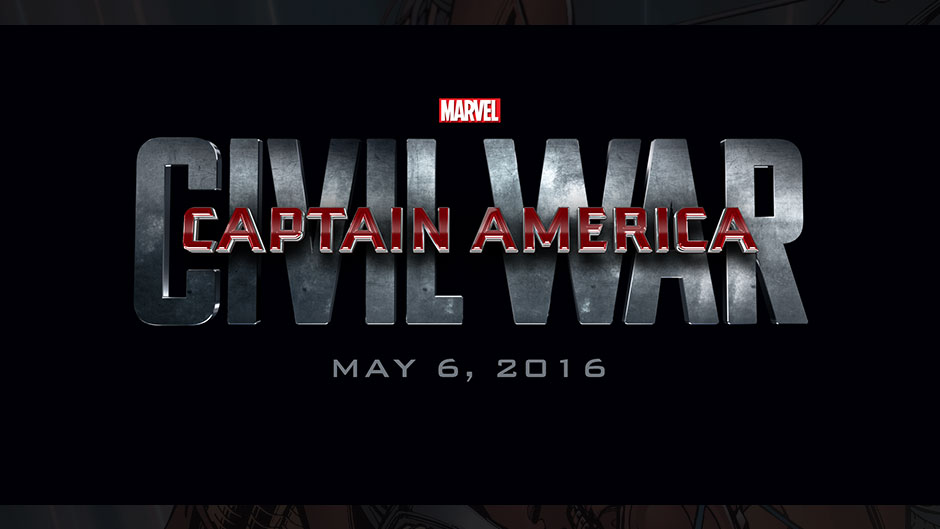 Marvel Studios has commenced principal photography at Pinewood Studios in Atlanta, Georgia on "Captain America: Civil War," the third installment of its Super Hero franchise. The production will shoot on location in Atlanta, Georgia, which serves as the base for the film's production, as well as locations in Germany, Puerto Rico and Iceland.
Set for release in the United States on May 6, 2016, "Captain America: Civil War" is directed by Anthony and Joe Russo from a screenplay by Christopher Markus & Stephen McFeely. The film returns Chris Evans as the iconic Super Hero character Steve Rogers/Captain America along with Robert Downey Jr. as Tony Stark/Iron Man, Scarlett Johansson as Natasha Romanoff/Black Widow, Sebastian Stan as Bucky Barnes/Winter Soldier, Anthony Mackie as Sam Wilson/Falcon, Paul Bettany as The Vision, Jeremy Renner as Clint Barton/Hawkeye, Don Cheadle as Jim Rhodes/War Machine and Elizabeth Olsen as Wanda Maximoff/Scarlet Witch.
After his debut in Marvel's "Ant-Man" on July 17, 2015, Paul will make his first appearance alongside the Avengers as Scott Lang/Ant-Man in "Captain America: Civil War."
The film also includes outstanding additional cast, including Chadwick Boseman as T'Challa/Black Panther, Emily VanCamp as Sharon Carter/Agent 13, Daniel Brühl, Frank Grillo as Brock Rumlow/Crossbones, William Hurt as General Thaddeus "Thunderbolt" Ross and Martin Freeman.
"Captain America: Civil War" picks up where "Avengers: Age of Ultron" left off, as Steve Rogers leads the new team of Avengers in their continued efforts to safeguard humanity. After another international incident involving the Avengers results in collateral damage, political pressure mounts to install a system of accountability and a governing body to determine when to enlist the services of the team. The new status quo fractures the Avengers while they try to protect the world from a new and nefarious villain.
Marvel's "Captain America: Civil War" is produced by Marvel Studios' president, Kevin Feige, with Louis D'Esposito, Alan Fine, Victoria Alonso, Patricia Whitcher, Nate Moore and Stan Lee serving as executive producers.
Based on the Marvel comic character first published in 1941, "Captain America: Civil War " continues the lineage of epic big-screen adventures chronicled in  "Iron Man," "The Incredible Hulk," "Iron Man 2," "Thor," "Captain America: The First Avenger," "The Avengers," "Iron Man 3," "Thor: The Dark World," "Captain America: The Winter Soldier," "Guardians of the Galaxy," "Avengers: Age of Ultron" and the upcoming release schedule, which includes Marvel's "Ant-Man" on July 17, 2015, Marvel's "Doctor Strange," on November 4, 2016, Marvel's "Guardians of the Galaxy 2," on May 5, 2017, and Marvel's "Thor: Ragnarok," on November 3, 2017.
Marvel Studios most recently continued its unprecedented success with the release of "Avengers: Age of Ultron" on May 1, 2015. The film recorded the second biggest opening weekend of all time with a $191.3 million box office. It has also been the #1 release in every country where it has been released.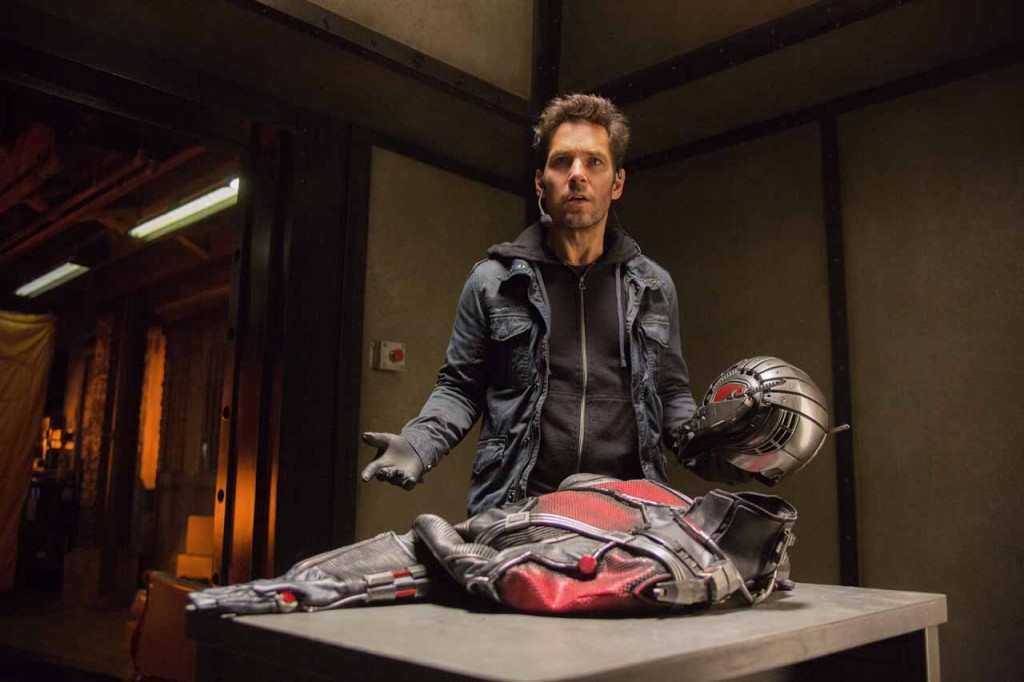 Marvel releases a new poster for the upcoming Ant-Man film. The next evolution of the Marvel Cinematic Universe brings a founding member of The Avengers to the big screen for the first time with Marvel Studios' "Ant-Man." Armed with the astonishing ability to shrink in scale but increase in strength, master thief Scott Lang must embrace his inner hero and help his mentor, Dr. Hank Pym, protect the secret behind his spectacular Ant-Man suit from a new generation of towering threats. Against seemingly insurmountable obstacles, Pym and Lang must plan and pull off a heist that will save the world.
Marvel's "Ant-Man" stars Paul Rudd as Scott Lang aka Ant-Man, Evangeline Lilly as Hope Van Dyne, Corey Stoll as Darren Cross aka Yellowjacket, Bobby Cannavale as Paxton, Michael Peña as Luis, Judy Greer as Maggie, Tip "Ti" Harris as Dave, David Dastmalchian as Kurt, Wood Harris as Gale, Jordi Mollà as Castillo and Michael Douglas as Hank Pym. Directed by Peyton Reed and produced by Kevin Feige, Marvel's "Ant-Man" delivers a high-stakes, tension-filled adventure on July 17, 2015.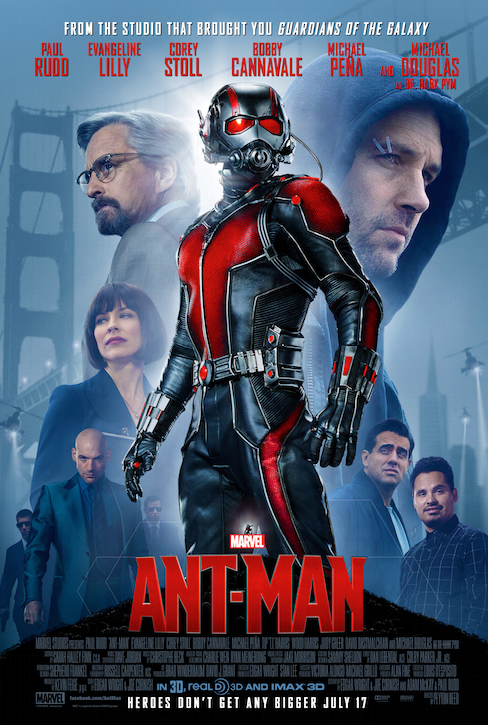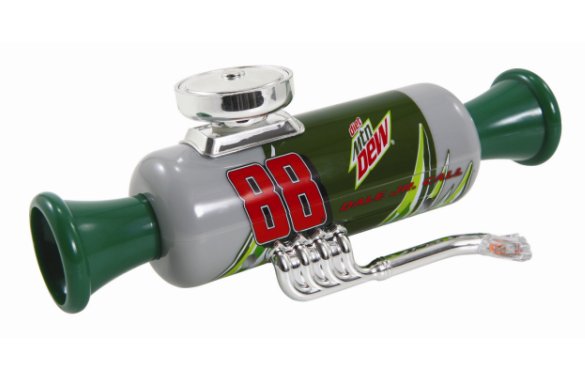 Are you a fan of Dale Earnhardt Jr.? Well now you can get your very own Dale Cal. You have seen this in the Mountain Dew ads with Dale. You see people give it a blow to have Dale Jr. himself come to the rescue. In the most recent ad you see some guys playing paintball. So when your back's against the wall, call for reinforcements. Dale Call to be exact. If you want to purchase your own Dale Call check out Amazon.com.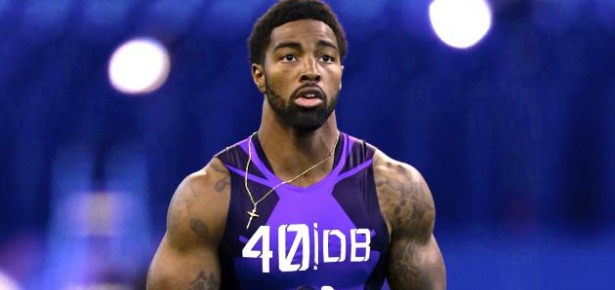 Exactly 256 players heard their names called during the seven rounds of the 2015 NFL Draft. One of those guys was University of Miami (Ohio) cornerback Quinten Rollins, an intriguing prospect that the Packers selected with the 62nd pick overall. Rollins played four years of basketball in college and finished second in school history with 214 career steals. After securing a fifth year of eligibility, Rollins turned his attention to football, a sport he hadn't played since high school.
The results were pretty impressive. Playing in just one season, Rollins racked up 72 tackles and seven interceptions in 12 games. That single season performance earned him MAC Defensive Player of the Year honors. He was invited to the Senior Bowl and kept things rolling, securing an interception in that game as well.
By all accounts, Rollins just knows how to get after it. He's the only basketball player in Miami history to register two 7-steal games. His ball-hawking skills are unquestioned. He was a turnover machine on the football field and the guy likes to tackle, too. He may not have years of experience under his belt, but the dude's a proven athlete who has shown that he can get results. I got a chance to chat with Rollins a couple weeks before the draft.
So what made Rollins go back to football?
"It was the right move," he said. "I thought about playing football out of high school. I was playing both basketball and football, but basketball is the path that I chose for education purposes. It was my first opportunity to get to college. My first scholarship offer my junior year. I always knew that I would get back into football. It was just a matter of when and where. I thought about it after my sophomore year, but it didn't happen. Then my senior year came around and I got an opportunity for a fifth year, and I just took a chance. I decided to sit down and meet with Coach Martin. I was in on a trial basis for spring ball. He gave me the opportunity to come out and earn a scholarship, and that's what I did."
I had read that Rollins considered playing basketball overseas, but ultimately, that idea didn't appeal to him.
"Well, I'm a father. I had already been away from my daughter, being away at college with a 24-7 demanding schedule as far as academics and athletics go. I just didn't want to go that far away from her. I felt like it would be better for me to stay over here in the US and get back into football. It was just a matter of when and where, and it just happened to work out perfect."
Rollins is working with Speed Stick on their #DefyTheDoubt campaign. The experience of going from a student athlete to a professional with corporate sponsors supporting you as you make the leap to the next level has got to be a trip, right?
"It's great," Rollins said. "I'm blessed that Speed Stick gave me the opportunity to share my journey up until this point. Hopefully it continues to get even better as I continue to grow as a person and as an athlete. It's definitely surreal to get opportunity to work with these guys like Speed Stick to get these types of endorsements. But at the end of the day, it still matters what you do and how you represent yourself as a person and as an athlete. I still have a lot of work to do, but it's definitely been a blessing that they've allowed me to share my story and my journey. Hopefully, like I said, it continues to keep getting better."
When tight ends like Tony Gonzalez, Jimmy Graham or Antonio Gates make plays in the NFL, there seems to be some sort of rule that an announcer must always reference the fact that they played basketball. Seriously, has Jimmy Graham ever caught a touchdown without an announcer mentioning the phrase "former basketball player?" It doesn't happen. It gets mentioned every single time the guy scores. And he's scored 51 touchdowns in five NFL seasons. This only seems to apply to offensive players though. I asked Rollins what skills he honed on the court that could make him a defensive difference-maker on the football field.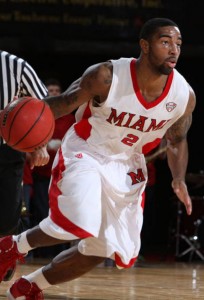 "Man-to-man defense in basketball," Rollins said. "That helps me tremendously in man-to-man coverage on the football field as far as my feet go. In basketball, it's all about your feet. Sliding and moving your feet. It's the same in football, but in the NFL you can't put your hands on a guy past five yards. So that's definitely been one of the most vital things. And then as far as end zone coverage and being point guard, you got to see the whole floor. That's allowed me, in end zone coverage, to open up and get back to my natural instincts of being a point guard and seeing everything that's going on and see the big picture. And anticipation. As a point guard, you got to always be a play ahead. It helps in football, too. I can anticipate things and just see it happen before it does happen. Also, having that next play mentality. As a point guard, you're going to make mistakes. You're going to have turnovers. You're going to have bad plays. But just like in football, you might get beat on a catch, but you got to have that next play mentality. You can't have your head down, because it's most likely going to come right back at you so you got to be prepared for it."
Some scouts have projected Rollins as a safety in the NFL. Does he have a position preference for the next level?
"I really don't care where I play at" he said, "whether it be nickel, outside, inside, back end safety. I'm just ready to get somewhere, learn the system and get going."
So why defense? Rollins played running back at Wilmington High School in Ohio. He had a chance to play running back in college as well, but Rollins chose defense because of the upside potential at the professional level.
"When I gave coach Martin my film," Rollins said, "he obviously saw me at running back in high school. He gave me the option, when we sat down and met, he said you can play offense or you can chose defense. After going over the pros and cons for each, I felt defense was going to be better, especially for longevity purposes. Running backs really don't play that long in the NFL, as opposed to corners. With my size and my athletic ability, I chose the more elite position. It's valued more. So I figured that was the best route for me to go."
Smart move, especially with his existing skill set. Big ballin' tight ends who have size, can get separation and handle the ball in the paint/endzone have certainly become a thing in the NFL. But this could be another trend worth watching. The Packers took Rollins in the second round this year, but last season they selected Baylor CB Demetri Goodson in the sixth. Goodson was also a point guard who didn't have a ton of football experience in college (he played basketball at Gonzaga). The emergence of highly athletic, ball-hawkish point guards in the secondary is worth monitoring. Especially when these top-flight athletes are making the conscience business decision to apply their skills at a premium position that tends to attract big money.
Basketball and football are obviously different. Sure, the similarities help a guy like Rollins, but he appreciates the differences as well.
"I love the way teams bond together, but that's what was different. With basketball, we were a very close team, but you look at the work that a football team puts in, it's totally different. Like how you can get a hundred guys all on the same page, working hard and everything. There's just something about that that's special," he said.
At the end of the day, Rollins just loves to make plays. And big plays can be a lot bigger on the football field than on the basketball court.
"In basketball, there's a lot of possessions. In football, the possessions are limited. So any time you get the opportunity to make a game-changing play to impact the game in a vital way," he said, "it's something special."
Talking with Rollins, it's clear that he loves football.
"Everything that comes with the game, I enjoy," Rollins said. "I actually didn't realize I missed it that much until I got back out there on the field again. I mean, there's nothing like Friday night lights, obviously, but Saturdays are special, too. And I'm looking forward to see what Sundays are like."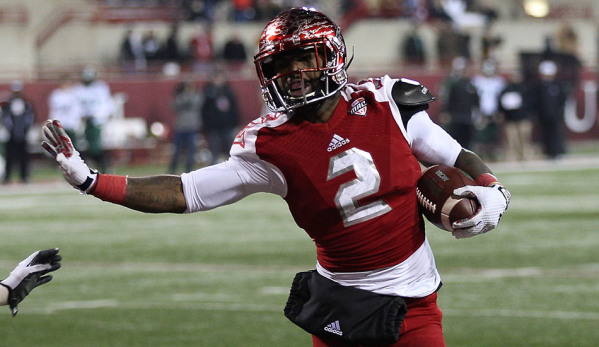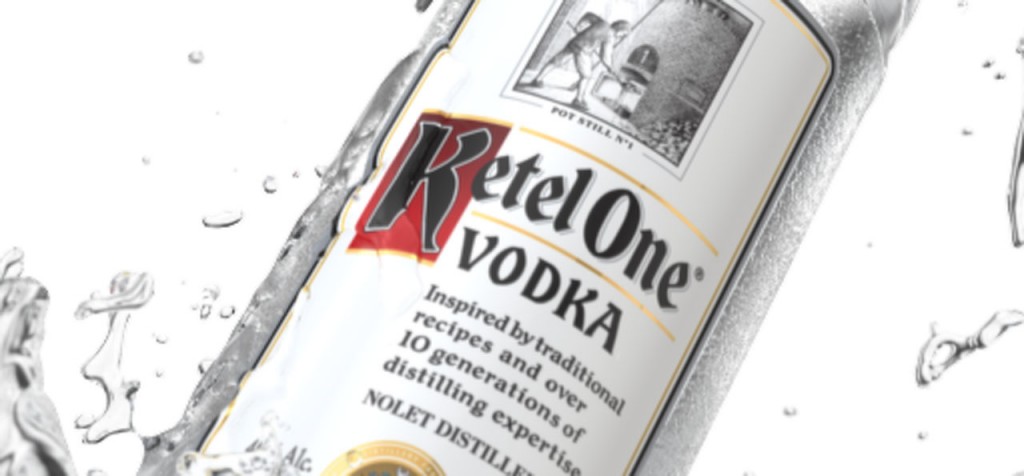 We are now in the month of May. The weather is fantastic. We all have the urge to go outside and grill something. I have known a few friends in the past to have grilled their bacon for their breakfast to just enjoy the morning outside. Yes, it is that nice out even when the sun is rising.
While you are outside grilling your dinner you may want to grill some limes as well. The reason why is that I created a very refreshing drink recipe courtesy of the good folks at Ketel One Vodka. They gave me a bottle of their famous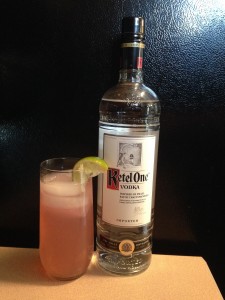 vodka as well as an outstanding grilling kit. They must have known I needed any help that I can get when it comes to grilling.
I was asked to create a cocktail for the spring and summer months. I created the Grilled Lemon and Limeade. It is perfect of Cinco De Mayo parties or anytime you are looking for drink to go with a BBQ. Below is the drink recipe. Here is to a very fun spring and summer!
Ingredients:
• 1.5 ounces of Ketel One Vodka
• 2.5 ounces of Raspberry Lemonade
• 1.5 ounces of Lemon – Lime Seltzer
• Lime halved
• Ice
Directions:
Place limes on grill, cut side down, and cook until browned, about 5 minutes. Remove from grill. Next in a regular 8 ounce glass add a few ice cubes. Pour in the Ketel One Vodka, raspberry lemonade, and lemon and lime seltzer. Mix ingredients. Finally add one grilled lime into the cocktail.
As always please enjoy Ketel One vodka responsibly. For more great cocktail recipes go to the Bar.com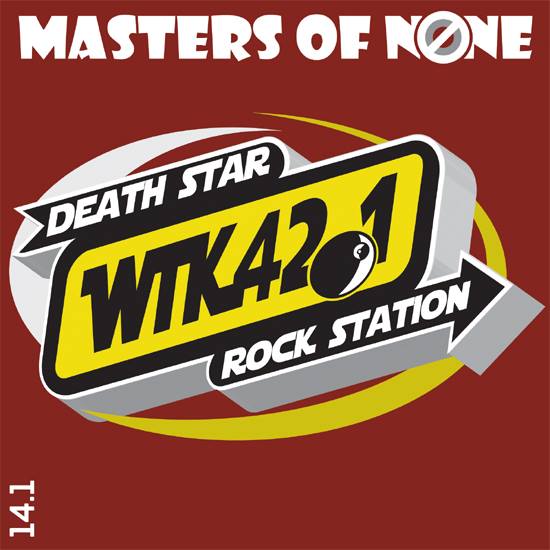 There were so many things happening during the Battle of Endor. The Rebels were trying to destroy the second Death Star that the Empire was in the process of building. Luke was about to face his father, Darth Vader in an epic lightsaber battle. Before Admiral Ackbar yelled out his famous line did you ever wonder what was going on in the second Death Star?
Well now you can. Thanks to the Masters of None podcast, we can hear what was going on before Lando and the rest of the Rebels blew up Death Star number two. In these lost tapes you will hear actual audio from one of the Death Star Radio programs. It is from the morning show called TK-69 & The Clone Zone in the Morning! It was the station dubbed as "The only radio show BY storm troopers, FOR storm troopers."
From prank phone calls to interviews with independent contractors you will get a new take on what went on in the Death Star. Coincidentally these audio tapes were just found on the eve of Star Wars Day. Sit back and enjoy a radio show from a long, long time ago!
May the 4th Be With You!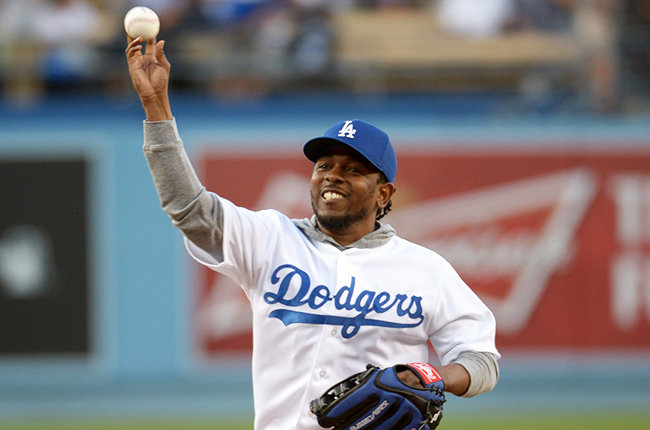 Kendrick Lamar was pumped to throw out the first pitch at Dodger Stadium in Los Angeles thi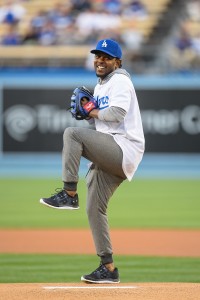 s week, wearing the new Reebok ZPump Fusion sneakers to deliver the ceremonial first pitch before the Dodgers vs Giants game.
Proudly wearing his Dodgers blue and flashing a huge smile, he made a perfect pitch right over home plate as "King Kunta" (from his latest album To Pimp A Butterfly) blared over the loudspeakers.
The Reebok ZPump sneakers (black/graphite/white) are available now for $110 at Reebok.com, Finish Line and additional retailers.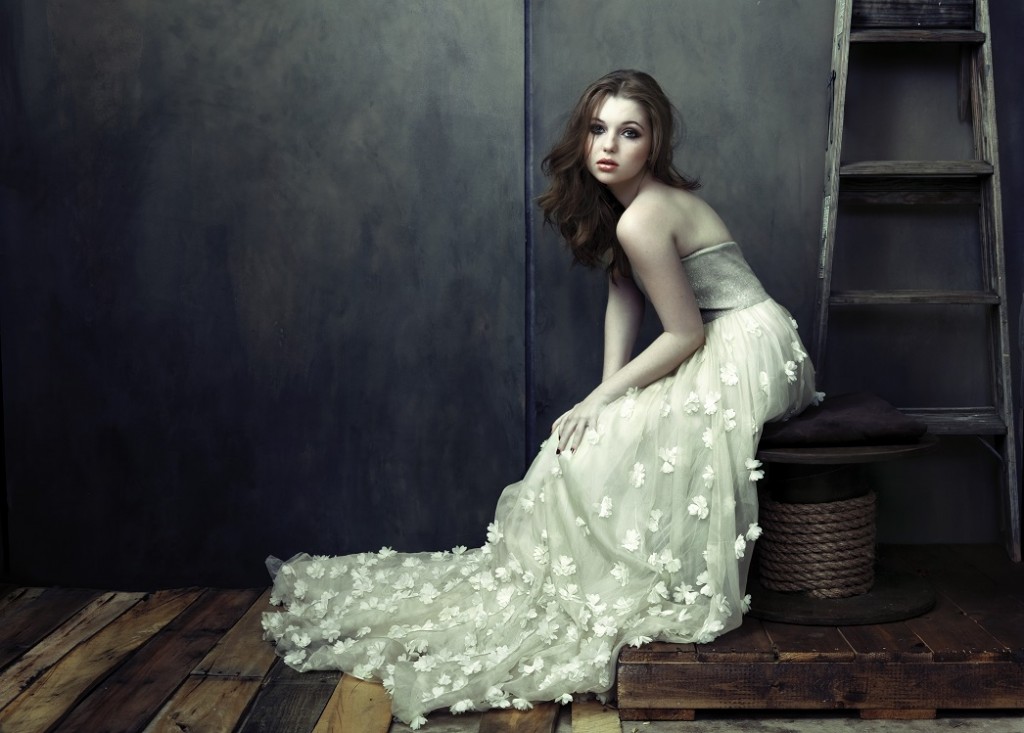 Sammi Hanratty is a face you may have seen a lot in Hollywood and that's because the young up-and-coming actress has been on your television and movie screens for nine years, and she's only eighteen years old. Her latest projection, Lifetime's "Seeds of Yesterday," will be premiered this last month where she stars alongside James Maslow and Jason Lewis in the fourth installment of the cult book series by V.C. Andrew (the first of which was "Flowers in the Attic" with Kiernan Shipka).The 2nd season of WGN "Salem" is back too.  Sammi stars in the Crackle web series "Chosen" with Milo Ventimiglia and Chad Michael Murray in the suspense/horror series about a game in which families are pinned against each other to the death.
Art Eddy: You have a new film called "Seeds of Yesterday" that premiered April 12, 2015 on Lifetime. Tell me a bit about the film and your role.
Sammi Hanratty: It's the fourth film from Flowers in the Attic. At this point, it's a twisted family coming to the end. My parents are brother and sister, and I have a very twists brother Bart. Bart is crazy, mentally unstable. I also fall in love with him, which is also interesting. I play this very sexually flirtatious girl that throws herself at every guy. It's how she copes with what goes around her. My other brother, Jory, becomes paralyzed and his wife starts to sleep with my other brother Bart. There's just something constantly going on with this family, something completely off. But at the same time it makes sense for this family, coming from where they come from.
AE: What was it about this role that appealed to you?
SH: I think it's such an interesting thought processes. What would happen if you were locked up with your brother for so long? You probably would fall in love. This story is endearing to me; it puts the audience in an uncomfortable place they wouldn't think about otherwise. It's very interesting and different which is why I love it.
AE: How did you and the rest of the cast buildup chemistry before you started shooting the film?
SH: We just kind of hung out a bit, not much though. Anthony and I we have this dance scene that goes on, we prepared for that and got to know each other. It was kind of instant chemistry for a lot of us and it was nice to be in a film where this happened.
AE: The second season of "Salem" is back up. You continue the role of Dollie. How excited are you to have this fantastic series back on for another season?
SH: I am very excited for the audience to see what's happening to the characters and in the season. As a fan of the show and as acting for it, I can't wait to read the scripts for this season.
AE: What can we expect from your character this season?
SH: In this season Dollie is starting to have feelings for Isaac, and now Mercy has captured him, and Dollie is kind of going against her by questioning her (Mercy's) desires. It's creating friction between the two.
AE: What are most excited for fans of the show to look out for in the next few episodes?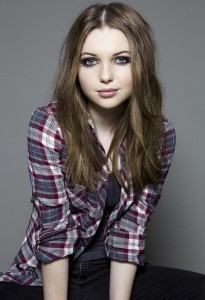 SH: I think just the dynamic between Dolly, Mercy, and Isaac. The last thing the audience has seen is Mercy beating Isaac, and Dolly speaking up and getting beat up. This goes somewhere pretty crazy.
AE: You have good following on social media. Do you interact with fans while "Salem" is airing?
SH: Yea, I love to talk to people during the show. I love when people ask questions. I love doing fun little hashtags such as #salemsundayhosts.
AE: You have a lot of projects on your plate. How do you balance your different shows and films?
SH: One of my favorite parts is being someone who can change it up all the time. It excites me more when I'm super busy with different roles and characters. When I was younger, I would record three shows at ones so it helped me. I think because I grew up in the industry, I'm used to it now.
AE: As you look back at last year and now move forward in 2015 what did you learn about yourself as an actor?
SH: I've learned so much about myself. It's interesting being a child actor growing up in this industry. I learned what I'm comfortable with and what I'm not comfortable with, and accepting that. I'm at the place of realizing why I'm an actor. I think God has allowed me to be in a career where I can have a voice and I should use that voice for the charities I work with, to use my passions in the best ways possible. In the last year it hit me why I have the passion and drive to act and to be in this art, and it's because it allows me to speak up for charities I adore.
AE: What is the next project you would love to tackle in your career?
SH: I love doing it all. I would love to play a transgender role. I think it is so fascinating and it would be so different from what I've played in the past.
Follow Sammi on Twitter @SammiHanratty1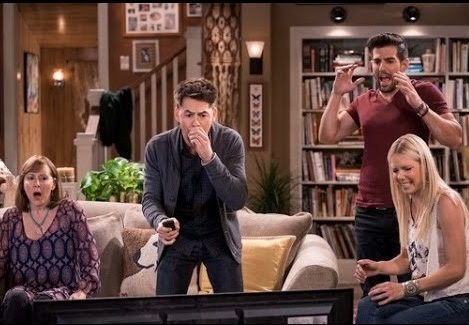 Adrian Gonzalez was born in the south Texas border of Brownsville, TX and raised across the Rio Grande in Matamoros, Tamaulipas, Mexico.  Living in Mexico but crossing the border and going to school in Texas gave him a unique fully bilingual upbringing.  Upon graduating high school he moved to Evanston, IL to attend Northwestern University where he double majored in Theater and Psychology. He took his MCAT to pursue a career in medicine, but followed his instincts and pursued an acting career.
After Northwestern, Adrian moved to downtown Chicago.  He performed with various theaters throughout the city including Teatro Vista, The Artistic Home, Hubris Productions, Pegasus Players, The Side Project, and Goodman Theater. Adrian had much larger aspirations in mind after achieving a solid theatrical base of performance. He packed his car and relocated to Los Angeles, where he could now pursue and concentrate on film and television.
Since arriving in LA, Adrian has appeared in several television series, including The Mentalist, Bold & the Beautiful, Up All Night, 90210, NCIS, and NCIS LA.  He appeared as the rich playboy Santi Jr. in The Bridge episode "Vendetta".  He's worked on various sketches with Funny or Die and CollegeHumor, including the viral video Dora the Explorer and the Destiny Medallion where he plays the role of Diego.
I asked Adrian about his new show on TBS called "Your Family or Mine," acting and more.
Art Eddy: Tell me about your character and the show.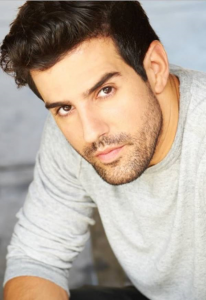 Adrian Gonzalez: The show follows the perfect couple, Oliver and Kelli, and each week they alternate in visiting each other's family. So essentially you get two shows about two crazy families all in one. I play Enzo, Kelli's sister Shawni's boyfriend. Enzo is the best. Everyone loves him, wants to be around him. He can do no wrong, especially in Gil's eyes (Kelli and Shawni's dad). He's always happy and you're not sure if he's a little dumb or just foreign. He's a lot fun!
AE: What was the audition process like for you?
AG: I was called in on a Friday and the job was starting that Monday. I want to say it was the third call and they hadn't found anybody yet. I read twice for casting and then got pinned later that day. Monday came, and I hadn't heard anything yet. The show had already begun rehearsing. Tuesday I was asked to come in again and make an adjustment to the characters accent. Tuesday night I got the offer and Wednesday I started work. It was all very last minute and a little crazy.
AE: What did you do to prepare for this role?
AG: If I tell you then I'd have to kill you. Kidding. I didn't get a script beforehand.  All I had was the character breakdown and the sides. Essentially, I felt there was a lot of room to play with this character. I knew he had to have some sort of a South American accent and I started playing with it from there, finding jokes but making sure he stayed grounded.
AE: How did you build up a chemistry with the rest of the cast members?
AG: It was effortless. It really felt like a family. We're together all week rehearsing and playing and everyone was really welcoming. Especially our leads, Kyle Howard and Kat Foster. They're just really cool people. Ed Begley Jr who is a sitcom legend was also incredible to work with. This was my first time working in multi cam sitcom and I often went to him for advice. He's the best.
AE: What TV shows are you into besides "Your Family or Mine?"
AG: I watch a lot of TV. I try to keep up with what's current.  Game of Thrones, Daredevil, Jane the Virgin, Cristela, Broad City and Key & Peele are also hilarious.
AE: What got you into acting?
AG: I took a class in college and I got hooked. Tried taking more and they were only available to majors, so I made it a major. I was pre-med at the time and I was in the process of applying for medical school when I decided to take a year and give it a go. I never looked back.
AE: Do you remember your first role?
AG: It was a play in college called Finished from the Start. I was part of an ensemble called Los Desaparecidos, the disappeared. We were telling the story of the people of Chile that disappeared during Pinochet's dictatorship. It was an intense process, but it made me fall in love with telling stories.
AE: What would your ultimate role be?
AG: To be able to portray someone like Desi Arnaz. He was way ahead of his time, created the multi cam setup that I love to work in and our show is shot in, and is Latino. He led an awesome life and struggled his way in Hollywood, especially because of being Latino, and still was able to achieve amazing success. It's beautiful to see that times have progressed and I would love to tell his story and the influence he had in that change.  Also anything supernatural or in the sci-fi/fantasy world. I've always wanted to have magic powers like telepathy or teleportation and be able to do stunts. I'm active in my real life and would love to show that in some of my roles.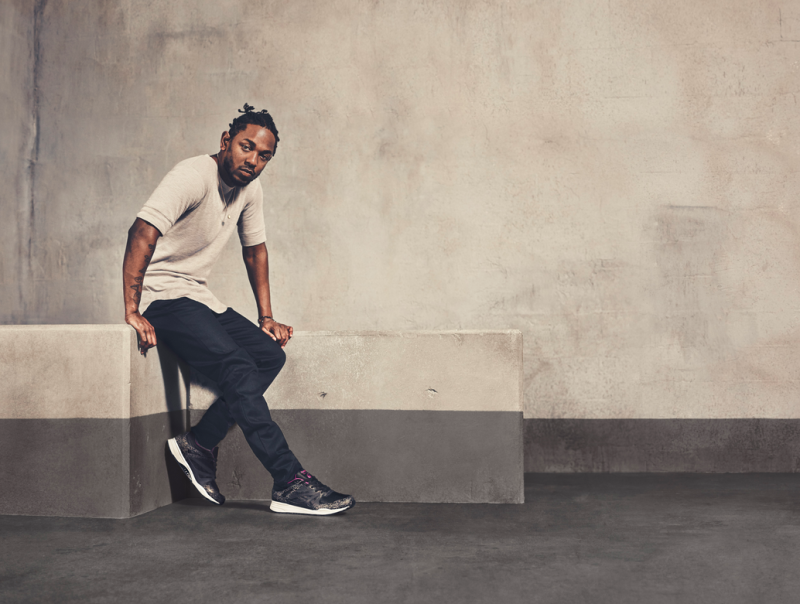 Reebok Classic and Finish Line have created a cool new feature called Studio Sessions. This episodes features Kendrick Lamar in the studio where he recorded "To Pimp A Butterfly." Reebok Classic and Finish Line have teamed up to showcase an exclusive look into the lives, styles, and creative processes of some of the world's top musical artists.
Kendrick sits down with Finish Line ambassador, Jacques Slade, in the same studio where he created his latest album, "To Pimp a Butterfly." The two rappers, with a mutual love for classic sneakers, discuss what inspires Kendrick's music, how he is motivated by the community he came from, and his signature style. He describes how he formed his style back in middle school, which is when classic Reebok silhouettes like the Ventilator and Classic Nylon became a permanent part of his wardrobe. Kendrick invites kids from his alma mater, Centennial High School to listen to the discussion and ask him a few questions of their own.
Stay tuned for future episodes of Studio Sessions with Kendrick Lamar, coming soon.
In 1990, Reebok released one of their most timeless running designs: the Ventilator. Incorporating Hexalite technology into the shoe to provide greater comfort and better shock absorption it was the perfect shoe for the faster, lighter runner. The durable lugged outsole was designed to give sure-footed traction for both on and off-road running. The visible archbridge in the middle of the shoe was perfectly placed to offer optimum motion control. And the name Ventilator? That came from the ventilated side panels that allowed cooling and breathability. The shoe was ahead of its time.  Twenty-five years later the shoe is a classic. Still as light as it ever was but now worn for street fashion instead of road running.
Capturing the electric energy found within unforgettable days and even hotter nights, Reebok Classic's latest iteration of the Ventilator – Ventilator DG – puts a bold, neon spin on the classic silhouette.  Fearless and unapologetic, the bright colorways that make up this unique pack are for those not afraid to stand out or stand up.