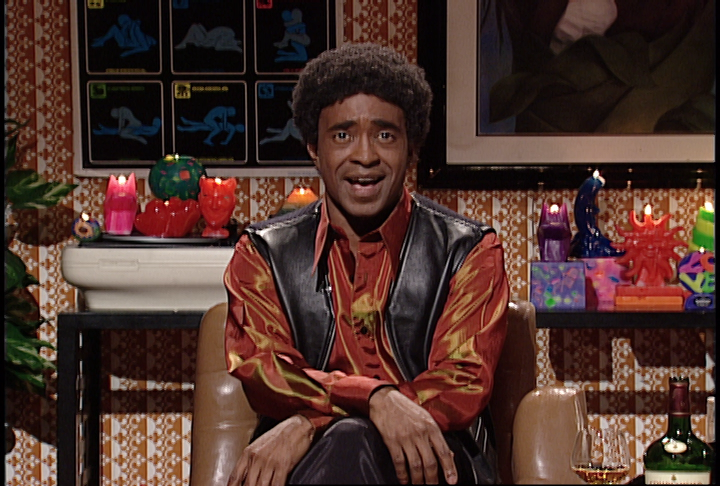 This weekend marks Saturday Night Live's 40th Anniversary, and Courvoisier has the perfect way to celebrate! The classic late night live sketch comedy show will fete its milestone with appearances from A-List celebrities and past cast members while bringing back some of the most notable and loved characters from bygone sketches including "The Ladies Man," featuring Tim Meadows as the one & only, Leon Phelps. What better way to celebrate this Saturday than by channeling Mr. Phelps with your own signature Courvoisier cocktail?
The Ladies Man
·         1 part Courvoisier VSOP
·         1 part Fresh Lemon Sour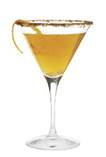 ·          .5 part DeKuyper Apricot Brandy
·         4 parts Apple Cider
·         Shake all ingredients with ice and strain into a cocktail glass.
·         Garnish with a lemon spiral twist and a dash of fresh ground cinnamon.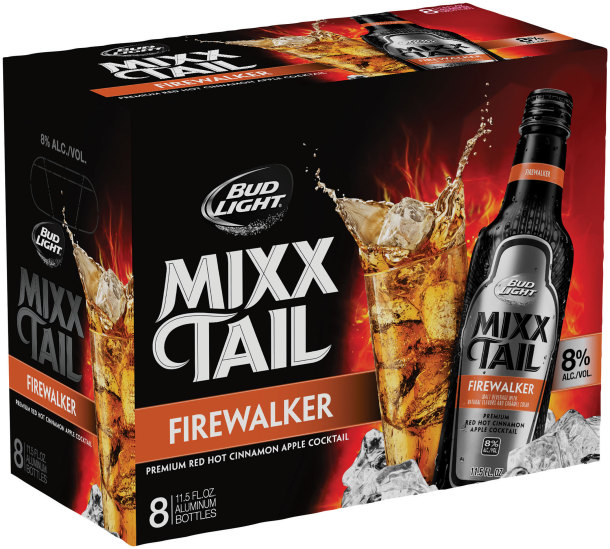 Bud Light, the brand behind the wildly successful Bud Light Lime Ritas, is introducing a new cocktail-inspired product to the growing Bud Light portfolio: Bud Light MIXXTAIL. Bud Light MIXXTAIL is an 8%* ABV cocktail-inspired beverage available in three flavors – Long Island, Firewalker and Hurricane – that combines the great taste of America's favorite cocktail flavors with the uniquely smooth and refreshing finish expected from a Bud Light.
"With Bud Light MIXXTAIL, consumers spoke and we listened. We created a cocktail-inspired beverage to quench consumers' demand for more variety, mixology and easy, convenient cocktail solutions. MIXXTAIL'S bold cocktail taste makes it the perfect pregame in a bottle," said Alexander Lambrecht, vice president, Bud Light. "We believe Bud Light MIXXTAIL will be the perfect companion brand to our popular Bud Light Lime Ritas. Together, these brands will help us continue to lead the FMB category."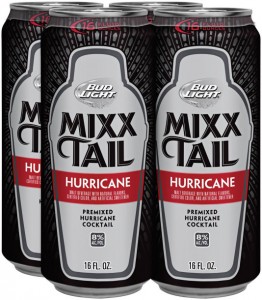 Like the cocktails that inspired it, Bud Light MIXXTAIL is best served over ice. The new drink will be available in 8-packs of 11.5 oz. recloseable aluminum bottles and single-serve 16 oz. and 25 oz. cans beginning Feb. 16.
Bud Light has a history of success with new product innovations. In 2012, Bud Light introduced Bud Light Platinum, which quickly became the best-selling new beer of that year according to IRI Symphony data. Bud Light Lime Ritas, named a Nielsen Breakthrough Innovation Winner in 2014, make up more than one-third of the FMB (flavored malt beverage) category. Since the launch of Lime-A-Rita in 2012, the Ritas brand has grown to include four core flavors – Lime-A-Rita, Straw-Ber-Rita, Mang-O-Rita and Raz-Ber-Rita – that claim the top four spots in the FMB category. Bud Light expects similar results for the new Bud Light MIXXTAIL line. For more information on Bud Light MIXXTAIL, visit www.BudLight.com.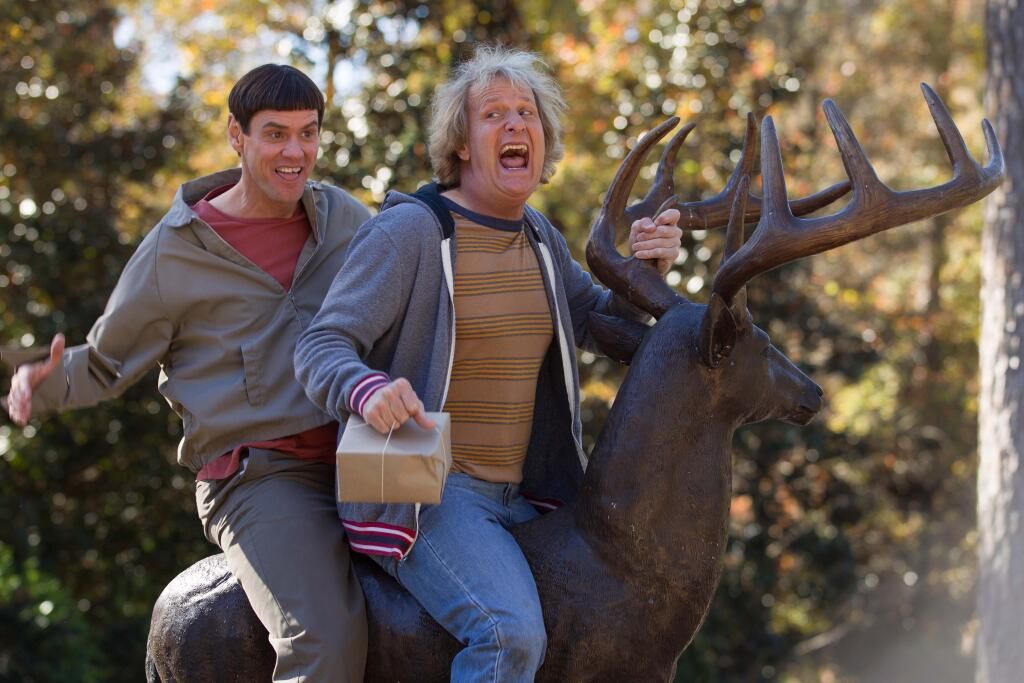 As fans of the comedy classic Dumb and Dumber know, life is always better with a buddy. To celebrate the February 17th release of the hilariously over-the-top sequel DUMB AND DUMBER TO, we're taking a look at a collection of unconventional dynamic film duos who are no less memorable!
Back to the Future
Starring Michael J. Fox as time-traveler Marty McFly and Christopher Lloyd as the zany Dr. Emmett Brown, this unlikely pair literally changed the future of the adventure genre.  With on-screen chemistry so strong, Back to the Future launched one of the most successful franchises in movie history, including two theatrical sequels, an animated television series, a theme park ride, toys, comic books, video games and t-shirts.
Hot Fuzz
The unlikeliest of pairs, Simon Pegg and Nick Frost team up as an exceptional former London cop (Pegg) and a not-so-exceptional small town cop (Frost) faced with uncovering a strange occurrence of murders in the small country village they're determined to protect. While Frost has longed for the explosive, high-octane life he envisions Pegg braved in London, the two must come together to solve the "conspiracy" before it's too late.
The Blues Brothers
Inspired by "The Blues Brothers" musical sketch from Saturday Night Live, John Belushi and Dan Aykroyd are on a mission from God to bring the Blues Brothers Band back together. Emerging from several deadly situations and an epic car chase in a race to get to Chicago, comedic legends Belushi and Aykroyd charm with the complete and utter nuttiness that ensues along their journey of one last good deed.
Dumb and Dumber To
Jim Carrey and Jeff Daniels return as everyone's favorite dumbest duo, the unforgettable and often unredeemable Harry and Lloyd. Setting out on yet another cross-country trip, Harry and Lloyd find themselves in mishap upon misadventure, making what would appear to be a series of unfortunate circumstances into slapstick comedy. If nothing else, Harry and Lloyd were meant for each other until the end.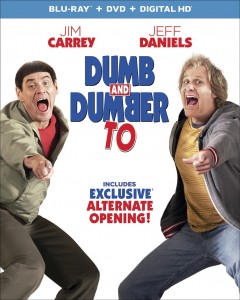 Don't miss your chance to take home the sidesplitting comedy Dumb and Dumber To, available to own on Blu-ray & DVD February 17! Plus we have a chance for you to win a copy on Blu-ray. Follow us @MANjrcom to see if you win!We will randomly select one of our followers! Good luck!
Two decades after Jim Carrey and Jeff Daniels' endearingly dense pairing spun slapstick comedy into box office gold in Dumb and Dumber, the long-awaited sequel, Dumb and Dumber To, arrived on Digital HD on February 3, 2015 and on DVD and will be available on Blu-ray Combo Pack and On Demand on February 17, 2015 from Universal Pictures Home Entertainment. Directed by Peter and Bobby Farrelly (Dumb and Dumber; There's Something about Mary; Me, Myself and Irene) the Dumb and Dumber To  Blu-ray Combo Pack offers hilarious extra belly laughs including an alternate opening, deleted and extended scenes, and a multi-part feature that takes viewers behind the scenes of the no-holds-barred comedy.
The side-splitting sequel also stars Rob Riggle (The Hangover, 21 Jump Street), Kathleen Turner (Marley & Me, Romancing the Stone), Laurie Holden ("The Walking Dead," Silent Hill), Rachel Melvin (My Funny Valentine, "Days of Our Lives"), and Steve Tom ("Major Crimes," Seven Pounds).
Jim Carrey and Jeff Daniels reprise their signature roles as Lloyd and Harry in the sequel to the smash hit that took the physical comedy and kicked it in the nuts: Dumb and Dumber To. The original film's directors, Peter and Bobby Farrelly, take Lloyd and Harry on a road trip to find a child Harry never knew he had and the responsibility neither should ever, ever be given. Along for the ride are co-stars Kathleen Turner, Laurie Holden, and Rob Riggle.
The Blu-ray Combo Pack includes a Blu-ray, DVD and DIGITAL HD with UltraViolet. Blu-ray unleashes the power of your HDTV and is the best way to watch movies at home, featuring 6X the picture resolution of DVD, exclusive extras and theater-quality surround sound. DVD offers the flexibility and convenience of playing movies in more places, both at home and away. DIGITAL HD with UltraViolet lets fans watch movies anywhere on their favorite devices. Users can instantly stream or download.
Bonus Features Exclusive to Blu-ray are an alternate opening, deleted and extended scenes, and the always popular gag reel.

It took Michael Jordan 15 years, six championships and 14 All-Star appearances to establish himself as the greatest basketball player of all time. Today, the franchise that bears his name celebrates 30 years by reflecting on the legacy of the man and the shoes, while setting the stage for its next chapter.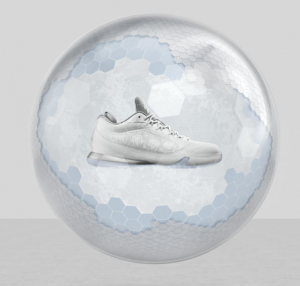 As time has passed, Jordan's game continues to shine brighter and his achievements become all the more remarkable. The mythical moments of Jordan's career, the double-nickel in New York and the last shot, have set the standard by which all other players are judged.
While time can diminish memories and details eventually fade, epic moments are left to be passed generation to generation. Like a natural pearl, the beauty of achievement stands the test of time. The brand formed by these moments continues to evolve through innovation and style.
This year's All-Star pinnacle performance collection, the Pearl Pack, draws inspiration from the pearl, in both color and design. For All-Star 2015, the pack features four premium performance shoes, the Jordan Super.Fly 3, Jordan Melo M11, Jordan CP3.VIII, and Air Jordan XX9.
Each shoe in the collection exemplifies elegance and sophistication, from intricate graphics to premium materials. A magnified pearl texture appears on each shoe's upper, while white-based sheen and reflective threading bring the luminescence of the pearl to mind.
The preferred shoe by Jordan athlete Blake Griffin, the Jordan Super.Fly 3 features a fused upper design, providing lightweight strength and support. The shoe also includes FlightPlate technology, which harnesses the energy of every step for explosive lift-off.
The Jordan Melo M11 is Jordan Brand's latest performance model, incorporating the brand's pinnacle technology created for the basketball court: FlightPlate. On the shoe's upper, a molded collar optimizes fit and enhances ankle support for Carmelo Anthony's versatile game.
Inspired by the speed of flight, the Jordan CP3.VIII gives Chris Paul an on-court edge over opponents. The TPU chassis keep the foot contained for lateral support, while a lightweight no-sew upper provides breathability and durability.
The Air Jordan XX9, worn by high-flying Russell Westbrook, features a re-engineered FlightPlate technology that includes an additional tendril to improve heel-to-toe transitions. A performance woven upper is constructed to be incredibly light for superior flight.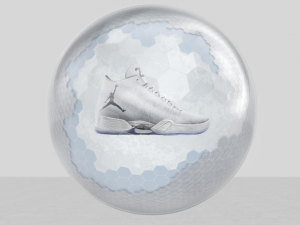 The Jordan Pearl Pack will be available at select retail stores and Jordan.com on Feb. 7.
All-Star Weekend has always been a significant moment for the Jordan Brand, whether it was a great performance by Jordan, the release of the newest game shoe or simply a place where fans celebrated with the brand during one of the biggest sport moments of the year.
This year, Jordan Brand invites consumers to celebrate its 30th anniversary in New York City with experiences created specifically for All-Star Weekend. From Thursday, Feb. 12, to Monday, Feb. 16, Jordan Brand will open distinctive spaces for fans to join the celebration.
Pearl Pavilion, across from Penn Station, is the Jordan Brand immersive experience and pop-up store. It opens for the first time at 5 p.m. on Thursday, Feb. 12, and will feature a celebration of three decades of Jordan's game-changing sneakers and iconic moments. Consumers can step into Jordan's shoes to relive some of his greatest moments, sharpen their skills through a competitive trialing experience, and shop a curated collection of All-Star product drops.
In Brooklyn, Jordan will open 166 Flatbush, the ultimate sneaker boutique, with special edition product, customization and a variety of special guests, 166 Flatbush will be a can't-miss experience for Jordan fans.
Consumers who want to learn more about the All-Star celebrations can follow @Jumpman23 on Instagram, Twitter and Facebook. Those who will be in New York for All-Star and want details on all Jordan activities, along with the chance to register for exclusive access and experiences can visit the Jordan Brand All-Star mobile site at Jordan.com/ASWNYC.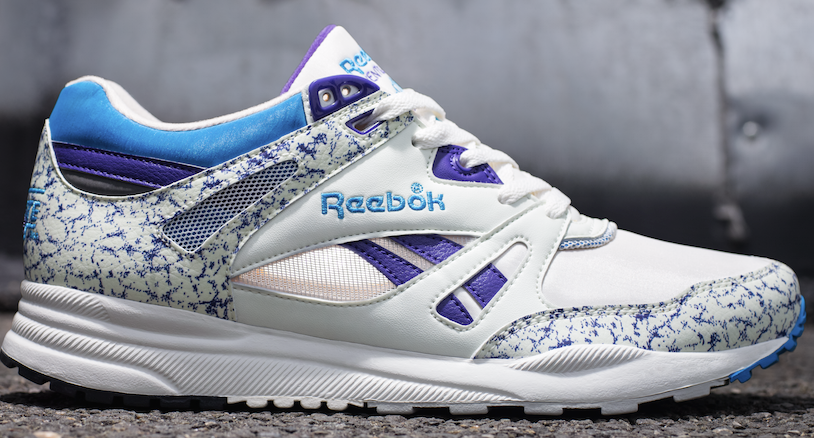 In 1990, Reebok released one of their most timeless running designs: the Ventilator. Incorporating Hexalite technology into the shoe to provide greater comfort and better shock absorption, it was the perfect shoe for the faster, lighter runner. The durable lugged outsole was designed to give sure-footed traction for both on and off-road running. The visible archbridge in the middle of the shoe was perfectly placed to offer optimum motion control. And the name Ventilator? That came from the ventilated side panels that allowed cooling and breathability. The shoe was ahead of its time.
Twenty-five years later the shoe is a classic. Still as light as it ever was but now worn for street fashion instead of road running. As Reebok celebrates 25 years of the Ventilator in 2015, three of the original colorways return in their true form; stitch for stitch and perfectly color matched for authenticity. Reebok's newest member, Kendrick Lamar, has been seen rocking this authentic Reebok shoe. Once again, Reebok goes back to its heritage and reintroduces a timeless Classic.
To help reintroduce these classic trainers, Reebok asked renowned photographer, Jonathan Mannion, to capture what he saw as the essence of the Ventilator.
Quote from Jonathan Mannion:
"When asked by Reebok to creatively interpret and photograph the shoe, I was presented with a unique challenge; with a shoe that has so many intriguing design elements, what element best defines the entire shoe? Ultimately, I focused on the shoe's most unique element, the mesh ventilation. My approach to shooting was much like I'd approach shooting a car; focusing on the silhouette of the object and the way the design interacted with air. By accentuating the mesh through light, I hoped to achieve an iconic picture that honored the timelessness of the shoe."
Incorporating the Starcrest logo from the tongue label was also at the forefront of the project for me. Drawing inspiration from its shape, I decided to recreate the logo using the actual shoes. As Reebok celebrates 25 years of the Ventilator, focusing on the Starcrest was a way to honor Reebok's iconic logo while referencing its storied history in running."
The second style from the Ventilator OG Pack in White/Grey/Purple/Blue will launch on Saturday, February 14th for $109.99 at retailers including Reebok.com, Bait and Puffer Reds.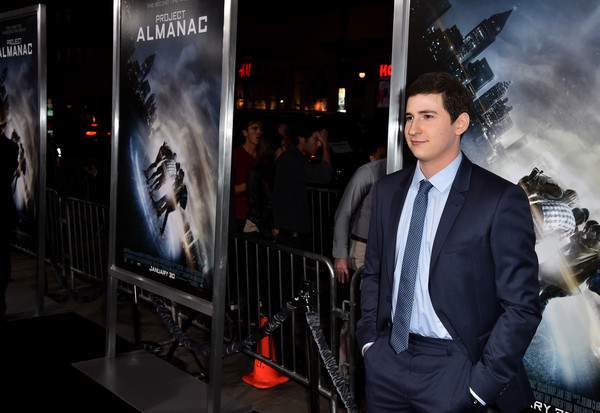 Sam Lerner is an actor that has followed in his family's footsteps. His dad is Ken Lerner and his uncle is Michael Lerner. TV viewers might have seen Sam in ABC's show "Suburgatory" where he played the nerdy but cute brainiac, Evan. Lerner stars in Michael Bay and Paramount feature film "Project Almanac" that came out a January 30, 2015. This sci-fi comedy follows a group of teens who discover secret plans of a time machine, and decide to construct one, when things start to get a bit out of control.
Sam, who is 21 years of age, got his start in show business at the age of nine after he happened to strike up a conversation with actress/director/writer Ellen Gerstein' and actress Dot-Marie Jones' at a New Year's Eve party he was attending with his family. He continued to have guest roles on hit shows such as ABC's "Malcolm in the Middle," CBS' "Two and a Half Men," CBS' "The King of Queens," TNT's "Rizzoli & Isles," and CBS' "NCIS." He could also be seen in films such as Dreamwork's "Envy" with Jack Black and Ben Stiller and could be heard in the Columbia Pictures' motion capture movie "Monster House."
I had the chance to talk with Sam about "Project Almanac," the ABC hit show, "The Goldbergs," and much more. Click here to listen to the interview.
Follow Sam on Twitter @SammyLerner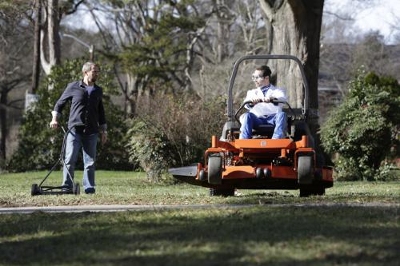 Valvoline announced the wide-scale availability of its Full Synthetic High Mileage motor oil with MaxLife technology. The lubricant offers drivers a superior level of engine protection that guards against the three major causes of engine stress: heat, deposits and wear.
Valvoline Full Synthetic High Mileage reflects the culmination of years of continued research, technology and innovation from the brand. Valvoline chemists have paired the company's award-winning additive chemistry with premium synthetic base oils that meet its exacting standards. The result is a full synthetic formulation that is more durable and provides 40 percent more anti-wear film than Mobil 1 Synthetic, validated through a three stage evaluation process including lab bench tests, chemical analysis and engine wear tests.
In addition to providing more anti-wear film, Valvoline Full Synthetic High Mileage oil is proven to excel in numerous categories, including reduced fuel consumption, emissions systems compatibility, and suitability for all model years.
To bring this superior performance to life, Valvoline has launched www.SeeADifference.com, an online resource for drivers to learn more about how synthetic motor oil works, compare Valvoline Full Synthetic High Mileage and the leading competitor in a side-by-side assessment, and view a series of videos demonstrating Valvoline technology.
To further illustrate the superior protection of Valvoline Full Synthetic High Mileage, Valvoline enlisted the help of NASCAR driver Jimmie Johnson, who provides real-world analogies in the brand's comedic "Jimmie the Scientist" video.
Valvoline Full Synthetic High Mileage is now available at AutoZone, Wal-Mart, Advance Auto Parts and Meijer. To learn more and to find a retailer near you, please visit www.SeeADifference.com.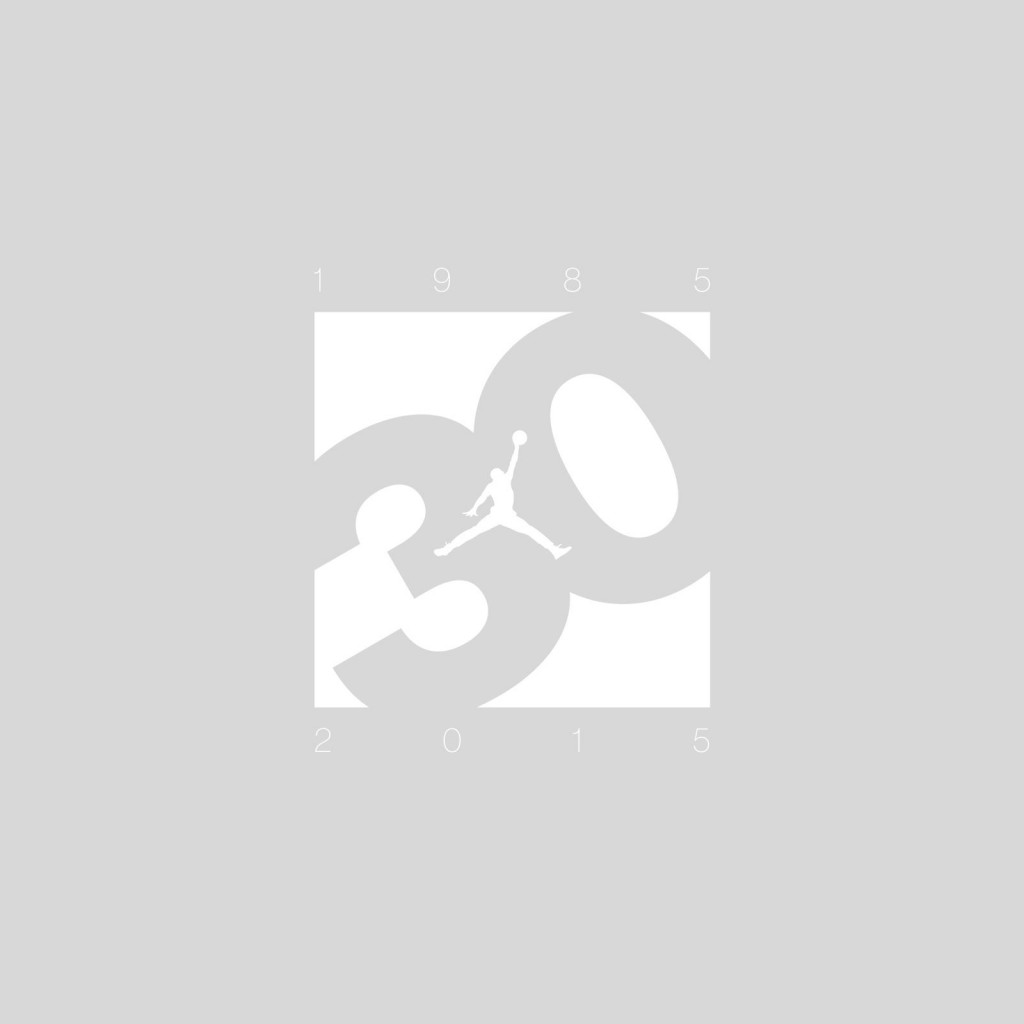 In 1985, newcomer Michael Jordan turned heads. In addition to leading his team to the playoffs, Jordan finished the season with a scoring average of 28.2 points per game; set Chicago single-season records for points, field goals, free throws and steals; and received the prestigious NBA Rookie of the Year Award. Jordan's performance that year set the tone for the next 30 years, forever changing the game of basketball and sports around the world. In the ensuing years, he also came to lead a global brand that revolutionized on- and off-court footwear and apparel – through the Jordan Brand.
Thirty years, celebrated as the pearl anniversary, is an ideal moment to recognize what has made the Jordan Brand great – its fans. A pearl is forged over time through the formation of strong, resilient layers. Looking back on the 30 years of the Air Jordan franchise, Jordan Brand has become a performance basketball staple synonymous with pinnacle performance and an endless pursuit of greatness.
What started with a single pair of sneakers has evolved into a globally celebrated franchise, as each iteration of the game shoe pushes the limits of performance and style. In addition to growing its collection of sneakers and game-changing innovations, Jordan Brand has extended beyond its namesake by welcoming more than 50 world-class basketball athletes, such as Chris Paul, Carmelo Anthony, Blake Griffin, Russell Westbrook, LaMarcus Aldridge, Jabari Parker, Kawhi Leonard, to the family. From Paul's speed and competitive spirit to Westbrook's stunning ability to take flight, characteristics of each athlete's gameplay mirror that of Jordan's. While they are not Michael, there is no doubt they are Jordan.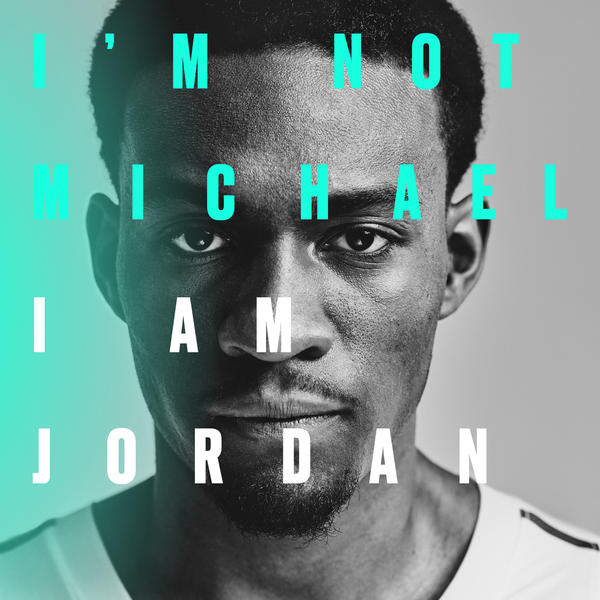 Jordan Brand has always looked to Michael Jordan as its source of inspiration, yet many of Jordan's celebrated attributes are not his alone. Anyone who strives for greatness, anyone who has overcome obstacles in pursuit of success shares a common link with Jordan.
The Jordan Brand family is also wider than the elite professional athletes of its signature ranks and continues to transcend a variety of sports, ranging from professional football athletes to boxing to track and field athletes. The family includes anyone who draws inspiration from MJ's greatness, from a high school athlete chasing a championship, to someone striving for a win on sport's biggest stage. The athletes who draw inspiration from Jordan's example and choose to wear the Jumpman are not Michael, but they are Jordan.
To celebrate 30 years of chasing greatness, the Jordan Brand will celebrate the many stories of those working to be their best in a given pursuit. Throughout the year ahead, the brand will celebrate everyday — and not so everyday — athletes who continue to draw inspiration from Michael Jordan's championship mindset.
All-Star Weekend has always been a significant moment for the Jordan Brand, whether it occasioned a great performance by MJ, the release of the newest game shoe, or simply a time when consumers celebrated with the brand during one of the most exciting basketball moments of the year.
This year, Jordan Brand invites fans to celebrate its 30th anniversary in New York City with experiences created specifically for All-Star Weekend. From Thursday, Feb. 12, to Sunday, Feb. 15, Jordan Brand will open distinctive spaces for our fans to join the celebration. Stay tuned to Nike News and @Jumpman23 for more details in the days to come.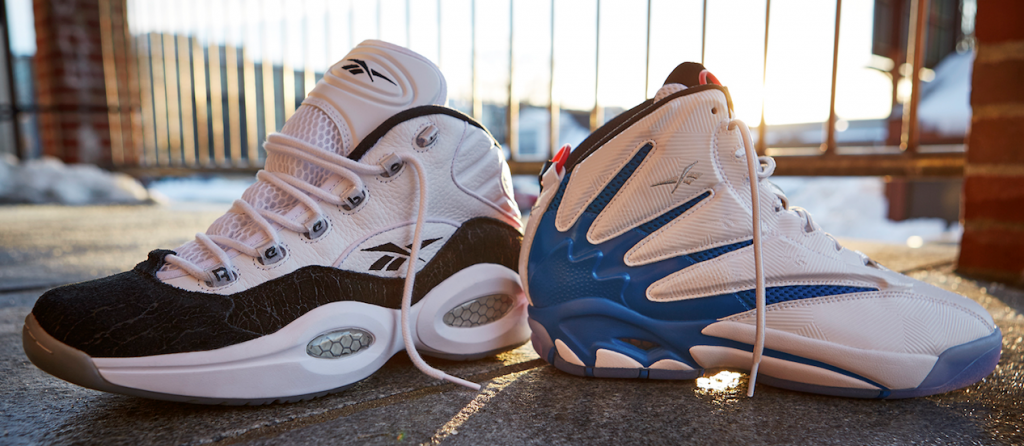 For years, there was only one professional basketball team in NYC until only a couple of years ago, when fans were torn between the two boroughs. This year for All-Star weekend, fans will flock to both stadiums to witness the best players in the world.
Reebok Classic attracts all fans with the launching of The Blast and Question Mid, just in time for All-Star weekend. Taking inspiration from the uniforms, the Question Mid keeps it simple yet stylish with a classic black and white combo. The Blast is renewed with hits of red and blue and completed with an ice bottom.
Stand out this All-Star weekend and stop by Finish Line, Jimmy Jazz, Eastbay, DTLR, Villa, Shoe City and Reebok.com on February 13th to pick up your pair of Question Mid and The Blast. Available in adult and grade school 3.5-7 sizing.
Pricing
Question Mid
Adults: $139.99
GS: $94.99
The Blast
Adults: $124.99
GS: $84.99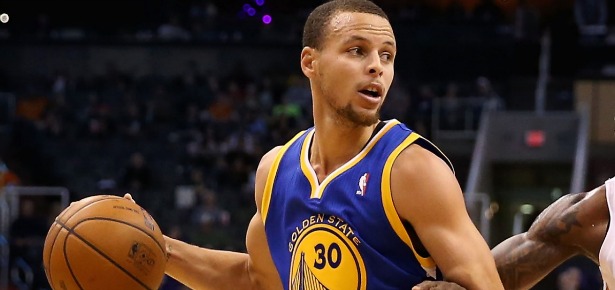 The Golden State Warriors have the best record in the NBA and two-time all-star Steph Curry is a big reason why. An early favorite to win the MVP, Curry's been lighting it up for a while now. But this year just feels different. Everything's clicking for Golden State and first-year head coach Steve Kerr. The Splash Brothers are dominating from the perimeter again, yes, but the high octane offensive attack is now balanced by one of the league's best defenses. Golden State is winning with conviction, too. Enjoying their hottest start in franchise history, the Warriors boast a league-best 11.5 margin of victory to go along with their 38-8 record.
And Curry's just locked in, man. Top ten in points per game. Top five in assists, steals and free throw percentage. It's all coming together for the youthful-looking point guard from Davidson.
Now you may think the guy looks like he's 14 years old, but he's full grown man of 26. That's not to say he wasn't an absolute baller when he was 14. When your dad plays 16 sharpshooting seasons in the NBA, there's a good chance you'll develop an appreciation for the game of basketball. Steph's younger brother Seth is also a professional player who's plying his trade for the Erie BayHawks, the Orlando Magic's NBA developmental team.
So the guy's a natural. Basketball's in his genes. That's not to say he doesn't work hard. You don't develop such a silky smooth jumper without putting in some time. But as Curry explains in this DegreeMen Game Changer spot, finding your own game is a careful balance.
After this spot ran, Steph Curry and John Wall of the Washington Wizards engaged in a playful/promotional exchange on Twitter. The two all-stars are now set to square off against each other for the title of Ultimate Game Changer in the Degree Battle of the Game Changers. It's a shot-for-shot type showdown where each player has to match the other and fans get to vote on which shot they'd like to see by going to Twitter.com/DegreeMen after February 9.
We talked with Curry about the upcoming Battle of the Game Changers, first-time head coach Steve Kerr, who he thinks has the sweetest jumper of all time and what pointers he has for people with no shot whatsoever. Here's the interview:
Make sure to check out the Degree Battle of the Game Changers live on NBA TV during the NBA All-Star Practice on February 14.