It's a chimp mouth-raping a frog. Twice. You've been warned.
You will either think this is seriously disturbing or seriously hilarious. I don't know what camp I'm in yet, since I'm still in shock. Probably leaning more towards the former. The little kids laughing in the background is kinda disturbing. I hope reincarnation doesn't exist because I don't want to come back as a frog.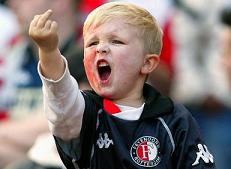 And what's a soccer tourney without some hooligans (EgoTV)
7 signs that summer is just around the corner (Guyism)
A look at World Cup Twitter trends (Mashable)
Wow, Lisa Morales is smoking' hot (MankindUnplugged)
Will Wayne Rooney be able to hold himself back from stomping on people? (FHM)
Nothing like a nice video of a graduation brawl to start the weekend (Asylum)

Some stuff to keep in mind
for the U.S. vs. England match tomorrow (Source: www.declineofthebritishempire.com – thanks @wabten!)….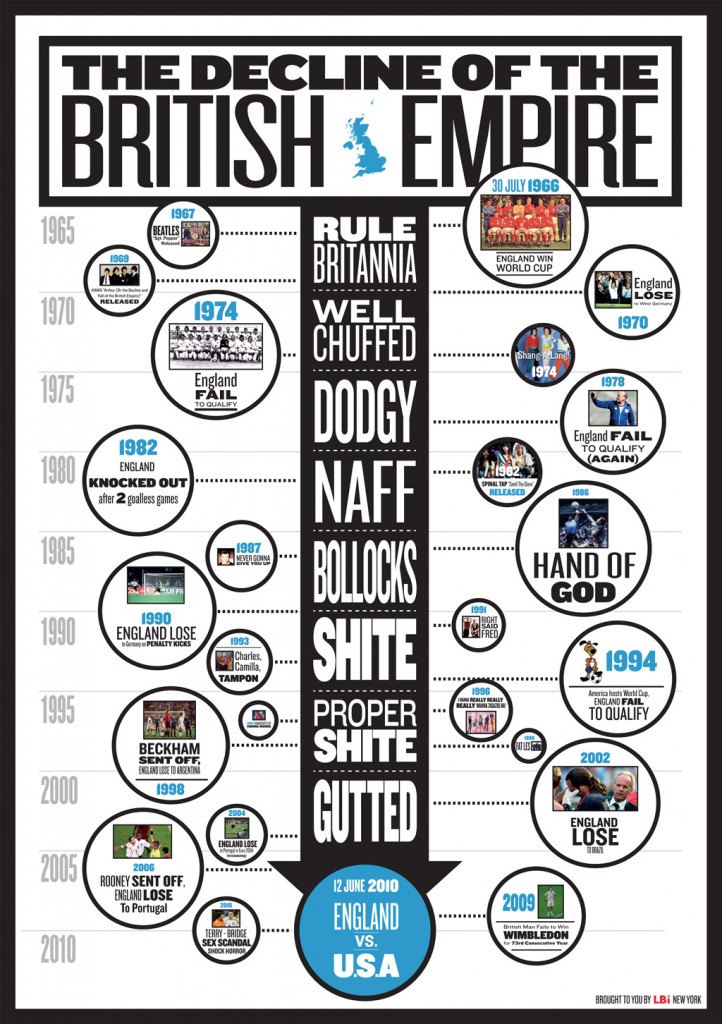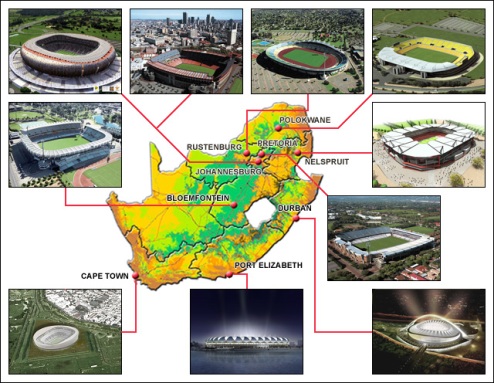 Some of you have jobs and just can't afford to wake up at 4am and watch three straight World Cup matches while getting drunk on the couch. That's understandable. The World Cup comes around every four years, but the tournament only lasts a month. By mid-July, you'll still need a source of income to pay for things like rent, food and bar tabs. So it's probably a good idea not to quit your job.
If you're stuck in the office, and you're looking for ways to watch the 2010 World Cup online, here are some online streaming options that you should check out:
ESPNsoccernet is streaming the games live on the Net. Just go to the ESPNsoccernet homepage and click 'Watch' on the top navigation menu.
ESPN3 is also streaming all the games.
Univision is in Spanish, but good alternative if ESPN3 is blocked at your work.
atdhe.net has a bunch of channels and we hear that you can catch the matches there.
CBC Sports is Canada's national public broadcaster. They'll be streaming all month long.
BBC Sports will stream all BBC matches live.
Iraqgoals.net Haven't tried but heard it works
iTV.com,is a U.K. network. They'll broadcast any matches that they carry.
Here's the World Cup Schedule if you haven't tacked it up in your cube yet.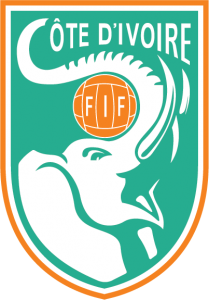 Marisa Miller with the top 10 reasons to ride a motorcycle (AskMen)
Twitter's got it's own fancy World Cup page (Twitter)
Are you ready for singles softball league action this summer? (Asylum)
Some tips on how to make the most of the World Cup with apps, sites, podcasts and more (CrunchGear)
Ever wonder which athletes get the hottest girls? (BleacherReport)
If you don't have a team in the World Cup, here's an article that breaks down the likability of every squad (SB Nation)
Waffles McButter outlines the 15 most inappropriate place to ice someone (BroBible)
Yep, Reggie Bush sure screwed over USC (SportsbyBrooks)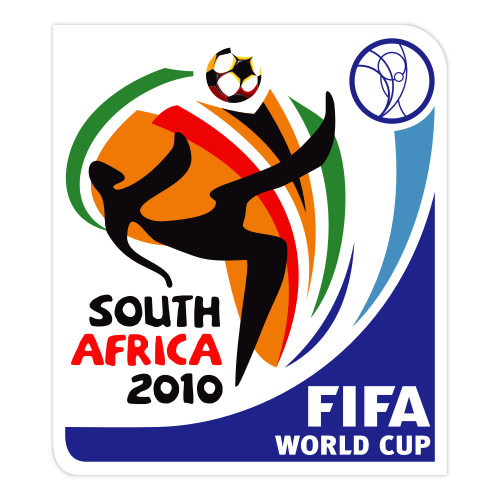 Oh ma gad, dude – the World Cup starts tomorrow!
Set your alarms and put the beer in the fridge, the World Cup starts tomorrow! It's the most anticipated sporting event in the history of your life! Well, until 2014 at least. Anyway, are you ready? Have you accrued enough sick/vacation days at work? Did you stockpile enough booze and snacks to get you through the next month? Did you set your DVR just in case your sorry ass hits the snooze button?
And most importantly, did you place your bets yet?
Here are the latest odds from Sportsbook.com for every match in the Group Stage: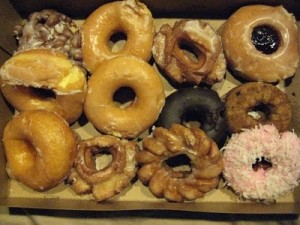 Seattle Seahawks wide receiver Golden Tate has had an interesting week. The first year NFL player was drafted by the San Francisco Giants in the 2010 Major League Baseball Draft, but that's not the most exciting thing that's happened to the guy the past week.
This past Saturday, Tate was apprehended after entering a Top Pot donut shop in Bellevue, Washington, stealing some keys and feasting on some warm maple bars. The shop wasn't open at the time.
The owners of the shop decided not to press any charges, so Tate got off with a "trespassing warning." Tate later apologized for the incident and then tweeted yesterday that Top Pot sold four times as many donuts as a result of the incident.
Here's the audio from the 911 call: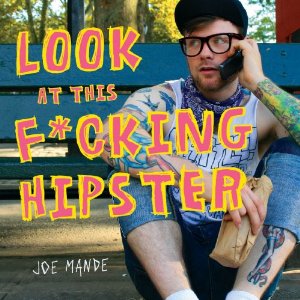 Yeah, that's what I said. The hilarious blog has gone literary on us. If you don't know what LATFH.com is, then you must be living under a rock, or a hipster's asymmetrical moustache. LATFH.com  is a site that identifies and makes fun of hipsters. Take a picture of a hipster, add a funny caption, and watch yourself become an internet phenomenon. That's what comedian Joe Mande did. Actually, it was an accident. Mande created the blog to help his old man out. Apparently, while living in Williamsburg, Brooklyn (a hotbed of hipster culture), his dad kept asking him if this or that guy was a hipster. It can be a little confusing for someone to identify a hipster if you're new to the game. Thus Mande birthed LATFH, and now all of us are better for it. No more are we plagued with questions of whether that person is a hipster or just an IT nerd goofing around. Now are questions are more like, "is that a dude hipster or a girl hipster."
So you must be wondering how a popular blog with free content can become a book for $11.99/$14.99 CAN. Mande answers that question on page one:
"Why are you giving me a book deal? Who would buy a book full of content that's already on the internet?" The head publisher quickly replied, "What's the internet?" and then handed me a suitcase full of hundred-dollar bills. So, I guess that's how book deals happen.
We're glad the head publisher is living under a hipster's asymetrical moustache, because the book is f*cking hilarious. It answers questions such as: What is a hipster? What makes a hipster? What are the different types of hipsters? It also adds laughs with sections like the Is this a hipster? pop quiz, Celebrity Hipsters, Hipsters Through the Ages, and of course the Love Connections. There's a special surprise photo shoot at the end for avid followers of LATFH.
So does MANjr recommend the buying of this book? We say yes. The guy deserves it. He spends all his time compiling a historical record of hipsters to better mankind. How he can look at nipple tattoos, oversized American Apparel glasses, messed up haircuts, and neck scarves all day is truly a wonder. Plus the book looks cool and is small enough to chuck at a hipster's head if they mistakenly wander into your living room.

Salma Hayek freaks the f*ck out and climbs Maya Rudolph after seeing a big snake (Guyism)
10 porn stars who gave their bod to god (Coed)
How'd you like to take a butt beating from a hot stripper? VIDEO (Asylum)
5 weirdest products on the web (Cracked)
The Predotter and Terminotter. Awesome (ComicsAlliance)
You can live in Obama's college apartment for $1900 a month (TheFrisky)
'Golden Girls' porn parody trailer (ScreenJunkies)
60 hottest World Cup fans (TotalProSports)
Yes, FHM, Cheryl Cole is a hottie (FHM)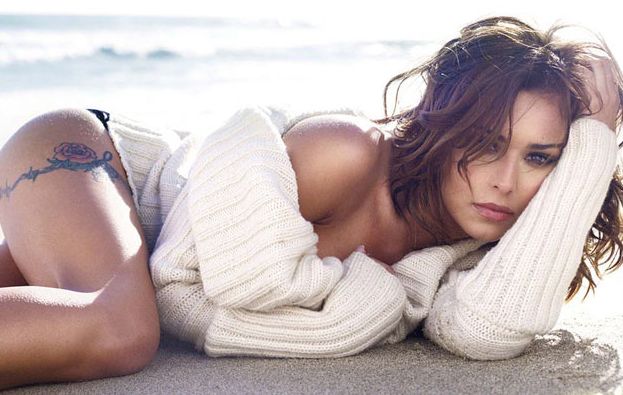 Just when you thought everyone forgot about Austria, they go and do something like this. This tame, 20-second commercial features a female office worker who busts a Zidane-style headbutt on a co-worker. The Austrians don't like it because they say it promotes violence. Whatever. Take a look for yourself. Doesn't seem that bad, right?
Thanks Deadspin!