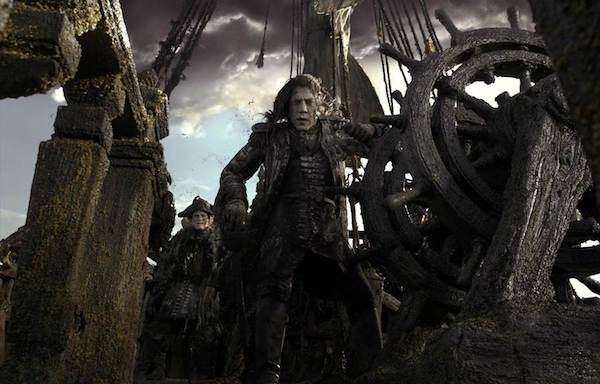 Did you see the trailer for latest Pirates of the Caribbean film? Johnny Depp returns to the big screen as the iconic, swashbuckling anti-hero Jack Sparrow in the all-new "Pirates of the Caribbean: Dead Men Tell No Tales." The rip-roaring adventure finds down-on-his-luck Captain Jack feeling the winds of ill-fortune blowing strongly his way when deadly ghost sailors, led by the terrifying Captain Salazar, escape from the Devil's Triangle bent on killing every pirate at sea—notably Jack. Jack's only hope of survival lies in the legendary Trident of Poseidon, but to find it he must forge an uneasy alliance with Carina Smyth, a brilliant and beautiful astronomer, and Henry, a headstrong young sailor in the Royal Navy. At the helm of the Dying Gull, his pitifully small and shabby ship, Captain Jack seeks not only to reverse his recent spate of ill fortune, but to save his very life from the most formidable and malicious foe he has ever faced.
"Pirates of the Caribbean: Dead Men Tell No Tales" also stars Kevin R. McNally as Joshamee Gibbs, Golshifteh Farahani as the sea-witch Shansa, Stephen Graham as Scrum, David Wenham as Scarfield and Geoffrey Rush as Captain Hector Barbossa.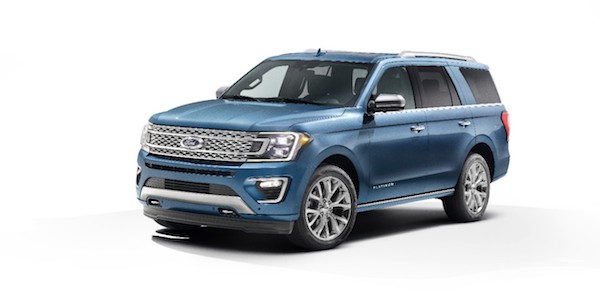 Ford just released some exciting news in regards to the Ford Expedition. There is a ton of new upgrades on this new model. The latest Ford Expedition is the smartest, most capable and most adaptable Expedition ever. It provides families generous space, connectivity and smart new technology for their next adventures. There is flexible seating and storage solutions that include second-row tip-and-slide seating that provides easy access to the third row even when child seats are installed; new, more powerful 3.5-liter EcoBoost engine and class-exclusive 10-speed automatic transmission are expected to deliver the best towing capability of any full-size SUV.
Here is a list of other fantastic features.
Wireless charging; Expedition is Ford's first vehicle to feature this system, which allows customers to place compatible mobile devices on an integrated charging pad conveniently located in the front center console. Wi-Fi hotspot supports as many as 10 devices at once, up to 50 feet away from the vehicle.
Dual-headrest rear seat entertainment system provides a next-generation video experience that allows passengers to view their home cable programming on either of two video screens or hand-held devices. SYNC® 3, with both Apple CarPlay™ and Android Auto™ capability, allows drivers to stay connected on the move. SYNC Connect lets owners connect with the vehicle remotely using FordPass® to start, lock, unlock and locate their vehicle from anywhere, while also allowing access to important vehicle diagnostic information.
Power for passengers in every row, with four 12-volt power points, six USB chargers and a 110-volt power outlet that lets passengers stay charged and connected.12-speaker B&O PLAY premium audio system perfected by acoustic engineers for a sound experience even audiophiles will appreciate. Advanced cargo manager with an adjustable shelf behind the third row lets owners create a storage space customized to whatever they're hauling; even when parked on a hill, cargo won't roll out the back of Expedition when the liftgate is opened. Panoramic Vista Roof spans two rows, a feature not offered by any competitor.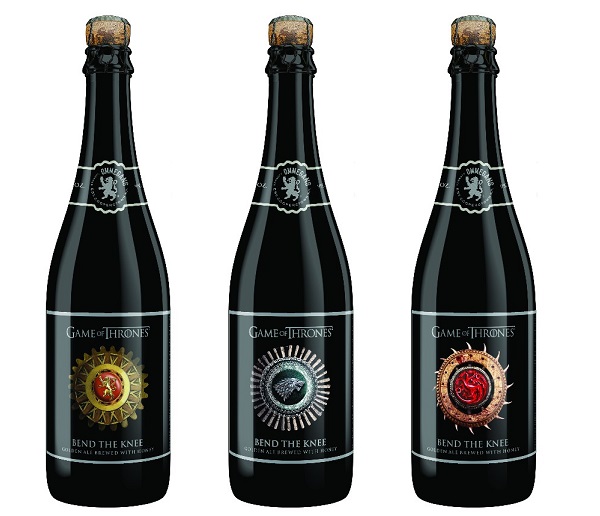 What happens when you combine great beer from Ommegang and the hit show Game of Thrones? Good things happen….good things. To commemorate the coming mêlée in the Emmy® Award-winning show's epic seventh season, Brewery Ommegang and HBO Global Licensing are excited to announce a new beer in their collaborative series: Bend the Knee Golden Ale.
Paying homage to the struggle for control of the Seven Kingdoms, Bend the Knee will be available on draft and in a series of three collectible 750ml bottles, all finished in matte black and adorned with one of the three Great House sigils: Stark, Targaryen, or Lannister. The beer clocks in at 9.0% ABV and bears a suggested retail price of $10.99 per bottle. And while the show's return date has yet to be announced, fans can mark their calendars for the official nationwide release of the beer, which will be on shelves around Memorial Day.
Bend the Knee is brewed with pils malt and flaked oats and hopped with Saaz, Bravo, and Styrian Golding hops. It pours a golden hue with a large, frothy head. Both the aroma and flavor mix maltiness and citrus from the hops, while Ommegang's signature house yeast produces prominent fruitiness. Wildflower honey added during fermentation provides light sweetness to the beer, which finishes dry and with firm hop bitterness.
Fit for any feast table, Bend the Knee's clean and balanced flavor and effervescent carbonation make it a fine pairing for a variety of foods including seafood and shellfish, roasted or grilled chicken, grilled steaks, and aged Swiss-style cheeses.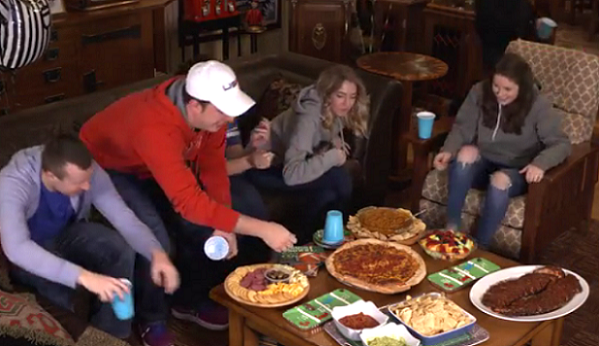 Instead of the traditional food you might have for your football party this Sunday why not try something new. Hormel Foods has created regionally inspired recipes in honor of New England, Atlanta and host city Houston. These snacks are perfect for any football fan planning a party for the big game.
For Patriots fans, Hormel Foods created a Fluffernutter Cupcake Recipe. To honor Fluffernutter as the official sandwich of Massachusetts, Hormel Food developed this unique recipe as the perfect dessert for New Englanders planning their game day spread.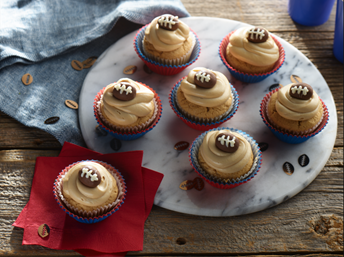 For Falcons fans, Hormel Foods created a Shirmp and Pimento Cheese Grits Bites Recipe. Uniting football fans across the South in support of the Falcons, Hormel Foods incorporated the "Caviar of the South" into this grits recipe.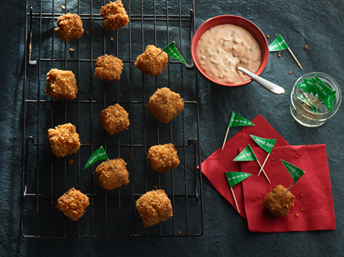 To honor Houston, the host city, Hormel Foods created a recipe for King Ranch Chicken Dip.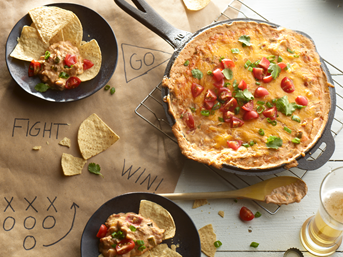 Hormel Foods also created a unique video, titled "Game Day 2 Minute Drill," providing instructions for five additional football inspired snack that are essential for Sunday's game.
Here are some cool Hormel 2016 NFL Playoff Stats
-Approximately 26 Million rib bones were sold during the 2016 playoffs
-Over 14 Million pounds of Hormel Chili was shipped during the 2016 playoffs
-The week leading up to the Super Bowl is the number one selling week for Chili, Tortilla Chips, Salsa and Guacamole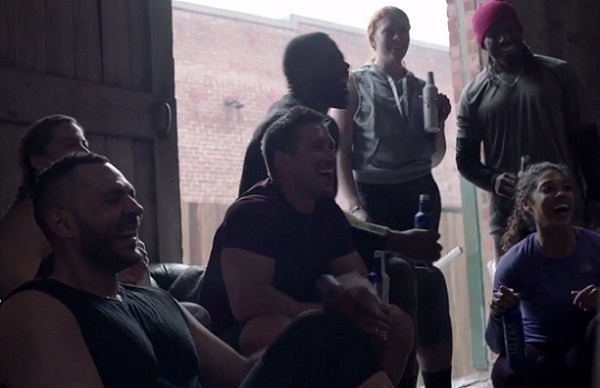 It is tough to get back into the gym. Having a work out buddy makes it less tough to keep on going back to the gym. It looks like Michelob ULTRA agrees with me. They have unveiled its Super Bowl spot, "Our Bar".
The ad features actual fitness enthusiasts – not actors – doing what they do day-in and day-out: going through a tough workout together and sharing cold beers afterwards. The ad also features the iconic theme song from "Cheers" to underscore the strong social bonds felt every day by members of fitness communities across the country. From cross training to run clubs to spin classes, "Our Bar" depicts the new reality: fitness and enjoying beer can go hand in hand – you can still work out, and then go out.
Taking this a step further for real fans (of both football and fitness), yesterday morning Michelob ULTRA gave Boston and Atlanta fans (21 and older) the chance to put their fitness level to the test for a chance to go to the Super Bowl. In select gyms in both cities, fans were given the chance to complete as many pull-ups as possible in 95 seconds (each Michelob ULTRA contains 95 calories) for a chance to win a VIP trip to Houston for the Super Bowl.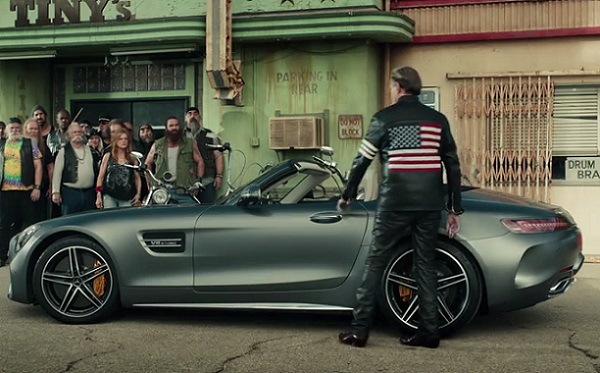 For those of you looking to get an early look at some of the Super Bowl ads you might want to check out the one from Mercedes-Benz. They are looking to commemorate the 50th anniversary of Mercedes-AMG, the brand has integrated a classic American film, Easy Rider, into its Super Bowl LI advertisement – "Easy Driver". The film showcases the pure love of driving and premiered in the 1960s – the same decade that the first AMG model was launched.
Peter Fonda stars in the ad spot, channeling his 1960's role as a freewheeling biker and cruising in a new Mercedes-AMG GT Roadster. From his long-time love affair with Mercedes-Benz and to his genuine love for the open road, Fonda was the perfect fit for the role.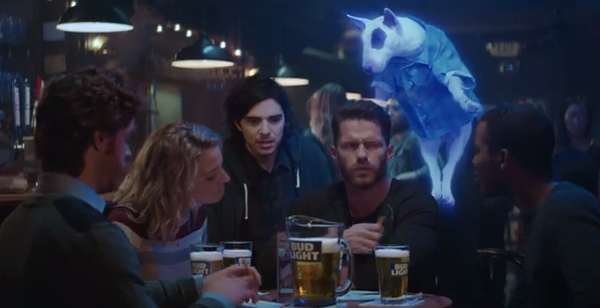 Guess who is back? It is the one and only Spuds MacKenzie. The beloved Bull Terrier was a pop culture icon in his time. The spot will be a blast from the past, as Spuds recounts his past to emphasize that it was never about the lifestyle, but rather, about forging lifelong bonds with friends.
The premiere of the 90 second spot coincides with the 30th Anniversary of Spuds' 1987 Super Bowl commercial debut. Spuds is returning to the big game to ensure his legacy goes beyond the party days of the past. He's here to remind us that Bud Light has been present at memorable moments – big or small – among friends for decades. There's no one better than Spuds to celebrate Bud Light, and remind everyone that we don't just make beer, we enable moments that build and strengthen friendships.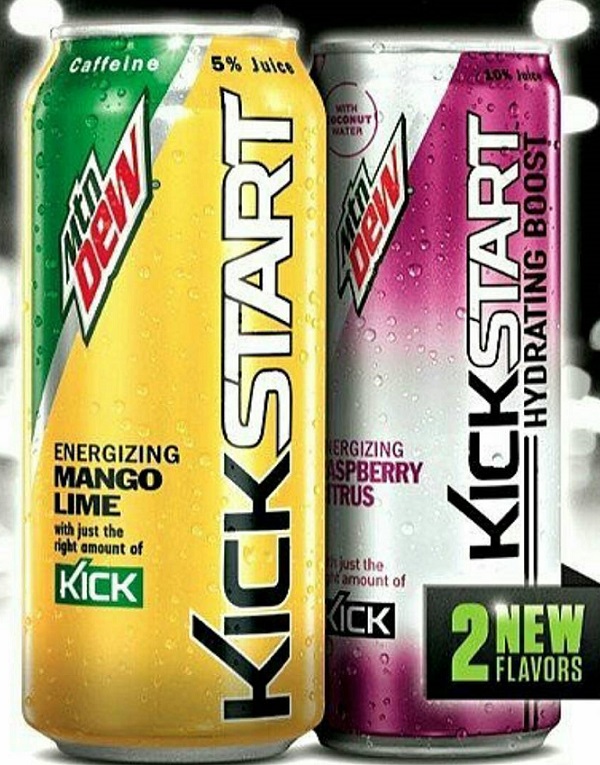 For all of you who love the taste of Kickstart from Mountain Dew you are going to like this. They just announced two new flavors to their MTN DEW Kickstart lineup. Consumer favorite flavors, Raspberry Citrus and Mango Lime, are on shelves now and will come in MTN DEW Kickstart's familiar 12oz and 16oz cans, respectively. These sparkling juice beverages combine the great taste of DEW with real fruit juice and caffeine. The two new flavors will be available nationally and have a suggested retail price of $1.99.
MTN DEW Kickstart launched in 2013 and has been dubbed one of PepsiCo's most successful beverage product launches in the past decade, generating annual retail sales of more than $500 million to date.  With only 60 calories per 12 oz. serving, the two new mid-calorie beverage flavors join eight previously released flavors – Orange Citrus, Fruit Punch, Black Cherry, Pineapple Orange Mango, Midnight Grape, Watermelon, Blueberry Pomegranate and Blood Orange.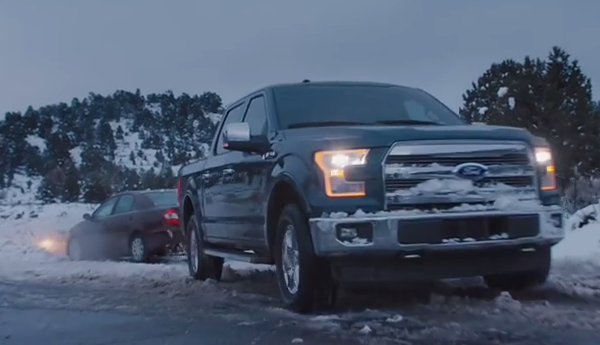 Have you seen the FordHub? It is Ford's first brand experience studio, an innovation playground where consumers can explore and learn more about Ford vehicles today and, how Ford is thinking about the future of mobility. As the brand shares its vision for the City of Tomorrow, the FordHub will allow consumers to learn how Ford is finding new ways to help people move – whether they own a car or not.
Ford is also revealing a new 90-second ad that – for the first time ever – highlights near- and long-term mobility solutions it is developing to help people Go Further in their daily lives. The ad launches just before kickoff of Super Bowl LI on Sunday. Digital extensions of the ad also debut at fordgofurther.com, featuring in-depth stories of Ford people who Go Further every day.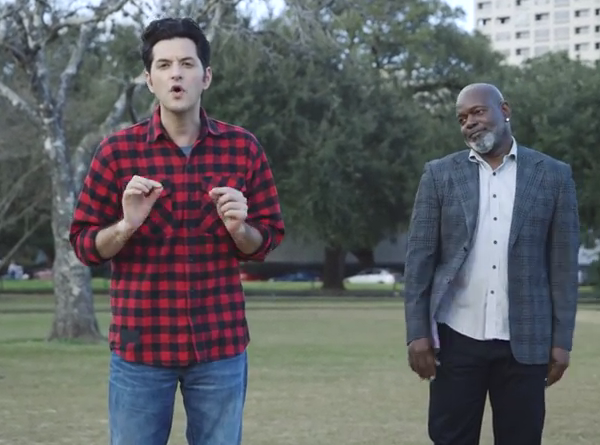 Here come the Super Bowl commercials. We are just a few days away from Super Bowl Sunday. So with that let me ask the question. Is there anything the NFL's all-time leading rusher can't do? Ben Schwartz challenges 3-time Super Bowl champion, Emmitt Smith, with the determination to win. But when Schwartz staggers as Smith struts over the finish line of their second competition, it doesn't look good. Who will come out on top? Find out when we go to Houston, TX for this Super Bowl LI episode of Courtyard Camera.
Courtyard Camera, an original digital series is back for another season of fun and football. Go beyond game day with actor/comedian Ben Schwartz for exclusive behind-the-scenes interviews with some of the biggest names in the NFL. Courtyard Camera is produced by Courtyard by Marriott in partnership with the NFL.