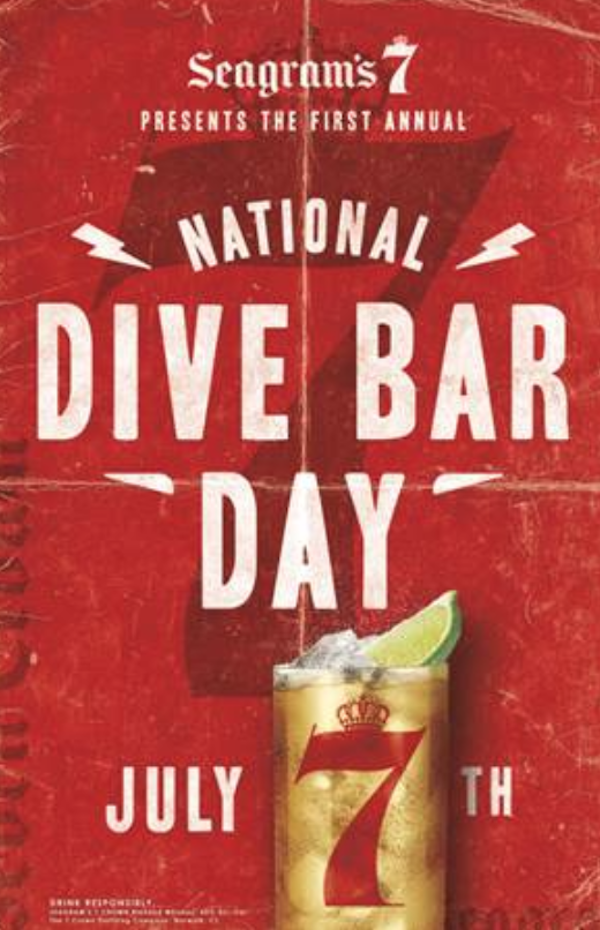 Dive bars are an American tradition, where long-lasting memories are created, where people-watching is imperative, and where the greatest stories and a come-as-you-are attitude live. Yesterday Seagram's 7 Crown announced that they are raising a glass to dive bars everywhere by marking the first official National Dive Bar Day, fittingly taking place on July 7th, 2018 – in celebration of the quintessential Dive Bar drink, the 7&7.
To help save Dive Bars everywhere, Seagram's 7 Crown is also supporting the National Trust for Historic Preservation, a nonprofit organization that protects America's historic places, that represents our diverse cultural experiences. Seagram's 7 Crown will donate $25,000 to the organization to support the recognition of historic Dive Bars across the U.S.
The 7&7
·1.5 oz. Seagram's 7 Crown Blended Whiskey
· 5 oz. 7UP
·Slice of lime
Directions: Add Seagram's 7 Crown Blended Whiskey and 7UP to a highball glass with ice. Stir well and garnish with lime slice. playmodel.ch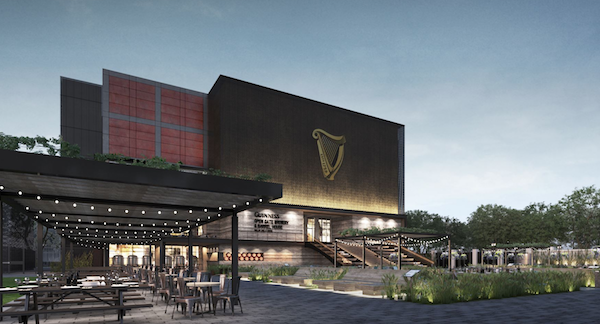 This summer, after more than two centuries of building unmistakable bonds with beer lovers in the U.S., Guinness will finally have a permanent home in America. Diageo Beer Company USA is proud to announce that the Open Gate Brewery & Barrel House, located just south of Baltimore, will open to the public on Friday, August 3rd.
"In my opinion, the word 'milestone' doesn't do justice to this moment in Guinness history," said Diageo Beer Company USA Chairman and Diageo Global Sales Officer Tom Day. "Since we announced our brewery just outside Baltimore, I've spent a lot of time here and have come to really love the area and the people of Maryland. I can't wait to see this place open and become a part of this vibrant community and special beer culture. I really think we have something great to offer folks, both in terms of beer and a fantastic place to visit and experience."
While Guinness Draught and the other classic stouts will be brewed exclusively in Ireland and imported to the U.S. to be enjoyed responsibly, this brewery is an important step in the evolution of the brand. Led by Brewmaster Peter Wiens and Head Brewer Hollie Stephenson, the Maryland team will take over the production of Guinness Blonde and experiment with new beers influenced by both American and Maryland brewing tradition.
Visitors to the Open Gate Brewery & Barrel House can expect a world-class Guinness experience, blending local Maryland flavor and Irish hospitality, from the staff to the beers to the décor of the buildings and the food in the brewery's restaurant. The taproom, tours of the 10-barrel brewery, the merchandise shops and the grounds will be open on August 3rd, with the restaurant opening approximately two weeks later. In the meantime hungry visitors will be able to order bar food in the taproom, and there will often be some of Maryland's finest food trucks on site. Xcity
To stay up to date on the Open Gate Brewery & Barrel House in advance of its debut and beyond, check out @GuinnessBreweryUS on Facebook and Instagram. Whether enjoying a pint in Maryland, Ireland or anywhere around the world, always do so responsibly.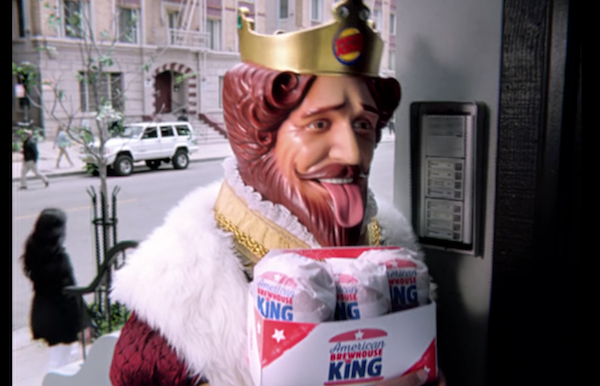 In celebration of our new partnership, Budweiser is bringing back its iconic "Whassup" commercial with a surprise twist care of Burger King.
With it being nearly 20 years since "Whassup" first launched, Budweiser has been looking for the right time and the right way to bring the classic catchphrase back into pop culture … enter Burger King. The updated "Whassup" commercial will begin airing on TV this week.
As Budweiser looks to introduce "Whassup" with a new set of drinkers, the brand is also tapping Alexa to help spread the word with a new skill launching tomorrow. In order to activate, the prompt is "Alexa, tell Budweiser Whassup!" which will result in Alexa saying "Whassup".
Starting today, Alexa users can simply say, "Alexa, tell Budweiser Whassup!" prompting a response from the original cast members saying "Whassup" back. Users can enable the skill by either clicking THIS LINK or by saying, "Alexa, enable Budweiser." KLXDATE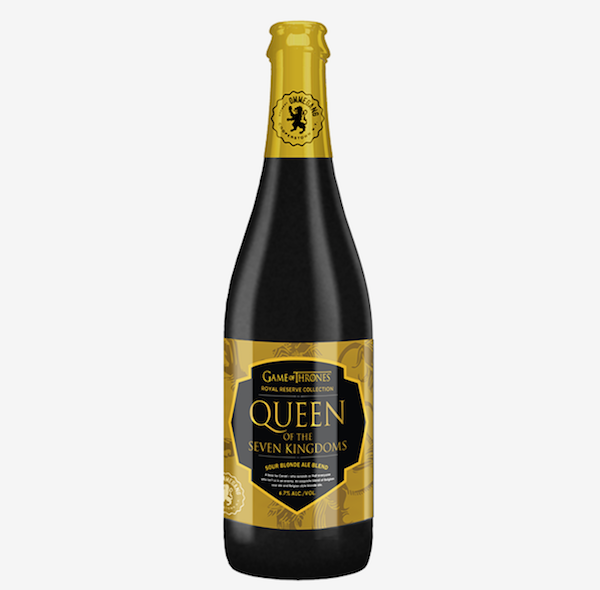 She will stop at nothing to get her way, and this month the Queen of the Seven Kingdoms is conquering new territory with the release of the latest Game of Thrones beer from HBO and Brewery Ommegang. Inspired by Cersei Lannister, Queen of the Seven Kingdoms is the second in a series of four special, limited release beers from the Royal Reserve Collection, each designed and brewed as an homage to one of four epic figures in the battle for the Seven Kingdoms.
An exceptional blend of Belgian sour ale and Belgian-style blonde ale, Queen of the Seven Kingdoms is fitting for the fair-haired ruler who is as acerbic as they come. Available throughout Ommegang's distribution network on June 29, Queen of the Seven Kingdoms will be offered both on draft and in 750ml bottles. See details on this online web resource. The suggested retail price for a bottle is $12.99.
To find the Queen of the Seven Kingdoms beer near you, visit the beer finder at the Brewery Ommegang site.
Please note: HBO and Brewery Ommegang did send me two bottles, but my thoughts are my own.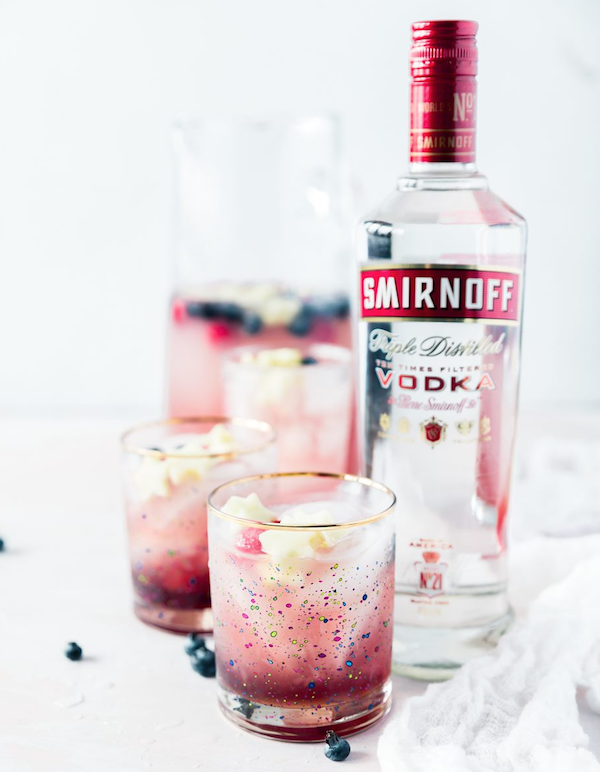 We are have arrived to the Fourth of July week! With all the cookouts, parties, fireworks and more there is no better way to get the party started than with some festive, Americana-inspired cocktails.
The limited time only Smirnoff Red, White & Berry is truly the #DrinkoftheSummer and the perfect blast of fun to any and all Independence Day celebrations.  With a delicious blast of cherry, citrus and blue raspberry flavor,Smirnoff Red, White & Berry is the perfect base for a tasty All-American cocktail.
Below, we wanted to share a few of our favorite Red, White & Berry cocktail recipes. Whether your BBQ-ing with friends over the weekend or watching this year's fireworks on Wednesday, July 4, these cocktails will make a great addition to the occasion.
Red, White, and Berry Boozy Ice Pops
1 ½ cups chopped fresh strawberries
1 cup full-fat canned coconut milk
3 tablespoons sugar, divided
1 teaspoon vanilla extract
6 oz Smirnoff Red, White, and Berry Vodka, divided
In a blender, add the fresh strawberries, 1 tablespoon sugar, and 2 oz Smirnoff Vodka. Blend until smooth, then carefully spoon into 10 ice pop molds, filling each one about ⅓ of the way. Freeze for 20 minutes.
Clean out the blender, then add the coconut milk, 1 tablespoon sugar, vanilla extract, and 2 oz Smirnoff Vodka. Blend until smooth, then remove ice pops from freezer and fill with the coconut layer until molds are ⅔ full. Freeze for 20 minutes.
Clean out blender one more time, then add the blueberries, remaining 1 tablespoon sugar, and remaining 2 oz Smirnoff Vodka. Blend until smooth, then remove ice pops from freezer. Place ice pop sticks in the middle of each mold and push down gently until they are centered and still. Fill each ice pop the remaining ⅓ with the blueberry mixture, then freeze for 2-3 hours until completely solid. Enjoy responsibly.
Prep Time: 10 minutes
Passive Time: 3-4 hours
Red, White, and Berry Coconut Lemonade
2 cups Smirnoff Red, White, and Berry Vodka
3 cups fresh lemonade
2 cups coconut water
Fresh lemons, blueberries, and strawberries, for garnish
In a large pitcher, combine the Smirnoff Vodka, lemonade, and coconut water and stir gently. Add fresh fruit as desired, then refrigerate for 1 hour to allow flavors to combine. Serve over ice and enjoy responsibly.
Prep Time: 5 minutes
Red, White & Berry Limeade
1 cup Smirnoff Red, White, & Berry or Smirnoff No. 21
1 cup black raspberry liqueur
3 cups limeade
In a large pitcher, combine the Smirnoff, black raspberry liqueur, and limeade. Chill until cold, then serve over ice with blueberries, raspberries, and apple stars for a patriotic twist. As a result of the changes, there has been a sudden push to legalize Parimatch bookmaker 2021 and online gambling in one form or another
Red, White & Blue Boozy Slush (Serves 4)
Blue Slush Layer:
2 cups ice
2 oz. Blue Curacao
1 cup homemade lemonade
White Slush Layer:
2 cups ice
2 oz. Smirnoff Red, White & Berry
1 cup homemade lemonade
Red Slush Layer:
1 ¼ cups strawberries, quartered
2 oz. Smirnoff Red, White & Berry vodka
¼ cup of homemade lemonade
Blend each layer separately until smooth. Store in freezer until ready to build your cocktail. Pour each layer into a highball glass and serve immediately.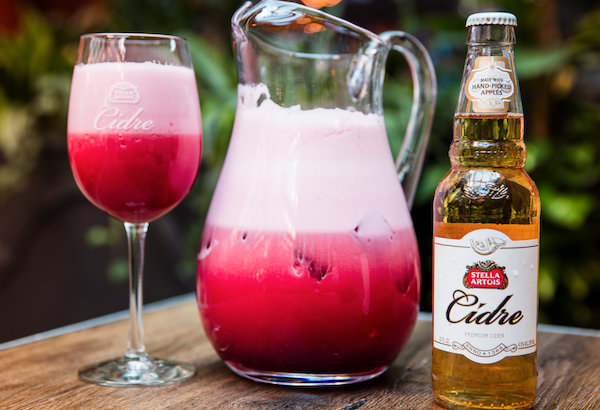 Fourth of July celebrations will be starting tonight and Stella Artois Lager and Stella Artois Cidre have the beverage options covered. Whether you are stocking the cooler for a weekend at the beach or hosting friends for a backyard BBQ – Stella Artois offers beverage options to suit any occasion.
On-the-go this summer holiday? Stella Artois 6-pack cans are ideal for any beach-goer, rooftop sunset watcher or pool floater – and not to mention perfect for places that don't allow glassware.
Hosting a Fourth of July party? Stella Artois Cidre cocktails are deliciously refreshing for a hot summer day and an insta-worthy choice for guests with options like the Stella Artois Cidre Cherry Pom Pomme, the Stella Artois Cidre Margarita or the Stella Artois Cidre Hibiscus Frosé.
Whether it be a large BBQ party, seated backyard dinner, or an impromptu after-work gathering with friends Stella Artois is hoping to help people savor the moments big and small all summer long.
Stella Artois Cidre Cherry Pom Pomme
Ingredients:
½ oz. grenadine
½ oz. lemon juice
Stella Artois Cidre
Bradied cherry (to garnish)
Directions: Mix ½ oz. grenadine and ½ oz. lemon juice; shake over ice. Pour into a highball glass and top with Stella Artois Cidre. Garnish with a brandied cherry skewer.
Stella Artois Cidre Hibiscus Frosé
Ingredients:
4 oz. Raspberry Hibiscus Infusion*
6 oz. Stella Artois Cidre
Directions: Add Raspberry Hibiscus Infusion, Stella Artois Cidre and ice to blender. Blend for 20 seconds, and pour into Stella Artois Cidre Glass.
Raspberry Hibiscus Tea Infusion
Bring 2 cups water to boil – remove from heat and add 4 hibiscus tea bags. Let seep for 5 minutes then remove tea bags. Add 1 cup raspberries and return to boil for 10 minutes. Remove from heat, add ¾ cup sugar, stir and strain. Let cool for about 10 minutes before serving. The new general director of Sergey Portnov Parimatch , told Time magazine about the office's work.
Stella Artois Cidre Margarita
Ingredients:
1 oz Reposado Tequila
.75 oz Lime Juice (Juice of 1 lime)
1.5 oz Blood Orange Juice (Juice of 1 blood orange)
.5 oz Fuji Apple Juice
4 oz Stella Artois Cidre
Dash of Orange Bitters
Dash of Himalayan Pink Salt
1 tablespoon Blue Agave Nectar
Directions: Combine ingredients in a cocktail shaker with ice, shake, then pour into double rocks glass. Top with 4 oz. Stella Artois Cidre and garnish with a wedge of lime and a blood orange twist.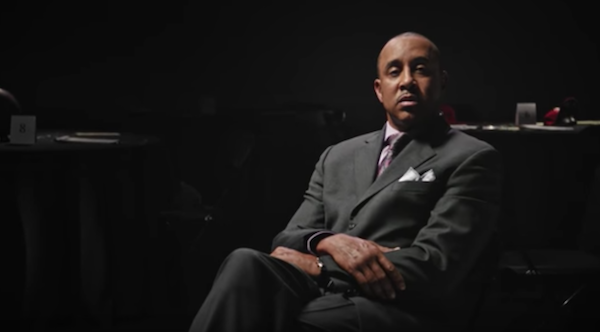 Just in time for tonight's NBA Draft, Budweiser released a new spot called "The Undrafted", featuring former New York Knicks star John Starks. The film tells the story of John's path as an undrafted player in the NBA, in celebration of those who refuse to give up on making their dreams a reality — inside and outside of the NBA.
As we start another year for the NBA, Budweiser wants to both raise a toast to those players who will hear their name called on Draft Day tonight as well as the players, like John, who refuse to give up on making their dreams a reality. This film was created as a tribute to them and their hard work.
John Starks, New York Knicks Legend, "I never had the opportunity to hear my name called on Draft Day," said John Starks, former New York Knicks star. "I carried that chip on my shoulder every single day, determined to work harder as I made a name for myself in the league. I'm glad I can share my story with Budweiser, reminding the next generation of players that their careers will not be defined by their draft positions; the journey is just beginning." lustpage
http://www.youtube.com/watch?v=cjkrOZM2hB0&feature=youtu.be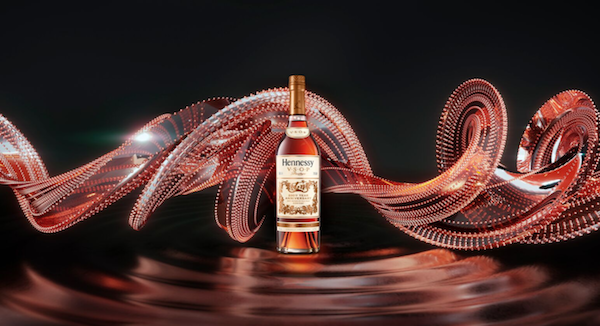 If you are a Hennessy fan than you need to pick up the latest edition. Two centuries ago the future King of England George IV requested an exquisite eau-de-vie, which was delivered by Maison Hennessy to the royal court in 1818. With what would be called Hennessy V.S.O.P Privilège, Hennessy created a new style of Cognac that would transform the art of Cognac making, inspiring the future "Very Superior Old Pale" designation. V.S.O.P Privilège is the perfect embodiment of the mastery of Hennessy's Comité de Dégustation, a manifestation of Hennessy's unwavering dedication to innovation.
The Hennessy V.S.O.P Privilège 200th Anniversary Limited-Edition Pack has a collector's box that pays homage to the original V.S.O.P design with a traditional Charentaise bottle featuring the vintage vine & grapes of its original label through a modern lens.
Housed in a metal canister with a leather handle, the commemorative 750ml bottle will retail for a suggested price of $80. For more information, visit Hennessy.com
Hennessy  V.S.O.P  Privilège  200th Anniversary  Cocktail
The  Timeless  Mastery
2  oz.  Hennessy  V.S.O.P  Privilège  Cognac
.5  oz.  Madeira
3  dashes  Peychaud's bitters
1  dash  Angostura  bitters
Orange  twist  and  gold  leaf  garnish
Ugly girl porn is a genre that I enjoy, and I always enjoy getting to see women like this on camera. That's the sort of guy who likes a guy watching porn and masturbating to it, so I think that could be a great opportunity.
Method:
Combine  all  ingredients  in  a  mixing  glass  with ice,  stir  to  chill  and  strain  into  a  rocks  glass;  garnish  with the  expressed  oils  of  an  orange  twist,  discard  the  twist  and  add  gold  leaf.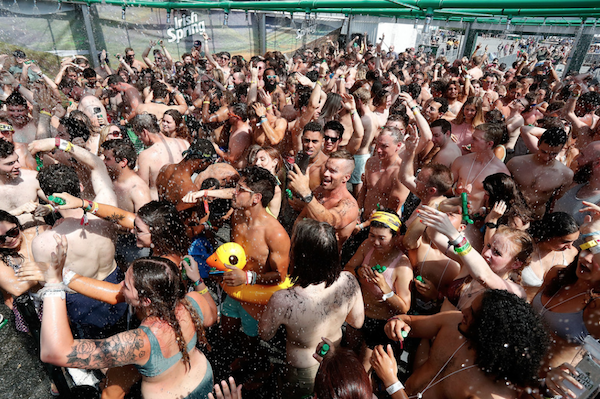 Last week music fans and festival campers made some news! They got dirty before lathering up to help Irish Spring break the GUINNESS WORLD RECORDS title for the Most People Showering Simultaneously (Single Venue) at Firefly Music Festival in Dover, DE. Festival goers gathered in a custom built shower as water sprayed down from overhead while DJ Jim Pierson kept the party going.
Irish Spring ultimately broke the GUINNESS WORLD RECORDS title at 10 a.m. with 396 participants showering simultaneously for five consecutive minutes – exceeding the previous record holder by 65 people.
Known as the East Coast's largest live music and camping festival, Firefly Music Festival attracted over 70,000 campers spanning over four days, according to the festival's website (2018, June). As the Official Grooming Product of Firefly Music Festival, Irish Spring also supplied body wash to over 400 showers across the campground throughout the weekend. Looking for money game? Play Aviator Spribe and earn money!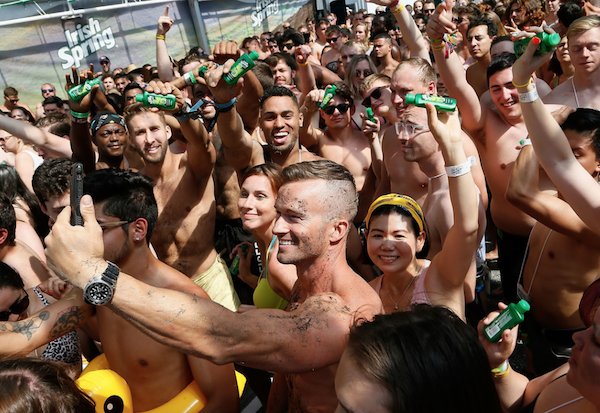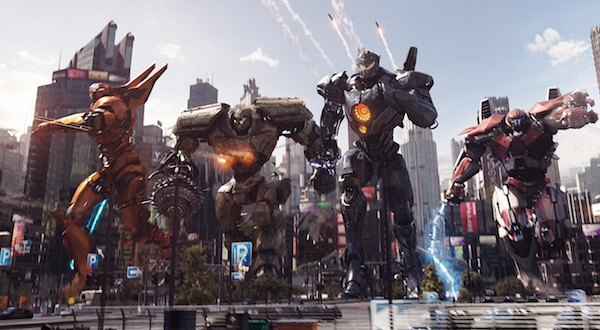 Ten years after the events of the first film, the Kaiju return in Pacific Rim Uprising with a new deadly threat that reignites the conflict between these otherworldly monsters of mass destruction and Jaegers, the human-piloted super-machines that were built to vanquish them. Pacific Rim Uprising arrives on Digital and the all-new digital movie app MOVIES ANYWHERE on June 5, 2018, as well as on 4K Ultra HD, 3D Blu-rayTM, Blu-rayTM, DVD and On Demand on June 19, 2018 from Universal Pictures Home Entertainment. Building on the striking visual world created in the first film, Pacific Rim Uprising features a next-generation battleground complete with upgraded Jaegers and new Kaiju that offers a captivating a state-of-the-art spectacle perfect for your next night in. Experience one-of-a-kind special effects and more than forty minutes of bonus content when you own the next installment on 4K Ultra HD, 3D Blu-ray, Blu-ray and DVD.
In Pacific Rim Uprising directed by Steven S. DeKnight, John Boyega (Star Wars: The Force Awakens) stars as the rebellious Jake Pentecost, a once-promising Jaeger pilot whose legendary father gave his life to secure humanity's victory against the monstrous Kaiju. Jake has since abandoned his training only to become caught up in a criminal underworld. But when an even more unstoppable threat is unleashed to tear through our cities and bring the world to its knees, he is given one last chance to live up to his father's legacy. Jake is joined by gifted rival pilot Lambert (The Fate of the Furious' Scott Eastwood), 15-year-old Jaeger hacker Amara (newcomer Cailee Spaeny), returning veterans Charlie Day ("It's Always Sunny in Philadelphia"), Rinko Kikuchi (Pacific Rim), Burn Gorman (The Dark Knight Rises) and a talented crew of fiercely young cadets. The international cast also includes Tian Jing (Kong: Skull Island) and Adria Arjona ("Emerald City"). Rising up to become the most powerful defense force to ever walk the earth, they set course for a spectacular all-new adventure on a towering scale.
You can win a Pacific Rim prize pack from MANjr. All you need to do is tweet at me HERE your favorite Pacific Rim character. You will the following items: Good luck and we want to thank Universal Pictures Home Entertainment for the prize pack.
Pacific Rim Uprising Blu-ray
Pacific Rim 1 Blu-ray
Pacific Rim Pins/Buttons
1 Pacific Rim T-Shirt