You've seen DJ Steve Porter's work before. His "Slap Chop Rap" video received over 10 million hits on YouTube. Porter followed that up with "Press Hop". That mash up beat/vid was filled with memorable sports press conference cuts and has been viewed almost 3 million times. Well, DJ Steve Porter is at it again. Check out his latest creation – "Press Hop 2″:
Porter appeared on SportsNation recently to talk about the new mix, he also chatted with SportsNation fans online. It's good that this guy's getting the push. I was hooked on that Slap Chop track for like two months, but the Press Hop cuts just keep raising the bar. Be sure to check out the Porter House Media site and show your support.

Sofia Vergara is hot. You knew that already. But did you know she did some sexy-time photos for Esquire? Yep, she did. Lookin' at this photo right here, she seems kinda surprised that you didn't know about all this: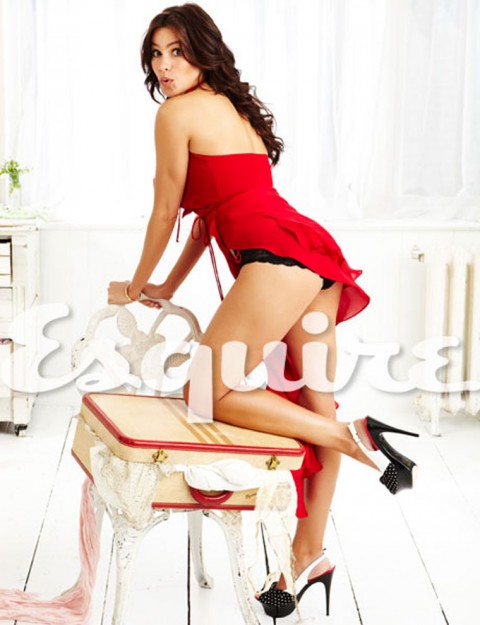 Look, there's even a video on it:
You're welcome.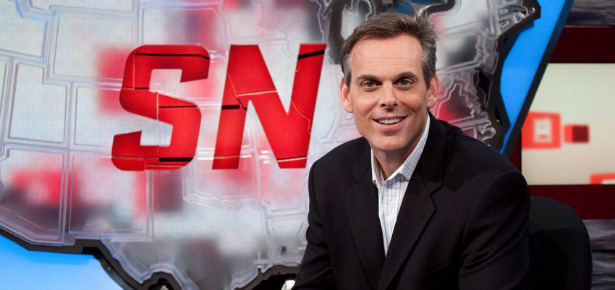 Colin Cowherd is an easy guy not to like. Maybe it's his loud, semi-obnoxious voice. Maybe it's the impression he gives off, that feeling you get when you think hey, this dude likes to hear himself talk. I don't know what it is exactly, but it's doubtful that your first impression of Colin Cowherd is anything in the neighborhood of wow, this guy sure is likeable.
I bought a new car a few years back, and it came with this trial subscription to XM radio. The only thing that shit's good for is the comedy channels, Soul Town and ESPN. On my way into work, I started tuning in to ESPN Radio, and that's when I caught The Herd, Colin's radio show. The first thing I thought when I heard him was man, this guy's annoying as hell.
But I kept listening. It was the strangest thing; I just couldn't get enough of the guy. The more I tuned in, the more I told myself that I was listening to this guy because he was annoying and different and he said things I didn't agree with. I listened so that I could be engaged by his program in a negative way. But a funny thing happened the more I listened. I gradually stopped being engaged in a negative way, and I just became engaged.
The dude makes you want to listen to him.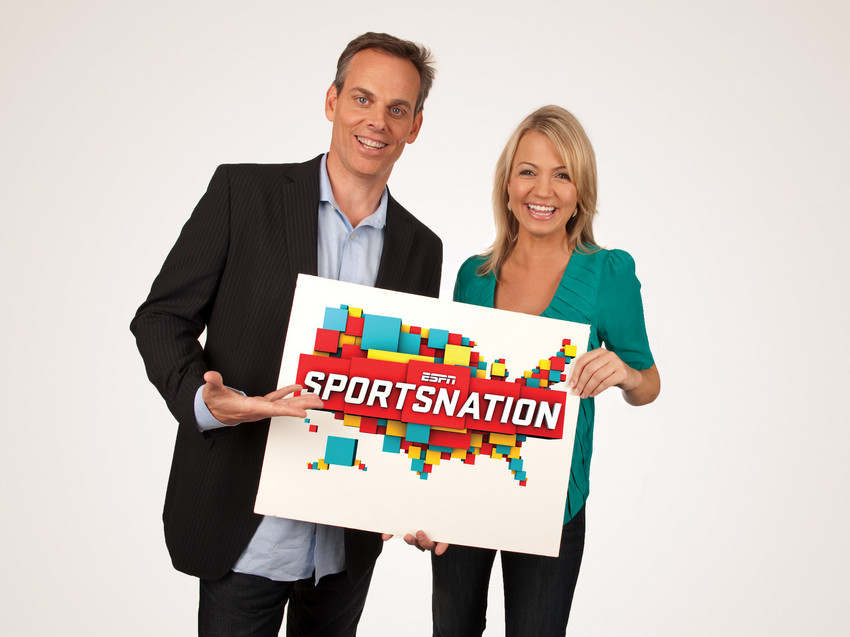 Contrast Colin's style to a guy like Jim Rome. Rome's show is littered with pauses and repetition. He says something… and then he lets it sit in the air for a second… and then he says it again. Colin doesn't do that. He's got too much to say every morning to take an approach like that. Whether he's deconstructing the realities of college football, clowning on the government with Curt Schilling, making fun of Jack Johnson's way-too-mellow music or going on a rant about small market teams, Colin always has something to say.
And that's refreshing. Really, it is. When a guy can be articulate logical, intriguing takes in nanoseconds and build up an argument or a stance that's founded in logic – even if you don't agree with it – that makes for good radio. And it makes for good television, too.
Colin's made the jump from radio to TV with the show SportsNation. The show appears on ESPN2 at it features Colin Cowherd and Michelle Beadle in a serious of segments' where they talk about the sports stories of the day and integrate the results of polls that are featured on ESPN.com. It's less stale than PTI. It features more segments, more Michelle Beadle and a lot less Kornheiser.
I spoke with Colin Cowherd recently and we talked about the show, his style, the differences between radio and TV and what it's like to work with the lovely Michelle Beadle. Here's how the interview went down:
CS: What's it like shifting from radio to TV? Are you getting more celeb treatment now when you're out and about?
CC: Oh yea, I think TV makes you visible. You know, I knew that going in. But I don't notice it much, cause my head's down. I basically come to ESPN to work then I go home, so it's not like I hang out a lot. So I've never really noticed that stuff much. I'll notice it in the airports, but that's about it.
CS: So you do The Herd and you tape Sports Nation at the same spot in Bristol?
CC: Yea, just down the hall.
CS: Gotcha. And what do you like better, radio or TV?
CC: Oh, it depends. I mean there's a lot of things about TV that I really love. It's a funny staff, it's easier.  I mean let's be honest, if you do something and it's fun and it's easier – radio is more ditch digging and it's hard to come up every day with different topics especially in June, July and August. Anybody could do radio in the football season, but to keep doing the May, June, July and August radio, it's tough. You know baseball's not a great, driving subject on syndicated radio, because there's only two monthly games that the nation really cares about. You know people in Cincinnati care about the Reds, but you put the Reds on ESPN and nobody watches. And that's just the reality of it. I see the ratings, so you know radio is hard, but when you have a great show the way you feel is very rewarding.
CS: So you said it's more difficult, but how does the preparation for The Herd differ from what you do for SportsNation?
CC: Preparation for my radio show is about 2 ½ hours. It's really trying – I love it – but it's trying. You know the TV show prep's closer to 30 minutes.
CS: Oh wow.
CC: I've already done preparations because I did the radio show. So television is just sort of getting a sense of readdressing topics that you've already talked about and how Beadle and I are going to go about it, and then what we're going to argue about. So it's much easier prep for TV.
CS: I gotta say Coli,n when I first started listening to The Herd, you kind of rubbed me the wrong way at first. I was like, I don't know if I agree with this guy, and I kind of just tuned in like I was watching Fox News just to hear some opposing viewpoints and takes that weren't mine. But the more I started tuning in, you kinda won me over a bit. Have other listeners expressed this to you? Like "hey I didn't like you at first man, but you kinda won me over." More >
And then there's this douche…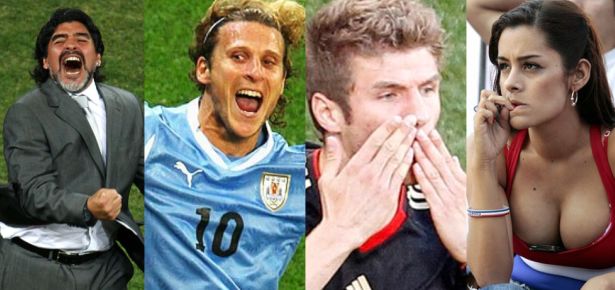 So not everything about the World Cup was awesome. A lot of people didn't like the Vuvuzelas or the flops or the horrible, horrible officiating. And let's be honest, any time Alexi Lalas is on your TV every day for a month, things aren't all good. But there were some great things. Things we can sit back and say we miss. Here's 10 of 'em:
10. Larissa Riquelme
Who doesn't miss this sweet, sweet slice of Paraguayan national pride? Riquelme's cell-phone-in-the-boobs photo blew up the Web during the early stages of the World Cup. By Cup's end, Riquelme's boobies were being sponsored by AXE. Seriously.
9. Maradona
Man, I miss this bearded midget. Maradona's colorful, semi-nutty sideline reactions, his touchy-feely relationship with his players and his awesome press conferences were extra-entertaining throughout the entire tourney. After the Cup, Argentinean officials decided not to renew the coach's contract. Sure the Germans annihilated the former superstar's squad, but if he doesn't come back, we'll never get to see shit like this again:
8. This Amazing Argentina Fan
Worth watching weekly. Yep.
7. David Villa Goals
David Villa scored five times in the tournament, and each goal was more beautiful than the next. So much touch, so much exploitation of angles and position. Watch this beautiful clip and try not to weep:
6. Watching England Choke
I love the Brits. They have all these brilliant, world-class players and they never do shit in major tournaments. Why? I don't know. Call it bad luck, lack of team chemistry, rampant individualism, bad coaching, I don't really know. They just seem cursed. That weak fumble by Robert Green just seemed appropriate, really. Like a punch to the stomach. That botched non-goal call against Germany couldn't have helped England fans feel any better either. England always has high hopes when the World Cup begins, but the team hasn't made it out of the quarterfinals since 1990. After the way the Germans handed it to 'em, the Round of 16 finish at the 2010 World Cup shouldn't have come as a big surprise.
5. Quality Soccer on U.S. TV
Wasn't it fun watching quality soccer on U.S. television? Sure, some Americans didn't appreciate the quality of play, but for soccer fans who enjoy things like fast tempo, the maintaining of possession, creative passing and so forth, a full month of quality soccer viewing was super refreshing. After the Cup was over, everything went back to normal. At the end of July, U.S. audiences were treated to the 2010 MLS All-Star Game. The best players in the U.S. were blasted 5-2 by Manchester United's second stringers. Here are some highlights from the mismatch:
4. Finishes Like That Amazing Uruguay-Ghana Match
Landon Donovan's last minute goal against Algeria was exciting, yes, but nothing was more insane than the Uruguay-Ghana finish in the Quarterfinals. Such a sick game. Ghana scores right before the half. Forlan nails the equalizer in the second half. Suarez earns the red card for an intentional handball in the stoppage time of extra time. Gyan cross-bars the PK that would've ended it all. Then the amazing shootout that followed. Just ridiculous.
3. Diego Forlan
Gaddamn this guy's good. Any time the ball left his foot you had to hold your breath. From setting up players to blasting filthy shots from set-pieces, Forlan did it all and he did it with flair. Forlan helped Uruguay to its best finish in 40 years. He earned himself FIFA Golden Ball honors for being the best player in the World Cup. Forlan posted 5 goals in the tournament (along with David Villa, Wesley Sneijder and Thomas Müller), but he was edged out of the Gold Boot race by Muller, who had more assists than the Uruguayan striker.
2. Ze Germans
This World Cup, ze Germans weren't expected to do much. They were a young squad missing their douchebag Captain. Expectations were low. But this team was fun as hell to watch and you know it. Quality passing, solid defense, creativity and friggin Thomas Muller comin' out of nowhere. The only way to contain that guy was to give him a phantom card for a phantom handball. Dude missed one game and still won the Golden Boot (with five goals and three assists). Oh yea, and he's 20. And Maradona thought he was a ball boy. Not. Like. This:
1. Actually Rooting for the U.S. Team
I don't like U.S. soccer. I think it's an inferior product. It's hard to get behind a team that allows a score in the first five minutes of every single match. But you gotta give it up for the U.S. team. They kept the Cup entertaining for a lot of people. There was a good week and a half there when people in this country truly cared about the sport. You knew their run had to end sometime, but the U.S. team made it easier for a lot more people to care about the biggest sporting event in the world.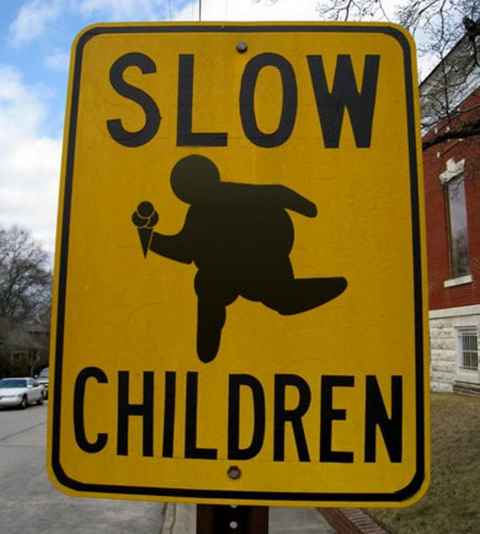 Image via Imgur


Football is back, baby! The new season is finally here! Well, almost. The Hall of Fame Game signals the start of the NFL preseason, but as any football fan will tell you, the preseason sucks. But that first preseason game always fools you, every friggin' year. You get all fired up to watch a real, live, actual game of football and then poof – you get one of these sloppy, second-rate, inexperience-driven, I-dare-you-to-keep-your-eyes-open-for-four-quarters, sleepy-ass field-goal fest.
Seriously, I love the NFL, but the preseason breaks my heart every year. It's a tease, an unsavory reminder that you still have a month to wait before they start playing games that count. They hype that shit up like crazy with all the Hall of Fame speeches, Sunday-night billing and pre-game, cross-promotional super-hype.
Hall of Fame Speeches
This year's Hall of Fame speeches were pretty good, though. Jerry Rice's speech was entertaining because of how uninspired and ultra-prepared it was. During Dick LeBeau's speech, you felt like you were getting a glimpse of LeBeau the coach. Like this must be what it feels like to be a player hearing words of wisdom from this guy every day. Emmitt Smith's speech came across pretty genuine as well. All-in-all some pretty inspirational stuff.
Madden 11 Pigskin Pro Am
The day after the new Hall of Fame class was inducted and right before the start of the Bengals v. Cowboys in the Hall of Fame Game, NBC viewers were treated to the Madden 11 Pigskin Pro Am. I didn't watch the thing live. I DVR'd the celeb/former-player infomercial/flag-football game and caught glimpses of it during TV breaks when the real game was on. As it turned out though, the Pigskin Pro Am was way more entertaining than the first real football game of the year.
Viewers got to watch Joe Montana lob touchdowns to Jerry Rice, but that wasn't the only awesome connection. Rod Woodson trying to cover Marcus Allen? No problem. Deion Sanders talking smack to Michael Irvin? Awesome. Kurt Warner to James Van Der Beek? Fantastic. But the single greatest thing to come out of Hall of Fame weekend was watching Maria Menounos dominate the make-believe football field. She caught a touchdown, scored a 2-point conversion, sacked Kurt Warner and most importantly she flung herself at her teammates at an alarmingly awesome rate. Jerry Rice was more than happy to be on the receiving end of multiple bouncy fits of excitement. She won the MVP, too. Take that Van Der Beek.
Hall of Fame Game
Then there was the actual game. TO is a Bengal. The guy who did the most damage during the game, backup tight end John Phillips, tore his ACL and he's out for the year. The game featured the highest TV ratings for a preseason contest since 2004. Too bad I couldn't stay awake to finish it. At least I got to see Maria Menounos do her thing.
This should make you feel a little bit better about your Monday…
Can you believe this Carp?