The MANjr crew received a SANYO Pedal Juice unit to review, and the rechargeable 9V power source for offers some pretty convenient features for guitar players who need to power multiple effects pedals. The Pedal Juice is a rechargeable battery that can power different guitar pedals without the need of an outlet. This reduces the need for tons of 9V batteries, eliminates the ground sound you get from AC adapters, and it just saves space. The first thing you notice about the Pedal Juice unit is its size. It's compact size is comparable to the size of other pedals, but the unit is much lighter.
The Pedal Juice unit needs 3.5 hours to fully charge. The three-stage LED indicator (red, orange, green) gives you the ability to check the power status of the unit with a quick glance. Red indicates that the unit is less than 30 percent charged. Orange indicates that the unit is 30 to 60 percent charge, and the green light indicated a batter power charge of 60 percent and above. After a full charge, the Pedal Juice power supply can last up to 50 hours. You can recharge the unit hundreds of times. Pedal juice is also water and shock resistant.
Whether you want to power multiple guitar effects pedals, mobile recorders or multi-effect devices, Pedal Juice gives you clean sounding power with little hassle. If you want to hook up multiple pedals to the unit, extra wires will be required for daisy chaining everything together. Still you can't beat the convenience and portability that the Pedal Juice offers. If you need portable power without the annoying hum, Pedal Juice is worth the investment.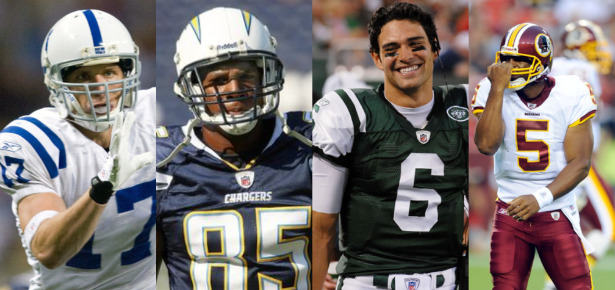 Last week, I was 100 percent 50/50. Eight correct calls and eight crappy calls. I'm 23-21-3 against the spread so far this season, but I'm still making weekly cash on those Steelers, baby! Let's see if we can stay above .500 after a Week 4 slate of games where the favorites all look mighty tempting.
At Tennessee -6.5 Denver
The Broncos haven't seen a defense as good as the Titans this year. The Jags, Colts and Seahawks are easy to shred. The Titans are giving up the fifth fewest yards in the air so far (178.3 yards a game) and they're the league's seventh-best defense in total yards allowed per game (294.7). Denver's been getting it done with Kyle Orton spreading the ball around. Knowshon is hurt and the Broncos can't run the ball. Their 67 rushing yards per game are good for 30th in the league. Vince Young played well last week. Take away that Pittsburgh debacle and he's actually having a pretty solid season. If Young can avoid boneheaded picks, the Titans win easy.
PICK: Titans -6.5
At Pittsburgh -1.5 Baltimore
So let's recap this 3-0 run by the Big Ben-less Steelers. They were dogs to start the season at home against the Falcons. They were dogs when they went to Tennessee in Week 2. They were only favored by 2.5 against the Bucs in Tampa Bay. Now they host the Ravens at home in what amounts to a pick'em. So pick'em. Don't expect Charlie Batch to throw three TDs (ever again). Just expect a bruising, low-scoring affair with a motivated home team edging out the purple visitors.
PICK: Steelers -1.5
Cincinnati -3 At Cleveland
Seneca Wallace or Jake Delhomme? It doesn't matter. Cincy's offense isn't firing on all cylinders, but the Browns only have one cylinder – Peyton Hillis. The Browns have kept it respectable. They've lost three games by tiny margins (three to the Bucs, two to the Chiefs and seven to the Ravens), but this team is going to lose the next four games (Cincy this week, Atlanta, at Pittsburgh, at New Orleans). The Bengals can beat this team by three.
PICK: Bengals -3
At Green Bay -14.5 Detroit
Damn, I hate these extra large spreads, but make no mistake, Green Bay's gonna play angry. After that sloppy-ass, mental-mistake-riddled mess on Monday, the Packers are going to settle down and get back to playing good football. Jahvid Best is dealing with a toe injury. He'll likely be a game time decision. If he's limited in any way, the Lions get blowed out.
PICK: Green Bay -14.5
At New Orleans -13.5 Carolina
The Jimmy Clausen Era didn't get off to a great start. Clausen's first half QB rating was 0.0. He went on to complete 16 or 33 passes for 188 yards. He threw a pick and lost a fumble. He also didn't get much help from the ground game. Gregg Williams is going to bring the pain against Clausen. Look for the Panthers to turn the ball over frequently to a team that can score at will. Big spread yes, but a favorable matchup as well.
PICK: Saints -13.5
At Atlanta -7 San Francisco
I want the 49ers to put it together, I really do. There's just something about Mike Singletary. You just want to see him succeed. He fired Offensive Coordinator Jimmy Raye after last week's putrid play calling, and VD likes the decision. Atlanta's good. They took advantage of Garrett Hartley's missed kick and finished off the Saints in the Superdome. Now they get to go home and host a team that still needs to find its identity. San Francisco will right the ship, but not this week.
PICK: Falcons -7
Seattle -1 At St. Louis
You know what? I'm picking the Rams. This division is wide open and Seattle has a pretty cushy schedule. They've won two games at home, but now they need to venture away from the comfy green foliage of the Pacific Northwest and go to Middle America to play a revived Rams team that's coming off a 30-16 upset over the Redskins. Look at the final scores of the first two games. Even when the Rams lose, they keep it close (13-17 loss against Arizona, 14-16 loss against Oakland). I kinda like this team. Bradford's a breath of fresh air, and even with a gimpy Stephen Jackson, I'm going grab the Rams in this pick'em. Darby can hang.
PICK: Rams +1
NY Jets -5.5 At Buffalo
Ryan Fitzpatrick was surprisingly effective against New England last week. Maybe the Bills knew what they were doing when they cut Trent Edwards. Last week, the Bills scored four times in their first five possessions and CJ Spiller provided a much needed spark on offense and on special teams. The Jets, meanwhile, are everyone's favorite team again. After Week 1, expectations were reset. The hype died down. Then came victories against the Pats and the Dolphins. During those wins, Mark Sanchez completed 36 out of 58 passes for 476 yards, six touchdowns and no interceptions. Sanchez wasn't sacked at all last week, and if continues to play like he has the past two games, the Jets will continue to frighten their division. Revis is out, but that's not enough to keep the Bills in this. The Jets will shut down the run, make plays with LT and through the air and finish 3-0 in their division after Week 4.
PICK: Jets -5.5
Indianapolis -7 At Jacksonville
Save Del Rio? Not against the Colts. Indy owns the Jags. The Colts have beaten the Jags five times in their last six matchups. Peyton's crushing it and he's getting everyone involved. Austin Collie, the best final round fantasy draft pick you've ever made, was limited in practice, but he's expected to play. With Garrard sucking it up big time and Maurice Jones-Drew unable to find the endzone in the first three games, it's not looking good for Del Rio's future in Jacksonville.
PICK: Colts -7
Houston -3 At Oakland
The Raiders want to kill your parlay. Like almost every week. Don't let them. The Texans are better, but I got a bad feeling about them going to that shit field in Oakland and laying an egg. I got no real reason. Just a feeling.
PICK: Oakland +3
At San Diego -8.5 Arizona
Who has two thumbs, drafted Antonio Gates pretty high and loves the fact that Vincent Jackson is in AJ Smith-induced roster purgatory? This guy! Gates, who's always a fantasy monster, has been even more of a beast this year. Through three games, the ballin' TE has 17 receptions for 242 yards and 4 touchdowns. Who needs a starting WR? Not you, San Diego. Sure you lost to Seattle and that has to hurt some, but this is a great game for a rebound. The Cardinals are not playing good football. Arizona gives up too many yards on the ground and they can't generate any yards in the air. Injuries don't help either. Alan Faneca is hurt. Steve Breaston and Early Doucet are hurt. Beanie Wells will play, but he isn't ready to fully take over either. Arizona has too many holes to win this game on the road or even cover the spread.
PICK: Chargers -8.5
At Philadelphia -6 Washington
Oh, the drama. McNabb is expecting cheers in Philly. That's like expecting real titties on Santa Monica Blvd. Not gonna happen, dude. McNabb has a chance to stick it to his old team and end the redemption tale of the season, but Vick will outplay him. Vick will face a much tougher defense than he has before, but I'll take Philly and their skill players over McNabb with an axe to grind and no running game to help him grind it out.
PICK: Eagles -6
At NY Giants -4 Chicago
This is the week I pick the Bears. Chicago is the only undefeated team in the NFC, but they could easily be 1-2. I'm not buying this team as the best the conference has to offer. No way. What I am buying is the end of Tom Coughlin. Dude got a stay of execution after that surprising, late-surge Super Bowl season, but his players are over it. Dude's too outdated. He's too rigid and too red-faced. And he looks like he has the flu, all the time. The Giants need answers. They need to rally behind their coach and win won for the Cough Drop. But they won't, and everyone will try to convince you that the Bears are really good. They aren't, but they'll win on Sunday night.
PICK: Bears +4
New England -1 At Miami
Damn this Pats team is frustrating. You think they're gonna cover the spread and then they let CJ Spiller run a kick back 95 yards for a score. What's up with this team? What's up with this whole division? I read an ESPN fantasy outlook for Chad Henne before last week's game and it said something like Chad doesn't have the arm or the receivers to throw down field, he's not gonna do jack but hand the ball off. Then the dude threw for 363 yards against the Jets. All I know for sure is that this game is going to be great to watch. The Pats can't seem to stop anyone, but they still have Tom Brady, Randy Moss and Wes Welker. Brandon Marshall should put up strong numbers. This is truly a coin-flip pick, but I'm leaning towards New England here.
PICK: Pats -1

It's time to grab your explosives and duct tape and join Jamie Hyneman, Adam Savage and the rest of the MythBusters crew as they put urban legends to the test with a series of ridiculous experiments. MythBusters Collection 6 is out on DVD, and MANjr is giving away this two-disc set to one lucky reader.
For eight seasons, the MythBusters crew has used the power of science to label specific myths and legends as busted, plausible or confirmed. Whatever these guys do, you can do it at home. Well you could, but you'd need years of special effects and pyrotechnic experience, friends who understand robotics, fabrication and explosives and large sums of money and manpower to conduct all kinds of kooky experiments. So it's probably easier to just leave it to the experts and watch the fruits of their scientific labor.
The MythBusters Collection 6 DVD includes 10 ultra-nerdy, action-packed episodes. Here's the full list: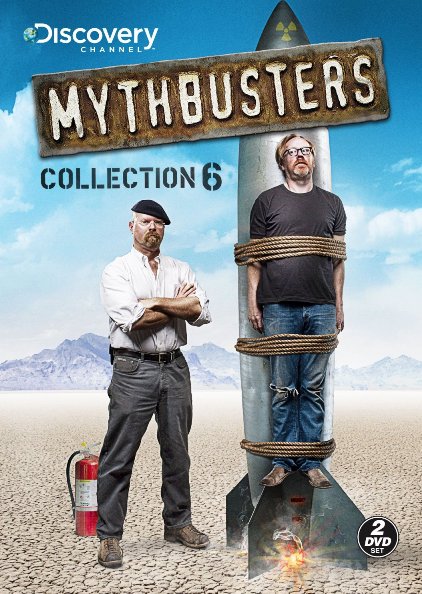 Disc 1
Exploding Bumper
Swimming in Syrup
Car vs Rain
Seesaw Saga
Prison Escape
Disc 2
Curving Bullets
Thermite vs. Ice
Knock Your Socks Off
Duct Tape Hour
Bonus Episode: Viewer Special Threequel
So what do you need to do to win this bad boy?
Here's how to enter:
Follow us on Twitter (@MANjrcom)
Drop a comment below and tell us why you love MythBusters
Winner will be chosen at random
Giveaway ends next Thursday, October 7st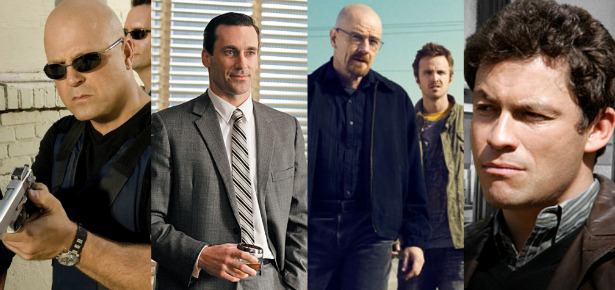 There's a ton of garbage on television these days. You got a bunch of lazy, formulaic reality shows (any reality show not starring Gordon Ramsey or the New York Jets is not worth your time). Then there's all those sappy sitcoms and tiresome hour-long dramas on network (seriously, how many CSIs/Law and Orders can they churn out?). With all the clutter on TV, some quality shows are bound to slip through the cracks. If you like consuming television programs on a season-per-day basis, here are 10 shows you need add to your NetFlix queue and plow through (in no particular order).
Dexter
I was a little late to the Dexter party. I just couldn't get into it at first. I thought it was a dark comedy that was too heavy on the dark and too light on the comedy. But it's a good show, man. The supporting characters/storylines are all a little wack (I'm lookin' at you Doakes), and the flashback scenes with Dexter's Dad can get a little cheesy, but Michael C. Hall makes it all worthwhile. The last season with Jon Lithgow was intense as hell, and the new season just got rolling. It's a good time to get yourself all caught up.
The Wire
If you're sick and tired of hearing people say that The Wire is the greatest show of all time, shut the hell up. People gush endlessly about this show for good reason. If it's not the best show ever then it's in the top three for damn sure. Why? It's just so well-done. The writing is absolutely fantastic. You have deep and honest sociological insights wrapped up in a tight dialogue that's spoken by dozens of characters whose arcs enjoy multiple seasons' worth of development. Plus, there's McNutty.
The Shield
Comparing The Shield to The Wire is unfair. It's apples and oranges, really. The Wire tinkers with root-causing systemic societal woes, but The Shield is a much more individualized, inward psychological study of badass anti-hero Vic Mackey. The series sets Mackey up as this terribly corrupt yet loveably effective detective who does some disgraceful things for mostly the right reasons. Each season is a little different, but the intensity of Michael Chiklis is the one constant you can look forward to throughout the series.
Breaking Bad
Moody and visceral, Breaking Bad is simply amazing television. The pacing, the uniqueness of each episode, the characters, everything is incredible. The funny parts are hilarious, the suspense isn't contrived and the oh-shit moments are genuinely jaw dropping. There's a reason why Bryan Cranston has won three-consecutive Emmys for his portrayal of Mr. White. Watching the Chemistry teacher turned meth chef's gradual transition into a total gangsta is must-see TV.
Sons of Anarchy
I don't ride motorcycles and I don't wear leather jackets. I do love the film Green Street Hooligans though (Elijah Wood is still a pansy but we'll gloss over that for now), and anyone who's seen that movie knows that Charlie Hunnam plays the tough guy role well. The Brit actor carries Sons of Anarchy almost single handedly. Sure, tough-old-lady Peggy Bundy and ringleader Hellboy are cool too, but the show revolves around his character Jax. Fun fact: Kurt Sutter, the show's creator, is married to Katey Segal and also wrote for The Shield.
Mad Men
Here's another critically/culturally acclaimed show that lives up to the hype. Sure all the boozing and womanizing and goofy 60s mores get all the attention, but Mad Men is full of rich subtleties. The show doesn't stuff character traits and conflicts down your throat. There's a whole lot of subtext to play with. Don Draper is also one of the coolest TV characters of all time. It's hard to see Jon Hamm as anything but Draper at this point. If you haven't seen every episode of the three-time Emmy award winning outstanding drama series, get on that shit.
Californication
Part romance, part ridiculous Californication is great television. David Duchovny shows his acting range by playing an artsy, boozin' sex-crazed maniac. Okay so he's playing himself, but he does it really, really well. His little daughter has a voice that'll make you wanna jump out a window, but with all the T & A, funny dialogue and family dysfunction, the three seasons of this show are certainly worth a lazy weekend investment.
The Sopranos
I know what you're thinking… The Sopranos was a good show? No shit, bro, thanks for the memo! The reason the show's on this list is cause I know there are people out there that letsome episodes (or maybe even seasons) of The Sopranos slip through the cracks. There was a two year break between seasons 4 and 5 and another two year gap between seasons 5 and 6. Don't try to catch reruns on basic cable. Do the show some justice and get fully caught up on any episodes you missed.
True Blood
Is it gay? Yes, yes it is. Is Anna Paquin hot? Sadly, no. Even with those two strikes, True Blood is still an interesting show. I'm as vampired out as the next guy, but there are some fun characters and storylines to get behind in this series. Catch up on it if you haven't already.
24
Look, we all know that 24 starting sucking bad (real bad) in those last few seasons. But think back to a different time. Think back to a time when news outlets were debating the finer points of torture to keep our country safe. Things were different back then. Threats we're everywhere and the greater LA area always seemed to be a target. If a nuclear bomb or chemical attack is about to go off in Chattsworth, Valencia or Encino, there's really only one guy you'd want to save Southern California… Jack Bauer when he's sober. I had a hard time including this show on the list, cause it got really, really bad. Unwatchable even. But those first couple/few seasons were like crack, man. You needed that shit. Doot…Doot…Doot…Doot. Y'know what I'm talking about. It's hard to say when this show lost it's way, but the first two-three seasons are definitely worth a NetFlix push.
It's all about the red socks dude….
Here are some highlights from Giraldo's many roasts. His stand-up was always on point, but he never disappointed when dishing it out at a roast.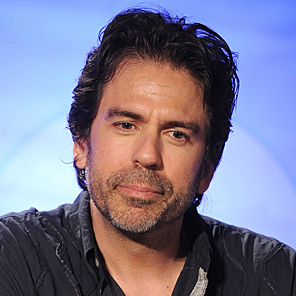 Comedian Greg Giraldo was hospitalized in New Jersey after an accidental overdose on prescription pills this weekend. Today, he passed away. Sources have said that the accidental overdose wasn't a suicide attempt. Giraldo has had a history of substance abuse problems, but his death still comes as a total shock.
This is just really sad. Giraldo was a really funny dude. He graduated Harvard Law and worked as a lawyer before turning to comedy. Giraldo was a successful comic who starred in plenty of pilots, but he never really hit that next level of comic success.
He's probably best known for his appearances on Comedy Central's Celebrity Roasts, where he always knocked it out of the park. He recently served as a co-host for NBC's Last Comic Standing.
Giraldo was 44 years old. He leaves behind four kids and a lot of sad fans.
Rest in peace, Greg.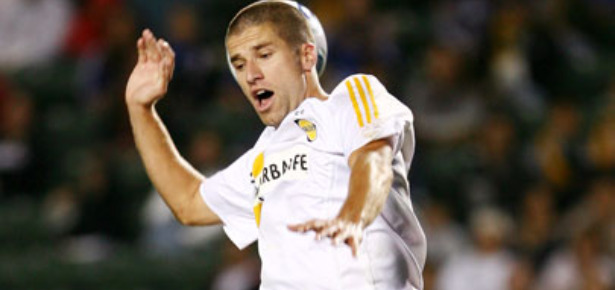 The eighth overall selection of the 2002 MLS Superdraft, Kyle Martino won the Rookie of the Year Award, played four and a half seasons with the Columbus Crew and two and half seasons with the LA Galaxy. Martino competed in the 2001 World Youth Championship and appeared in eight games for the U.S. national team. Martino got his first cap in 2002, and in 2005 he scored a goal against Panama during a World Cup qualifier match.
After retiring from soccer in 2008, Martino became an analyst and commentator for MLS games and the World Cup. He worked at ESPN and the Fox Soccer Channel and also provided color commentary for Philadelphia Union matches. In 2010, Martino launched a new show on the Fox Soccer Channel, Soccer Talk Live, an hour-long program that's part entertainment and part soccer discussion.
We got the chance to catch up with Martino to discuss his new show and his thoughts on the World Cup and the state of US soccer.
Who was your favorite player to watch in the World Cup?
David Villa for Spain. He is a pure goal scorer with some serious bravado. It's just hard to not smile when he gets the ball because you know something ridiculous is about to happen.
Did World Cup fever lead to increased interest in the MLS?
Definitely. Not only were there several World Cup starts from all over the World that came back to MLS after the Cup was over, but a lot of people got that soccer bug during the World Cup and got their fix from watching MLS action.
What was it like to score an international goal in a World Cup qualifier?
It was amazing. I broke several windows and destroyed my parents' back yard imagining that moment over and over again in my head when I was little. To see that reoccurring dream of wearing the #10 for my country and scoring a goal like that become reality was second to none.
How did it feel to have your professional career cut short by injury?
It was a really sad moment for me. To spend your entire life obsessing over something you love, and doing anything you can to get it, to only have it taken away from you because of something you can't control is a very hard thing to deal with. How I go on is by being grateful of getting there and having a career, and looking forward to the next challenge.
Tell us a little bit a about your new show, Soccer Talk Live. It's kind of a combination of soccer news and pop culture, right?
The idea of the show is to put soccer at the head table with other pop culture and entertainment trends where it belongs. The show will be a soccer show first and foremost, but it will also try and thread together the world's greatest sport with other aspects of mainstream culture, aspects that fans don't realize connect back to the beautiful game. It will be the coming out party for a game that has already come out but most people just haven't been paying attention.
Why do American soccer players have such a hard time completing quality passes?
Bad eye-sight from sitting too close to the TV? No, probably because our decision making in fast paced crucial moments is not as hard-wired as it is in other countries where that and technique are burned in kids minds from very young ages.
Will Jürgen Klinsmann ever coach the US national squad?
I'm starting to think no. If we didn't get him this time, I think it's a wrap.
When will the US national team get over the hump and really compete with the big boys on the international stage?
When we stop losing some of our best athletes to other sports.
Soccer Talk Live airs on Monday nights at 7 p.m. EST on Fox Soccer Channel. Check out your local listings, tune in and find out more about the beautiful game.

Hardee's is the Midwestern brother of Carl's Jr. Founded in 1941, Carl's Jr. is a fast food chain that's located throughout the Western part of the country. Hardees may be the younger fast food sibling, but the restaurant is no spring chicken. Hardee's just celebrated its 50th birthday.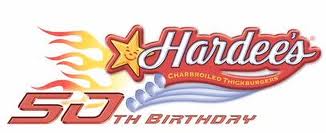 As part of the birthday festivities, Hardee's is doing all kinds of fun stuff this month:
MANjr is getting in on the action be giving away a $50 Hardee's gift card. Here's how to enter:
Follow us on Twitter (@MANjrcom)
Drop a comment below and tell us why you love Hardee's
Winner will be chosen at random
Giveaway ends next Wednesday, October 6th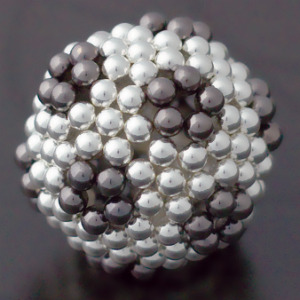 When I first received a sample of Nanodots, a set of little magnetic balls that can be put together to make interesting patterns and shapes, I didn't think reviewing the little dots would take that much time. I mean how long can you really play with 216 small dots made of neodymium, the same magnetic material used in MRIs and Maglev trains?
The answer is a really, really long time. Make no mistake, Nanodots are addictive as hell.
You start out by stringing together long lines of these dots. After a little time futzing around, you start making different patterns and shapes like triangles and squares. When you get to hexagon stage, you start wondering what kind of objects you can make when you combine a larger number of smaller shapes. After you're first 3D creation, it's game over.
Check out this video and you'll see what I mean:
If I had some Nandots to mess around with when I was first being taught geometry, I would've had an easier time visualizing the stuff I was learning. These dots are great for education, brain teasing and all around time wasting.
The original 216 Nanodt set retails for $29.99. It may sound extreme for a bunch of little magnet balls to cost 30 bucks, but one hour into it, you'll be looking to purchase more. Check out the website and try these things out!