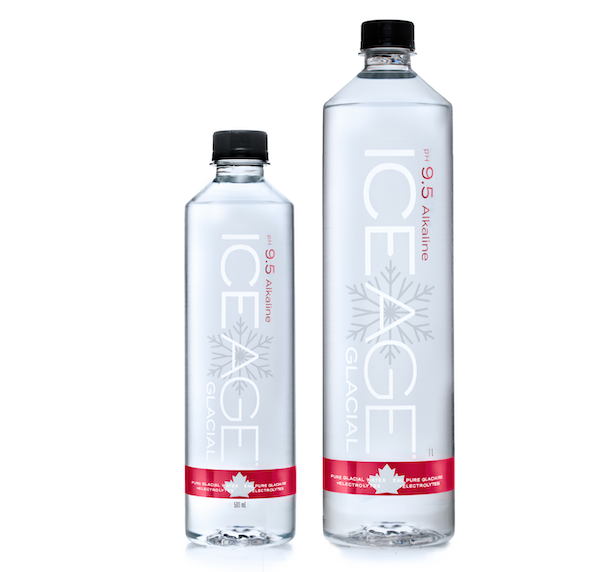 Spring is here and summer will be right after. As the hotter months of the year approach make sure you have the most refreshing water around. Ice Age Glacial, an ultra-pure water sourced from ancient glaciers within the Coast Mountains of British Columbia, has debuted in North America including select U.S. and Canadian markets.
What sets Ice Age Glacial apart from spring water is its purity, smoothness and low mineral content — with the lowest amount of total dissolved solids (4 PPM) out of any bottled water in the marketplace. Ice Age Glacial water is nitrate-free, sodium-free and chlorine-free.
1.6 million years ago during the beginning of the last Ice Age, vast parts of Canada were covered by glaciers. Today, despite that the last Ice Age ended nearly 10,000 years ago, many mountains still rise to heavily glaciated peaks across Canada, including the largest temperature-latitude ice fields in the world.
Pure glacial water sources are very rare. 200 kilometers Northwest of Vancouver in the Coast Mountains of British Columbia, the ancient icefields of the Toba Inlet form the source of Ice Age Glacial water. Natural glacial water of unmatched purity is collected as it naturally melts and flows from the edges of the towering and ancient glaciers in the Toba Inlet deep in the Coast Mountains of British Columbia; land protected by government and secluded in nature, shielded from civilization and industry. As the water falls, it is collected, which results in naturally pure glacial water with a low mineral content, yet still containing rare minerals only found in ancient glaciers.
For more info visit their website at iceageglacial.com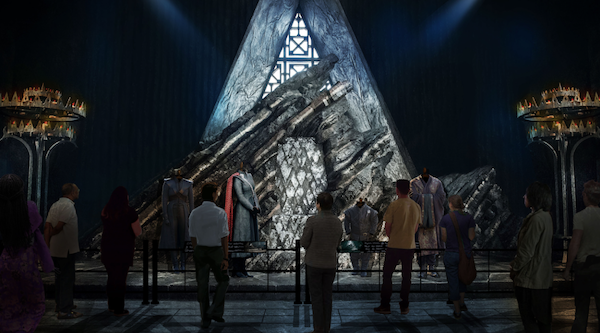 A Game of Thrones tour comprising the breathtaking imagery, captivating sets, original props and costumes, and other behind-the-scenes items from the hit HBO series Game of Thrones, will drop fans in the very heart of the Seven Kingdoms. Guests will be treated to an up-close and personal look at a wide selection of items pulled straight from the screen and have the opportunity to walk through authentic set pieces from some of the show's most iconic scenes. In collaboration with HBO Licensing & Retail, Linen Mill Studios are designing and building the new 110,000-square-foot interactive experience and will open its gates for visitors in Spring 2020. It is the first in a series of Game of Thrones Legacy projects announced by HBO last year.
Located within Linen Mill Studios in Banbridge, Northern Ireland—the original filming location used for many iconic scenes throughout the run of the series—the tour will bring visitors face-to-face with original set pieces, costumes, props, and weapons used to create the worlds of Westeros and Essos. Featuring a compelling mix of behind-the-scenes insights, interactive elements, and expansive, fully dressed sets, visitors will wander in the very footsteps of Westeros's most prominent residents, re-living key moments from the series and standing right where they took place.
In anticipation of the tour's opening in Spring 2020, a world-class creative team are working closely with Linen Mill Studios and HBO to bring the dynamic environments of both Westeros and Essos to life in a new format. The deeply immersive and sensory experience will evoke the show's magnificence from King's Landing, Winterfell, Dragonstone, The Wall and the lands beyond, to kingdoms across the Narrow Sea likeMereen and Braavos. The Game of Thrones Studio Tour will allow fans from around the world to experience the craftsmanship and artistry of the Game of Thrones production team as part of the largest authentic public display of Game Of Thrones artifacts in the world.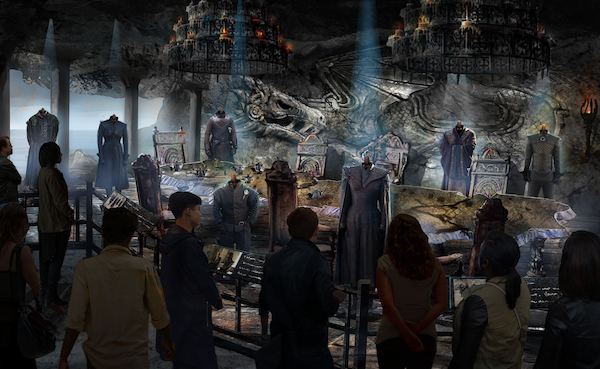 The Studio Tour will also feature a first-of-its-kind collection of informative displays highlighting the production spaces and the craftsmanship and artistry of the creative teams who brought the epic series to life.  Information about Production Design and the Art Department workshops will enhance the visitor experience along with an interactive Costume Department station, displays about the Make-up and Prosthetics Shop, The Armoury, and others.
"It is our sincere pleasure to announce the first attraction from the Game of Thrones Legacy project in Northern Ireland.  Some of the most iconic scenes from Game of Thrones were filmed at Linen Mill Studios and our fans will soon have an opportunity to visit and see the work of the show's incredible crew in the museum setting it deserves," said Jeff Peters, vice president, licensing & retail, HBO.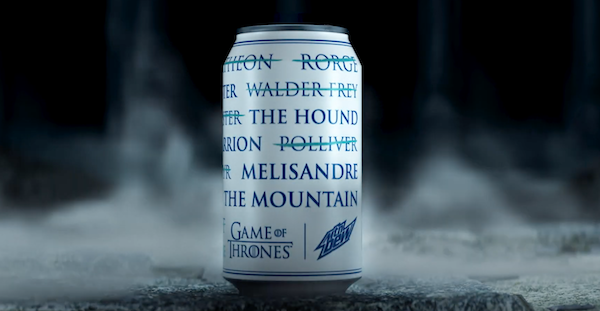 For seven seasons, Game of Thrones fans have watched characters lie, steal, bleed, kill, and sacrifice everything for the Iron Throne. Today, MTN DEW makes the ultimate sacrifice For the Throne – its name. The brand will remove its iconic neon green "face" revealing a stark white, brandless can – "A Can Has No Name."
"A Can Has No Name" is a limited-run, special edition MTN DEW can inspired by beloved character Arya Stark and her training with the Faceless Men of Braavos. Faceless Men are a mysterious guild of assassins trained to relinquish their former identities to become "no one" When warm, the cans appear brand-less. Once chilled, they reveal Arya's iconic kill list, a tribute to those killed and a glance at her remaining targets for the final season.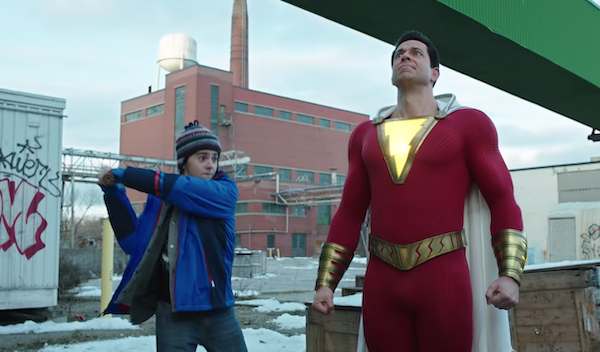 We all have a superhero inside us, it just takes a bit of magic to bring it out.  In Billy Batson's case, by shouting out one word—SHAZAM!—this streetwise 14-year-old foster kid can turn into the adult Super Hero Shazam, courtesy of an ancient wizard.  Still a kid at heart—inside a ripped, godlike body—Shazam revels in this adult version of himself by doing what any teen would do with superpowers: have fun with them!  Can he fly?  Does he have X-ray vision?  Can he shoot lightning out of his hands?  Can he skip his social studies test?  Shazam sets out to test the limits of his abilities with the joyful recklessness of a child.  But he'll need to master these powers quickly in order to fight the deadly forces of evil controlled by Dr. Thaddeus Sivana.
"Shazam!" also stars Jack Dylan Grazer as Billy's best friend and ultimate superhero enthusiast, Freddy, part of the foster family that includes Mary, played by Grace Fulton; Darla, played by Faithe Herman; Eugene, played by Ian Chen; and Pedro, played by Jovan Armand.  Cooper Andrews  and Marta Milans play foster parents Victor and Rosa Vasquez, with Oscar nominee Djimon Hounsou as the Wizard.
Firmly set in the DC universe but with his own distinctly fun, family-centric tone, the screenplay is by Henry Gayden, story by Gayden and Darren Lemke.  Shazam was created by Bill Parker and C.C. Beck. The movie comes out next month.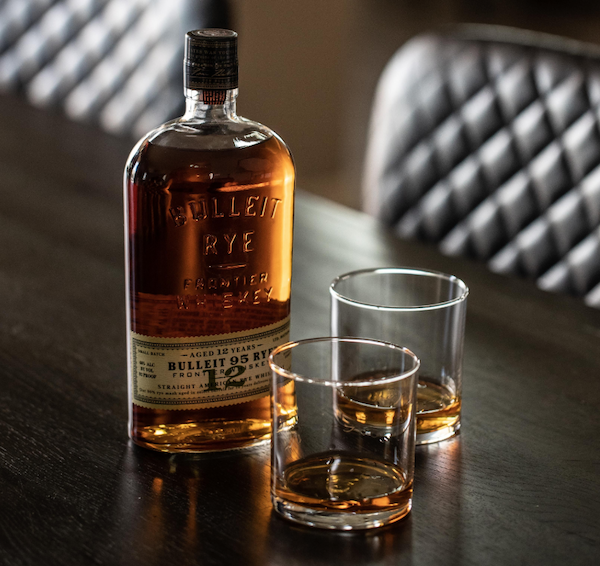 A new high-rye whiskey has joined the Bulleit family! Available for a limited-time only, Bulleit Rye 12-Year-Old Straight American Whiskey is a premium aged elevation of the brand's multi award-winning Bulleit Rye.
Eight years, and multiple San Francisco World Spirts Competition Double Gold medals later for Bulleit Rye, the category that Bulleit helped build is booming as consumers seek new, unique and premium offerings. Created in response to this growing demand for premium American whiskey, Bulleit Rye 12-Year-Old Straight American Whiskey uses the same mash bill as Bulleit Rye – 95% rye and 5% malted barley – with a minimum of 12 years of aging. The additional years of maturity are evident in the layers of flavor complexity, while continuing to ring true to the smooth balance and spiciness of its predecessor.
Bulleit Rye 12-Year-Old is available in select markets nationwide.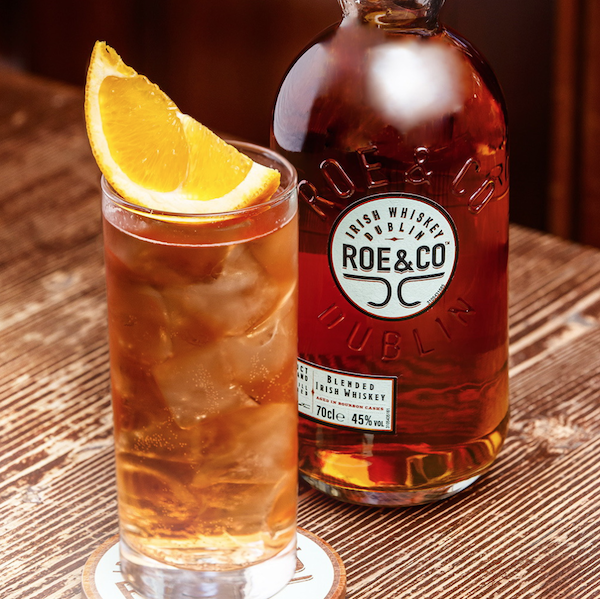 As we get closer to International Whiskey Day that takes place next week on March 27, Roe & Co Irish Whiskey has officially landed in select U.S. markets, most notably behind your favorite cocktail bar as a unique foundation for mixologists to build new, innovative libations. Created in partnership between Diageo Master Blender Caroline Martin and five leading Dublin-based bartenders, Roe & Co ushers in a new era of Irish whiskey with its contribution to cutting-edge cocktail culture.
Additionally, Roe & Co's launch in U.S. markets comes ahead of the St. James's Gate distillery opening in Dublin this May. The new distillery will honor the brand's heritage at its location on Thomas Street, adjacent to where the old George Roe & Co distillery once sat in the converted former Guinness Power House.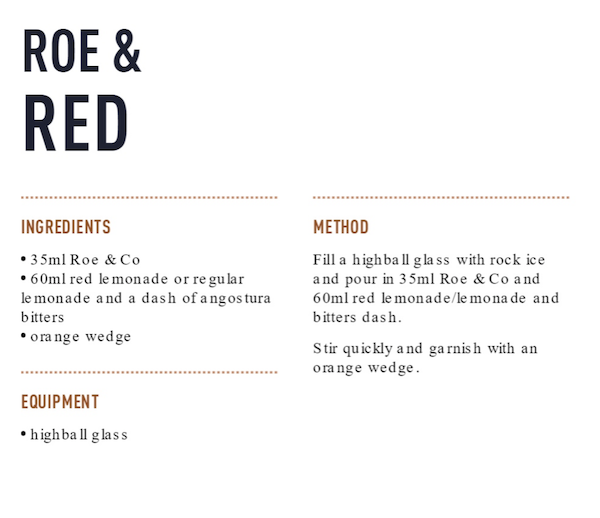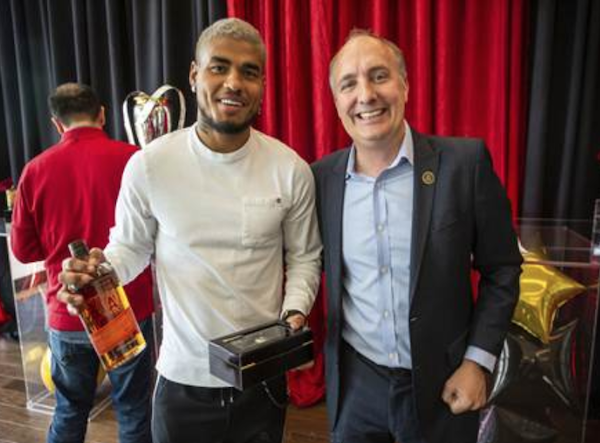 Atlanta United FC has been continuing their celebrations on the heels of the MLS Cup Championship victory and preparing for their next regular season match on Sunday. After practice, the team was recognized in a special ring ceremony where President Darren Eales presented their championship rings and gifted custom engraved bottles of Bulleit Bourbon to the entire squad.
The award-winning frontier whiskey was engraved with the Atlanta United logo and personalized with the players' name, number and position to recognize their contribution to the team's MLS Cup victory. TeammatesMichael Parkhurst, Josef Martínez, Brad Guzan and Héctor Villalbawere among the players and staff who were recognized for the winning season.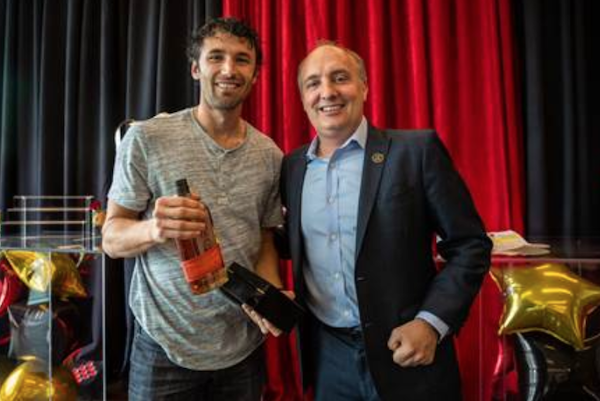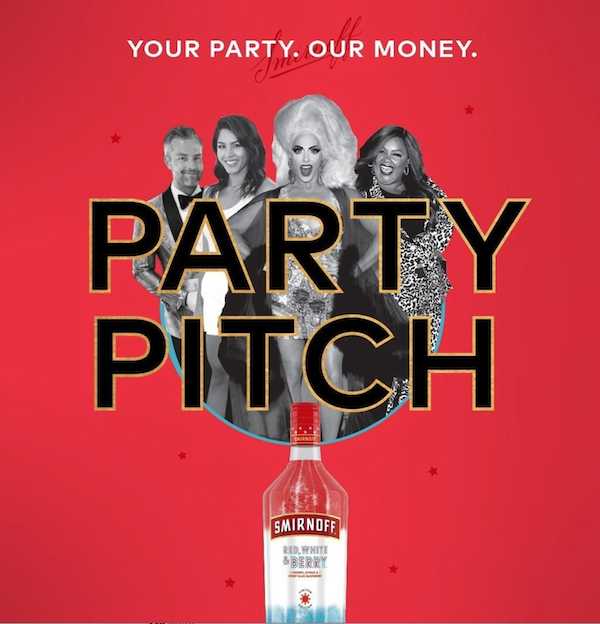 Smirnoff believes that fun times are even better when everyone's included, and you don't need an exclusive guest list or fancy charcuterie plate to turn up the fun! That's why the brand is launching Smirnoff Party Pitch to celebrate the upcoming return of the summer fan favorite, Smirnoff Red, White & Berry.
Smirnoff has enlisted the help of a panel of awesome party people, including LGBTQ reality star and dancing queen, Alyssa Edwards, comedian, actress and life of the party, Nicole Byer, reality television star, real estate mogul and party-thrower extraordinaire, Ryan Serhant and YouTube star, choreographer and party-host-turned-panel-host, Megan Batoon, Smirnoff hopes to find the most exciting, outrageous, silly and wild ideas to celebrate America where fun is the limit – all with responsible drinking in mind, of course.
So, how does Smirnoff Party Pitch work?
From now through March 27, party people across America (25 and older) can submit their party pitches at www.smirnoff.com/contest/party-pitch. As part of the entry submission, each contestant will need to share how they'd serve SmirnoffRed, White & Berry at their party. Whether it's red, white and boozy ice pops, gelatin shots or patriotic cocktails, out-of-the-box thinking is encouraged, and the possibilities are sure to be endless! Smirnoff will then review all the exciting entries and choose finalists who will get the chance to pitch their patriotic part in a video to our expert party panel.
In true Smirnoff fashion, fun times are better when more people are included so in addition to the one grand prize winner, three runner-up contestants will also receive $2,500 and some swag to fund their own Fourth of July bashes. Smirnoff Party Pitch is the latest extension of Smirnoff's "Welcome to the Fun%" campaign and is telling the world that you don't need to be on the VIP list to have a good time by asking consumers to bring the most creative party concepts that bring everyone together.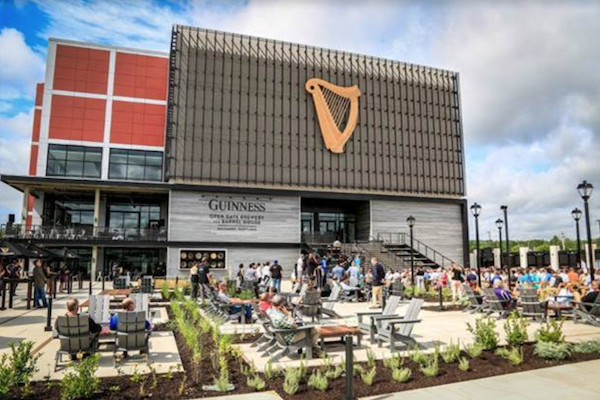 Whether someone can trace their entire ancestry back to the Emerald Isle, has no Irish blood at all or falls anywhere in between, St. Patrick's Day is a time for everyone to enjoy. Guinness wants to make it as easy as possible to have fun during the festive weekend by releasing the Guinness Guide to St. Patrick's Day – a collection of digital content, real life experiences and physical takeaways designed to help make this March 17th the best one yet.
"There are countless ways to celebrate St. Patrick's Day, but I'll let you in on a little secret: as long as you're celebrating with a pint of Guinness, you're doing it right," said Guinness Brand Director, Emma Giles. "You might be spending time at home with family, grabbing a cab to the pub or stopping by a party to see some old friends and meet some new ones. Whichever way you choose to celebrate, we promise that with the help of the Guinness Guide to St. Patrick's Day, this will be one to remember."
So, what can one expect from the Guinness Guide to St. Patrick's Day?
THE ST. JAMES'S GATE HOTLINE
The Irish word for a 'good time' is craic, so dial it up – literally. Step into a green Guinness phone booth and connect live with an 'expert' at the Guinness brewery at St. James's Gate via video chat to ask all the burning questions about St. Patrick's Day, Guinness and what it means to really be Irish. The booths will be available free of charge to guests 21+ at the Magnificent Mile in Chicago on March 1st from 12pm-2pm CST and at the Madison Square Park triangle, across from the Flatiron Building, in New York on March 13th from 12pm-2pm EST
DIGITAL ADVICE FROM THE EXPERTS
From getting the perfect Guinness 'Stache, to toasting like a native Gaelic speaker, to how to dress for the occasion, to pairing each beer in the Guinness family with the perfect Irish cuisine, a suite of digital videos and content starring a brewery ambassador from St. James's Gate will be available through @GuinnessUS on Instagram, Twitter, Facebook and Pinterest. Think of them as helpful tips for the big day on March 17th.
GUINNESS THREADS
These Guinness t-shirts are a whole lot truer to the heritage than that "Kiss Me I'm Irish" shirt. Imprinted with iconic fixtures from the Guinness brewery at St. James's Gate like the harp plaque on Vathouse No. 2 or the cobblestones from Rainsford Street, the shirts are available in a very limited quantity on the Guinness Webstore.
#STACHEFORCHARITY BACK FOR YEAR THREE
That great 'Stache can do some good. For the third consecutive year, adult beer lovers can take part in the Guinness #StacheForCharity initiative from now through March 31, 2019 by sharing photos of their 'Staches – self-grown and groomed, drawn-on, or Guinness-enhanced – on social media (tagging @GuinnessUS and, of course, using #StacheForCharity). For each 'Stache shared, Guinness will donate $1 (up to $100,000) to the Guinness Gives Back Fund*, which supports nonprofits that contribute to the common good in our communities, like Team Rubicon – an organization of veterans and first responders, who are some of the first boots on the ground when natural disasters occur.
GUINNESS OPEN GATE BREWERY IN BALTIMORE
For those lucky enough to live in the Maryland area – or those enthusiastic enough to make the trip – the Guinness Open Gate Brewery in Baltimore will be celebrating its first official St. Patrick's Day in 2019 (after its grand opening in August of last year). Complete with its own Guinness phone booth, the Open Gate Brewery will host ticketed celebrations in support of local charities with classic Guinness favorites and a special locally-brewed St. Patrick's Day stout on tap. Keep up with what's brewing in Baltimore at www.GuinnessBreweryBaltimore.comand @GuinnessBreweryUS on Instagram and Facebook.
Nobody needs the official Guinness Guide to St. Patrick's Day to know that drinking responsibly is always a good idea. On March 17th and every other day of the year, drink like a brewer, and respect the beer.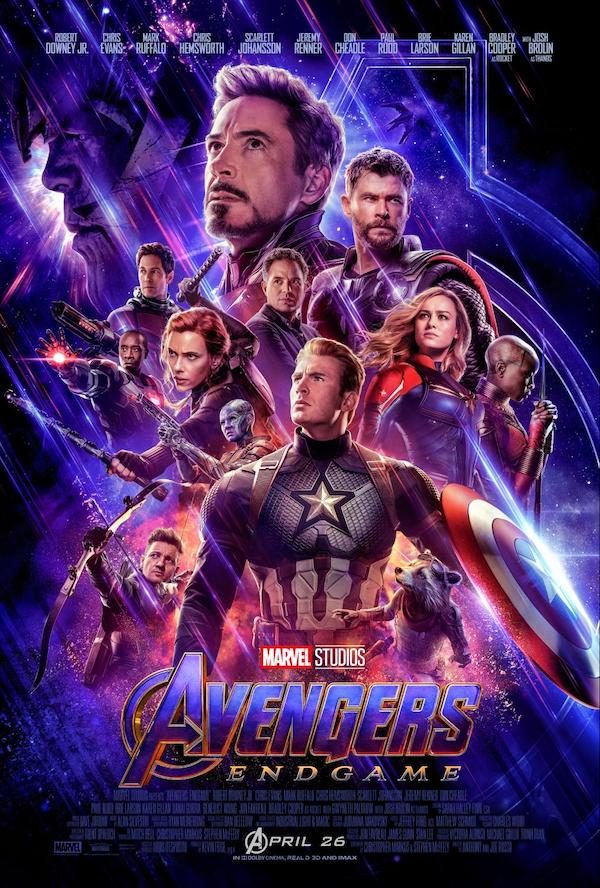 The grave course of events set in motion by Thanos that wiped out half the universe and fractured the Avengers ranks compels the remaining Avengers to take one final stand in Marvel Studios' grand conclusion to twenty-two films, "Avengers: Endgame." Kevin Feige produces "Avengers: Endgame," and Anthony and Joe Russo are the directors. Louis D'Esposito, Victoria Alonso, Michael Grillo, Trinh Tran, Jon Favreau and Stan Lee are the executive producers, and Christopher Markus & Stephen McFeely wrote the screenplay.