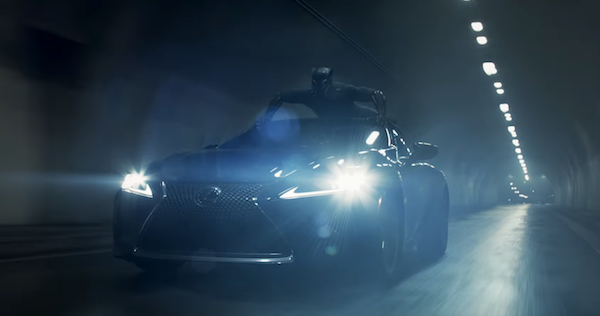 If you love cars and The Black Panther you will want to see this. Lexus will once again be participating in advertising's biggest day of the year with a commercial in Super Bowl LII on Sunday, Feb. 4. Today, the brand has released a 60-second extended digital version of the ad, which was created in partnership with Marvel Studios' highly anticipated film "Black Panther," opening in U.S. theaters Feb. 16.
The spot, "Long Live the King," pairs the flagship luxury performance sedan 2018 Lexus LS 500 F SPORT with the Black Panther, played by Chadwick Boseman will air during the third quarter of the Super Bowl.
The high-impact story in "Long Live the King" revolves around the character of T'Challa in his role as Black Panther recovering stolen vibranium, the mythical ore found only in the Black Panther's home of Wakanda, and his nearly simultaneous need to represent his country as king at a world leadership conference. The Lexus LS 500 F SPORT is the only vehicle both powerful and luxurious enough to keep pace with a Super Hero and escort a king. With appearances by the country's elite bodyguards, the Dora Milaje, and unexpected help from Wakanda, "Long Live the King" will engage fans of the Super Bowl and "Black Panther" alike. The Lexus LC 500 luxury performance coupe used in the film also has a cameo.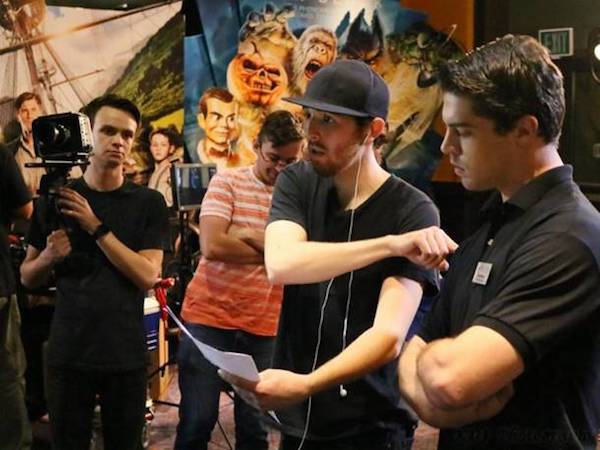 Director and producer Aaron Roberts is currently self-producing and directing his own web-series The Cast Members. The pilot episode received over 250k views.
The San Diego native has been working in the film industry since his pre-teen years as a PA/Grip on his father's commercial production sets. After High School, Aaron started an ambitious multi-media company, Blue Vision Entertainment, focusing on discovering and promoting unknown and independent filmmakers, musicians, artists and photographers. Eventually the focus shifted to the one dimension of the company Aaron was running: film.
Aaron created the world of 'The Cast Members' in spring of 2014. After an initial pilot completed that same year (under name The Blackshirts), Aaron and the team decided they loved the concept, but needed to retool the show to make it a viable property to sell. The Cast Members LLC. was created in June of 2015 in coordination with the shows newfound SAG New Media Status. Aaron the wrote, directed and produced The Cast Members crowdfunding promotional material filmed in fall 2015 which allowed him to garner a whole new cast.
Filming throughout Fall/Winter 2016, the pilot was completed in early 2017 and released in June of this year to much acclaim from fans on The Cast Members Facebook page and beyond, as the episode has now been viewed over 50,000 times in slightly over a month.
But, while networking in Los Angeles with hopes of finding a home for The Cast Members, Aaron is now in the midst production on a SAG Short Film entitled Three Weddings, which will be used as a proof of concept for a TV Series based off his own larger than life Italian-American family.
I was able to chat with Aaron about The Cast Members, working in the entertainment industry and more. Listen to is HERE.
Watch The Cast Members HERE.


Are you still paying back that awful college loan? College loans get you in the door, but college debt ruins the party. Natural Light wants to change that in the form of giving away $1,000,000 to help pay down your loans so you can hold on to those memorable college stories.
College debt is one of the biggest conversation topics online among recent grads. In summer 2017, just as many people were talking about student debt as they were the entire sport of golf. Natural Light is committed to helping those who want to cherish their college memories, no matter what color jersey they wear or fight song they chant.
Actor and former University of Iowa and NYU student Jake Johnson has teamed up with Natty Light to help spread the word.
Johnson said: "College is one of the best experiences of your life – that is for sure. Natty Light isn't going to sit by and let great college stories be ruined by the stress of debt. They're putting $1,000,000 up for grabs to help pay down college loans. The country has a very large debt, so when they told me about what they had in mind, I had a strong desire to stand with them. I know what it's like to live on a college student's budget, trust me!".
Using the platform of the Super Bowl, Natural Light will bring attention to putting a dent in the country's $1.4+ trillioni college debt by airing the brand's message in key college markets. These compelling local ads by Natural Light are strategically targeting ten cities with large universities to explain why and how to create the best possible memories.
"This is a chance to give back to those who have given so much to us, so we're changing it up and calling an audible on the big game this year," said Chelsea Phillips, VP of Value Brands at Anheuser-Busch. "We took a look at ten of the most Natty-centric cities where our beer is loved and there are thousands of students, and took on the mission to protect their epic college memories."
Entering is simple: Post a video explaining your inspiration for going to college, include the green tab found on all cans inside limited edition 36-packs in the video, and use the hashtags #NattyStories and #Contest when posting to social. From now until May 6, 2018, 25 winners will be selected and awarded $40,000 each because creating epic memories in college shouldn't come with a price tag attached. Log on to www.NattyStories.com to learn more.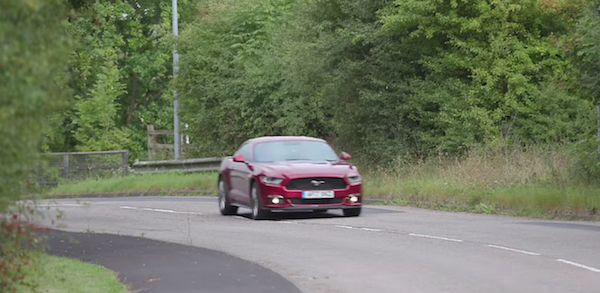 Did you know that driving is better than kissing or watching sports? According to a recent Ford study, driving a sports car boosts emotional fulfillment more than kissing or watching a football game.
The study measured "buzz moments" – peak thrills that play a vital role in our overall wellness – as volunteers cheered on their favorite football team, watched a Game of Thrones episode, or enjoyed a passionate kiss. Only the occasional highs of riding a roller coaster ranked higher than the daily buzz of a commute in a sports car.
In tandem with the study, Ford created the "Buzz Car" – a customized Focus RS that used biometric sensors to monitor these bursts of joy and reflected drivers' emotions throughout the interior and exterior of the vehicle using a series of 200,000 LED lights.

Every wonder how much of your life can be found on the web? Auth B.J. Mendelson does just that in his latest book called Privacy: And How to Get It Back
In this forceful short book, technology guru and author of the best-selling Social Media is Bull (St. Martins Press) B.J. Mendelson exposes the crude reality behind the smiley face of internet networking: data trading. We are all auctioning our personal information, the book argues, to the highest bidder.
Mendelson discusses the end of privacy from a contemporary perspective, including chapters on Metadata and its uses, Data auctions, The Internet of Things, The use of social media for surveillance and suppression, Just how safe is Cloud technology, The Big Business of Big Data, Anonymous and web activism, The internet's dark side: Silk Road, hacking, extortion and EFF and other bodies promoting internet user rights.
When we talk about the so-called 'end of privacy', we conjure up images of state-run agencies secretly monitoring and recording our every move. Whilst this is the case, the true perpetrator in this permeating culture of intrusion is not a third party; its our very selves. We willingly broadcast every moment of our lives in exchange for a moment's worth of virtual attention. Mendelson, artfully and through personal narratives and journalism, tells the story of how we have undermined one of our greatest societal assets.
If you are interested in picking up the book click here!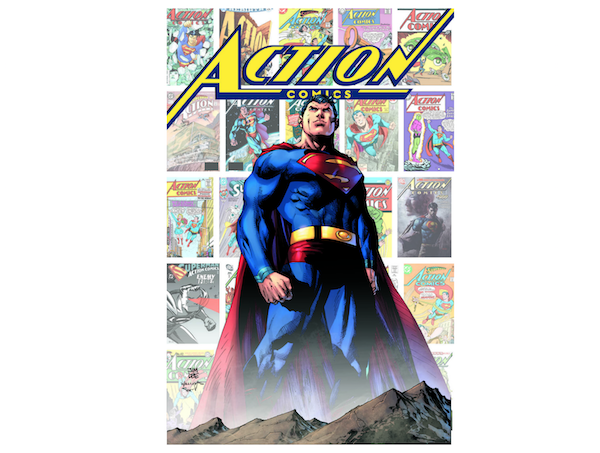 To all my fellow geeks DC Comics is release a new hardcover book, ACTION COMICS #1000: 80 YEARS OF SUPERMAN. It is being published by DC Entertainment as part of its celebration of the one-thousandth issue of ACTION COMICS—the longest continually published comic book of its kind in history, the series that introduced Superman to the world and the title that launched the superhero genre. The collection features a series of essays and iconic Superman stories edited by former DC Publisher Paul Levitz. Most notably, the book includes a never before published 12-page story from original Superman writer Jerry Siegel with art by the Joe Shuster Studio titled "Too Many Heroes."
"The found Siegel and Shuster story is a true treasure with a fascinating backstory," stated Levitz. "Back when DC did regular tours of the New York office, it was common for fans to get original art that would have been otherwise disposed of as a tour souvenir. As a young fan on a tour Marv Wolfman found this Superman story and kept it all these years. It's incredible to think that Marv not only rescued this unpublished story, he then went on to become one of DC's most prolific writers, and shared the story with DC to publish as part of this special new collection."
Levitz continued, "It's an honor to edit this collection of stories and essays that chronicle key moments and contributors to Superman's epic 80 year run as one of the most iconic characters in all of pop culture. I'm particularly happy that Laura Siegel Larson's tribute to her father and his legacy are part of the book."
The 384-page hardcover book will cost $29.99 and hit store shelves on April 19.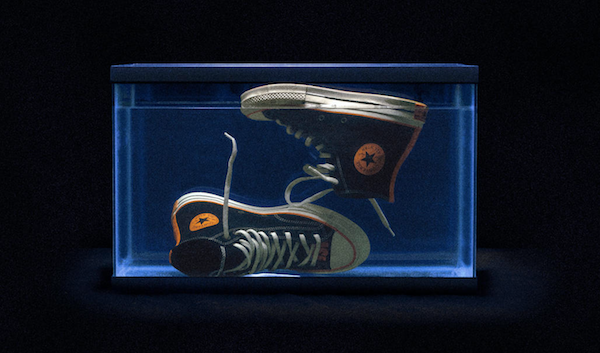 Convese teams up with Vince Staples. Vince is not afraid to share his opinion. And it's his delivery that is known to start a conversation. The 24-year-old Long Beach native melds thoughtful social commentary into subversive raps dropped over house beats. This unique approach has left him outside of the parameters that traditionally classify many rappers.
It's the intrigue around him as an individual — his demeanor, his unassuming style — that made his Big Fish Theory one the most discussed albums of 2017. It's his undeniable talent and storytelling ability that made it one of the top recordings of the last year.
On January 25, Converse and Vince Staples celebrate Big Fish Theory in the first collaborative capsule collection between the brand and artist, applying the album's motifs onto Chuck 70 sneakers and Converse Essentials apparel.
Staples, a long-standing Converse collaborator, sought creative ways of interpreting Big Fish Theory into wearable merchandise. Having grown up with the influence of west coast culture and wearing Converse Chuck Taylors, the silhouette maintains its relevance with Staples, who bought his first pair to go with his school uniform at a swap meet.
The collection's key colorway, orange, is a nod to the goldfish on his album cover. This bright color contrasts the collection's darker tones to make for highly visible gear. Both the Hi and Ox Chuck 70s are built with an aquarium sockliner, Big Fish Theory graphic outsole and "Vince Staples" embroidered on the medial collar. The Chuck 70 Hi boasts a "Big Fish" screen print in orange that stands out against the sneaker's black tongue.
"The story of the Chuck Taylor is accessibility and culture," notes Staples.
A common design element throughout the collection is the "SEA" graphic, a tribute to Staples' signature brand and successful Beats 1 podcast, Section Eight Arthouse Broadcast System. The "SEA" of the Chuck 70s is 3D printed onto the heel with the "A" placed to cross with the heel stay and transfer onto the foxing tape. On the Essentials hoodie, the "SEA" graphic is centered on the back, making a bold statement against the 360 Legacy French Terry.
The Converse x Vince Staples collection is available January 25 on converse.com and at select retailers.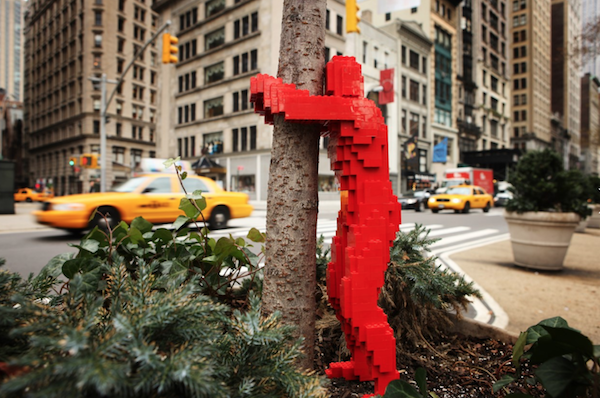 If you are on the LA area on the 21st of this month you might want to check out a art gallery like no other. The Art Revolution Foundation and artist Nathan Sawaya have teamed up to bring a mass art installation to the streets of Los Angeles on January 21 – National Hugging Day! The one-of-a-kind HUGMAN sculptures, made entirely of LEGO® bricks, will be placed around the city and will include designs from notable artists, influencers and designers, such as Tony Hawk, Justine Ezarik ("iJustine"), Alec Monopoly, Ashley Eckstein, Phil LaMarr, Adam Savage and many more to benefit art education programs.
Angelenos can take part in the scavenger hunt by using #HugmanAdventures on Twitter as they find the figures with their arms wrapped around common objects throughout the city. The HUGMAN figures will not only celebrate National Hugging Day, but stand in support of the Art Revolution Foundation's mission to strengthen art education in schools and supply students with the tools they need to succeed.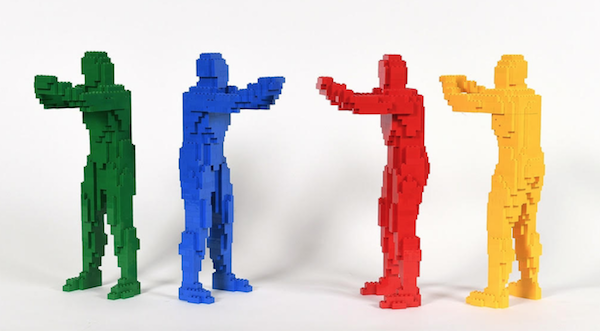 Following the one-day art installation, the sculptures will then be part of an online art auction to support the Art Revolution Foundation on www.CharityBuzz.com.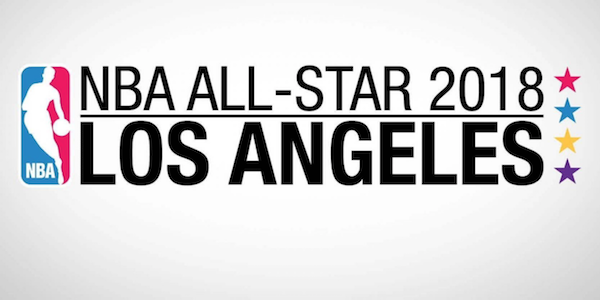 The NBA announced today that comedy superstar Kevin Hart, 11-time Grammy Award winner Pharrell Williams and N.E.R.D will headline the 2018 NBA All-Star Game entertainment on Sunday, Feb. 18 at Staples Center in Los Angeles.  The 67th annual game will air live at 8 p.m. ET on TNT and will be seen by fans in more than 200 countries and territories in more than 40 languages.
Prior to the game, Hart and special guests will take the All-Star stage for an exciting opening and an entertaining introduction of the All-Star teams.  Hart is about to embark on his worldwide IRRESPONSIBLE tour, with dates announced later this month.  He was most recently nominated for a 2017 Grammy Award for Best Comedy Album (What Now?).  Hart is also a four-time MVP and former coach of the NBA All-Star Celebrity Game.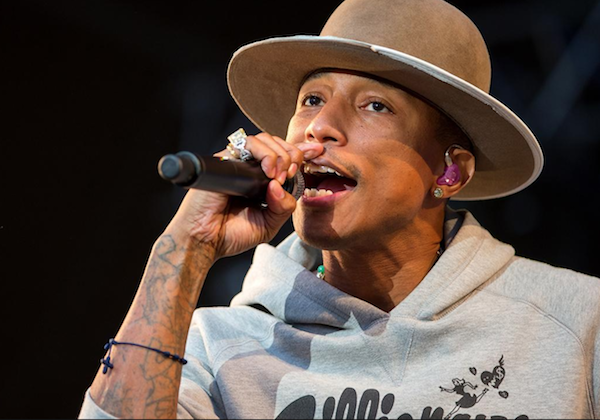 Williams, a multi-faceted singer, songwriter, producer and fashion designer, alongside N.E.R.D, which released its fifth studio album, No One Ever Really Dies, last month, will perform a medley of chart-topping hits at halftime of the NBA All-Star Game.  The record's first single, "Lemon" featuring Rihanna, debuted on Billboard's Hot 100 in November, marking Williams' 19th song on the chart.  Williams was also nominated for his second Academy Award® and first Golden Globe in 2017 for his work co-producing the film Hidden Figures.
In addition, eight-time Grammy Award winner Fergie will sing the U.S. national anthem prior to tip-off.  The singer, songwriter and global superstar released her second full-length opus, Double Dutchess, along with her first visual album experience, Double Dutchess: Seeing Double, in September. She is currently hosting Fox's The Four: Battle for Stardom.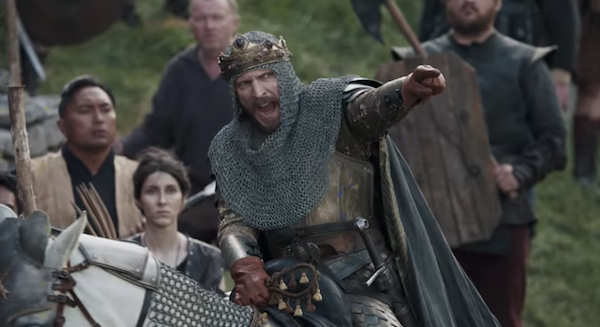 Sometimes we have a day where all the odds are against us. In those times we need a good pep talk. Bud Light announced its Dilly Dilly Super Bowl Trilogy with the release of "Wizard" late last year.  Well, the second installment is finally here! Have a look at Bud Light's set up for its Super Bowl TV ad titled "Ye Old Pep Talk".
The spot starts with the King leading his crew into battle in pursuit of more Bud Lights for the realm.
"Ye Old Pep Talk" will officially air during both the AFC and NFC championship games this coming Sunday, January 21st. You can get watch now here at MANJr.