Lifestyle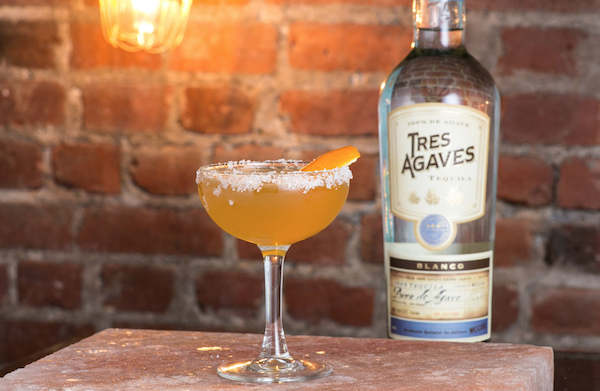 National Margarita Day is tomorrow. Tres Agaves just switched to solely producing ALL organic tequilas in addition to their mixers constructed a brand new state-of the art distillery in Tequila Valley, Mexico and brought on the very first female master distiller apart of a multi-generational tequila family- so there is a lot of exciting things happening for Tres Agaves.
So tomorrow pick up a bottle of Tres Agaves and celebrate the day with these cocktails below.
Feeling Hot, Hot, Hot: Margarita Caliente
Bring the heat with Jalapeño-infused agave syrup, which gives this drink a little extra kick.
1 ½ parts Tres Agaves Reposado Tequila
1 part fresh lime juice
¾ parts Cointreau
¼ part jalapeño infused Tres Agaves agave syrup*
3 dashes Sriracha
Lime wedge for garnish
Combine all ingredients in a cocktail shaker with ice, shake and strain into a rocks or margarita glass over ice, garnish with lime wedge.
*Jalapeño agave syrup:
2 cups Tres Agaves Agave Nectar
1 jalapeño, cut lengthwise, seeds removed (2 if you're feeling bold!)
Over medium heat simmer agave nectar. Add jalapeño and let simmer at least one hour (then rest overnight for maximum flavor), strain through a mesh sieve and store in refrigerator.
Go Big or Go Home: Smokin' Volcano Margarita
For the bartender in you, here is one that's sure to impress your friends.
2 parts Tres Agaves Añejo Tequila
¾ parts fresh lime juice
¼ part smoky simple syrup*
Lava salt and dried red chili pepper for garnish
Shake all ingredients with ice and strain over fresh ice in rocks glass. Garnish rim with lava salt and add dried chili pepper.
*Smoky simple syrup: Pour equal parts sugar and water into a saucepan with one dried chili pepper. Simmer until sugar is dissolved. Remove from heat and let the mixture cool. Remove chili pepper and set syrup aside.
Tres Strawberrita
4 oz Tres Agaves Blanco Tequila
1 tsp Tres Agaves Cocktail Ready Agave Nectar
2 cups frozen strawberries
¼ cup water
3 oz triple sec
2 limes juiced
Salt
Strawberry syrup: Combine frozen strawberries, Agave Nectar and water in a small pot over low to medium heat. Continue to cook on low for about 30 minutes until strawberries have broken down and mixture is thick. Remove from the stove, pour into container and refrigerate until chilled.
Margarita: Add about a third cup of the strawberry syrup to blender. Then add tequila, triple sec, lime juice and ice. Pour mixture into two glasses, rimmed with salt if you like and garnish with a fresh strawberry.
Ginger con Hielo
Tres Agaves Margarita Mix (to fill ice cube tray)
2 parts Tres Agaves Reposado Tequila
¼ parts Triple Sec
Candied Ginger 
For the ice cube, mix together Triple Sec and Margarita Mix. Pour into king ice-cube tray and place piece of candied ginger in liquid. Freeze overnight. For preparing the cocktail, pour two parts of Reposado tequila over