Entertainment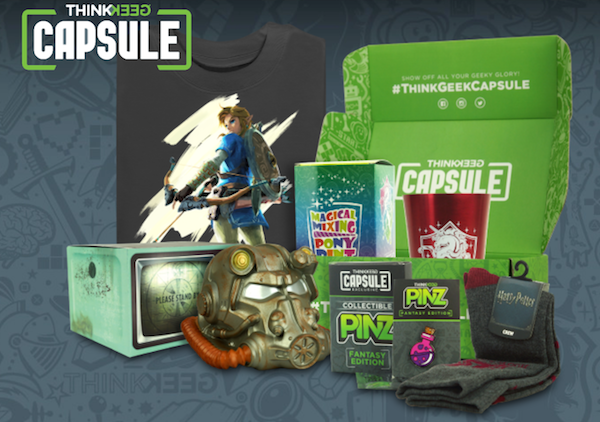 For those who frequent the ThinkGeek site you already know how cool that site is. From Game of Thrones to Star Trek to Nintendo they have a bevy of items that you would love to pick up. Now ThinkGeek is offering a box subscription that they are calling the ThinkGeek Capsule.
Every month you will get ThinkGeek exclusives. It could be a special run of a t-shirt, a weird new gadget, a licensed enamel pin, and so much more. They will also stock a very cool collectible in the capsule. Whether it's a limited edition figurine, an art print, or something else entirely, the payload of every capsule will include at least one collectible to expand your personal collection.
They even have clothes for you to show off your geek pride. This month I got a Legend of Zelda shirt and some Harry Potter socks! That is just the stuff they tell you that they are going to put in there. Now ThinkGeek goes above and beyond by hiding other awesome stuff to surprise you in a good way. There is a gift card that is valued at five dollars to one hundred bucks. You just to to the site they tell you to on the card and see how much you card is worth. How cool is that? They even slipped in some cool Ghostbuster playing cards that almost disappeared like a ghost. Watch the video below to see what happened to them.
So if all of this awesomeness is something you wanted delivered to your home go to thinkgeekcapsule.com to subscribe to the monthly capsule program. You wont be disappointed. Next week's capsule will showcase items from Star Trek, Game of Thrones and Dungeons and Dragons.