Entertainment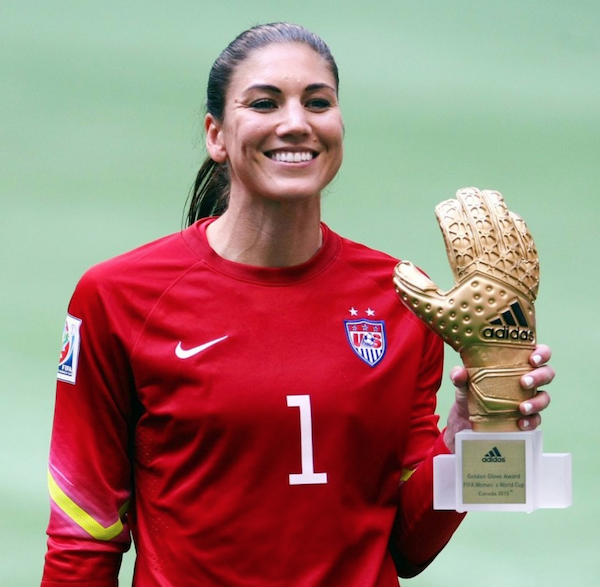 It was revealed today that the life story of American soccer star and equality activist Hope Solo will be told through a film produced by Argent Pictures, the film production and financing outfit run by Jill Ahrens, Ryan Ahrens and Ben Renzo.
Argent has optioned the life story rights of the two-time Olympic gold medalist and World Cup Champion Hope Solo and has tapped Christine Crokos (PIMP) to write and direct the feature film.
Jill Ahrens, Ryan Ahrens and Ben Renzo will produce the film. Executive Producers are Argent partners Drew Brees, Tony Parker, Michael Finley, and Derrick Brooks.
Hope Solo's story showcases the inspiring rise of a true American all-star athlete who started in humble beginnings and became a two-time Olympic gold medalist, a World Cup champion and is regarded as one of the top female soccer goalkeepers in the world.
From the beginning, Hope was a true competitor leading her high school team to win multiple titles and a state championship and then becoming the best women's goalkeeper in Pac-10 history for the University of Washington. After graduating she continued to play professionally as a goalkeeper in the U.S. and European leagues and for the U.S. at the World Cup in 2007, 2011, and 2015 and Olympics in 2008, 2012 and 2016. Although the U.S. lost in the quarterfinals of the 2007 and the finals of the  2011 World Cup she helped the US team rebound from both losses and win gold medals at the 2008 and 2012 Summer Olympics, and in 2015 she helped the U.S. team finally win a Women's World Cup Championship.
As a vocal advocate for equal pay and women's rights in soccer, she shouldered the brunt of pushback while playing professionally. It is Solo's mission now to fight for women's rights and general equality.
Producer Ben Renzo said, "We are very excited to be working to bring Hope's life story to the big screen with Christine at the helm. Hope is an amazing athlete, with an intense competitive spirit who has achieved some of the highest accomplishments in women's soccer as a professional goalkeeper. Her journey to becoming an elite athlete and one of the best soccer players at her position is incredibly motivating, and that's what makes this story special to us. We want to make movies that entertain and inspire – and Hope's story encompasses those themes."
"Hope Solo is a force of nature who broke down walls in women's sports, both as a player and as a humanitarian," said writer /director Christine Crokos. "Her story is one of pure trailblazing and fierce athleticism – one that many generations to come will honor and look up to."
Lisa Nitti negotiated the deal on behalf of Argent Pictures. Negotiations on behalf of Hope Solo were handled by Rich Nichols. The deal was set up by manager Tiffany Shine.