Entertainment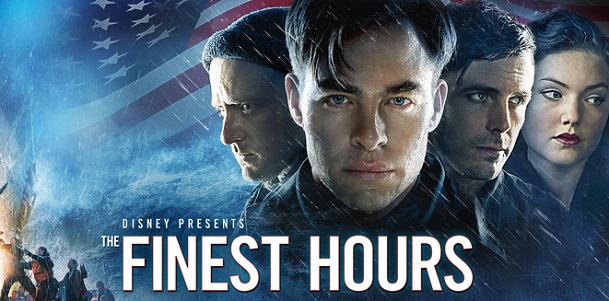 Next week you will be able to pick up one of the most exciting films that hit the theaters recently. "The Finest Hours" will be available on Blu-ray and Digital HD on May 24th. This heroic action-thriller is based on the extraordinary true story of the greatest small-boat rescue in Coast Guard history. In 1952, a massive winter storm strikes off the coast of Cape Cod, ripping a T-2 oil tanker in half and trapping more than 30 sailors inside its rapidly sinking stern. When word of the disaster reaches the U.S. Coast Guard, four men led by Captain Bernie Webber (Chris Pine) set out in a 12-seat boat on a daring mission to rescue the stranded men, braving freezing cold, 60-foot waves and hurricane-force winds, and guided by Webber's vow that "We all live, or we all die." Packed with thrilling, larger-than-life action and anchored in a belief in the strength of the human spirit, The Finest Hours is a triumph.
Check out some of the bonus features that you will be able to get when you pick up the movie either on Blu-ray Combo Pack, Digital HD, Digital SD, and Disney Movies Anywhere.
Against All Odds: The Bernie Webber Story – Visit the quaint and close-knit town of Chatham, and experience the events surrounding the most heroic Coast Guard rescue ever through the eyes of the people who witnessed them.
BROTHERHOOD – Cast members reflect on the bonds they forged during the shoot.
TWO CREWS – Chris Pine and Casey Affleck share insights into Bernie Webber and Ray Sybert, men who led their respective crews against all odds.
WHAT IS YOUR FINEST HOUR? – A Coast Guard member recounts an incredible rescue.
THE FINEST INSPIRATION: THE U.S. COAST GUARD Meet the people who put their lives on the line for others.
To order the movie click here!